6 Simple Ways to Reduce Chemicals In Your Home (+ Win $79 Worth of Young Living Products-EXPIRED)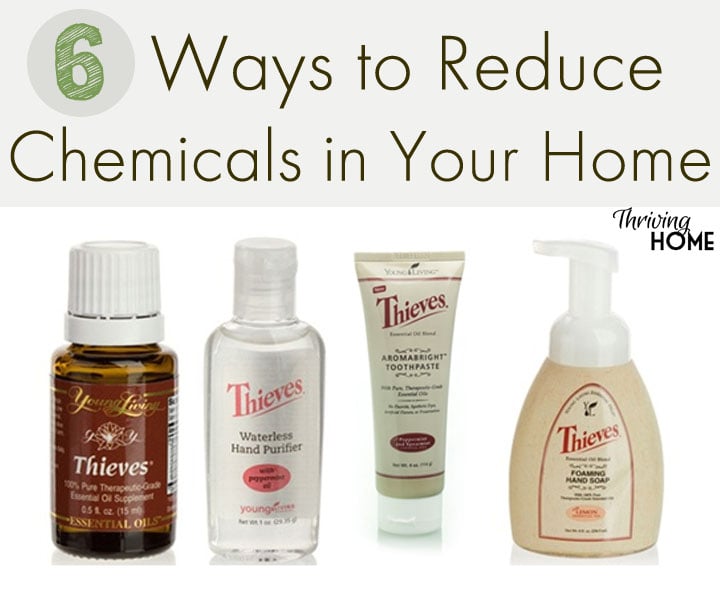 Sponsored post by Essential Oil Living. The following information in this post has not been evaluated by the FDA. It is not intended to diagnose, treat, or cure disease.
Six years ago, when my son was diagnosed with Crohn's Disease at only 18 months old, I started a journey of intense research. What could have triggered a disease like this in such a small child? I haven't found any definitive answers, but along the way I learned that our food system and home environments are laden with potentially harmful chemicals and may contribute to the alarming rise in childhood autoimmune diseases. These chemicals are found in the most common place areas of our home–the laundry detergent, cosmetics, hand soap, household cleaners, teflon in our pans, plastics in our storage containers. The list goes on and on.
If you're like me, it all gets a bit overwhelming and I want to just forget about it. But, burying our heads in the proverbial sand doesn't change anything or help anyone, especially the little ones in our care. Instead, consider taking these 6 simple steps to reduce chemicals in your home.
First, it's important to understand what essential oils are and their multiple all-natural uses around the house. Essential oils are extracted from plants through a distillation process and have been used for thousands of years for their health, cosmetic, and emotionally uplifting properties. They can be diffused, inhaled, applied topically, incorporated into massage, or taken internally to lift your mood, enhance physical well-being, purify your home, and refine your skin, according to Young Living.
I recently was able to try several Thieves products, an essential oil blend specific to Young Living. It is a blend of clove, lemon, cinnamon bark, eucalyptus, and rosemary.  Blended together, Thieves is an antiviral, antiseptic, and antibacterial oil, so it's a great one to use to keep our families healthy and happy. Here are 6 simple ways to use it around your house as a way to reduce toxins in the home.
6 Simple Ways to Reduce Chemicals in Your Home
1) Avoid harsh perfumed candles and fragrance sprays. Instead, simply open and diffuse a 15 mL bottle of Thieves essential oil for 15 minutes a day. I did this several times a day with mine and loved the refreshing and revitalizing aroma that permeates the room. This particular blend would be perfect for Thanksgiving and Christmas time, since it smells like the holidays to me. An added bonus to the wonderful smell: The Essential Oils Desk Reference cites several studies that demonstrate that after diffusing Thieves essential oil for only 12 minutes there is at least a 90% reduction in certain kinds of bacteria.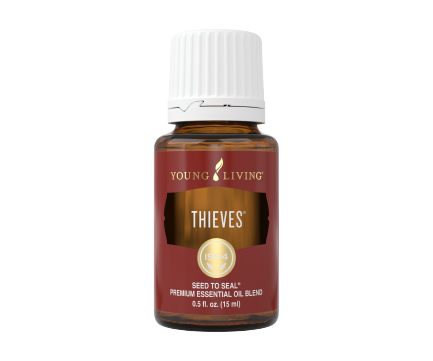 2) Skip the alcohol-based chemical-laden hand sanitizers from the store. Give Thieves Waterless Hand Purifier a try instead. Thieves® Waterless Hand Purifier is an all-natural hand purifier designed to cleanse and refresh the hands. It can be used by adults and children to keep hands clean and promote good hygiene, without the use of water. I've been using it for weeks on my kids and we love it! Added bonus: Apply this product to your face to help clear acne!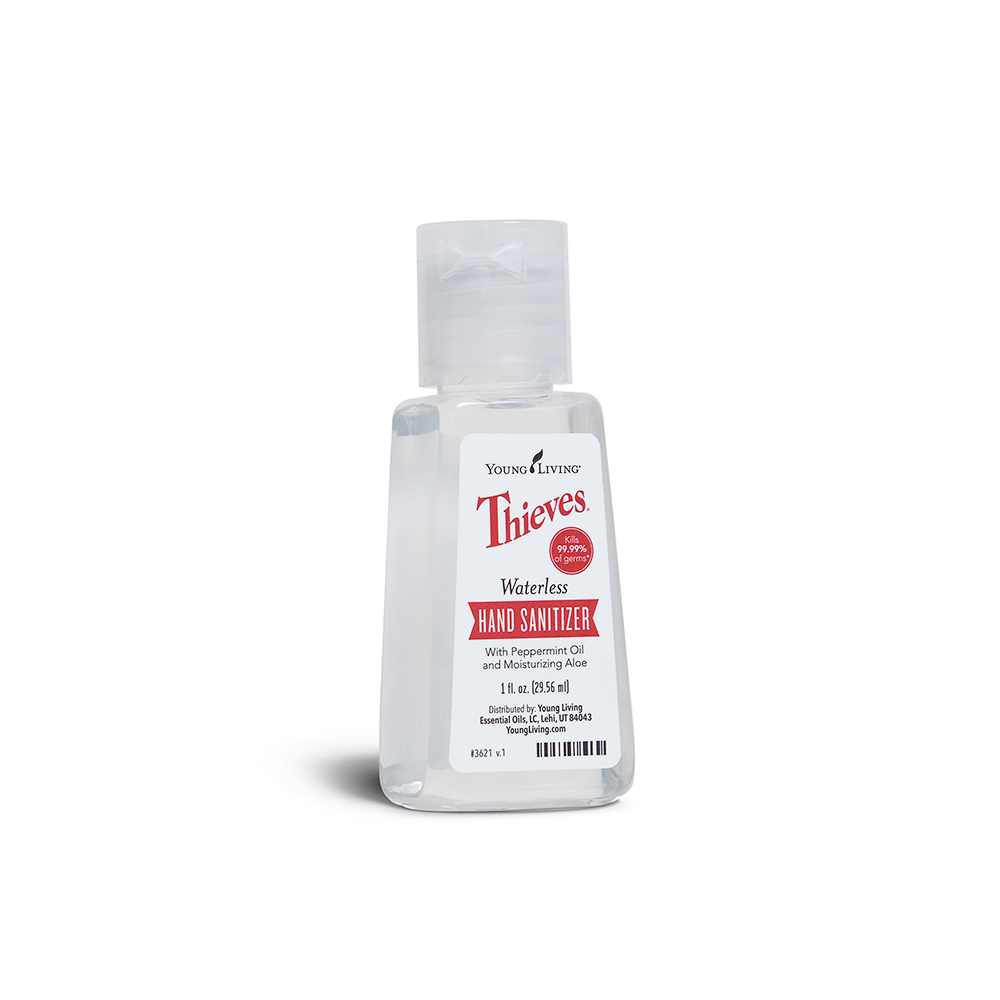 3) Try an all-natural toothpaste to avoid added chemicals. We tried and loved the Thieves AromaBright Toothpaste. The taste was great, my teeth felt clean, and my mouth felt fresh. Like most all-natural toothpastes, it doesn't foam. But, that didn't bother my husband or me. A fun flavored toothpaste is available for kids too.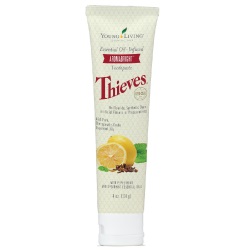 4) Try an all-natural, non-toxic foaming hand soap, like Thieves Foaming Hand Soap. Or make your own foaming hand soap and adding in a few drops of Thieves essential oils.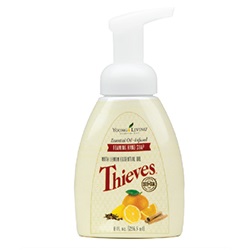 5) Purchase only all-natural household cleaners, like Thieves Household Cleaner. Or make your own and add a few drops of Thieves essential oil to help kill germs and add natural fragrance.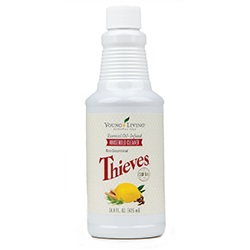 6) Make your own laundry detergent (or buy a fragrance-free, all-natural product) and add a few drops of Thieves essential oil. I do this every day–especially when I do my husband's laundry!–and our clothes come out smelling fresh and clean naturally. Added bonus: This essential oil also kills bacteria in the wash.
To find an entire line of Thieves products utilizing the antibacterial nature of the essential oils for dental hygiene products, soaps, household cleaners, and much more check out Young Living's website HERE.
Learn More About the Uses of Essential Oils
Join Melinda Borda and Carrie Martin-Vegue from Essential Oils Living on Thursday, September 4th at 8:00 p.m. CST for an online class where they will talk about eleven of Young Living's most popular essential oils. Learn how The Everyday Collection of essential oils may be helpful in dealing with all kinds of every day issues such as burns, bug bites, acne, colds, flu, skin issues, digestive issues, nausea as well as other issues such as lack of libido and depression. 
How to Purchase Young Living Products
If you are interested in purchasing some of Young Living's Thieves products for your family, you can sign up at this link. There are two options for signing up with Young Living. You can sign up as a customer, which will enable you to purchase products from Young Living at retail price. You can also sign up as a wholesale member, which will allow you to purchase all of Young Living's products at 24% off retail price.
If you would like more information about Young Living and/or their products please contact Melinda and Carrie via email: YLEssentialOilLiving (at) gmail (dot) com.
Win $79 Worth of Young Living Thieves Products-EXPIRED
Update: Our winner, who was randomly chosen using Rafflecopter, is Patricia C.
I SO enjoyed trying out each of these products and whoever wins these will too! Enter below for a chance to win these Young Living Thieves Products to help reduce chemicals in your home:
https://thrivinghomeblog.com/wp-content/uploads/2014/08/chemicals.jpg
600
720
Rachel Tiemeyer
https://thrivinghomeblog.com/wp-content/uploads/2019/10/thrivinglogo.png
Rachel Tiemeyer
2014-08-26 10:00:00
2020-01-05 15:40:47
6 Simple Ways to Reduce Chemicals In Your Home (+ Win $79 Worth of Young Living Products-EXPIRED)