Sneaky Exercise for Busy Moms
Tips and tricks for fitting exercise into a busy mom's day everyday.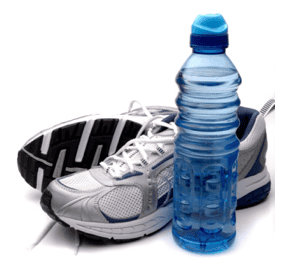 It's a new year and, like many of you, with it comes a renewed commitment to take care of my body. The main problem I've had the last few years is fitting in exercise while caring for several small kids at home and working part-time. The days of swinging by the gym after work are long gone. The second problem I run into is the cost of gym fees plus childcare fees. So, I've been learning to find unique, cheap ways to sneak in exercise.
My Plan
My goal on most days is to accumulate (often breaking up the time throughout the day) the recommended 30-60 minutes a day of aerobic exercise. Then I try to do weight-bearing exercises 2-3x/week for about 20-30 minutes. The key is to have a plan, but then giving yourself grace on those days it just doesn't pan out.
My Exercise Mantras
I have two mantras that help me accomplish my plan on most days. Seriously, programming myself to think this way has helped a lot with my motivation and ability to fit in a workout on most days.
Mantra #1: Some exercise is better than no exercise.
Mantra #2: Multitask, multitask, multitask.
Sneaky Ways to Incorporate Exercise
Here are a few ways I've learned to sneak in exercise into my normal daily grind.
Play like a kid with my kid: My kids and I often play tag, hide-and-seek, basketball, baseball, ride a scooter, or run races outside. Recently, I've started taking my 5-year-old on run/walks with me, too. He can keep up for about 15-20 minutes.
Make housework work for me: Rake leaves, clean bathrooms quickly, vacuum, sweep, and mop quickly, moving fast from one task to the next.
Dance parties: We all enjoy this one a lot. While blasting some Itunes in the living room, we pretty much jump around the entire time. My heart is always pumping after each song.
Walk with the kids: I pack up the younger two in the stroller and have my 5-year-old ride his scooter on walks. On rainy or cold days, we even head to the mall. Yes, I'm officially a mall walker now! When my kids were babies, I walked a lot with them in a wearable baby carrier. Carrying extra weight or pushing kids equals extra calories burned! A tip is to bring a fun snack along and some toys or books to pull out as they get bored. It's also important to allow them a chance to get down and exercise when you're done.
Run in your neighborhood: The great thing about running or walking outside is that all you have to do is step out your door. You don't waste 10-20 minutes in the car. So, I try to take advantage of times when my husband is home by getting in a quick run or walk alone. I've even been known to hire my middle school neighbor to watch the kids while I run (it's cheaper than the gym!).
The multitasking workout: Major "nerd alert", but I try to do aerobic activity while doing household chores (sorry, no pictures of this). I jump around, walk/jog in place, do aerobic moves while folding laundry and putting toys away, often while watching one of my favorite cooking shows. Then during the commercial breaks I do my weight exercises and/or sit-ups. The time goes by quickly, AND I actually accomplish something at the same time. The best part is when the kids follow me around and jog in place, too!
Workout DVDS: I try to do a workout DVD about 2x a week either during nap/room time or with my kids. They love doing push-ups and jumping jacks with me. I try to do a different video each time to keep this sort of workout interesting and fun. Another tip: I sometimes have a friend come over in the afternoon while kids are resting to do one of these videos with me. Check back later this week for a list of my favorite workout DVDs.
Finding Motivation
Here are a few things I tell myself or do to help stay motivated:
There are many days I don't get around to "formal exercise" (and some days I just can't do anything), but I always remind myself of mantra #1: some exercise is better than no exercise. I try not to beat myself up about it, because I won't always be in this phase of life.
Tell myself, "do something for 10 minutes and then you can quit at that point if you want." I don't think I ever have quit, because once I start I'm fine.
Workout with a friend or my husband. Or talk to a friend or family member on the phone while walking. This falls under Mantra #2: Multitasking. That's because exercise then becomes a time I can connect with friends and family.
Keep the "healthy" goal in mind. Remind myself that I exercise to stay healthy for my family and so that I'll be a good steward of my body that God has created. These motivations have worked far better and been more enjoyable than "to get thin".
Write a blog about trying to be healthy or tell a friend about your goals. Then, you feel more accountable!
How do you sneak in exercise or what motivates you?
https://thrivinghomeblog.com/wp-content/uploads/2019/10/thrivinglogo.png
0
0
Rachel Tiemeyer
https://thrivinghomeblog.com/wp-content/uploads/2019/10/thrivinglogo.png
Rachel Tiemeyer
2012-01-17 23:19:20
2020-01-03 14:31:58
Sneaky Exercise for Busy Moms