Reposted from February 2012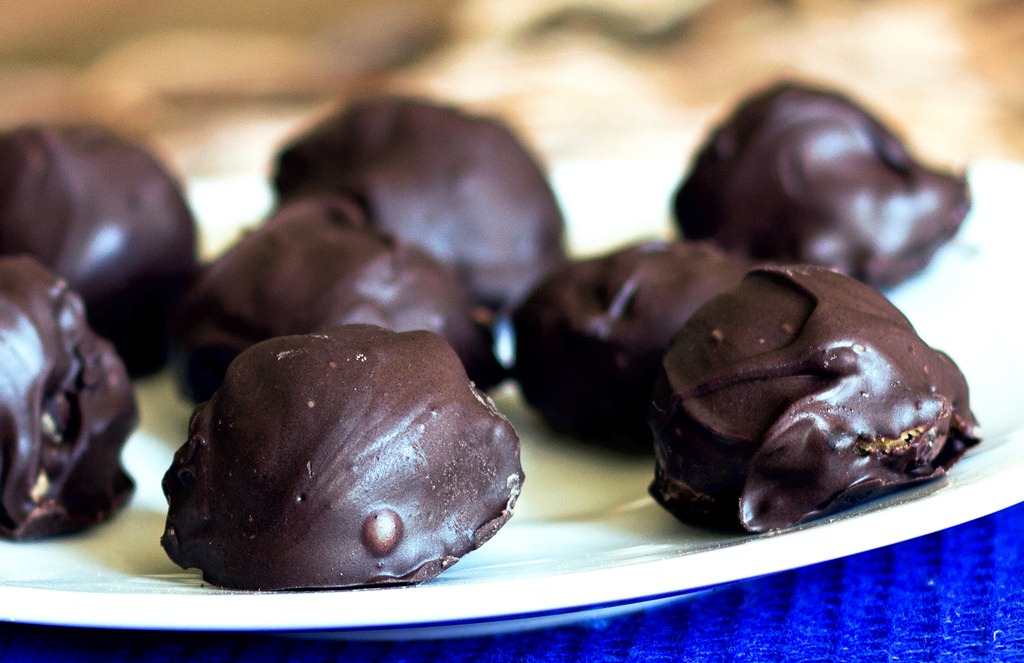 I know there are times that a healthy treat isn't warranted…especially on holidays. But, the deal with these Chocolate-Chip Cookie Dough Truffles is that they are decadent, delicious and healthy. So, why not make them today for your family as a special (and sneaky healthy way) to say "I love you!"?
There aren't many ingredients involved, but one of them might shock you. Check your pantry for this ingredient list. You just might have everything on hand.
1/2 can chickpeas or white beans (Yes, chickpeas!)
1 tsp pure vanilla extract
scant 1/8 tsp salt
scant 1/8 tsp baking soda
2 tablespoons nut butter (I used peanut butter, but almond butter would be delicious, too)
1/3 cup brown sugar
2 T chocolate chips, or more if desired (I used dark chocolate chips)
1-2 T rolled oats or quick oats (or flaxmeal) (I used a mixture of oats and ground flaxseed)
optional: 1 bag chocolate chips
optional: milk if needed, to thin it out
Chickpeas!? you ask. Yes, chickpeas. They act as the flour component, and I'm telling you that you'll never know the difference. My kids and I quadrupled this recipe and froze most of them. We've been pulling a few out at a time to enjoy for snacks. I love knowing that they are low in sugar and high in fiber and protein.
I just drizzled mine with chocolate and they were still delish (but, dunked in chocolate would obviously be even tastier!). Here's what ours looked like…
Since this is a no-bake dessert, it's an easy one to involve your kids in. What better way to say "I love you" to your kids than spending quality time with them and enjoying a dessert together. I had a great time with my 3-year-old, and she loved being my big helper!
You can find the recipe here at Chocolate-Covered Katie. I love this site. Katie is cute as a button and has so many healthy desserts I want to try. Plus, she even has a special section for specific food allergies, and every recipe is vegan.
Happy Valentine's Day!
Top Photo Credit: www.chocolatecoveredkatie.com