Healthy Living Small Step #9: Diffuse Essential Oils Instead of Burning Candles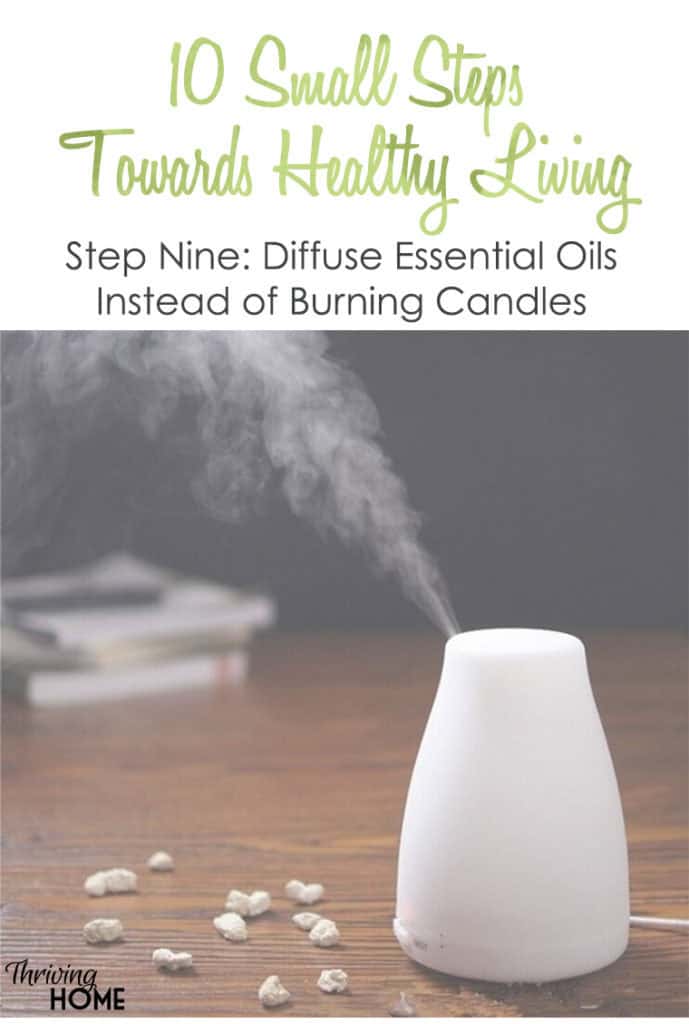 Start at the beginning of our 10 Small Steps Toward Healthy Living series HERE.
Step #9: Diffuse essential oils instead of burning candles.
Can we be honest with each other?
I am having a hard time writing this post because I feel a little hypocritical.See, I'm a recovering candleholic. Before I gab about why I primarily use essential oils now to freshen my house, it should probably be noted I fully plan on buying a fall candle very soon. We aren't asking you to be perfect, because we for sure aren't. We're just inviting you to take small steps. For me, a small step is limiting my candle purchases to once a year (for the fall of course!).
So why am I cutting back on my candle addiction?
Stephanie at Keeper of the Home does a great job explaining why candles can be harmful. Check her post out if you are interested in reading more about this. In short, here is what I'm gathering:
Most candles are made of paraffin wax, which creates highly toxic benzene and toluene when burned (both are known carcinogens). In fact, the toxins released from paraffin candles are the same as those found in diesel fuel fumes.
Scented candles may have lead or lead cores in the wick, which releases dangerous amounts of lead into your home through the candle soot.
Two particularly toxic chemicals, benzene and toluene, are found in the sooty residue from burning candles. Benzene is cancer-causing and toluene affects the central nervous system.
Many candles also contain artificial scents and dyes, which release additional chemicals when burned. (source)
Womp womp.
While the information above might make slightly annoy you, there for sure are other alternatives to making your home smell nice.
Alternatives to Burning Candles
So if you're a scent junkie (like me) and want to freshen up your home, what other options are there?
1. Diffuse Essential Oils
A great way to keep your home smelling nice is to diffuse essential oils.
Instead of spreading toxins in the air with my candles, by diffusing oils, I'm pretty much doing the opposite. I'm diffusing natural ingredients that promote good health physically and mentally.
The beauty of diffusing essential oils is that I can customize my scents to exactly what I prefer. With some trial and error, I know what combination of oils is great to diffuse in the morning to wake me up and lift a grumpy mood. I also have a combination of oils that I love to diffuse in the evenings when winding down. I even have a few I diffuse in the afternoon if I find myself having a stressful day. The possibilities are endless.
When diffusing oils, use a cold-air diffuser, since anything that heats the oils can damage some of their beneficial properties. Make sure to use PURE oils since the whole point of moving from candles to oils is to avoid unnatural ingredients floating around your home. To find out what oils I use, swing by my Essential Oils: A Beginners Guide.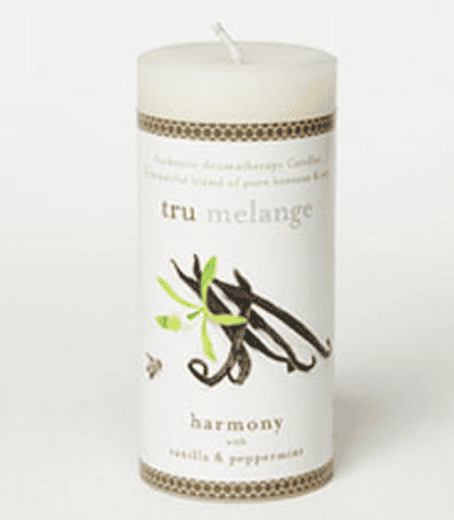 If you're still determined to have some candles around (guilty!), consider safer options such as Beeswax Candles. MightyNest has lots of great, safer candle alternatives to browse through. I've for sure got some on my wish list.
Here is a little more about one candle in particular that I've been eyeing out.
"These authentic Aromatherapy candles are a beautiful blend of pure beeswax & non-gmo soy with cotton braided (lead free) wicks, 100% pure essential oil scents. Colors are obtained using eco-friendly powder dyes and do not contain hazardous solvents.  Essential oils of vanilla and peppermint combine to create a radiant, grounding blend that fills you with quiet energy, keen insight and welcome optimism."
Hop on over to MightyNest and browse through some of their great options.
(Note: Some affiliate links included in this post, but all opinions are ours and we only recommend products we believe in.)
https://thrivinghomeblog.com/wp-content/uploads/2015/08/Diffuse-Essential-Oils.jpg
1129
760
Polly Conner
https://thrivinghomeblog.com/wp-content/uploads/2019/10/thrivinglogo.png
Polly Conner
2015-09-10 05:23:24
2020-01-05 16:00:26
Healthy Living Small Step #9: Diffuse Essential Oils Instead of Burning Candles