Healthy Living Small Step #1: Go One Day Without Processed Foods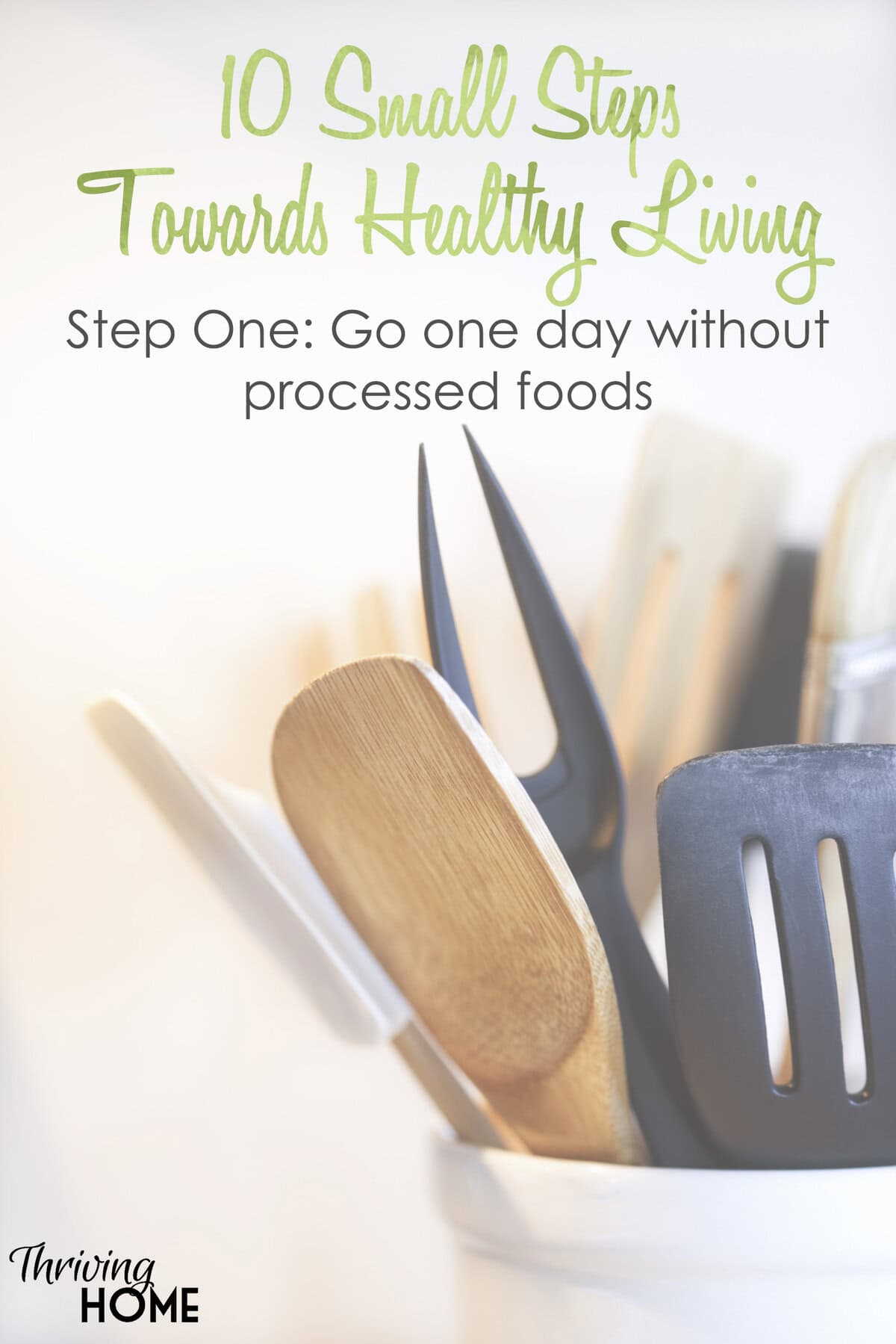 Start at the beginning of our 10 Small Steps Toward Healthy Living series here.
(Note: Some affiliate links included.)
Our Family's Journey Toward Real Food
My husband and I used to be fast food and convenience food (think store-bought frozen pizzas and lasagnas) junkies a little over a decade ago. When I worked full-time and he was a full-time student commuting two hours both ways, we just couldn't figure out how to make healthy, homemade food a part of our life. And, we honestly both suffered as a result–gaining weight, experiencing blood sugar spikes and lows, feeling sluggish and having digestive problems.
But that all changed about 7 years ago when one of our children was diagnosed with Crohn's Disease as a toddler. Around that time I also read several books like Fast Food Nation and Omnivore's Dilemma and began regularly reading blogs like Keeper of the Home, Heavenly Homemakers, and Kitchen Stewardship. My eyes were opened to the dangers of processed foods that are loaded with sodium, sugar, preservatives, and additives. I learned that at best these foods are non-nutritive and at worst they cause inflammation and damage to our bodies over time, perhaps worst of all in fetuses, babies and children.
So, I began to try cooking at home more. I investigated how to feed my family with food that was closest to it's original source (what we call "real food" around here). I scoured the labels of everything I bought at the store and looked for the products with the fewest ingredients and only those ingredients I recognized.
It wasn't easy. There was a definite learning curve. And I'm still learning about how to make healthy food choices and how to make cooking a priority in our busy family life. But, small baby steps over time have really added up! When life isn't completely chaotic like this past summer, we eat at home around the table most nights, because I've learned these 3 key ways to eat healthier. But, today, you only have to take one small step in this direction if you want to get started.
Take One Small Step
Now, think about this for a moment. If you have been thinking about cutting back on fast and processed food (you know, most of the time…let's give ourselves grace here), not only will you save money because you'll eat at home more, but you'll perhaps be adding years to your life, avoiding disease, have more energy, and feel better! Research has shown again and again that eating a varied diet of whole foods (the ones closest to the actual food source–think fresh vegetables, whole grains, organic and/or grass-fed meat, etc) with an emphasis on a variety of fruits and vegetables is what our bodies need to thrive.
So, here's the deal. All you have to do to get started is take one small step in this direction: try to go 1 day without any processed foods. Just one. You CAN do this. And so can your family. Need some ideas about where to start? Here are some simple mostly real food ideas to help you cover your whole ONE day of  unprocessed foods.
Food Ideas to Get Started
Note: It's ok to take help from the store by buying some convenience items, but the trick is to check the ingredients. Look for ones that you recognize and that have the fewest ingredients. And, try to find the ones with the most whole grains (think whole wheat flour vs bleached white flour). Here is a very helpful chart for determining what choices to make at the store when it comes to real food and what you can substitute when needed.
Real Food Breakfast Ideas:
organic plain Greek yogurt with blueberries, a touch of honey, sliced almonds and/or homemade granola
eggs (however you like them)
Real Food Lunch Ideas:
Real Food Dinner Ideas:
Real Food Snack Ideas: Try one of these 30+ Healthy On-the-Go Snack ideas
Real Food Menu Plans
Now, here's one last thing that I talk more about the importance of later in this series here. I usually post a "Real Food Meets Reality" Menu Plan each Saturday. This is the plan for my own family for the week. I use the phrase "meets reality" because we don't eat unprocessed foods completely. I mean..seriously…I have three kids and two jobs and a house to keep up with. You get it. But, this is my attempt at providing my family with a balanced, mostly "real food" diet throughout the week. You can find all these menu plans HERE for lots of ideas.
So, give it a try! ONE DAY. Go…(and let us know how it went or what ideas you have for making this doable)!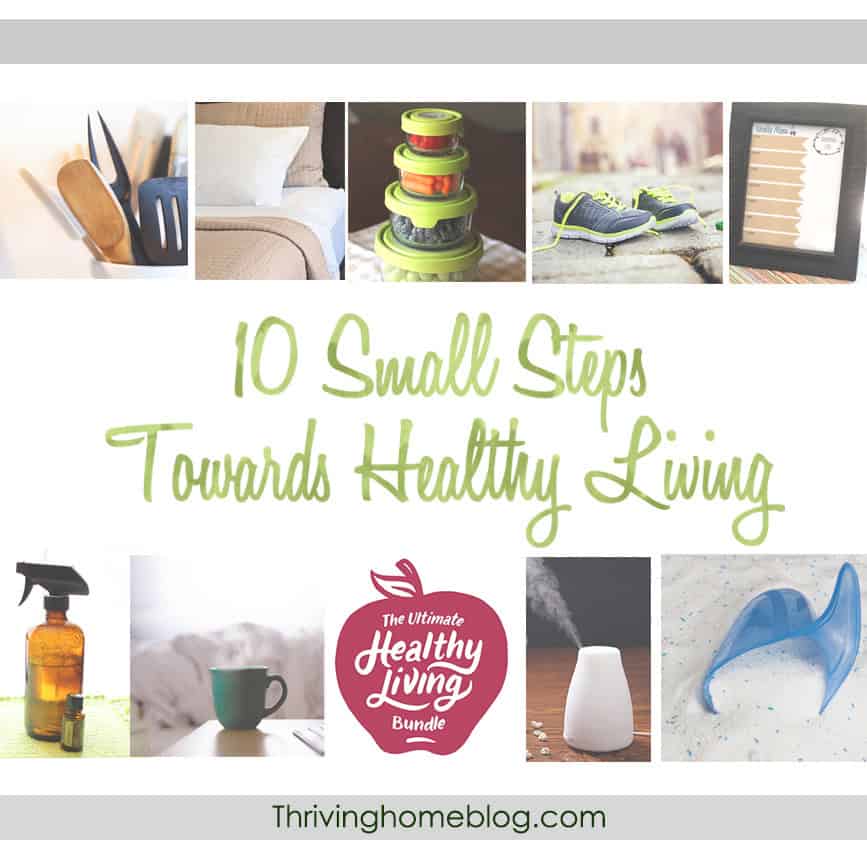 https://thrivinghomeblog.com/wp-content/uploads/2015/09/Processed-food.jpg
2289
1527
Rachel Tiemeyer
https://thrivinghomeblog.com/wp-content/uploads/2019/10/thrivinglogo.png
Rachel Tiemeyer
2015-08-31 05:25:22
2015-09-16 11:43:19
Healthy Living Small Step #1: Go One Day Without Processed Foods