Healthy Living Small Step #7: Rethink How You Make Coffee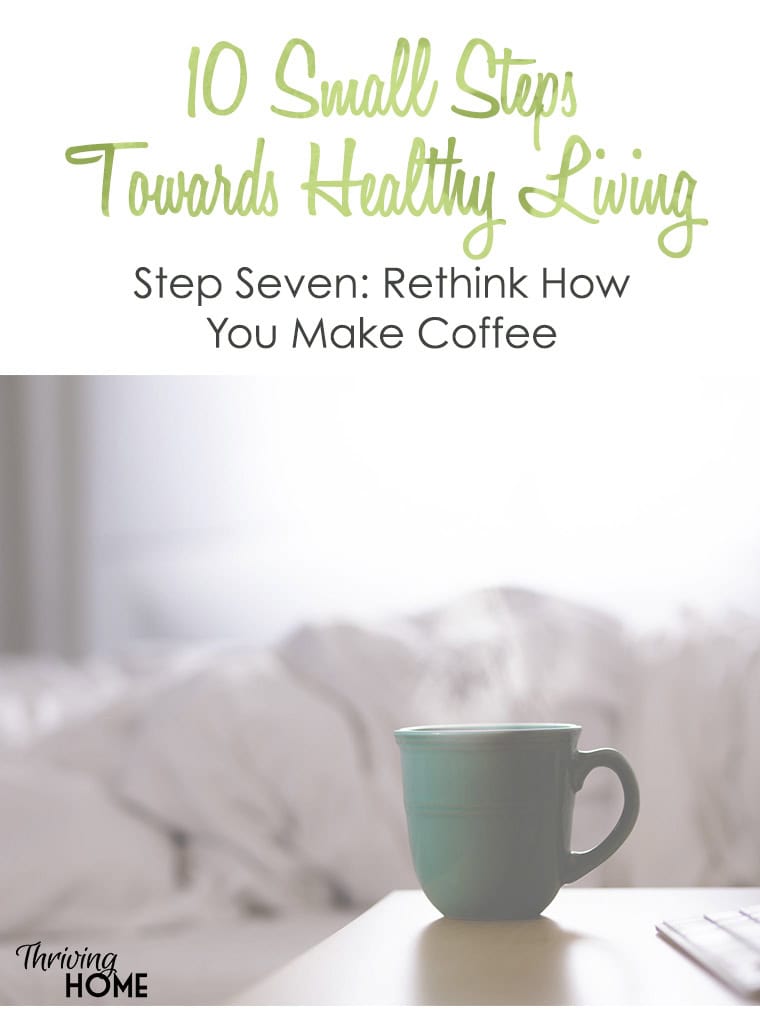 Start at the beginning of our 10 Small Steps Toward Healthy Living series HERE.
I have a coffee dilemma. Maybe you do too.
The dilemma in my conscience for years has been a struggle between my great love of morning coffee vs. the dangers of plastic in my coffeemaker. You see, plastic can break down over time from high temperatures and overuse and potentially leach harmful chemicals into food and drinks, especially when heated. 
Don't get me wrong. I love waking up to a pot of coffee hot and ready to drink in an automatic coffeemaker. But, over the years, I've always known that I'm drinking plasticy (is that a word?) coffee. I searched high and low for an automatic drip coffeemaker made entirely of stainless steel and glass. The only viable non-commercial option I could find was too big to fit under my cabinets on my counter, was really expensive, still required me to buy a separate stainless steel filter basket, and still had plastic on the lip of the glass carafe.
So, I've been on a quest the past two years for a safer coffee-making option, as well as one that actually works! It hasn't been easy. So far, here's what has failed me:
A few different plastic-laden drip coffee makers (Hot water through a bunch of plastic? No thanks!)
A stainless steel percolator (Coffee got too hot and tasted bad. Also left grounds.)
A french press (Left grounds in my cup, coffee got cold fast and the whole thing required way too much work and time.)
But, this summer, I found an $12 solution to my coffee dilemma and haven't looked back. It makes a delicious and safe cup of coffee in only a few minutes. My husband and I love it!
My answer is this ceramic 1-cup coffee dripper made by Kalita. I really like this one that has three small holes in the bottom, rather than the kind with one large hole. Here's what it looks like…
You'll also need small all-natural filters (one per cup)…
How does it work? It's not hard at all. Here's my layman's method, but check out a serious coffee connoisseur's video below if you want to get fussy about it.
Step 1: Heat water in a tea kettle or even in the microwave to almost boiling. I use a stainless steel electric tea kettle every morning (check out all the options).
Step 2: Add the filter to the coffee dripper and 2-3 tablespoons of ground coffee to the filter. (I like my coffee strong so I usually use 2 1/2-3 tablespoons.) Set the coffee dripper on top of your mug.
Step 3: Slowly pour the hot water over the grounds until it fills to the brim. Let it drip through to your mug below. Then, fill the coffee dripper again with hot water. After two rounds, I usually fill it about halfway a third time and that's perfect.
The whole Kalita method takes me about 2 minutes, not counting heating the water.
But, if you want to get a little more intense about it, check out the way this barista makes it.
What will I use for big pots of coffee for friends and family, you ask?
Well, I plan to order the 8-cup version of this Chemex Glass Coffeemaker from MightyNest (afterall, 15% of my sale goes to my kids' local school). Not only does it look cool, but the reviewers swear it brews the perfect cup of coffee. And, the all-glass pot assures a pure cup of coffee from any chemicals!
You'll also need these unbleached filters for the Chemex Glass Coffeemaker…
Reader Question: What do you brew your coffee in? Have you found a safe option that works for your family?
Note: Some affiliate links included, but all opinions are ours!
https://thrivinghomeblog.com/wp-content/uploads/2015/08/Rethink-how-you-make-coffee.jpg
1012
760
Polly Conner
https://thrivinghomeblog.com/wp-content/uploads/2019/10/thrivinglogo.png
Polly Conner
2015-09-08 05:24:29
2015-09-20 16:56:34
Healthy Living Small Step #7: Rethink How You Make Coffee