Healthy Living Small Step #6: Make Your Own All-Purpose Cleaner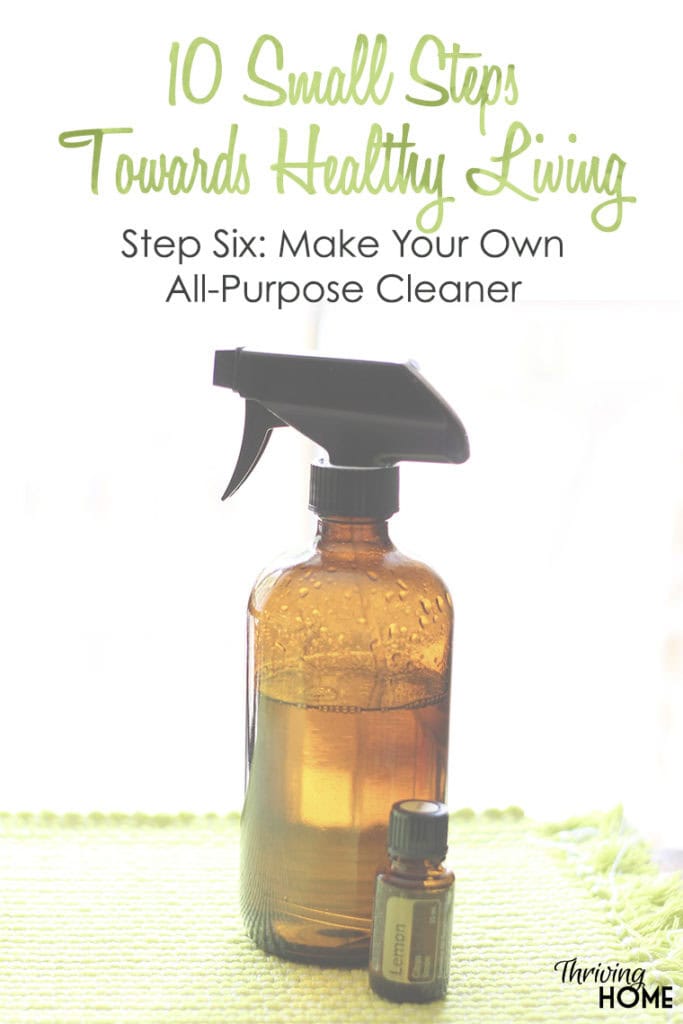 Start at the beginning of our 10 Small Steps Toward Healthy Living series HERE.
Making your own household cleaner really is super easy. You can not only save money but also avoid any extra chemicals you may not want floating around your house.
Why Make Your Own Cleaning Products?
Here are a few reasons that I'm becoming more and more motivated to make my own products:
Ingredient labels are mandatory for food, cosmetics and drugs sold in the U.S.–but not for cleaning products. In short, companies are not telling us what is in our products.
Test results show that cleaning products commonly contain hidden chemicals linked to cancer, birth defects and pregnancy complications (Source).
The National Institute of Occupational Safety and Health has found that one-third of the substances used in the fragrance industry are toxic. But because the chemical formulas of fragrances are considered trade secrets, companies aren't required to list their ingredients but merely label them as containing "fragrance" (source).
Oh, and lastly. My kids have been known to lick the floors, table and counters. They are straight up ingesting this stuff. Time to be a bit more cautious.
How to Make Your Own All-Purpose Cleaner
There are a few different routes you can go when making your own cleaning supplies. Before we started Thriving Home, Rachel actually got me started on this homemade disinfectant recipe. This recipe worked great and made A LOT.
As of late, I've found that it is even easier to make my own cleaner using essential oils. Here is a simple recipe using water, vinegar and essential oils. I've tinkered with this recipe a bit and have found that my favorite combination is: 2 3/4 cup water, 1/4 cup vinegar, 15 drops lemon, 10 drops orange, 5 drop lavender.
Note: It is super important to use PURE essential oils. Do your research. If you want to know which oils I use and trust, swing by my Beginners guide to essential oils. 
https://thrivinghomeblog.com/wp-content/uploads/2015/08/all-purpose-cleaner.jpg
1139
760
Polly Conner
https://thrivinghomeblog.com/wp-content/uploads/2019/10/thrivinglogo.png
Polly Conner
2015-09-07 05:04:19
2020-01-05 15:40:18
Healthy Living Small Step #6: Make Your Own All-Purpose Cleaner