An Honest Review of Stitch Fix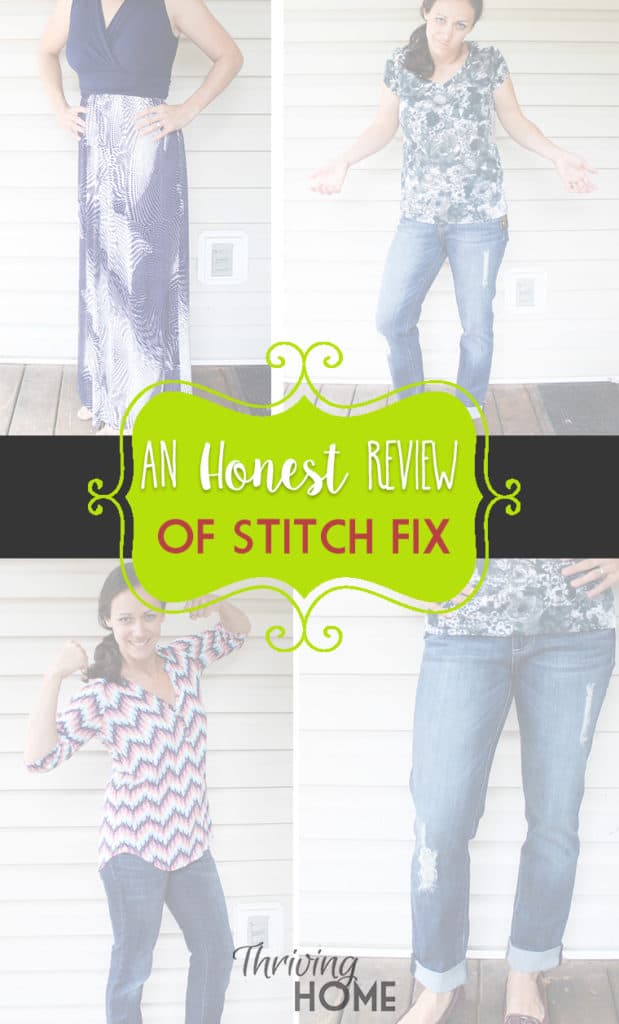 As a small-town, home-grown lake girl, I grew up wearing swimsuits in the summer and sweatshirts in the winter.
In high school, my primary goal when picking out clothes was to hide my figure. I distinctly remember wearing two sports bras at one point.
In college, when I lived in the sorority house, a roommate told me I had "a shoe problem." Since she's pretty much a famous fashion blogger now, I probably should have taken her seriously.
Needless to say, I've never been a fashionista. In fact, quite the opposite. I have never been much of a shopper and the majority of my clothes have come from either Marshals, outlets, sports apparel stores or garage sales.
Once I had kids, the little shopping I DID do dwindled down to rushed trips to closest store when my parents were in town or the occasional trip to Old Navy which is often cut short due to over-stimulated kids. When I see these trendy moms around town, I often think to myself, "How the heck do they have time to shop!?"
So here's my dilemma: I desire to dress attractively and not a decade behind but I simply don't have the time!
Enter: Stitch Fix.
What is Stitch Fix?
In short, Stitch Fix is for busy women on the go (Umm… who doesn't fall in this category?). Stitch Fix is the personal styling service tailored to your taste, budget and lifestyle that helps you look and feel your best every day. The clothing is mailed to you. You try it on. You send anything and everything you don't like back for free in a pre-paid envelope. 
It's probably worth mentioning that this is NOT a sponsored post. They didn't seek me out. Quite the opposite, in fact. I do have a referral link so if you feel so included, I'd be happy to earn a little stitch fix credit if you sign up. 
Onward!
How Does Stitch Fix Work?
First things first. Sign Up! 
This is super easy to do. It does cost a $20 "styling" fee but that can go towards your purchase so you aren't out any money if you end up keeping even one item.
Fill Out a Style Profile
The first thing you do when beginning the process is answer a personal style quiz. You'll answer questions about your lifestyle, budget, preferences, etc. etc.
For someone, like myself, who doesn't quite know how to articulate my style, I was thankful that the quiz provided a variety of pictures for me to respond to. I actually found this process kinda fun!
After you have submitted your information, a professional stylist will take a look at your profile and start doing a little digging.
Receive your Fix
A few days later, a neatly packaged box will show up on your doorstep with 5, hand-picked items for you. In this box you will also find some styling guides like these.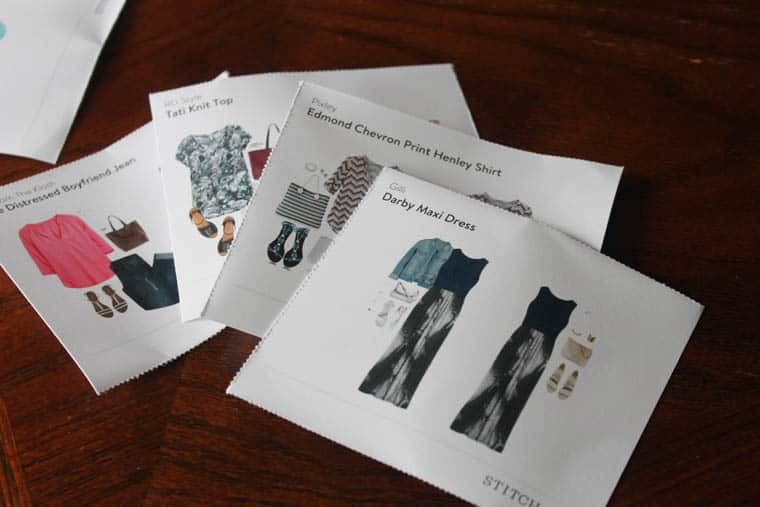 They must know they are working with people like me who don't have the fashion intuition that seems to come so naturally for some.
There is also a personal little note for you from your stylist. (I giggle a little when I say I have a stylist).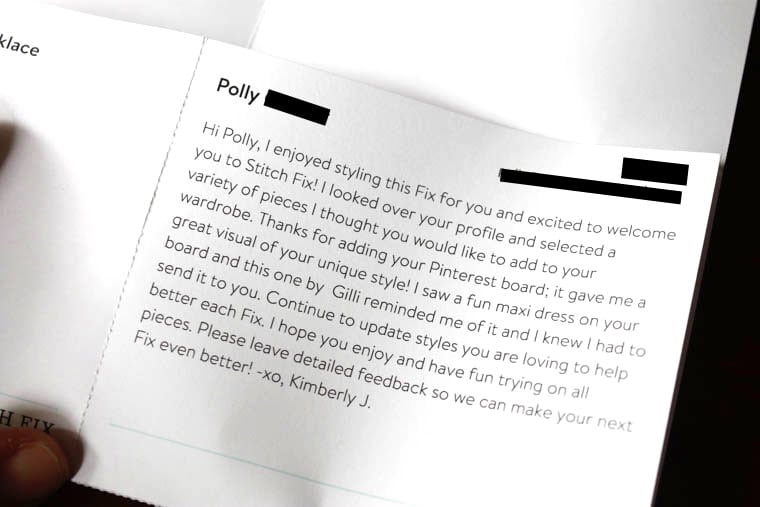 At this point, you put on a TV show for your kids so you can try on your 5 items. I mean…wait. Don't be impulsive like me. Wait until their naps at least. Lest you find a four year old girl wanting to try on the pretty clothes as well. I digress.
Mail Back What You Don't Want
So here is the beauty of the process. Whatever you don't like (even if it's everything), you can send back in this pre-paid package. No hassle. Just drop it in and send it back within three days. Did I mention it's free? So if you just aren't feeling the items they sent you, no harm done! Just keep in mind that they will charge a $20 styling fee if you send back everything. If you keep even one item, that $20 will go towards your purchase so you aren't out any money.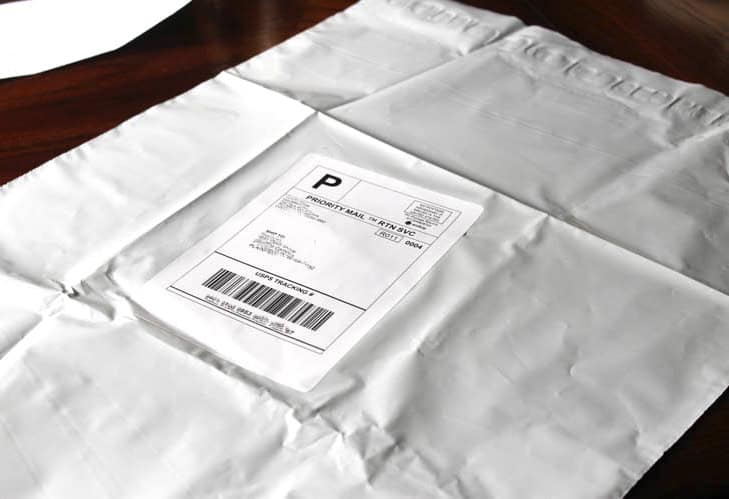 My Personal Experience So Far:
OK, so now you know how it works.
Here is an honest review of how Stitch Fix has worked for me so far.
The Signup
I really enjoyed this process. I don't think I've ever had to articulate my style or what types of clothes I actually wear. This was fun for me. Thanks to the advice of some other Stitch Fix advocates, I created a Pinterest Board collecting styles and looks that I liked. I sent this to my stylist during the signup process. I also tried to be as specific as I could about what I like and don't like.
The Clothes
This was super fun for me. I was really excited to get my box in the mail. I was genuinely curious about what my stylist would pick out.
Here is a rundown on my five items.
I feel like it is worth mentioning that taking pictures of yourself is SUPER awkward if you aren't used to it. I mean, do I smile? Look away? Where do my hands go? I should do an entire post simply on the blooper photos I ended up with. Here is my best shot at capturing the items sent to me. 
Darby Maxi Dress ($78)
When I saw a maxi dress in my box, I was skeptical. For the most part, maxi dresses are always too long for me (I'm 5'3) or a little too revealing up top. When I tried this one on, I was pleasantly surprised by the fit! My stylist must have actually paid attention to my height deprivation because the length was perfecto.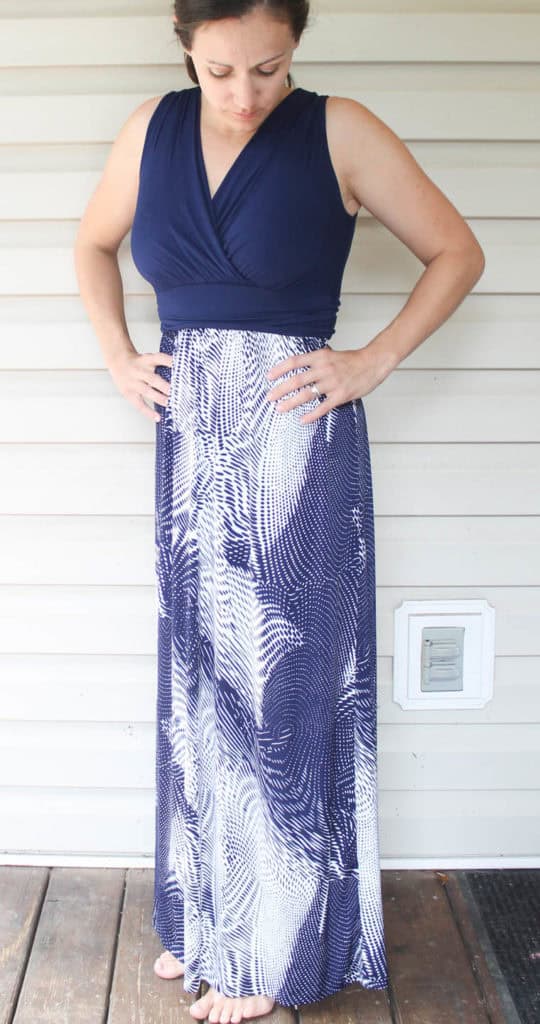 Downside to this one: way expensive.
Like I said, I'm used to outlet sales, so spending this amount on a dress is a stretch for me.
However, because I have yet to find a maxi dress that actually fits me AND I know I'll wear the crap out of this thing AND because my husband loved it, AND my mom just signed up for Stitch Fix so I'll get $25 credit, I'm keeping this one.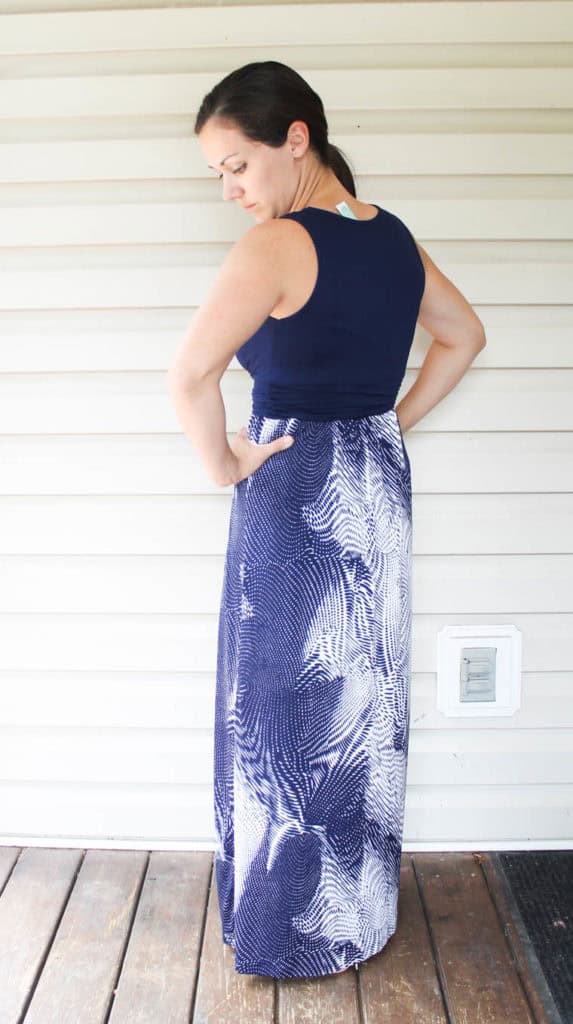 Kate Distressed Boyfriend Jean ($88)
Got to be honest. Not feeling this one. I'm just too short for jeans like this.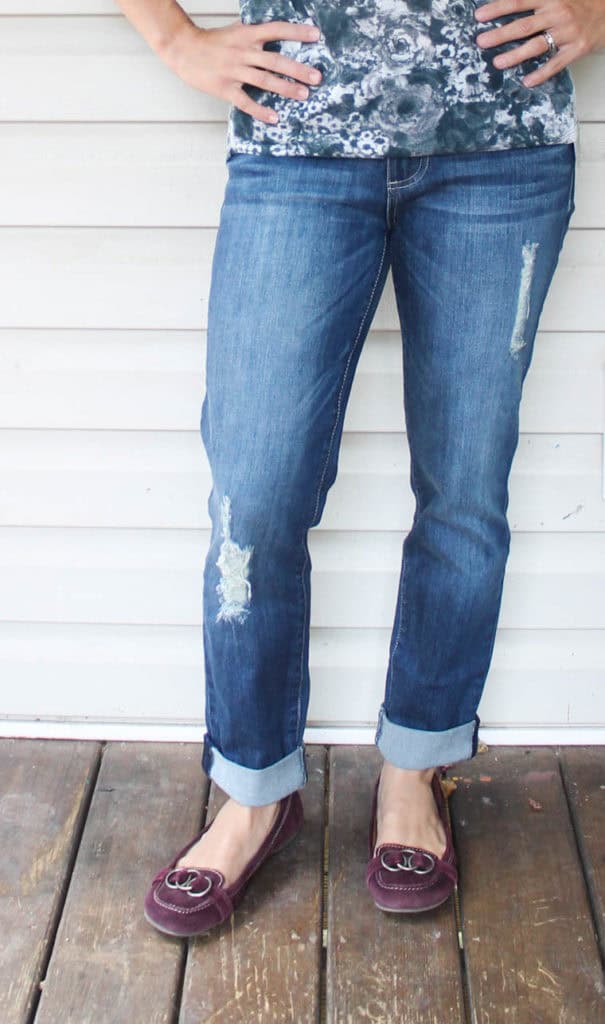 I'm not a big fan of the length and they just felt too bulky towards the bottom. Just not my style.
AND they are $88. If I'm going to spend that much on jeans, they need to be a PERFECT fit and come with cash in the pockets or something.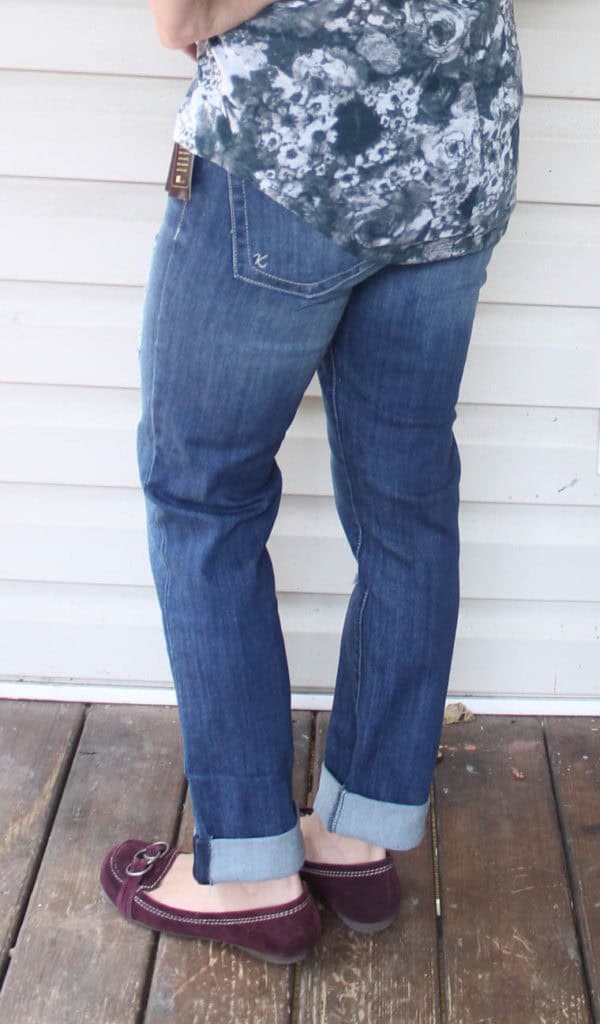 Edmond Chevron Print Henley Shirt ($54)
When I first saw this, I was a little taken back by the pattern and colors.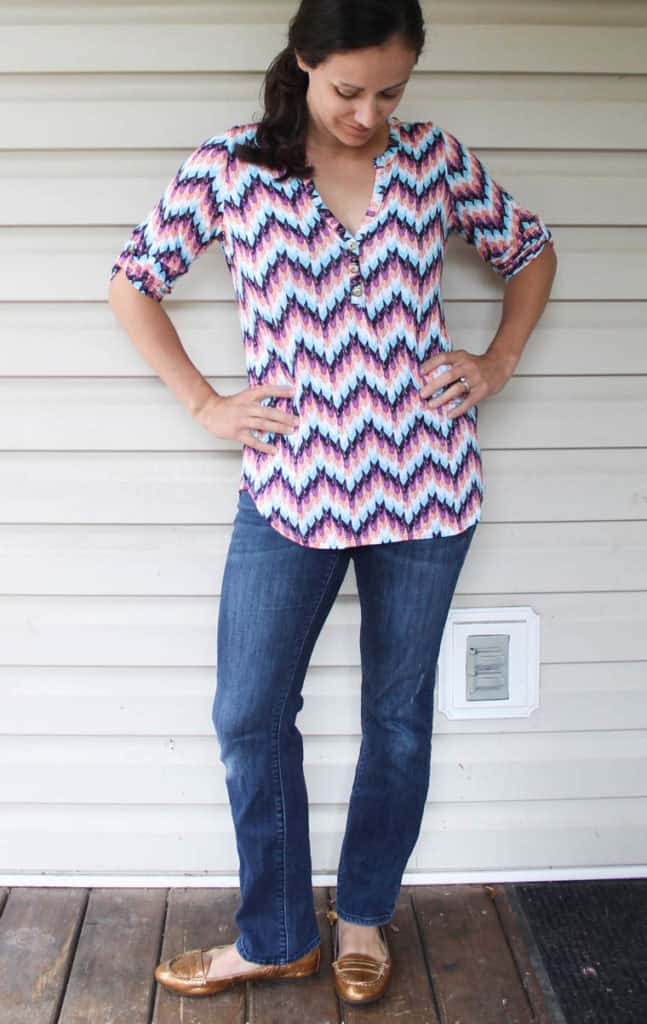 However, after trying it on, I fell in love. The fabric is very light, airy and almost stretchy. I could for sure wear this in the summer, spring or fall. I REALLY liked this shirt.
Again, it was on the higher end of what I like to pay for things like this. I have to really really really like something to cough up that sort of money for just a shirt. Because of it's great fit and versatility for most seasons, I decided to keep this one.
Did I mention I love it?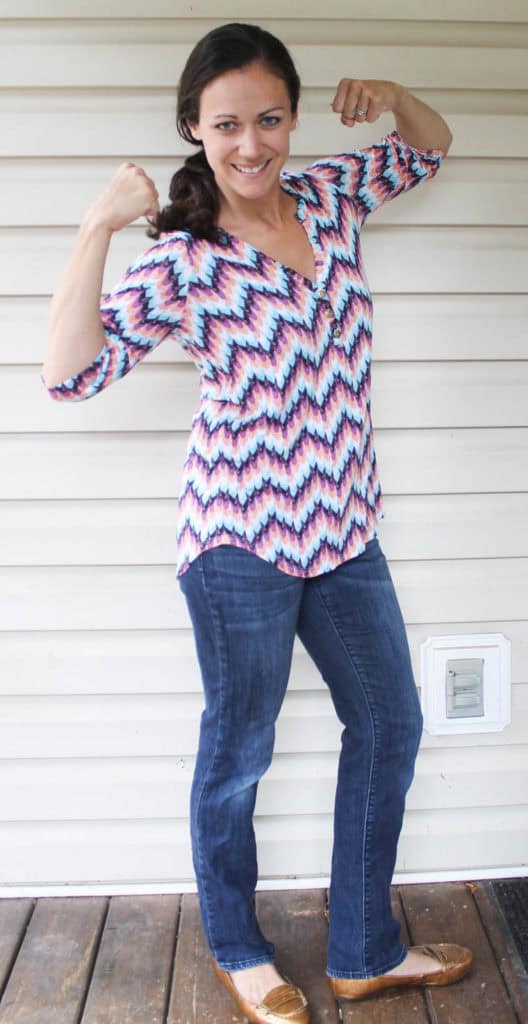 Tati Knit Top ($44)
This picture sums up how I feel about this top.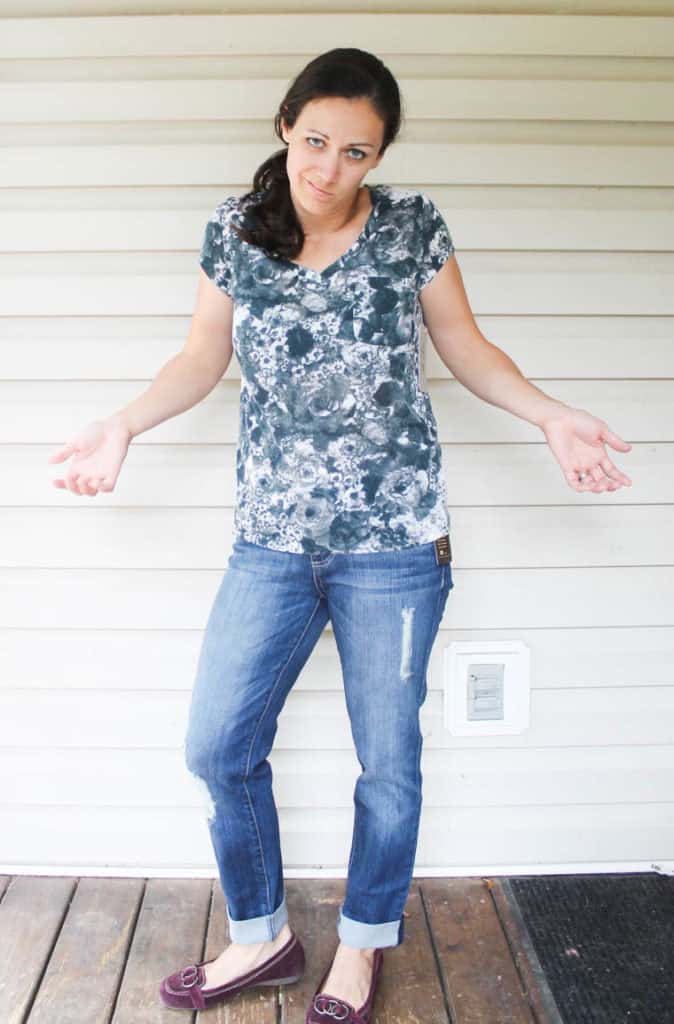 Truth is, it is something I would probably wear IF it was half the price. I am not about to pay $44 for a knit top. Send it back, boys!
Kaitland Spade Charm Long Necklace ($36)
I actually really liked this necklace. I really wanted to keep it. But, knowing that I was already spending more than I usually do on clothes, I couldn't let myself keep this one. Especially since I just ordered a few Noonday necklaces.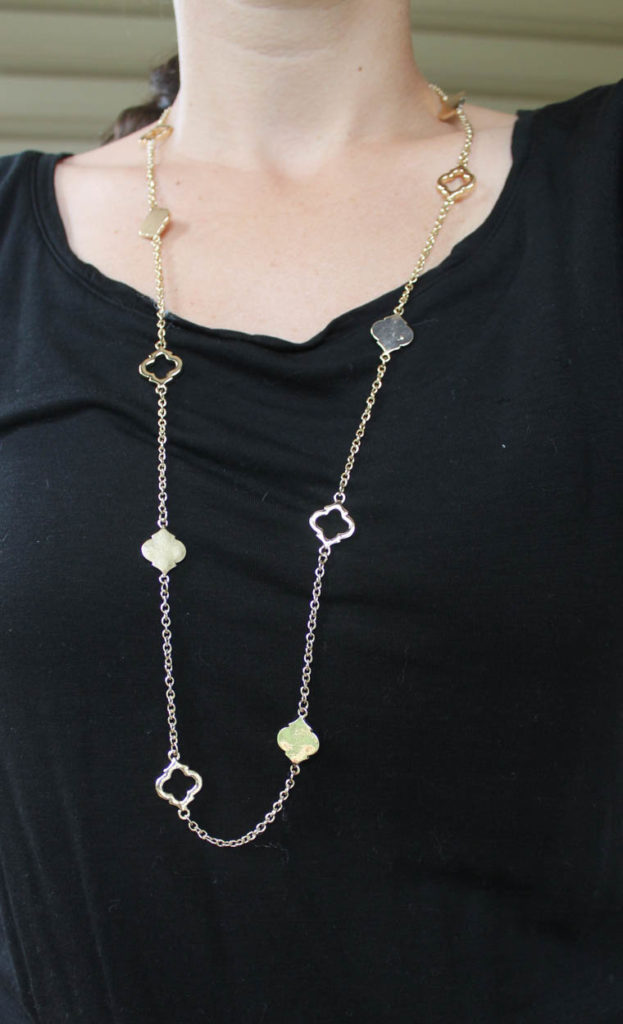 Pros and Cons of Stitch Fix
Pros:
As a mom of littles, I don't have time to shop. Stitch Fix did this for me.
It helped me to branch out of what I would normally try on at a store.
It gets better as you go (or so they say). This makes sense though. As your stylist gets to know you better, she will be able to pick out things you like more accurately.
You can make specific requests. Need a nursing friendly top? Sure! Need a holiday dress? Ask for it, baby. You have direct access to the person dressing you so you can make any request that comes to mind.
Free shipping. Everything you ship back is pre-paid
No obligation to buy. After your $20 styling fee, you are under no obligation to buy anything.
Trying clothes on in the comfort of your own home. This helps because you can try it on with different clothes you already own.
Styling cards were helpful. I like this added element of the box.
You can earn $25 credit for anyone you refer.
A friend of mine claims that the customer service is great. Apparently the only shirt she wanted to keep had some damage so she sent it all back. She called them and they refunded her $20 styling fee for that box. I haven't had to deal with customer service yet so I can't make any claims there.
Cons:
My primary complaint is the price of clothing. Just a bit over my comfort zone.
They don't always get it. Based on how much information you give your stylist, they are kind of shooting in the dark trying to dress someone they have never met. It would be a tough job!
Hello, temptation. Since the clothes are sent directly to your home, you are likely to try on everything. This is a genius business move on their part. It's a lot harder to say no to something after you've tried it on and really like.
You can be tempted to buy above your budget. If I saw a $78 maxi dress in a store, I wouldn't even bother to try it on because of it's price. However, after trying this one on and loving the fit, I decided to keep it. Dang it.
If you don't like anything in your box or your stylist totally doesn't get your style, you are out $20. I don't love this aspect of this because I feel a little pressure to keep at least something. Just keeping it real.
My Conclusion on Stitch Fix
Overall, I like it. I just don't like the prices.
My strategy in the future is to only buy things I LOVE and that are versatile. I plan to fill in the gaps with my usual cast of characters (outlets, Marshals, Target, etc.) There is no way I can fund my entire wardrobe through Stitch Fix but I am open to an occasional splurge if I really like it.
Tips on Using Stitch Fix
Here are some tips to make Stitch Fix work for you.
Be specific. When filling out your profile, you will have a chance to send a note to your stylist. Use this opportunity to really tell them what you like and don't like. Be honest about any insecurities you have or things you just simply won't wear.
Create a pinterest board. I think this was really helpful for my stylist to see. It gives them a visual of what I'm drawn to (and NOT drawn to).
Give specific feedback. Once your have your clothes, you will have the chance to go online and give feedback about each item. Make sure to do this so your stylist gets better at picking out items for you.
Want to give it a try? Get signed up here!
https://thrivinghomeblog.com/wp-content/uploads/2015/07/Honest-review-of-stitch-fix.jpg
1258
760
Polly Conner
https://thrivinghomeblog.com/wp-content/uploads/2019/10/thrivinglogo.png
Polly Conner
2015-07-28 05:25:06
2020-01-05 21:08:58
An Honest Review of Stitch Fix