Stock Up on Summer Produce to Save Time and Money (+ 50 In-Season Recipes)
Updated: 11/13/20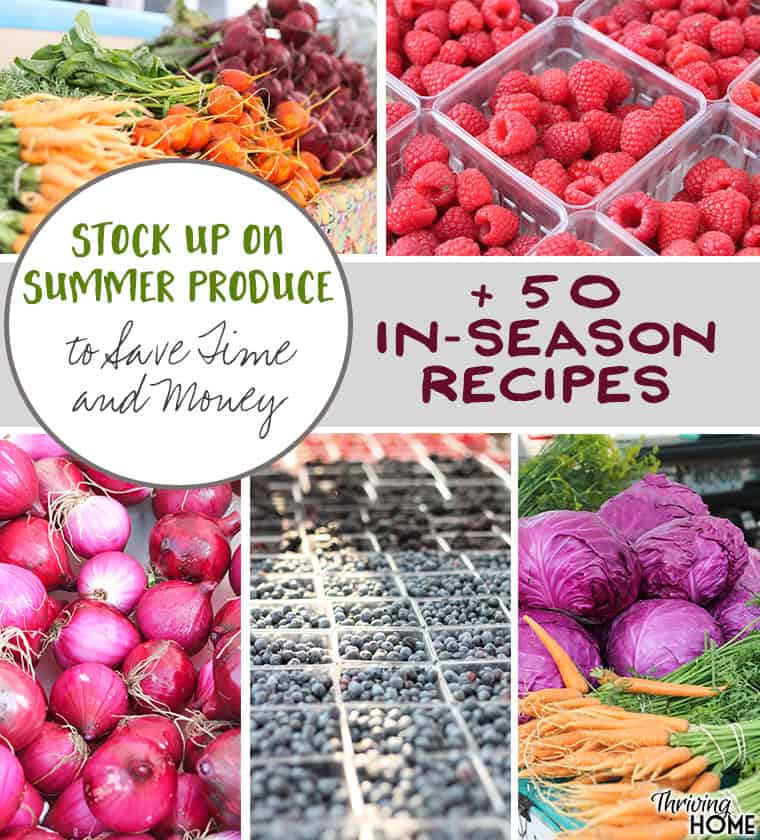 Disclaimer: This post was created in partnership with Frigidaire. But the opinions are all ours!
Ripe berries, juicy peaches, zucchini the size of your forearm, more tomatoes than you can shake a stick at. Summer to our family is not only about swimming, road trips, and catching fireflies. It's also all about filling our bellies and stocking our fridge and freezer with our favorite in-season summer fruits and vegetables.
Why Stock Up in the Summer?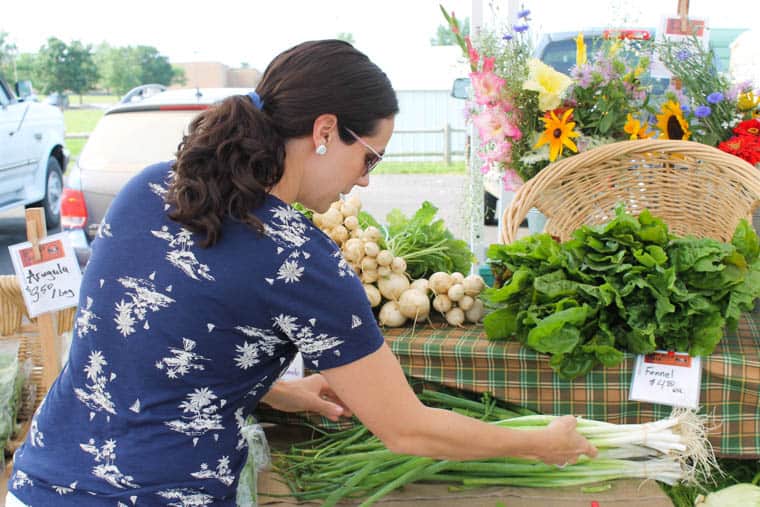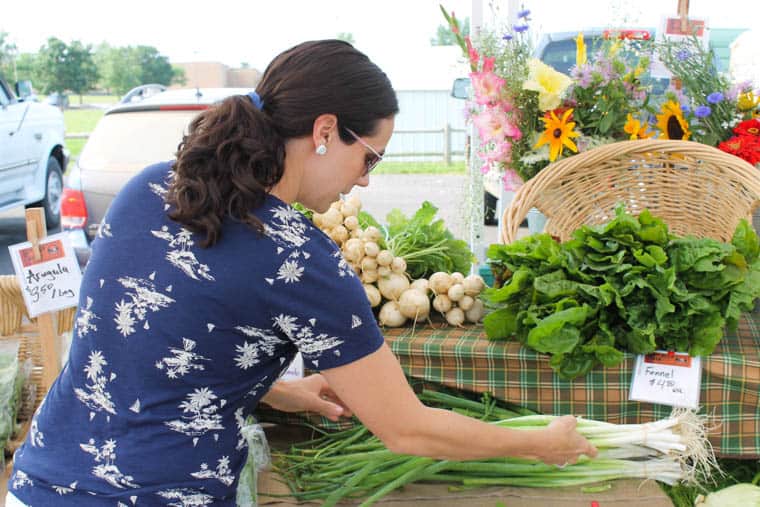 Whether you scour the Farmer's Market and supermarket for deals or your garden is overflowing with produce, summer is an ideal time to stock up on fruits and vegetables. By buying what's in season, you'll find that not only is your produce cheaper, it's also at the height of deliciousness and nutritional value.
You can save time by prepping and freezing your produce or making some simple, healthy freezer meals with it for later. I also like to whip up some easy make-ahead recipes to keep in the fridge and eat on all week long, like the Tabbouleh Salad or Cobb Salad (see more below).
So, don't let the produce you have go to waste or miss out on those deals because you don't know what to do with it all. With our seasonal tips and summer recipes from this post, you'll be on your way to stocking up and saving money and time this summer.
What's in Season During Summer?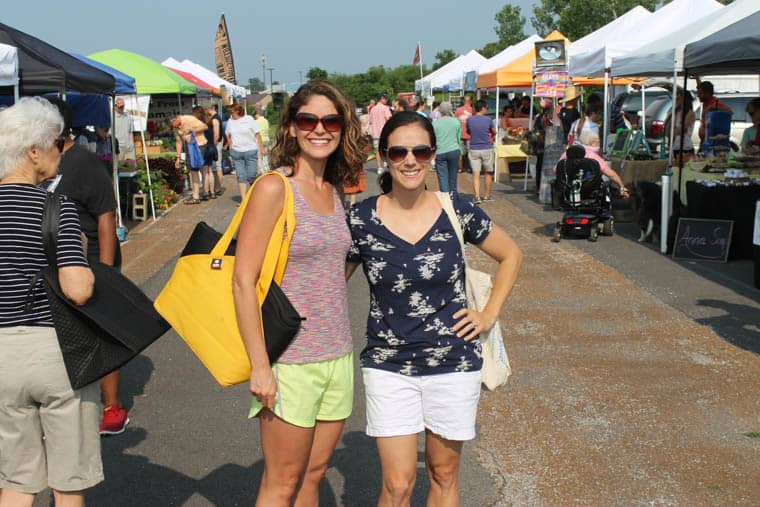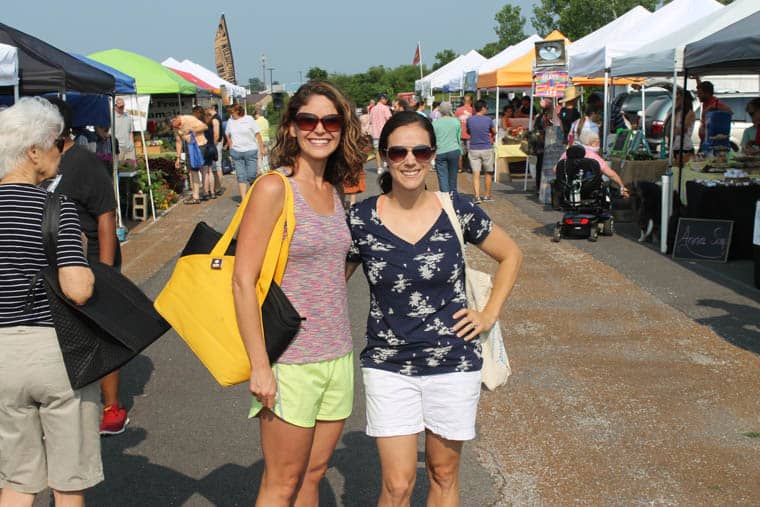 So, you may be wondering, how do I know what's in season in the summer? Well, Polly and I were on a mission this weekend to find what's out there right now and stock our fridges.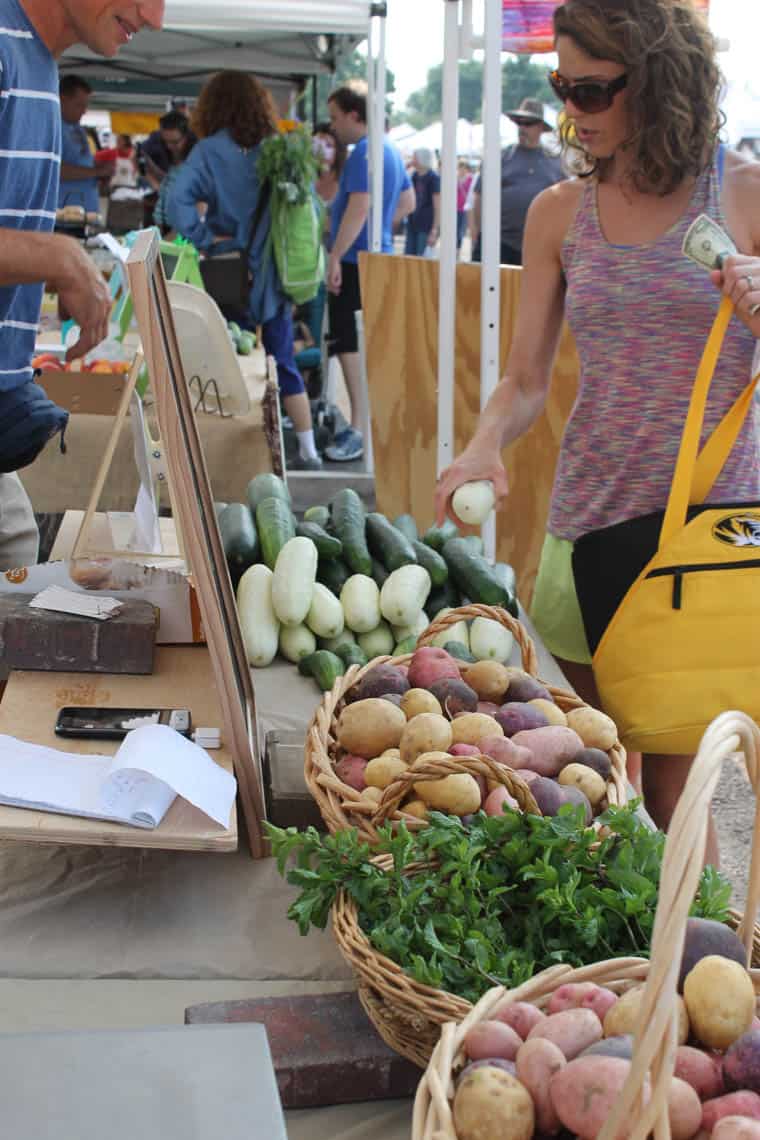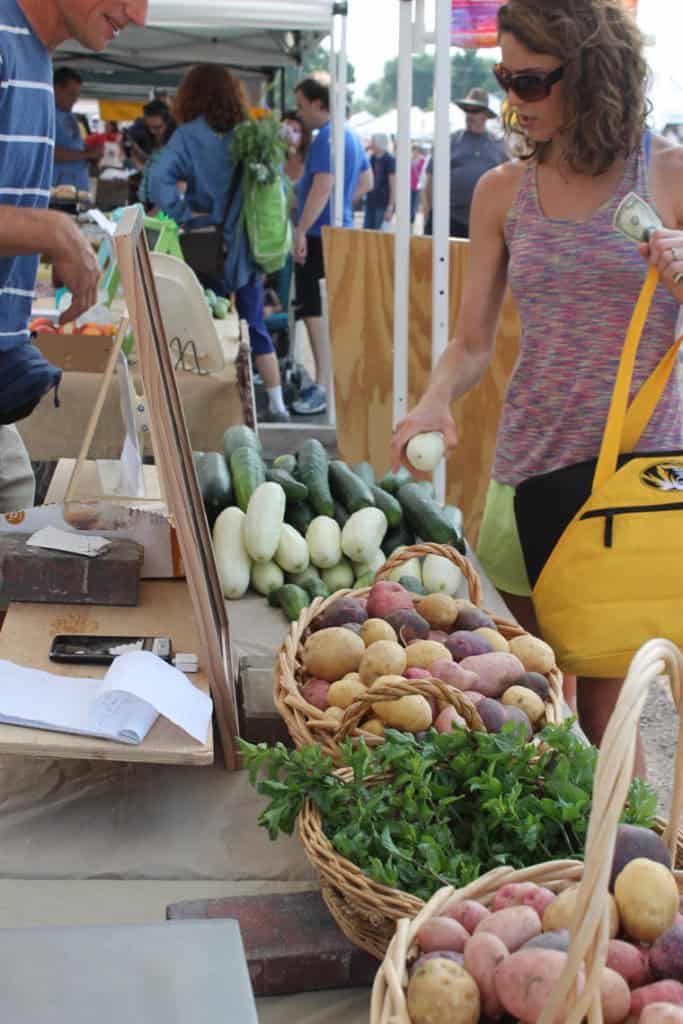 Zucchini
Yellow squash
Tomatoes
Bell peppers
Peaches
Berries (blueberries, blackberries, raspberries, etc)
Cherries
Onions
Herbs
Sweet corn
Green beans
Broccoli
Cucumbers
What Should I Do with All My Summer Produce?
Are you ready to save money and time by strategically stocking up and prepping ahead this summer? Here are 50+ of our go-to recipes for using summer in-season produce. Many of these are freezable and include freezer meal instructions within the recipes, while others are perfect for making ahead on the weekend and eating on all week long.
*Indicates that this recipe is freezable and includes freezer instructions.
1. Blueberry Avocado Muffins – Our freezer friendly Blueberry Avocado Muffins are a popular recipe in our cookbook, From Freezer to Table. This easy breakfast idea packs some serious nutritional punch to your morning. And that tasty crumble topping takes these muffins to a whole different level. A great freezer meal breakfast idea!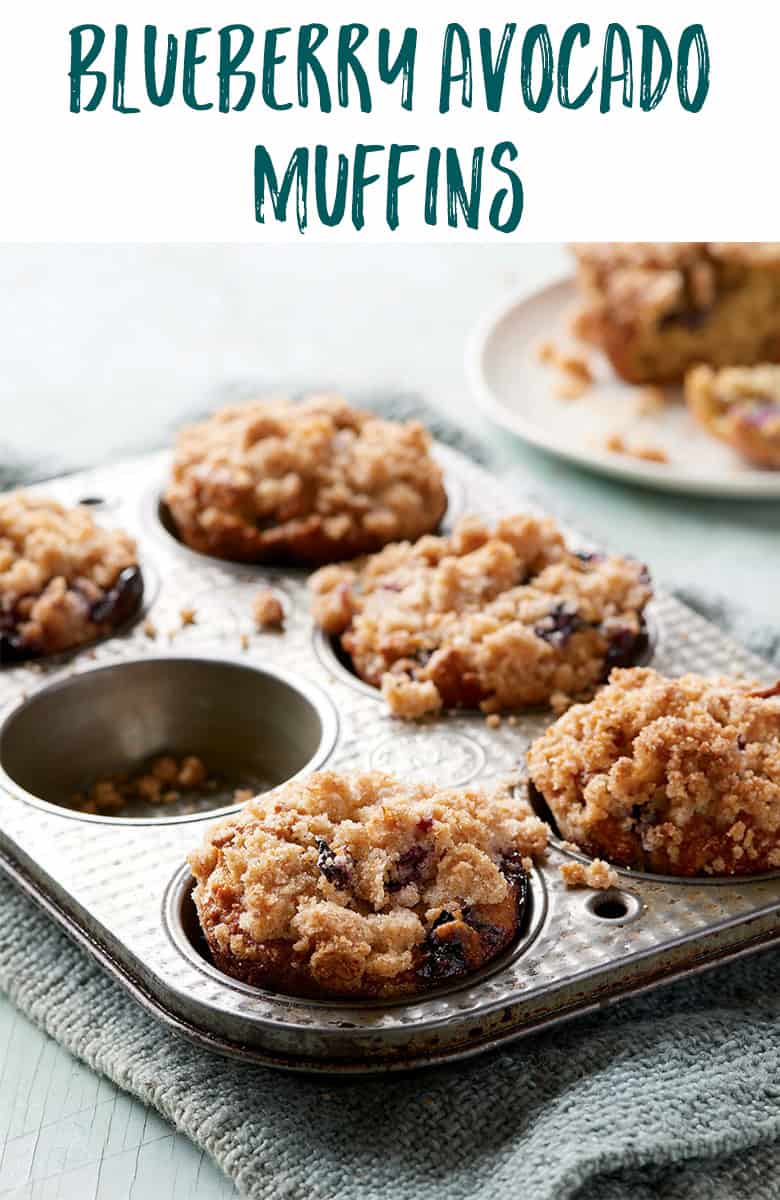 2. Chicken Pesto Pasta (includes basil pesto recipe)* – If you have lots of basil, then making pesto is a MUST! You can use it in all kinds of dishes, but this basic chicken and pasta recipe is always a winner.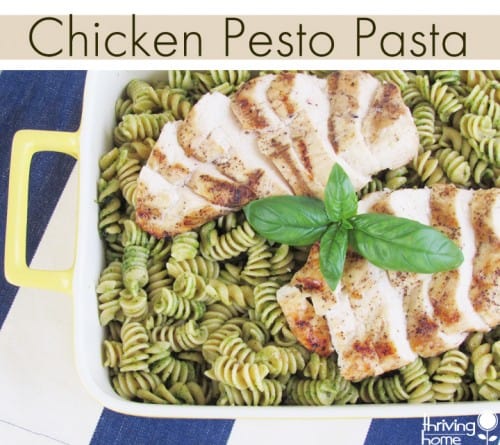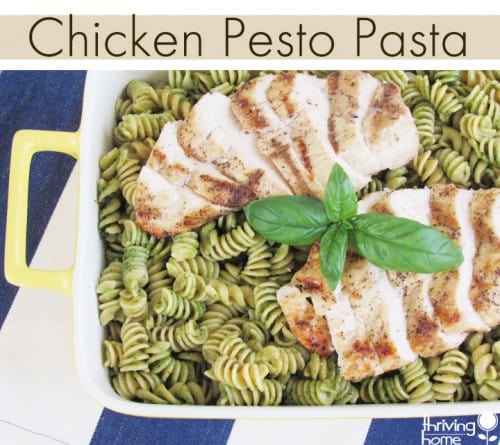 3. Jane's Grilled Peaches – A delightful and unique way to serve up peaches! Grill these alongside one of these awesome real food grilling recipes.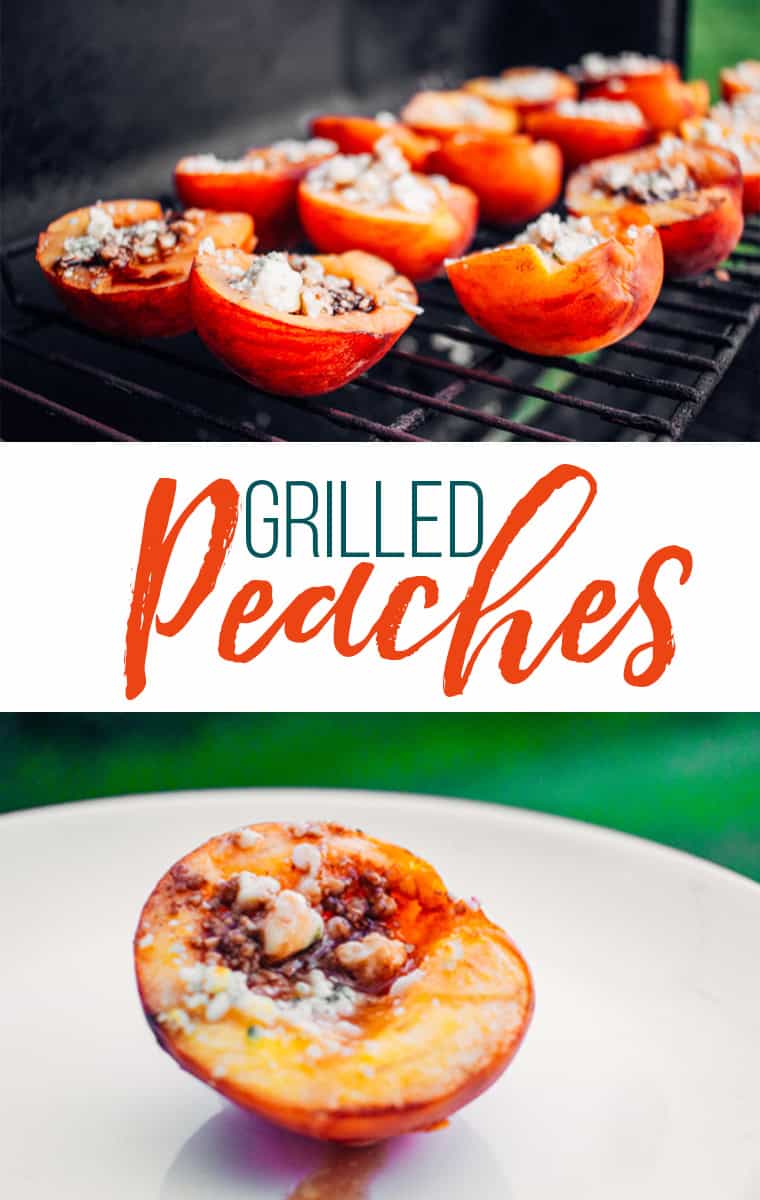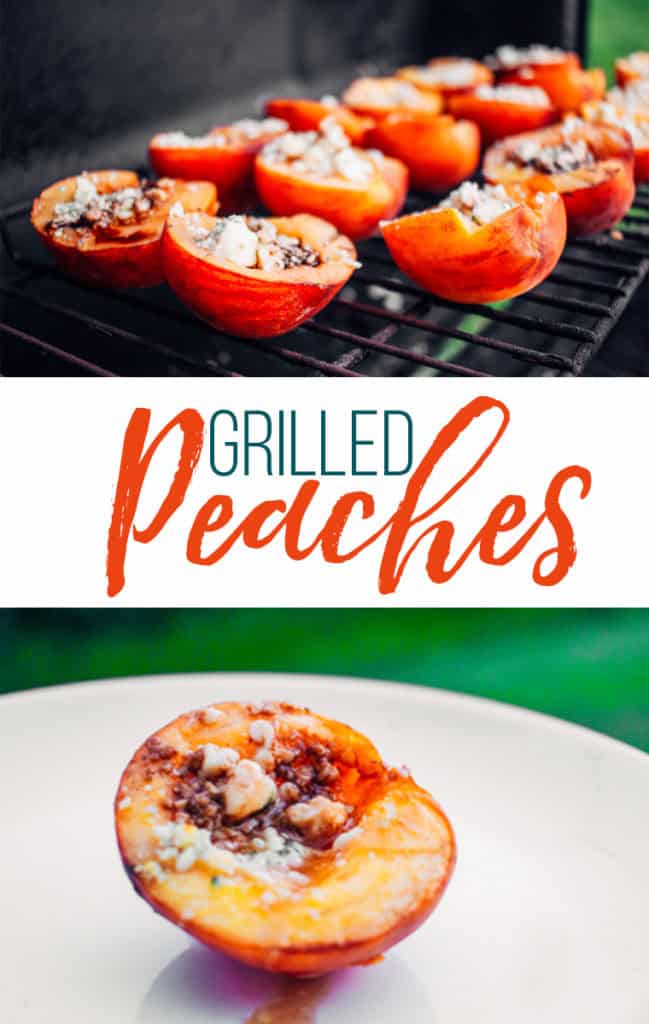 4. How to Prepare and Freeze Peaches* – Later in the summer you can find good deals on peaches in the farmer's markets. Polly put together a quick tutorial that explains how to process and freeze them for later.
5. Any of our Smoothie Recipes! Use up those fresh berries in a smoothie. Make sure to make freezer smoothie packs too!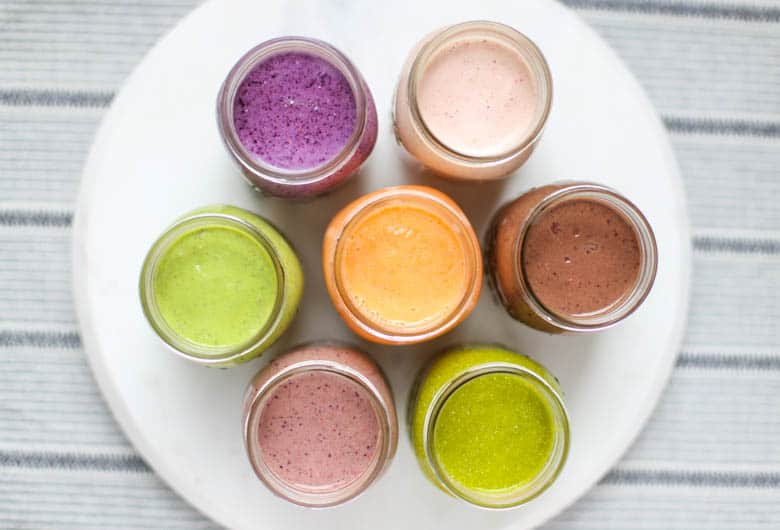 6. Strawberry Fields Salad– This colorful spinach salad packs a flavor punch with every bite! Spinach, strawberries, bacon, feta, red onion, and more are topped with a mild, lemony, sweet dressing that's sure to please all ages.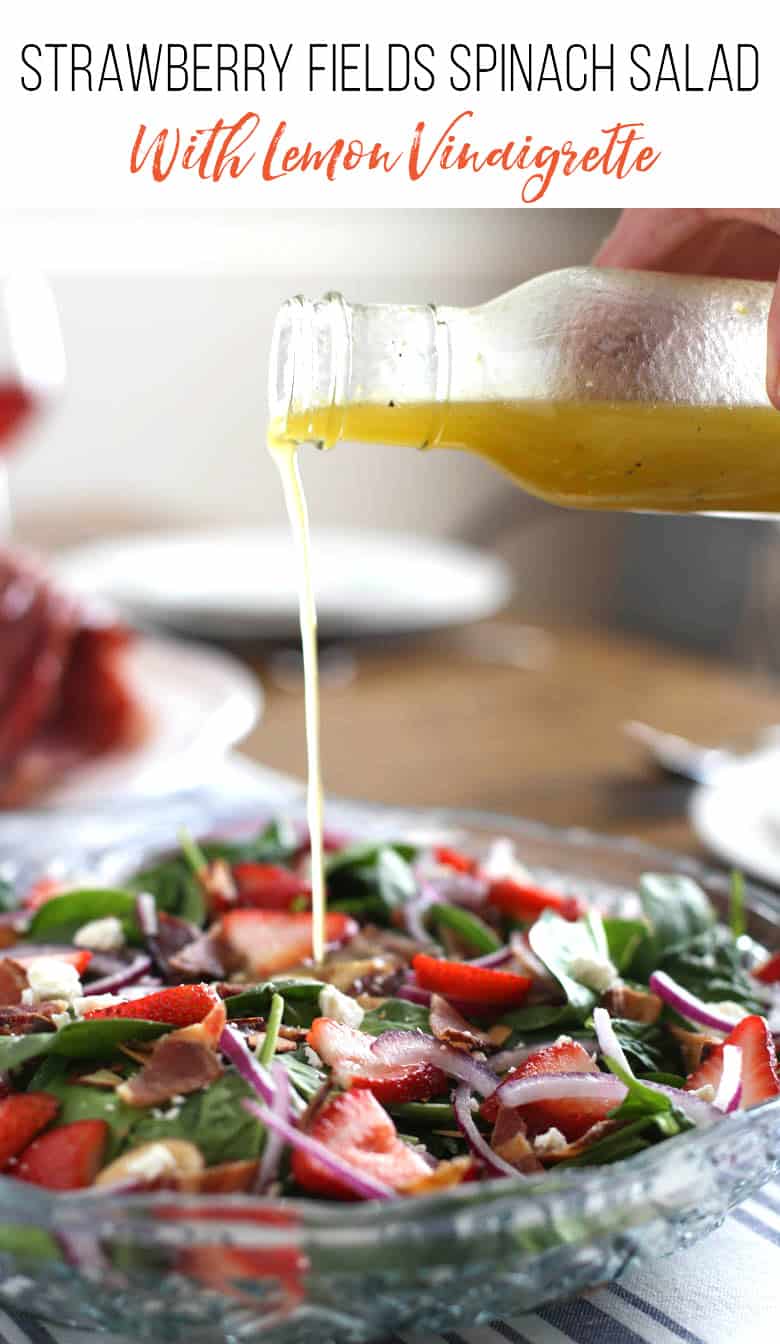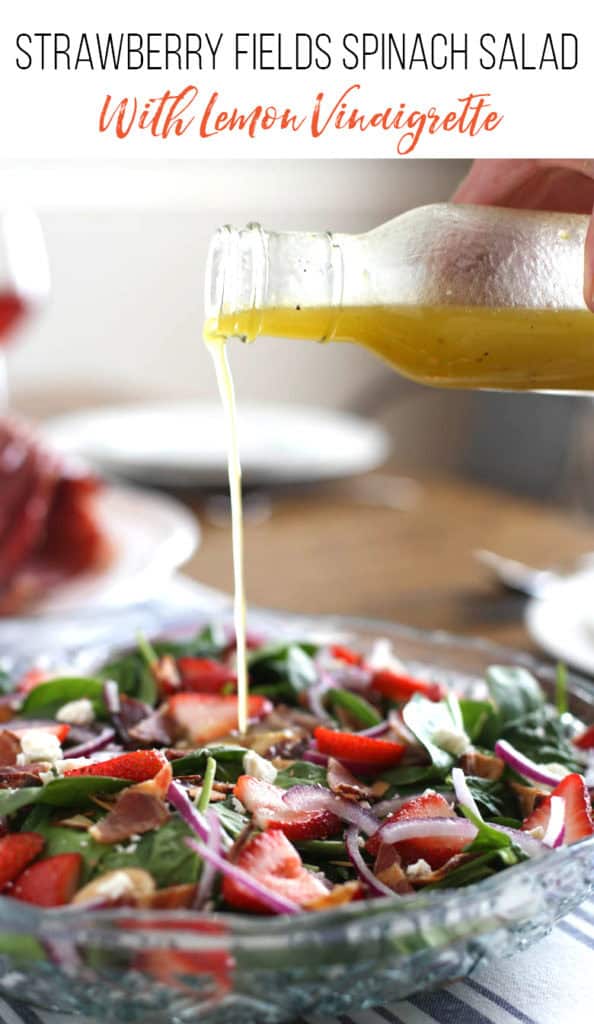 7. Simple Grilled Asparagus – The flavor of this simple, grilled asparagus recipe will amaze you. The crispy, slightly charred ends are a perfect contrast to the tender fresh asparagus stalks. In 5-7 minutes, you can serve up one of nature's healthiest foods to your family all summer long. Here is how to grill asparagus…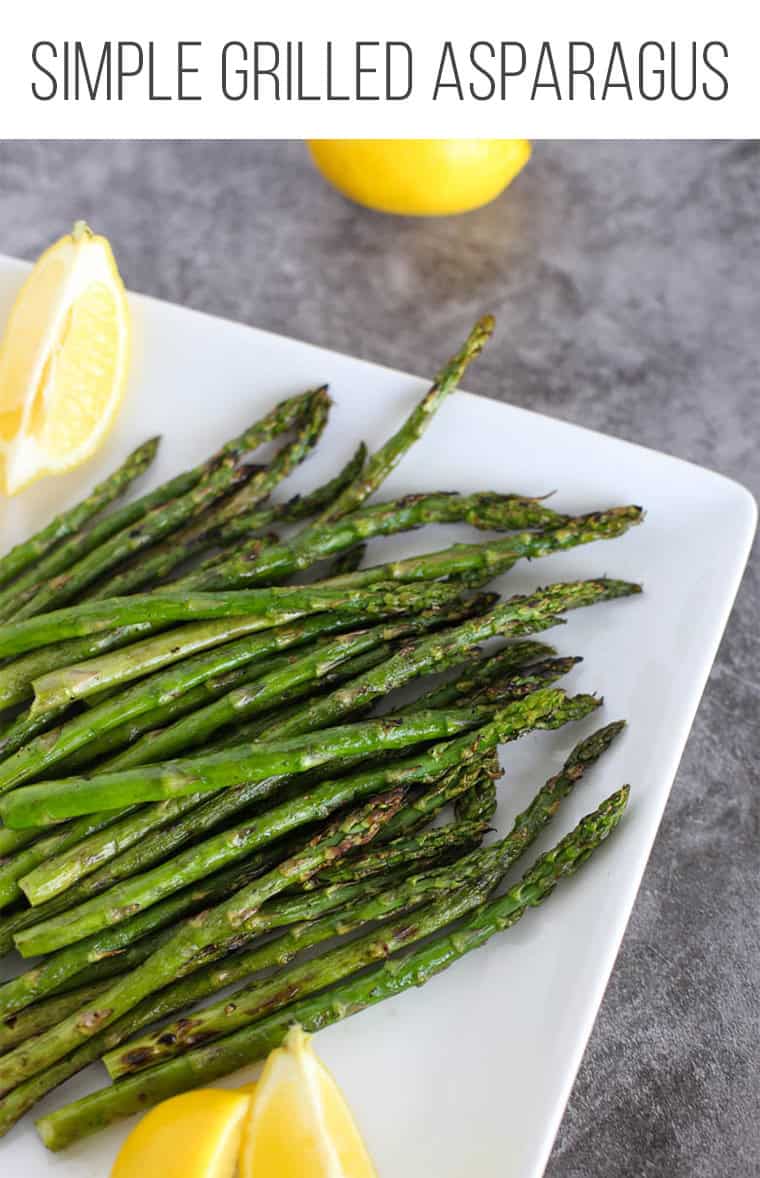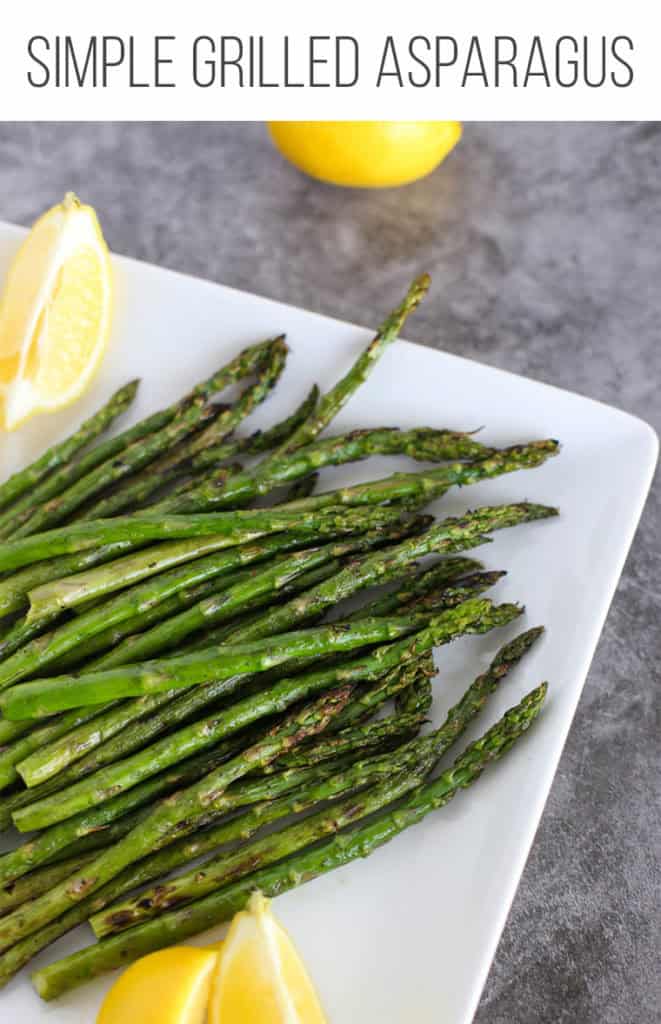 8. Simple Blender Hummus* – Save money on the store-bought hummus and dip those cherry tomatoes, cucumbers, broccoli, and carrots in this delicious, easy-to-make, and cheap dip.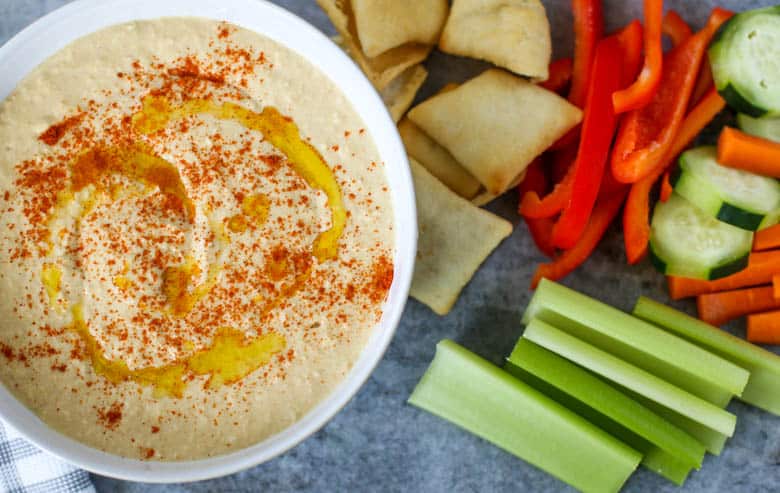 9. Creamy Avocado Dip – I eat this for lunch once or twice a week. We get rave reviews on this dip all the time. Again, a great one to dip any garden veggies in, including raw zucchini sticks. Yum!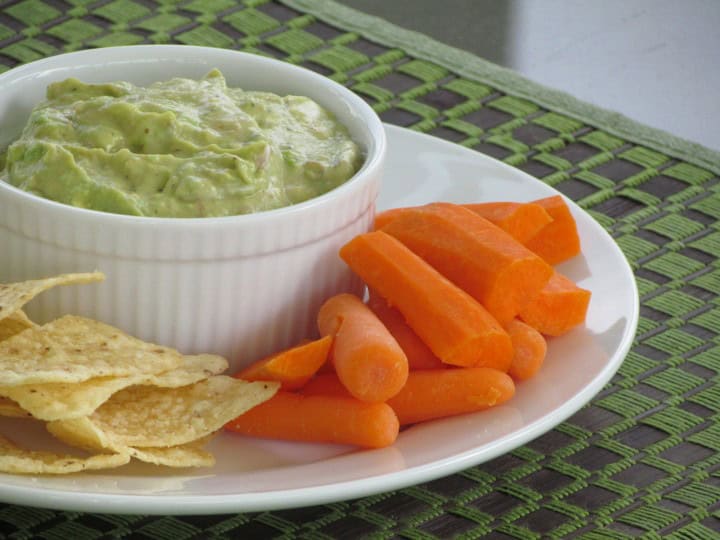 10. English Muffin Pizzas – Chop up all kinds of veggies to top this delicious pizza. Don't forget the homemade pizza sauce to use up those tomaters too! If you have lots of kale, you might try this Kale, Yukon Golds, and Bacon Pizza.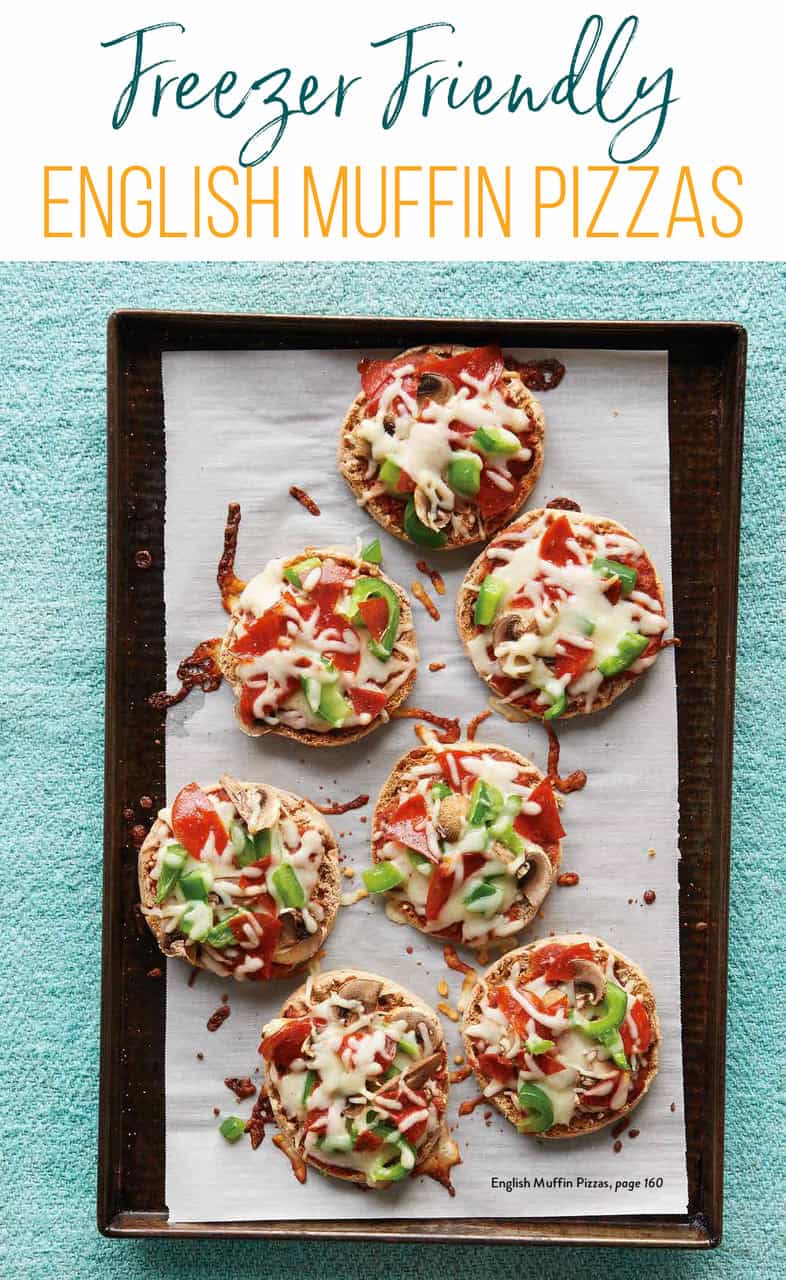 11. Zucchini Pizza Crust – The addition of zucchini doesn't change the flavor of this crust much, plus it includes cheese and seasonings that make it so tasty!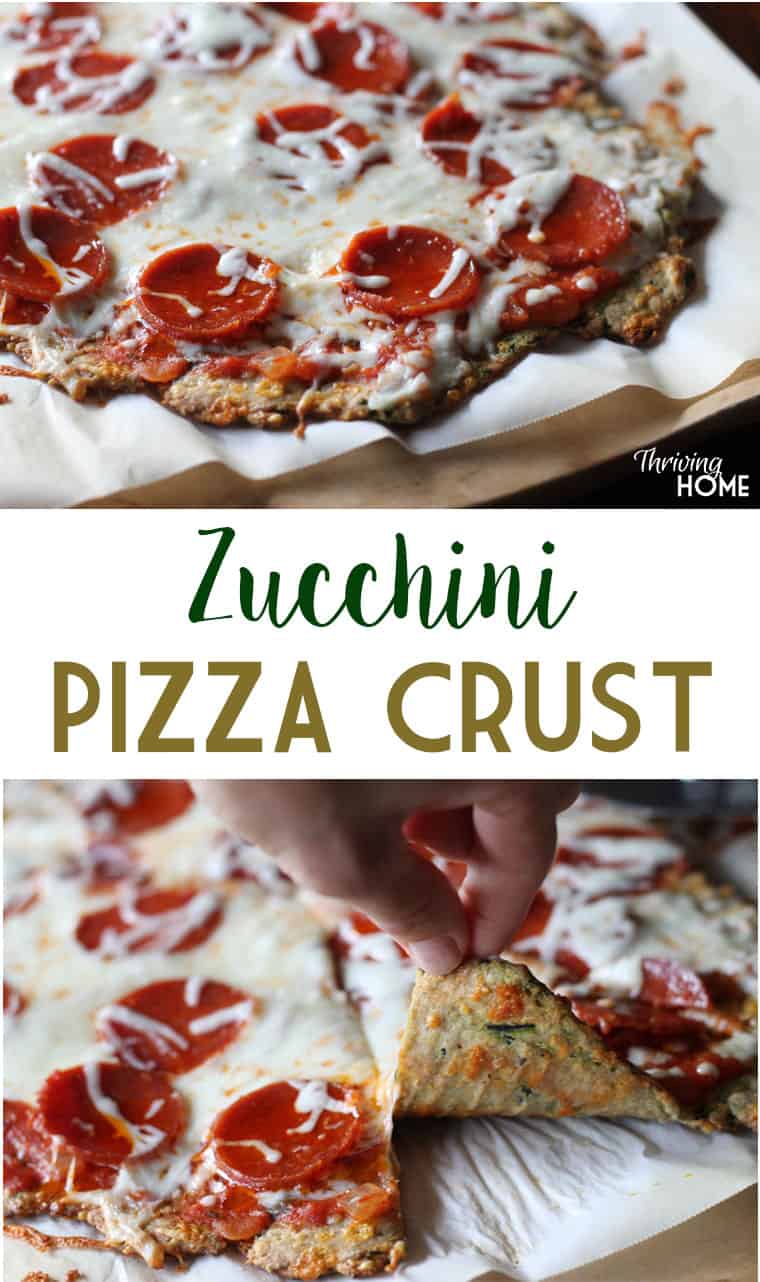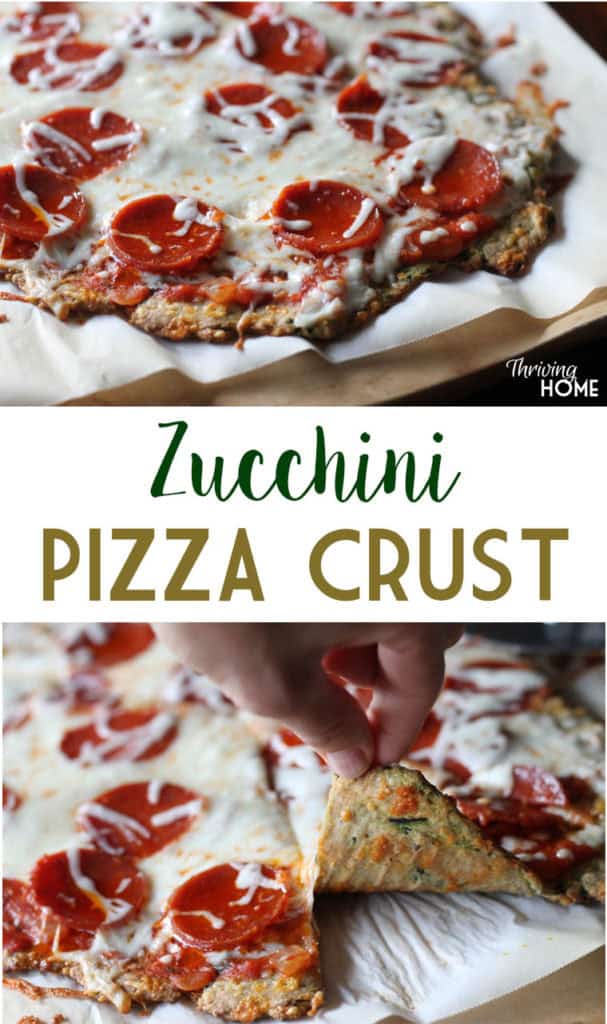 12. Roasted Vegetable Hash – This twist on roasted vegetables will have you coming back for more… and more… and more….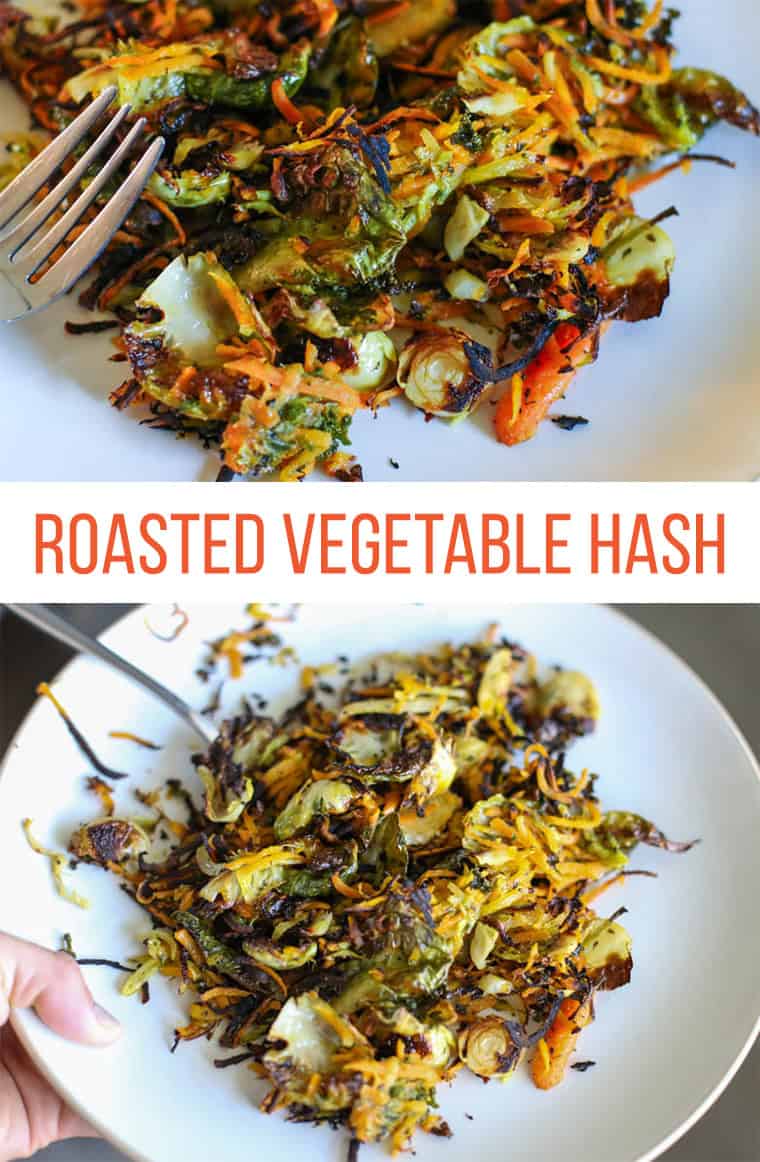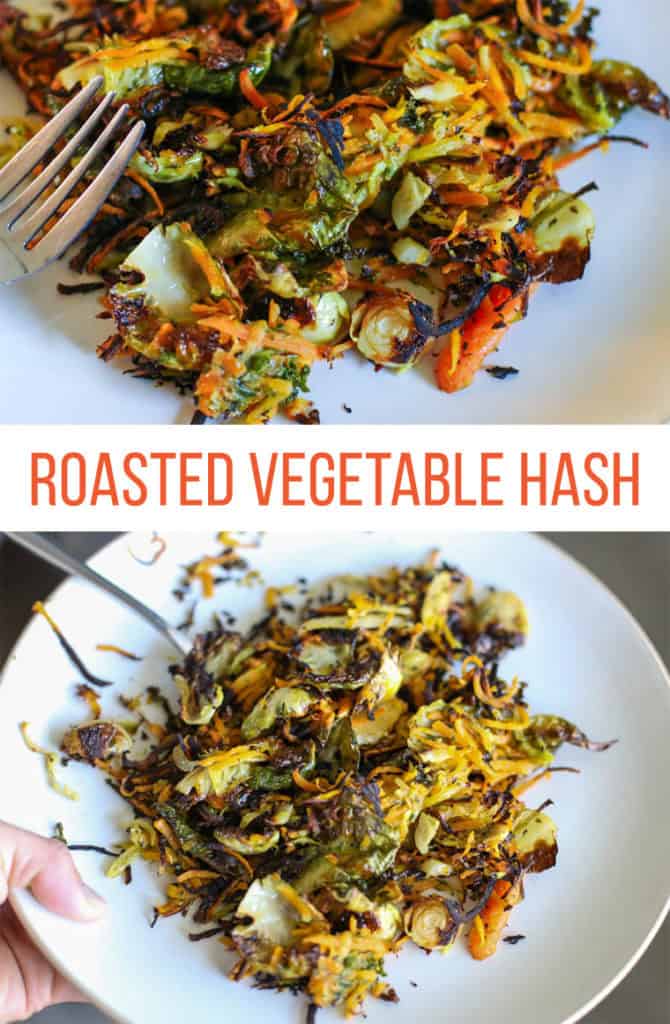 13. Basic Roasted Vegetables – Don't know what to do with beets, sweet potatoes, radishes, squash or just about any vegetable? Roast it in the oven! This might be our family's favorite way to eat our veggies. You can even roast broccoli, too.
14. Super Stuffed Potatoes – Freezer Friendly Super Stuffed Baked Potatoes. This surprising freezer meal can make a great healthy dinner or even a side dish for a large group. Made with real food ingredients too!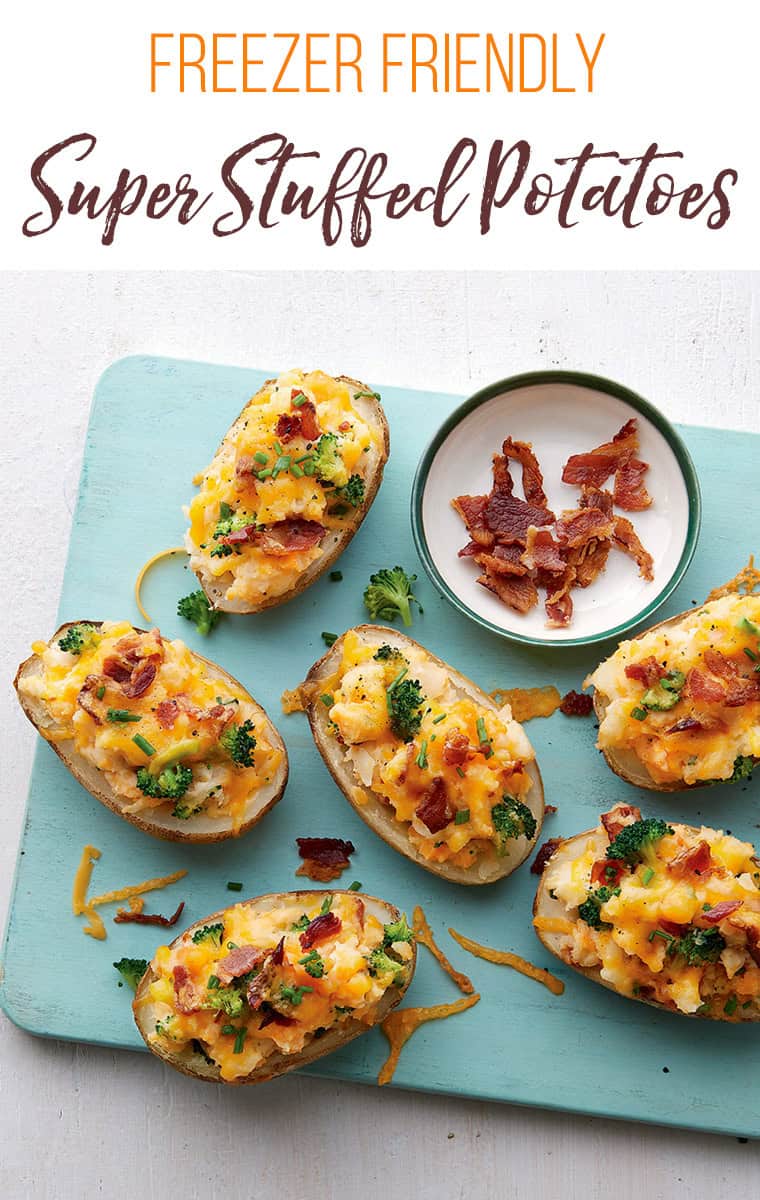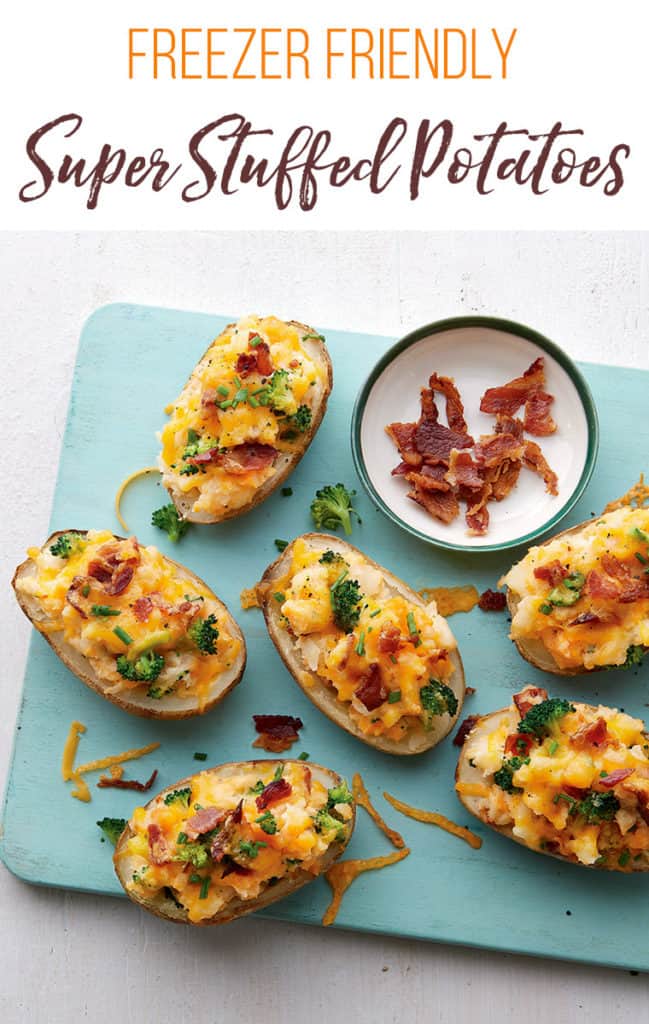 15. Small Bites Board – It's a simple concept, but the Small Bites Board is a quick and healthy lunch for the whole family. NO dishes required!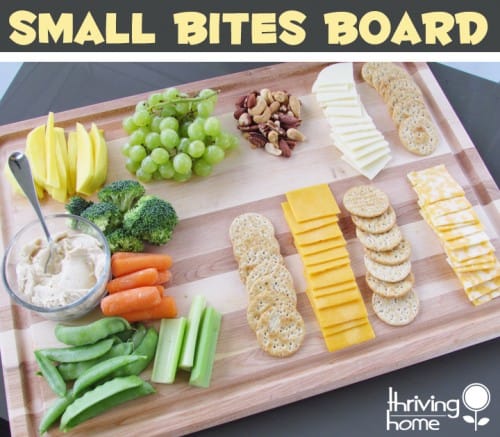 16. Avocado Basil Pasta – With or without bacon, this pasta is awesome. A great way to use up herbs.
17. Garden Lentil Soup* – Use up just about anything in this light taste-of-summer soup!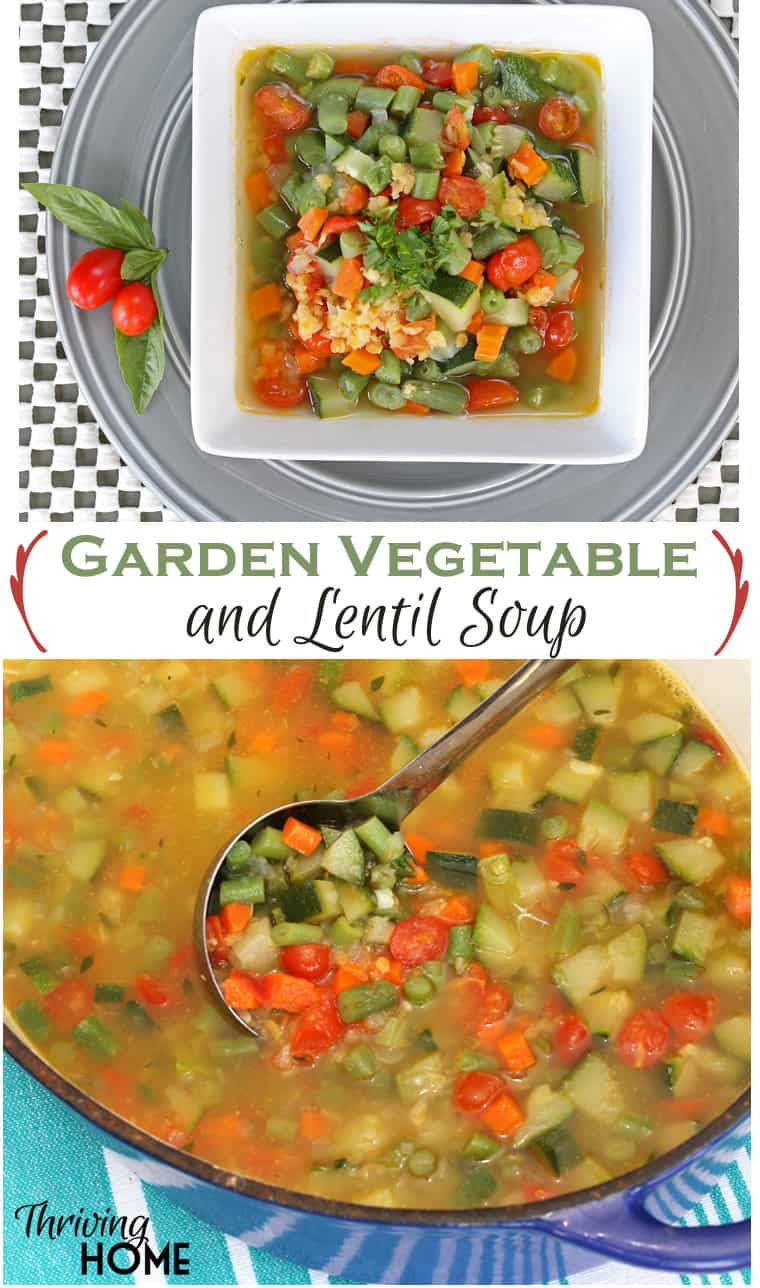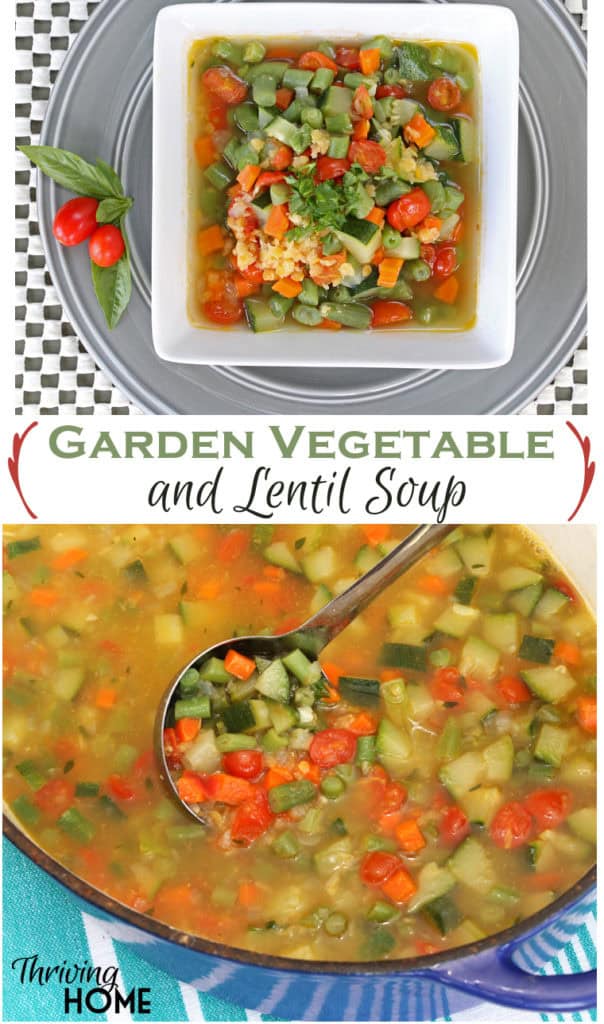 18. Pesto Burgers – Pesto Burgers are the bomb. They are an incredibly easy grilling recipe, a great recipe for a crowd, AND a fabulous freezer meal.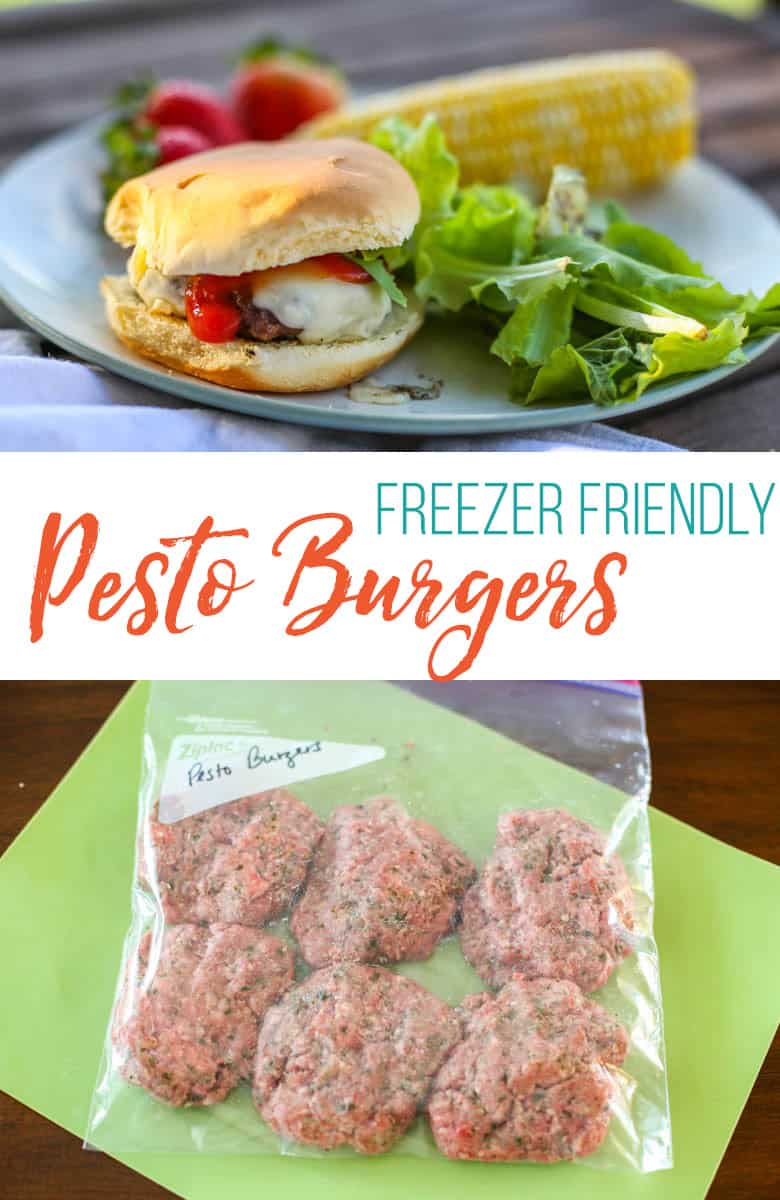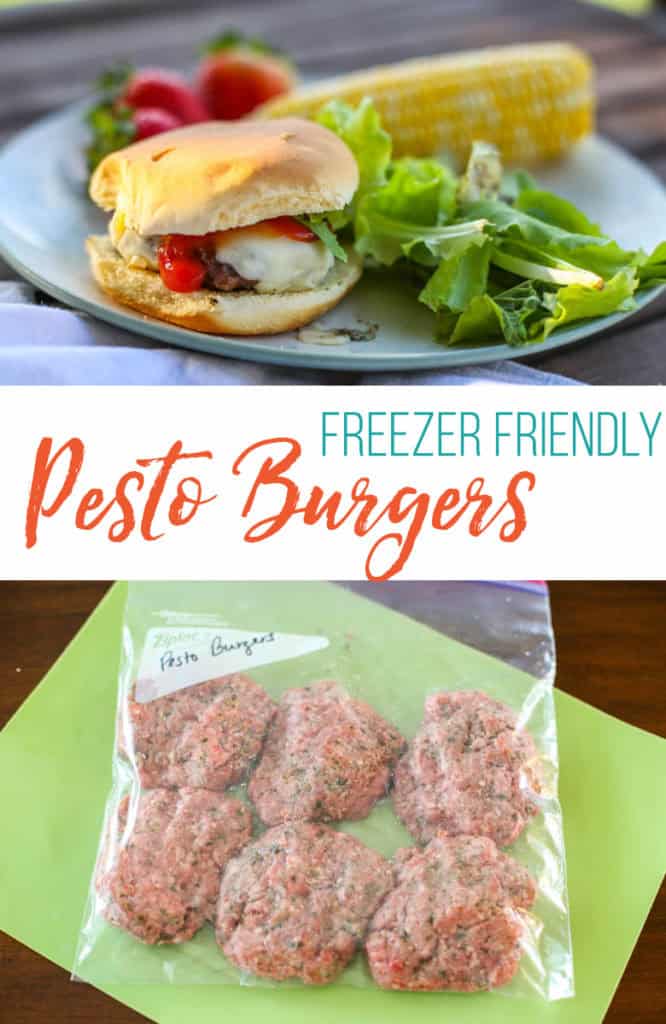 19. Protein Lunch Bowl – Surprisingly addictive and super healthy! Again, I eat this regularly for lunch.
20. Cranberry Balsamic Baked Chicken – This freezer-friendly Cranberry Balsamic Baked Chicken recipe is healthy and simple, with a blow-your-mind-delicious balsamic marinade.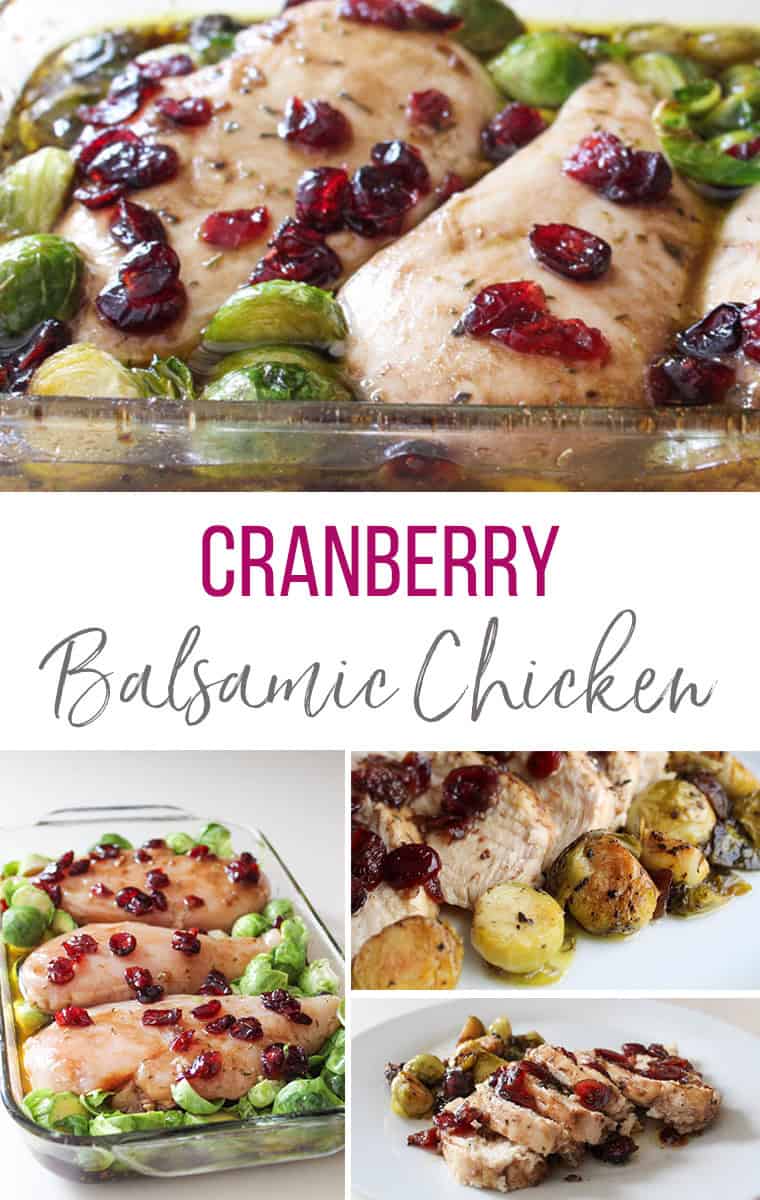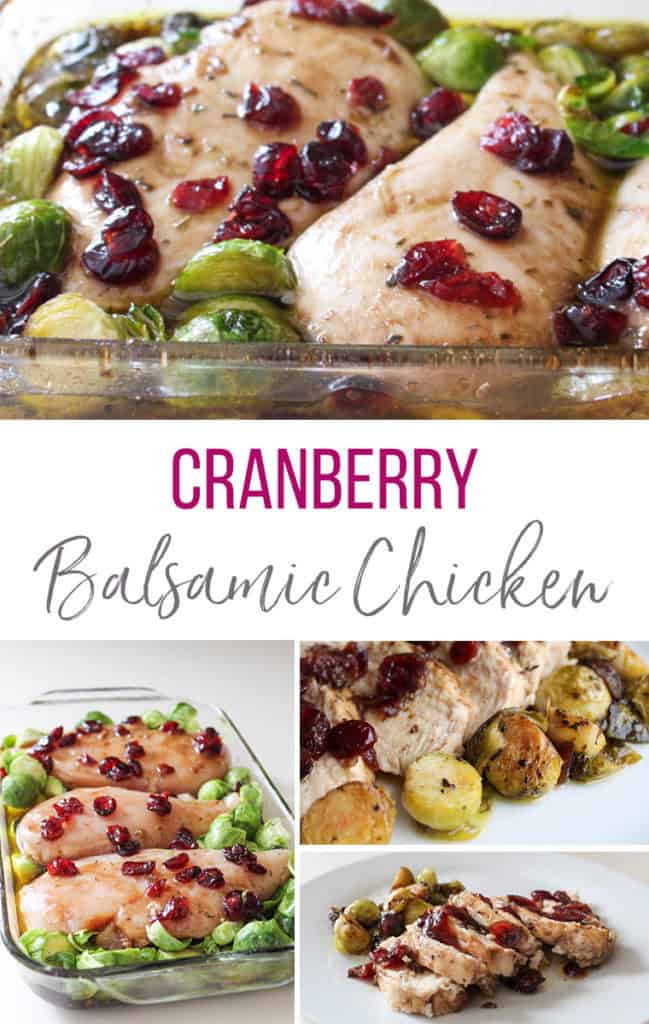 21. Crowd Pleaser Green Beans – This will turn you into a green bean lover, if you aren't. Really, really good!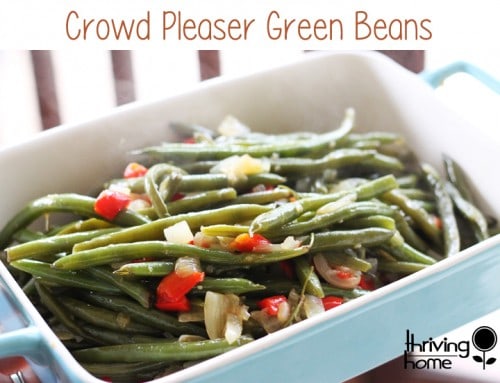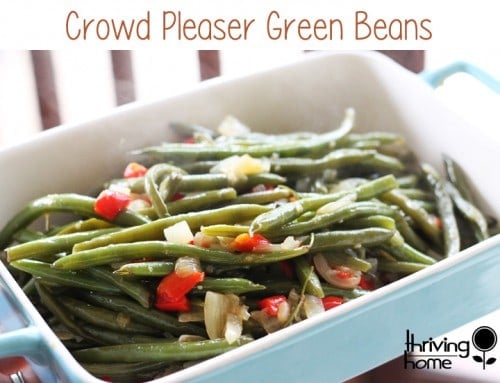 22. Baked Chicken Fajitas – One of my favorite, family friendly dinners: Baked Chicken Fajita Recipe–Freezer Friendly.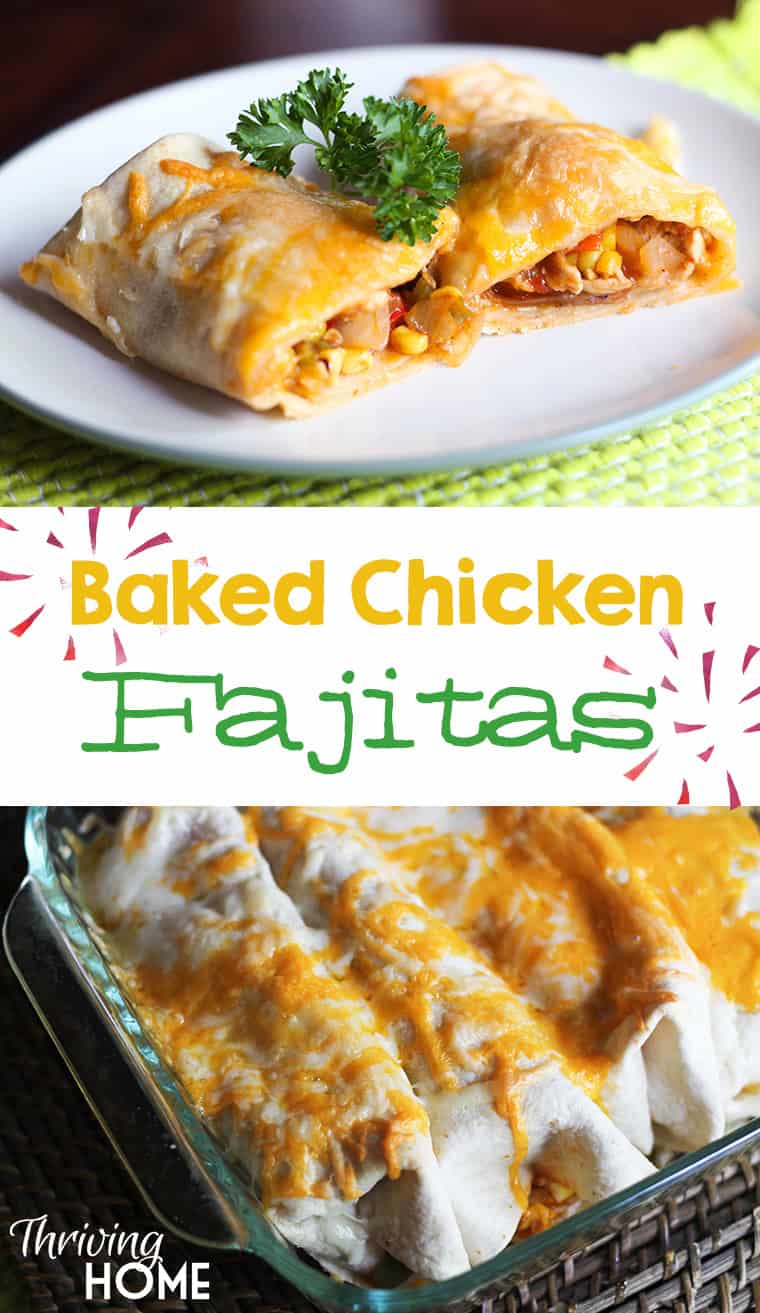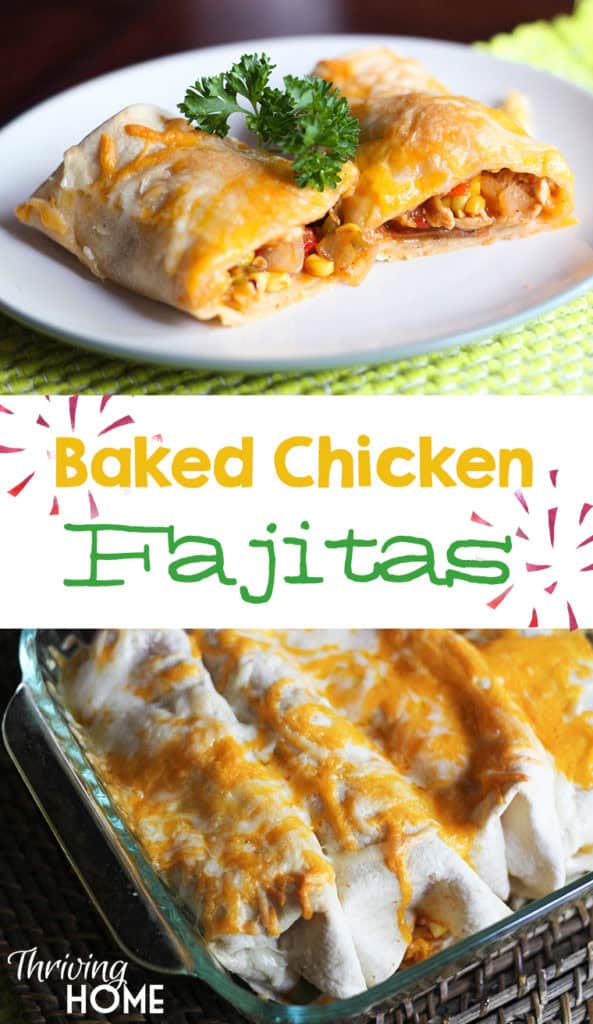 23. 7 Layer Taco Dip – Dips are a great place to use summer produce. You can layer in lettuce, tomatoes, onions and peppers into this old stand-by.
24. Spinach Lasagna Rolls – Spinach Lasagna Roll-Ups are one of my favorite vegetarian freezer meals. Although, I have been known to put cooked chicken there on occasion. Either way, they make a great family dinner.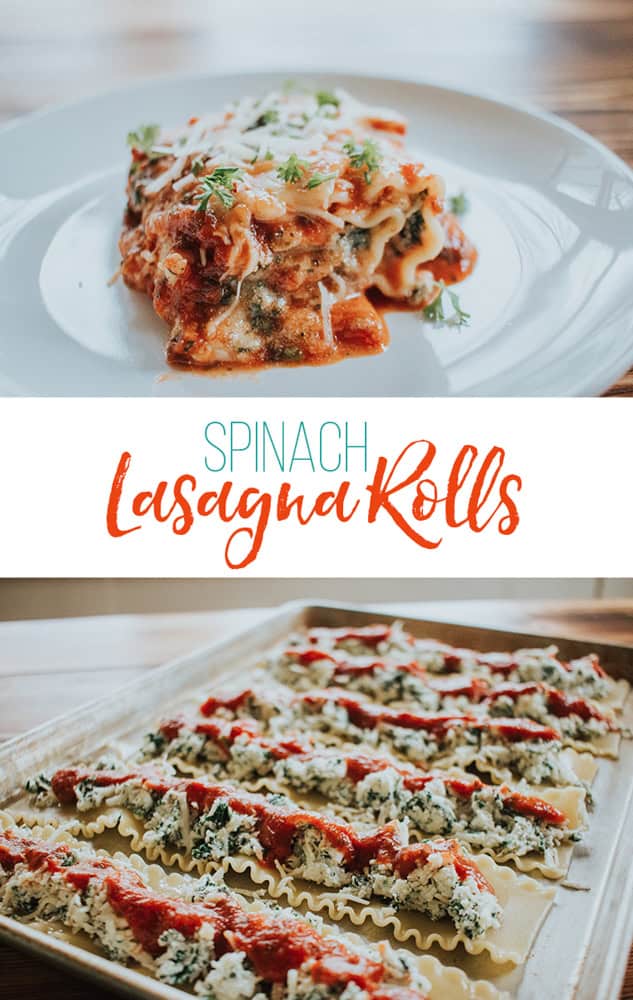 25. Freezer Jam* – Have lots of fruit you want to make into jam? Don't mess with canning. Try this simple freezer jam that is much less work.
26. Tabbouleh – I'm a sucker for fresh salads like this one. Like the Protein Bowl and Garden Greek Salad, I make this regularly for lunch. Tasty!
27. Whole Wheat Strawberry Shortcake – If you have ever-bearing strawberry plants like us (or you find strawberries for cheap at the store), you might give this a try. We eat it for dessert or breakfast, because it's healthy as well as delicious.
28. Savory Breakfast Muffins* – Throw in peppers and onions in this hearty grab-and-go muffin. This is my husband's favorite!
29. Pizza Stromboli* – Try this fresh and fun take on pizza. Add peppers, onions, tomatoes or fresh basil to use up produce.
30. Homemade Marinara Sauce* – Use up tomatoes in this slow cooker recipe. If using fresh tomatoes (vs. canned tomatoes in the recipe), then just puree in a blender or food processor at the end to avoid peeling tomatoes.
31. Mini Chicken Burgers with Herbs* – We make these sliders, which include parsley and almost any other fresh herb you have on hand, OFTEN around here because there is never a complaint.
32. Zucchini Flaxseed Muffins* – Packed with nutrition, these muffins work for breakfast or snacks. My kids beg for them!
33. Chocolate Zucchini Waffles* – These waffles will knock your socks off. Seriously.
34. Whole Grain Zucchini Pancakes* – A simple way to add in zucchini to a whole grain pancake mix.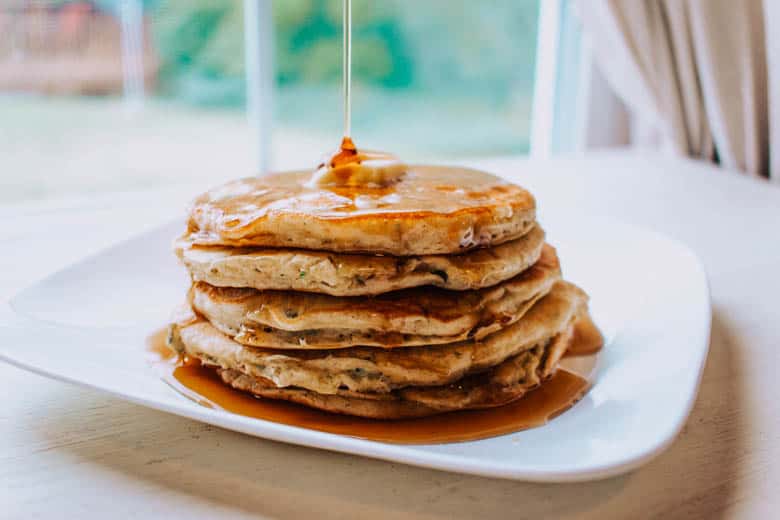 35. Banana Blueberry Oatmeal Bread* – Blueberries are easy to find in the summer, and this quick bread will not disappoint.
36. Blueberry Pumpkin Baked French Toast* – Forget about standing over the stove to cook french toast for a crowd. This recipe not only uses up blueberries but it's a crowd favorite. Plus, it's a nutritious breakfast!
37. Blueberry Oat Bars* – A yummy dessert or snack!
38. Meatball Subs* – This is hands-down our favorite sandwich! The meatballs are filled with sneaky shredded veggies.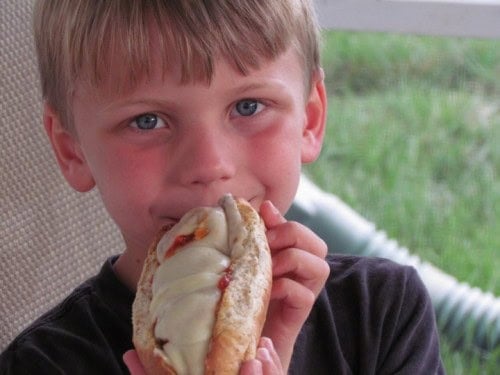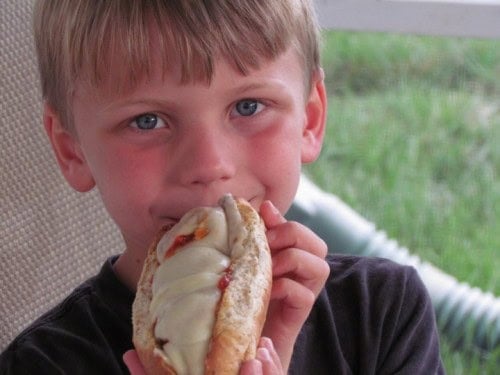 39. Cobb Salad – Sometimes I get tired of salad, but this one has stood the test of time around here. The dressing is one of the most flavorful vinaigrettes I've ever had.

40. Fried Rice with Sweet Soy Sauce – With the sweet sauce, this fried rice makes the veggies go down smooth for pickier eaters. This is a regular in our menu plan.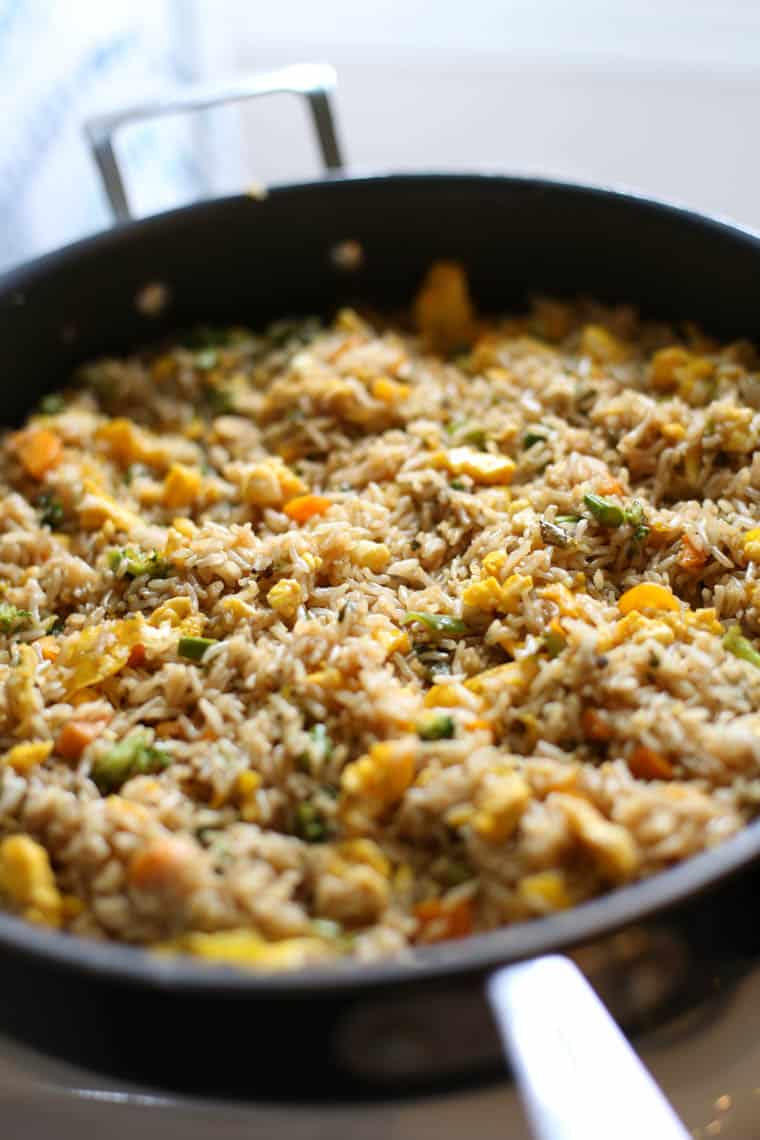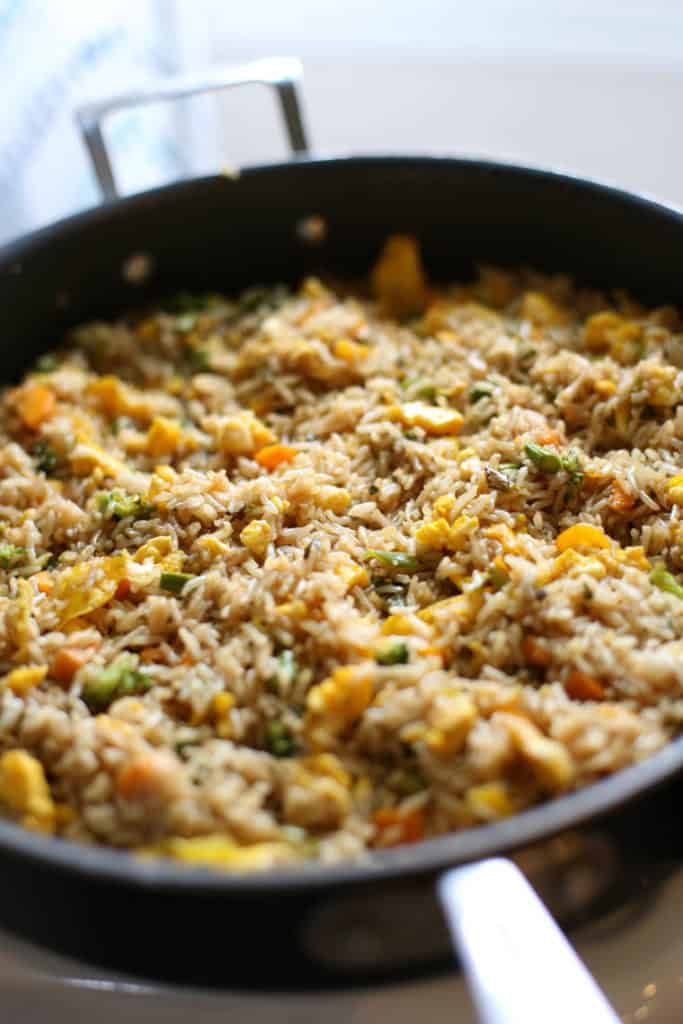 41. 3 Minute No-Boil Corn on the Cob – It's not worth boiling a pot of water for just a few ears of corn. Try this easy method for perfect corn on the cob and avoid heating up the stove.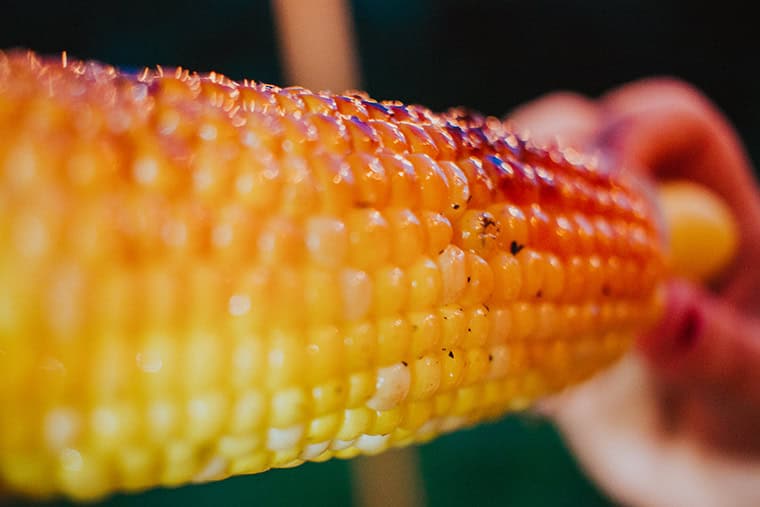 42. Lunch Roll-Ups – This is more of a concept than a recipe, but it's nice to have a little change for lunch sometimes. Check out some of the ways we use up produce in our roll-ups. You could easily add tomatoes, cucumbers, shredded carrots or whatever you like!
43. Hearty Vegetable Soup* – This soup is so easy to make and freeze for a rainy or cooler day. You can throw in almost any vegetable you have on hand!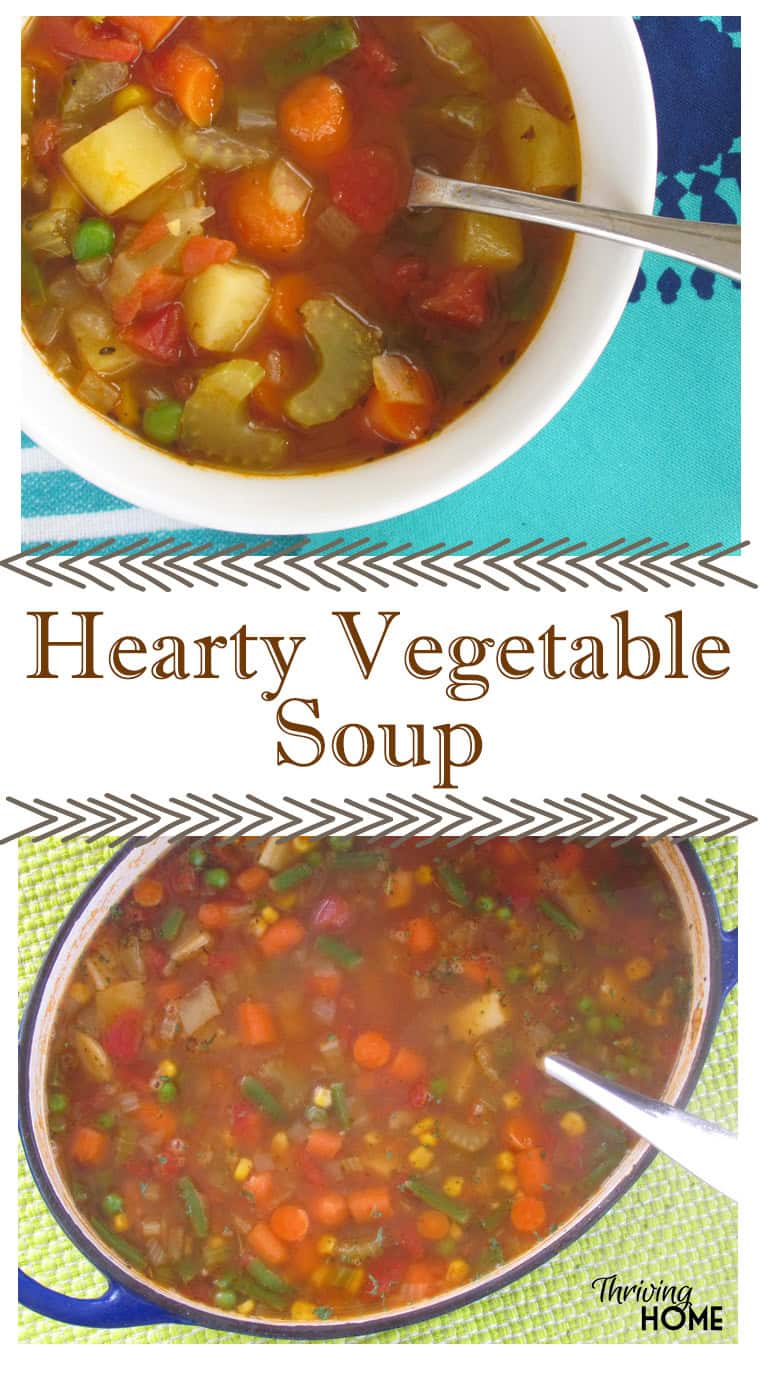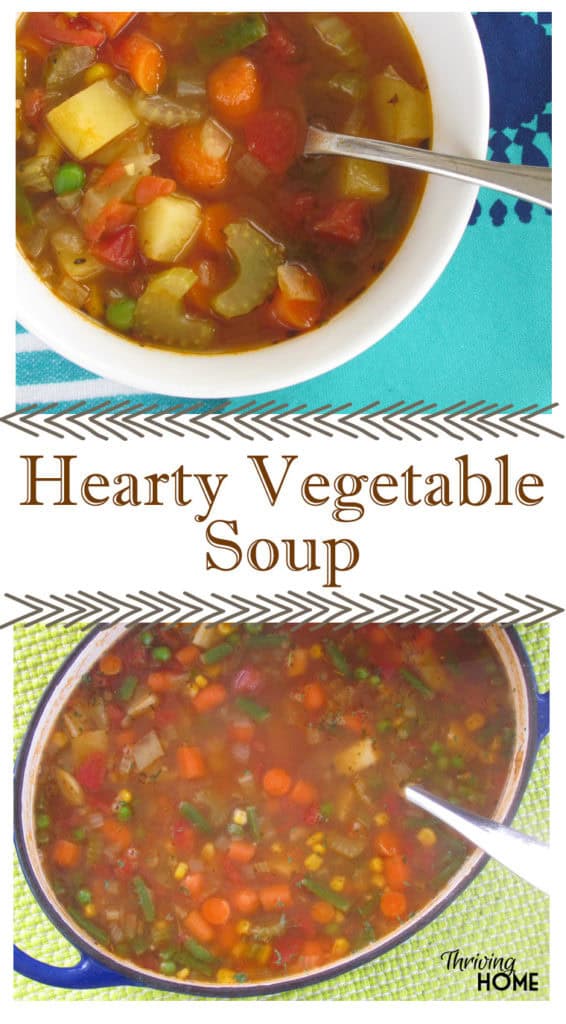 44. Veggie Sandwich on Whole Grain Bagel – Oh man, this is one of my absolute favorite lunches in the summer. Fill a fresh bagel from the bakery with your favorite produce, slather on some cream cheese and hummus, and you've got a satisfying, nutritious lunch.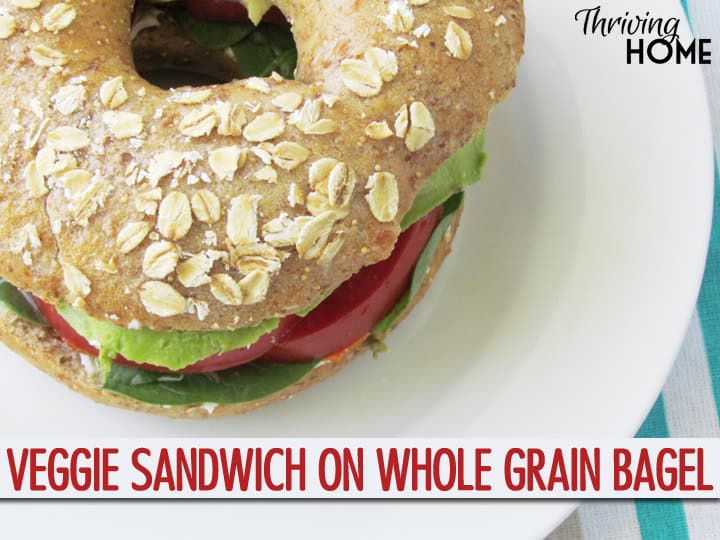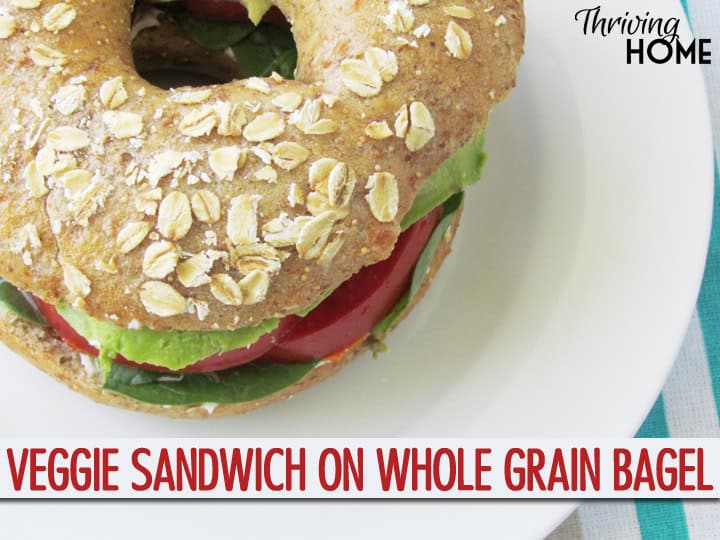 45. Baked Nachos – Top these off with your favorite taco toppings, like lettuce, tomatoes, onions, jalepeno peppers, and homemade salsa.
46. Turkey Pesto Panini – Another great way to use up your basil pesto. Find a pesto recipe here.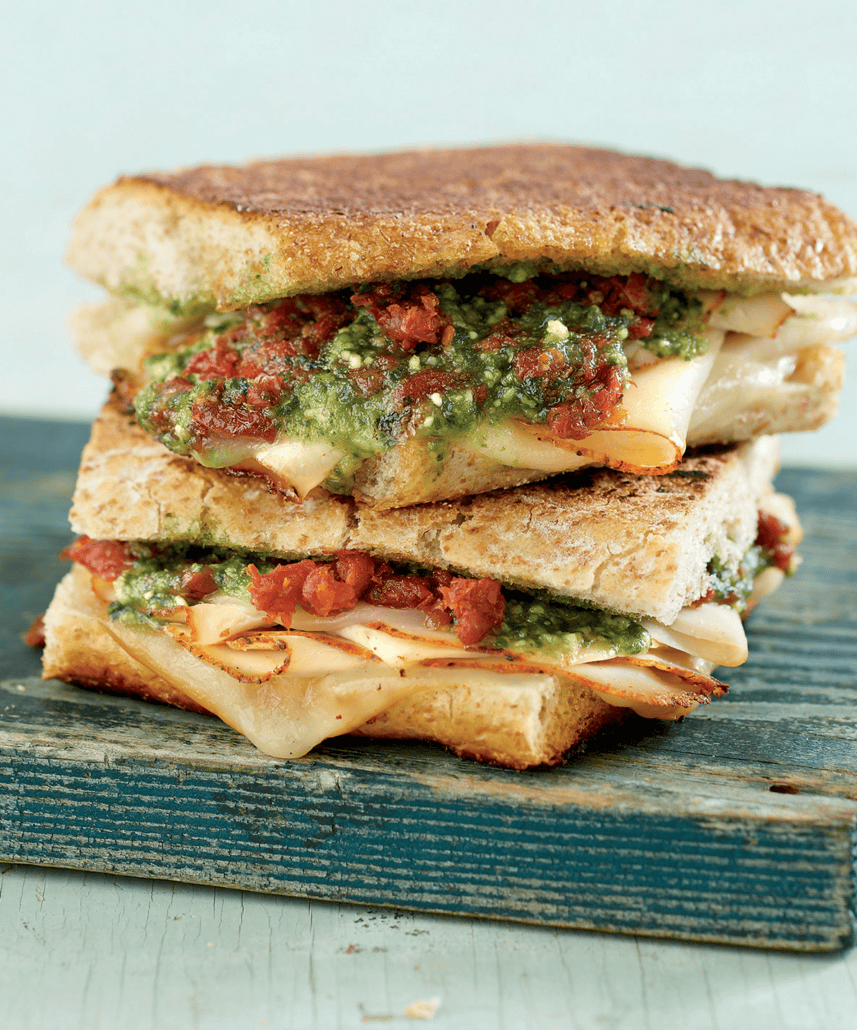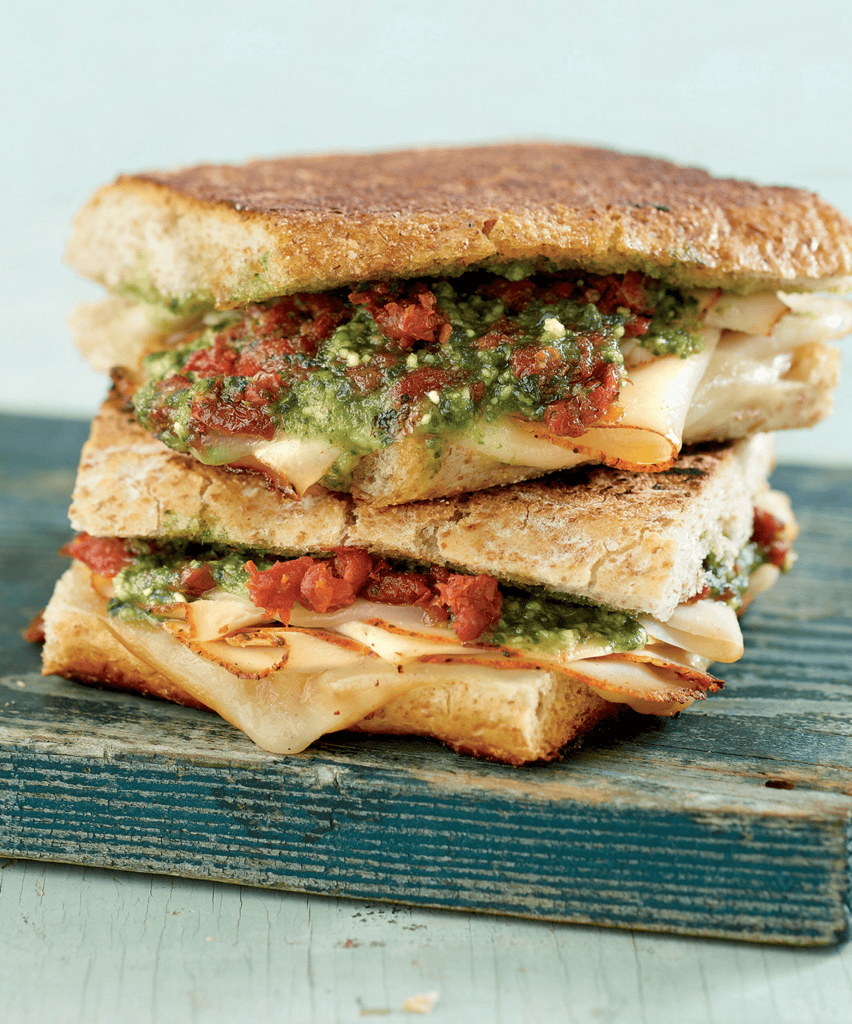 47. Slow Cooker Cilantro Lime Chicken – Have cilantro to use up? Here's a one pot wonder you'll love.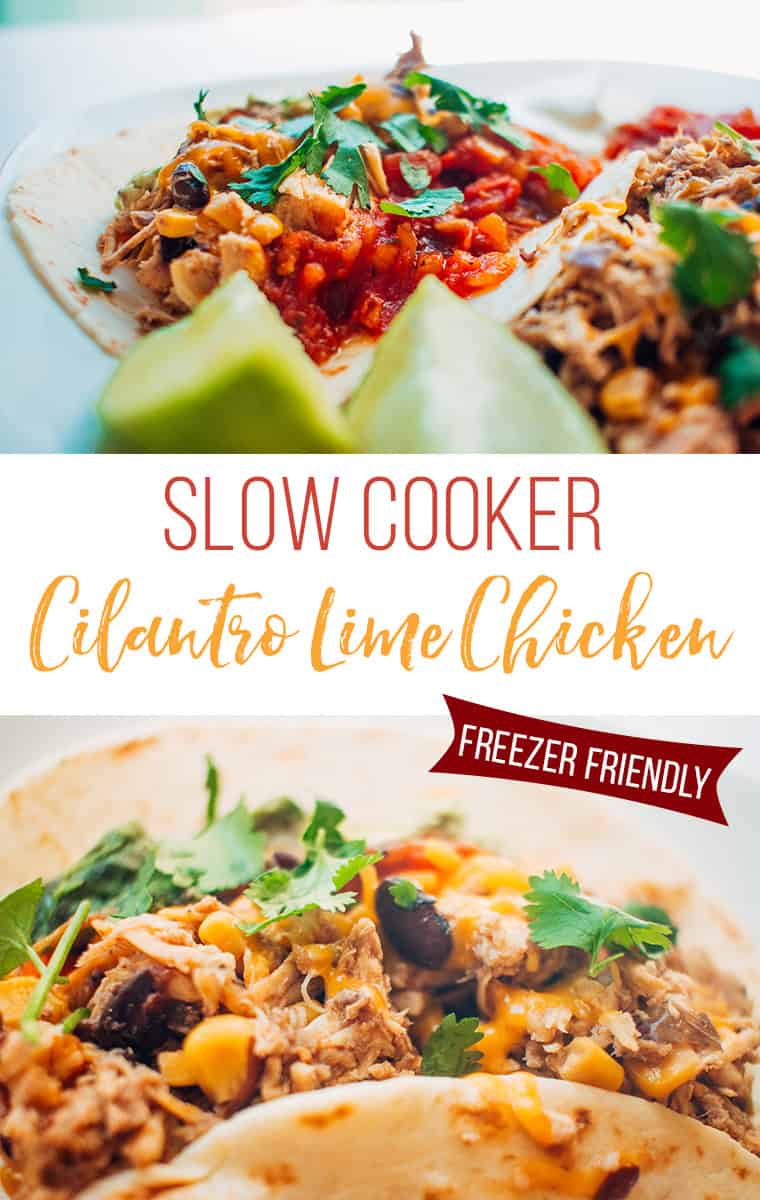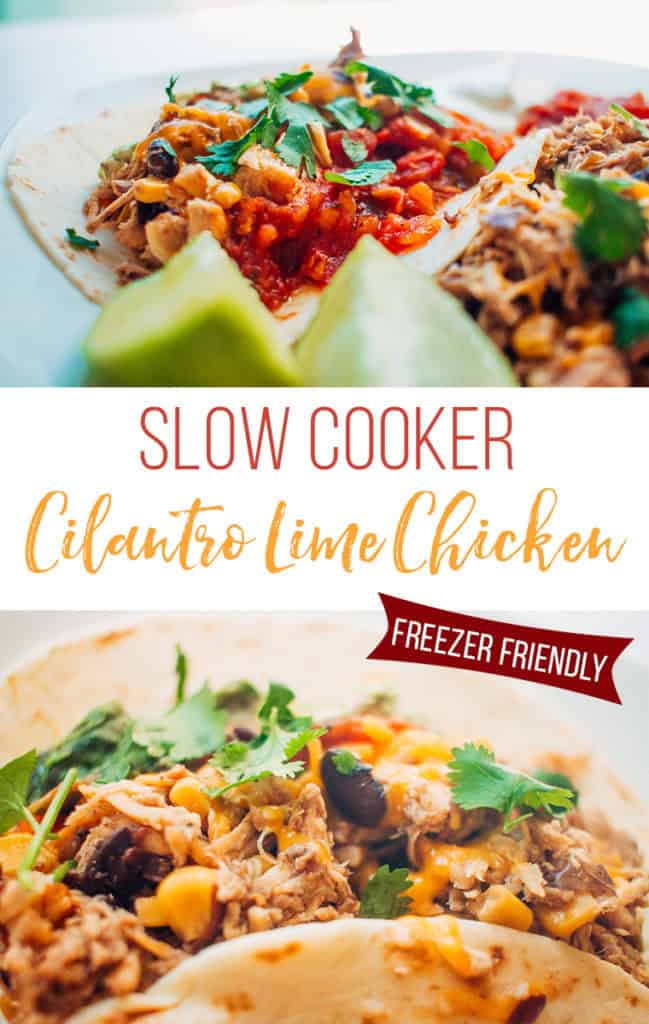 48. Szechuan Steak Stir Fry* – This is one of my Freezer Club's favorite recipes. Packed full of flavor and veggies!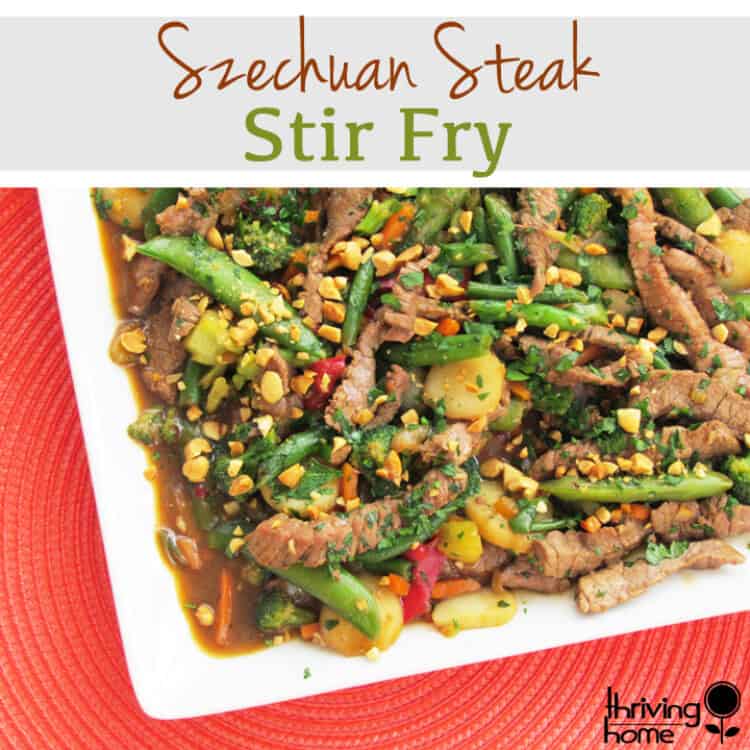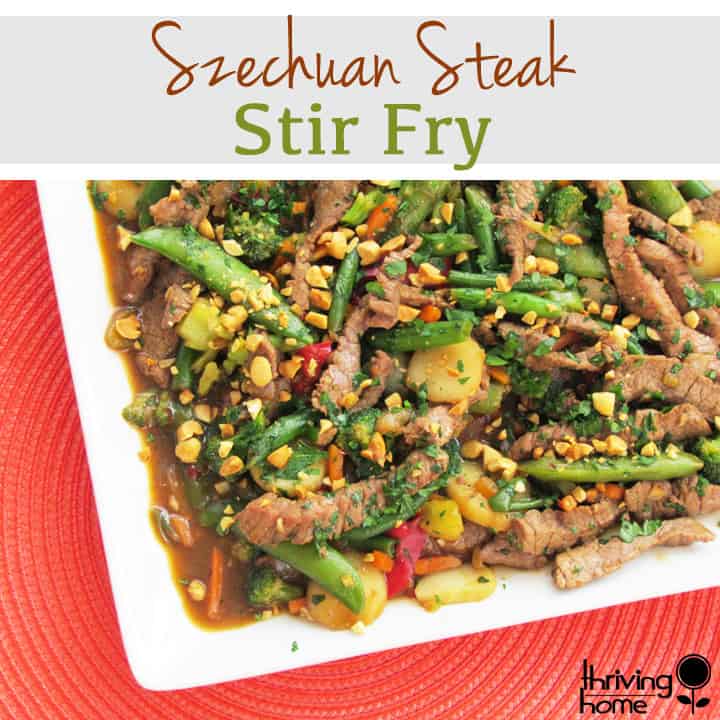 49. Roasted Chicken and Vegetables – The juices from this roasted chicken make for the best sauce ever. I can't get enough of the veggies that roast with this dish. Try sweet potatoes, butternut squash, potatoes, beets and onions.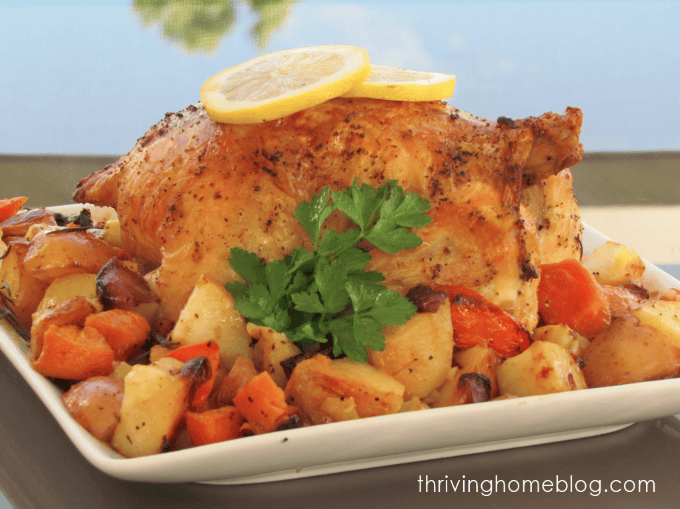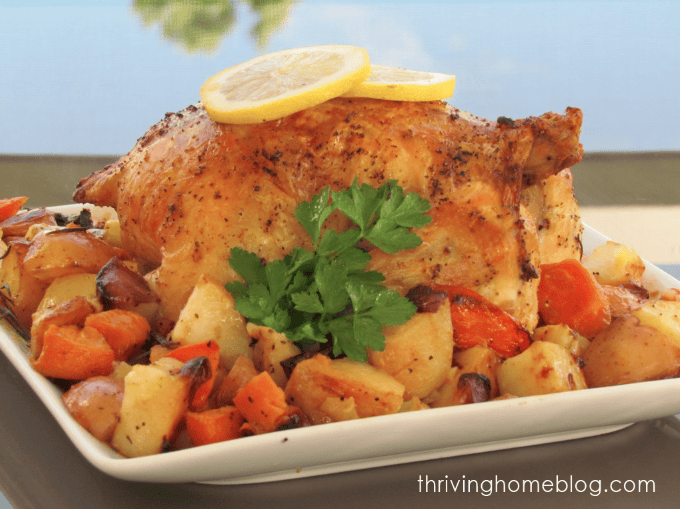 50. Slow Cooker Whole Chicken and Veggies – Here's another way to prepare whole chicken (which is very economical, by the way!). Use onions, carrots, and celery on the bottom of the slow cooker for this moist and flavorful dish. I love coming home to this meal in my crock pot.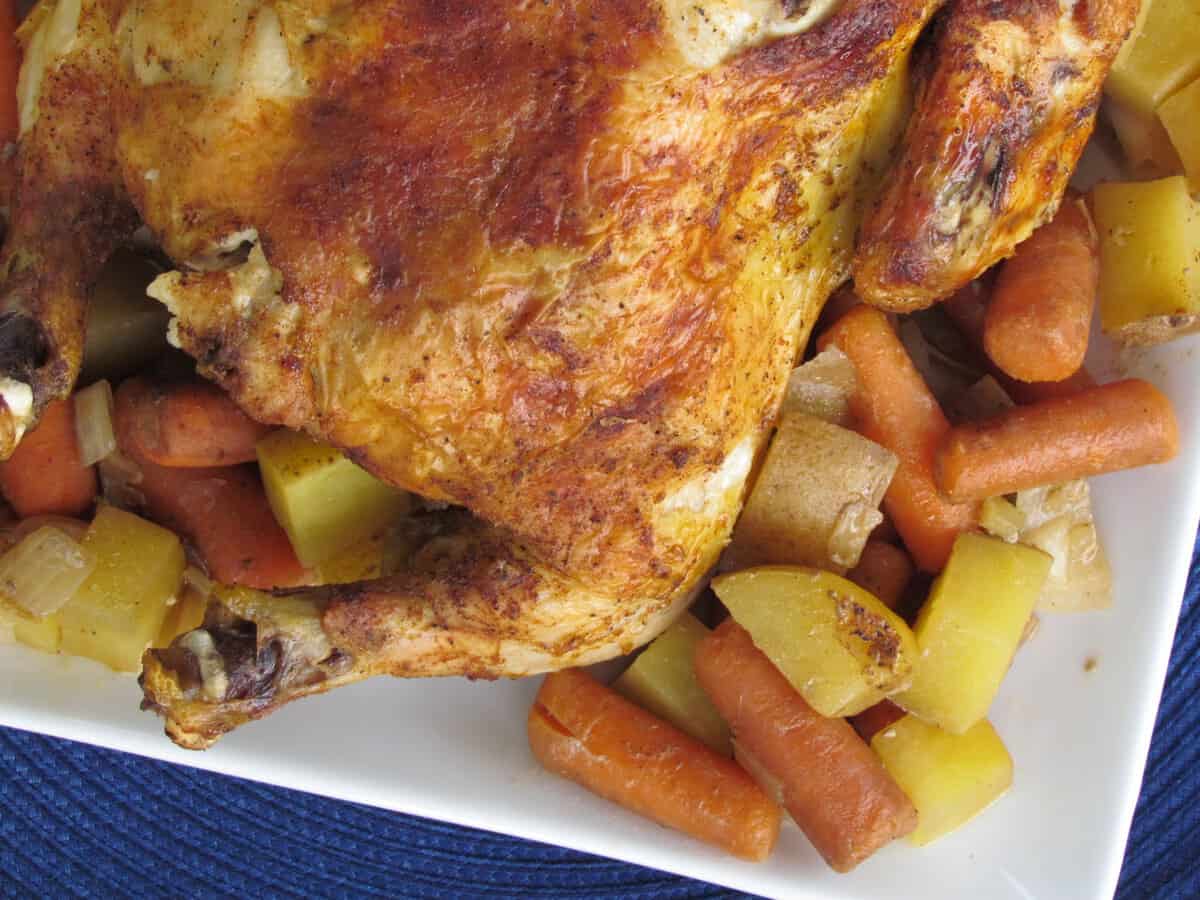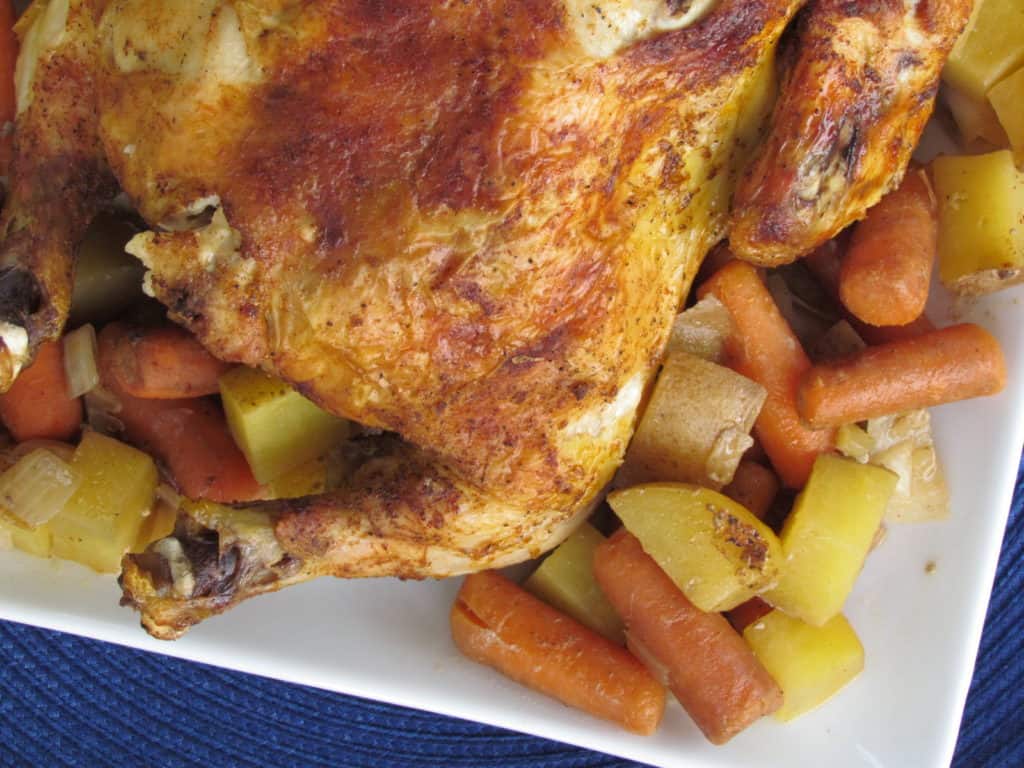 51. How to Freeze Green Onions* – I still have a pot of green onions that keeps going and going. If you're in the same boat, did you know you can freeze them for later? Here's how.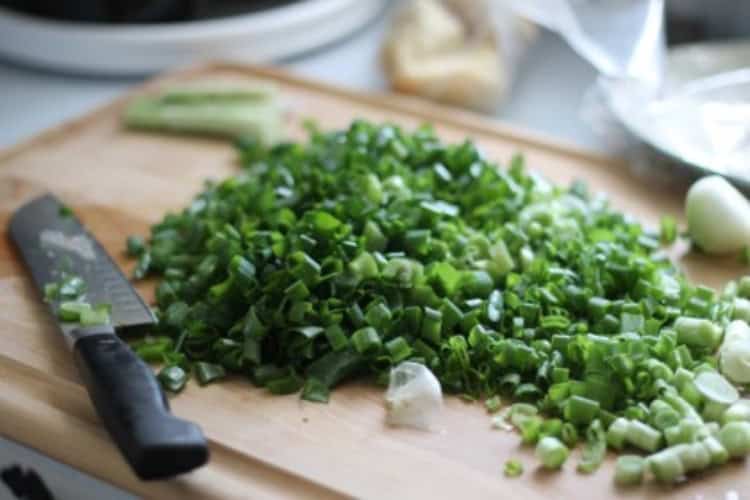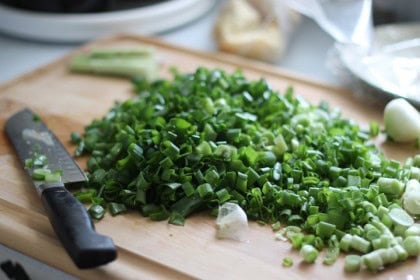 52. How to Freeze Zucchini* – Don't let all those zucchinis go to waste. Just follow this simple tutorial.