Survey Results: What YOU Taught Us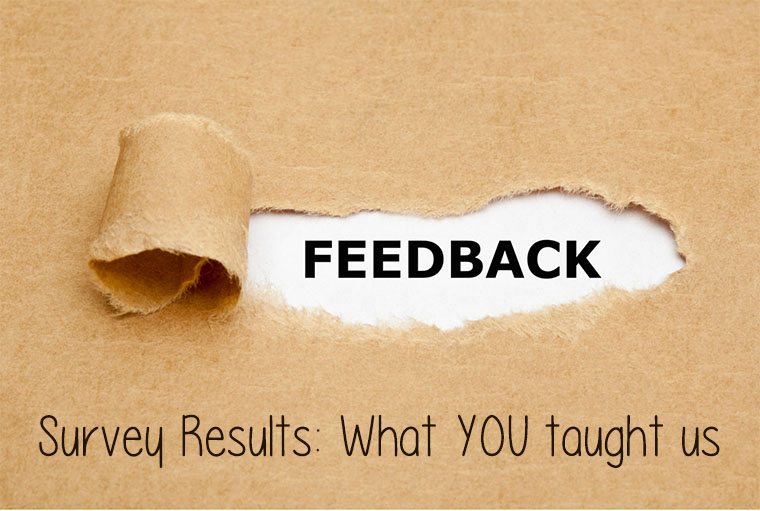 Disclaimer: Some affiliate links may be included in this article.
A few weeks ago, over 300 of you graciously took a few minutes to fill out our quick survey. (In fact, it's still not too late, if you want to give us feedback and earn a free gift from our Store.) We loved hearing from you and the results left us feeling encouraged and more equipped to serve you better. So thanks!
Wondering what people are saying about Thriving Home? Who reads this blog? What people do and don't like? We were too! And here's what we learned…
How do readers find us?
The majority of you found us while searching the web or from Pinterest. This makes sense because the majority of our traffic comes from Google searches, like "healthy freezer meals", and from popular pins such as Chicken Parmesan Casserole and Power Breakfast Smoothies. But, it's a great reminder for us to focus on improving our SEO (what's SEO?) and investing even more time into Pinterest. In fact, as a result of this survey, we signed up for Tailwind, a service which allows us to schedule hundreds of pins at ideal times for weeks in advance. Why hadn't we done this before? Well, you gave us that kick in the pants.
How do you learn about new posts?
Most readers get updates through our weekly email update. That's awesome, because updates, like this sample one, really are the best way to keep up with what's going on around here. We will continue to put our heads together to make these emails a truly helpful resource for you.
Who reads Thriving Home?
The majority, but certainly not all, our readers are:
between the ages of 26-45 (however, a surprisingly significant number are between ages 46-65)
have children between the ages of 0-11, with the majority having ages 5-11
cook for a family with children
What do readers want more of?
I'll let you see the results for yourself…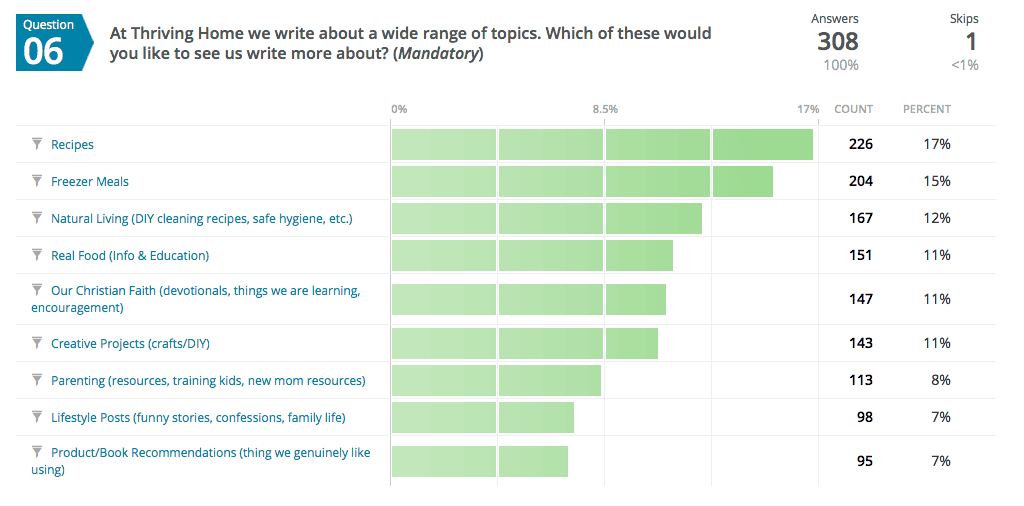 Recipes and food-related content definitely win the popularity contest! Although–percentage-wise–faith and DIY project content aren't far behind.
What content do readers skip over?
Again, I think the graphic is helpful to see here.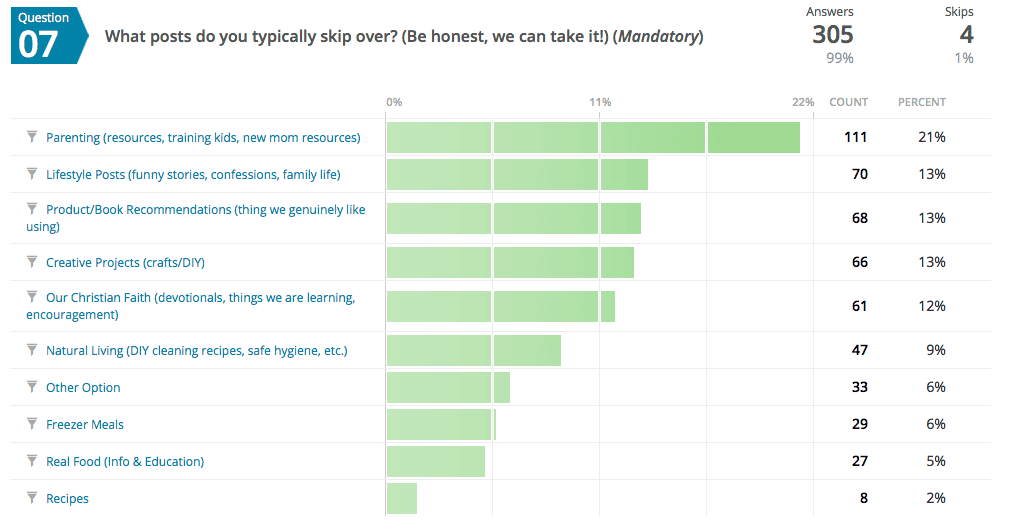 We were somewhat surprised that "parenting" ranked at the bottom in both this and the previous questions. But, as we looked closer, only 21% of readers said they skip these posts (and some said it's because they don't have children or their children are grown). So we take this stat as a "yes" to keep going on parenting resources from time-to-time. But, we hear you loud and clear about the importance of real food recipes!!
What are your favorite kinds of recipes?
The values for how you select recipes rank like this:
1 – Easy to prepare – This one blew the others out of the water. I have to agree with you…who wants to spend hours in the kitchen?
2 – Real food (recognizable, whole food ingredients)
3 – Budget-friendly
4 – Freezer-friendly
5 – Kid-friendly
And, the top three kinds of recipes you like on our site are:
1 – Chicken
2 – Beef
3 – Slow Cooker
4 – Freezer Meals
Hmm, you guys sound a lot like us. Can we come eat at your house sometime?
What do you like LEAST about Thriving Home?
Sheesh, you all are so nice. For an anonymous survey, surely we deserved some more "direct" comments to this question. But, here were two trends that stuck out to us. We do take this feedback very seriously, so we appreciate the honesty.
We have two kinds of readers: 1) Those who are interested in our Christian content and 2) Those who are, at best, not interested and, at worst, turned off by our posts about our faith. This is a great reminder to us to strive to always be sensitive to our wide diversity of readers (those who share our faith and those who do not), and yet be true to our values and mission for the blog. Here were a few of the comments in response to "what do you like LEAST about Thriving Home?":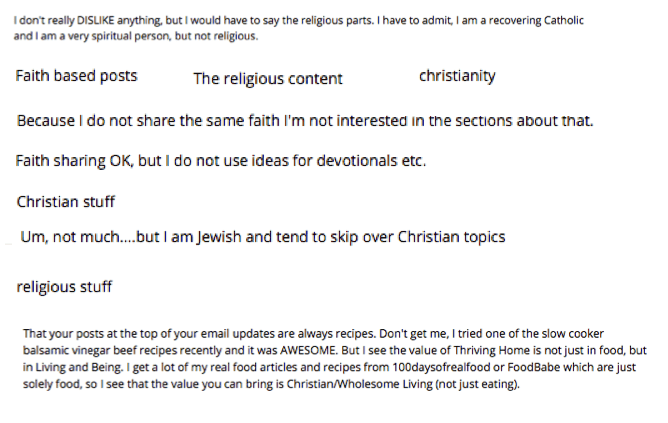 Ads can be annoying: Yep, we totally get it. Sometimes the site runs slower than you would like because of a video ad on the sidebar. Occasionally your tablet screen freezes because of a pop-up ad.
The good news is that we are working to stream-line our ads and make all of our platforms (desk tops, tablets, and phones) easier and faster to navigate, thanks to our new ad network called The Blogger Network. You will see more and more positive changes coming this summer, which means you'll be less and less annoyed by ads.
On the other hand, thank you for your patience with some advertising. It's a large part of our blog revenue and allows us to offer you free recipes and resources.
What do you like MOST about Thriving Home?
Can anyone say "humbled"? That's exactly how we felt while reading your comments on this question. Here's a sampling: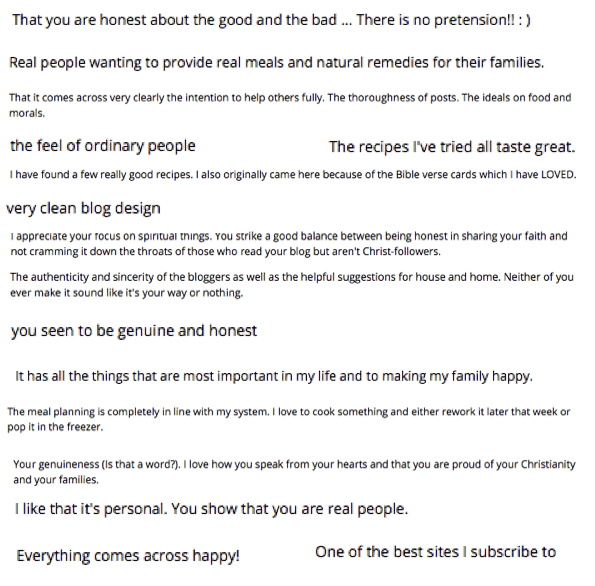 If there's one thing Polly and I want you to "get" when you read Thriving Home, it's that we're real, messy people who are just trying to do our best with what God's given us and is teaching us. It means so much to us that you picked up on that!
Tagline Feedback?
One last thing that relates to all your feedback…can we run an idea past you? We are considering adding a tagline in our blog's header that helps people know who we are when they first arrive. What do you honestly think of this one? Does it represent who we are? Is it helpful?
Real food. Real life. Real faith.

Or, any other ideas for a tagline for us? We'd love to hear your ideas! Heck, if you come up with one that we end up using, we'll send you some free stuff. How about that?
Thanks again for your time and interest! Always feel free to drop us a line to let us know how we can serve you better and/or what you're enjoying.
https://thrivinghomeblog.com/wp-content/uploads/2015/05/Survey-Results.jpg
511
760
Rachel Tiemeyer
https://thrivinghomeblog.com/wp-content/uploads/2019/10/thrivinglogo.png
Rachel Tiemeyer
2015-05-13 05:32:44
2020-01-03 14:13:20
Survey Results: What YOU Taught Us