Tailgating Made Easy with Hy-Vee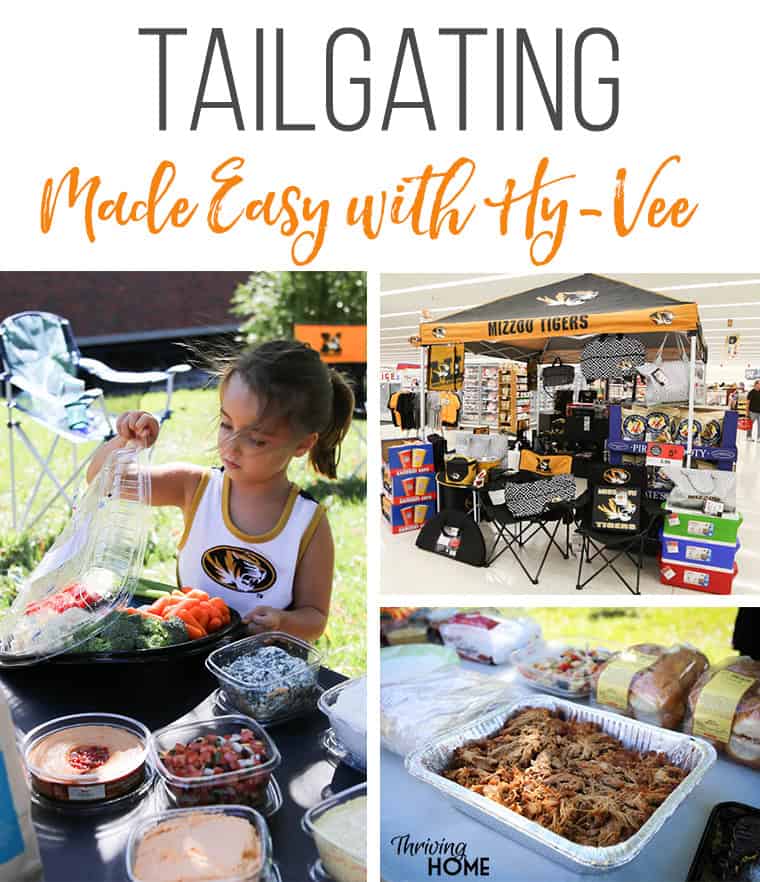 Sponsored by Hy-Vee (Columbia)
It was the first game of the season and the weather was perfect. I mean PERFECT. The idea of tailgating with some friends was now coming to fruition and we needed some good 'ol delicious tailgate food. Problem is, almost all of us have young families and just don't have the extra time to cook up delicious sides or prepare meat dishes to share.
However, our food dilemma was solved with one quick stop by Hy-Vee on the way to the tailgate.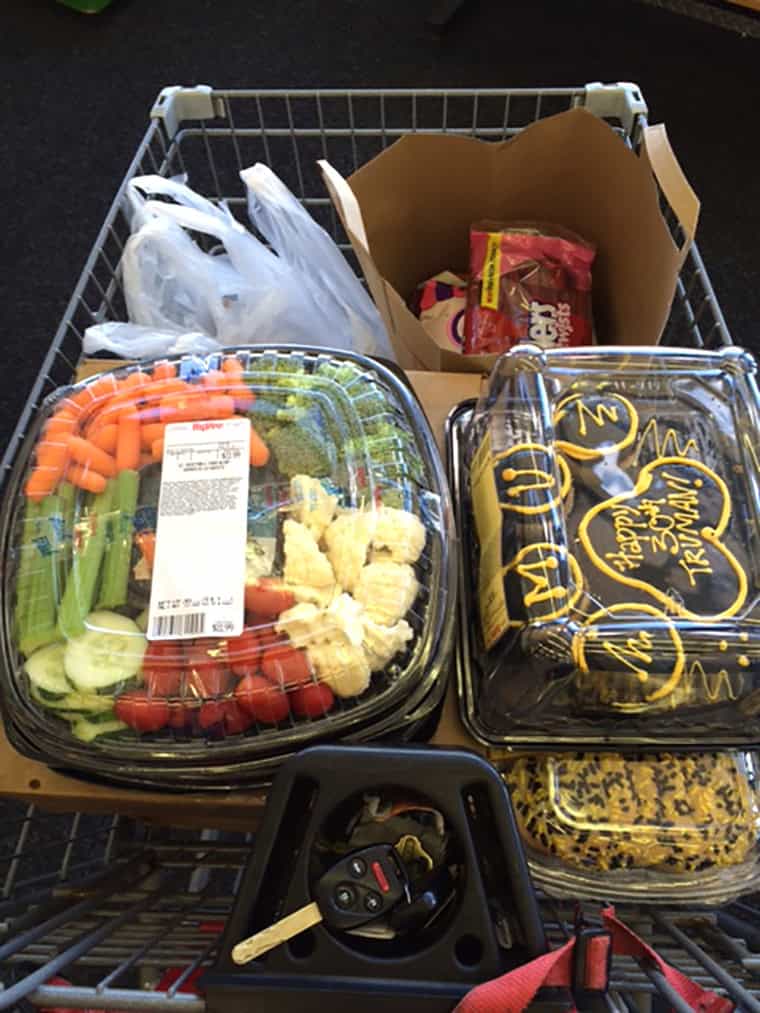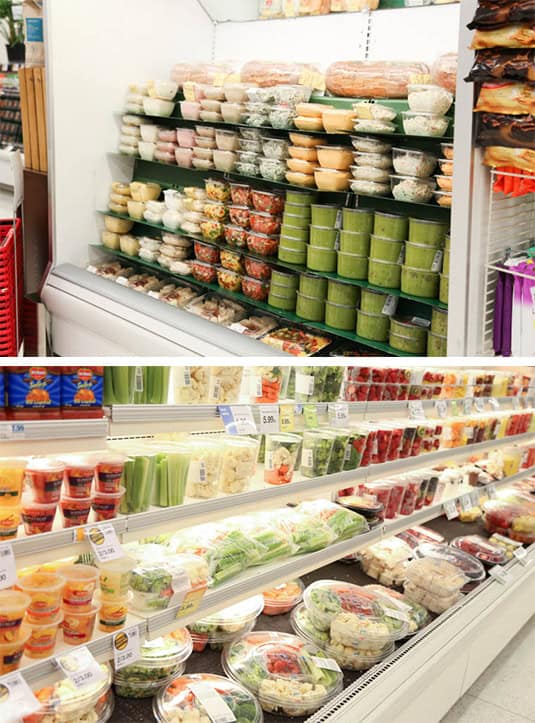 Hy-Vee has SO MANY grab and go side dishes that are perfect for tailgating. From a variety of dips, guacamole, salsas, fruit trays, veggie trays, Mizzou themed desserts etc. etc. etc., they make it so easy for the busy person who hasn't planned well.

It's not just food they have either. They make it easy to stock up on great Mizzou decor and attire. Seriously, everything you need for great tailgate in ONE STOP.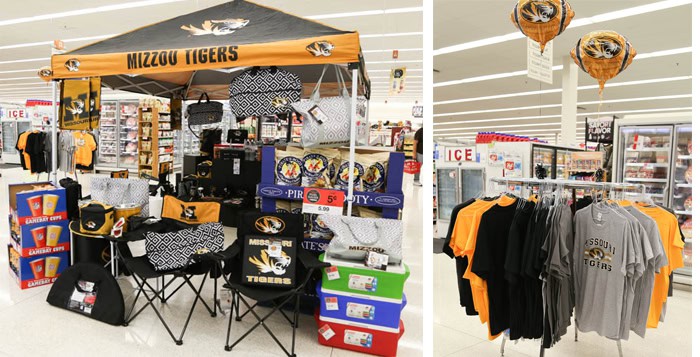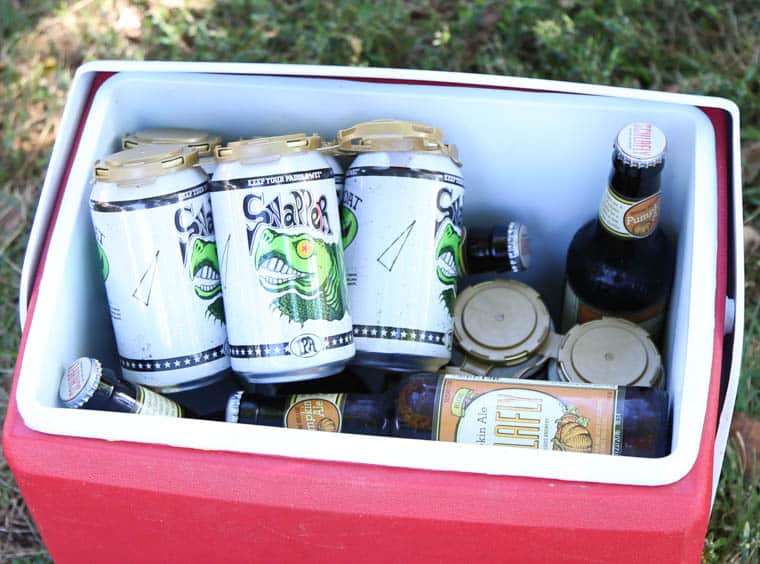 Don't forget to pay the Wine and Spirits section a visit. They have an amazing selection of not only local brews but pretty much any kind of drink you'd want at your tailgate.
My cart was packed the the brim with great food by the time I left the store. And of course, my little cheerleader paid Henry the horse a visit on the way out. (A mandatory stop for all children, right?)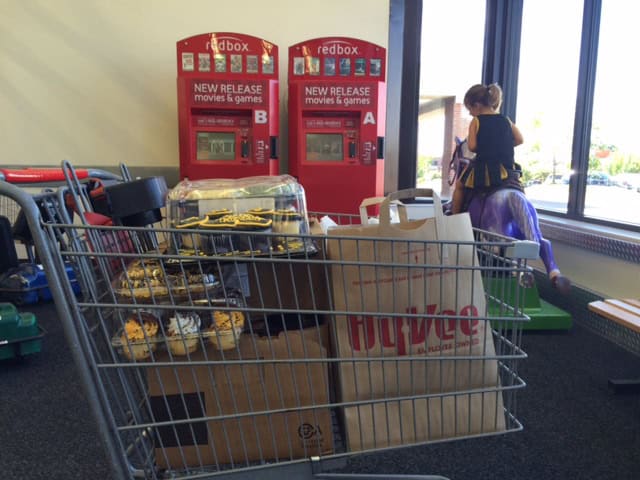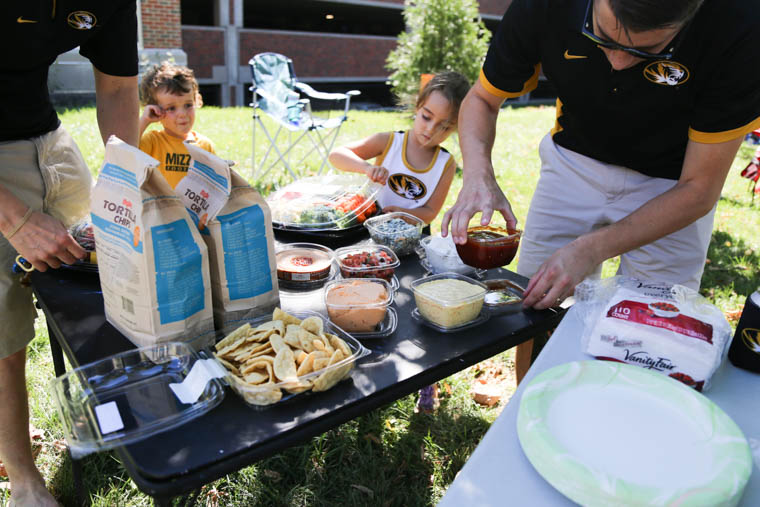 When we got to the tailgate, all we had to do was to pop off all of the lids and get eating!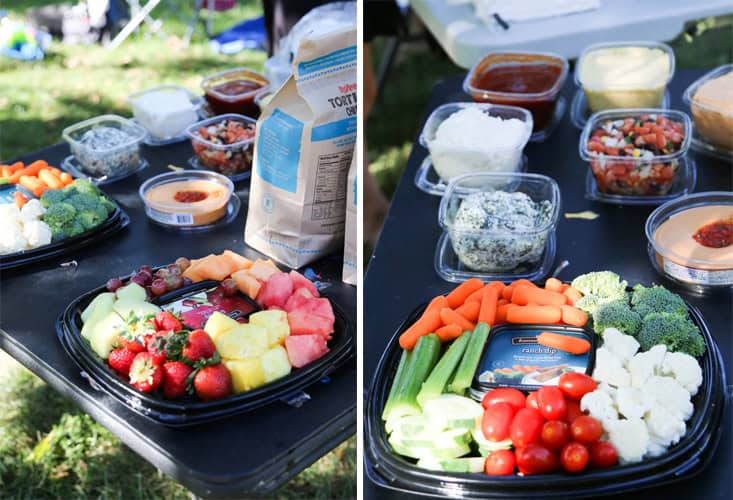 As with any good tailgate, the food was set out and people just graze for the next few hours.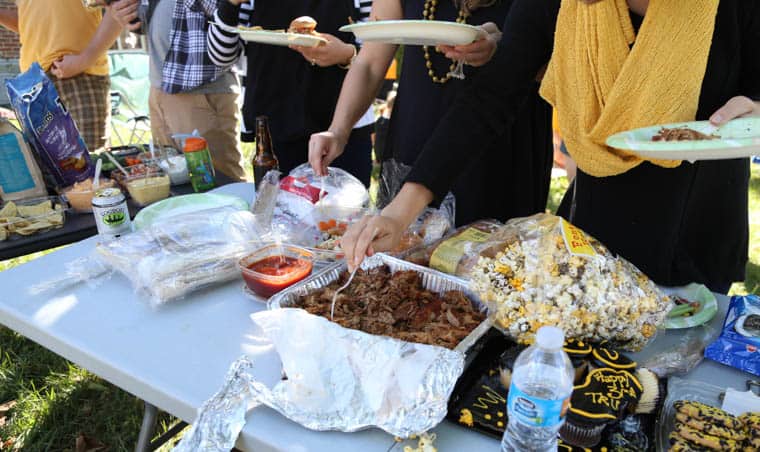 The main dish for everyone was pulled pork sandwiches. When you call and order the meat ahead of time, they will have it hot and ready when you pick it up.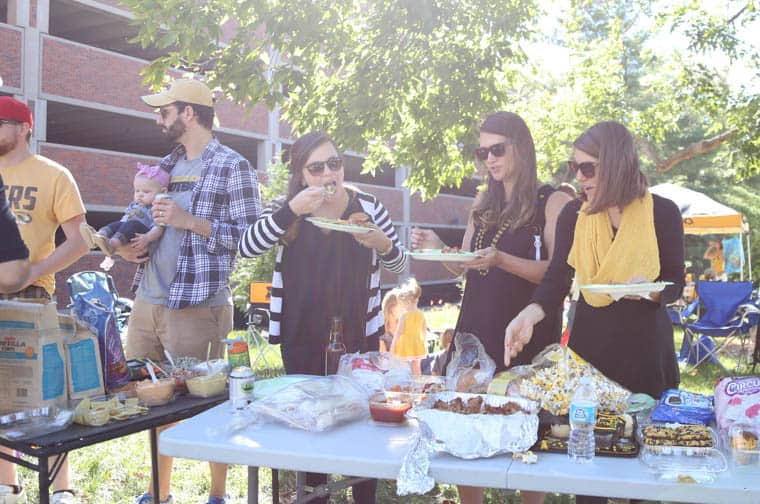 I know this will come as a shocker, but the kids skipped over the fruits, veggies, dips and sandwiches for the black and gold cookies. Try to contain your surprise.
PS- this is what happens when you put the kindergartner in charge of transporting the cupcakes. (There might have been tears shed over this mishap.) Don't worry, they got eaten anyway.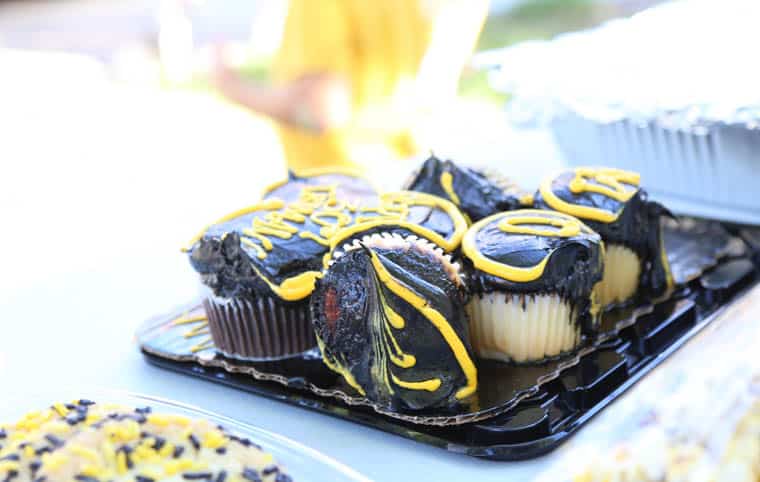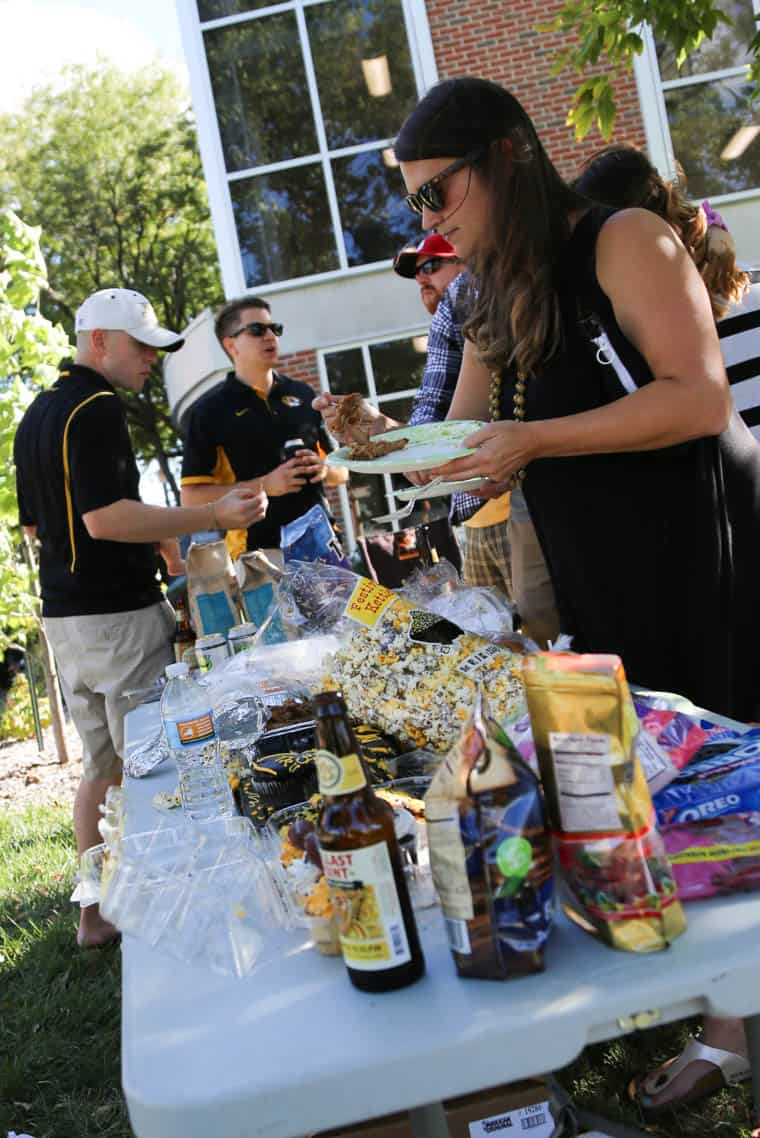 One last perk of getting all of your food from Hy-Vee is you can just toss the containers when you are done. No cleaning up dishes required!

All kids and adults had a great time and it was such a relief to not have to worry about prepping much food. Thanks, Hy-Vee, for making our lives a little easier and freeing us up to enjoy our friends and family.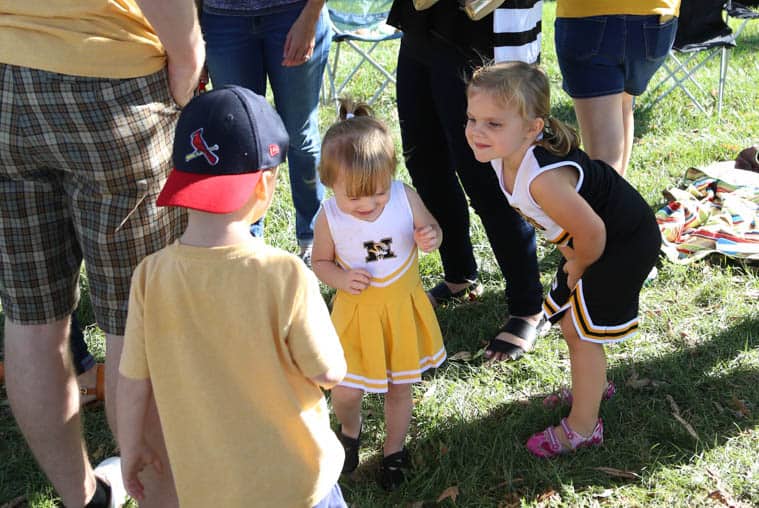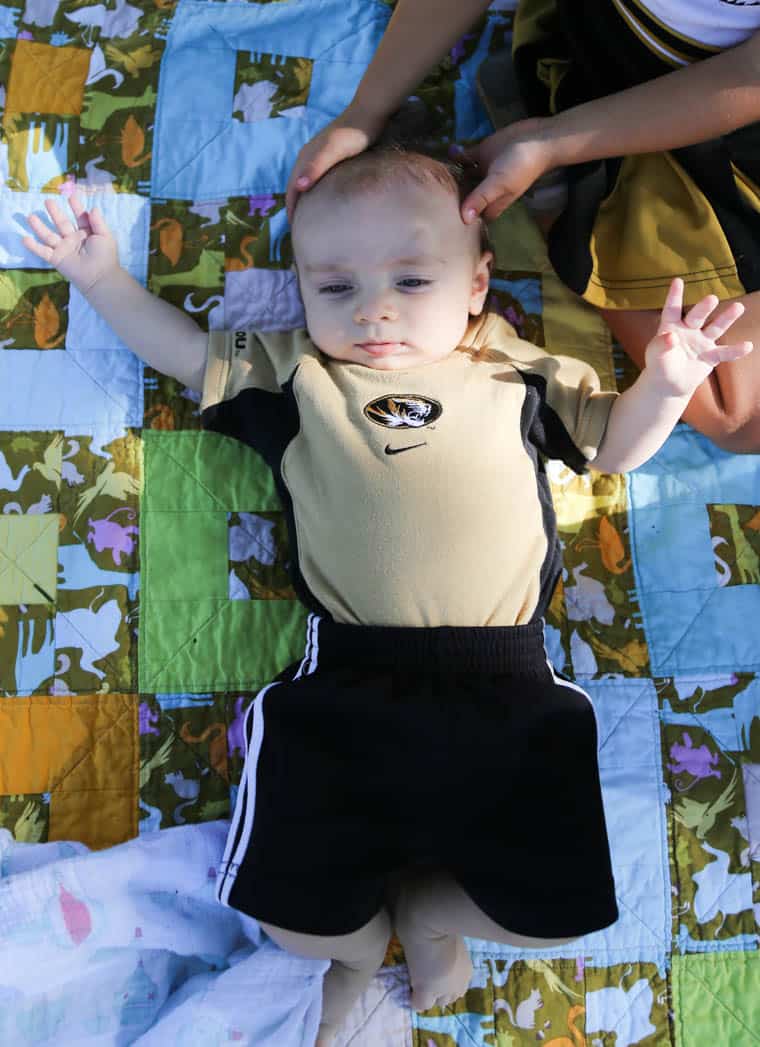 And remember those smashed cupcakes? We put them to good use.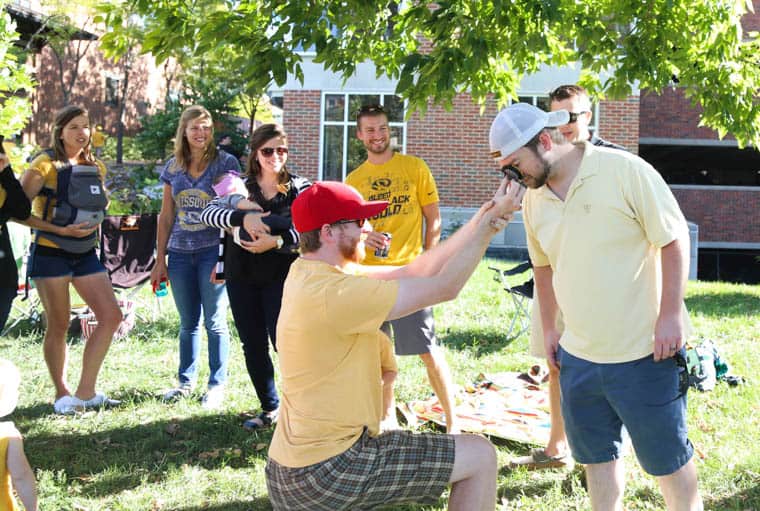 Cause, why not?
Want Hy-Vee to cater your next tailgate?
Reach out to any of these three locations!
Hy-Vee
3100 W Broadway
(573) 447-0133
Hy-Vee
Rock Bridge Shopping Center
405 E Nifong Blvd
(573) 442-8595
Hy-Vee
25 Conley Rd
(573) 442-7703
https://thrivinghomeblog.com/wp-content/uploads/2016/09/Tailgate-23.jpg
504
760
Polly Conner
https://thrivinghomeblog.com/wp-content/uploads/2019/10/thrivinglogo.png
Polly Conner
2016-09-12 09:21:55
2020-09-10 10:41:59
Tailgating Made Easy with Hy-Vee