The Gift of a Granola Bar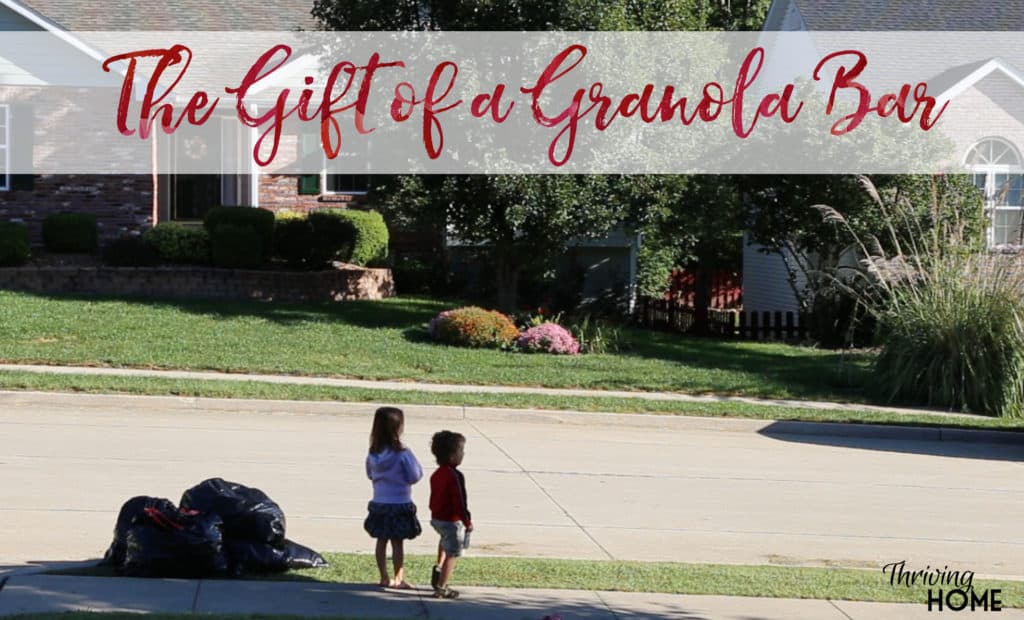 Monday mornings are a big deal around our house. Reason for all the excitement?
Trash day.
My kids not only love trash day because of the huge trucks that give them a honk and a wave but they have formed a sweet bond with the hardworking men who pick up our trash.
See for yourself…

The truth is, it's not just a granola bar. It's an act of kindness. Giving these granola bars to the trashmen is teaching my kids to see those working around us as people. People who are worth the time to say hello to and who might appreciate a morning snack.
It's stretching their minds to think about other ways to serve and love those a bit different than us. I had to laugh when my five year old excitedly reported, "One of the trashmen had gold teeth!" Not something we see every day in the circle we run with. But, it's teaching her to still engage with those a bit different than what may seem normal.
Giving the granola bars away is giving them the opportunity to experience that it is better to give than to receive. It's giving them a taste of the joy that is found in serving. As parents, we can tell them these truths all day long but when it's experienced first hand, it is understood on a deeper level.
I also love that it's allowing my kids to use their extroverted personalities to pursue and love people around them. They don't see this or know it yet but it really is using their gifts and personalities to love God by loving others.
But, it's not just about my kids.
The granola bars are showing these often overlooked men that we see them and appreciate them. Whether they know it or not, it's showing them they are loved by God.
By having kids eagerly wait for their arrival, it's telling them they are valued and are worth getting excited about.
And lastly, on top of all of this, it really does make their day.
So how about it friends? Who do you often overlook? Who are the unseen people in your life who could use the gift of a granola bar? What's holding you back from reaching out?
While it may feel a tad awkward at first, you'll find that acts of kindness demolish the unseen social barriers that keep us from engaging with those we may not normally interact with.
The beautiful result is that you will both be blessed by reaching out. The gift of a granola bar goes both ways.
https://thrivinghomeblog.com/wp-content/uploads/2016/10/gift-of-granola-bar.jpg
1290
2132
Polly Conner
https://thrivinghomeblog.com/wp-content/uploads/2019/10/thrivinglogo.png
Polly Conner
2016-10-03 07:36:33
2019-10-25 12:30:59
The Gift of a Granola Bar