We have a winner–Courtney S.! But, please read on for my review of Seeds' music and their newest album.
Friends, it hard for me to express in words how much Seeds Family Worship means to me, my family, and my church.
Their music has helped our family and our church experience God's Word and worship Him for years through their well-crafted, creative, passionate, and encouraging songs. And, since the lyrics are taken directly from the Bible, many of the verses my kids and I have memorized are from Seeds songs. I have a hunch many of you could say the same thing.
A Little History
I was first introduced to Seeds about 10 years ago as the Children's Ministry Director at our church. We have used their music during our children's worship time, as well as in our classroom lessons for nearly a decade. Then, a few years ago, I met Jason Houser, the founder and producer of Seeds Family Worship when we brought him in for a family event. Let me tell you, this inspiring guy is sold out for the Seeds mission, which is to:
Help families experience God's Word through music
Teach parents to lead family worship in their homes
Provide awesome resources for family discipleship
Our church has now hosted two Seeds Family Worship events that Jason led. He also taught an interactive parenting seminar for families, providing vision and practical advice to help them pass on their faith to their children.
Below are a few pics from our Easter Celebration a few years ago. The worship and teaching times were powerful, fun, and engaging for the entire family. In fact, our Family Events team plans to bring him in again for Easter this year.
I love how Jason involved children in our church in leading the motions from on stage. He has the unique ability to lead and draw in both kids and adults alike.

Can I tell you about one more AMAZING thing Seeds Family Worship has done for our church? We hired his team to write the theme song for our summer VBS, which was a superhero theme and all about how Jesus is our True Hero.
Seeds wrote, produced, and recorded the song "H.E.R.O." for us, which was the perfect memory verse song for our week. And, get this…IT'S ON THEIR NEWEST ALBUM, The Word of God!  One more little fun fact: My 7-year-old son's voice is the child reading our theme verse at the beginning of the song. Proud mama!
"The Word of God" Review
The Word of God is Seeds' latest album. I have listened to every one one of their albums more times than I can count. While I'm a fan of all of them, may I be so bold as to tell you this is their best one yet!? The musical diversity, energy, and synergy they have going on this album is unmatched in my opinion. My appreciation for it only grows with each listen. My heart is drawn to the heart of God and his Word more and more through these songs.
Listen to part of it yourself…
Two Perks for You!
So…this whole long and sordid post is just a segue to tell you that Polly and I were PUMPED when Seeds became a sponsor of Thriving Home! That means two big perks for you, the reader:
1) You can purchase any and all of their albums at a 15% discount by using promo code "Thriving" when you check out. Just click the link below to get started.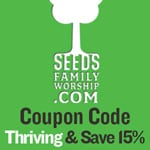 2) You can win ALL of their albums by entering our giveaway below! What?!? Yes, they generously sent us all of their albums, including their newest one, The Word of God, for one lucky reader!
Enter or buy away with our collective four thumbs up!