The following post is from a college friend of mine, Justin Ricklefs. His warm and authentic reflections on family, marriage and relationships have captured the heart and attention of many readers. Reclaiming the meaning of what matters most is what motivates his writing and it is evident in everything he shares. We are honored to have him guest post for us today. 

Almost without exception, when I go down the long list of the ages of our children, here's what I say word for word.
We go girl, girl, girl, the one boy and another girl. 11, 9, 7, the boy is 5 and our baby girl is almost 4.
What baby do you know that's almost 4? She's not a baby; she's a kid. A big kid.
But Henley is our last. So I introduce her as our baby.
It's never more than 90 days, sometimes much more frequently, that Brooke and I will watch Henley's wobbly iPhone birth video.
The one where I was half-filming, half-crying, fully sounding like an idiot.  Maybe it's just me, but I can't stand my voice on video. Do I really sound that dumb?
Anyway, we watch it. It's the same every time. It's amazing every time.
The memories come racing back, the feelings, emotions, fears. Why is she not crying? How is she so huge? How in the world did we do this five times in eight years? What will Silas think of her?
Every 90 days, same conversation. Same video.
It's nostalgic.
But as beautiful as that memory is, there is a real danger in the nostalgia.
This recent article in the New York Times can explain it better than I can.
The 90 day cycle of the Henley video is one tiny example of how I hold up the edited and curated best moments of "those days".
That video doesn't show the crazy pressure I was feeling at work, so much so that I was sending emails and taking calls from the hospital room.
It doesn't show the worry we felt because Henley was a surprise baby, and the anxiety we had leading up to her birth about having a fifth child.
It doesn't capture the stress we felt as a now huge family on one income.
It doesn't display the weary state of our marriage because Brooke had been sick for nine plus months with this pregnancy.
You get the point. And that's only one kid.
The looking back with fondness thing isn't bad. It's awesome actually.
But I quickly jump from looking back with joy to looking back with longing feelings that those days were the fill in the blank emotion kind of days (easy, comfortable, carefree, some other twisted memory-filled emotion).
Those days were good, but they weren't perfect. They weren't fully satisfactory. No days can be that for us.
To combat this lie in our home, we now fight for a phrase.
These are the best days.
They're not the easiest or most glamorous or most well-rested or most fear-free or most money-filled or most convenient.
But they are the best days.  They're days that we are fighting to not hold up the nostalgic past or simply dream about the future to come.
They're the days that we're fighting to see the gifts in front of us, the miracles around us.
"These are the best days" kind of days may be filled with tough news of cancer, hard realities at work, struggles to get pregnant or to stay pregnant, marriages on the rocks, lives hanging by the final threads.
But the stories are endless of those that didn't let these circumstances define them. People who chose to respond to things far outside of their control with grace and a purpose.
These days really are the best kind of days. They can be full of hope and purpose. Regardless of the circumstances.
The nostalgic past and the fictitious future have nothing on today.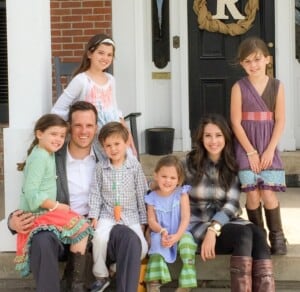 Justin has been married to his wife Brooke for twelve years. Daddy to four girls & one boy. He and his family live in Kansas City. Justin enjoys the art of sales and business. He's an author and contributor at GoodMenProject, HuffPost, Redbook, TODAY Parenting and his blog JustinRicklefs.com. You can follow him on Twitter or Facebook.
https://thrivinghomeblog.com/wp-content/uploads/2015/04/4732f974eb2f321381b0149ee2868681.jpeg
3264
2448
Polly Conner
https://thrivinghomeblog.com/wp-content/uploads/2019/10/thrivinglogo.png
Polly Conner
2015-04-20 05:37:02
2020-01-05 15:19:03
These are the Best Days