Thinking About Starting a Blog? Now is the Time!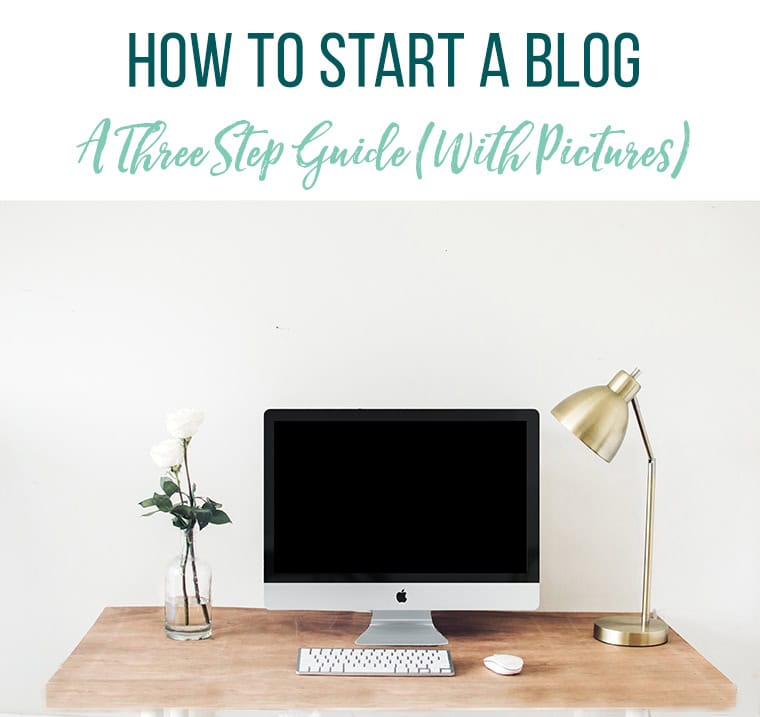 We love blogging.
We love helping people blog.
We love getting potential bloggers like yourself set up on the right track to find the joy and success that we have found in this hobby-turned business. If you're wanting to start a blog, the very first thing to do is to sign up for a host. And the good news is, if you sign up through us, we can get you a special discount! 
Boomtown. Let's do this.
Take my hand and I'll walk you through this simple, three-step process. Off we go!
Disclaimer: This Post contains affiliate links. If you use our links in the post, your costs will be the same but Thriving Home will receive a small commission. This helps cover some of the costs for this site. We appreciate your support! 
The Three Steps Towards Your VERY OWN BLOG:
Domain Name and Hosting
Opening WordPress
Making it Pretty (or handsome, awesome, flashy, whatever you're in the mood for)
Step One: Set Up a Host & Domain Name
Choose A Domain Name
Before you get anywhere with your new site, you'll need to decide a domain name you want. For example our domain is thrivinghomeblog.com. We wanted "thrivinghome.com" but it was already taken and the owner of it wanted thousands of bucks in order to give it to us. Um, yeah right.
A few tips when choosing a domain:
Keep it simple.
Use .com whenever possible.
Make sure it is easy to say and spell.
Don't use hyphens, numbers, obscure terms or confusing strings of words.
You will need to register your domain so that nobody else takes your awesome idea. I'd strongly suggest you register your domain name AND hosting from the same place. In fact Bluehost, which I'm about to tell you about gives you a free domain name if you host your site with them. So pick a domain you want to use and then hop to the next step where you can claim it.
Choose a Host
Your awesome site needs a home. It needs a place to live and for people to take care of it for you, so you don't get hacked (like we did). You need somewhere that has great customer service in case things go wonky, which sometimes they do. There are many, many of options out there, but for someone who is just starting a blog, we'd strongly recommend beginning with Bluehost.
Why do we recommend Bluehost? Well, if you're just starting a site, you honestly don't need a huge hosting plan. You need something that is easy to set up and use, has good customer service and that's not very expensive to begin with. Bluehost is only $3.95 a month BUT, if you sign up through us, we can get that discounted to $2.95! If you decide blogging just isn't your thing, you can get your money back! If your site does take off (and we hope it does!), they have hosting plans that you can move up to so your site doesn't slow down.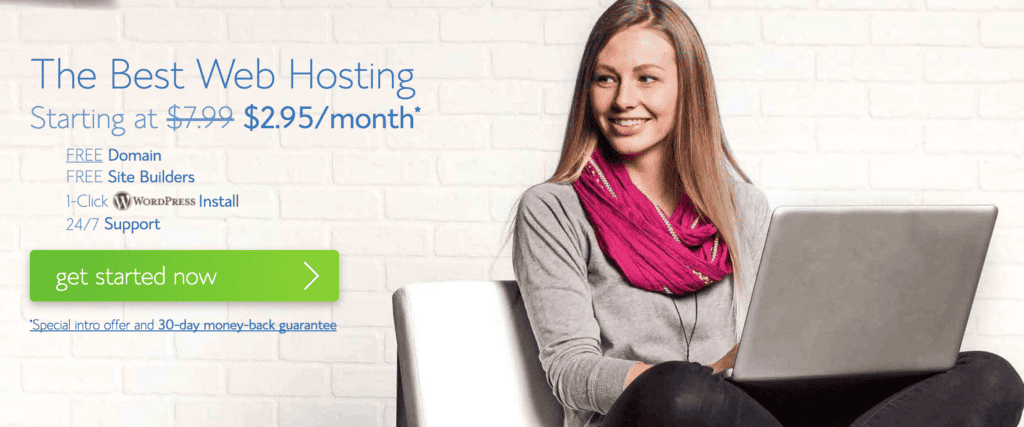 Because we think Bluehost is the best place for you to start, the tutorial from here on out will be how to set up your hosting with them.
Step Two: Sign Up and Fill Out All Your Information
Hop over to Bluehost and click "get started now."
Select the basic plan.
Once you've selected a plan, you will see this screen. Under New Domain, fill in the domain name you want your site to be on and hit next.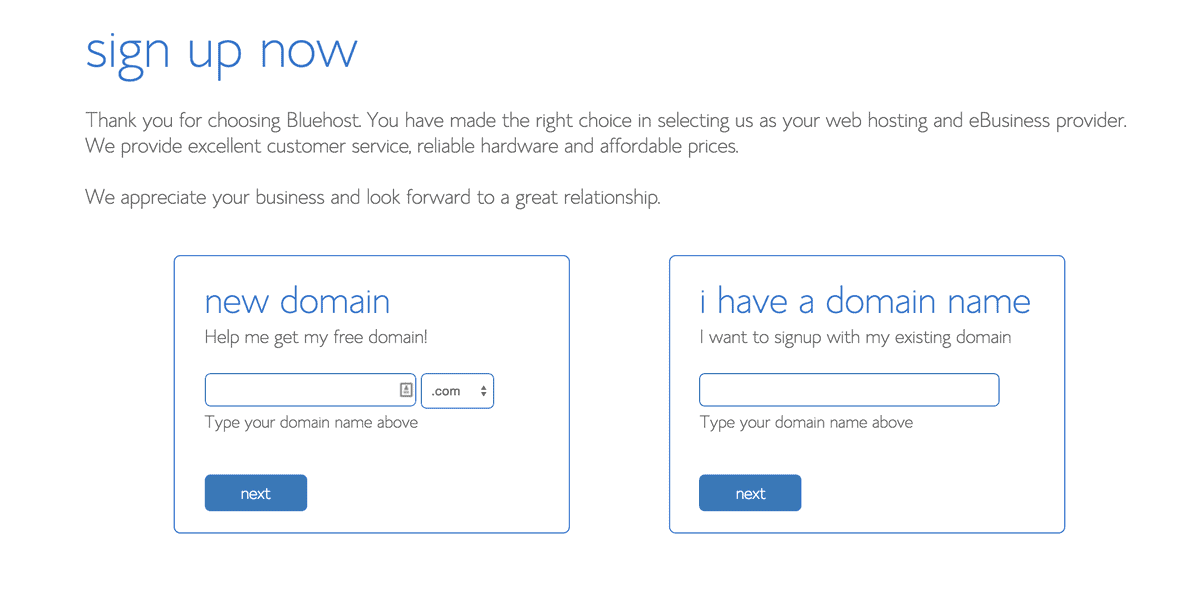 If your domain name is available, you will see a screen like this: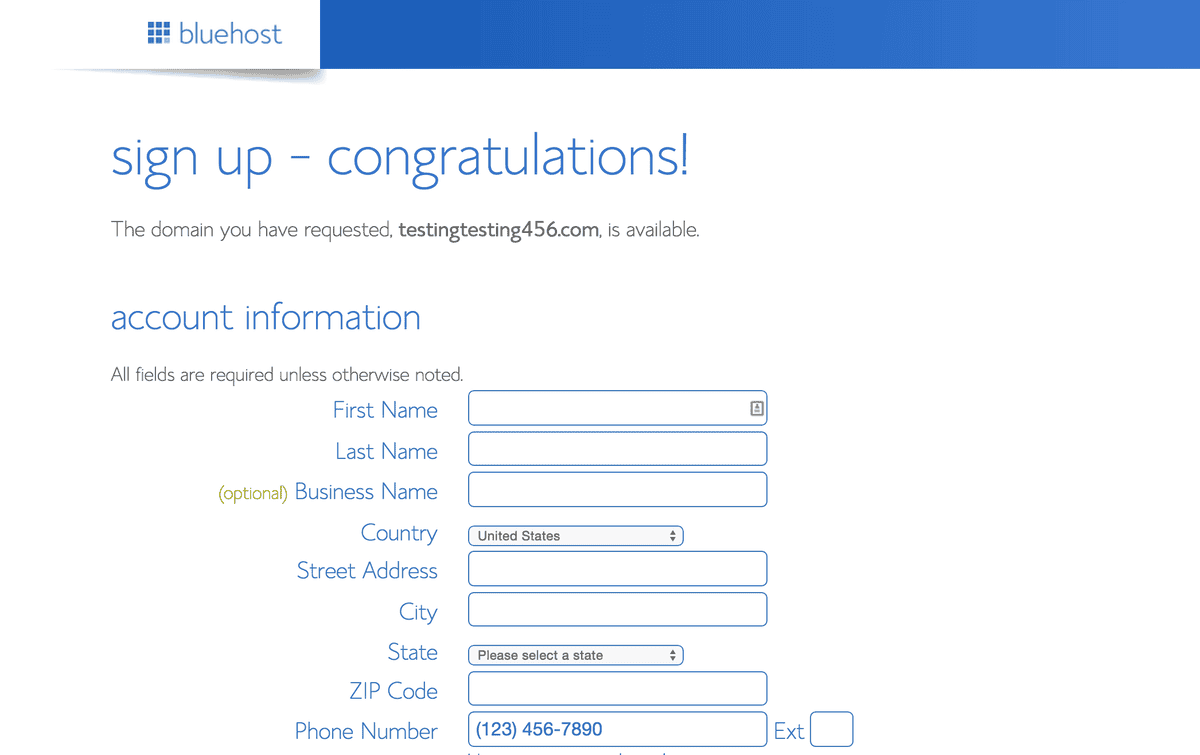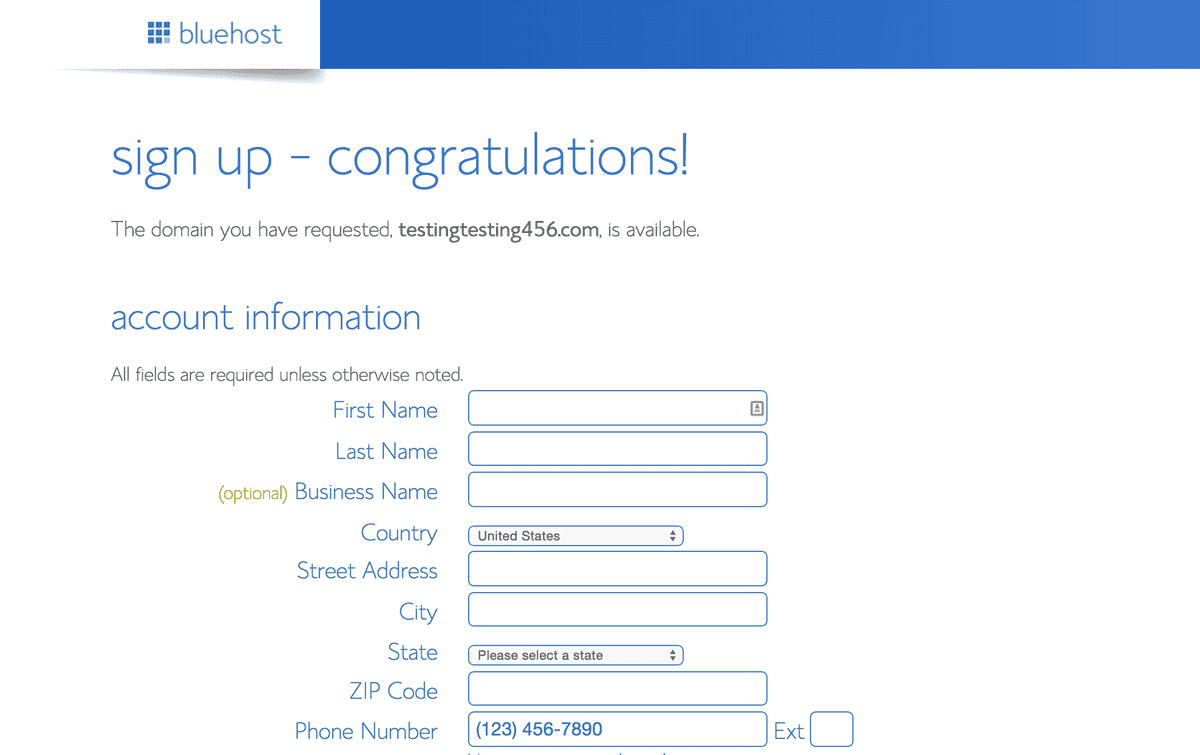 Yeah! Now fill in your account information.
Continue down to package information. You will get the best rate ($2.95/mo) if you select 36 months worth of hosting.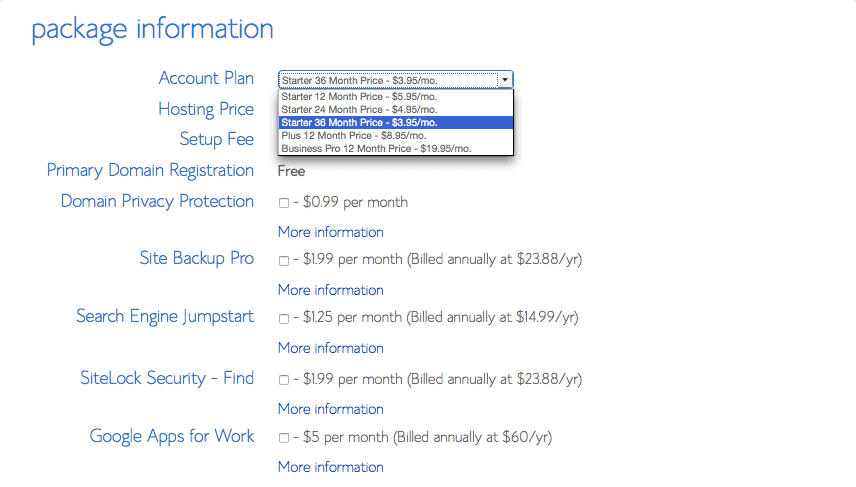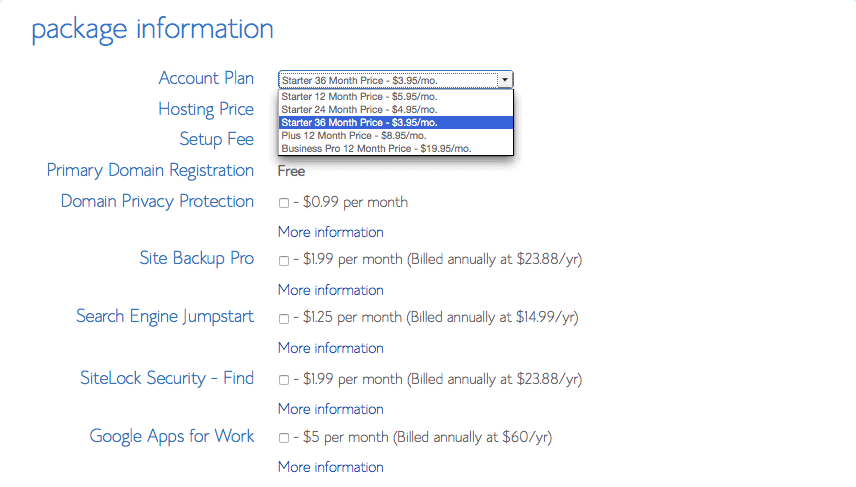 Yes, you will be charged for all 36 months but do not let your heart be troubled. If you decide in 10 months that blogging just isn't doing it for you and you want to move on to wake-boarding or another hobby, no sweat. You will get the unused months refunded. Whew. If you don't want to pay that much up front, just do the math on the other options and find a plan that you can pay for at the moment. As you can see, you have some optional add-ons. There are two that I'd recommend but they aren't absolutely necessary.
1) Domain Privacy Protection
To be honest, we didn't have this for the first three years of blogging. In short, without this your name and address are connected to your site and pretty easy to find. If you're a worrisome person about these things, then paying the $.99 per month might be worth it to you. Personally speaking, now that our readership is quite large, it is important for us to have this. The nice thing is, you can always add it later if your site starts to grow.
2) Site Backup Pro
Once upon a time I had a blog (before Thriving Home). This blog that I poured hours and hours into got hacked. My host at the time shut my site down because of "malicious content." When I called to ask about the problem, the first question that they asked me was, "Well, do you have a backup for your site?"
Say what?
I didn't know I could back up my site, nor how or where to find it if I did. In short, I had to pay $600 for them to manually clean my site from the malware because I didn't have a dang backup that they could revert to. If I were you, I'd pay for that backup so you don't go through what I did. It's totally your call though. I do know there are some free plugins (software) that you can use to backup your site but I just like having all of my stuff in one big happy place. Others disagree and prefer to use places like Dropbox (free) or Vaultpress.
Finish up filling up your account info, payment information, etc.
Skip the upgrades, ok? Just do.


Step Three: Open WordPress
Bluehost automatically installs WordPress for you so you can start working on your WordPress site right away. Yeah! It hasn't always been this easy. 🙂
You can click the blue log in button on the successful password screen to get started with WordPress!
Should you choose a theme now?
Once you've logged in, Bluehost gives you the option to pick a free theme immediately. I recommend you skip this step for a few reasons:
Free themes need to be used with caution as many times they are not kept updated.
The free theme that comes pre-packaged and automatically installed will suffice for now. You can always add a new theme later.
Just click "Skip this step" at the bottom of the screen. Then you'll be prompted to start building your site!
Sidenote: Your site is on a temporary domain while you set up
You may notice a note at the top of your screen which says this:
For your information, we're provisioning your WordPress installation on a temporary domain. We'll update your site to [yourdomain] automatically as soon as it is ready.
This is nothing to be alarmed by. The reason your site is set up on a temporary domain is because it takes a while for your chosen domain to become registered and ready to go. This usually happens within a day or two, and sometimes much quicker. Go ahead and start working on your site and when the real domain is ready, it should work automatically.
Start building your WordPress site
You have two options on this screen:
Clicking the "go to my Bluehost account" under the blue button will allow you to see the info related to your Bluehost account. Clicking the "Start Building" button will take you to your new WordPress site like so:
The black column on the left indicates you are in your WordPress dashboard, a place you become very familiar with.
From this point, you can probably do it on your own.
So What Now?
Now the fun part!
Once your blog is live, you will want to customize the design. WordPress blog designs are called themes. You can find these under "Appearance" on the left sidebar.
A free theme (like the ones you'll find under appearance) comes pre-packaged with WordPress, but I recommend a premium theme. Other than better features, the main benefit of a paid-for theme is that you have access to support. A place to ask questions and report problems is extremely valuable, especially when you're just getting started.
We currently have a custom theme that a web developer built for us BUT I so wish when we had started blogging we would have used the Genesis Framework. We simply didn't know about it and and spent money on another theme that was super confusing and not user friendly at all. Over and over again we have heard that Genesis themes are for sure the way to go. Not only are they mobile responsive (having a site that is easily viewable on mobile devices is a must!), but they also have support which you won't find in a free theme.
In addition to that, Genesis is built on a 2-part framework. A good theme consists of a 2-part system with two layers: the main "parent" theme underneath and the "child" theme on top. The "parent" theme provides the main functionality of the site; the "child" theme allows design customization without touching (and potentially messing up) the framework underneath. Hopefully that's not too confusing.
Basically you buy Genesis Framework and then a "child theme" to work within the genesis framework. A great place to start when browsing for child themes (after you've purchased Genesis!) is Restored 316 Designs. Oh my gracious, these sites are beautiful. Hindsight is 20/20 right?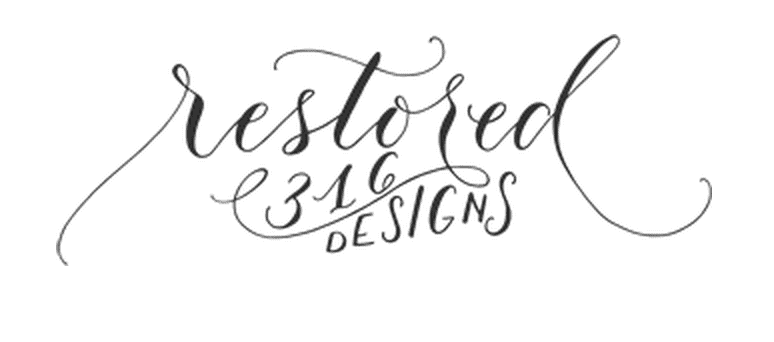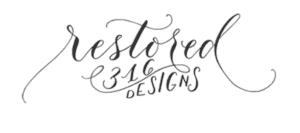 Another great resource we have gleaned loads of information from is Amy Lynn Andrews. We find her tutorials to be easy to follow and she writes in a way that is very understandable. You'll learn tons by poking around her site.
A Special Bonus for Your Blog from Thriving Home
If you sign up with Bluehost through our site, we want to thank you. Here's how we plan to do it:
We'd love to feature you on Thriving Home! Say WHAT?! Be featured on a blog that has over half a million pageviews a month? Yep!
As a start-up blog, nothing is better than having a larger site share about your new blog, right? We want to do that for you*.
So here's the deal: if you sign up with Bluehost, send us an email (thrivinghome at gmail.com) and let us know the url you signed up. (We will confirm it with the monthly list of signups we get from Bluehost). From there we will give you some guidance on the next step to guest post.
We will share about your site along with any others who signed up at the end of that month. We would also be happy to personally give you some feedback and/or a few ideas to help you get your blog started on the right foot. We've enjoyed getting to know our new bloggers over email and helping them get a leg up!
Isn't that fun? I know we would have loved to have a sizable blog share about Thriving Home in the beginning. Plus, did you know that the more bigger sites that link to yours the better your Google Ranking will be? Hopefully, our shout out can give you a jump start in the blogworld.
We are excited for you to join us in the blogging adventure! Like we said, it's can be somewhat of a roller coaster ride, but just know we are in it with you and here to help you in any way we can.
*Note: We reserve the right to deny this bonus if the blog contains or the premise is to share inappropriate, harmful content.
Make sure to check out the other posts in our Blogging Basics series:
And you can swing by our
Blogging Resources page
for a thorough list of everything we use and recommend for blogging.
Sign Up for Our FREE Blogging Basics E-Course!
There is SO MUCH blogging information that we want to share with you. We want you to skip the mistakes we've made along the way, learn about all the different ways you could potentially make money from your blog, know which plugins, websites, and software that we have found most helpful and so much more insider information. To share this valuable information, we have created a FREE E-Course. When you sign up, you will receive one, bite-sized email a week that will equip you to get started on the right track. What are you waiting for, get yourself signed up!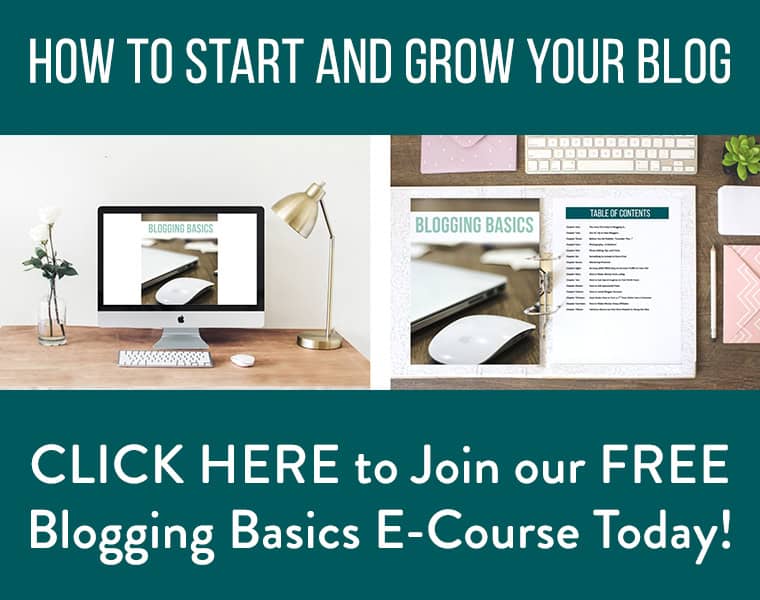 **Affiliate Disclosure:  Posts may contain affiliate links. If you purchase a product through an affiliate link, your costs will be the same but Thriving Home will receive a small commission. This helps cover some of the costs for this site. We appreciate your support!
https://thrivinghomeblog.com/wp-content/uploads/2016/03/how-to-start-a-blog.jpg
496
479
Polly Conner
https://thrivinghomeblog.com/wp-content/uploads/2019/10/thrivinglogo.png
Polly Conner
2016-03-30 05:55:34
2021-01-07 10:20:56
Thinking About Starting a Blog? Now is the Time!