Three Great Grilling Recipes: Chicken, Steak, and Salmon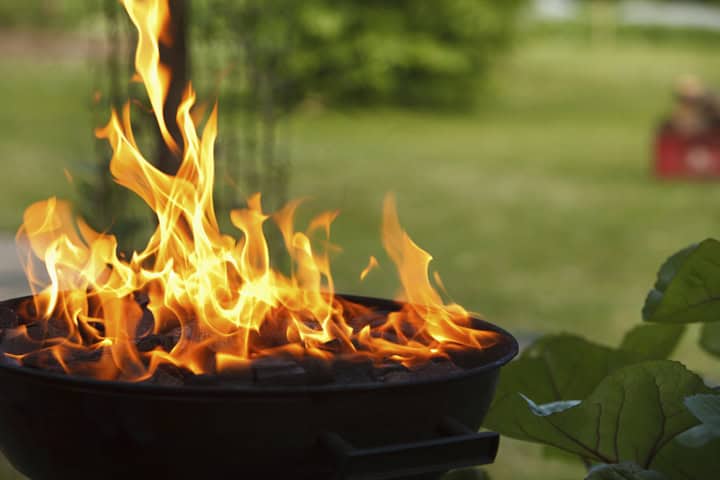 Oh how I love to grill out! There is something about the atmosphere, the taste, the smell, and the mood it creates that is a recipe for good times. For the most part, grilling is also a healthy way to cook. Most recipe use real foods and it can add flavor to veggies that make them more appealing to the eye and taste buds.
With summer around the corner we are using our grill more and more. There are a few recipes we've posted about before that I thought were worth mentioning again.
Chicken Kabob Marinade
One of my all time favorite grilling recipes is Garlic-Honey Chicken Kabobs. It's all about the marinade people. I can't get enough of these kabobs in the summer time.

Ingredients
1/4 cup olive oil
1/3 cup soy sauce
1/3 cup honey
1/4 tsp group black pepper (I leave this out because I don't like pepper)
2 cloves garlic minced
Instructions
In large bowl whisk together all ingredients in marinade.
Chop up veggies and chicken.
Mix marinade with veggies and chicken and let it sit for two hours (refrigerated) for up to 8 hours. The longer the better!
Pre-heat grill to medium heat (around 350-400 degrees).
Drain marinade from veggies and chicken and place on skewers. We've found it works best to put all the chicken on the same skewer, all the onions and peppers on one, etc. That way you can cook them as needed without over cooking.
Grill for around 12-15 minutes. Some veggies will cook faster than others, so you'll just have to keep an eye on them.
Steak Marinade
Grilled steak on the menu? Steak kabobs? Consider using this Steak Marinade Recipe.
Ingredients
Sirloin Steak
1 C veg oil
3/4 C soy
1/4 worcestershire sauce
1 tsp pepper
2 cloves of garlic
1/4 C lemon juice
Instructions
Lay steak in a 9×9 baking dish. Mix up all ingredients and pour over your steak. Let it marinade as long as you can! (Up to 12 hours).
Firecracker Grilled Alaska Salmon
If you like salmon, you'll LOVE this firecracker salmon recipe. It has a 5 out of 5 star rating on allrecipes.com by 21K+ people.
Makes: 8 servings
8 (4 ounce) fillets salmon
1/2 cup peanut oil
4 tablespoons soy sauce
4 tablespoons balsamic vinegar
4 tablespoons green onions, chopped
3 teaspoons brown sugar
2 cloves garlic, minced
1 1/2 teaspoons ground ginger
2 teaspoons crushed red pepper flakes
1 teaspoon sesame oil
1/2 teaspoon salt
Place salmon filets in a medium, nonporous glass dish. In a separate medium bowl, combine the peanut oil, soy sauce, vinegar, green onions, brown sugar, garlic, ginger, red pepper flakes, sesame oil and salt. Whisk together well, and pour over the fish. Cover and marinate the fish in the refrigerator for 4 to 6 hours.
Prepare an outdoor grill with coals about 5 inches from the grate, and lightly oil the grate.
Grill the fillets 5 inches from coals for 10 minutes per inch of thickness, measured at the thickest part, or until fish just flakes with a fork. Turn over halfway through cooking.
Optional:  I bake it in a preheated 400 degree oven for 20 minutes and it's perfect!
Happy Grilling!
https://thrivinghomeblog.com/wp-content/uploads/2019/10/thrivinglogo.png
0
0
Polly Conner
https://thrivinghomeblog.com/wp-content/uploads/2019/10/thrivinglogo.png
Polly Conner
2013-06-03 05:27:21
2014-03-21 17:17:41
Three Great Grilling Recipes: Chicken, Steak, and Salmon