Got a busy toddler? I just came back from a "Busy Bag Exchange" equipped with 11 different activities to keep a toddler busy. Since my friend, Ashley, is the coordinator of the Busy Bag Exchange, I asked her to share with Thriving Home readers on how to throw your own Busy Bag Party. Take it away, Ashley!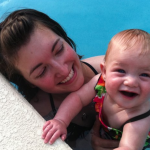 If you're anything like me, you've been doing some pinning on Pinterest while your toddler or kids are asleep. Thanks to Pinterest, my family has enjoyed some really great new meals. However, like most moms out there, I've only done a handful of the crafts and sewing projets I've pinned. So, when I stumbled on the idea of a busy bag swap, I thought it was genius! To organize a Busy Bag Swap, all I needed to do was to gather friends and get them to make a busy bag for everyone else attending. We'd all swap so we had LOTS of different busy bags. Did I mention, genius? As the coordinator it doesn't take too much work to pull a swap off.
How to Organize a Busy Bag Swap
1. Contact any moms who might be interested – it doesn't really matter how many, but I'd keep it to 20 or less.
2. Assign or have the attendees pick a craft. We used the list found here.
3. Find a date that works for as many people as possible. I used www.doodle.com to help. It's a pretty great little scheduling site.
4. (Optional) Host a crafternoon to help motivate busy moms. Not required, but a fun time nonetheless.
5. Make your own busy bags!!
6. Get together to swap. We chose a date about a month out, so everyone had plenty of time. We found the easiest method was to lay the bags in piles and each mom go through and collect one of each activity.
It was great to get together for a quick, informal gathering of moms. We shared some stories, had a few littles there to test our activities, and got to relax for a few moments away from the typical nighttime chores that all moms seem to have. This gathering was so fun and easy, I would definitely do it again someday.
Ideas for Your Toddler Busy Bag Swap
Have everyone make an extra craft or two so you can give a bag to a mom who might be going through a tough time.
This would make a great gift to new moms. I really think the New Moms' Ministry at our church should get people together to do this.
If you're really ambitious (I wanted to do this, but time got away from me), make little tote bags for all your attendees to gather their activities in. You could even include some knickknack toys since it will be kiddos digging through these bags.
Well, I hope this was helpful to anybody looking to organize a busy bag swap!
A Few Busy Bag Activity Ideas
Below are two ideas that Rachel and I have done that would work for your Busy Bags.
1 – The toddler activity bag I (Polly) took was called Popsicle Stick Puzzle. It's so easy and a great way to recycle old books. Here's a little preview…
2 – Another idea is to throw some of the elements of the Play Dough Alien activity that Rachel does with her kids in ziplocks. You could include a little play dough, some feathers, pipe cleaners, and/or maybe even some Mr. Potato Head pieces you pick up at a garage sale. Check out her post about it here.
https://thrivinghomeblog.com/wp-content/uploads/2019/10/thrivinglogo.png
0
0
Polly
https://thrivinghomeblog.com/wp-content/uploads/2019/10/thrivinglogo.png
Polly
2012-05-07 04:17:13
2019-01-23 13:59:10
Toddler Activity Bags: How to Throw a Busy Bag Swap {Guest Post}