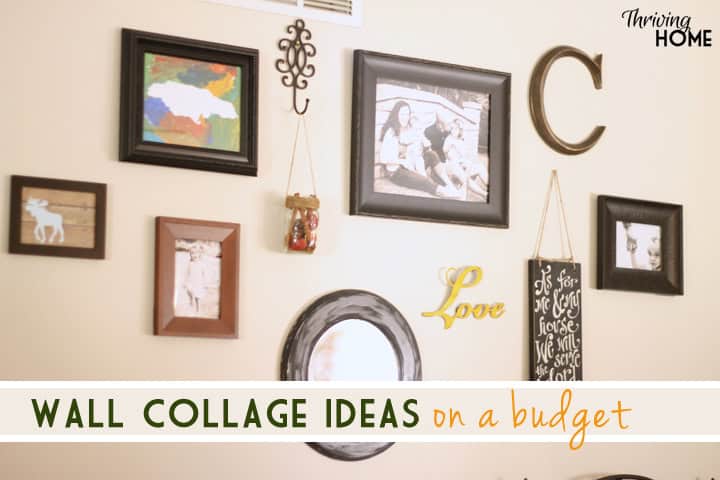 I've been eyeing out wall collage ideas for quite some time now. We have a big wall in our living room what would be perfect for one that was previously being occupied by this: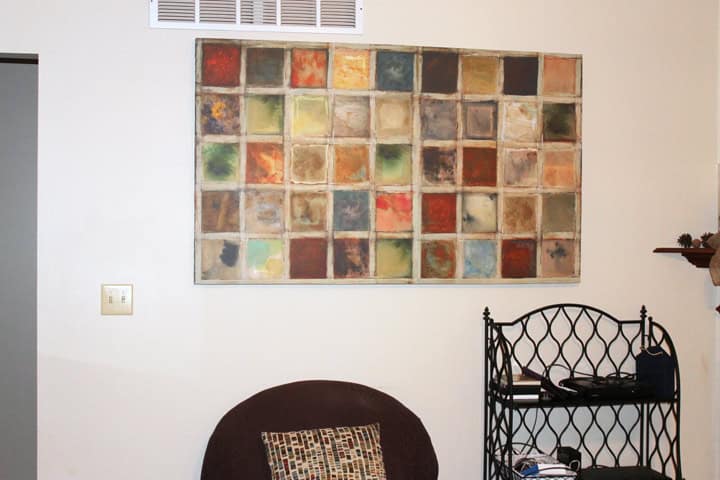 While I like the color that it brought into the room, the Hobby Lobby picture that I got for 60% off just wasn't doing it for me.
I wanted our wall collage to represent our family well. Most of the items have a story or a reason they made the wall. I also didn't have much of a budget for this project so I found thrifty ways to decorate the collage wall.
Here's the story behind each item:
Jamaica Map
Why It Made the Wall:
Jamaica has always had a special place in our hearts. First of all it is where my husband and I met on a mission trip. I have been to Harmons, Jamaica about 10 times and have a heart for the community and people I have come to know and love. Last spring we took our entire family to Jamaica with a group of college students. (Here is more about that if you are interested). Needless to say, we needed to have something that represented Jamaica on our wall.
How I Made it:
The painting in the frame was actually made by a little Jamaican boy. When we were down there we had an art night and I helped him create it. I have held on to for years and am so glad I did. I used my Silhouette machine to cut out the shape of Jamaica and plopped it on the painting. I used a frame I had on hand so basically to make this picture cost nothing!
Moose Picture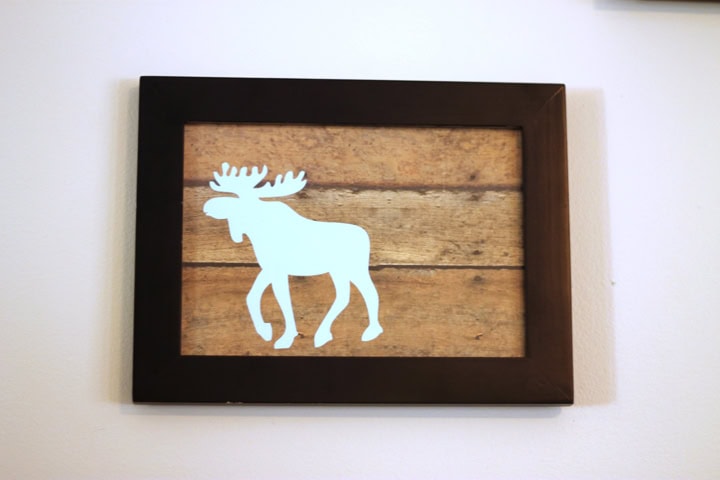 Why it Made the Wall:
Before my Thriving Home days began, I had gone to Alaska twice with my family. It's my dad's favorite place to visit. It is majestic. The slow pace, fishing and immersion into untouched nature is refreshing for the soul. It was also one of the first places Austin and I went on vacation together after being married.  Here a few snapshots from the trip: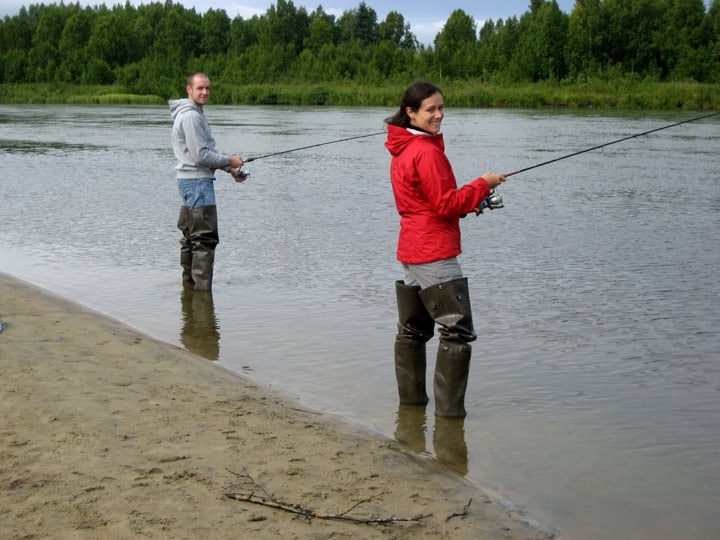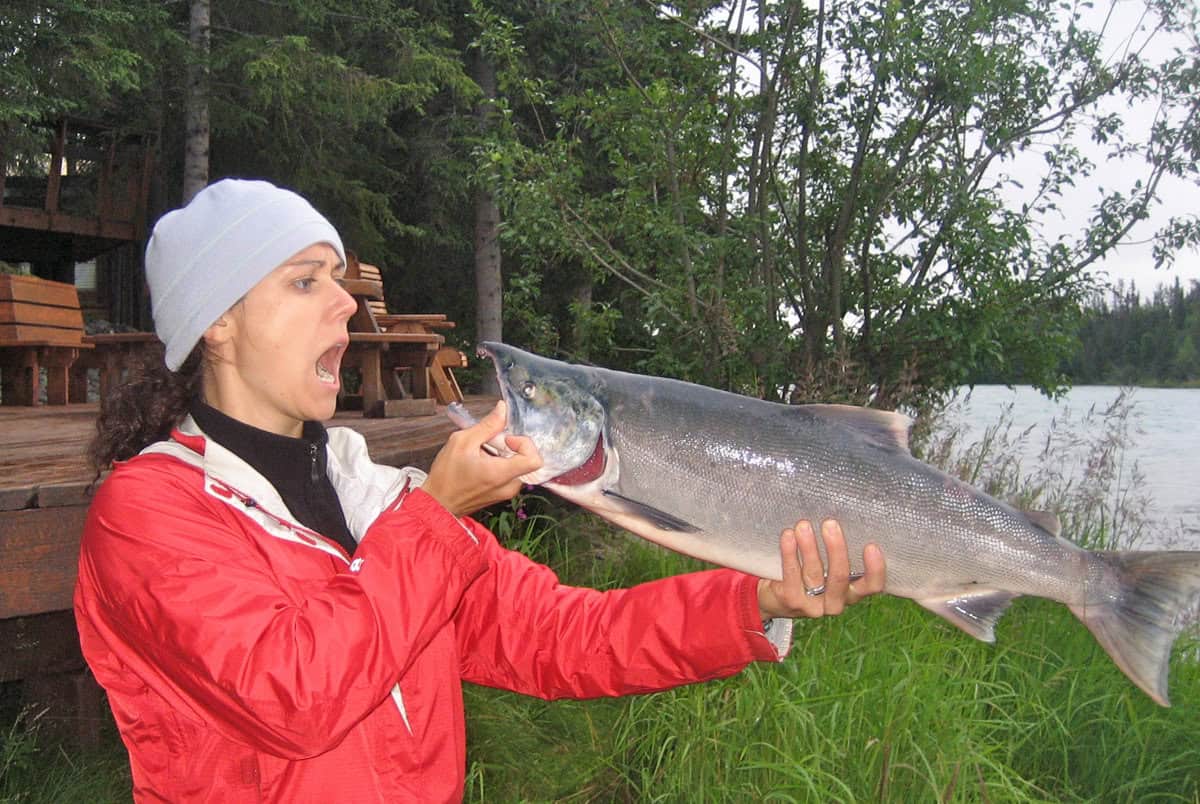 And if you're looking for a chuckle, here is a video of me (attempting) to pick up a salmon I just caught.

I could share tons of stories and pictures of our trips to Alaska. You can see that it is a special place to our family.
How I Made it:
To make my framed moose picture, I simply bought some scrapbook paper to use as the background. I then used my Silhouette machine to cut out a moose image and stuck in on there. Again, I used a frame I had on hand. So this project only cost around one buck. Makes me happy and warm inside.
 Hanging Burlap Jar
Why it Made the Wall:
This mason jar and I go WAAAAY back.
OK, just kidding.
This one doesn't necessarily have a personal attachment. I just wanted something a little more 3D to add to the wall and brainstormed up this idea. I also have a little country girl inside of me so like the use of a mason jar for decor to represent that. I plan to change the contents of the jar season by season. So right now it is filled with fall-ish things. When Christmas season hits I'll probably fill it with some ornaments or other Christmas decor.
How I Made it:
I didn't have to buy anything for this little project. I had everything on hand. I had to figure out a tricky way to wrap the burlap around the jar in order for it to hang. I would try to explain how I did but I fear I would confuse you. Simply put I found a way to wrap it around the jar that would serve as a way to hang it.
"Love"

Why it Made the Wall:
Yeah yeah, here is the cliche "love" representation on the collage wall.
I picked this not because it was a nice thing to have on a family wall but I like to interpret it as a command. Love is not always a feeling. It is a verb. Love others like Jesus did. Love who God has put in your life. Love the neighbors who let their dog poop in your front yard ALL the time. (I really hope they don't read my blog…) Love your children by being quick to listen, slow to speak and slow to anger (James 1:19). Love is an action. This little "love" sign reminds me of that.
How I Made it:
I got this little sign for 40% off at Hobby Lobby for a few bucks. (ALWAYS use their 40% online coupon. There is no reason to pay full price for anything at Hobby Lobby. Glad we had this talk). It was originally just black. I needed a little splash of color on the wall so I painted it yellow. Well I used a really crappy craft paint that didn't coat it well so I ended up intentionally scuffing it up with some sand paper to give it a worn look. I really liked how it turned out.
Hanging Sign

Why it Made the Wall:
I mean, I'm married to a pastor. It's kind of obligatory that we have a verse hanging on our wall right? Despite the large amount of Jesus paraphernalia that we receive as gifts we actually aren't really into overtly Christian decor. We want to be selective and this verse is a great one to have hanging around. Literally. It is a great reminder to us of what we want to be about and where we want our foundation to be built on.
How I made it:
Can't take credit for this one. Got it for a very reasonable price on Etsy. There were a lot more treasures like this at Kijsa Studio. I really enjoyed perusing her online shop. I also love that part of her proceeds go to ministries in Africa. I CAN take credit for hammering the nail in the wall without missing though. So proud. So proud.
Letter "C"

Why it Made the Wall
So this does seem like a requirement for a collage wall. Not sure why but it seemed incomplete without a giant letter representing our last name. A name that shall not be mentioned for fear of online predators who with that information could likely figure out exactly where I am as I type this blog post… Just kidding. But I'm pretty sure Rachel thinks that would happen. ANYWAY, we are proud of our name and a big 'ol C communicates that. I guess. OK, you caught me. I don't know why I put it up. I just had to. Moving on.
Where I Got it
You guessed it. Faithful Hobby Lobby came through for me in my large letter hunt. If Hobby Lobby was a person we'd be best friends. Besties.
Circle Mirror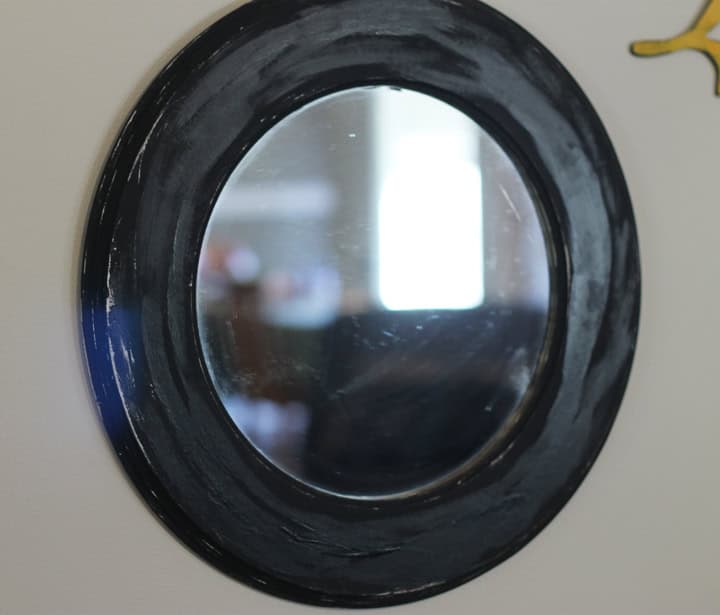 The mirror is purely for decor. Nothing special about it. I got it at a thrift store a long time ago. I think it's cute. It can be used to see people behind you.
Oh, hi there!

I spy a husband! Wonder what he's thinking about at that exact moment.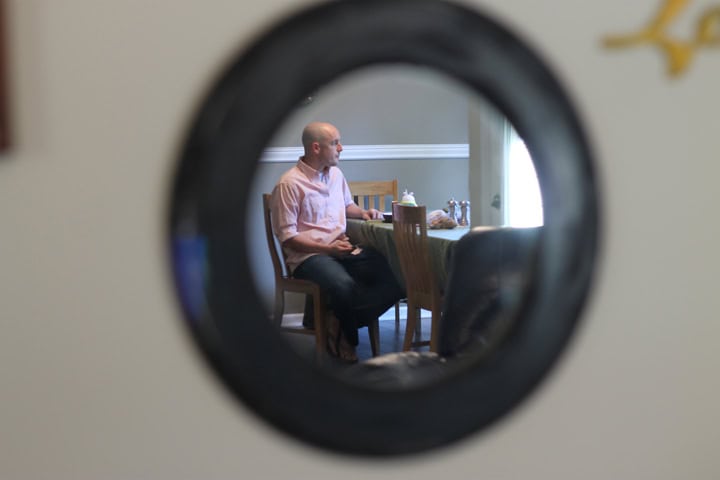 Pictures
Lastly, we have our family pictures taken by Lana at Art and Soul Photography.

Got the frames from, you guessed it, Hobby Lobby. No need to explain why we have those up there.



Lastly, I would advise you use this method when designing your own collage wall:
Trace the shape of the frame or object onto some type of packaging or wrapping paper. My paper of choice was some Christmas wrapping paper. Laugh all you want but it's what I had on hand.
Cut it out and tape the silhouettes of the pictures/objects on the wall so you can see what it is going to look like. I'm so glad I did this because I for sure would have ended up with about 10 more holes in my wall as I adjusted spacing and such. It gives you somewhat of a visual of what everything will look like up on the wall.
So there you have it! I have no doubt our wall will evolve over the course of the years. It's only natural that it change just like our family will!