Well friends, my grand ideas don't always turn out like I planned. This is the case with my attempt at making a water blob for a play date we had a few days ago.
First of all, you should know that we had four moms and eight kids under two outside playing with water on a super hot and humid day. Four of the kids are under 3 months old. Seriously. It was pretty much controlled chaos. Despite it ending in a few meltdowns (primarily my kids) the play date was a blast.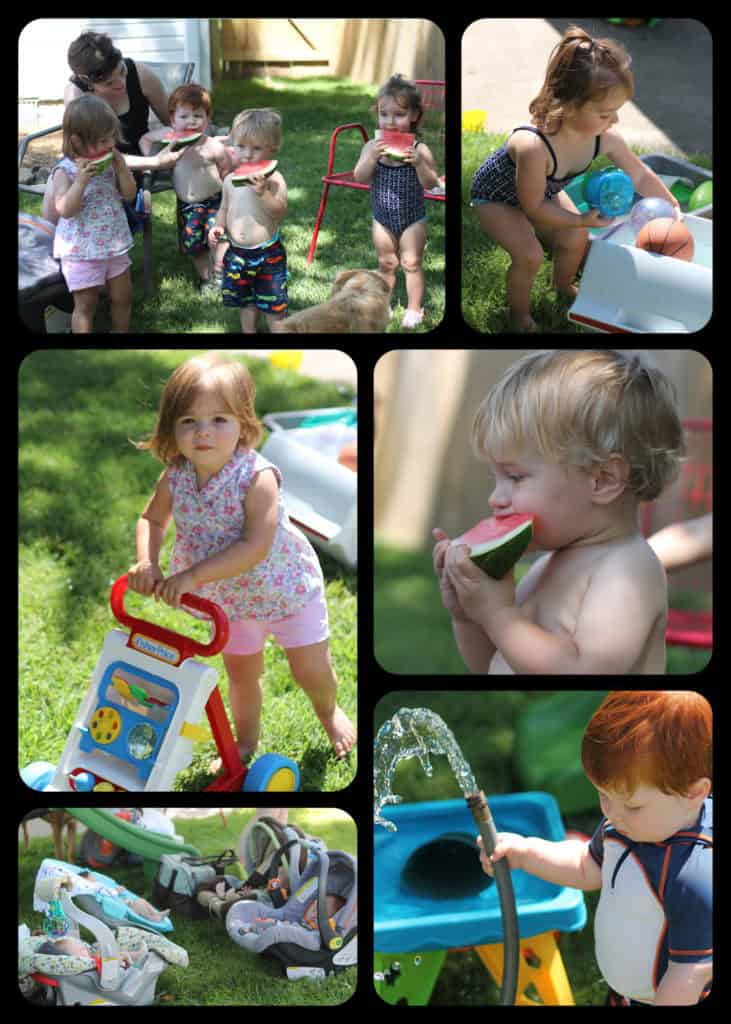 I've been wanting to try out this water blob idea that this blogger raved about. It seemed so simple. Fold up a large piece of plastic sheeting, duct tape the edges, fill with water, and have fun!
It seemed so simple…
So between a toddler walking all over the plastic while I'm attempting to tediously tape the edges together and my infant protesting being outside in his bouncy seat, I managed to get it taped together before all the kiddos arrived.
As I began to fill it with water I immediately realized I had made an obvious mistake. The area of the yard had a very slight gradient to it causing all of the water to pool on one side of the blob. I tried to move it but the weight of the water was a bit too much so I just had to go with it.
All was well with the water blob for a bit. The toddlers were showing mild interest but we got a few to stomp around on it.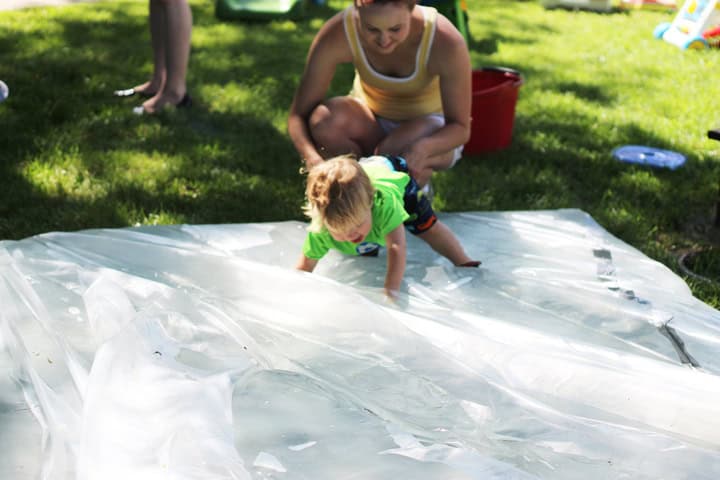 However, as more water entered into the blob, the duct taped seams began to show signs of weakness. It started with a few leaks here and there. One small leak eventually turned into a large leak which eventually ended up opening up an entire side of the blob. Water began pooling out and moving down the incline of my yard.
A few of my mom friends had to be first responders to the infants innocently relaxing and naive that they were in the heart of the flood plains.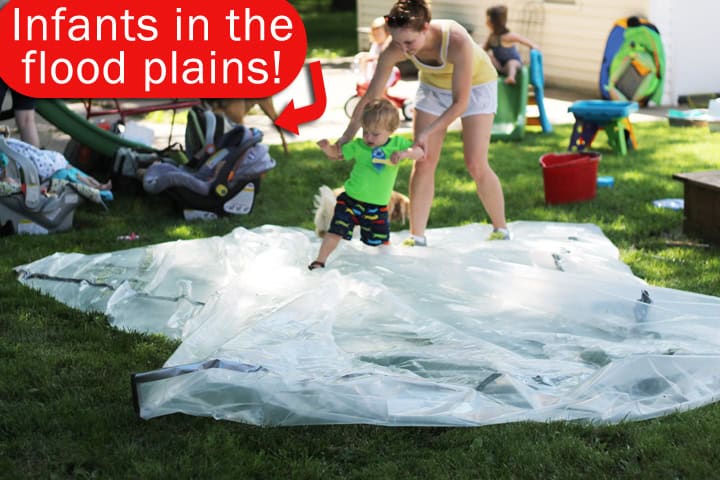 Even after a massive amount of water had escaped the tarp, the blob took on a life of its own. It began slowly rolling and creeping down the yard.
I didn't catch any pictures of the flooding and organic movement of my blob but I did get a few of the aftermath.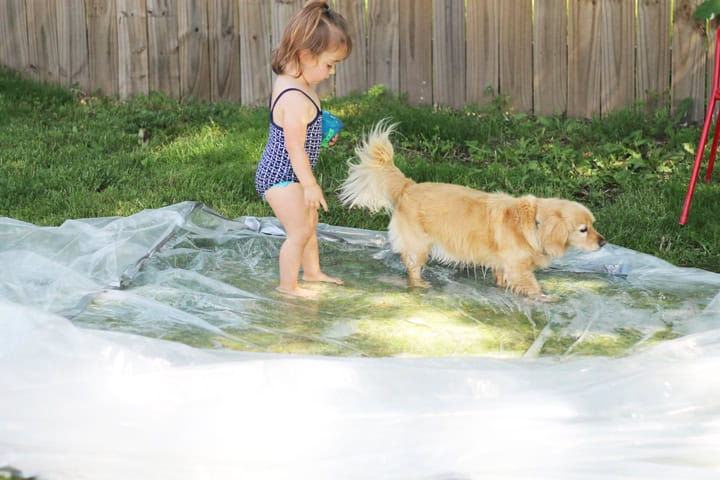 That's my gal and pup stomping around in the leftover water. At least they got to have a little fun with it, right?
Anyway, if I do this again I will make the following changes:
Make sure I am on even ground.

Take a lot more time and effort to duct tape the edges well. Probably with double reinforcement.
Use quality duct tape. I think the type I had was a cheapo brand that couldn't hold much weight.
Not put infants downstream of blob.
We live in a broken world people. Water blobs do not escape the fallen condition.
Best of luck trying this project out for yourself!
https://thrivinghomeblog.com/wp-content/uploads/2019/10/thrivinglogo.png
0
0
Polly Conner
https://thrivinghomeblog.com/wp-content/uploads/2019/10/thrivinglogo.png
Polly Conner
2013-06-19 05:18:54
2019-02-04 09:06:55
Water Blob Fail