What Books Are In My Nightstand Right Now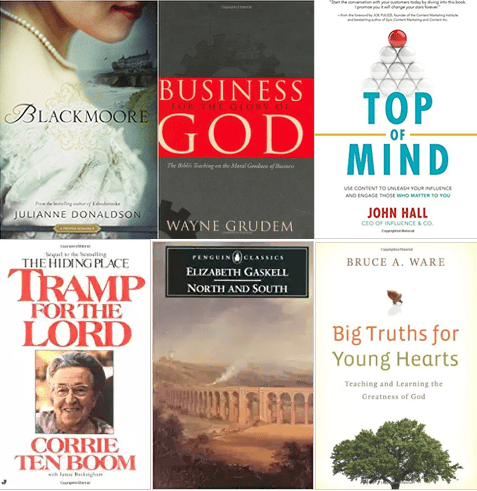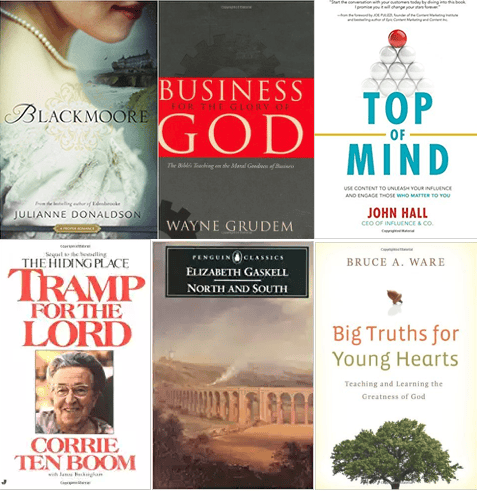 I'm finally at a phase of life where I have time and a little more energy to read at night and in the early morning. I always enjoy getting a peek into other bloggers' lives to see what books they have lying around and/or are enjoying, so I thought I'd open up my nightstand to you today.
Keep in mind that some of these are ones I mow through, while others sit around for months as I pick away at them. My husband often laughs at the accumulating pile next to my bed. You might check out this post and this one for even more book recommendations I've made on the blog.
From Victorian romance to theology to parenting to business to food, here are a few books/reading materials that I've recently finished and/or am currently reading.
Note: We are a participant in the Amazon Services LLC Associates Program, an affiliate advertising program designed to provide a means for us to earn fees by linking to Amazon.com and affiliated sites. Read our full disclosure policy here.
Blackmoore by Julianne Donaldson
Every since taking a class in college about Victorian literature and film, I've been in love with novels from this time period (well, excluding Wurthering Heights!). Donaldson wrote one of my favorite books of all time, so I was thrilled to find this second novel of hers that came out in 2016. It held up to my high expectations for another "proper romance". If you like Jane Austen and Regency Period novels, I don't think you'll be disappointed. I stayed up way too late several nights in a row for this one.
North and South by Elizabeth Gaskell

Now that I've finished Blackmoore (boo hoo), I just began this novel that came recommended as one that Jane Austen fans will approve of. Gaskell won the attention of Charles Dickens in her time and was a lifelong friend of Charlotte Bronte. Maybe you've seen the highly touted BBC mini series done of this novel.
Set in 19th century England, Gaskell "skillfully weaves a compelling love story into a clash between the pursuit of profit and humanitarian ideals….When her father leaves the Church in a crisis of conscience, Margaret Hale is uprooted from her comfortable home in Hampshire to move with her family to the North of England. Initially repulsed by the ugliness of her new surroundings in the industrial town of Milton, Margaret becomes aware of the poverty and suffering of local mill workers and develops a passionate sense of social justice. This is intensified by her tempestuous relationship with the mill-owner and self-made man John Thornton, as their fierce opposition over his treatment of his employees masks a deeper attraction. In North and South Gaskell skillfully fused individual feeling with social concern, and in Margaret Hale created one of the most original heroines of Victorian literature" (Amazon description).
Update on 8/13: Well, this book hasn't exactly been riveting so far. It's not bad, but it didn't capture me and so it lies fallow in my end table at the moment. If I pick it back up and things change, I'll let you know!
Tramp for the Lord by Corrie ten Boom
I'm only a few chapters in, but this book moves my heart every single time I pick it up, tearing me away from the material things I try to find my hope it and pointing me to what truly counts. In her follow-up to her biography, The Hiding Place (another one of my favorite books of all time), Corrie continues her journey of hope after her time spent in perhaps the worst Nazi concentration camp. Her sustained faith in God during and after her family's persecution during WWII helped her become one of the most beloved evangelists of her time. In this book, from her near-destitute days in postwar New York to heart-stopping adventures in Africa, Corrie's inspirational life story proves that miracles do happen.
Top of Mind by John Hall
I almost always have a business "how to" type book in the mix that I am working through. John Hall is a local entrepreneur who has made a big splash nationally over the past few years. I had the privilege of picking his brain at the pool a couple of summers ago, while chasing our kids around. He was quite patient with my newbie questions. 🙂 In this step-by-step guide, he shows you how to use content to keep your brand front and center in the minds of decision makers who matter. He reveals:
how consumer needs and expectations have changed and what this shift means for you
how to build a helpful, authentic, and consistent brand that serves others just as well as it serves you
proven methods for using digital content to enrich your target audience's lives in ways that build real, lasting trust
Business for the Glory of God by Wayne Grudem

I have asked myself many times over the years how this business (our blog and now book-writing) can be something that brings glory to God. Grudem tackles this theological question head-on in this pithy, yet biblically rich book.
His main point: business itself glorifies God when it is conducted in a way that imitates God's character and creation. "He shows that all aspects of business, including ownership, profit, money, competition, and borrowing and lending, glorify God because they are reflective of God's nature. Though Grudem isn't naïve about the easy ways these activities can be perverted and used as a means to sin, he knows that Christians can be about the business of business" (Amazon description).
His perspective is helping me to connect every area of my business life to God and think carefully about my motives behind what we are trying to do here at Thriving Home.
Big Truths for Young Hearts by Bruce A. Ware
The intent of this book is to equip parents to guide their children through all major doctrines in an understandable, chapter-a-day format. I've been using this book as a devotional for my 5th grade son this summer. He reads the short chapter about a major doctrine of God, which includes helpful stories and illustrations, and then we discuss the questions at the end together.
Bruce Ware, a theology professor, encourages and enables parents of children 6-14 years of age to teach through the whole of systematic theology at a level their children can understand. "The book covers ten topics of systematic theology, devoting several brief chapters to each subject, making it possible for parents to read one chapter per day with their children. With this non-intimidating format, parents will be emboldened to be their children's primary faith trainers-and perhaps learn a few things themselves along the way." (Amazon description).
Cooking Light Magazine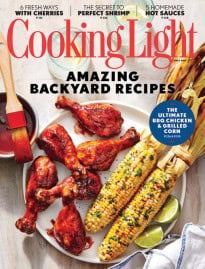 I always, always have the latest copy of Cooking Light in my nightstand. This has been my go-to food resource for at least 10 years, if not more. I gather ideas for creating my own recipes, learn pro tips, and study food photography. It's one of my great joys in life.
https://thrivinghomeblog.com/wp-content/uploads/2017/07/Screen-Shot-2017-07-03-at-6.47.43-AM.png
491
477
Rachel Tiemeyer
https://thrivinghomeblog.com/wp-content/uploads/2019/10/thrivinglogo.png
Rachel Tiemeyer
2017-07-03 02:00:00
2020-11-13 06:49:45
What Books Are In My Nightstand Right Now