What Can a Hy-Vee Dietitian Do for You? (Spoiler Alert: You'll Be Surprised!)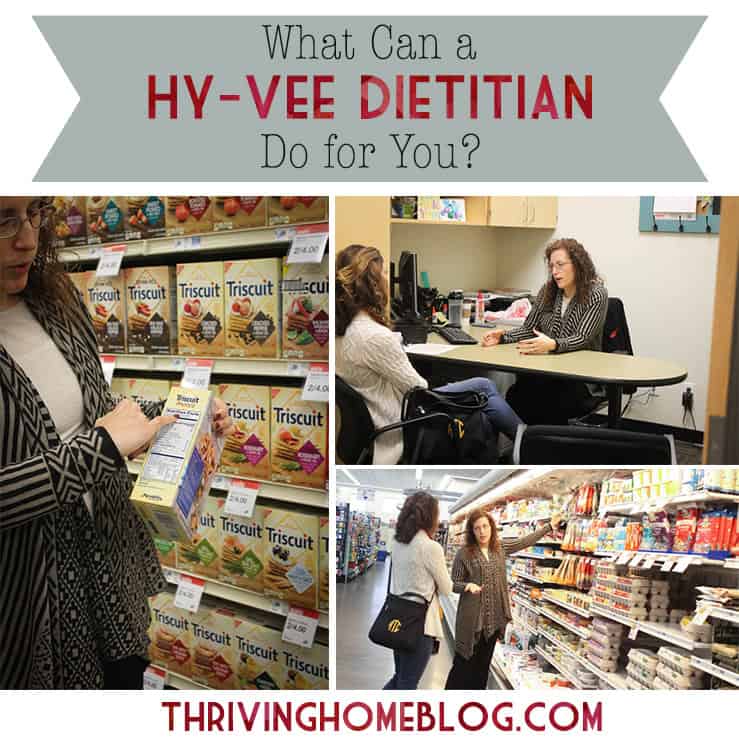 Sponsored by Columbia Hy-Vee
As you may have already gathered from previous posts, I'm a loyal Columbia Hy-Vee shopper. I've come to know most of the ins and outs of the store. I know where most of my regular groceries are located, where to snag the freebies for my kids, and have even become a regular online shopper when my week gets busy.
However, there is one service at Hy-Vee that has always remained a mystery to me: the dietitian.
When shopping in the store, I see the dietitian's office and wonder what their job looks like. To my knowledge, there is no other grocery store in Columbia that offers the services of a dietitian, but I can see the great potential of having one on-site in a grocery store.
Well, over the past few weeks I have been playing detective, conducting a few interviews and even snagging some pictures of the dietitians in action. These ladies offer a wealth of information and services that any shopper can access and benefit from. You might be surprised what a Hy-Vee dietician can do for you…
What Can a Hy-Vee Dietitian Do for You?
1) Personalized Shopping Assistance and Store Tours (Free!)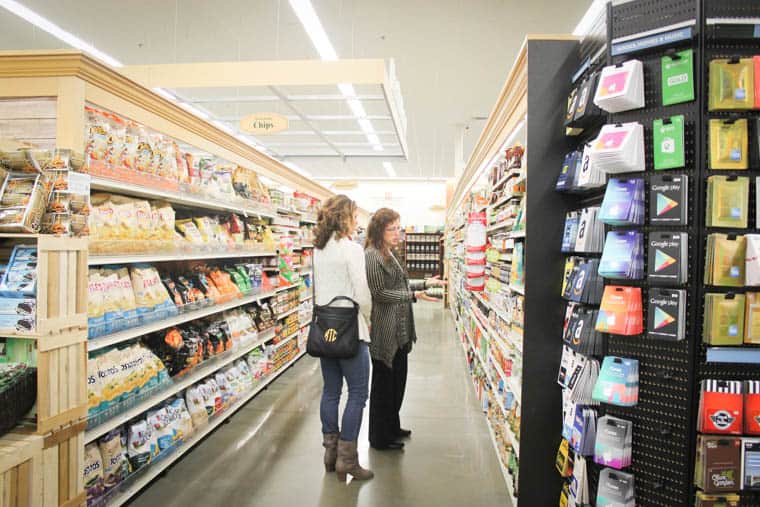 "The most unique nutrition service Hy-Vee dietitians offer are grocery store tours. I've worked in a hospital, in an outpatient clinic, and as a contract dietitian doing home visits, but only as a retail dietitian for Hy-Vee have I been able to help people apply what we teach them where it matters most- where they buy their food."  – Hy-Vee Dietician
Imagine this: a dietitian shopping with you around the store helping you make informed choices on what to buy and not to buy in order to meet your healthy goals. Whether is be eating gluten-free, meal planning around certain allergies, moving to a more whole foods diet or just gaining more knowledge, a dietician is available to walk around with you. She will show you where you can find certain foods and help you even understand the nutrition labels. Rachel and I really enjoyed our free store tour with Paula at the Rock Bridge location last week. The best part is that it's all for FREE! To set up your visit, just contact the dietitian at your store of choice (see contact info at the bottom of this post).
2) Food Allergy and Intolerance Information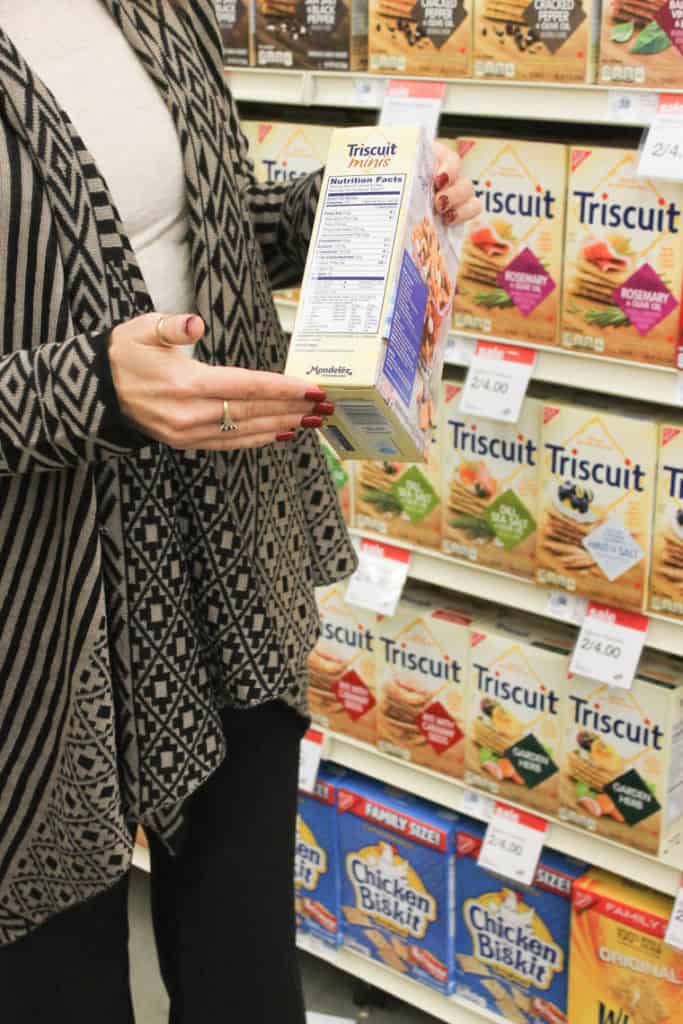 What a valuable resource this is! If you or a child finds out that you have a food intolerance or allergy, you may ask "where do I even start?" Grocery shopping and meal planning can be quite overwhelming. Cut out the time and stress by simply asking for help. A Hy-Vee dietitian can sit down with you and give you tangible tracks to run on to make any necessary changes that you may need to make in your grocery shopping and cooking. She will even walk through the store with you to help you locate the foods that will work for you or your family member.
3) Cooking Classes 
In case you missed our previous post, Rachel and I are SOLD on the Hy-Vee cooking classes. This past fall, our friends and I took part in a freezer meal class–resulting in taking home 7 healthy, freezable entrees in about an hour. Check out our short video of what it was like here.
So, what is the dietician's role in cooking classes? A Hy-Vee dietitian oversees all of the recipes for many of the classes to ensure they are healthy and customized. Classes can even be built around gluten-free recipes, paleo recipes or customized to specific needs (if approved by the dietician). They also provide Kids' Cooking Classes once a month. How fun would that be?! Each store has a variety of classes, so just swing by their events calendars (Here, here or here) to see what's coming up.
4) One-on-One Consults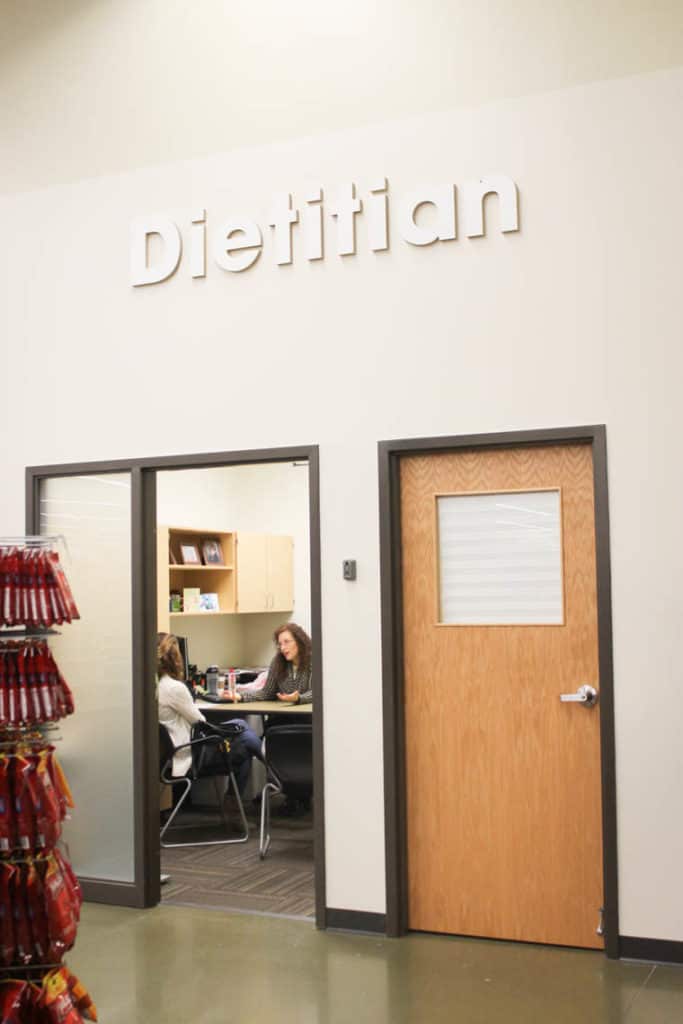 The dietitians at Hy-Vee offer nutritional counseling on an as-need basis. Whether you simply want to learn how to feed your family healthier meals, want to lose a little weight or talk through any other dietary restrictions, the dietitians are available for this and will cater the consult specifically towards your needs.
"There is a big difference between writing a meal plan with arbitrary products for someone diagnosed with diabetes and being able to help them grocery shop and actually hold the product in their hands. In having the products right in front of them, we can insure they understand the nutrition fact label and why we recommend the products we do." 
This can be especially valuable for those who have specific health needs. Here is more information on specific packages available. If referred by a physician, health insurance can be applied to this service!
5) Shopping Guidance Through Signs Around the Store (Free)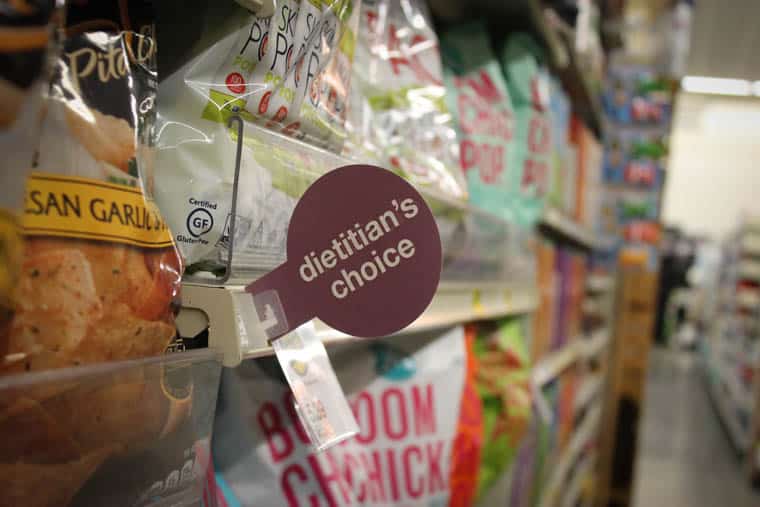 Have you seen these little signs around the store with the dietician's "stamp of approval" on it under certain products? One of the dietitians explained it to us like this:
"Dietitian signage means a registered dietitian approves that product, usually because of great nutrition, quality, and taste. I personally put signage on my favorite healthy products and snacks to help customers make better informed decisions at the grocery store."
6) Begin™ Healthy Lifestyle and Weight Loss Program

Begin™ is a ten-week lifestyle management program led by a Hy-Vee dietitian. This healthy lifestyle program emphasizes eating for good health, weight loss and being physically active. Health screens with biometrics and measurements are included with most Begin™ programs at start and finish. Begin™ is not a "diet". It's a plan to help with lifelong wellness. Learn more here.
7) Availability for Shopper Questions (Free!)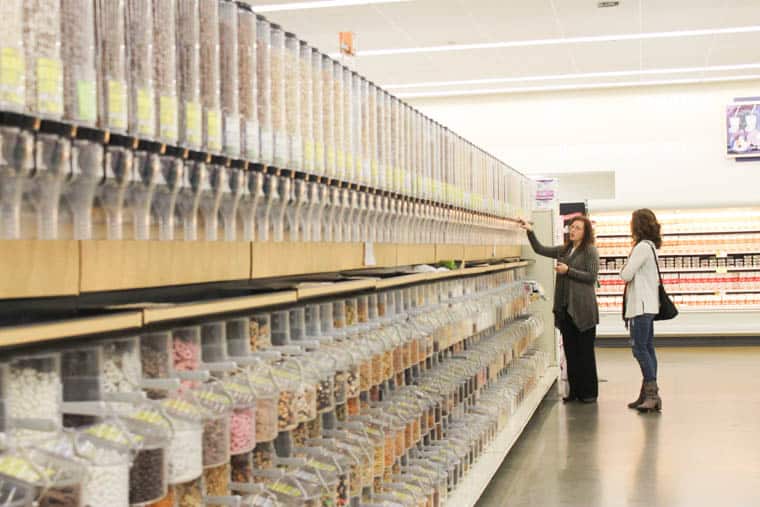 One of the perks of having an in-store dietitian is that they are simply available for random questions! If you're shopping and have a quick question about an ingredient, allergy, diet, etc., just pop by their office and ask away. Depending on the complexity of the issue, a dietitian will either help you out right away or set up a consult if more time is needed.
And More…
It seemed like the list of what Hy-Vee Dietitians do goes on and on. A few others worth mentioning are:
Group Nutrition Classes in the store and throughout the community
Cooking demonstrations
Making healthy lunch boxes and meals to sell
Health Screenings
How to Take Advantage of Hy-Vee Dietitian Services
Wondering how to take advantage of the services at our local Columbia Hy-Vee locations? Simply reach out to the dietitian at your local store. Listed below are the Columbia Hy-Vee locations, dietitians' names, and links to their contact information. They will be more than happy to answer your questions!
Columbia Hy-Vee Dietitian Contact Information
Megan Kemp, RD, LD
3100 West Broadway  |  Columbia, MO 65203
573-447-0133  
Cassie McClellan, RD, LD
25 Conley Rd | Columbia, MO 65201
 573-442-7703
Paula Vandelicht, RD, LD
405 E. Nifong Blvd. | Columbia, MO 65201
573-442-8595
https://thrivinghomeblog.com/wp-content/uploads/2016/01/What-can-a-hy-vee-dietitian-do-for-you.jpg
742
739
Polly
https://thrivinghomeblog.com/wp-content/uploads/2019/10/thrivinglogo.png
Polly
2016-01-05 05:00:00
2018-01-27 16:09:27
What Can a Hy-Vee Dietitian Do for You? (Spoiler Alert: You'll Be Surprised!)