9 Truths to Believe When My Child is Suffering
This post may contain affiliate or sponsored links. Please read our disclosure policy.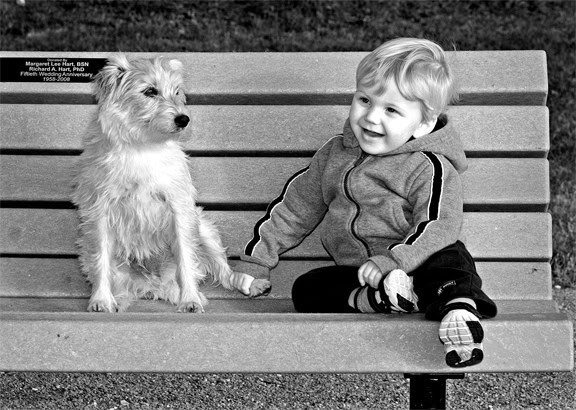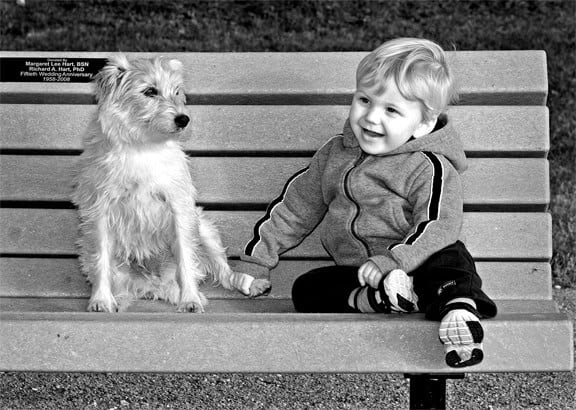 When our firstborn son was 20 months old and I was 9 months pregnant with our second child, my husband and I sat in silence in the procedure waiting room, nervously awaiting the results of his endoscopy and colonoscopy. He had been sick for months and no one had a clue what was going on so far.
The G.I. doctor who performed the procedure came in after about an hour and told us that our son had granulomas (ulcers) throughout most of his digestive track. He looked like a classic case of Crohn's Disease, a chronic autoimmune disease that causes inflammation of the digestive system. Every patient's case is different, but if not brought under and kept under control which can be tricky, it can wreak havoc in a person's body. That same morning, our underweight, sickly toddler was admitted to the hospital, where we stayed for several days as the staff tried to bring the inflammation in his body under control.
With no family history and very little prior knowledge about this chronic illness, we had no idea what this diagnosis meant. I remember feeling like a bomb had just been dropped in our life. What would this mean for my son? Would he be able to attend preschool? Play sports? Have a normal life at all? How would this affect our entire family? This was not what we had planned for our little boy.
We also began to ask questions of God, through many frustrated tears, that we hadn't thought about on a personal level before. Why would He allow something like this in a child's life? What does it look like to trust God with our son's health and his future? We were so disappointed and overwhelmed at the time and searched to find truth in the midst of this sadness.
I know many of you or your loved ones have had similar experiences with a sick child or child with special needs. What do we say to ourselves when our child is suffering? How does a hurting child fit into a Christian worldview and God's good plan for His people? Volumes have been written on the subject of suffering from a Christian perspective. My goal here is not to answer every theological question. I simply want to share 9 biblical truths our family desperately needed to hear and still need to be reminded of at times, as we traverse life with a child with a chronic illness who will suffer at various times. These are also the truths we try to encourage our child to believe, as he learns to trust God with this trial.
9 Truths to Believe When My Child is Suffering
1 – God created and loves your child far more than you do.
It's hard to imagine someone else's heart aching the way your own does for your child. But the Creator of the universe, the one who carefully crafted every facet of your child in the womb, loves him or her with a more intimate, eternity-in-mind kind of love than you do. Listen to what David writes in Psalm 139:13-18,
For you created my inmost being;
you knit me together in my mother's womb.
14 I praise you because I am fearfully and wonderfully made;
your works are wonderful,
I know that full well.
15 My frame was not hidden from you
when I was made in the secret place,
when I was woven together in the depths of the earth.
16 Your eyes saw my unformed body;
all the days ordained for me were written in your book
before one of them came to be.
17 How precious to me are your thoughts,[a] God!
How vast is the sum of them!
18 Were I to count them,
they would outnumber the grains of sand—
when I awake, I am still with you.
2 – God is God and we are not. We can trust that ultimately God's ways are higher than ours.
One of my favorite songs is called "In the Palm of Your Hand" by Alison Krauss. A line that has remained in my head ever since I heard it in college is this:
I'd rather be in the palm of Your hand

Though right or poor I may be

Faith can see right through the circumstance

See the forest in spite of the trees

Your grace provides for me.

– "In the Palm of Your Hand" by Allison Kraus
When your child is suffering, it's easy to see the tree. It's so hard to see the forest. But, God does. He knows the big picture, because his thoughts are higher than our thoughts. His ways are higher than my ways. We can trust that He is God and we are not, just as Isaiah records in this passage.
Isaiah 55:8-9,
"For my thoughts are not your thoughts,
neither are your ways my ways,"
declares the Lord.
9 "As the heavens are higher than the earth,
so are my ways higher than your ways
and my thoughts than your thoughts.
3 – God not only sees the bigger picture, but He has a good plan for the suffering experienced by those who love him.
Now five years out from my son's diagnosis, I can see how God has been at work in our lives and our son's life. His suffering has driven us to Him all the more. It has given us compassion for and a position to encourage those who are dealing with similar circumstances with their own children. And, quite honestly, we may not see all the good God does through my son's suffering in this life…but, we can trust He is at work.
There are so many passages and stories in the Bible that illustrate this point, but here is a promise that we've clung to:
Romans 8:28, "And we know that in all things God works for the good of those who love him, who have been called according to his purpose."
Additionally, the stories of people like Joseph in the book of Genesis and Paul in the New Testament (who wrote the verse above) are just two of the examples we have in the Bible of this principle. As my husband and I have studied people like them, it's been encouraging to us to see how God's promises in Romans 8 and Isaiah 55 played out.
3 – God is close. God saves.
What a comfort to know that the God of the Universe who created my child and whose thoughts are higher than my thoughts also promises this in Psalm 34:19,
The Lord is close to the brokenhearted
and saves those who are crushed in spirit.
He is near. But, not only is he near, he promises to save!
4 – A sick or suffering child is not the way it was supposed to be nor how it will always be.
Because of sin that began in the Garden of Eden with our first parents, the perfect world that God created unraveled. A consequence of our sin is that there is now death, sickness, and sorrow in this world (Romans 3:23 and 6:23). We and all of God's creation are like "glorious ruins" now, awaiting our Savior to return and make all things new.
Paul, who underwent almost every kind of suffering imaginable, wrote these words:
2 Corinthians 4:17, "For our light and momentary troubles are achieving for us an eternal glory that far outweighs them all."
How can Paul write this? He seemed to know something that we don't always grasp. He had the end in mind. I think because of the suffering we've seen in our little boy, one of our family's very favorite passages in the Bible has to do with the end– Revelation 21. We all long more than ever for the day when Jesus will return and make all things new! Sally Lloyd-Jones writes these heart-rending words in the Jesus Storybook Bible about Revelation 21:
And the King says, "Look! God and his children are together again. No more running away. Or hiding. No more crying or being lonely or afraid. No more being sick or dying. Because all those things are gone. Yes, they're gone forever. Everything sad has come untrue. And see – I have wiped away every tear from every eye!
5 – You are not an island. Reach out for help.
The Bible is clear that we are created to be in community. Life is lived best when we open our lives up to others and allow them to be a part, using their specific gifts and talents to help us. It's not a sign of weakness to admit you can't do this on your own. We've learned that people want to help if you just ask.
One of the best aspects of social media, in my opinion, is the ability to find people in the world who are struggling with the same thing you are. I've found a small band of mothers on Facebook whom are going through a similar struggle with their child. We share current information with one another, offer advice and encourage each other through the fight. Not only that, but our church family helped us tremendously during the hardest part of our son's illness. We received meals, someone mowed our yard, helped with the kids, cleaned our toilets while in the hospital, and encouraged us in all kinds of ways. But…you must reach out for help.
6 – Cultivate thankfulness.
Another simple reminder in Scripture that has helped us tremendously is this:
1 Thessalonians 5:18, "Give thanks in all circumstances; for this is God's will for you in Christ Jesus."
Look for and thank God regularly for what you see Him doing in little and big ways through your situation. I find that the more I look for the positives in my son's situation and cultivate a thankful heart, the more I see God at work and feel his presence. And the less anxious my heart is.
7 – God displays his glory and draws many to Him through physical suffering.
Over the years, I've found myself drawn to two stories in the book of John. One is of the boy who was born blind in John 9. His parents wondered if it was a direct result of their sin. But, Jesus said, "It was not that this man sinned, or his parents, but that the works of God might be displayed in him."
Another story that brings tears to my eyes every time I read it is Lazarus being raised from the dead in John 11. If you read this account carefully, you'll see that Jesus did not go and heal Lazarus intentionally. He had plenty of time to do so. Instead he allowed suffering for Lazarus and his friends and family, so that "many may believe". It's a beautiful foretaste of the resurrection and new life that all believers in Jesus will one day experience when Christ returns. But, it's also a reminder that God allows suffering even now so that many may believe and be saved from ultimate death and suffering. How can we show others Jesus our Savior through our child's suffering?
8 – God produces perseverance in our life and our child's life through trials.
James 1:2-3, "Consider it pure joy, my brothers and sisters,whenever you face trials of many kinds, 3 because you know that the testing of your faith produces perseverance."
James 1:12, "Blessed is the one who perseveres under trial because, having stood the test, that person will receive the crown of life that the Lord has promised to those who love him."
A physical, mental or social challenge isn't one we would ever hope for our child. But, every one of us at some point in life will be faced with difficult circumstances and setbacks. Our children have a jump start on learning to face very real adversity from a young age. We, as parents, have an opportunity to help them grow in their character, as they learn responsibility in caring for their bodies, perseverance when they feel like giving up, compassion for others who are hurting, and so much more. With our help, we may find that our child's difficult road will prepare him/her to succeed later in life in ways we can't imagine right now. And, most importantly, James reminds us that ultimately our child's suffering can produce perseverance so that our child "will receive the crown of life that the Lord has promised to those who love him." This is the promise of heaven (see point #4)!
9 – God loves to give wisdom, mercy, grace and peace to those who ask.
Walking through hardships with our children can either make us run to God or run away from him. When we humbly turn our eyes to Him and entreat Him, though, He gives great promises.
Hebrews 4:16, "Let us then approach God's throne of grace with confidence, so that we may receive mercy and find grace to help us in our time of need."
James 1:5, "If any of you lacks wisdom, you should ask God, who gives generously to all without finding fault, and it will be given to you."
Philippians 4:6-7, "Do not be anxious about anything, but in every situation, by prayer and petition, with thanksgiving, present your requests to God. 7 And the peace of God, which transcends all understanding, will guard your hearts and your minds in Christ Jesus."
Hebrews 13:20-21, "Now may the God of peace, who through the blood of the eternal covenant brought back from the dead our Lord Jesus, that great Shepherd of the sheep, 21 equip you with everything good for doing his will, and may he work in us what is pleasing to him, through Jesus Christ, to whom be glory for ever and ever. Amen."
May these 9 biblical truths give you hope in our great and loving God when you have to walk through a time or a lifetime of your child suffering. Place your child in His capable hands. Rest in his mercy, as you meditate on his promises and fight to believe what is true. You can do this… because He has ultimately won the fight against sin, sickness, sorrow and death. We await our Savior. Hurry the day when our child will be made whole again, Lord.