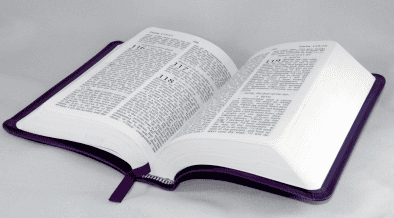 When it comes to teaching kids about God and the Bible, what teaching method do you think is best at home? As Christian parents, if we take the mandate in Deuteronomy 6:4-7 to heart to teach our children about God, this is an important question, isn't it?
Let's think first about how God teaches us and then I want to offer a few ideas that we've used in our house.
What is God's Teaching Method?
Good place to start, huh? Does God only give us stories to read in the Bible? Or are listening to sermons the only and best way to learn about the Gospel? No, He uses a plethora of teaching methods.
Look at the diversity of the Bible itself. It's filled with poetry, letters, visions, parables, and histories for us to read and learn from. Not only that, but God uses corporate worship, the sacraments, Christian friends, creation, art, even hardships in our lives to teach us about the Gospel. The list can go on and on really.
Most importantly, God sent us his Son, the ultimate model of faith. Jesus not only taught us about God and the Gospel but, as God in flesh, he is our example of what living for God looks like.
What is the Best Teaching Method, Then?
I think from a biblical standpoint, we can reason that the best teaching method is…LOTS of different teaching approaches. We need to be teaching our children in a variety of ways, because God teaches us in a variety of ways. That's because every one of us, including our child, is a uniquely created learner. Each child's brain functions differently. Each child's soul is stirred in disparate ways. Our kiddos can learn through watching our own lives, but also through moving, singing, creating, listening, dialoguing, seeing, praying and more. And for most of us, one or two of those avenues reaches our hearts and minds more effectively than the others.
What are Some Practical Ways to Teach Like This at Home?

We can be looking for a variety of unique ways to train and teach our children at home. I'm sure you can think of more ways to teach your children about God, but here are some diverse ways we use with our kids at home:
Take a nature walk and collect items in a bag. Discuss how God made everything.
Read a good children's Bible together before bedtime and pray.
Write prayers to God in a prayer journal (or draw pictures).
Build on what the kids are already learning. Discuss what they learned at church and ask follow-up questions. Try to read the same Bible story at home during the week.
Read the Bible and/or pray in front of your kids regularly, even if it means some interruptions.
Use times of discipline, sadness, or worry in a child's life to discuss the Gospel and God's promises to us.
Read a book like Little Pilgrim's Progress or the Narnia series and discuss how the story relates to his/her faith.
Make treats and cards for neighbors and pray for them before delivering the goodies.
Apologize to your kids when you mess up in front of them (i.e. yell at them) and ask for them to pray for you. Explain that you need God's grace and help just as much as they do.
Act out the Christmas story together.
Use Little People to act out Bible stories together. We especially love the Little People Christmas Story Nativity Scene Playset.
Sing and dance to fun worship songs at home and in the car. Some of our favorites: Forever Home, Seeds Family Worship, Deliberate Kids by Phil Joel, Slugs & Bugs Under Where?.
Make prayer a normal part of life and they will learn that God is the One who helps us. Pray after time outs, in the car on trips, on the way to school, when the kids are fighting, etc.
Listen to the audio CDs of Adventures in Odyssey. This is our new favorite! We find them at the library and the kids listen to them during afternoon room time or before bed.
Some methods of teaching may flop while others will touch your child's heart. The point is that each young person is different and requires a bit of unique thinking on our part as parents to reach their unique hearts for Christ.
Most importantly, all of our "teaching and reaching" talk is in vain but for God's grace in our children's lives. So, along with teaching, we must pray, pray, pray and ask God to be at work in our kids' hearts.