What Will Be Next Year's Christmas Memory? (+ $100 Macy's Gift Card Giveaway!)
Holiday Traditions. Take them or leave them, we all have them. Even if your tradition is NOT having any traditions. Sorry to break it to you, you have a tradition of being non-traditional. OK, I'm being obnoxious with the word tradition. I'll move on. ANYWAY, in my family growing up, we had quite a few things we did around the holidays. I thought I'd share a few as well as pepper in a few throw-back photos to spice things up a bit. (And to give you a peek at my awesome bowl cut as a four-year-old.)
Traditions I Grew Up With:
Delivering homemade apple butter to neighbors and friends. I've shared about how my family makes homemade apple butter in the fall. Well, in the winter we give most of it away! On Christmas Eve, all five of us would squeeze in the car and drive around delivering jars to family and friends. As kids we would moan and groan about the family outing but I think we all secretly liked it.
Making colorful Christmas cookies to share. Each year, one of my parent's friends, Jane, would invite me over to make special Christmas cookies. As a middle child, I loved being singled out to this special holiday event with Jane. I also loved all the fun frostings, candies and other things she had for us to decorate them with.
Hiking through the woods to cut down a tree. I grew up in the Ozarks which meant we not only get a REAL tree for Christmas, we chop it down ourselves. I've been told I was notorious for pleading for the 40ft cedar and would have epic fits because my parents would never pick the tree I wanted. I have yet to see any proof of these allegations.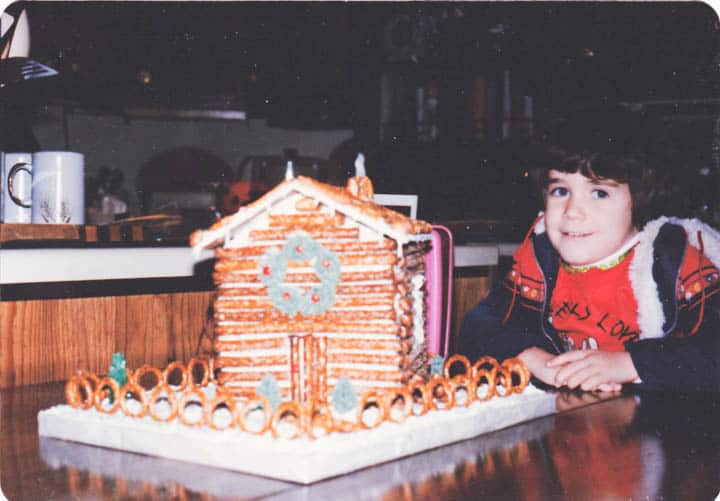 Always making monkey bread on Christmas morning. Monkey bread is a must for Christmas morning. We've always reserved making it until then and probably always will.
Traditions I plan to do:
I for sure plan to carry on a few of these traditions that I grew up with. For starters, I always have lots of homemade apple butter to give away.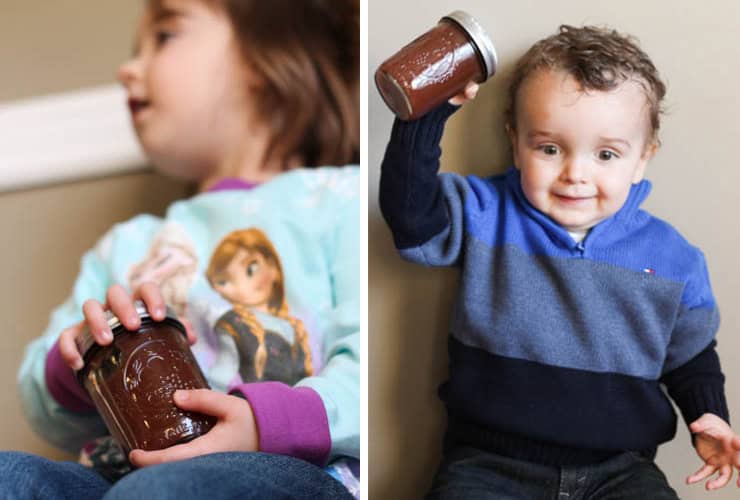 My kids love any excuse to visit a neighbor so instead of strangely lurking on their porch while I fiercely whisper threats to not knock or ring the doorbell, we will actually have a reason to knock and say hello. It will be one of the highlights of my 3-year-old's Christmas season.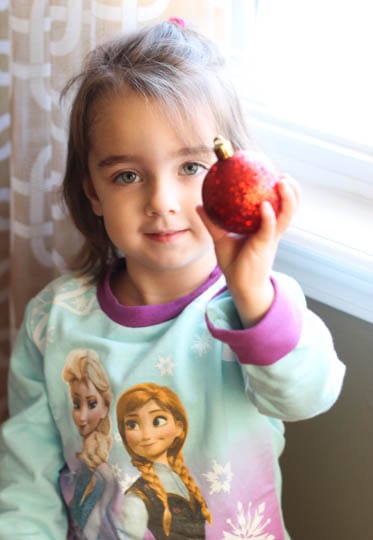 Can we all just stop a moment and appreciate this photo below?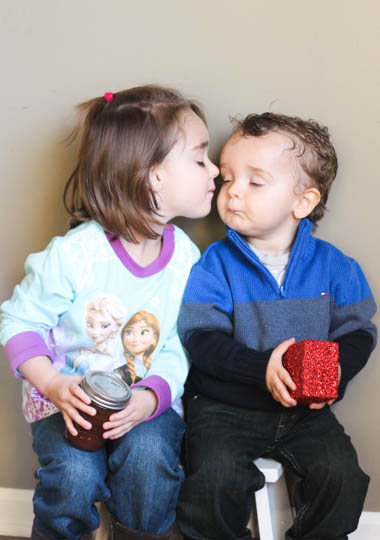 Thank you for your cooperation. Moving on… Side note: I loved the pictures I got from this little holiday photo shoot with my kids. Holiday clothes shouldn't always mean dressing them in reds, greens and golds. In fact, my three-year-old would have nothing else on her body than this new Frozen sweatshirt from Macy's. I'm not joking. And I couldn't get enough of dressing up Tyler like a little adult in his fancy holiday sweater. Visit the Macy's Kids Holiday site for lots of cute holiday outfits in bright colors and patterns.
Anyway, as I mentioned above, I loved making Christmas cookies with Jane. It was something I looked forward to every year and I want to create something like that with my kids.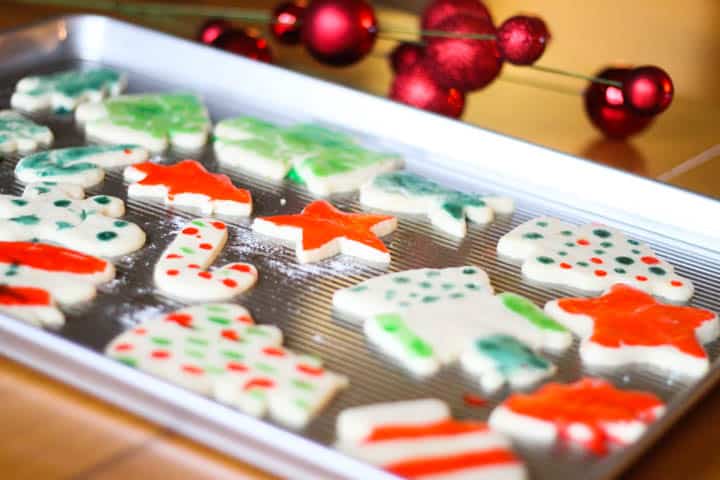 Even though my kids are a bit young, we began the holiday cookie tradition this year. It was super messy but super fun!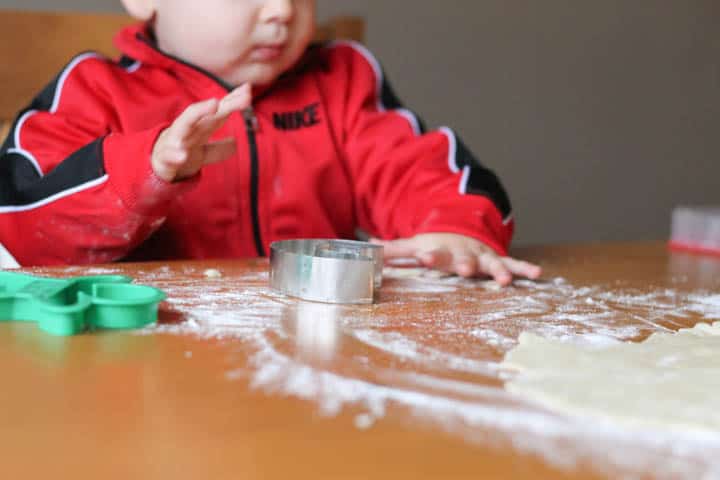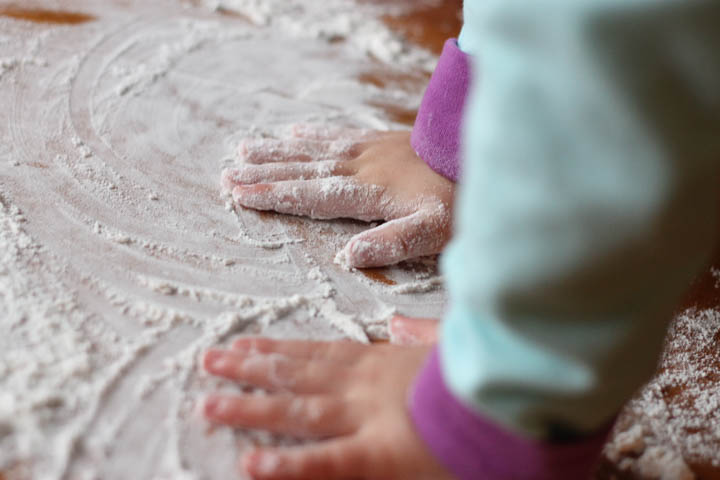 Similar to the fall cookies I made, I whipped up a batch of sugar cookie dough, let it chill during their nap time and put them to work after their naps. Nothing remedies the post-nap grumps like cookie dough!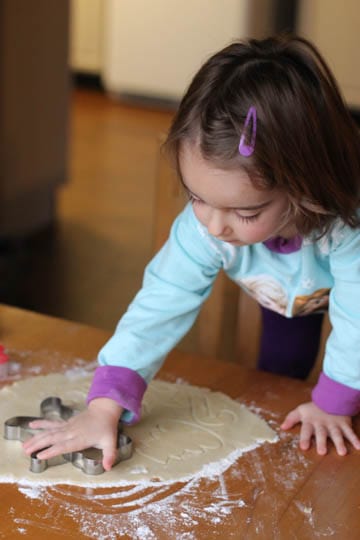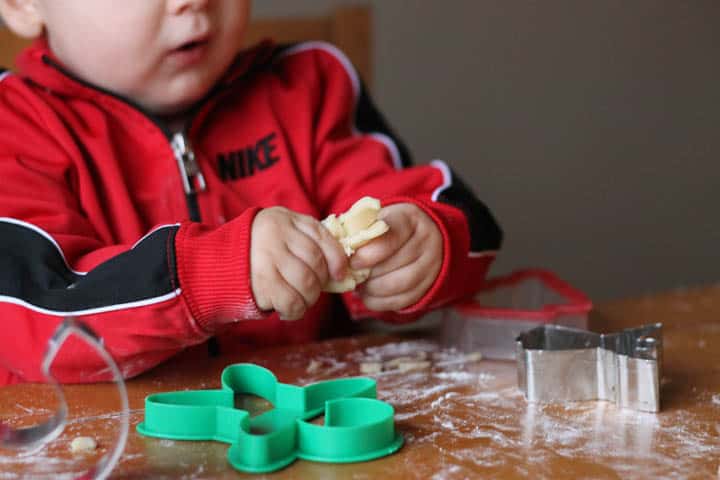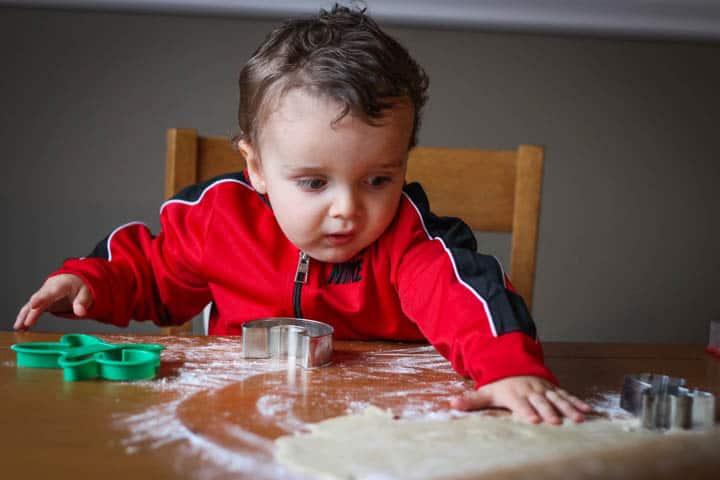 As you can imagine, my 1.5-year-old was more interested in playing and eating the cookie dough than forming it into shapes. My three-year-old did surprisingly well maintaining some self-control and not eating the dough. I wish I could say the same for her mama.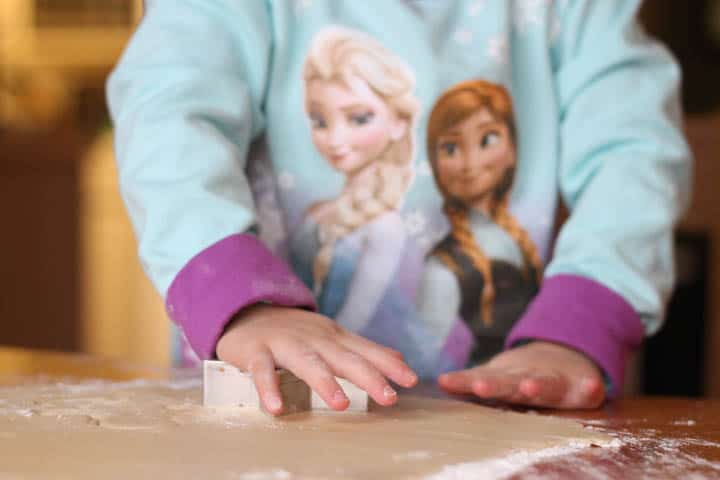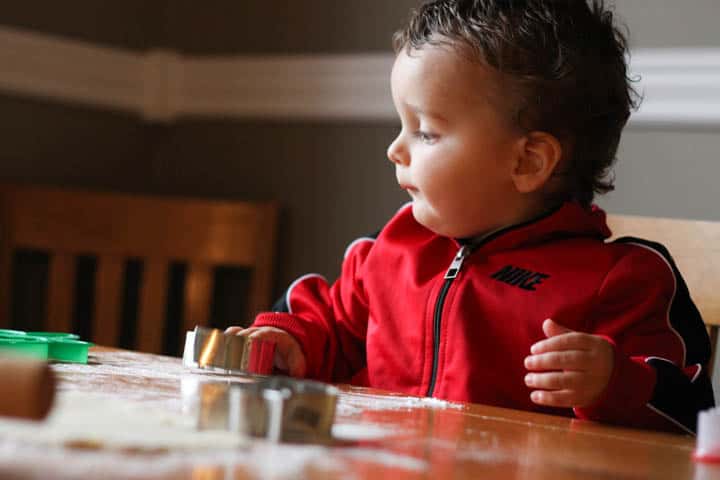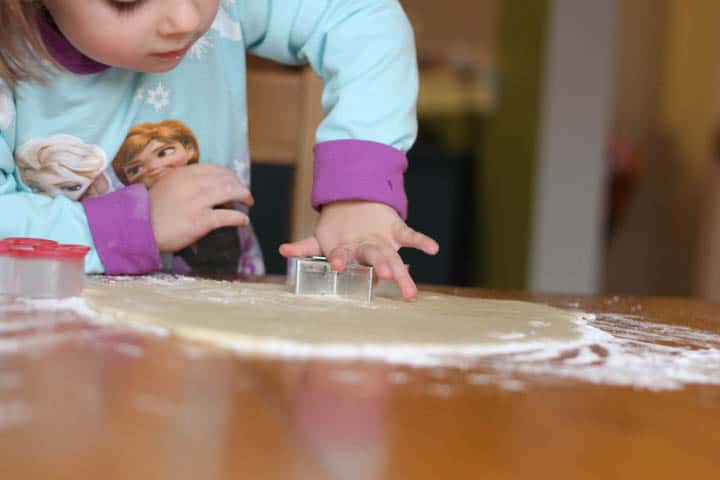 Somehow amidst the craziness we managed to emerge with some identifiable shapes.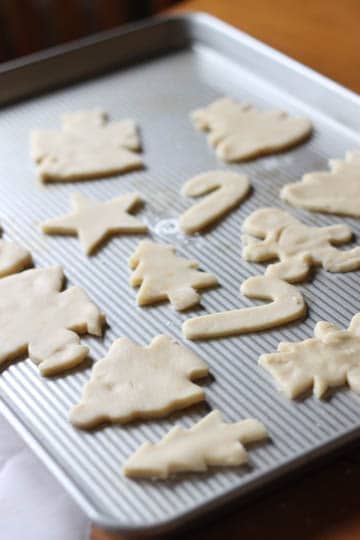 Next, we needed to paint them. A great and fun method I use is mixing one egg yolk, a teaspoon of water and a few drops of food coloring to make "paint" to put on the cookies BEFORE you bake them. Kids really get into this part.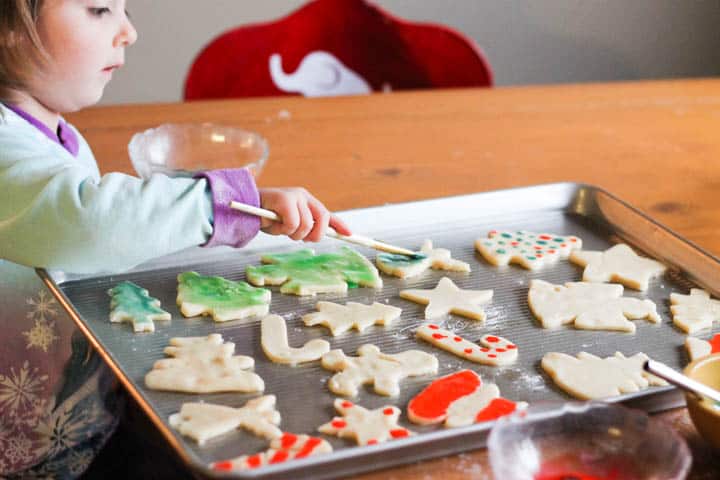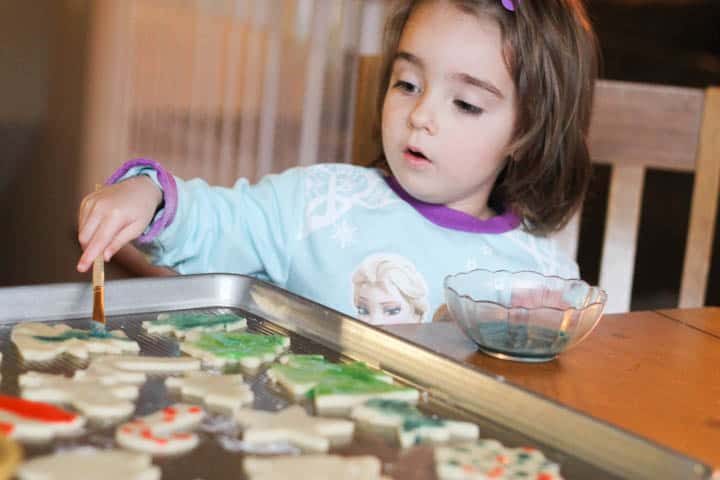 Sorry bud, no way I am giving you a paintbrush saturated in food coloring. Just keep playing with the dough, K?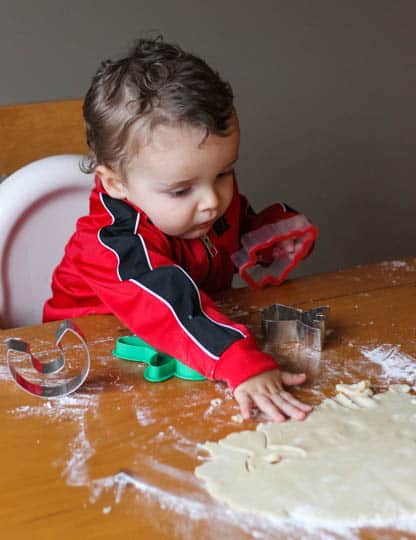 Here they are in progress of being painted…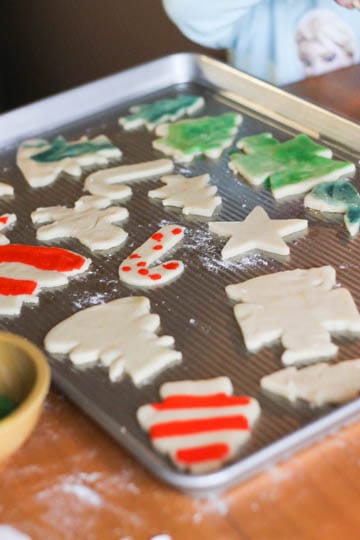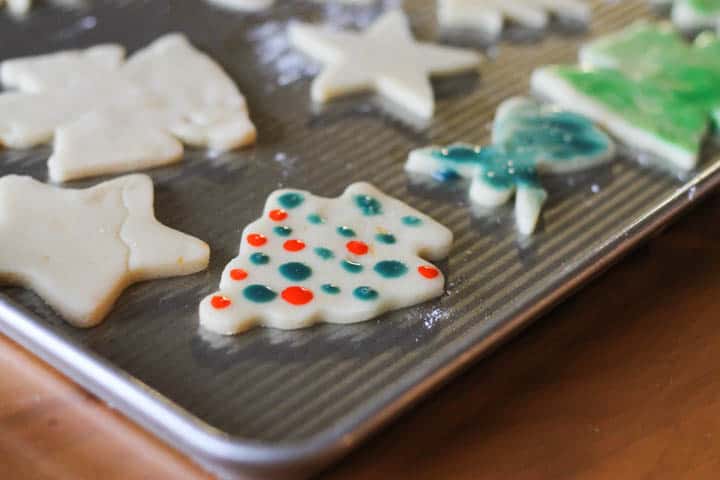 The best thing about sugar cookies is they don't need to bake long at all. This recipe only took 6 minutes. This is helpful for antsy preschoolers who rarely have to wait for anything. Six minutes later… Done!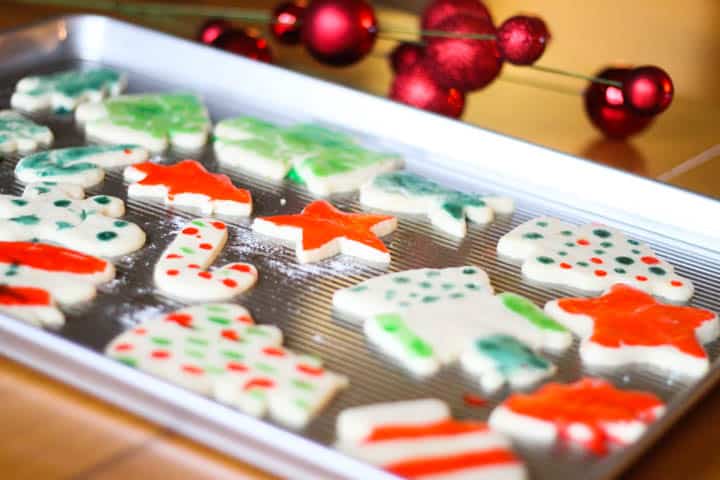 I think this is a pretty strong start for our family traditions. I'm sure more will be added as we go along and it warms my heart to know my kids will take some of these into their adulthood like I have.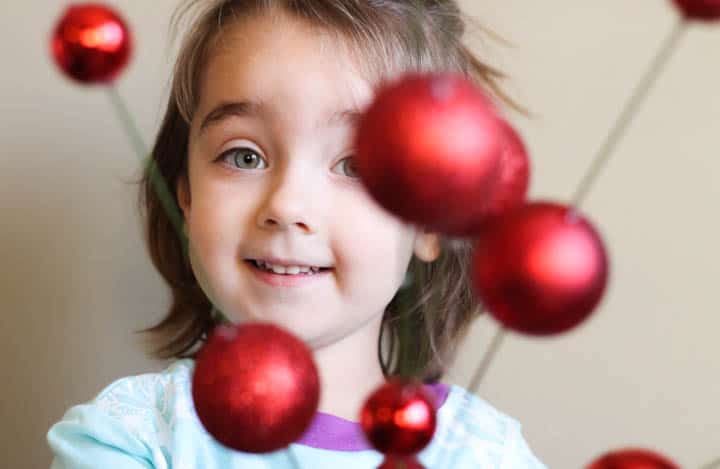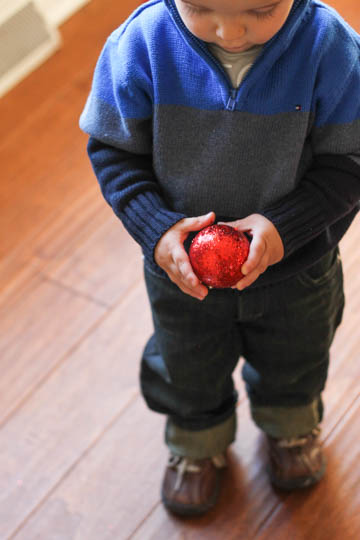 So here is the million dollar question (actually, more like $100): What is YOUR favorite holiday tradition? By simply commenting on this post and sharing your favorite tradition, you will be entered into a giveaway for a chance to win a $100 Macy's gift card! Looking forward to hearing about all the traditions out there!
Sweepstakes Rules:
No duplicate comments.
You may receive (2) total entries by selecting from the following entry methods:
1. Leave a comment in response to the sweepstakes prompt on this post
2. Tweet (public message) about this promotion; including exactly the following unique term in your tweet message: "#SweepstakesEntry"; and leave the URL to that tweet in a comment on this post
3. Blog about this promotion, including a disclosure that you are receiving a sweepstakes entry in exchange for writing the blog post, and leave the URL to that post in a comment on this post
4. For those with no Twitter or blog, read the official rules to learn about an alternate form of entry.
This giveaway is open to US Residents age 18 or older. Winners will be selected via random draw, and will be notified by e-mail. The notification email will come directly from BlogHer via the [email protected] email address. You will have 72 hours to respond; otherwise a new winner will be selected.
The Official Rules are available here.
This sweepstakes runs from 12/8/2014 – 12/25/2014.
Be sure to visit the Macy's Kids Holiday brand page on BlogHer.com where you can read other bloggers' posts!
https://thrivinghomeblog.com/wp-content/uploads/2014/12/IMG_6653-2.jpg
540
360
Polly Conner
https://thrivinghomeblog.com/wp-content/uploads/2019/10/thrivinglogo.png
Polly Conner
2014-12-08 05:00:00
2020-01-03 17:10:15
What Will Be Next Year's Christmas Memory? (+ $100 Macy's Gift Card Giveaway!)