When Motherhood Gets Messy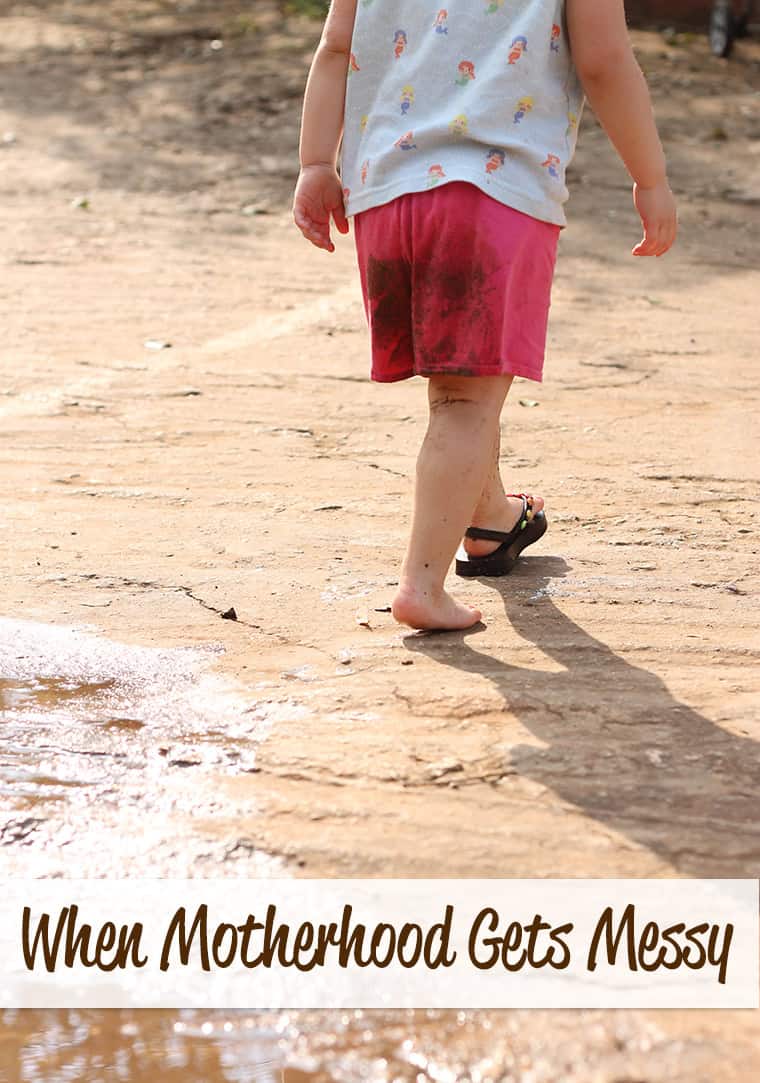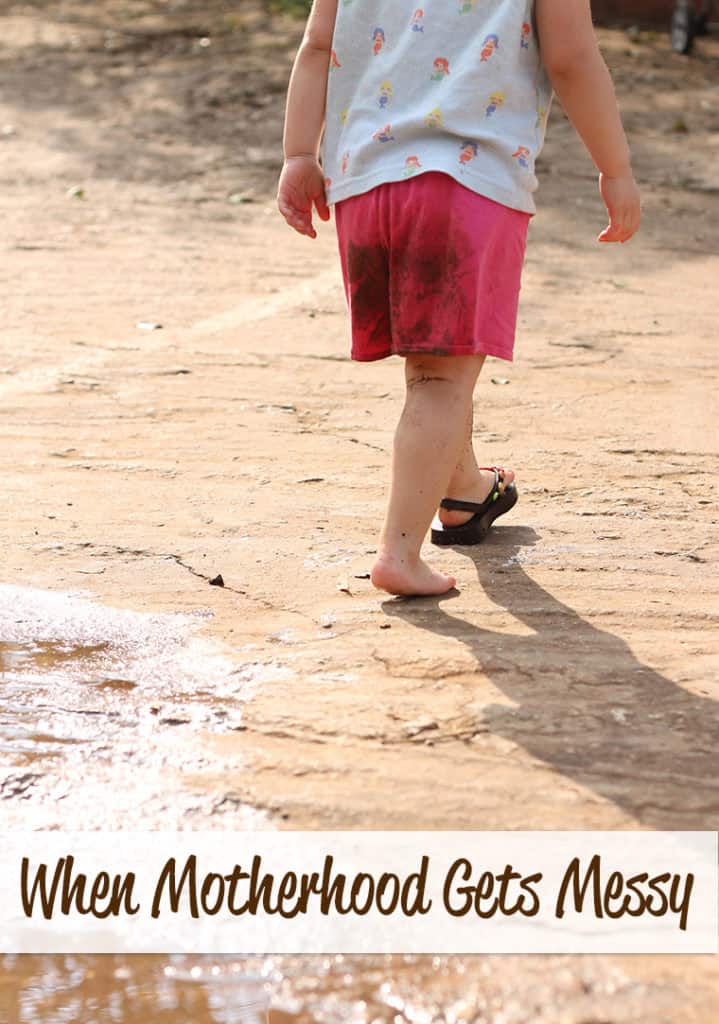 This guest post by Rebekah, from Barren to Beautiful, has touched my heart. It had me laughing and crying all in the same 5 minutes. Rebekah has a true gift of sharing her heart and providing much-needed encouragement for mothers. We are thankful to have her share on Thriving Home today.  
"Don't touch Mommy when she's on the potty."
This is an actual rule in our house. One of those rules you never imagine making before entering motherhood, but makes total sense after the fact. My daughter is two, and when I'm on the toilet, she likes to stand right up next to me, with her hand on my thigh like a faithful midwife.
A midwife who won't leave. Who screams and pounds on the door when I try to lock her out. It's rather stressful…for all digestive purposes.
My daughter has a way of entering my space. Whether I want her to, or not. How I am disarmed by a two-year-old day after day, I am still trying to figure out.
We're in the potty training stage right now. Which means…I currently spend most my free time sitting on the bathroom floor. Waiting for her to "finish."
I never thought I'd be comfortable eating my breakfast cereal or drinking my coffee while she stinks up the place. But I am.
I am reaching new "lows" like a Limbo champ.
Public Bathroom or Wrestling Cage?
Public bathrooms are the worst.
My daughter is obsessed with them. Every time we're in a new store, she wants to "go." I'll open the door of the stall, and she races in like she's first in line at the gate of Disney World. And she always heads for the same place, that little one foot gap between the toilet and the wall. You know, the place where only two things—the plunger and toilet brush–should be? But alas. My girl makes three and picks them up and greets them like long lost relatives. That's when I start screaming, "No! No!!! Yucky!! Put those down!! Yucky germs! No! No! Not in your mouth!!!" So much for peaceful parenting. Get me in a public restroom and I'm a fire-breathing dragon.
The whole experience is catastrophic. And as we take turns going potty, I'm not sure what's worse: my turn, when she stands with her hand on the latch of the stall door, and smiles, knowing I am at her complete mercy, while I threaten her, "Don't you DARE open that door!!" Or her turn, when she nearly takes a plunge into the enormous toilet while screaming, "I do it myself!" and then rummages her hand through the "feminine napkin" box like it's a Happy Meal. Either way, it usually ends in a lot of screaming and scuffling and banging around. Sounding much like a wrestling cage-match to the person in the stall next to us.
(If you're not a mom, imagine someone trying to sit on a toilet and wrestle an alligator at the same time. Because that's much what's going when Mommy and Toddler are in the next stall.)
Embracing the Messy Moments
So…I'm not sure how to say this delicately: sometimes Motherhood stinks. It's just…hard. And messy. Stressful. And rather disgusting. I've seen my daughter do things that I am too ashamed to put in ink. I have done things myself that I am too ashamed to put in ink. And if you are a mom, chances are you know what I'm talking about. The "low" points. The moments you lost it. The moments you are so glad no one saw. Because you were truly at your worst. (For me, this is usually anything involving a bathroom.)
Some of my good friends are photographers. And they have this incredible talent for capturing beautiful moments. People pay big money for this. And then frame them and put them on the walls. But what about all the moments in between?
I think if Jesus were a photographer He would capture the ugly moments, too. The stressful moments. The catastrophic messes.
That's because I think Jesus knows something we don't usually "get" about messy situations: He knows that without them, we have no need for a Savior. And no need to serve, or be served by one another.
And Jesus doesn't hide from messy situations. If you look through Scripture, Jesus touches gross things, like lepers' wounds, and bleeding women. He eats with "tax-collectors." And befriends sinners. He doesn't mind if little kids are on His lap or a prostitute is kissing His feet.
Because that's why He came. For the broken. For the weak. And the people that are undeniably messy. "Jesus answered them, 'It is not the healthy who need a doctor, but the sick. I have not come to call the righteous, but sinners to repentance'" (Luke 5:31-32).
When Love Gets Low
And in order to save us, He makes Himself low. He "made Himself nothing, by taking the very nature of a servant, being made in human likeness…He humbled Himself" (Philippians 2:7-8). And in getting low, He shows us the very essence of love.
During one of Jesus' last moments with His disciples before His death, He does something to show He really loved them. John 13: 1 says, "Having loved his own who were in the world, he now showed them the full extent of his love." But He doesn't do it by preaching to them an eloquent sermon. He doesn't do it by "wowing" them with a miracle, or imparting to them some show-stopping spiritual gift. But what does He do?
He gets low.
He gets a bowl of water. And some clean towels. And He gets down on His knees. Much like a mother at her child's bath time. And He washes His friends' feet. Feet that stunk, like a punch-to-the-face bad.. But God Himself, washes them. Tenderly, carefully, intimately.
"Do you understand what I have done to you?" He asks them. And then He tells them, "If I then, your Lord and Teacher, have washed your feet, you also ought to wash one another's feet. For I have given you an example, that you also should do just as I have done to you."
He shows us how to get low. He shows us how to love.
Because you can't love someone without getting low. Without getting dirty. And that's why it's okay when motherhood stinks. Because the moments that stink are often the ones in which we learn to cling to Jesus the most. The moments that stink are when we learn to love like Jesus the most.
And in the mess, God does some of His best work. In us. In our hearts. He washes us, and He teaches us how to wash one another. He teaches us how to love from our knees and roll up our sleeves and consider others better than ourselves. Because this kind of love transforms everything.
What I Want My Daughter to Know
And my daughter needs to know this kind of love. Whether she is two, or twenty-two, she needs to know: I'm not afraid of her messes. And Jesus isn't either. And in those "messes," she doesn't need me to preach her an eloquent sermon or perform for her a miracle. She doesn't need me to whip out my best spiritual gift.
She just needs me to kneel down before her, and get out a basin of water and some towels and show her the full extent of my love. However low I have to kneel. However long it takes. To wash her. And show her, my love is real.
Because that's what Jesus did for me.
About the Author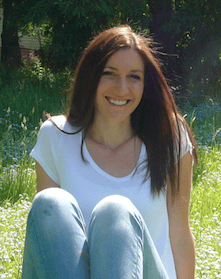 Rebekah writes about the realities of God, infertility, and motherhood at her blog www.barrentobeautiful.com. She is married to her husband, Brandon, and mom to a high-energy, blonde-haired, two-year-old daughter, Selah.
https://thrivinghomeblog.com/wp-content/uploads/2015/07/When-Motherhood-Gets-Messy.jpg
1083
760
Rachel Tiemeyer
https://thrivinghomeblog.com/wp-content/uploads/2019/10/thrivinglogo.png
Rachel Tiemeyer
2015-07-17 08:00:00
2020-11-13 06:51:19
When Motherhood Gets Messy