Whole30 Freezer Party Makes Meal Prep a Cinch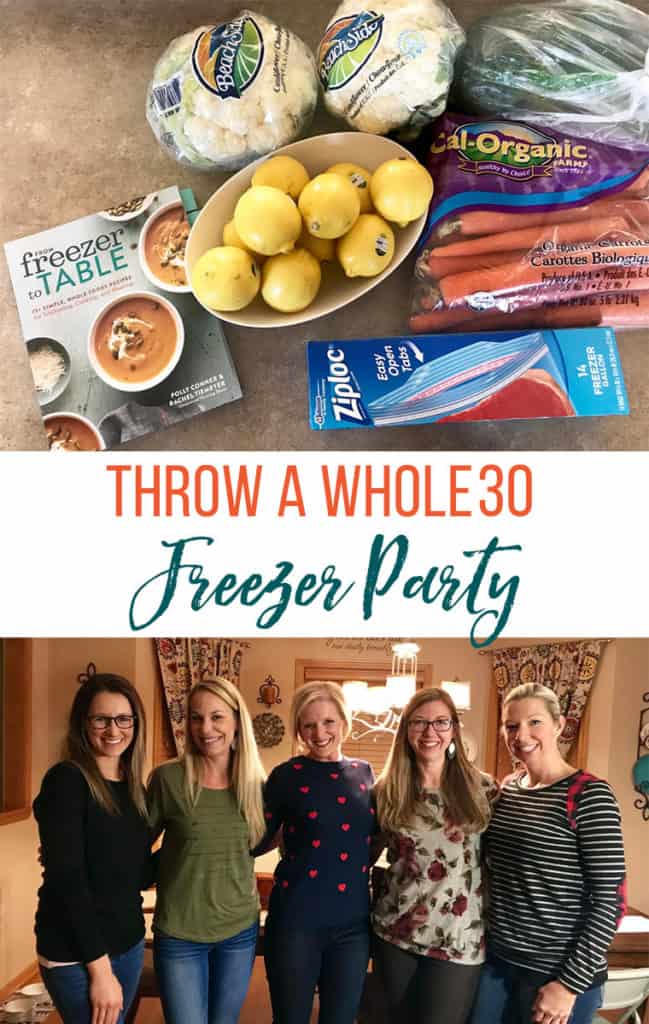 Hi friends. I'm Natalie, a mama, paleo food enthusiast, and blogger over at Lovely Inside Out. I've been making freezer meals for a while now to help take the load off our mid-week dinnertime dash. I've also done a few Whole30 resets over the past two years. And to be honest, I've probably complained my fair share about how daunting meal prep can be.
Now, when that complaining starts in my head, I hear Whole30 co-creator Melissa Hartwig's perky yet no-nonsense voice in my head, saying: Beating cancer is hard. Birthing a baby is hard. Losing a parent is hard. Drinking your coffee black. Is. Not. Hard.
Okay, okay. Perspective in check. Of all the hard things in the universe, cutting out sugar, grains, legumes, dairy, alcohol and food additives for 30 days is not going to break me. In fact, it will do me so much good, from curbing sugar cravings to reminding me of how I stop feeling bloated when I cut out dairy.  But it does take (sometimes a lot) of planning and preparation.
And that's where From Freezer to Table comes in and lightens my load. When Rachel and Polly came out with this book, I began reading it and realized that using their advice to form a freezer meal group would highlight the fun part of doing Whole30 in community. Looking back, one of my favorite parts of doing Whole30 is the support of my friends who have talked me into it, who offer their favorite recipes, and who come over to share delicious compliant meals with my family. Forming a W30 freezer club would allow us to share in the work of meal prep but also in the fun aspect of swapping recipes with friends and encouraging one another to stick to our goals.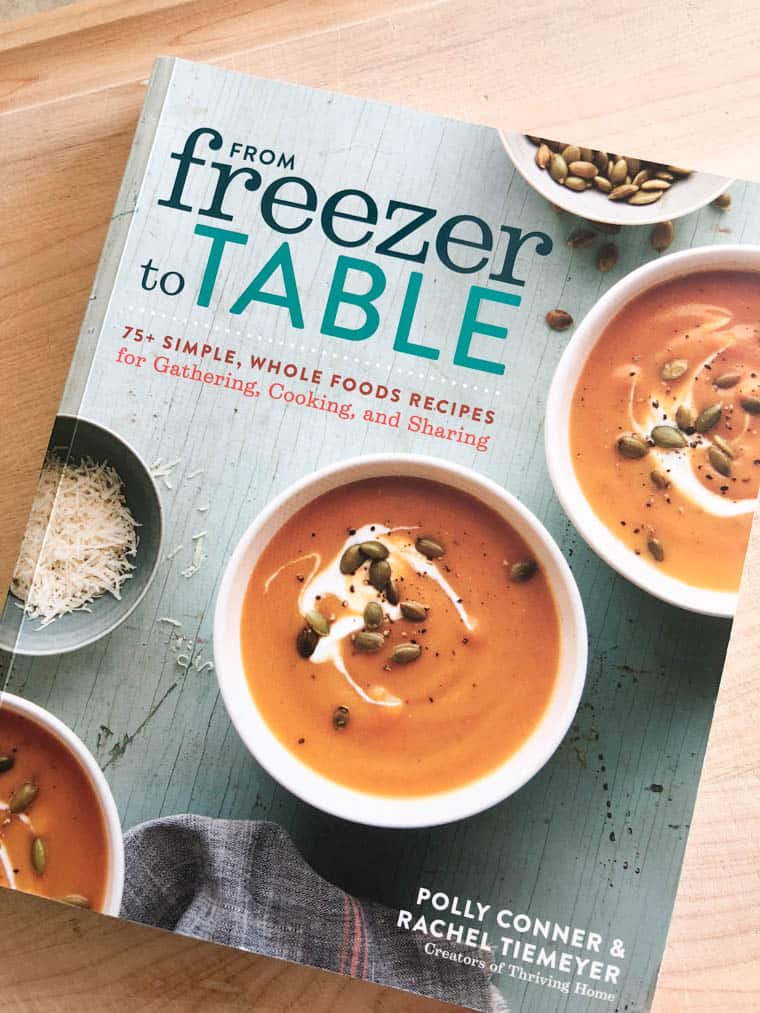 I met with my friend, Destiny, who often hosts healthy meal-prep groups for her personal training clients and had also purchased the book as a personal resource. In our group set-up, Chapters 2 and 3 were super helpful in deciding how to organize and operate our group for the very first time.
For me, these planning tips from the pros were one of the most valuable parts of the book, if you're focusing on strictly W30 meals. From Freezer to Table does contain many whole foods recipes great for your food freedom and life after W30, but I also found at least 12 recipes that would be W30-compliant with little or no modification if you wanted to start a freezer meal club and just cook from the book as a starting point. (You can read my post "Is From Freezer to Table Whole30 Compliant?" here for more information.) I would also recommend the Whole30 cookbooks found here with the caveat that you'd just have to figure out the freezing instructions on your own through trial-and-error.
I e-mailed our prospective group using the sample email on p. 17 of the book. Then, since we would not be meeting together until meal swap night, I created a closed Facebook group for organizational purposes.
In our online forum, I posted descriptions of several W30-compliant recipes found in From Freezer to Table and asked members to vote on which one they'd most like me to make for their family. The Sheet Pan Lemon-Garlic Chicken won out against the Killer Carnitas and Pot Roast with Carrots and Potatoes. Each lady shared three of her favorite recipes, and members voted on their top pick.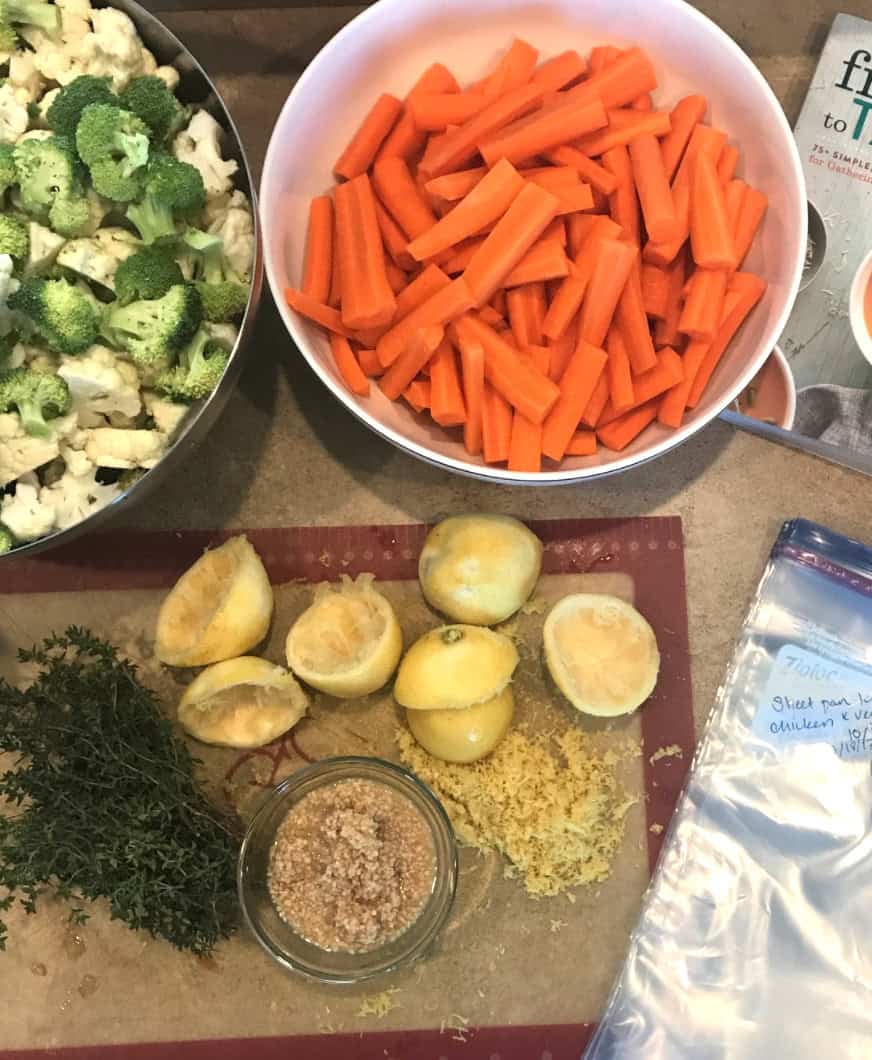 For those who were newbies to W30-cooking and weren't sure what to make, it was helpful to have several tried-and-true recipes with accompanying instructions for freezing that came straight from the book. My friend, Brandi, made the "Killer Carnitas" and Anne made the taco meat from the "Totally Tasty Taco Kit."  We decided either of these meats would be delicious atop cauliflower rice as a burrito bowl or along with some sautéed veggies in a stuffed sweet potato. With guacamole, of course.
When it came to making my meal, the Sheet Pan Lemon Chicken, the week before our scheduled meeting, I made sure I had all the ingredients on hand. Then decided to involve my kids since that was my only planned activity for the afternoon. Nice mom, I know. It took me about three hours to prep the meal for seven families, including helping with preparing and packaging all the fresh veggies. It maaaaay  have gone faster without their help, but my daughter got the hang of peeling carrots, and my son is very proud of the fact that he juices lemons like a boss.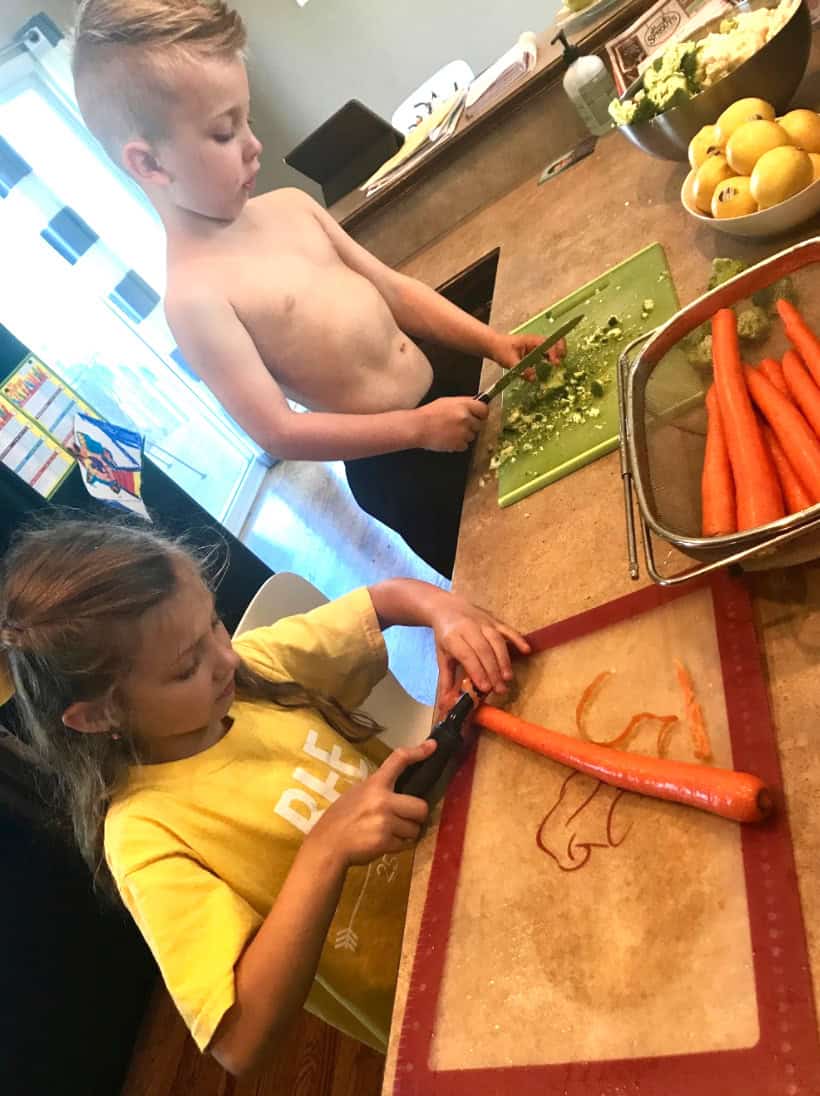 On the actual night of our meeting, we met at Destiny's home to share the very best hot cinnamon tea (Harney and Sons), encourage one another at this healthy eating thing, and to swap meals.
Thank you, Rachel and Polly, for writing this book to share what you've learned over the years. You're making a month of Whole30 cooking and eating a little easier for all of us!
P.S. I actually recently hosted another Whole30 Meal Prep session that you can read about on my blog here. You might also enjoy some tips I wrote about healthy eating resolutions in the January issue of Lee's Summit Lifestyle Magazine here.

About the Author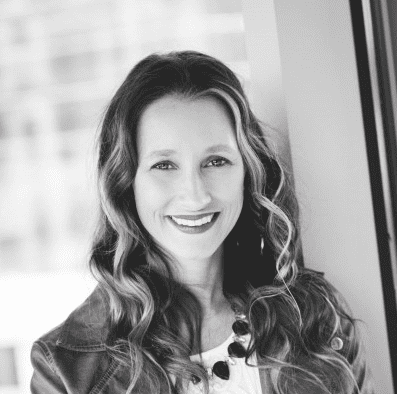 Natalie is a health foodie and a fitness class junkie who equally appreciates kale salad and her hometown Kansas City barbecue. With a dermatologist husband, she's slightly SPF-obsessed and sometimes discusses her skincare favorites on her blog, Lovely Inside Out. While the outside beauty stuff is fun, she always wants her kids to know it's what's inside that counts.
Follow Natalie at Lovely Inside Out as she shares what's lovely in Eats, Self, Soul and Style or find her on Instagram as lovely.inside.out.
https://thrivinghomeblog.com/wp-content/uploads/2018/01/Whole30-freezer-meal-party.jpg
1200
760
Rachel Tiemeyer
https://thrivinghomeblog.com/wp-content/uploads/2019/10/thrivinglogo.png
Rachel Tiemeyer
2018-01-10 10:00:00
2018-01-12 06:02:55
Whole30 Freezer Party Makes Meal Prep a Cinch