Why I Ditched My External Hard Drive and Use an Online Backup
Why I Ditched My External Hard Drive
A few years ago, I was backing up my computer using an external hard drive (like the one in the picture to the left). I did this on a regular basis on the offset chance that my computer would crash and lose all of my pictures, music and documents. Being a blogger and a mom, the idea of losing all of my pictures makes me almost cry or have a panic attack. Or both.
Anyway, while my hard drive was plugged in and backing up my computer, my toddler zipped up to my computer faster than I could say, "noooooo tooouuuccchhh!" and yanked the cord out. After receiving a stern reprimand from my computer that I should never ever ever unplug it before it was done backing up, I quickly realized that my hard drive was no longer working properly. Uh oh.
Cue the small panic attack.
Did I just lose everything saved on my hard drive? Pleeaase nooo!
Luckily I dodged a bullet and I didn't lose all of my stuff. However, from then on, my hard drive didn't work quite right. It worked at a snail paced speed and it took about 5 minutes to transfer almost any file back onto my computer. It also would no longer allow me to put anything on it. I could slowly retrieve things but no longer save things. Not good. Not good at all.
After the scare of possibly losing all of my files, I started looking for other options. I've floundered around with Google Drive, iCloud and other online back ups, not really knowing what I was doing and hoping that things actually were backed up.
It wasn't until recently that I heard of an online backup software called IDrive. After trying it out for a month, I have found IDrive to be super user friendly and simply intuitive. I have been using it primarily to back up my photos and documents but it can also do automatic backups of your entire computer. No more plugging in an external hard drive and fending off squirrely children while it backs up. 
So What's Different About IDrive?
So, doesn't iCloud do this for free? What about Google Drive?
These were the questions I was wondering when looking into IDrive. Here are some comparisons that I felt helpful.
Unlike IDrive, iCloud doesn't offer:
Social Media Backup. IDrive backs up all photos and videos you share using Instagram and Facebook. This is so great because so many of these photos never make it to my computer. Love this feature!
Private Key Encryption. This allows the user to choose their own unique key to unlocking their data which no one else has access to. 
Server Backup. iCould doesn't offer a backup plan for businesses. There are multiple other benefits for businesses that IDrive offers as well. 
Backup for Android. iCloud only works with apple products (iOS). IDrive will work with both Android and iOS (Apple). 
Low prices for big storage space. iCloud charges $11.88 per year, but that only gives the user 20GB. IDrive gives you a whopping 1TB (1,000 GB) for about $30.00/yr. (Even cheaper if you sign up through our site).
What About Google Drive?
The main point of superiority IDrive has over Google Drive is better security. Your Google Drive account is linked to your Google account, so if someone hacks your Google account they can access the files you've backed up to your Google Drive. I also have found IDrive to be a bit more user friendly and intuitive than Google Drive. 
A Few More Perks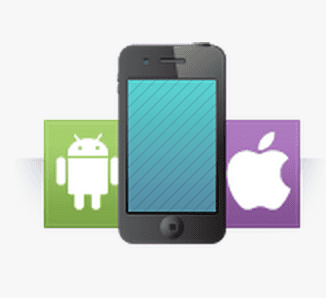 IDrive can backup unlimited PCs, Macs, iPhones, iPads and Android devices into a single account. In addition, data from mapped drives can also be backed up.
Real Time Backup: IDrive automatically recognizes the modified parts of files and backs them up in real-time. So basically, as you make changes, IDrive is backing those up.
Go Mobile: Access files backed up from PCs and Macs or synced from connected devices; protect your mobile data with our apps for iOS and Android.
How to Sign Up
If the idea of an online backup is sounding like a good idea to you, here is how to get started.
First things first, IDrive is offering a special rate to Thriving Home readers. If you go through us, you get 1TB (1,000 GB) 75% off for the first year. You could easily backup your entire computer with 1,000 GB. EASILY. Make sure to sign up through THIS LINK to get your discount.
It'll lead you to a page that looks like this:
Fill out your information and create your account.
Once you signup for IDrive, it's time to choose how you'd like to encrypt your files to guard them from online theft, viruses and other threats. IDrive allows you to choose either A) their default IDrive-managed encryption key, or B) an even more secure private key encryption.

So what's the difference between IDrive's default and private key encryption?
IDrive's default encryption chooses your key for you, and stores your key on their servers. But private key allows you to choose a unique key to unlocking your data to which only you have access. Your key is not stored on IDrive's servers, so not even IDrive can unlock your encrypted files. That also means IDrive can't give you your password if you lose it, so if you're prone to forgetting your passwords, IDrive's default encryption might be more your speed.
Now it's time to download the software. This is easy, I promise.
If you're not directed immediately to this site, go here to download the software for any of your devices. It'll look like this: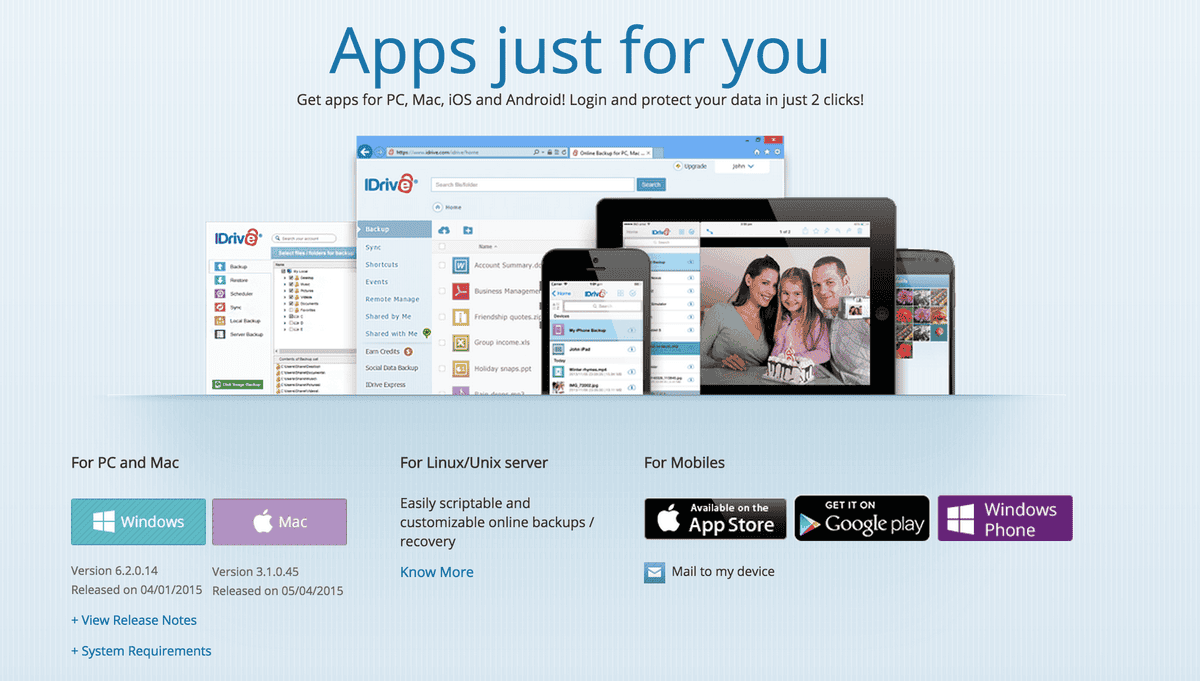 Choose either Windows or Mac depending on what kind of device you are one. Once your start downloading, you'll see a screen like this: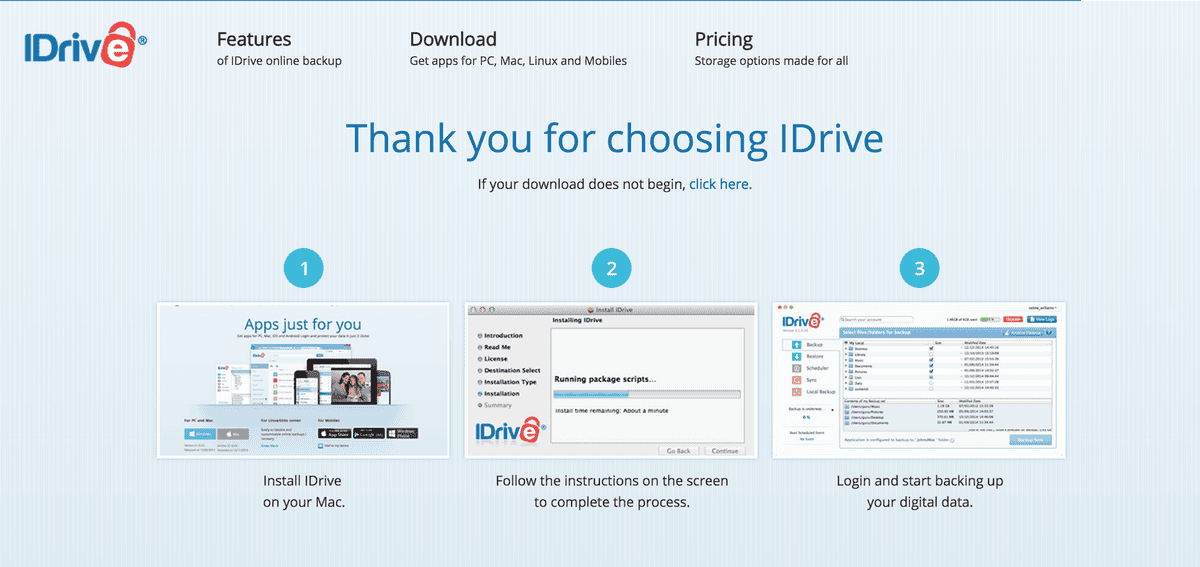 From there, open the application on your computer and simply check what you'd like to back up. Here is an example of mine at the moment.
Like I said, the layout is really intuitive even to a non-techie person.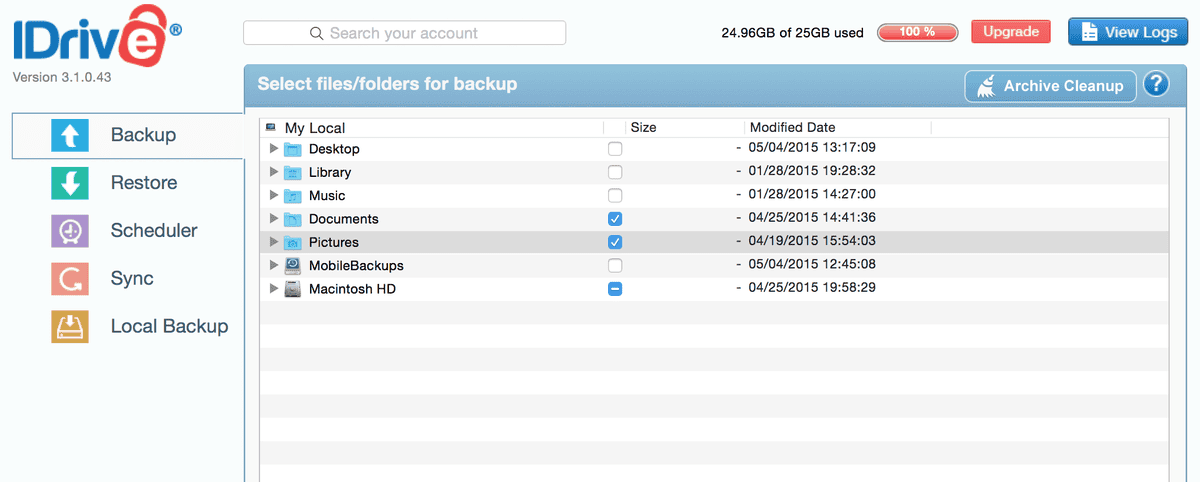 Hopefully this has given you another great option for a safe and easy way to back up your site.
Don't forget, if you sign up through our link here, you get a special discount for a massive amount of space for 75% off. I'd hate for you to miss out on that discount!
**Affiliate Disclosure:  Posts may contain affiliate links. If you purchase a product through an affiliate link, your costs will be the same but Thriving Home will receive a small commission. This helps cover some of the costs for this site. We appreciate your support!
https://thrivinghomeblog.com/wp-content/uploads/2015/05/Screen-Shot-2015-05-04-at-12.42.47-PM.png
344
358
Polly Conner
https://thrivinghomeblog.com/wp-content/uploads/2019/10/thrivinglogo.png
Polly Conner
2015-05-20 05:39:59
2020-01-03 14:14:02
Why I Ditched My External Hard Drive and Use an Online Backup