10 Reasons I'm Glad I Left My Family and Why You Should, Too
Updated: 9/8/22
This post may contain affiliate or sponsored links. Please read our disclosure policy.
Yes, I left my family…for two nights this past weekend.
Almost two years ago my best friend, Erika, suggested to me and a few other of our friends from the past (I knew all of these girls as early as grade school) that we try to have a girls reunion soon. And, here's my posse this past weekend. Yep, two years later.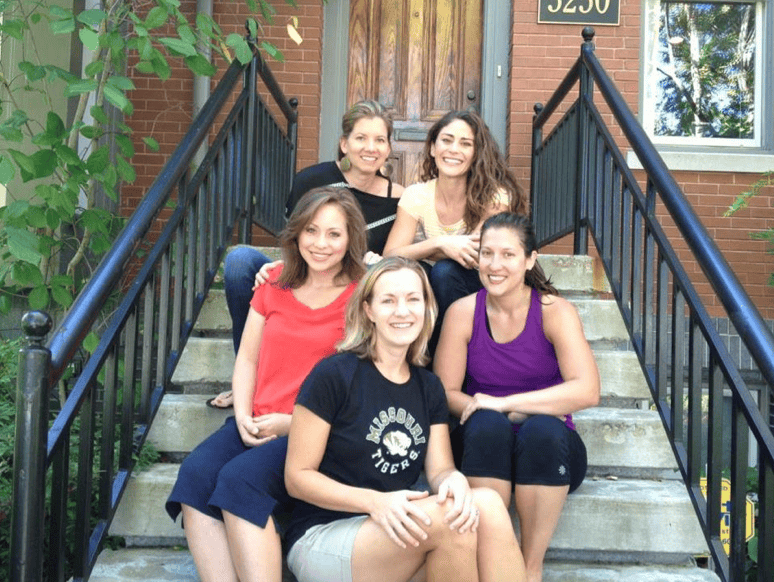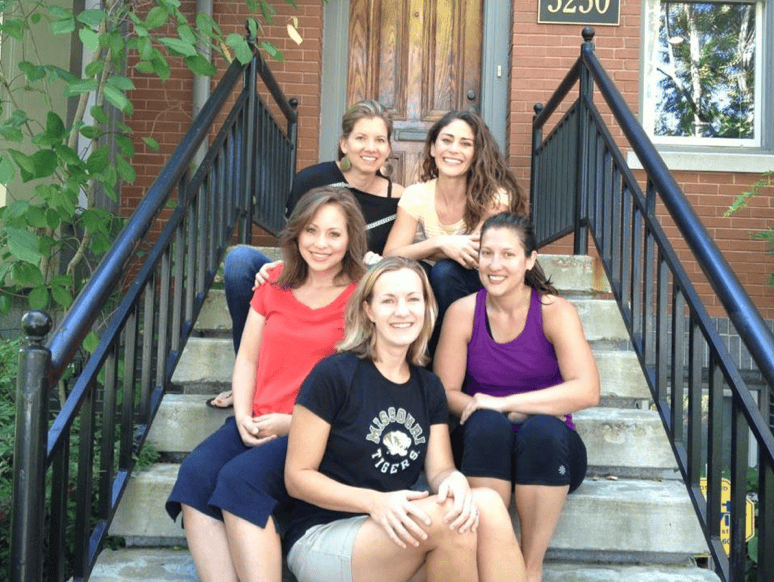 We live in five different cities from Atlanta to Phoenix and all have at least two small kids at home. So, perhaps you understand why it took us two years to plan and pull off this girls reunion.
I think each of us felt some small measure of anxiety and/or guilt about leaving our husbands and kids behind. We kept our phones close at hand. And, I left an obnoxiously long detailed list for my sweet husband. It included everything but "wipe their bottoms" on it. In other words, it was a little hard leaving all my people behind.
But, I tell you it was worth it and here's why. Since I am a nerd and like numbered lists, I've listed below 10 reasons you should consider a friend reunion weekend, especially if you're a mom with kids at home.
1 – Simple no-brainer for reason #1: It's fun!
If you're a mom, you know how rare a night out with friends, much less a weekend retreat like this is. Biking around town, dinner out, a walk in a beautiful city park, glasses of wine over uninterrupted conversation…we packed more fun into two days than I've had in a long time. And that's, well, reviving to this extrovert's soul.
2 – You've got time to reflect on and/or pray for your family.
I utilized my travel time in the car and time each morning as I leisurely laid in bed to this end. Being away from the "beloved chaos" and having some quiet, allowed me to evaluate and pray over how I can better use my time at home with the kids and how to deal with the current discipline issues we have at home.
3 – Distance makes the heart grow fonder for your husband.
Ever notice when there are little ones to be constantly cared for that your marriage can be put on the back burner? You can get so busy when you're home together caring for the kids, that you forget to care for each other. I think that's us right now, to some extent. It's not that we fight constantly or don't care for one another, we just hardly look up at each other between cleaning up, changing diapers, disciplining, etc. Well, this past weekend, I had that "I really miss my husband" feeling and "I really appreciate my husband" feeling (he DID take off work to watch our three kiddos and all). The time away drew my heart back to him and all that I love about him.
4 – Distance makes the heart grow fonder for your kids.
My heart overflowed with joy when my kids tackled me as I walked in the house. I was so ready to see them and had a renewed energy to play, play, play.
5 – We are made for community.
Even God himself is a fully complete community within himself. Ever thought about that? The Trinity is three in one. And, since we are made in the image of God, we too are made for community. These women I have known for so many years encourage me as a woman, wife, mom, and Christian. Proverbs 27:17 says, "As iron sharpens iron, so one person sharpens another." I left this weekend feeling sharpened from our coffee chats in the morning to our late night conversations in bed. Friendship on that level is something I hope to cherish and foster for a lifetime.
6 – Travel sparks the imagination.
Did you know that getting out of your normal routine and being in a new environment can actually stir creativity? According to Imagine by Jonah Lehrer (yes, the guy who recently got defrauded as a writer because he made up some of the Dylan quotes in the book) says getting out of our comfort zone and traveling to new places can actually cause our brains to think differently. Now, if we still believe Lehrer, which I really want to, then traveling to a weekend union with friends can help you to "think outside the box" and be a more creative person!

7 – If you're the primary caretaker, like I am, your husband gains confidence in caring for the kids and grows his relationship with them.
My husband's great with the kids. He really is. But, he doesn't get the many hours each day with them like I do. Just as I'm bonding with my friends for an intense two days, he's bonding with the kids in a special, albeit somethings "trial by fire"-type, way.

8 – The kids learn that they can survive without Mommy (and that Mommy still loves them and will come home).
Letting others care for our kids at times, even for a few days, helps our children learn to be more flexible. I've been guilty as a new parent, especially, of not wanting to leave my child in someone else's care. However, this can be a small part of helping our children move toward independence, as hard as it is to think that way.
9 – It's a weekend of learning from others.
I can't tell you how many problems a group of five moms can brainstorm about and solve in a weekend. Well, maybe we didn't solve all of life's problems, but we certainly swapped a ton of tips and recommendations that I took to heart.
10 – Although planning for a trip like this can be stressful, especially when it involves coordinating childcare, it can ultimately relieve stress.
With time to sleep (well, I didn't sleep as well as my other friends but that's just my M.O. when I travel), exercise, time to sip some good wine, and lots of belly laughs with friends, this was a weekend that recharged me and helped me to relax in a different kind of way. I guess this goes back to Reason #1…a trip like this is fun!
Need some extra encouragement while you're momming it? Snag a set of "On the Job Meditations for Moms" HERE.