Blogging Basics: Why We Love Blogging As a Part-Time Job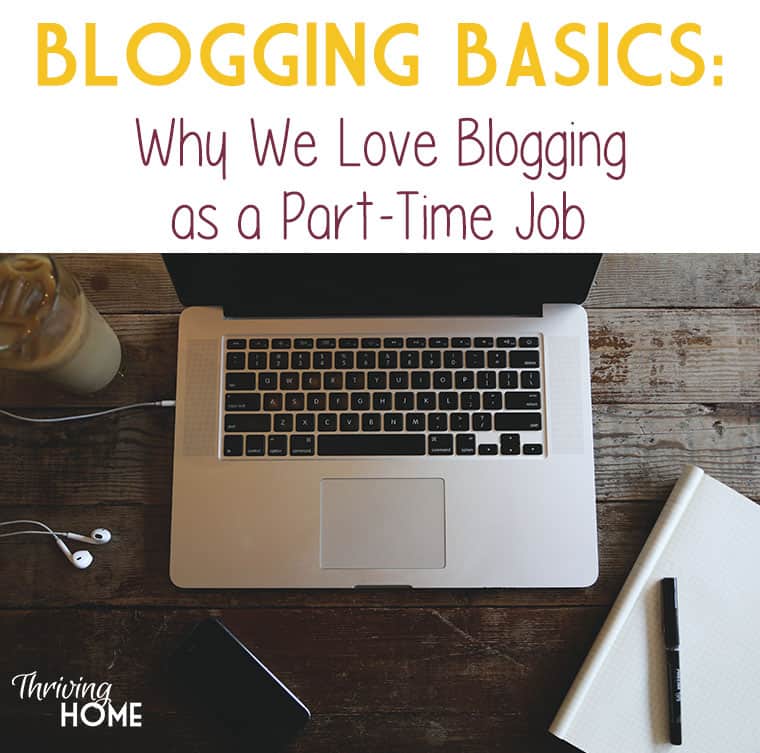 Yesterday began our Blogging Basics series with "Do You Ever Dream of Starting a Blog?". Stay tuned all week long for more about starting a blog for profit.
"So what do you do for a living?"
It's a common question that often comes out during small chat, right?
Usually, my answer is something like, "Well, I stay home with my kids and also write for a blog."
Cue the blank stare. 
When I tell someone I blog as a part-time job, it is likely that they have no idea what that actually means. I also imagine them thinking, "Well, bless you're heart. Let me know when you get a REAL part-time job that you don't do in your pajamas."
However, despite the unspoken skepticism of what a blogger's life really looks like, the reality is Rachel and I love what we do as bloggers. And to be honest, after 3 years of hard work, it pays pretty well for the amount of time we put into it. Not to mention, it's a fun job!
To give you a clearer picture about why we enjoy our job, Rachel and I thought it'd be fun to team up for a post about why we love blogging. We both have many similar reasons as well as some different ones to expand upon. We hope it gives you a glimpse into the perks of this job.
We love blogging as a part-time job because…
…it's flexible and works well with our family's schedule. (Rachel)

One of my main goals at this stage of our family's life is to be the primary influence in my children's lives during these early years. I also want to allow time to make homemade meals, keep on top of the housework (uh, that's a pipe dream of mine), play with and read to the kids, help at school as I can, spend time with my husband in the evenings. You get the idea. In other words, I want a job that is flexible and doesn't sacrifice my value of being present at home. Blogging is that for me. Yes, Polly and I both hire a sitter one morning a week. But, we do a lot of our work whenever we can fit it in…early morning, after kids go to bed, and weekends here and there. And perhaps the best part: Yes, I can do it in my PJs!
…it's a creative outlet as a stay-at-home mom. (Polly)

I've always enjoyed creative projects. As a preteen I started making scrapbooks to document each year of my life. I would buy these huge paper books, loads of patterned paper, special cutting scissors, stickers, etc. and page after page design my book for that year. In fact I actually did the hobby through college. I even have some regrets about not majoring in graphic design or marketing in college.
That being said, this mama thrives when there is outlet for creativity. I keep thinking that at some point the creative well will run dry and I'll have to retire from blogging because I've used up my ideas. But I find the opposite to be true. Having a creative outlet just leads to more and more ideas! Blogging brings out a different part of my brain, the creative side, that nothing else does in my life right now.
…our hobby turned into an income source. (Rachel)

Polly and I both fell in love with blogging back in 2008 when we began separate ones. Then, in January 2012 we launched this one together. Blogging has always been a labor of love for both of us.
One of the reasons I began blogging was to keep all my favorite recipes and things I was learning as a parent in one place. It was more for me than anyone else. In fact, I still do go back and read old posts I wrote about parenting or my faith and re-learn what I had learned (it's funny how I forget!). And now we have a Recipe Index full of all our family's favorites that Polly and I both cook from regularly.
But, the best part is that my little "hobby/recipe collection/parenting reminders to myself" has now budded into a growing business. I'm actually able to make some part-time income from something I naturally love spending my time doing. And, I know Polly would say that same. We're both so thankful for this fun opportunity!
…we've grown as writers. (Polly)

I've always had a knack for writing. Ever since I can remember I've had a journal. I was the person in college who would gladly take an essay test over a multiple choice. When I took the GRE, I killed it on the writing portion but was pretty average on the other stuff. So, as it turns out, writing a blog is fun and quite natural for me.
The reality is, the more you write, the better you get at it. (This doesn't apply to grammar skills!  You can thank Rachel for oftentimes saving me from embarrassing spelling or grammar errors). I have found that writing continues to become more and more second nature to me rather than forced.
However, there is always room to grow as a writer and a person for that matter. Blogging has challenged me in this area, especially when approaching a touchy topic. As co-bloggers, Rachel and I have both grown in taking and giving honest feedback about each other's work. Additionally, my skin has grown a bit thicker thanks to a few not-so-constructive comments left on the blog over the years. I've accepted that if you write about something real–something that matters–not everyone is going to love it. I'm ok with that. Three years ago, I probably wasn't.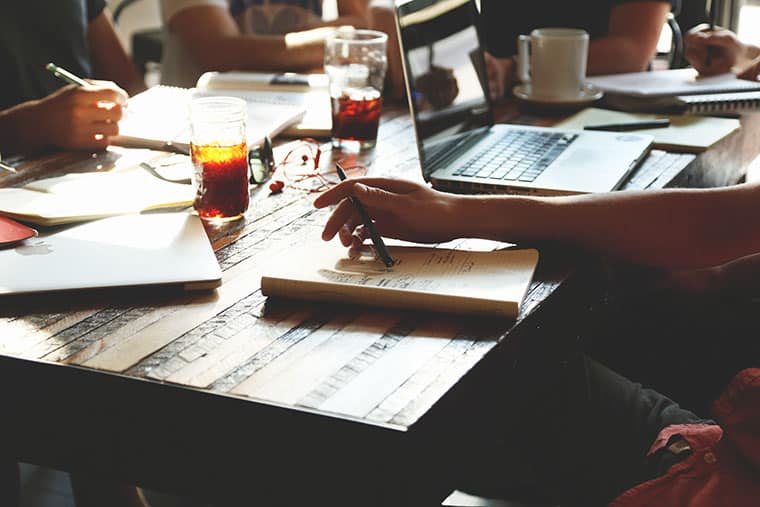 …it's a family affair. (Rachel)

Ever since the inception of my first blog in 2008, which is now long gone, my kids have been a special part of my blogging world. We have crafted recipe posts together, like Homemade Wheat Sandwich Bread. They brainstorm new recipes for me to put on the blog, like my 6-year-old daughter's Fruit Pizza Roll-Ups and 8-year-old son's Whole Grain Pizza Bread. My daughter loves to help me stage food photos, as she moves plates around for the best light or holds a spoon in place for just the right "look". They taste test recipes and give feedback. They have even tried out products for review posts.
Over the years, as we've dialogued about how the blog works and how they can contribute, my children are learning some business basics. They are learning how to think innovatively to create something helpful for others. They are even going to start their own blogs this summer! So, blogging is somewhat of a family affair around here…which is exactly why I wanted to stay home with my kids in the first place.
…it's stretched us to learn completely new sets of skills. (Polly)

In addition to writing, blogging as a business has stretched me to learn and grow in areas that I never would have explored. I love that even though I'm a stay at home mom, I am continually developing on a professional level, too.
First of all, our site was in desperate need of some graphic design skills. I had very limited experience with these things but forced myself to have dates with Photoshop to make myself learn. Seriously, I would put in my calendar, "date with photoshop" and make myself learn a new design skill.
Three years ago I wouldn't have had the slightest clue as to how to make an image like this: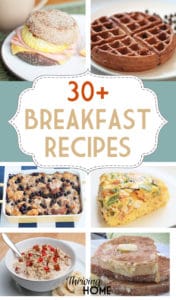 I still consider myself an amateur in the design world but have learned enough to be useful in the blog world.
Oh, and don't even get me started on photography. Rachel and I realized very quickly that we needed better photos. At first, we had good content but honestly we weren't getting much attention because our photos were sub-par. Here is a perfect example of a picture of our Fake Out Starbucks Breakfast Sandwiches. The first picture was from the beginning days of Thriving Home. The second is clearly a few steps down the road.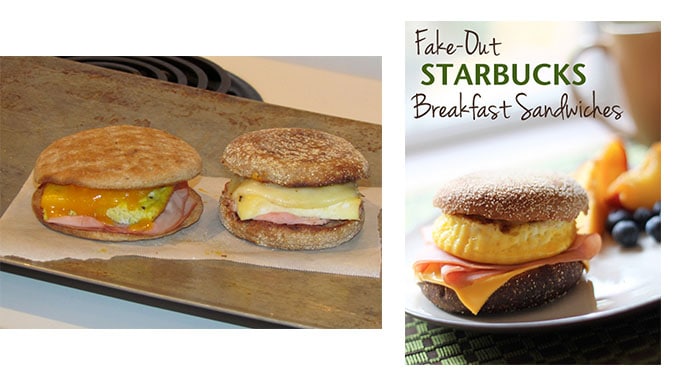 Hmm, which one would you be more likely to pin or share?
Simply out of necessity, I got a better camera, took a few photography lessons, picked up a few photoshop tricks and as a result have greatly improved my photography. What's great about this is that these will be skills I will use all of my life. I've been able to capture great photos of my children and as a result saved a lot of money on getting professional pictures done. If I didn't have the blog in my life, I don't think I ever would have stepped out to learn these new skills.
There's so much more we've learned: negotiating and working with both small and large businesses, marketing strategies, html coding, budgeting and simply how to prioritize tasks. That's not to mention how much I've grown in teamwork and interpersonal skills from working in a partnership with Rachel.
…we get to be our own bosses. (Rachel)

Every since I was a little girl, I loved the idea of being in charge. (Just ask my sister and neighborhood friends.) And now that I'm grown, there are few things more motivating to me than dictating the direction of my own job and how I choose to spend my time. Yes, Polly and I have to work on things we don't like at times (like taxes, tech problems, etc), but we also can choose which projects to pour our time into, what to write about, and who to partner with. To some extent, the earning potential is limitless, too. Owning and running my own blogging business (with the best business partner ever!) is one of the most inspiring jobs I've ever had.
…we need only to be experts of our own lives. (Rachel)

Is there any other income-earning job like this in the world? A job where I simply have to be a student of my own life? I don't need a degree for this job (although I'm sure my English Education degree helped me as a writer). I don't need to be an expert in nutrition or parenting or recipe development or journalism. I simply need to think about and record what I'm doing and learning week in and day out as a mom, wife, Christian, homemaker, blogger, etc.
In some ways, what Polly and I do isn't much different than when we get together with friends. We help and encourage one another by swapping ideas, recipes, parenting anecdotes, and what we're learning in our walk of faith. The only difference is that we write about it online. And, as Polly will talk about next, simply blogging about our lives has–to varying degrees–affected and helped other people all around the world. How sweet is that?
…we have a platform to be used by God in others' lives. (Polly)

This part is a bit scary to me but in the same way it excites me. God has given us a platform to reach thousands of women a day. Wowza.
Rachel and I want to be faithful with what he has given us and to take our influence seriously. While all of our posts aren't blatantly "Christian", we want everything we do to honor God. We cover a lot of topics on Thriving Home, but that's because we believe that living out our faith doesn't just happen on Sunday morning. We believe biblical faith is holistic and shapes every area of our lives, including cooking; training our children; avoiding wastefulness by freezer cooking; practicing discernment on what products we use in our homes; giving children outlets to think and create; or simply living faithfully in the mundane. I love that we can write about a wide array of topics knowing that we are equipping and encouraging women to live out who God has made them to be.
Our platform has also allowed us to encourage and help those who are struggling. Just take a look at the comments in the post Babies with Acid Reflux: Help for Moms or Where is God When You Can't Get Pregnant? One of the coolest things that has happened as a result of Thriving Home is the spread of the idea of Helping the Homeless: On The Go Bags. I've gotten emails from people who have told me their children's lives have been changed as a result of making these and handing them out. Ahhh, can't handle the big feelings from hearing that stuff.
This is the stuff that makes blogging totally worth it for us. We hope you know that we constantly pray for God's wisdom and pray that God would use our lives (the good and the bad parts) to encourage you.
Make sure to check out the other posts in our Blogging Basics series:
And you can swing by our
Blogging Resources page
for a thorough list of everything we use and recommend for blogging.
Sign Up for Our FREE Blogging Basics E-Course!
There is SO MUCH blogging information that we want to share with you. We want you to skip the mistakes we've made along the way, learn about all the different ways you could potentially make money from your blog, know which plugins, websites, and software that we have found most helpful and so much more insider information. To share this valuable information, we have created a FREE E-Course. When you sign up, you will receive one, bite-sized email a week that will equip you to get started on the right track. What are you waiting for, get yourself signed up!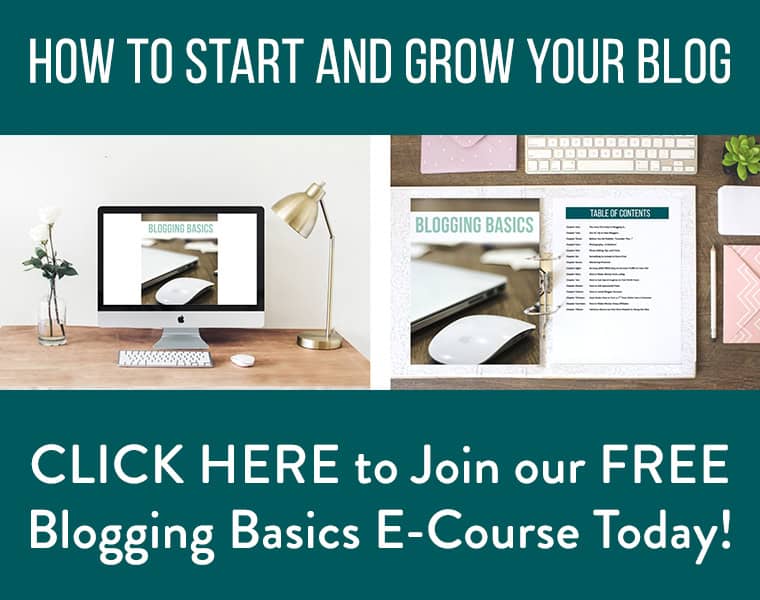 https://thrivinghomeblog.com/wp-content/uploads/2015/04/Why-we-love-blogging-as-a-part-time-job.jpg
753
760
Polly Conner
https://thrivinghomeblog.com/wp-content/uploads/2019/10/thrivinglogo.png
Polly Conner
2015-04-27 05:34:44
2020-01-03 14:11:34
Blogging Basics: Why We Love Blogging As a Part-Time Job