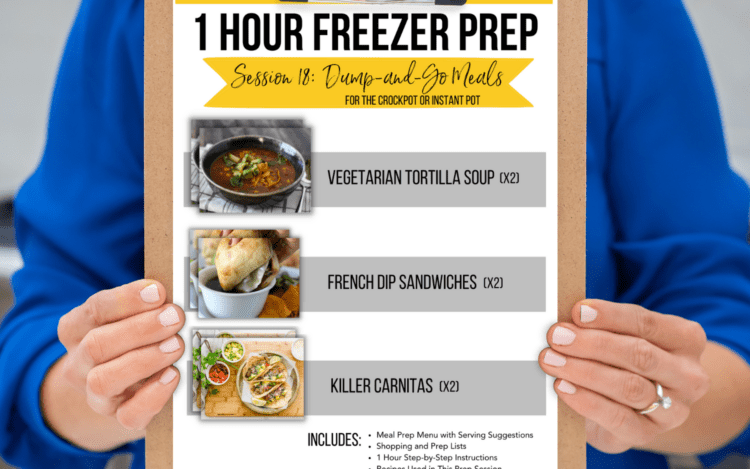 About Session 18
This prep session's all about meals you can simply drop in the Crockpot or Instant Pot and go! Your family will love these practically hands-free dinners.
Bonus #1: This prep session is fast!
Bonus #2: This session makes a lot of food, so enjoy leftovers throughout the week.
Download Now
1 Hour Freezer Prep gets meals on your table the EASY way!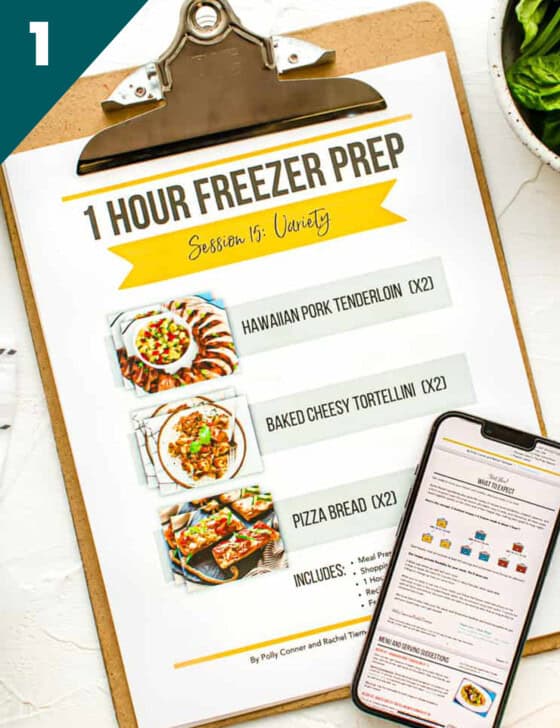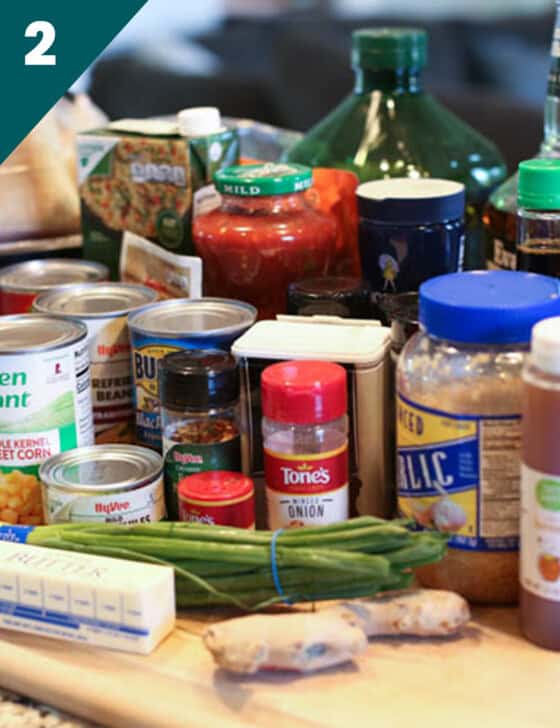 Shop
Use the shopping & equipment lists to gather what you need.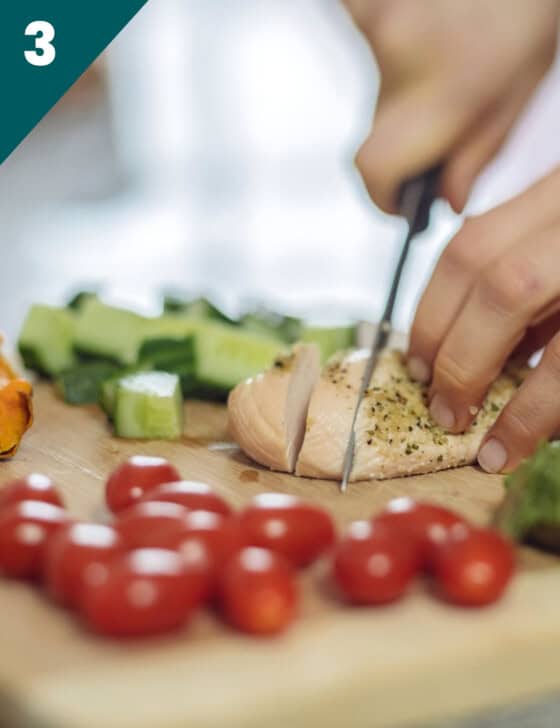 Prep
Follow the step-by-step instructions & video tutorial.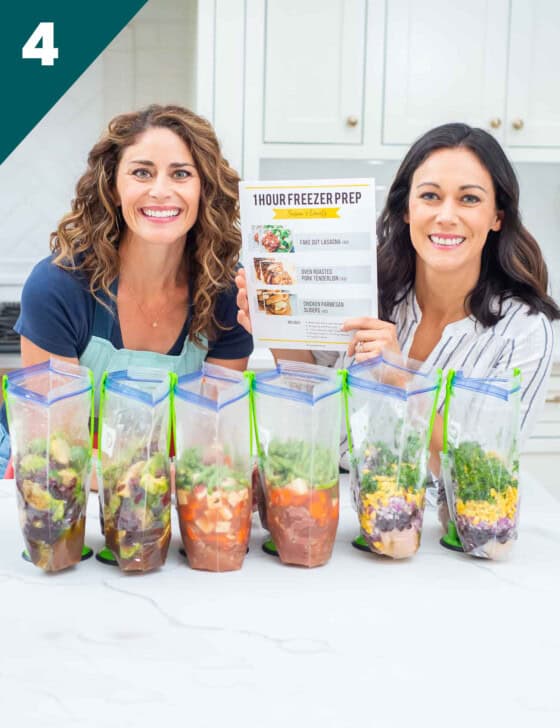 Relax
Stock your freezer with 6 meals in just 1 hour!
More About the Recipes in Prep Session 18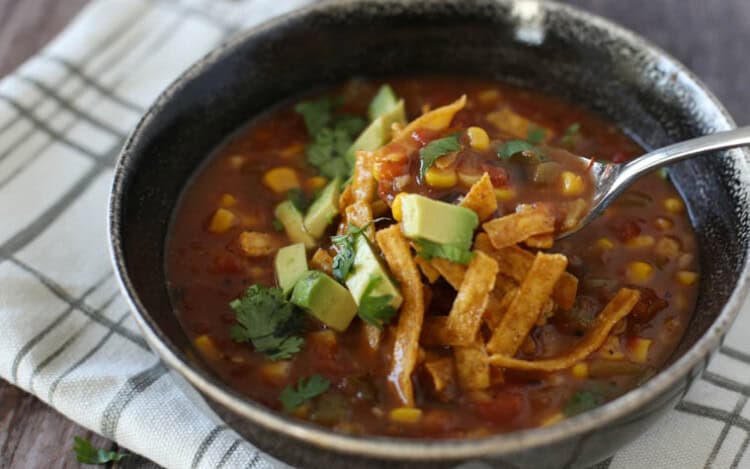 Vegetarian Tortilla Soup (x2)
This one-pot wonder may be lighter fare, but your appetite will be more than satisfied thanks to hearty beans, brown rice, veggies, and bold flavors.
Serving Suggestions:
Top with your favorite Mexican toppings, like crushed tortilla chips, diced

avocado or red onion, cilantro, fresh lime juice, shredded cheddar, etc.

Serve with cornbread.
Freeze leftovers in single-serving glass bowls with lids or mason jars. Thaw overnight and warm up

for a healthy lunch. Works great to send in a thermos in a lunchbox, too.
Mix it Up:
Replace the brown rice with cauliflower rice for lower carbs and more veggies.

Replace the corn with raw, diced sweet potato. It's tasteless but adds nutrition.
Stir in shredded rotisserie chicken or leftover seasoned taco meat at the end.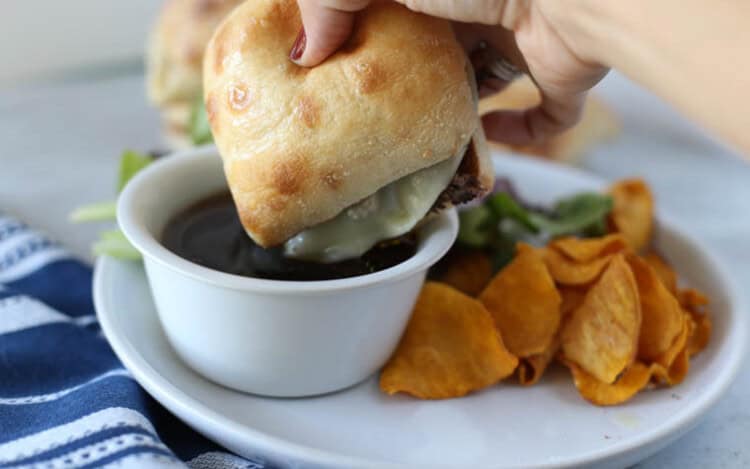 French Dip Sandwiches (x2)
My kids cheer when they see this meal on the menu plan. It's fall-apart tender by dinnertime.
Serving Suggestions:
Use a hearty bread like ciabatta or steak rolls for your sandwich. A sourdough

baguette sliced lengthwise and cut into sandwich-size portions would also work.
Give each person a small ramekin of the au jus that's leftover in the cooker for dipping (the best part!).
Side dish ideas include: Autumn Chopped Salad

or Cranberry Spinach Salad

 raw veggie sticks with your favorite dip, sweet potato chips, apple slices, or grapes.
Mix it Up:
Serve this shredded beef and its juices over mashed potatoes or polenta.

Enjoy it a la carte with a hearty side dish like twice baked potatoes or a hash brown casserole.

Use the meat on a grilled cheese sandwich and dip in the au jus. Yum!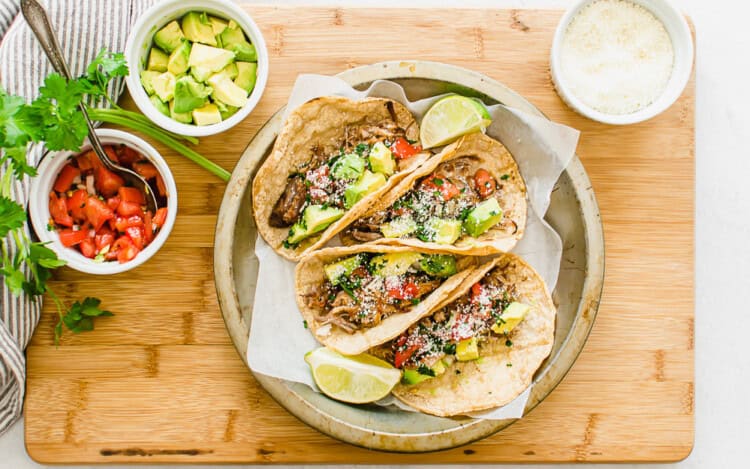 Killer Carnitas (x2)
In this versatile big-batch recipe, pork shoulder is slow cooked (or pressure cooked) in a complex, citrus-infused marinade. Then, it's shredded and broiled until slightly crisp. Enjoy it in myriad ways for a delectable Mexican-inspired dinner.
Serving Suggestions:
Serve a la carte or in warm corn tortillas.

We suggest topping with shredded

cabbage, diced avocado, pico de gallo, Cojita or Queso Fresco cheese crumbles, chopped cilantro, lime wedges, Quick Pickled Red Onions

, and

Cilantro Lime Aioli

.
Mix it Up:
Use the meat in burritos, quesadillas,

burrito bowls

, or on top of nachos or a salad.
Each Prep Session Includes:
Everything you need to make 6 delicious freezer meals in just 1 hour.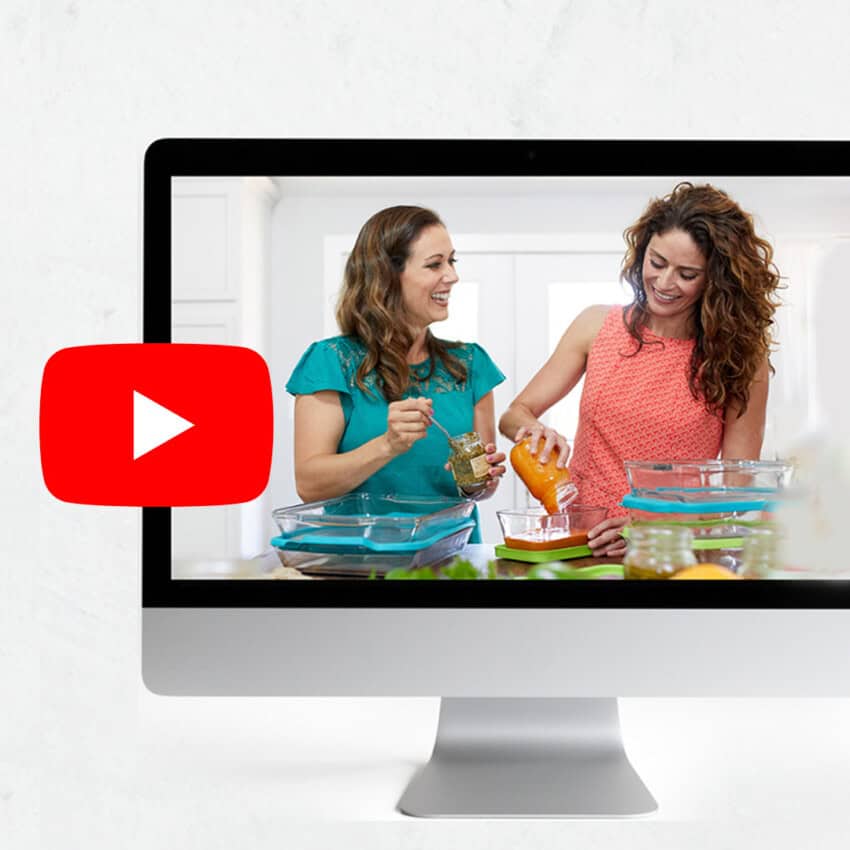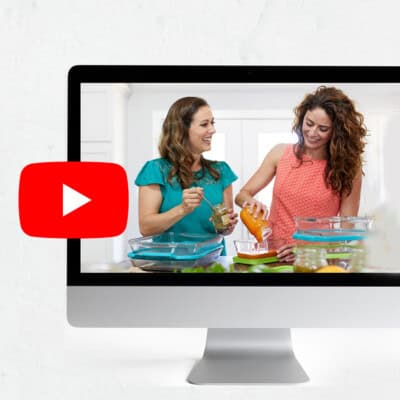 A FREE video cooking tutorial
Cook right along with Polly & Rachel.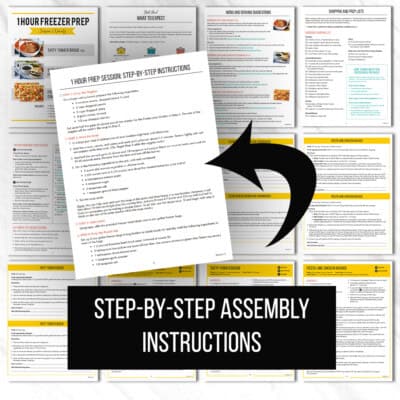 Step-by-step instructions
Efficient and easy to follow.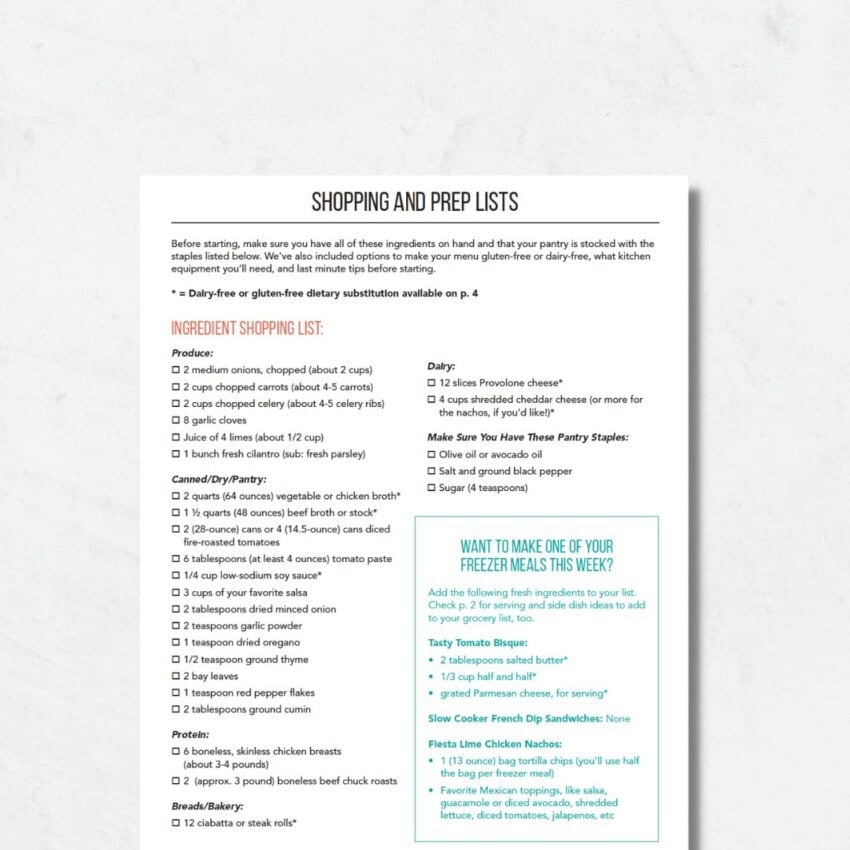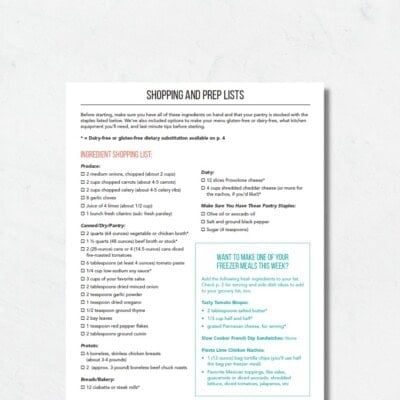 Organized grocery and equipment lists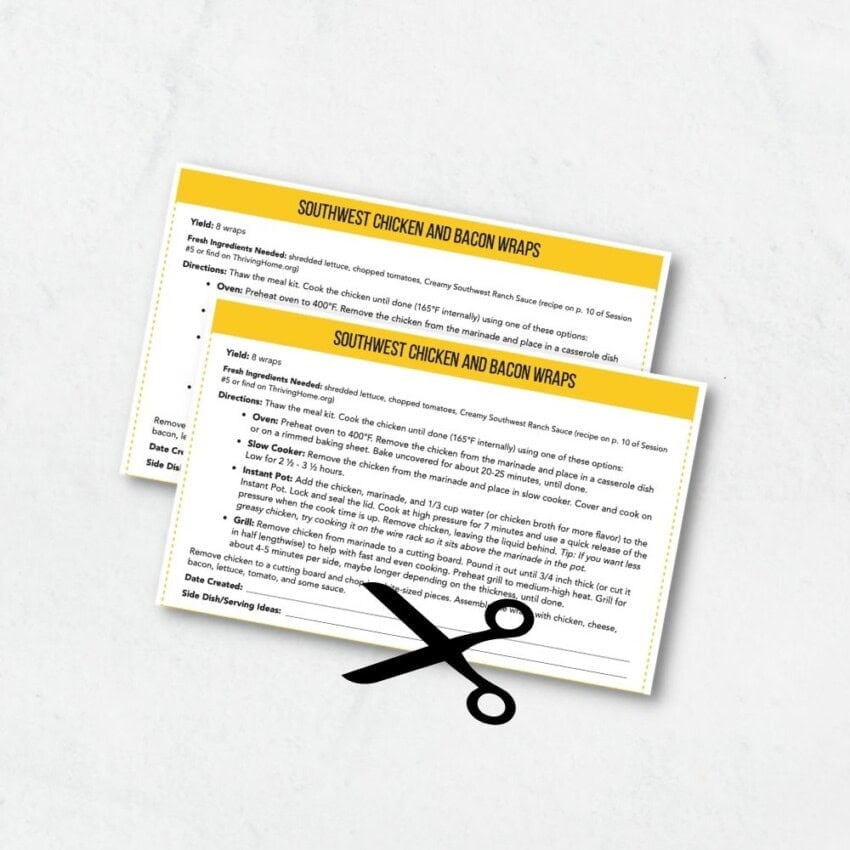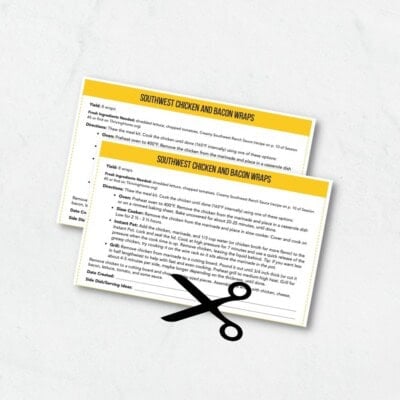 Customized freezer meal labels
Ready to print and attach to your meals.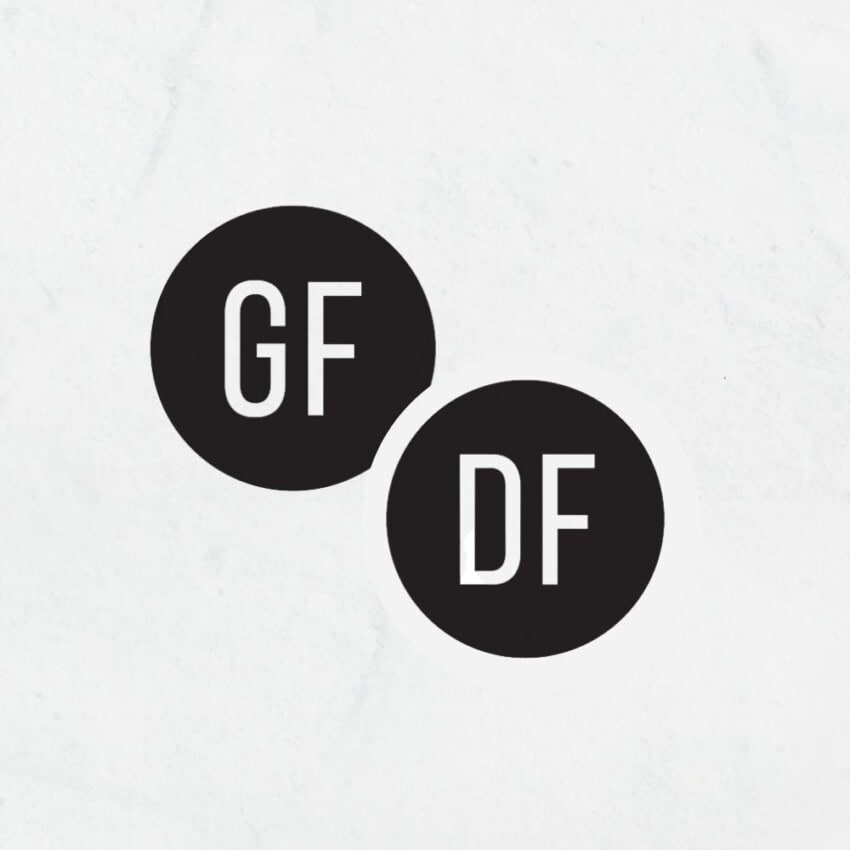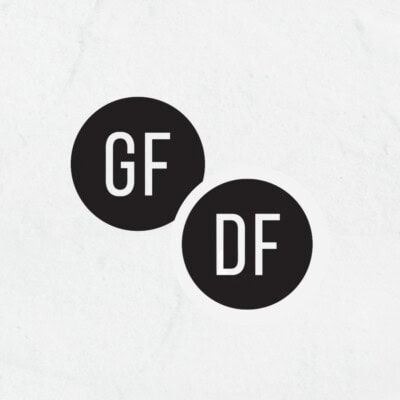 Gluten-free and dairy-free substitutions
Other nutrition info included as well.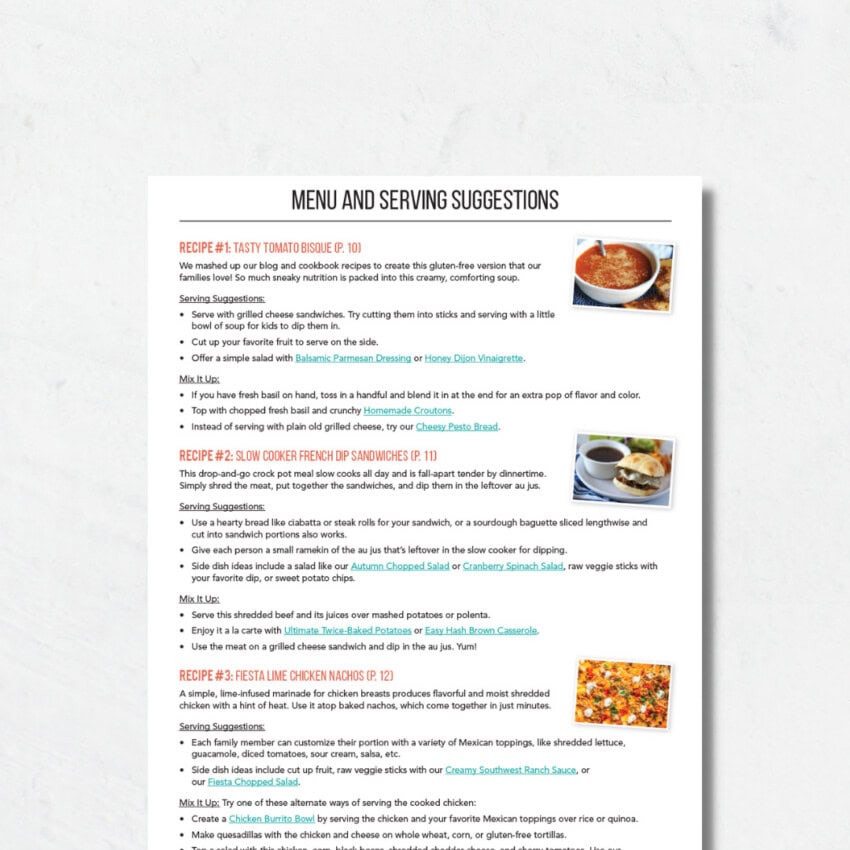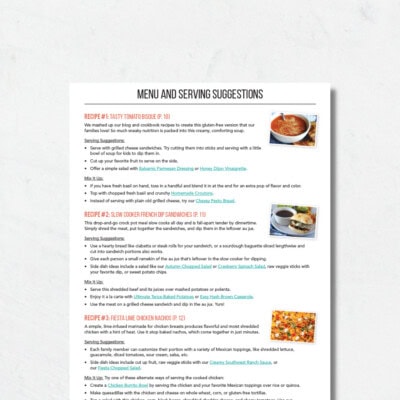 Serving and "Mix It Up" ideas for every recipe
More ways to use your meals.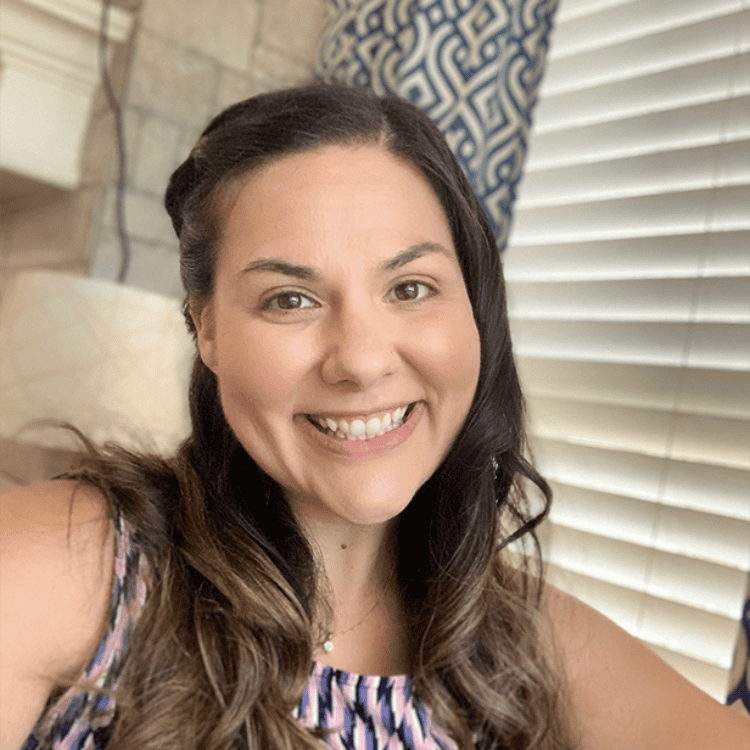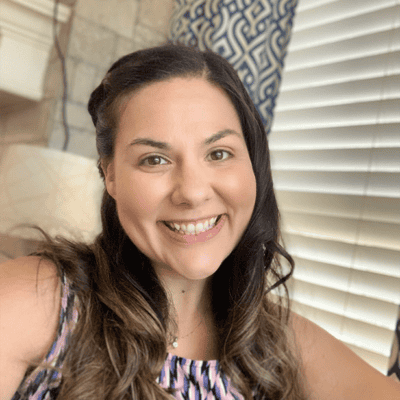 "Less dinnertime stress"
"It took so much stress off my plate throughout the week!"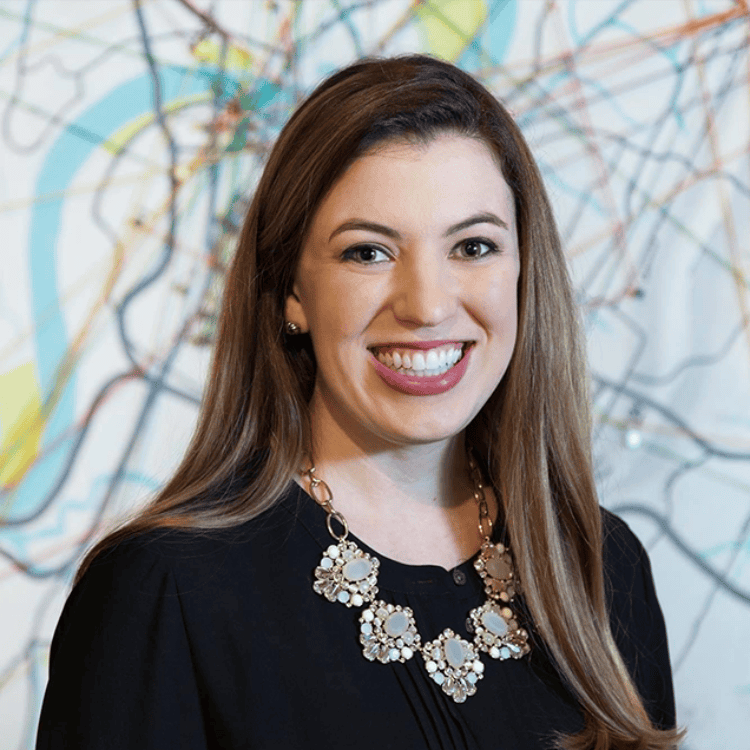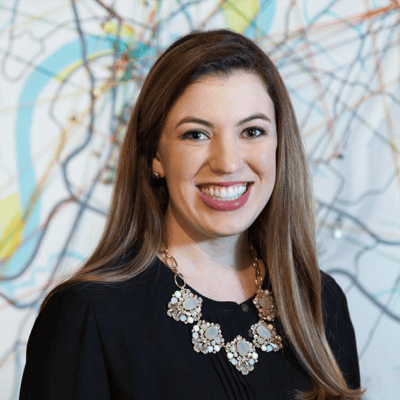 "I'm hooked!"
"I've been doing 1 big cooking session a month. It gives me dinner options for weeks and weeks!"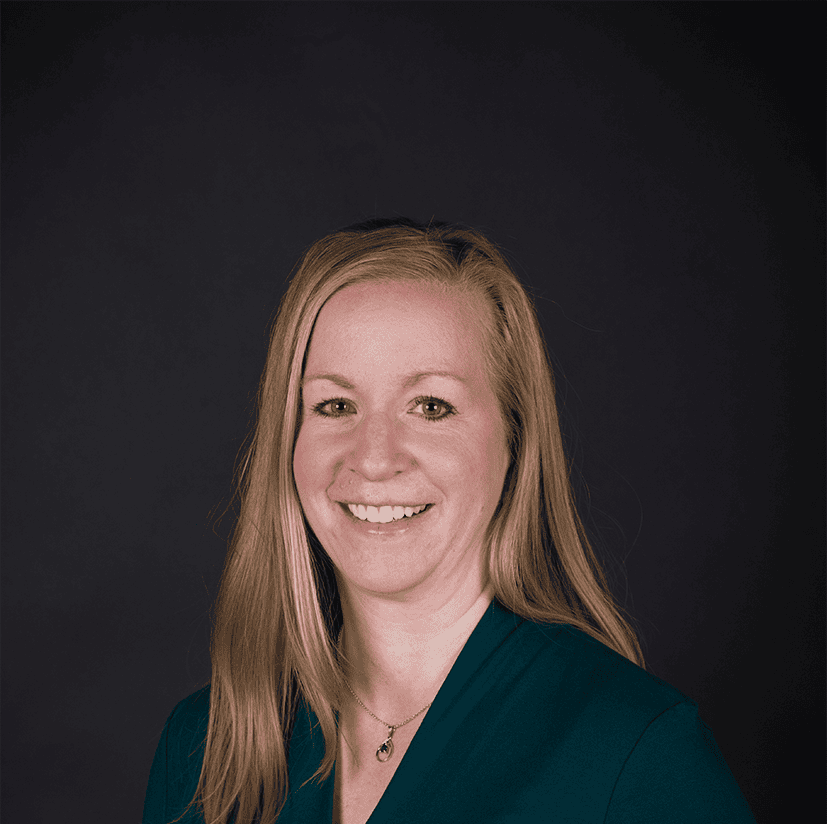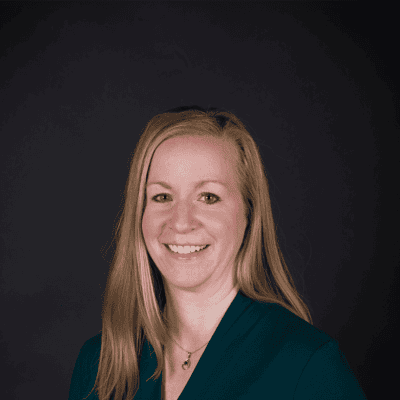 "Game-changer"
"I've really found these prep sessions to be a game changer. I feel ridiculously proud of all of the healthy meals that I've prepped for my family."
As Seen In: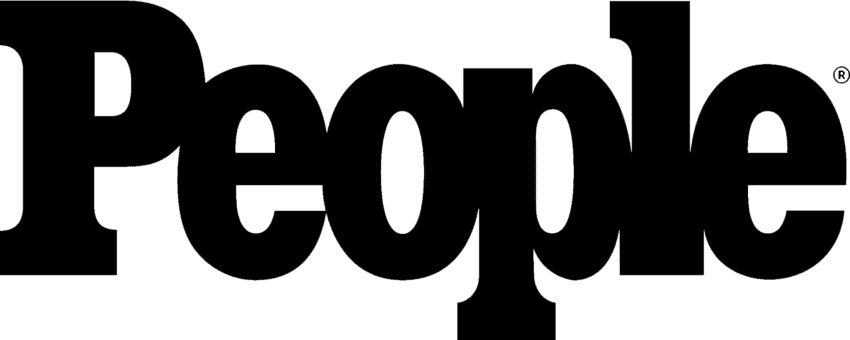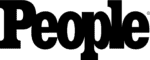 ---
PERMISSIONS FOR USE POLICY: You also may not resell or redistribute our e-products in any form. Thank you for supporting our small business!