The 70+ Best Freezer Meals on the Planet
Updated: 7/22/22
After writing two freezer meal cookbooks and testing hundreds and hundreds of recipes over 10+ years, we've narrowed down the best of the best healthy freezer meals for your family. Our freezer meal recipes and methods are well tested and delicious.
Check out our growing list of amazing make-ahead freezer meals below.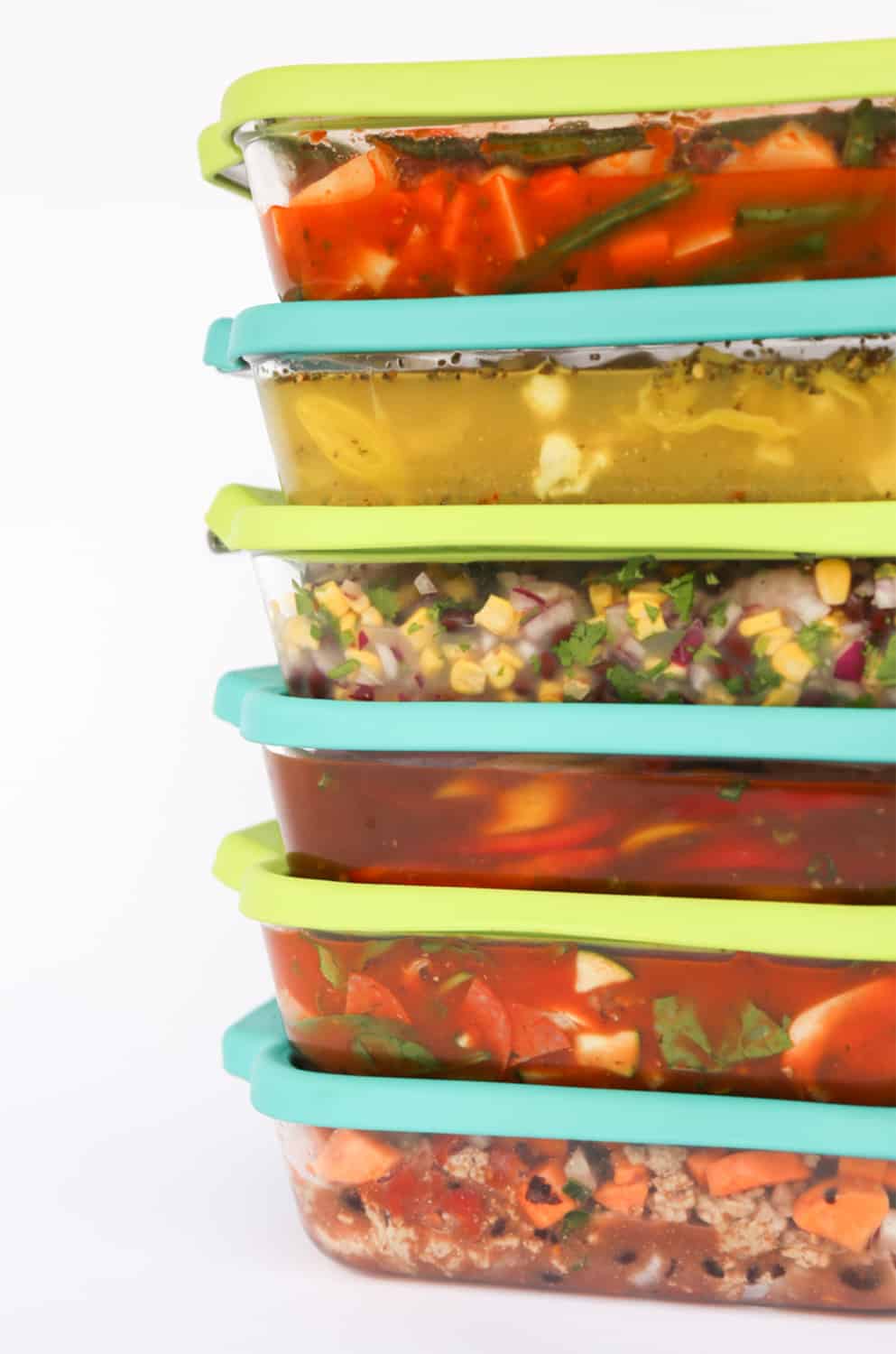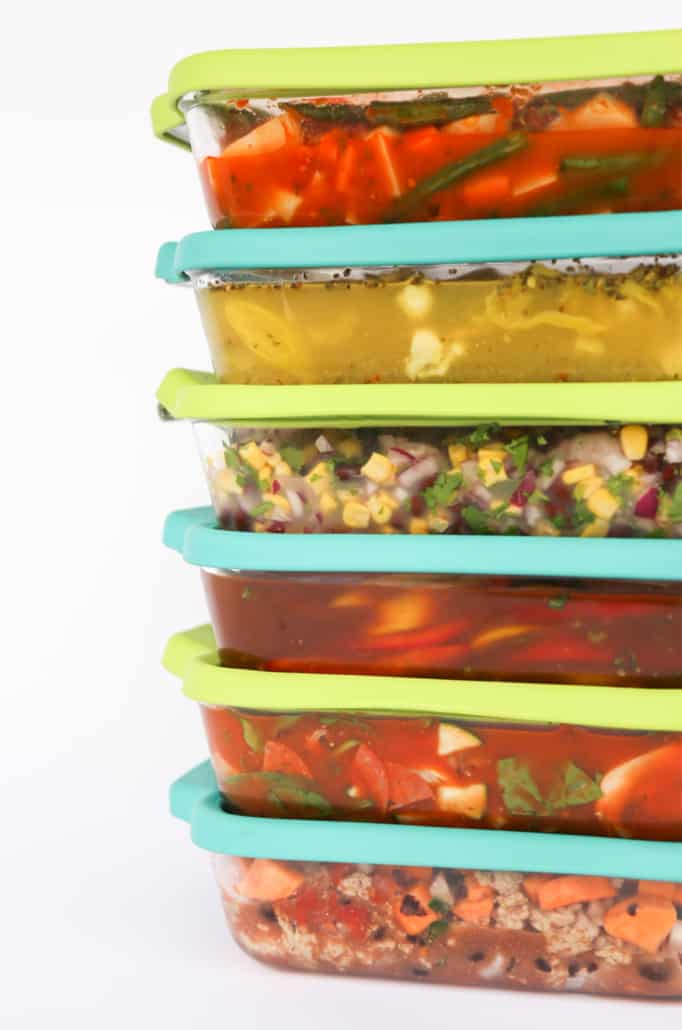 Benefits of Freezer Cooking
As tongue-in-cheek, "freezer cooking evangelists", we are constantly sharing about the amazing benefits of freezer cooking with anyone who will listen.
We've even been able to share about freezer meals on the Hallmark Channel and in People Magazine!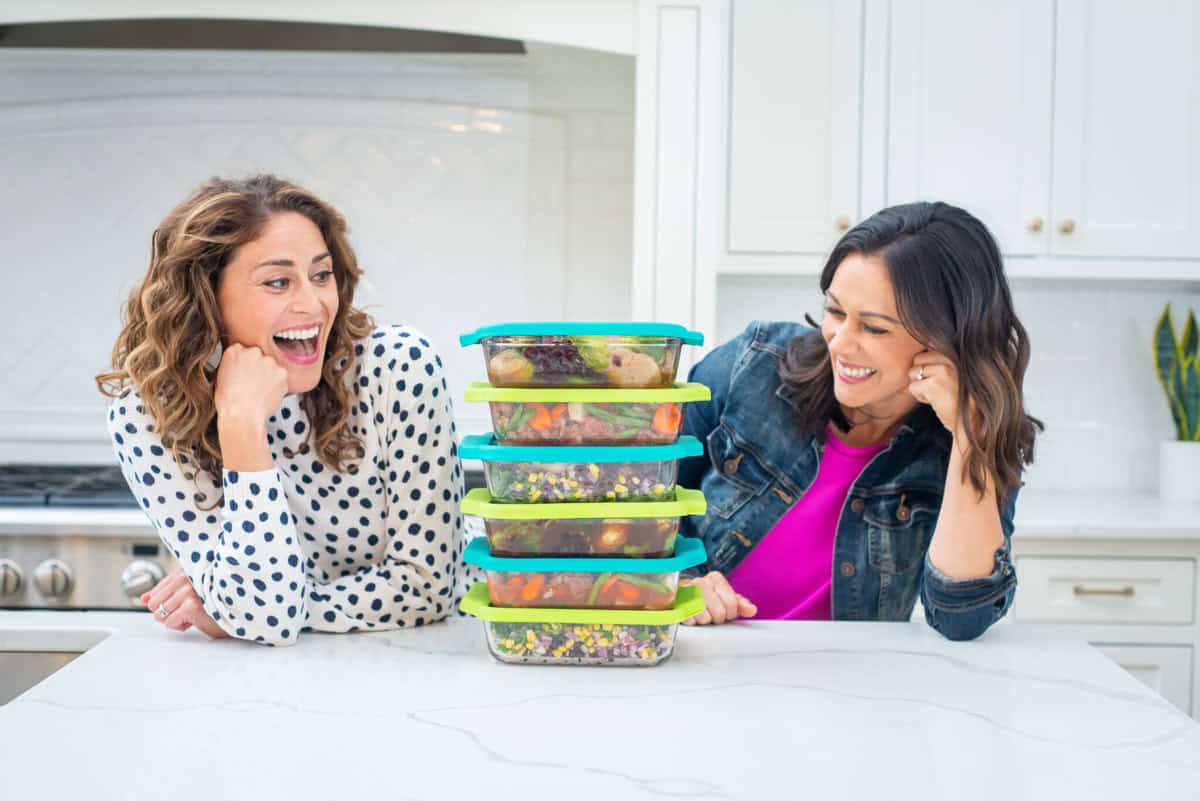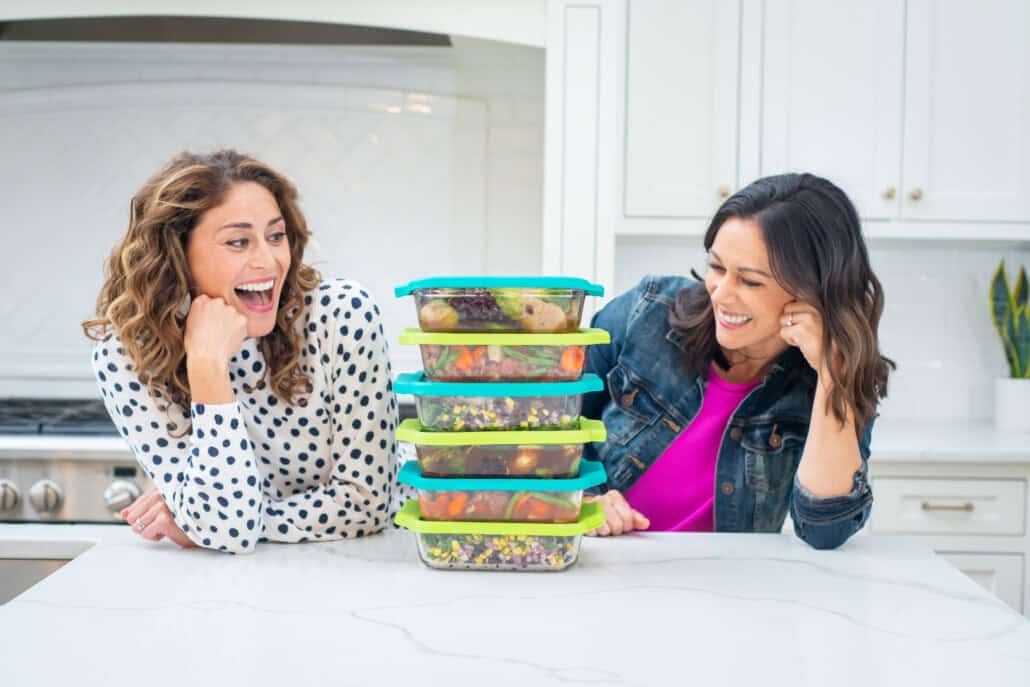 Here are some of the benefits we regularly point out:
Freezer cooking saves money by buying in bulk and avoiding eating out. If you can incorporate 1-2 freezer meals a week, you can save over $2,000 in a year!
Cooking in bulk cuts down on time in the kitchen by prepping meals with the same ingredients at one time. Browning ground beef? Chopping veggies? Making soup? Why not double or triple it and then utilize the freezer? You save time on prep and clean up. We even created 1 Hour Freezer Prep Sessions to help you do this!
Freezer cooking helps you eat wholesome, delicious meals at home regularly. You know what goes in your food. You can make modifications too.
Having a stash of freezer meals reduces dinnertime stress while bringing your family together around the table. This is what freezer cooking is really all about!
We aren't about diets, eating low-fat foods, or cutting out food groups.
We are about cooking tasty, homemade food and eating all things in moderation. We're also about cooking with as many unprocessed, organic and/or local ingredients as possible, including a variety of:
vegetables and fruit
whole grains
local, organic, and/or grass-fed meats (that's why we're big fans of Butcher Box*)
healthy fats (i.e. olive oil, avocado oil, coconut oil, grass-fed butter, and organic dairy)
By simply making homemade meals for your family, you are cutting out loads of sodium, sugar, simple carbs, and harmful trans-fats that come from fast food and store-bought convenience foods. You control what goes into your food.
There are several different ways to safely and effectively store meals in your freezer. Some work better than others depending on the type of food you are freezing or even the space you have in your freezer.
The best way to store and save a freezer meal is in any method that will prevent air from getting to the food. It really depends on the recipe!
Freezer Meal Containers We Use and Recommend
1) Freezer-safe glass baking dish with air-tight lid
Having a glass baking dish or rigid container with an air-tight lid is a safe, reusable, and practical option. It not only allows for easy stacking of frozen meals, but a glass baking dish can also go into the oven when ready to bake or reheat.
You have two options for resealable freezer bags: Disposable or reusable bags.
3) Wide-Mouth Mason (canning) Jars
Most canning jars are freezer-safe and useful when freezing soups, sauces, broths, and more. We like that they are made of safe material and that you can store smaller or individual servings of your freezer food.
Foil does a great job of blocking moisture and air in the freezer. It's helpful because it can be molded into almost any shape and used to wrap and store baked goods, meat, burritos, sandwiches, etc. Or, use it to wrap a baking dish that doesn't have a lid.
Many of our readers have said they use a vacuum sealer for their freezer meals and have had great results. The benefit of preserving food this way is that, if done correctly, your meal is completely air-tight. And…as we all know by now…air is the enemy of delicious freezer meals! Vacuum sealer fans and companies swear that this method extends the life of freezer food from months to years. We haven't tested that yet. 😉
If you want more detail on how to properly freeze food, we have written a whole post about the 5 Best Ways to Package and Store Freezer Meals.
We've learned all the tricks when it comes to safely thawing your freezer meals. Here are the 3 primary ways:
The best and safest way to thaw a freezer meal is to put it in the refrigerator for 24-48 hours. Thawing time will depend on the size of the meal but plan on roughly 5 hours per pound.
Another safe thawing option is to place the food in a leak-proof plastic bag and immerse it in cold water, changing the water out every 30 minutes. This still takes a bit of time–anywhere from 3-5 hours depending on how big your meal is, but it's quicker than the refrigerator option.
A third option is to microwave-defrost food in a microwave-safe dish. Defrost your food using your microwave's instructions. The reason this is the third option (our least favorite) is because this method (especially chicken) can tend to dry out food a bit.
Regardless, sometimes you just need to quickly thaw something, so the microwave it is!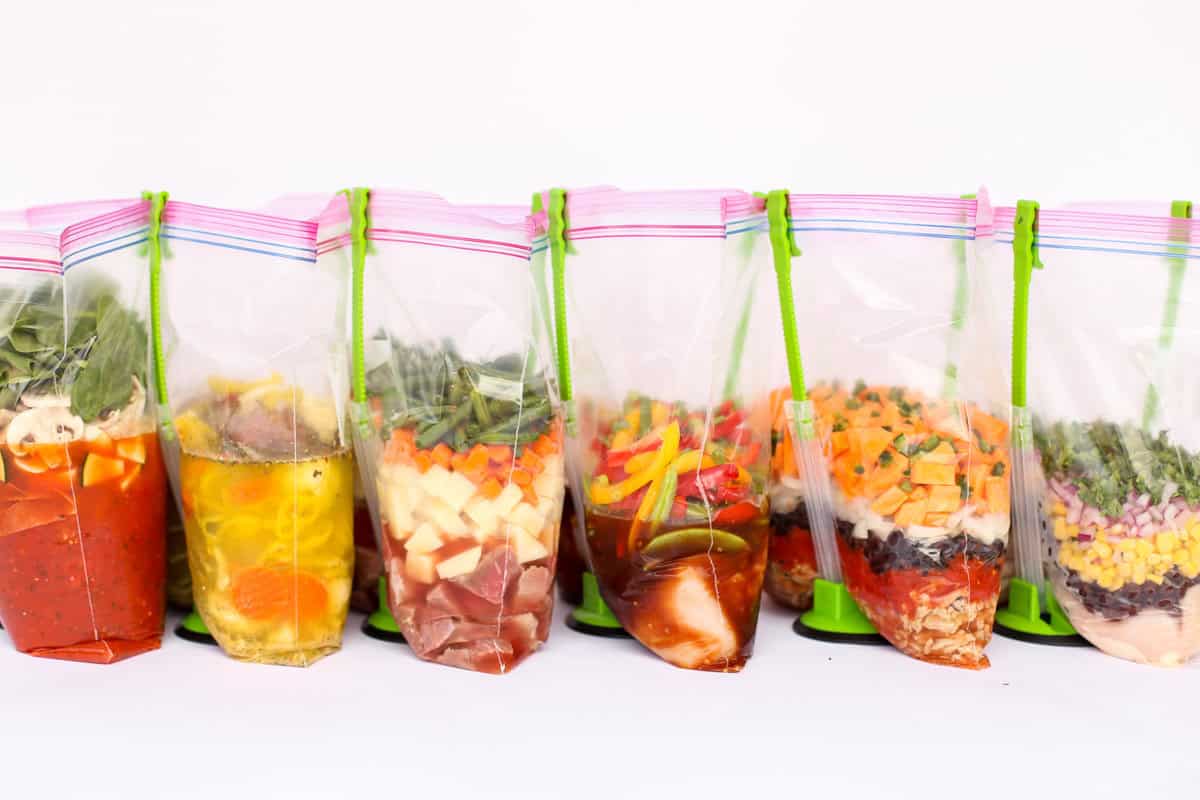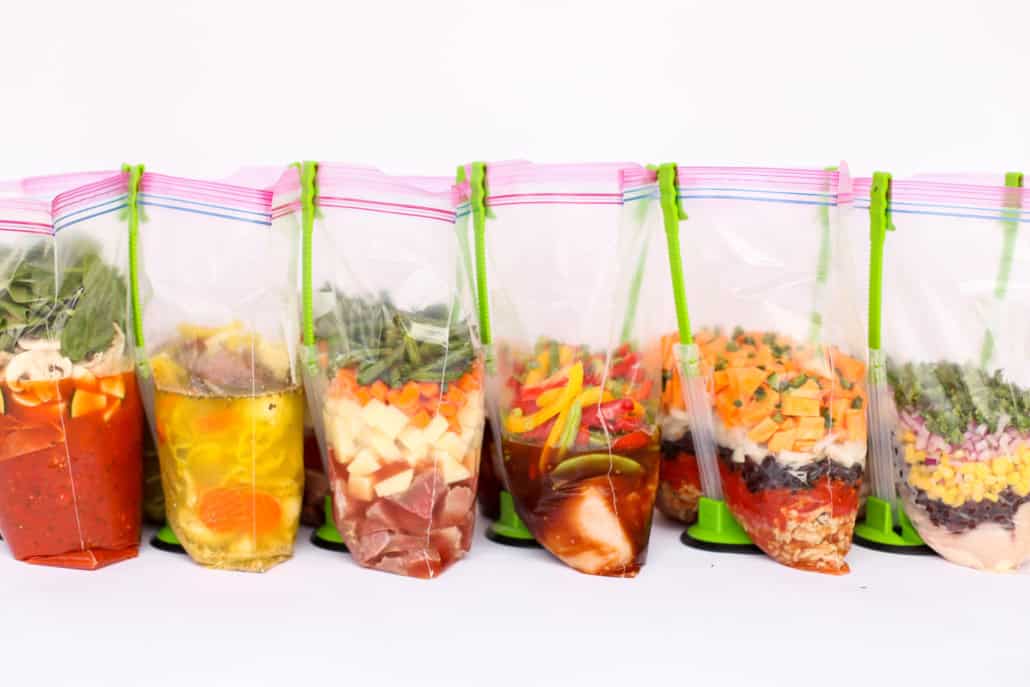 ---
Is a healthy breakfast possible on those chaotic weekday mornings? We've got you covered with these wholesome, freezable breakfast ideas to make ahead and have on hand.
---
We love easy, freezable chicken recipes and we know you do too! We have a huge variety of easy chicken freezer meals for you to browse though. Enjoy!
---
These beef freezer meals are total crowd pleasers. Not only are they tasty but they are filling too!
Tip: This is the place where we both source our grass-fed beef (and it's delivered to our doorsteps).
---
Once you start making freezer meals for the slow cooker, you won't go back. It's magic to have a meal prepped ahead of of time for the Crockpot! Get started with these recipes.
---
Push a button and dinner is done. When you prep freezer meals for the Instant Pot, it can be that easy! We've fine tuned the art of Instant Pot freezer meals and sharing everything we know in the recipes below!
---
Finding tasty vegetarian freezer meals can be a challenge. Fear not, below you'll find some of the best of the best!
---
Want More Freezer Meals?
We have SO many more freezer meal recipes that we know you will love. Hop over to our Freezer Meal Category page for many more delicious and easy freezer meals like the ones above!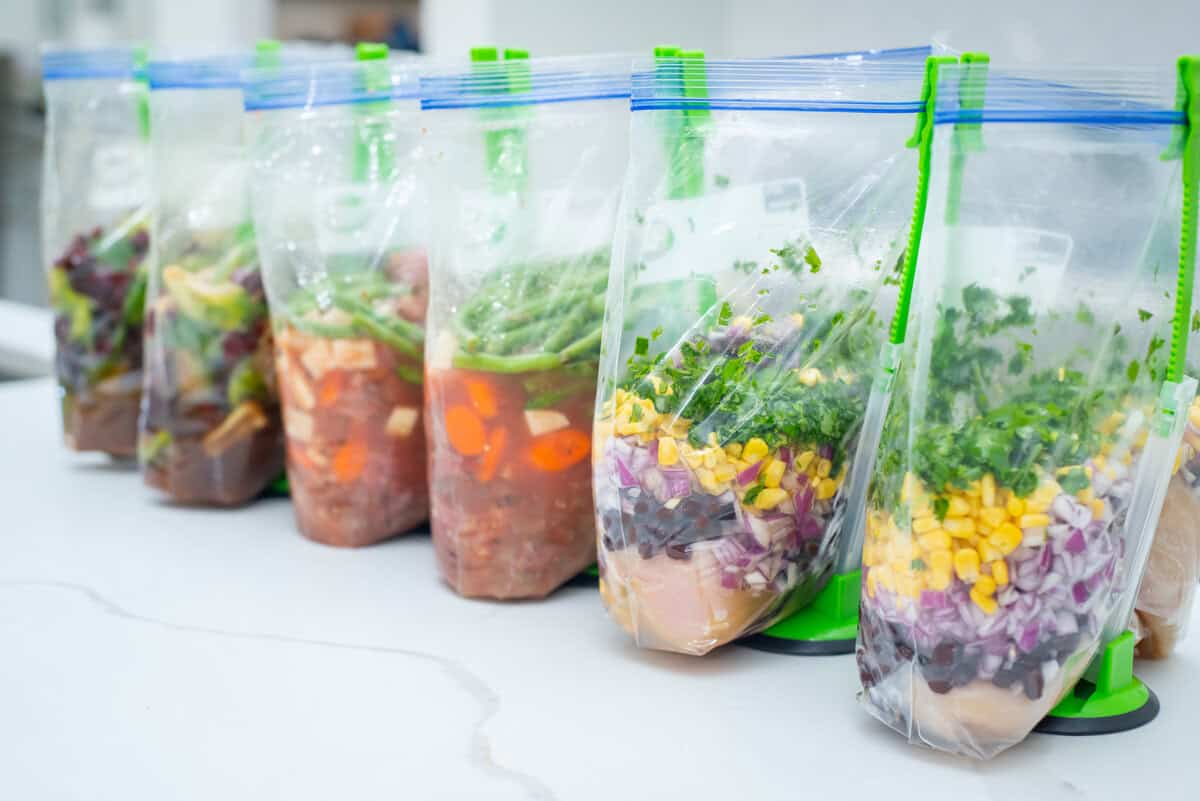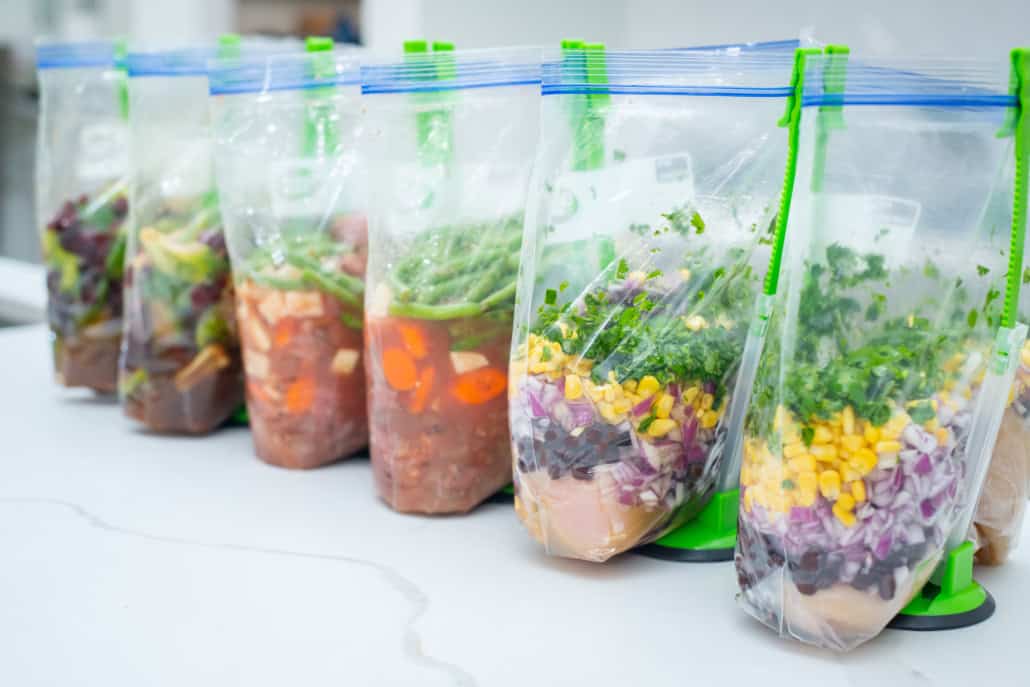 Looking for a Freezer Meal Prep Session?
Do you like the idea of stocking your freezer with 6 meal in 1 hour? What if all of the brainwork was done for you? We're talking shopping lists, step-by-step instructions, labels, and even a video tutorial.
Our 1 Hour Freezer Prep Sessions have been a massive success with our readers and we know they can help you too. Hop over to learn more!