Top 70+ Healthy Freezer Meals (Best of the Best by Category!)
You've come to the right place if you're looking for healthy freezer meals.
As freezer meal experts (and self-proclaimed "freezer cooking evangelists"), we've published TWO freezer meal cookbooks, had freezer meal recipes featured on Hallmark Home & Family, People Magazine, and many more media outlets.
We know what makes a great freezer meal and after testing hundreds and hundreds of recipes over 10 years, we've narrowed down the best of the best healthy freezer meals for you.
Our make ahead freezer meal recipes are easy, made with real food ingredients, and delicious. You're going to want to pin this one, my friends!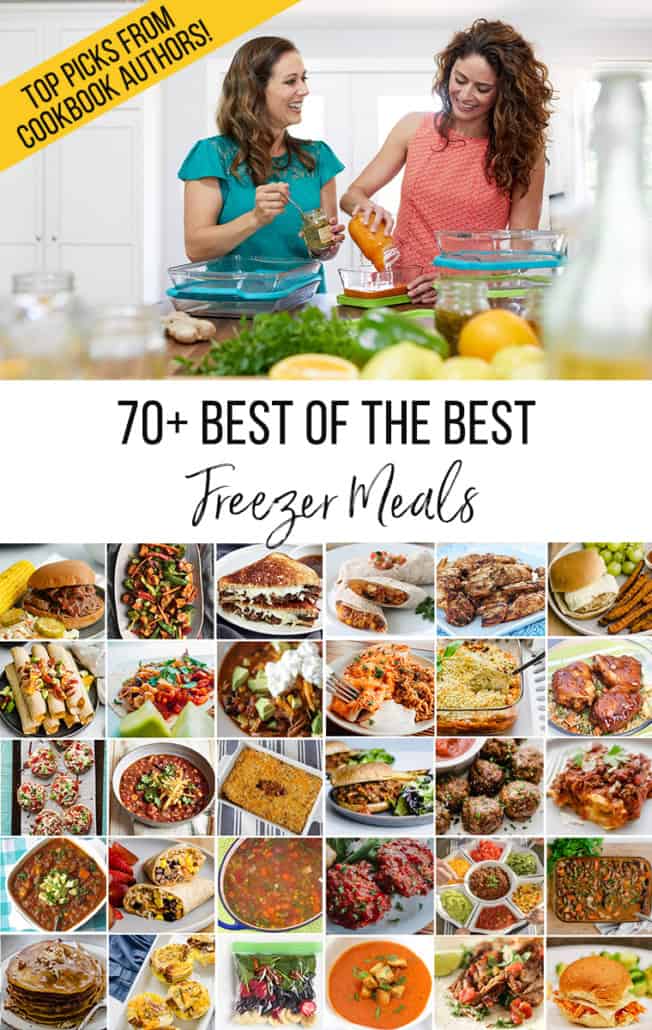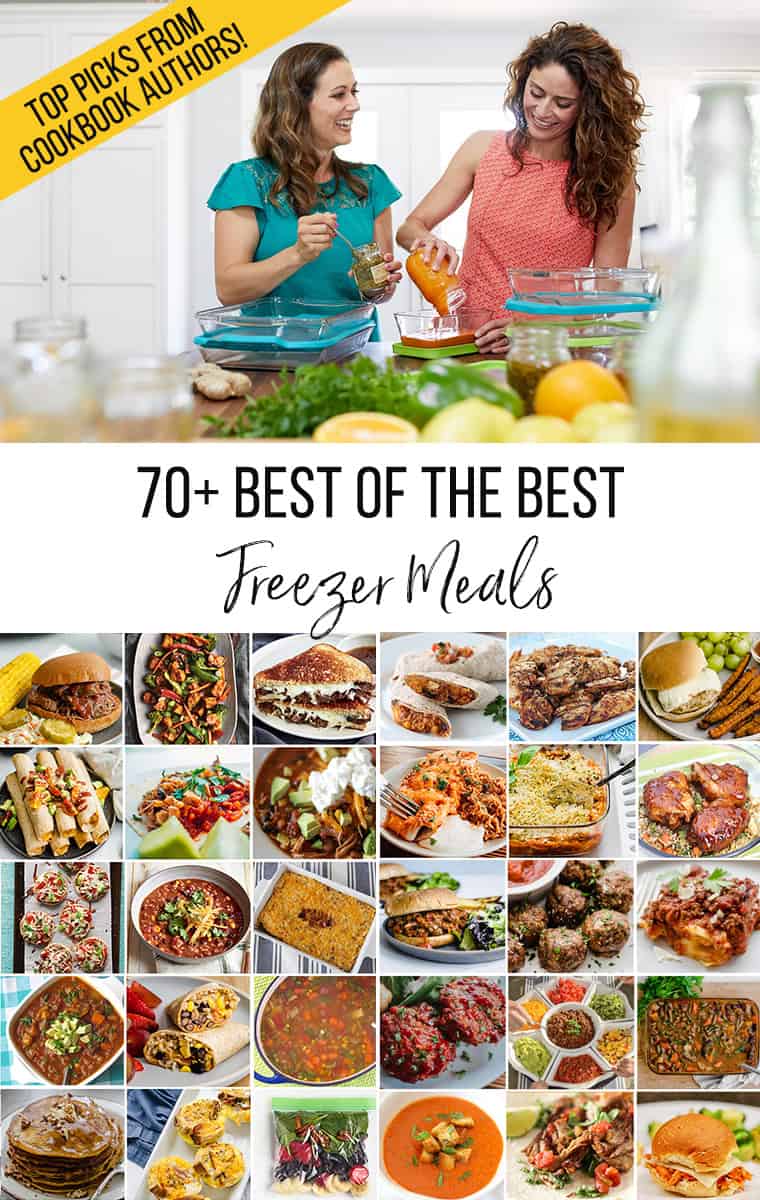 Disclaimer: Some of the links in this post are affiliate links. We are a participant in the Amazon Services LLC Associates Program, a means for us to earn fees by linking to Amazon.com and affiliated sites. Here's our full disclosure.
Why should I make freezer meals?
Freezer cooking has transformed the way we grocery shop, cook, and eat over the past 10+ years. We were both in Freezer Clubs for many years while our kids were young. Today, we cook and freeze in bulk every single week on our own. From our experience, preparing healthy freezer meals has so many benefits:
Saves money by buying in bulk and avoiding eating out.
Cuts down on time in the kitchen by prepping meals with the same ingredients at one time. Browning ground beef? Chopping veggies? Making soup? Why not double or triple it and then utilize the freezer? You save time on prep and clean up.
Helps you eat wholesome, delicious meals at home regularly.
Reduces dinnertime stress while bringing your family together around the table. This is what freezer cooking is really all about!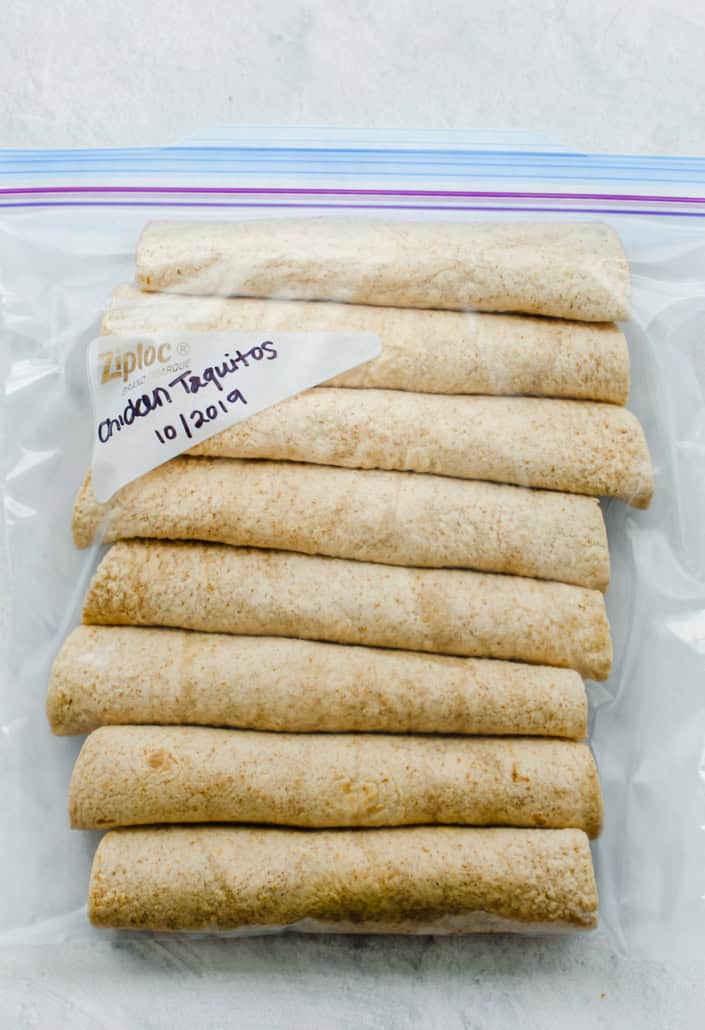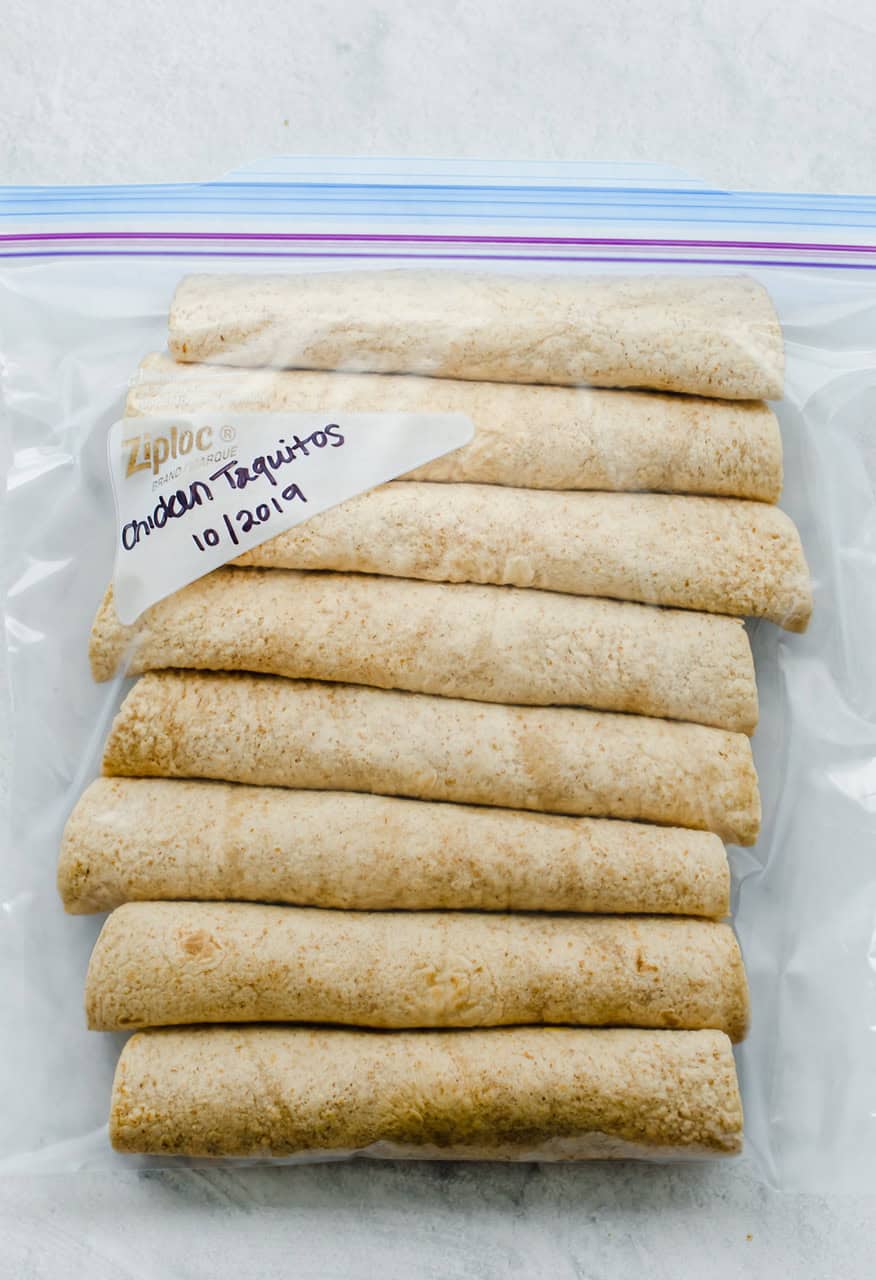 What is considered a healthy freezer meal?
In these 70+ healthy freezer meal recipes below, you'll see our real food philosophy represented. We aren't about diets, eating low-fat foods, or cutting out food groups.
We are about cooking tasty, homemade food and eating all things in moderation. We're also about cooking with as many unprocessed, organic and/or local ingredients as possible, including a variety of:
vegetables and fruit
whole grains
local, organic, and/or grass-fed meats (that's why we're big fans of Butcher Box*)
healthy fats (i.e. olive oil, avocado oil, coconut oil, grass-fed butter, and organic dairy)
*affiliate link
By simply making homemade meals for your family, you are cutting out loads of sodium, sugar, simple carbs, and harmful trans-fats that come from fast food and store-bought convenience foods. You control what goes in your food. Plus, you'll be motivated to grab what's on hand rather than going out to eat.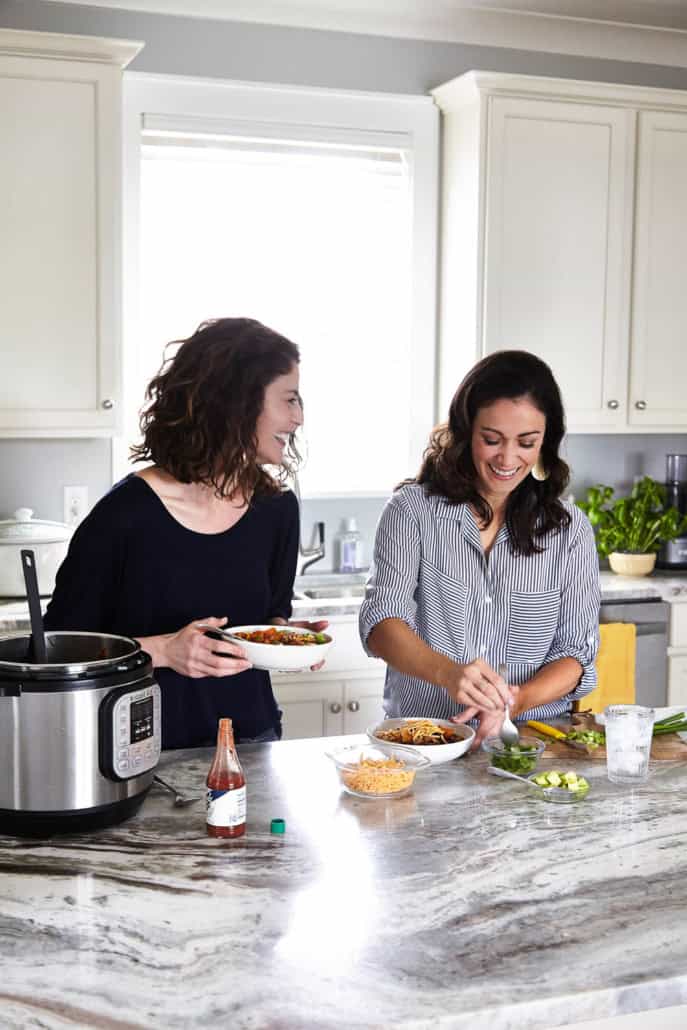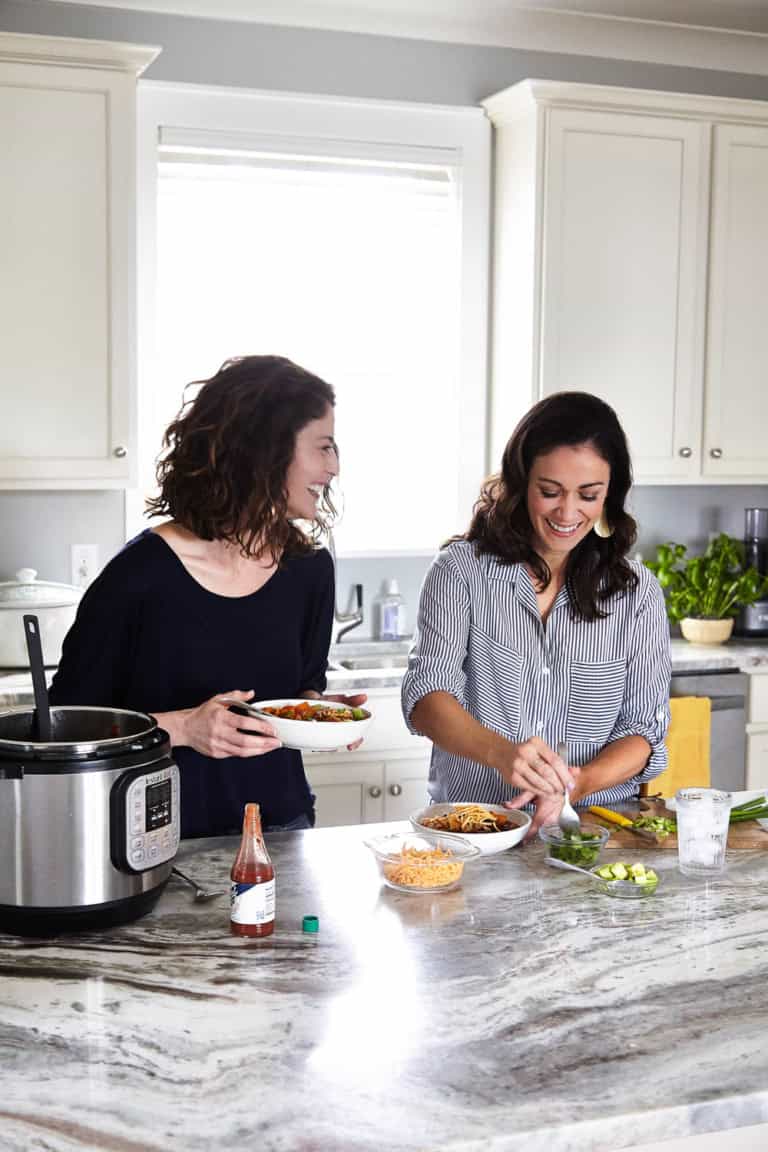 What's the best way to store freezer meals?
The best way to store and save a freezer meal is in any method that will prevent air from getting to the food. It really depends on the recipe! If you want more detail on how to properly freeze food, we have written a whole post about the 5 Best Ways to Package and Store Freezer Meals.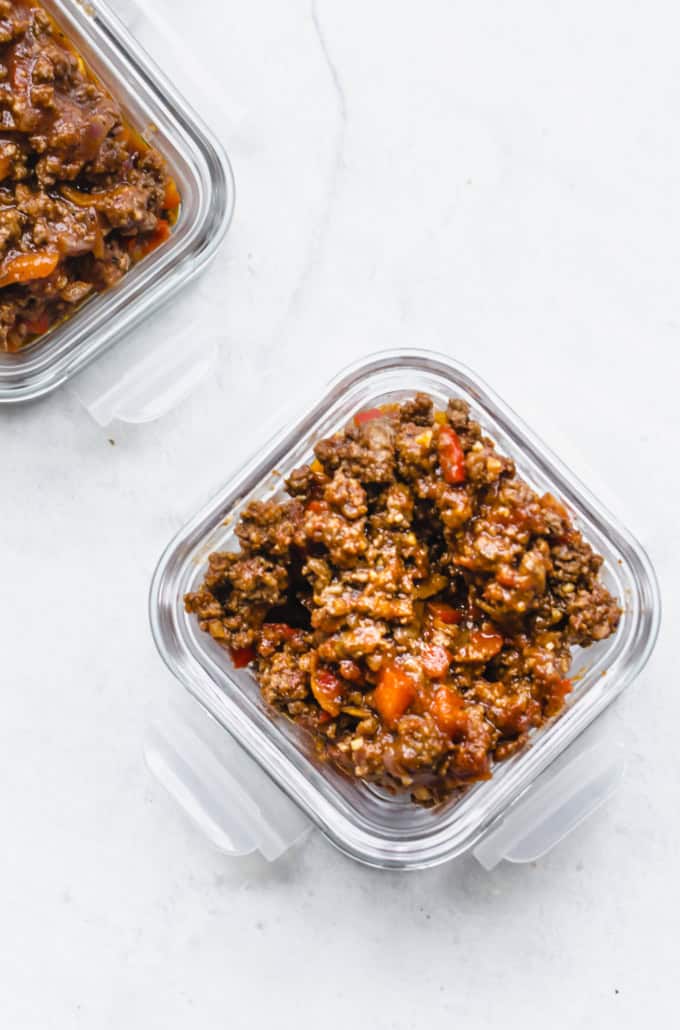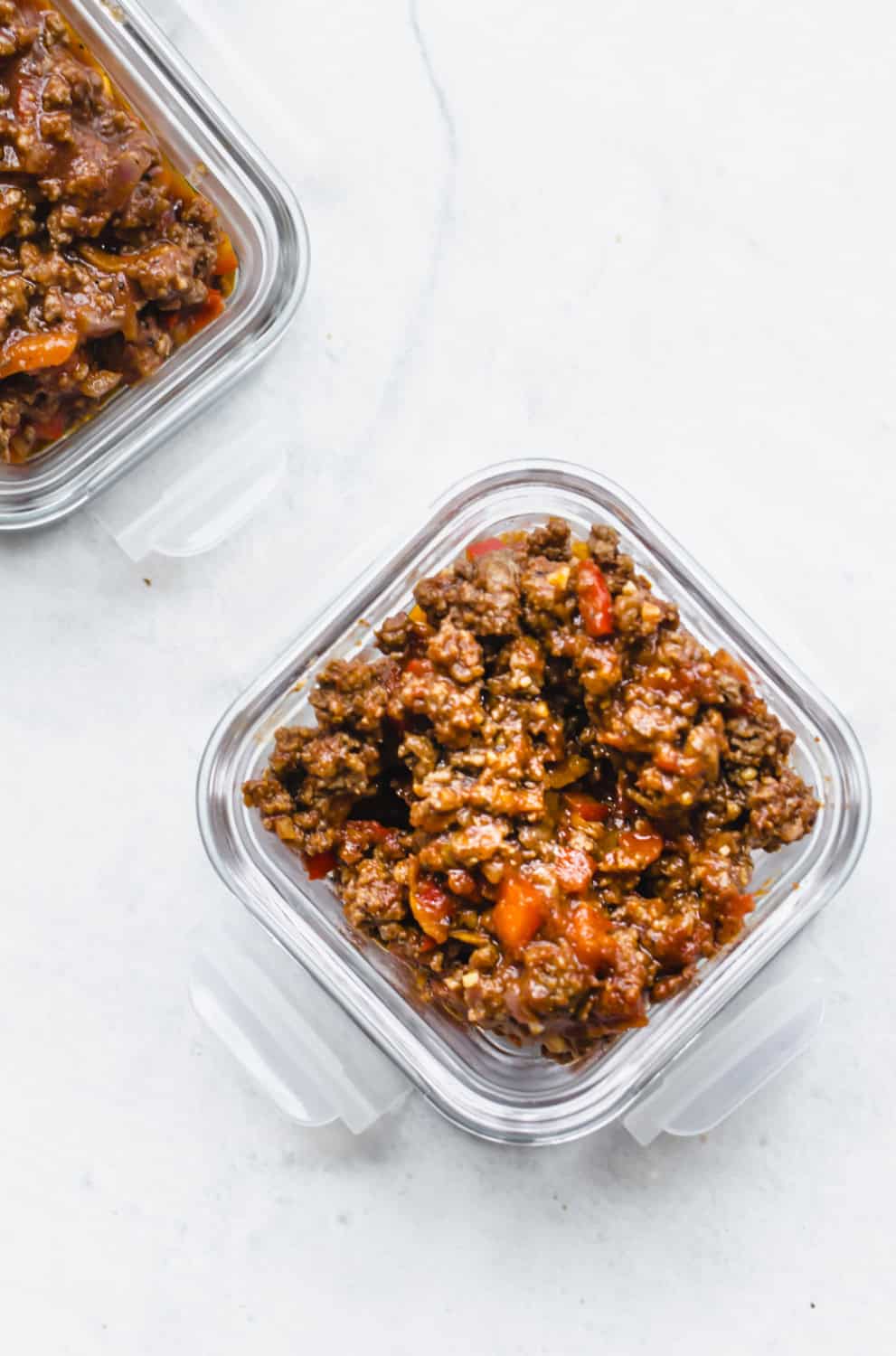 What's the best way to thaw a freezer meal?
Great question! There are 3 Safe Ways to Thaw Freezer Meals that we recommend.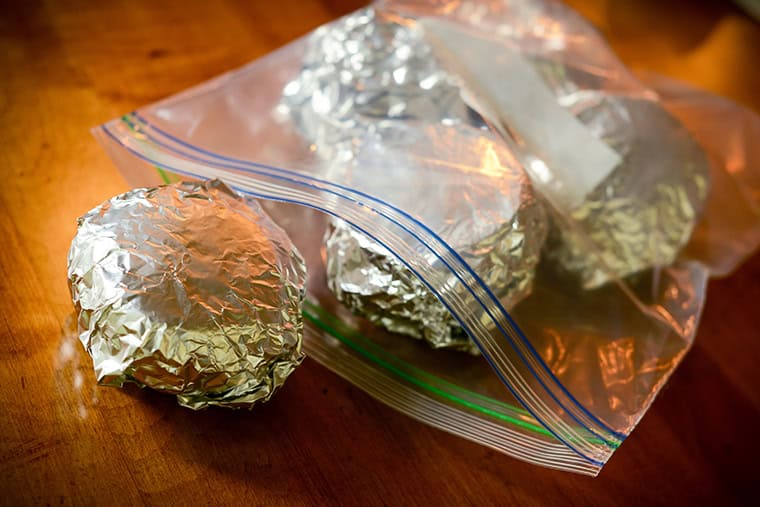 ---
We are pumped to share our 70+ favorite healthy freezer meal recipes in one post. But, for some, we realize that number can be overwhelming. If you want this list narrowed down, we have a free eBook of our Top 10 Easy Freezer Meals.
70+ Healthy Freezer Meals
Freezing instructions are included at the end of each recipe. Please share your successes, tips, or questions in the comments. We're here to help (and genuinely love to)!
Top 10 Breakfast Freezer Meals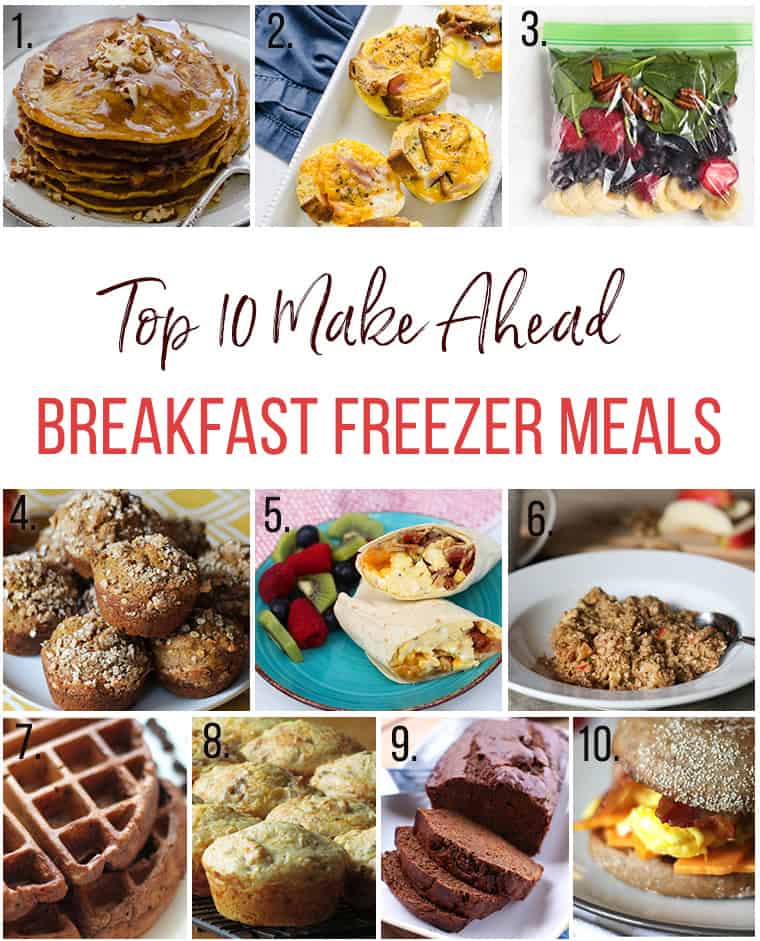 1. Whole Wheat Pumpkin Pancakes
2. Easy Breakfast Casserole Muffins
3. Freezer Smoothie Packs: 7 Recipes + Printable Labels + Shopping List!
4. Pumpkin Muffins with Crumble Topping
6. Apple Cinnamon Baked Oatmeal
7. Double Chocolate Zucchini Waffles
9. Chocolate Sweet Potato Banana Bread
10. Make-Ahead Breakfast Sandwiches
Bonus: 7 Overnight Oats Recipes: These aren't a freezer meal but you can make them ahead for the week and store in the fridge!
Top 10 Chicken Freezer Meals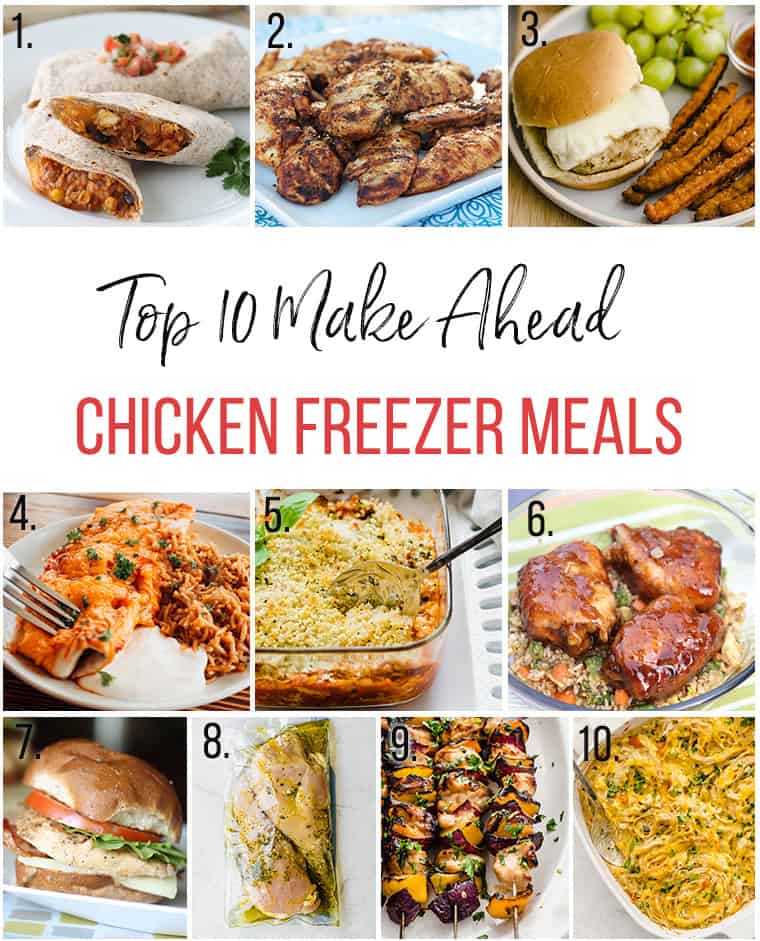 2. Southwest Grilled Chicken Tenders
3. Mini Chicken Burgers with Herbs
4. Cheesy Chicken and Black Bean Enchiladas
6. Slow Cooker Teriyaki Chicken Thighs
9. Honey Garlic Chicken Kabobs
Top 10 Beef Freezer Meals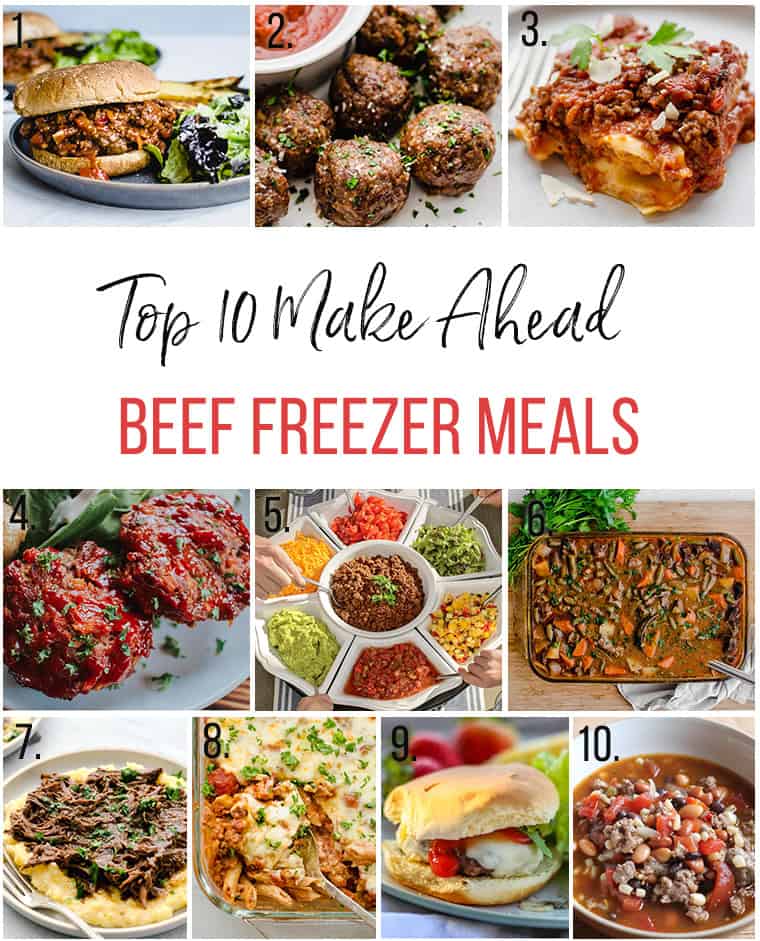 5. Taco Kit Using this Seasoning
10. Crowd Pleaser Mexican Soup
Tip: This is the place where we both source our grass-fed beef (and it's delivered to our doorsteps)
Top 10 Slow Cooker Freezer Meals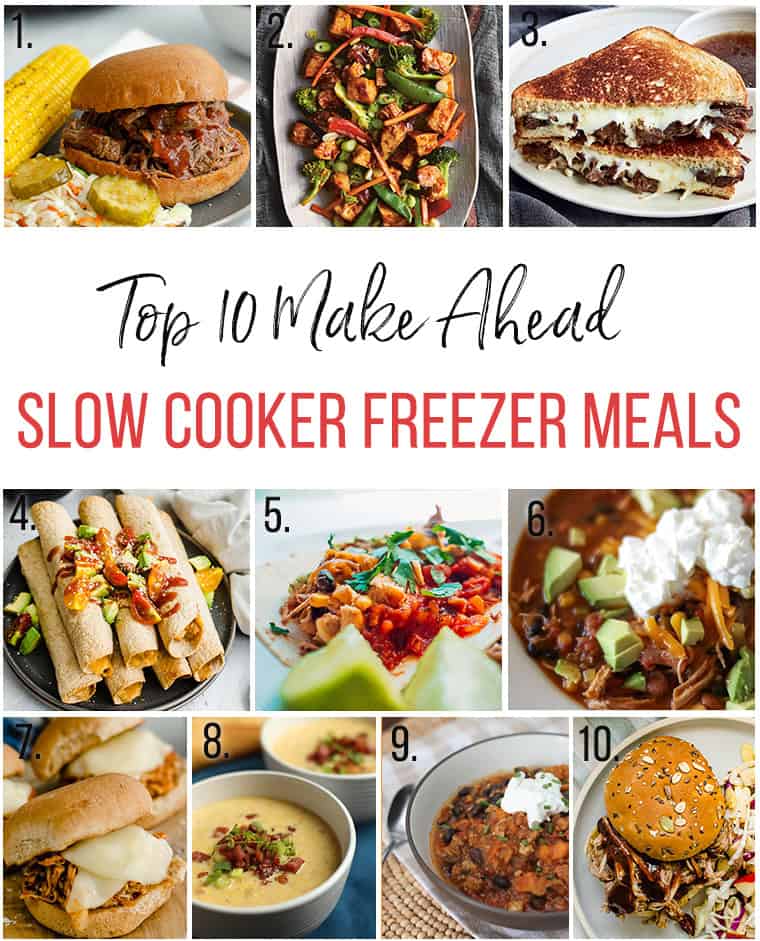 2. Slow Cooker Honey Bourbon Chicken
3. French Dip Grilled Cheese Sandwiches
4. Chicken and Cheese Taquitos
7. Slow Cooker Chicken Parmesan Sliders
8. Cheddar and Bacon Potato Soup
9. Turkey and Sweet Potato Chili
10. Slow Cooker BBQ Pulled Pork
Bonus: Never overcook (or undercook!) a slow cooker meal again. Download our printable Slow Cooker Cooking Times Chart!
Top 10 Instant Pot Freezer Meals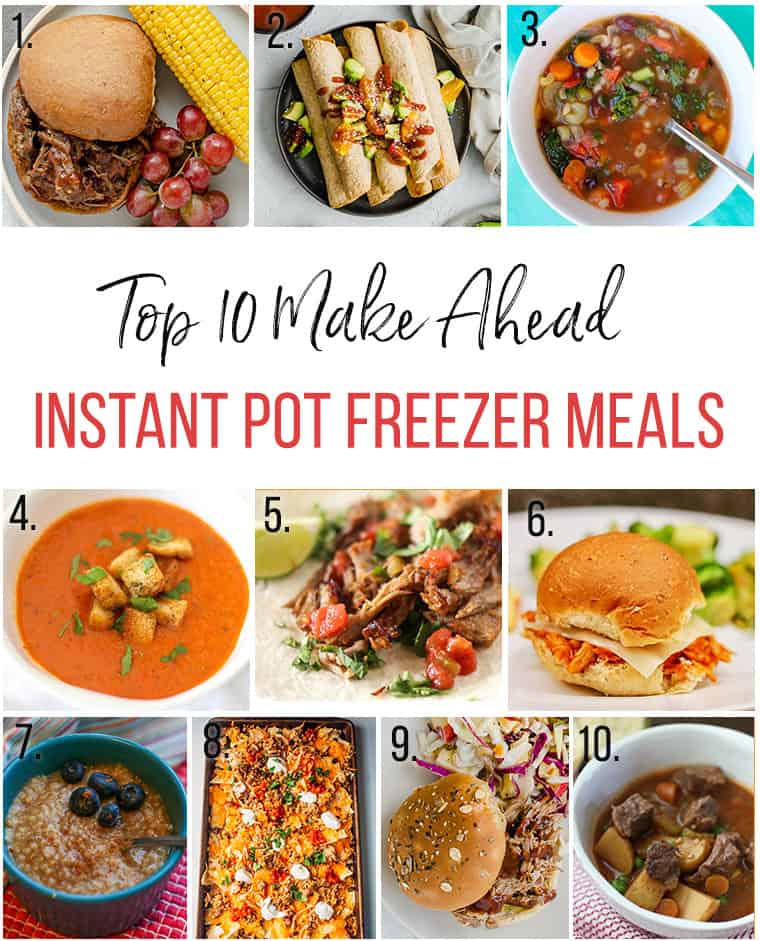 1. Instant Pot BBQ Beef Sandwiches
2. Chicken and Cheese Taquitos
4. Tomato Soup
10. Beef Stew
Did you know we have an Instant Pot cookbook called From Freezer to Cooker? While testing recipes for this book, we honed in on the best timing and methods for cooking different types of meals in the Instant Pot. We are excited to share this valuable information with you.
YOU CAN DOWNLOAD A PRINTABLE VERSION OF OUR INSTANT POT COOKING TIMES CHART HERE.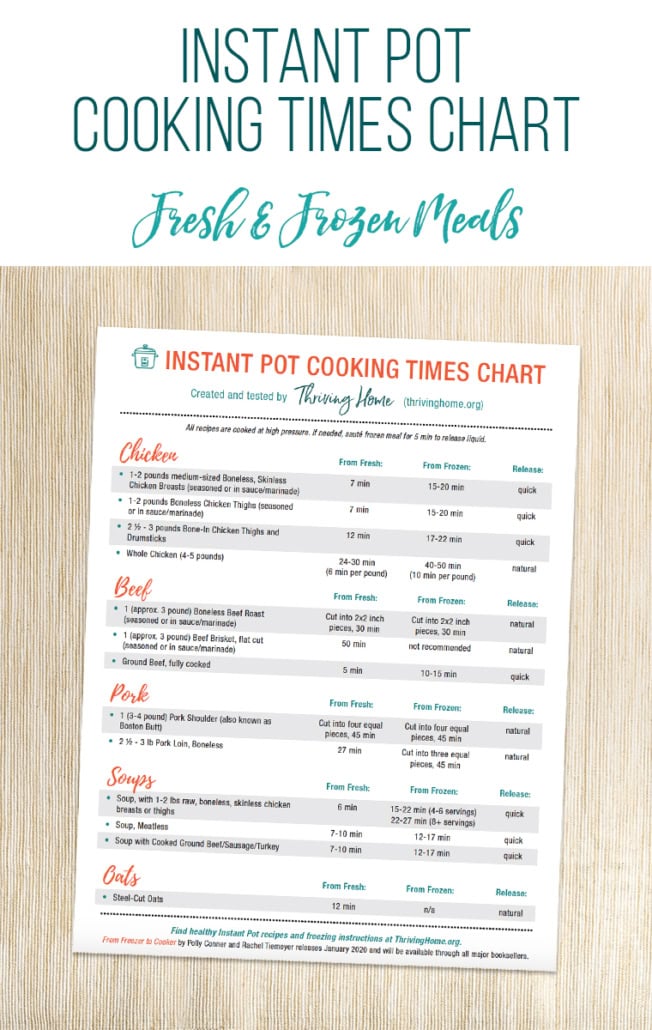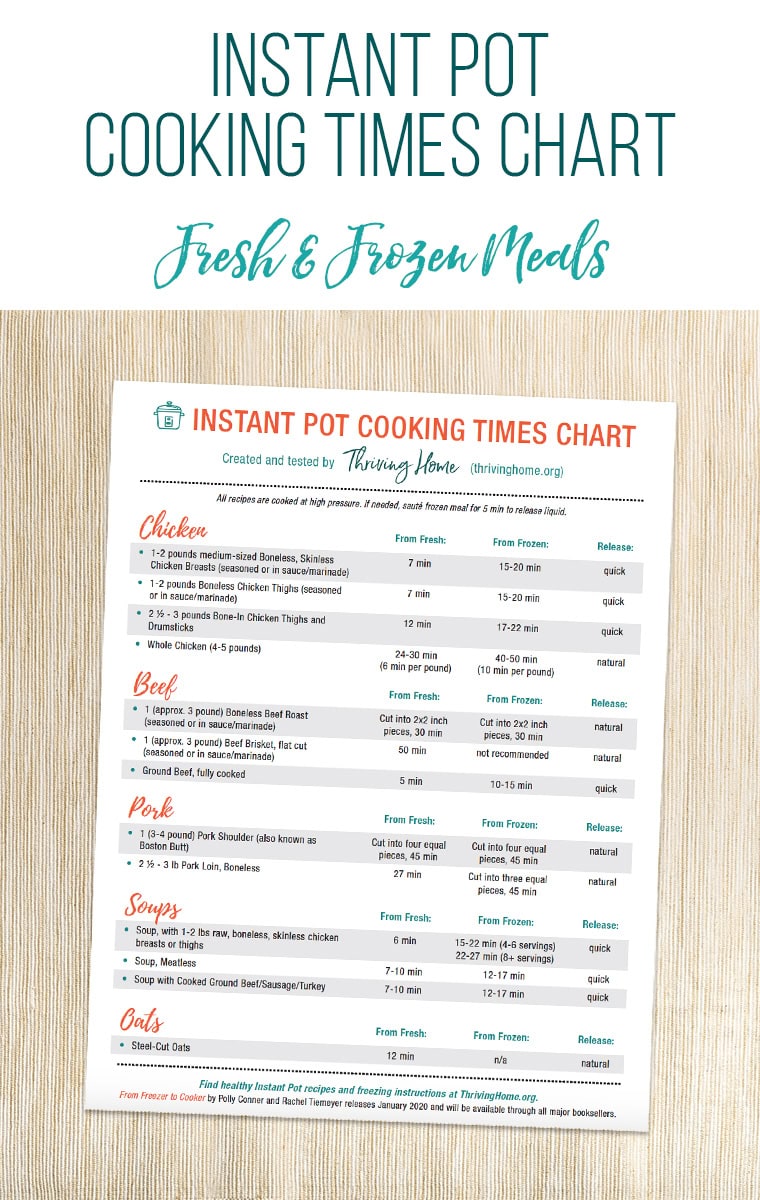 Top 10 Vegetarian Freezer Meals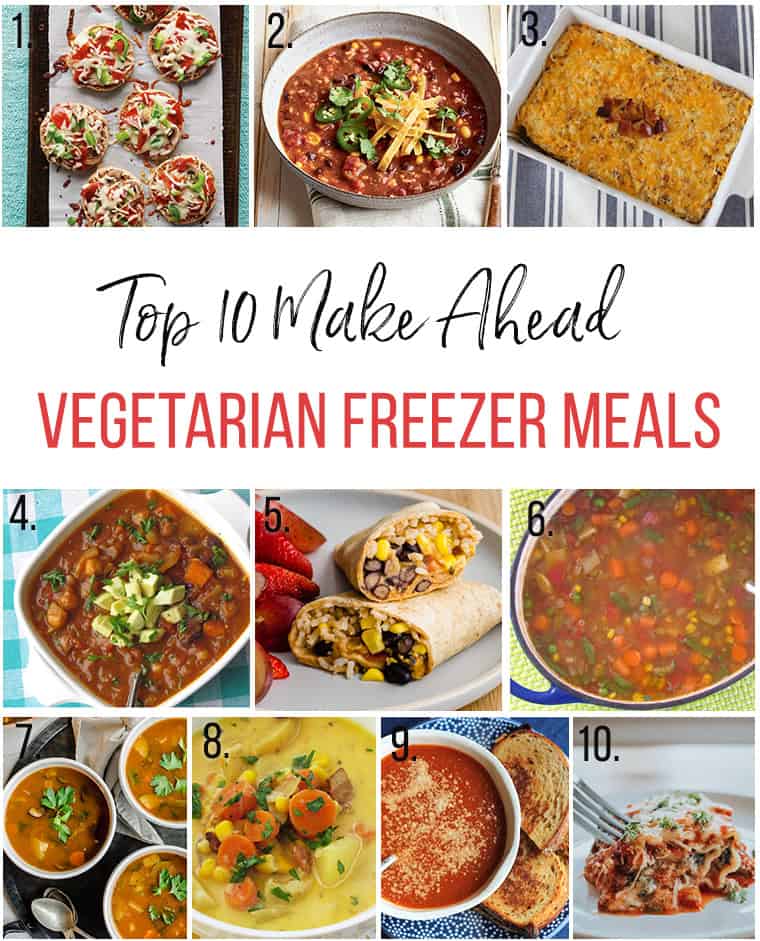 3. Hash Brown Casserole (omit bacon)
8. Autumn Chowder (omit bacon)
Top 10 Misc. Freezer Meals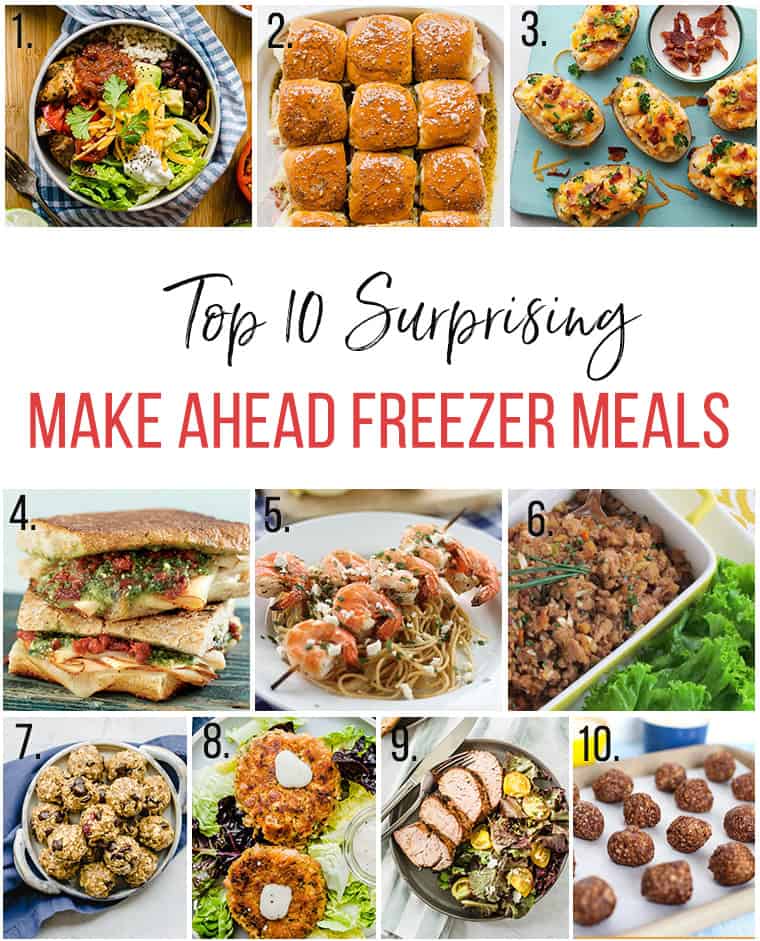 3. Ultimate Twice Baked Potatoes (or Super Stuffed Potatoes)
8. Salmon and Sweet Potato Cakes
9. Pork Tenderloin with Seasoned Rub
10. Chocolate Oatmeal Energy Bites
We hope our monster list of healthy freezer meals helps your home run just a little smoother!
Want to Stock Your Freezer with 6 Meals in 1 Hour?
Try our SUPER POPULAR 1 Hour Freezer Prep sessions. We give you everything you need to throw together 6 delicious, family-sized freezer meals in just 1 hour! Anyone can do it with our simple instructions, organized shopping list, and pre-filled out freezer labels.
https://thrivinghomeblog.com/wp-content/uploads/2019/01/Screen-Shot-2020-08-13-at-12.15.41-PM.jpg
666
896
Rachel Tiemeyer
https://thrivinghomeblog.com/wp-content/uploads/2019/10/thrivinglogo.png
Rachel Tiemeyer
2020-08-13 08:20:44
2021-01-11 20:56:20
Top 70+ Healthy Freezer Meals (Best of the Best by Category!)