This post may contain affiliate or sponsored links. Please read our disclosure policy.
Your family will love this easy, make-ahead Breakfast Burrito Recipe that goes straight from the freezer to the microwave or oven for a fast and satisfying breakfast. My family also loves breakfast burritos for dinner!
Why Make Breakfast Burritos
Let us make a quick case for why it's worth spending an hour or two preparing a load of breakfast burritos to have on hand.
Crowd-pleaser! These suckers are cheesy, gooey, melty deliciousness wrapped in a tortilla. We make them for breakfast or dinner with rave reviews from the kids and adults.
Healthy! As you know, breakfast is the most important meal of the day. With eggs, cheese, and bacon, this protein-packed meal will stick with you (or your kids) for hours. Add in some veggies or serve with some of our healthy suggestions below to round out this quick breakfast.
Grab-and-Go! They are super easy to warm up in the morning, grab, and go. Just pull out the amount of burritos you need and follow our reheating instructions.
Customizable! They are easy to customize with add-ins. See our ideas below.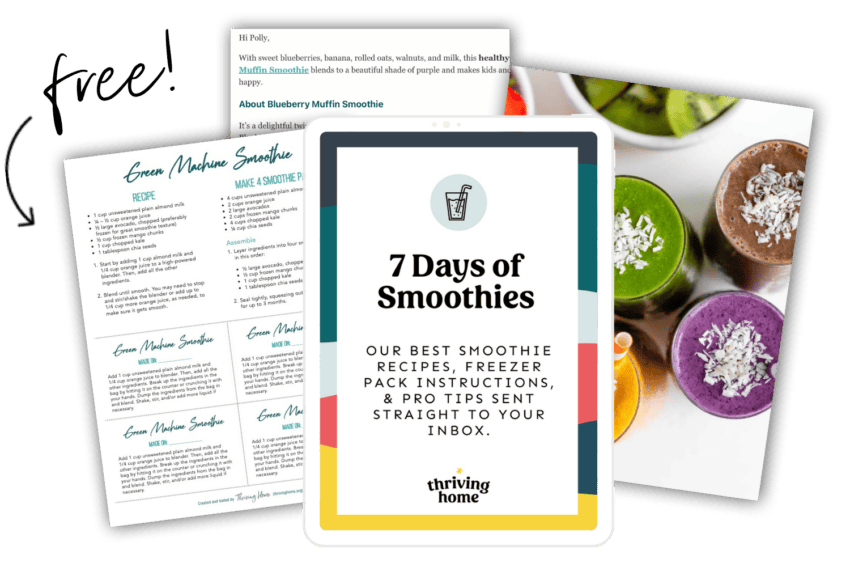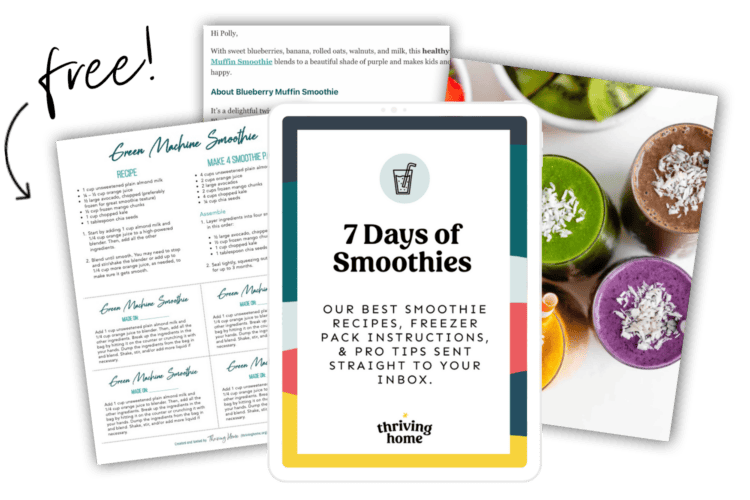 7 Must Have Smoothie Recipes
Get our best smoothie recipes, freezer pack instructions, & pro tips sent straight to your inbox.
What Ingredients Should I Put in a Breakfast Burrito?
You can alter them to fit your own taste preferences easily. We have provided a basic recipe that includes scrambled eggs, cheese, hash browns, and bacon. This 4-ingredient combo alone is a crowd favorite!
If you want to add in some more nutrition and flavor, though, try some of these suggestions that would work well:
Diced and sautéed bell peppers, red onion, and jalapeño peppers
Sliced and sautéed white button mushrooms
Salsa
Black beans
Chopped spinach
Sliced green onions
Chopped fresh herbs, like parsley, cilantro, or basil
Switch up the cheese and try something like Monterey Jack, Pepper Jack, feta, or goat cheese
Serve diced avocado or guacamole on top (do not freeze in the burrito; instead add this after reheating it)
Mix Up the Meat!
If you want to use another meat besides bacon, you can also use cooked sausage or chorizo.
Can I use corn tortillas?
Because corn tortillas are a bit more fragile, they don't hold up well in this recipe. Especially if you plan to freeze the burritos. Stick with flour tortillas with this recipe.
How to Prep and Freeze Breakfast Burritos
Prepping Breakfast Burritos isn't hard but it will take a little work on the front end. Trust me. You will be sooo happy to have these on hand in your freezer afterward.
Check out our short video showing you just how easy it is…
The Most Efficient Way to Make Breakfast Burritos
Here's how we would suggest breaking down the work in order to be most efficient and to use only one large sauté pan:
Fry your bacon in a large sauté pan (I love my cast iron pan). If you don't want to fry your bacon on the stove, you can always cook your bacon in the oven.
Using the bacon fat that is left (yum!), cook the hash browns according to package instructions in the same pan. Set aside on a paper-toweled lined plate.
Then, using the same pan, cook your scrambled eggs according to the recipe.
Set up your assembly line, and wrap and roll!
Pro Tip!
Our recipe makes 8 burritos. Why not double or triple it if you're going to already be shopping, prepping, wrapping, and freezing? It's such a great use of your time.
How to Freeze Breakfast Burritos
The key to success when freezing any freezer meal is to reduce exposure to air.
That's why we recommend tightly wrapping each individual burrito in foil (this also is handy when heating in the oven!) and then placing them in a gallon-sized freezer bag.
Squeeze out any excess air before sealing.
How to Reheat a Breakfast Burrito
You have a few options to reheat a frozen breakfast burrito:
1) Microwave Method: This is the fastest method. Unwrap the foil from the frozen burrito, wrap in a moist paper towel, and microwave using the defrost setting for 2 to 3 minutes, or until warmed through.
2) Oven Method (Frozen): Preheat the oven to 350°F. Bake the frozen breakfast burrito (in foil) for 45-60 minutes, until warmed through.
3) Oven Method (Thawed): Thaw the burritos in the refrigerator overnight. Bake (in foil) for about 15 minutes in a 350°F oven, until warmed through and the cheese is melty.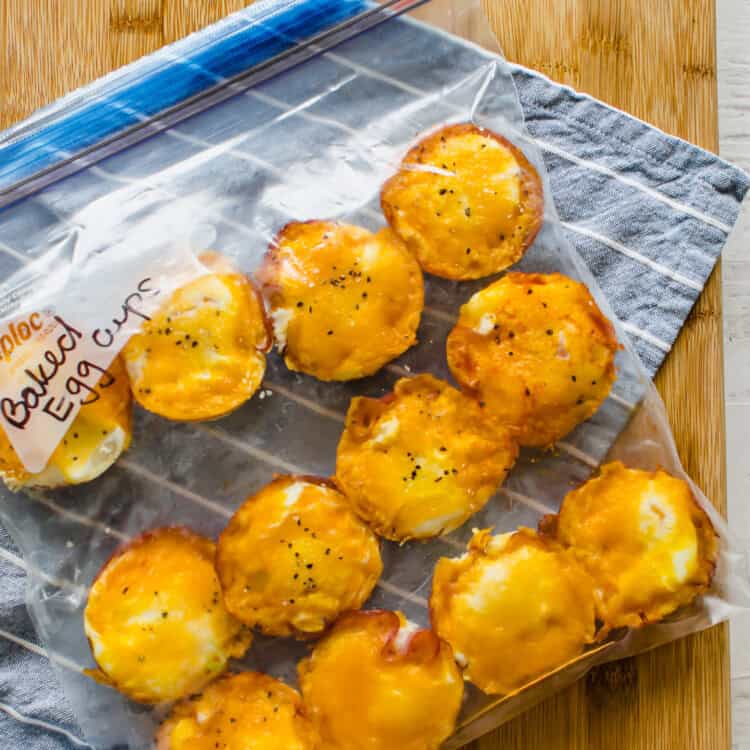 Want More Make Ahead Breakfast Ideas?
Foolproof make-ahead breakfast recipes that will help you start the morning the right way.
See Top 10 Make Ahead Breakfasts
What to Serve with Breakfast Burritos
Breakfast burritos can be a complete meal in and of themselves, especially if you include some of our optional add-ins like sauteed peppers and onions or chopped spinach.
If you opt for our basic recipe, however, you may want to serve up some fruit and veggies. Here are som ideas:
Avocado Lime Salsa makes a tasty fresh topping or side.
Fruit Salad is easy to prep ahead. Wash, cut up, and toss together your favorite berries and fruit, like kiwi, pineapple, and cantaloupe.
Serve Roasted Vegetable Hash on the side.
Smoothies! Try one of these favorites:
Now grab a friend and get cooking, wrapping, and freezing just in time for back to school breakfasts. Be sure to check out all of our breakfast recipes for more delicious ideas.
More Make Ahead Breakfast Recipes
Did you make this? Snap a photo and tag us on Instagram at @thrivinghome so we can see your creations and cheer you on!
Freezer Breakfast Burritos
An easy make-ahead Breakfast Burrito Recipe that goes straight from the freezer to the microwave or oven for a fast, satisfying breakfast.
Prep:
30
Cook:
15
Total:
45 minutes