Chicken Parmesan Casserole
Chicken Parmesan Casserole is by far one of the most popular recipes on Thriving Home. It is super easy to make, can easily be turned into a freezer meal, and is very family friendly. This real food, healthy dinner recipe is a staple in our home.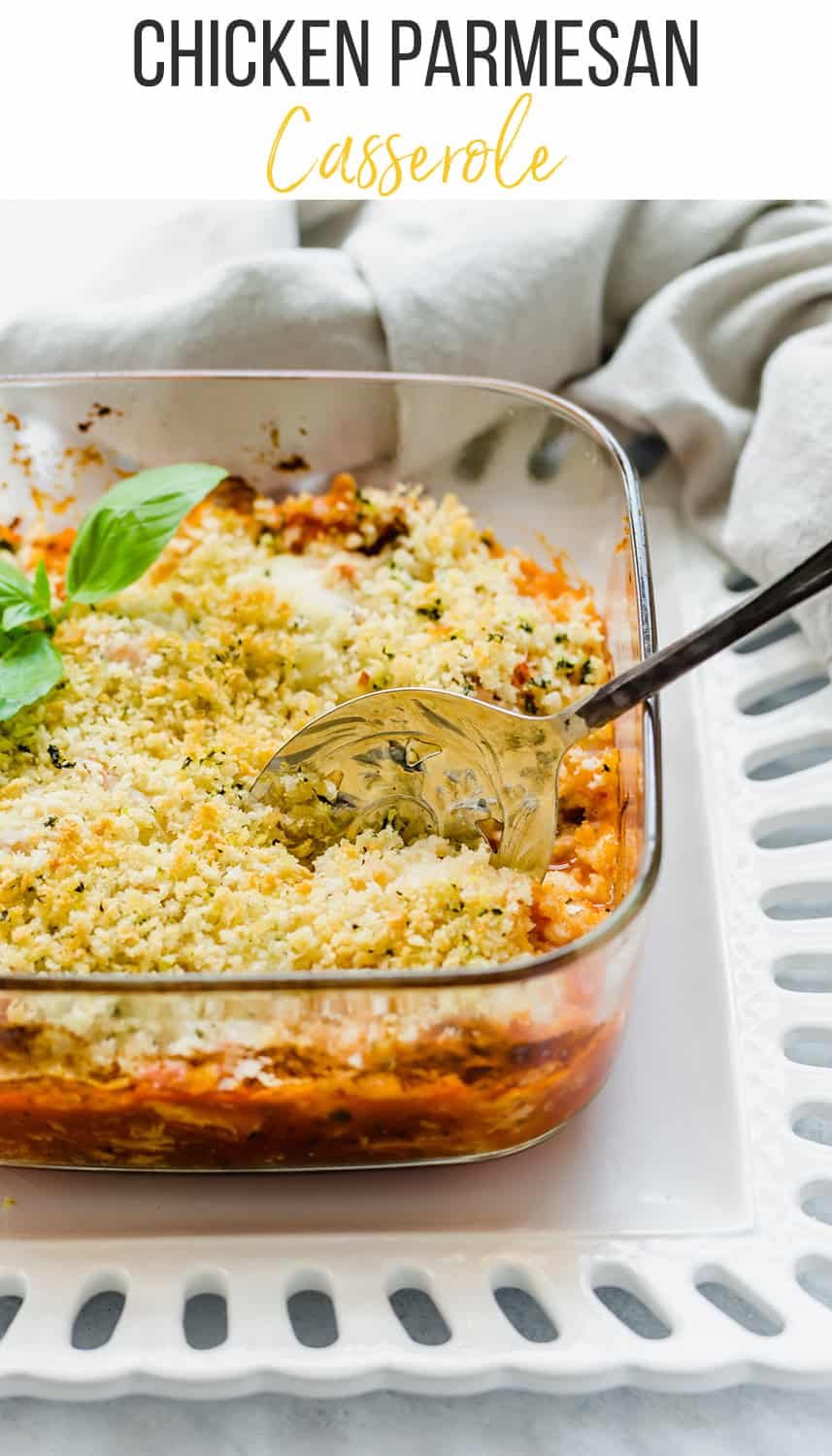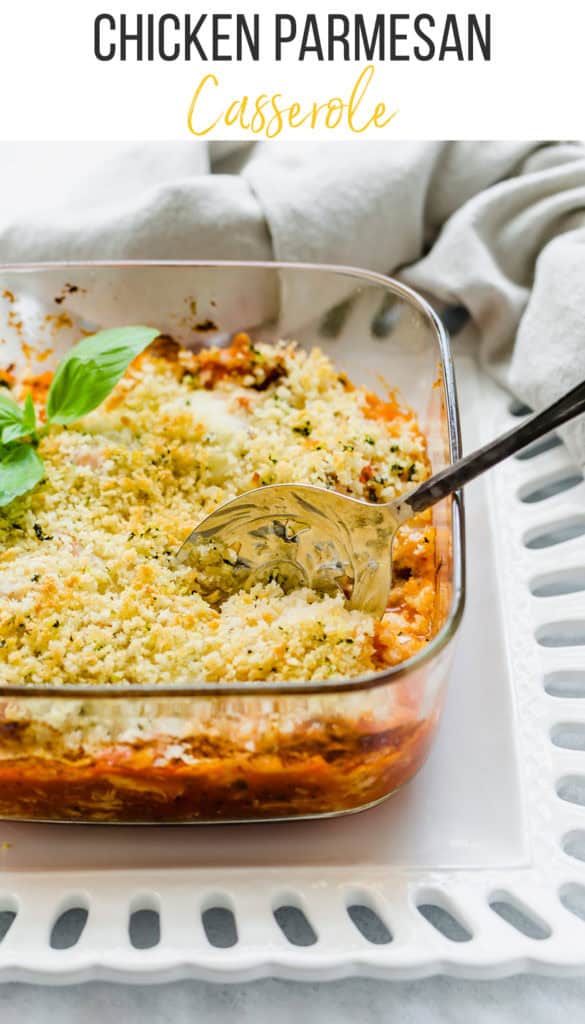 We joke around that this is the recipe got us a cookbook deal.
Reason is, about 7 years ago, Chicken Parmesan Casserole went viral on Pinterest, brought us lots of new followers who were seeking simple & delicious freezer meals. This increased attention snowballed and helped us catch the attention of publishers.
We've since carved ourselves a niche in the freezer cooking world with two cookbooks, 1 Hour Meal Prep Sessions, and more.
All thanks to Chicken Parmesan Casserole. Just watch and see how easy this meal is!
Here's How Easy it Comes Together!
What Ingredients Do I Need to Make Chicken Parmesan Casserole?
Another perk of this recipe is how simple the ingredients are. I bet you have most of these ingredients on hand:
Cooked Chicken – Use rotisserie chicken as a shortcut.
Marinara sauce – You can make your own marinara or use store bought. Choose the brand with the most recognizable ingredients.
Shredded mozzarella – I like to shred my own cheese. Here's why!
Panko or whole wheat bread crumbs – Panko breadcrumbs will give it a great texture on top. You can use regular bread crumbs in a pinch though.
A few fresh herbs – Adds some nice flavor and color.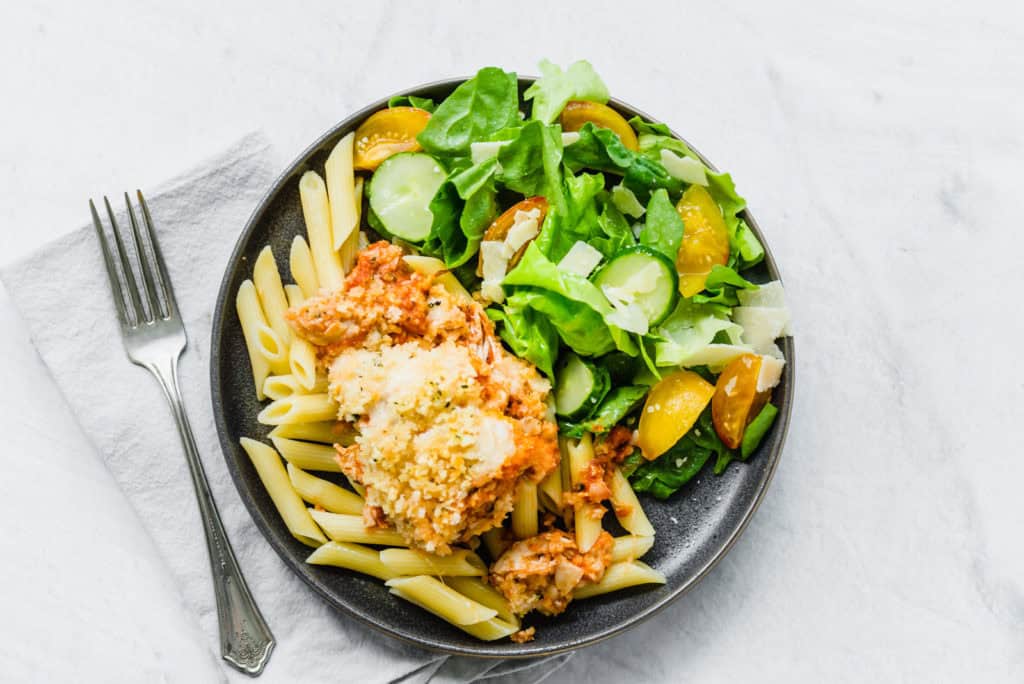 A Great Use of Leftover Chicken!
Not only is this recipe simple and delicious but it is very resourceful. What I mean by this is Chicken Parmesan Casserole is a great way to use leftover chicken.
Often times, I'll have leftover cooked chicken from a Roasted Whole Chicken or a Rotisserie Chicken. When this is the case I throw it in the freezer until I have a few cups.
This makes it super easy to put together the casserole on a busy night. Just thaw the chicken and use it in the casserole. Easy peasy way to use up some leftovers in a tasty way.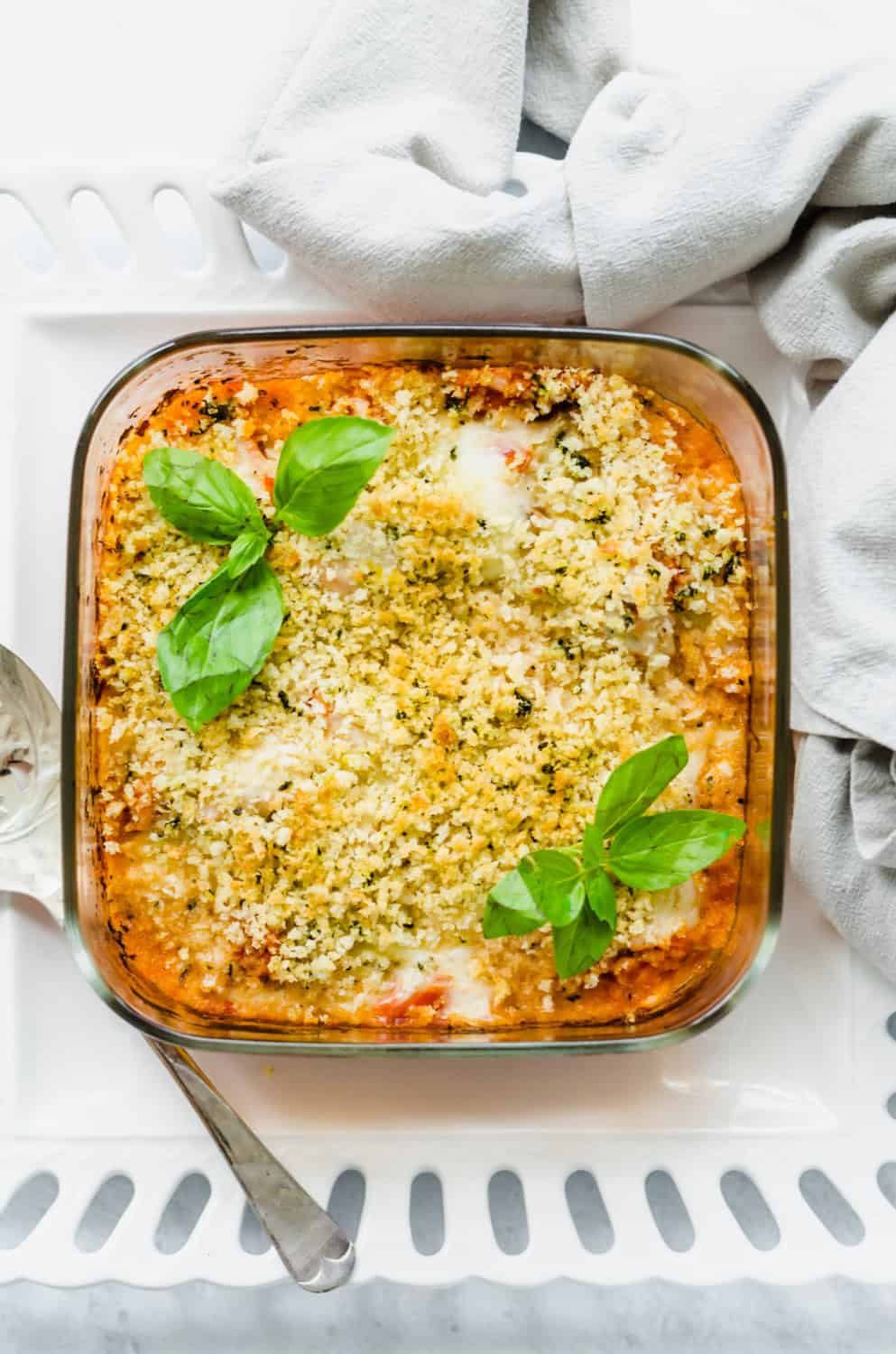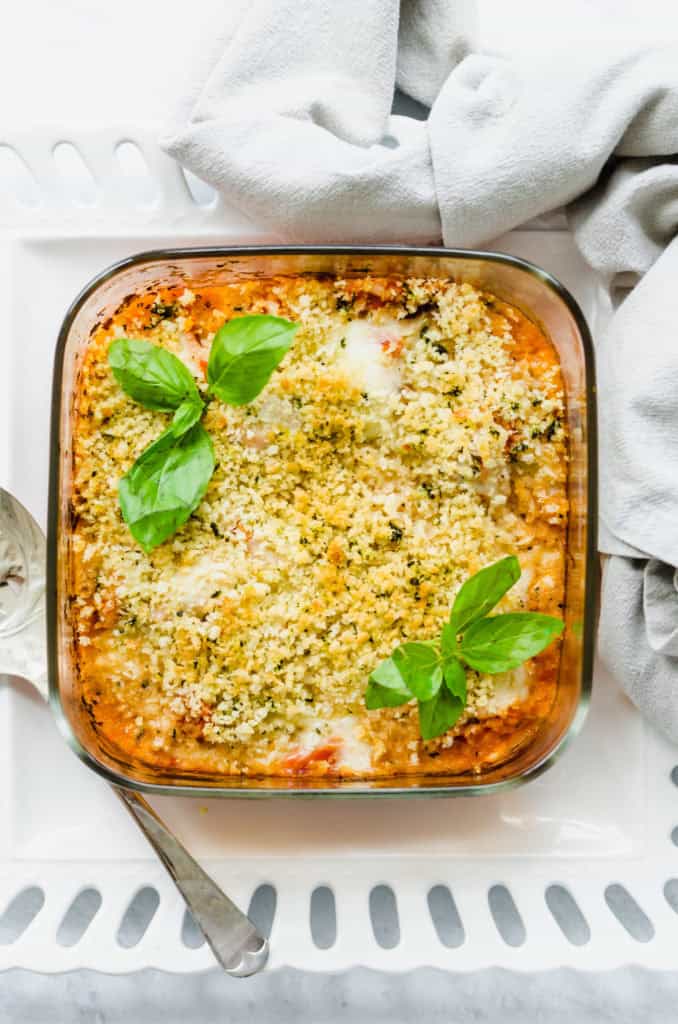 Note: We are a participant in the Amazon Services LLC Associates Program, an affiliate advertising program designed to provide a means for us to earn fees by linking to Amazon.com and affiliated sites. Read our full disclosure policy here.
Make it a Freezer Meal
The easy-to-print Chicken Parmesan Casserole recipe is below, but I wanted to mention that, as with so many of our freezer-friendly recipes, this Chicken Parmesan Casserole freezes wonderfully. Simply assemble the casserole (with cooked chicken) and freeze it in an airtight container before baking.
When you want to make it, thaw it safely and bake it according to the recipe instructions.
While it may be easier to buy the disposable foil containers, it really makes sense to stock up on some quality, safe dishes that you can bake AND store in.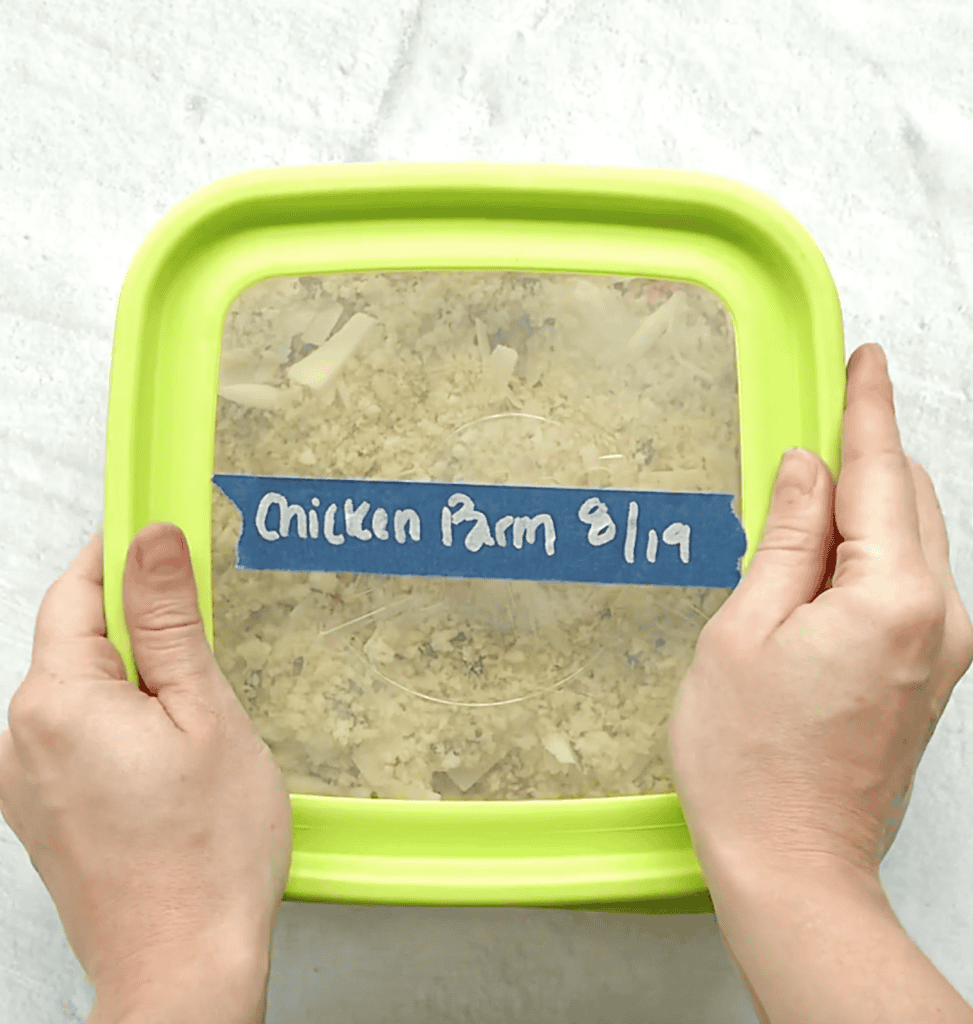 How to Serve Chicken Parmesan Casserole
I almost always serve this casserole over cooked pasta. You could use penne, linguine, or really any type of noodle you have on hand. Chicken Parmesan Casserole can also be served over cooked brown rice. Lastly, it's delicious if simply served by itself!
Here are some recipe ideas that would go well with this dish: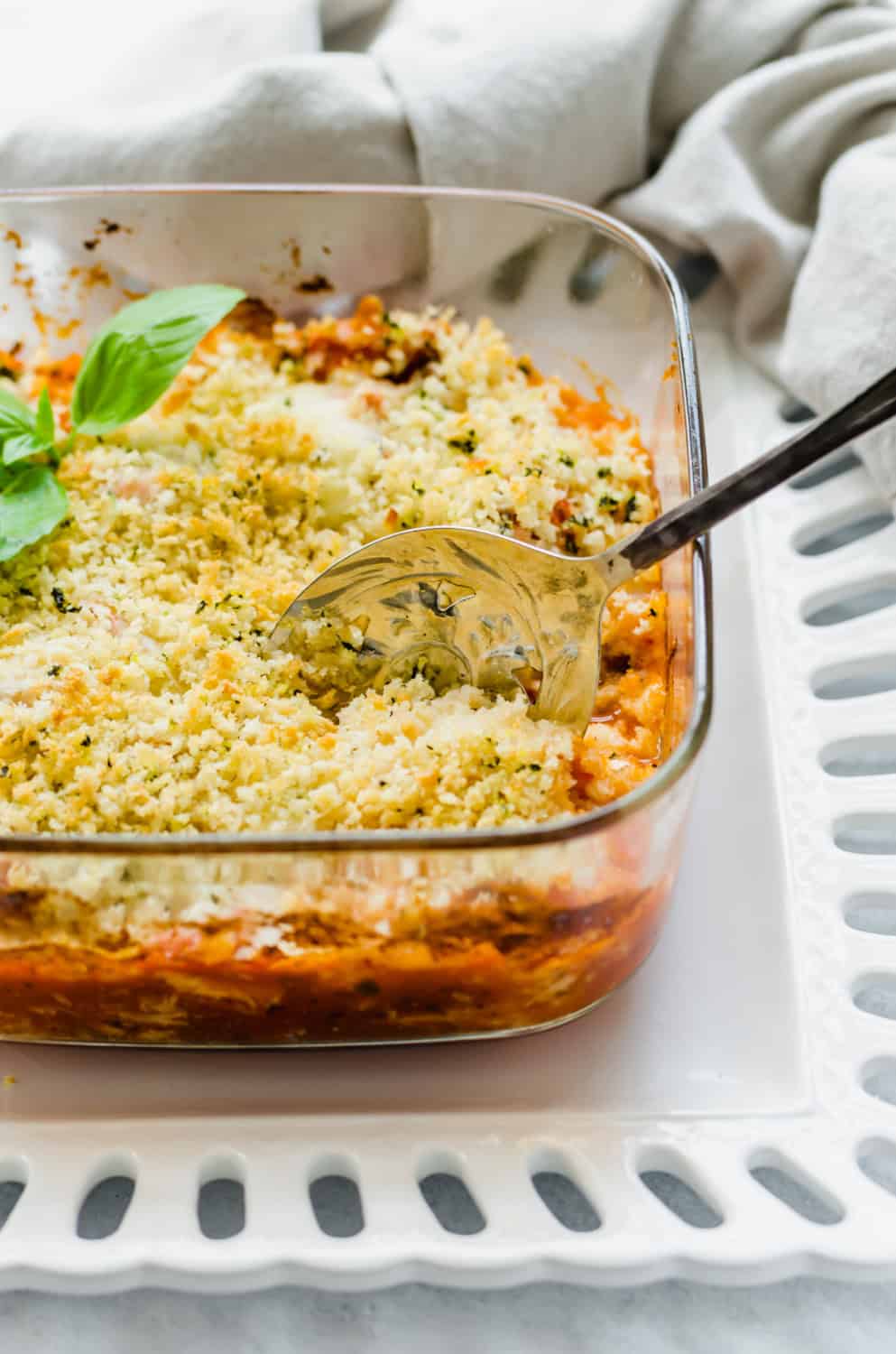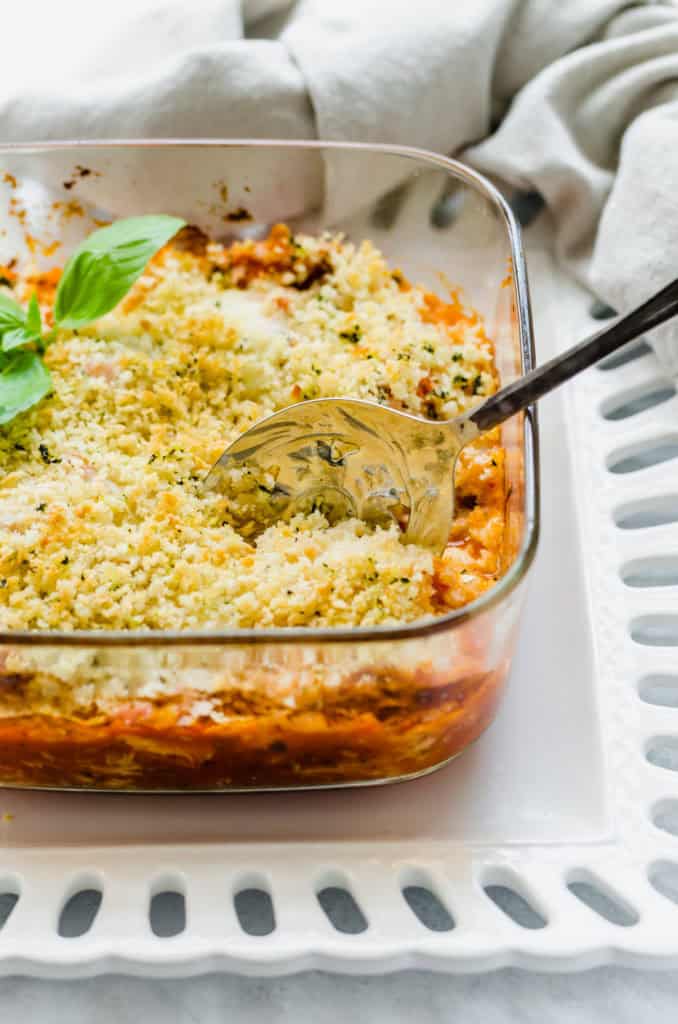 Did you make this? Snap a photo and tag us on Instagram at @thrivinghome so we can see your creations and cheer you on!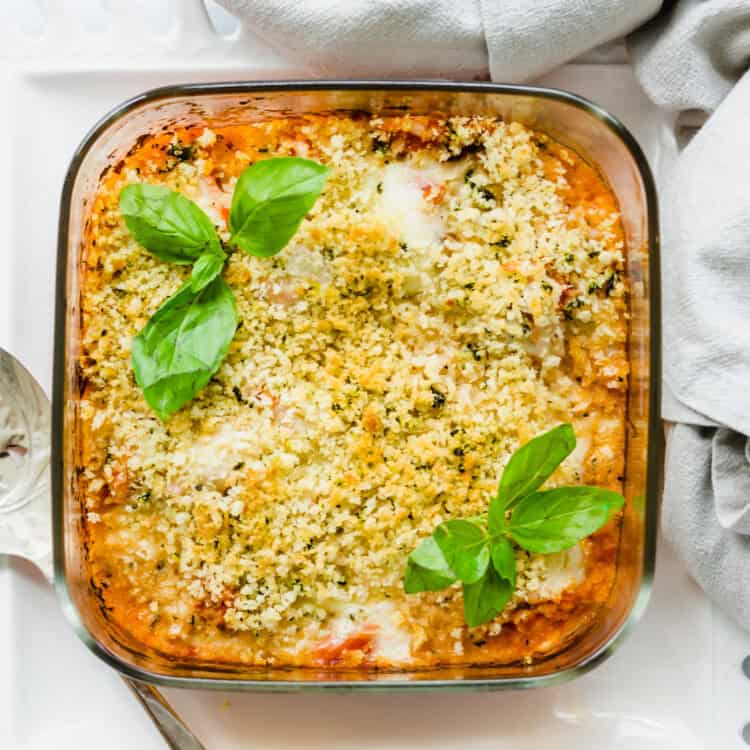 Chicken Parmesan Casserole
This family favorite is super easy to make, made with real food ingredients, and also freezer friendly.
Prep:
20 mins
Cook:
25 mins
Total:
45 mins
Be sure to check out our Top 15+ Chicken Freezer Meals. Every recipe can be made fresh or from frozen.