This delicious fall-inspired Autumn Chopped Salad will quickly become your go-to holiday salad. It's great for large group gatherings or compliments a weeknight meal at home.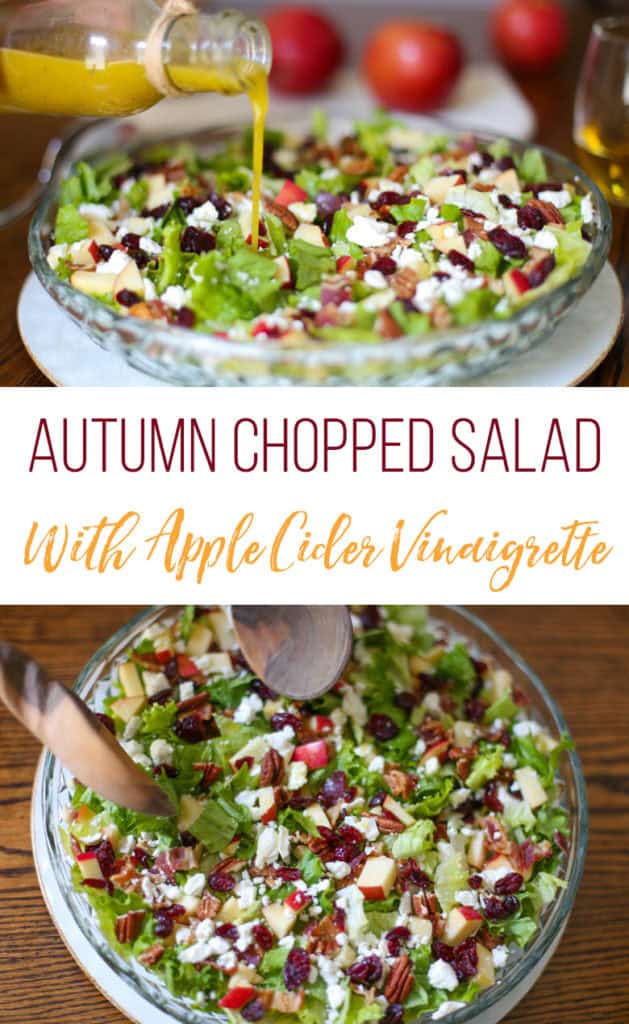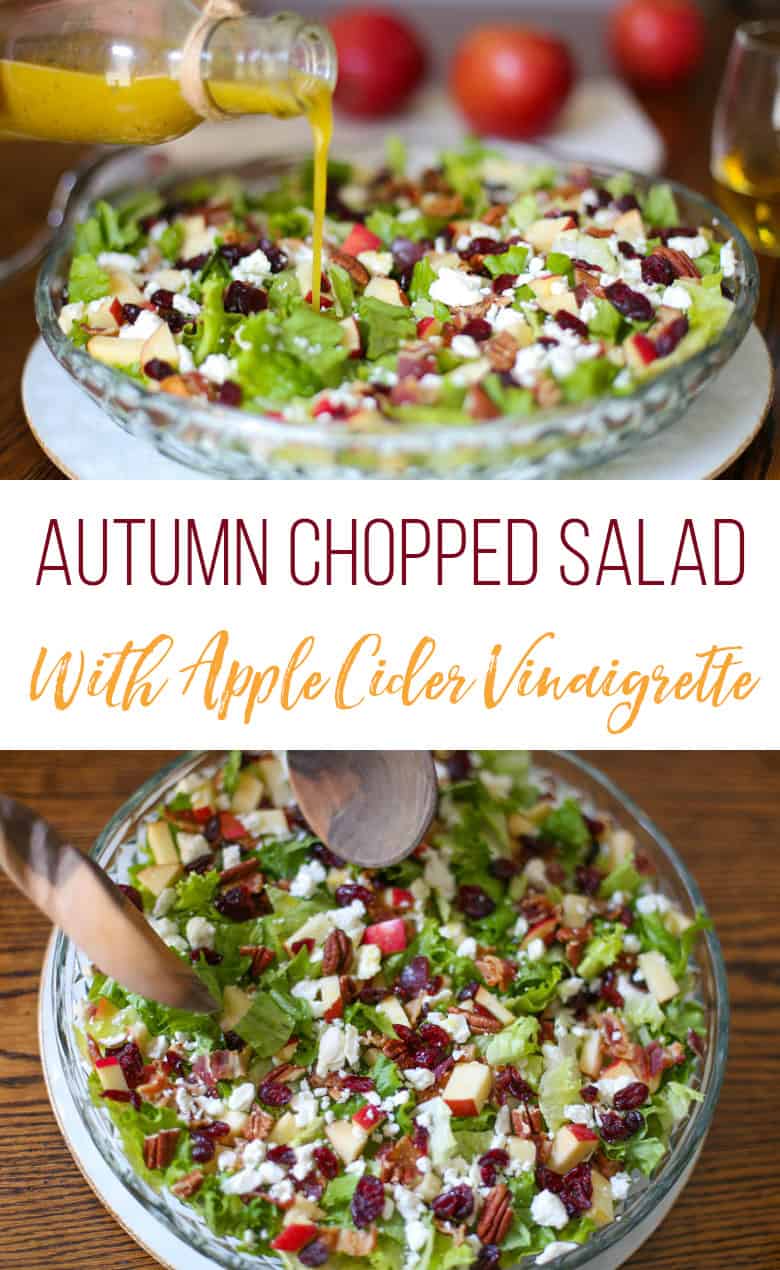 (This post is sponsored by St. James Winery and Burgers' Smokehouse. Opinions are all ours though!)
Ready to up your salad game? We've got you covered.
I've been serving this simple, fall-inspired chopped salad at my weeknight and my holiday tables for years. It never sticks around long. The combo of sweet tart apples and dried cranberries, smoky bacon, tangy feta, and crunchy pecans creates a flavor experience in your mouth!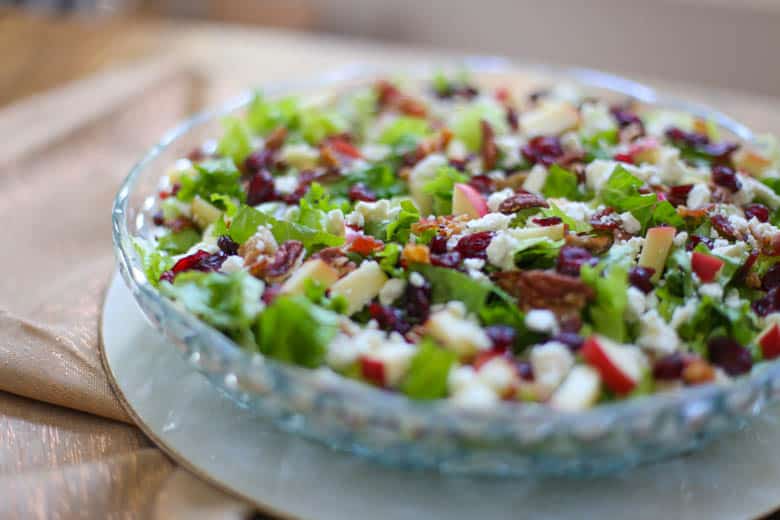 The homemade apple cider dressing perfectly accents the ah-mazing Burgers' Smokehouse Applewood Smoked Bacon and other autumnal flavors in this salad.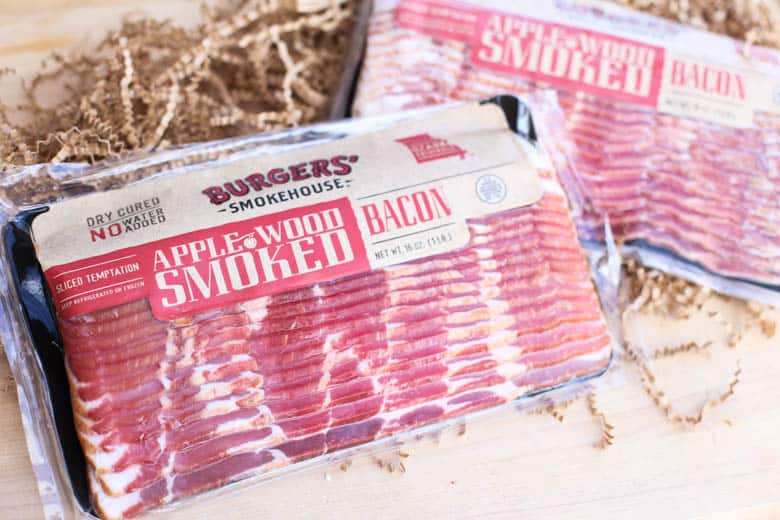 Not only is Burgers' locally owned and operated in mid-Missouri not far from us, but they produce some of the most flavorful bacon I have ever had. They developed their dry cure method (no water added, very few ingredients) over 50 years ago and have been serving it up the same since. The applewood flavor is subtle but is a very special touch to this apple-infused salad.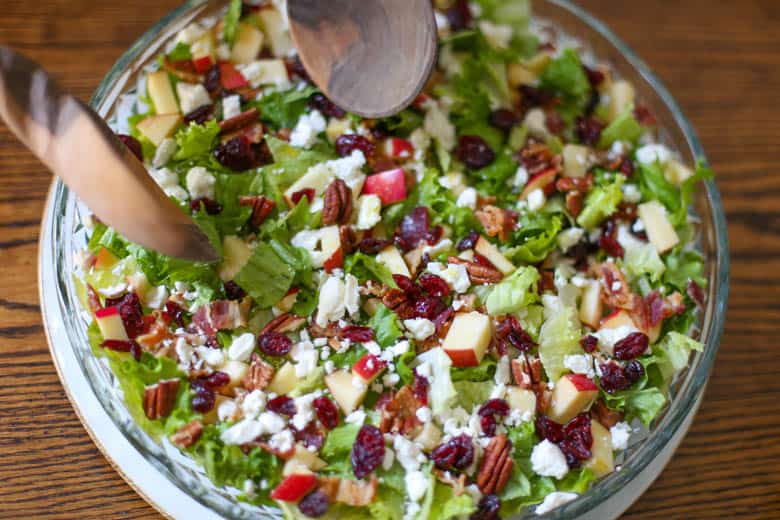 Now, let's talk salad dressing. Friends, I'm just going to say it: I wanted to drink this vinaigrette right from the bottle! This might be my favorite homemade dressing to date.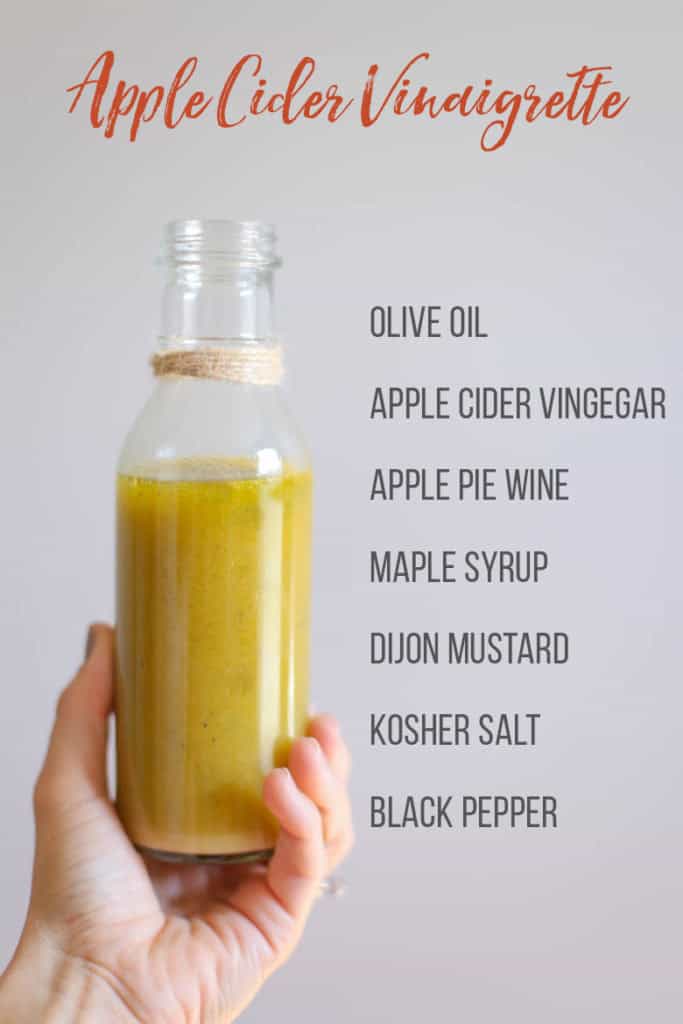 In our Apple Cider Vinaigrette you'll pick up sweetness from the maple syrup, plus tartness and apple notes from the cider vinegar. The addition of the Apple Pie Wine from St. James Winery brings it all together–the sweet, the tart, the apple.
Bonus: Drink the rest of your bottle with dinner! With a hint of cinnamon spice, we were pleasantly surprised at how delicious and nostalgic this sweet wine is. Apple Pie Wine would work nicely after dinner as a dessert wine or paired with the meal, as well.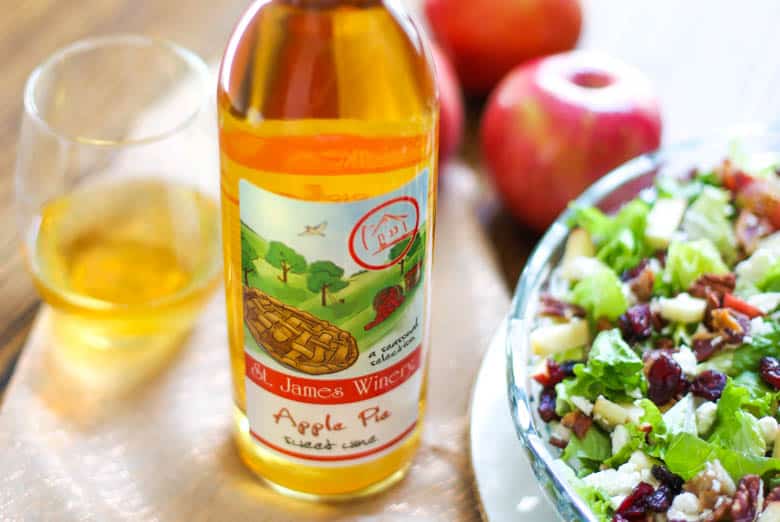 Pour a glass and stick your nose in it. No lie, you will experience the feeling of apple pie. (Yes, apple pie is a feeling.)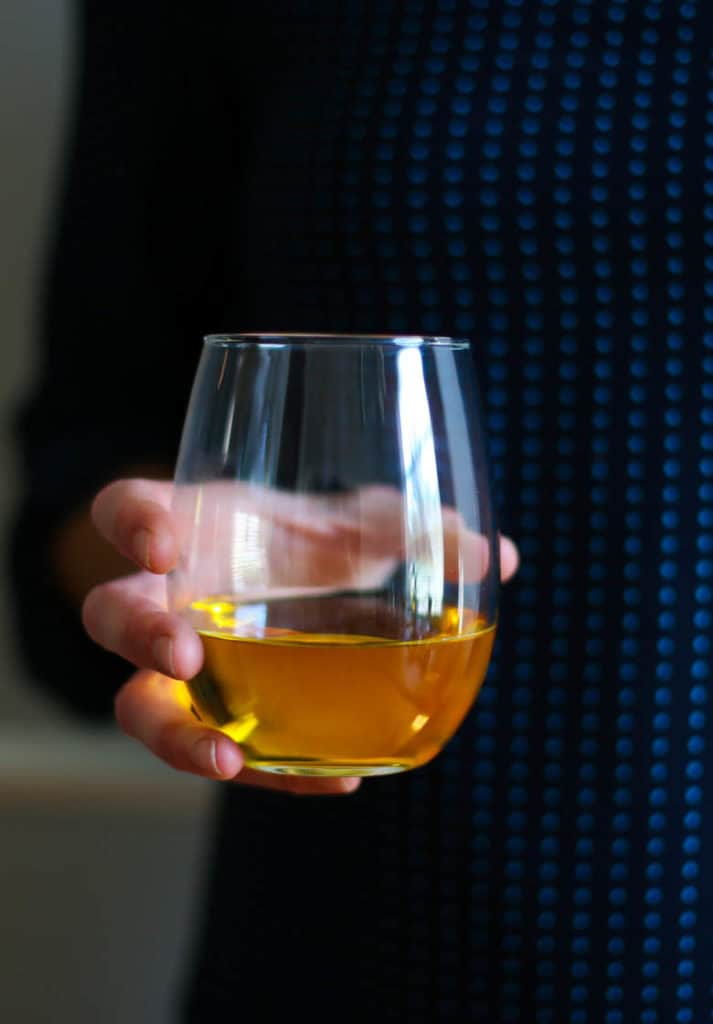 As a seasonal wine, Apple Pie Wine is only in stores for a limited time. So, be sure to pick up a few bottles to enjoy for the holidays before they are gone. It's surprisingly affordable, coming in at around $10 a bottle.
One last look at the Autumn Chopped Salad, friends. Just gaze upon that goodness. Every bite is a burst of flavor.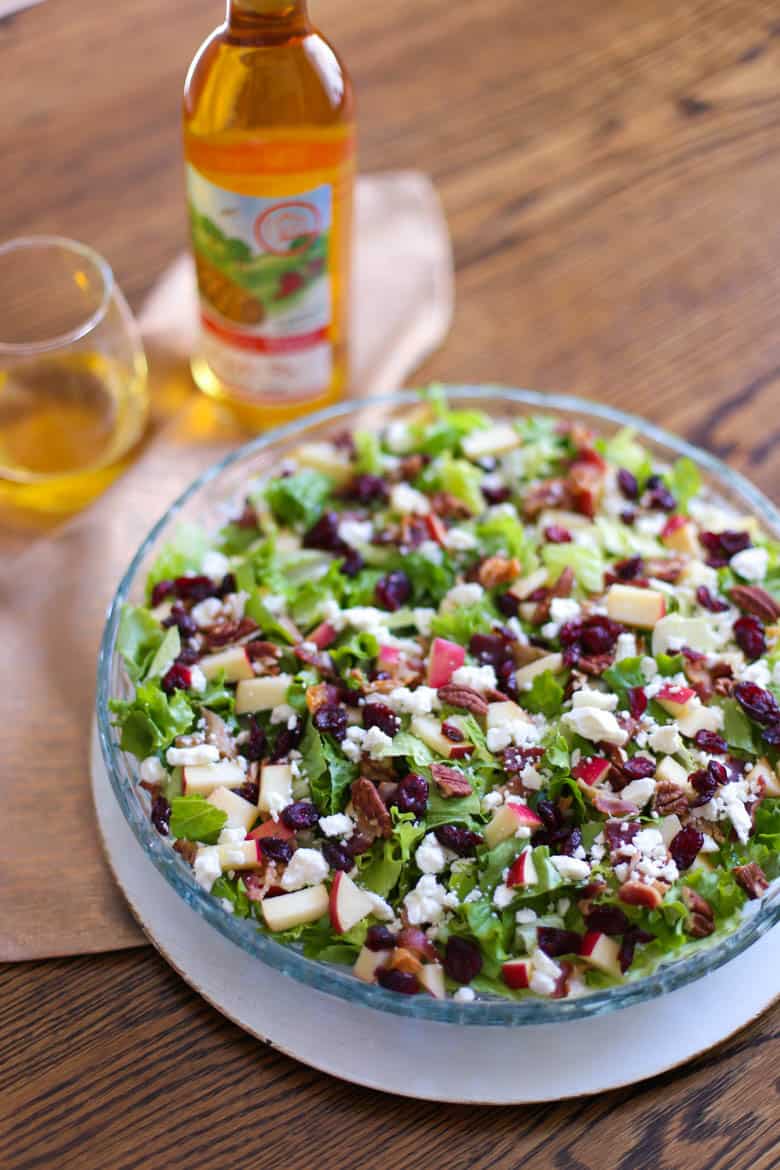 Wondering where to grab these great products? Snag Apple Pie Wine online here and Applewood Bacon online here or at mid-Missouri Hy-Vee stores.
Be sure to serve this salad alongside our favorite holiday side, Ultimate Bacon and Cheddar Twice-Stuffed Baked Potatoes…