This slightly sweet, slightly tangy balsamic dressing is incredibly easy to make. Keep Honey Balsamic Dressing on hand for quick and healthy salads any day of the week. Works great as a marinade for chicken, too.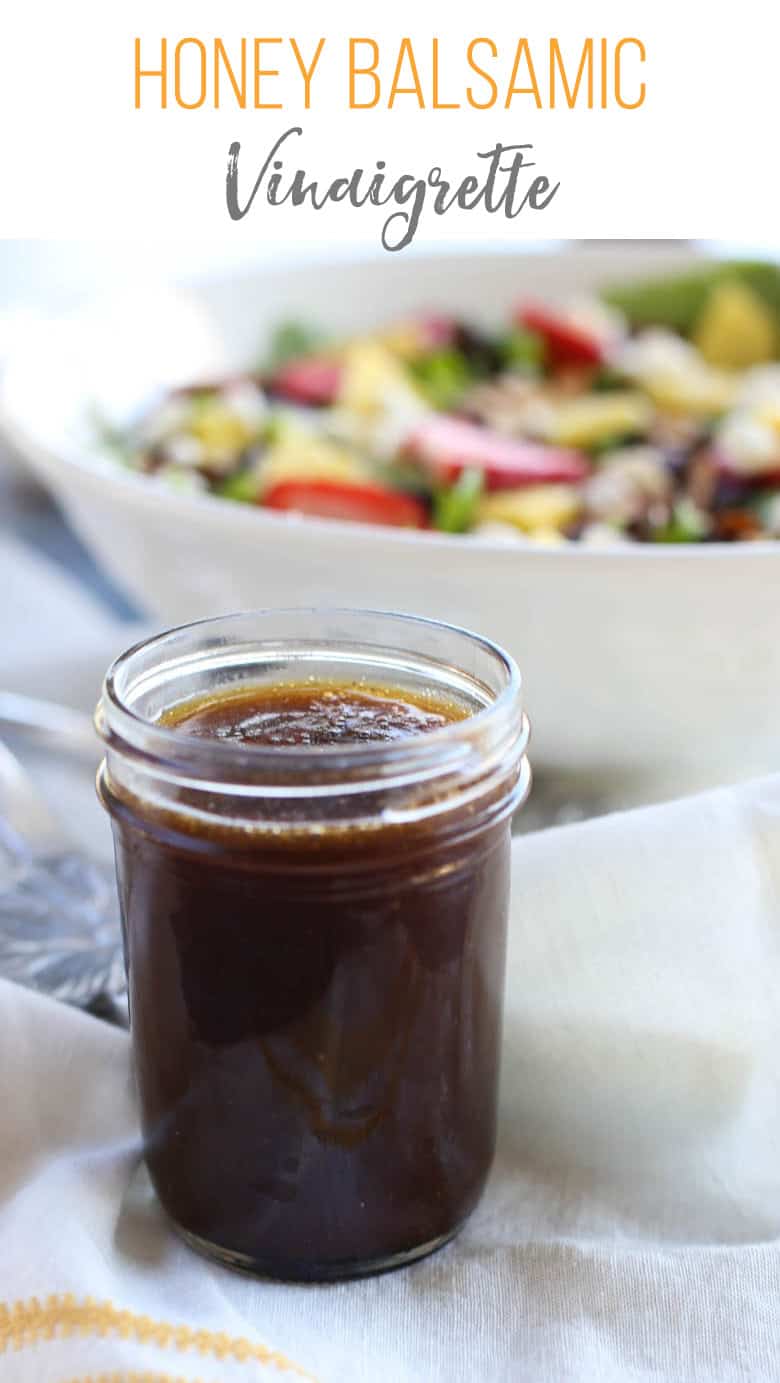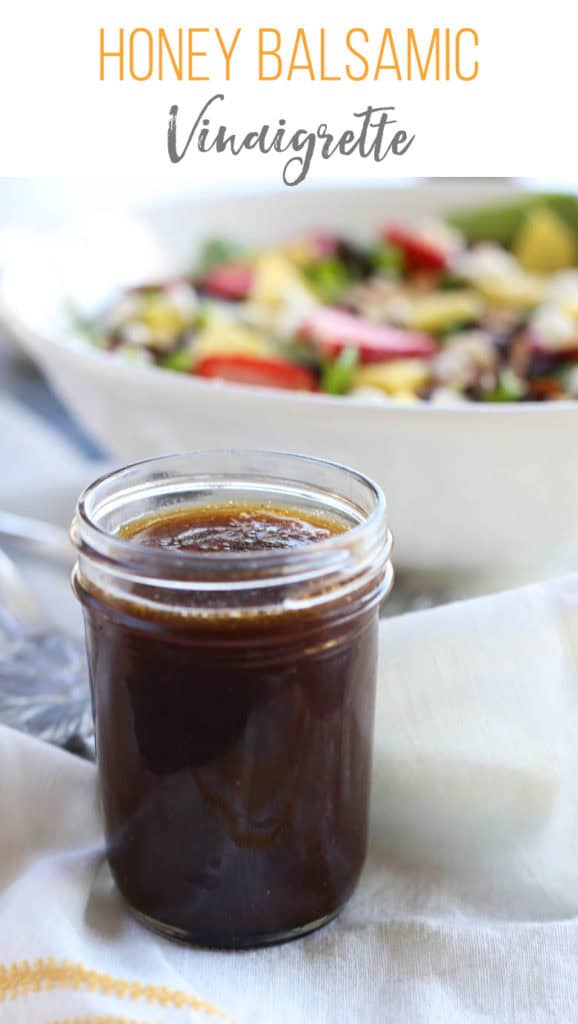 Benefits of Making Your Own Salad Dressing
When I was younger, I just thought salad dressing came from an aisle in the store. Maybe you're laughing at me (or maybe you're nodding along in the agreement), but I learned many years ago that making your own salad dressing is actually quite easy and has some great benefits.
It tastes better! True statement: homemade dressings are always better. Not only will you be using higher quality ingredients than the store-bought bottles that often use things like soybean oil and high-fructose corn syrup, but you'll also be able to adjust the seasoning to preference.
It's healthier! The store-bought salad dressings often use the cheapest ingredients (i.e. soybean oil and high-fructose corn syrup). They can be high in sugar, sodium, preservatives, and additives. But, when you make your own, you are in charge of what goes in and can skip the processed junk. For this recipe, you'll be using heart-healthy olive oil and just a handful of other whole food ingredients.
It's easier! Forget a run to the store. I bet you have all of these ingredients on hand to mix up a batch in just 2 minutes.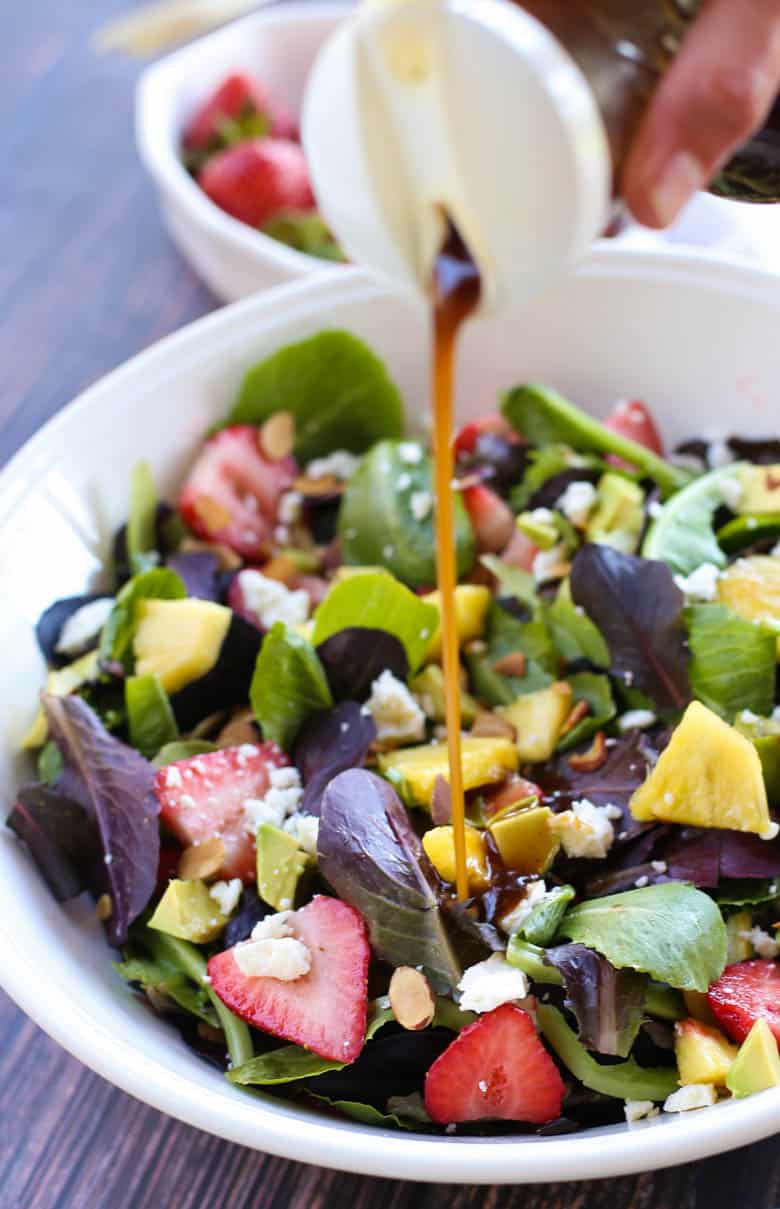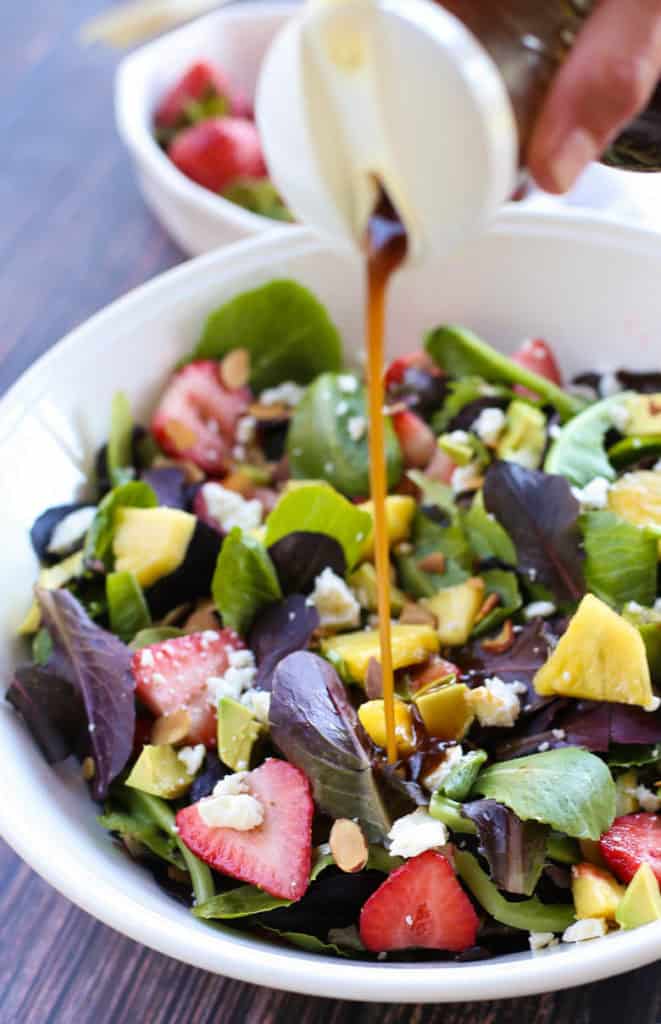 Ingredients You'll Need
With just a few simple ingredients on hand, you can whip up this classic honey balsamic vinaigrette in just minutes. Here is all you need:
Extra virgin olive oil
Balsamic vinegar
Honey (I recommend raw honey if you can afford it, since there are more health benefits from it.)
Salt and pepper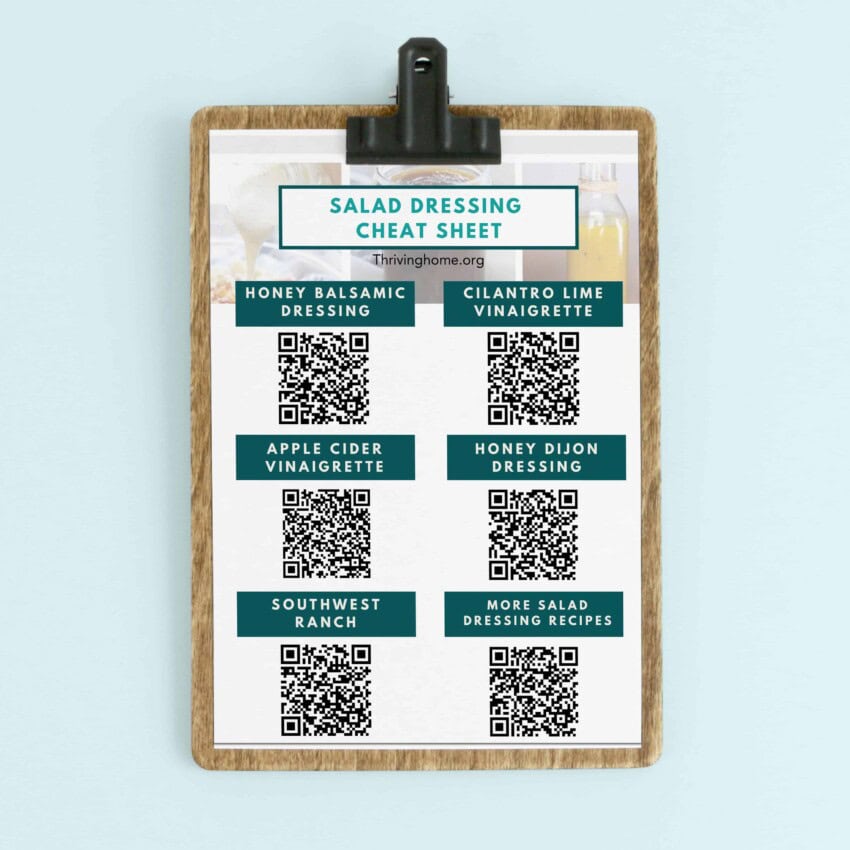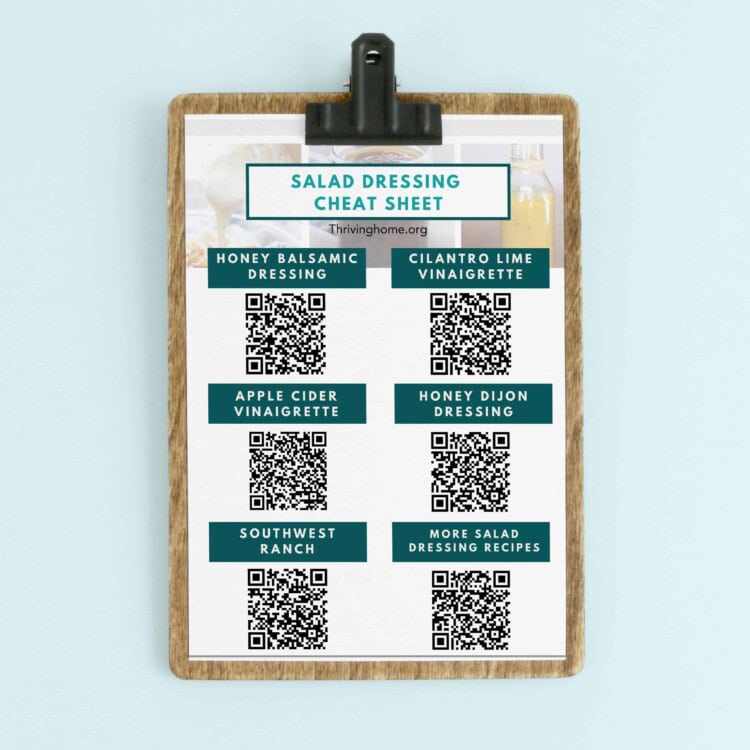 Salad Dressing Cheat Sheet
Our best homemade salad dressings all in one place!
Download it.
Print it.
Use it over and over again!
How to Make Honey Balsamic Dressing
If you've never made homemade dressing before, I'm about to blow your mind in two steps…
Step 1: Add all 5 ingredients to a mason jar or small container with a lid.
Step 2: Seal and shake. That's it!
See, sooo easy? And the flavor kicks the store-bought kind's butt. You'll never go back once you start making your own.
How to Store This Vinaigrette
Here's how to store Honey Balsamic Dressing:
In the refrigerator: Store this dressing in an air-tight jar or container the refrigerator for up to 2 weeks. (In all honesty, I've kept it longer and it's tasted fine.)
In the freezer: Freeze in an air-tight container or freezer bag for 3-6 months. Thaw in the refrigerator or using the defrost setting on the microwave when ready to use.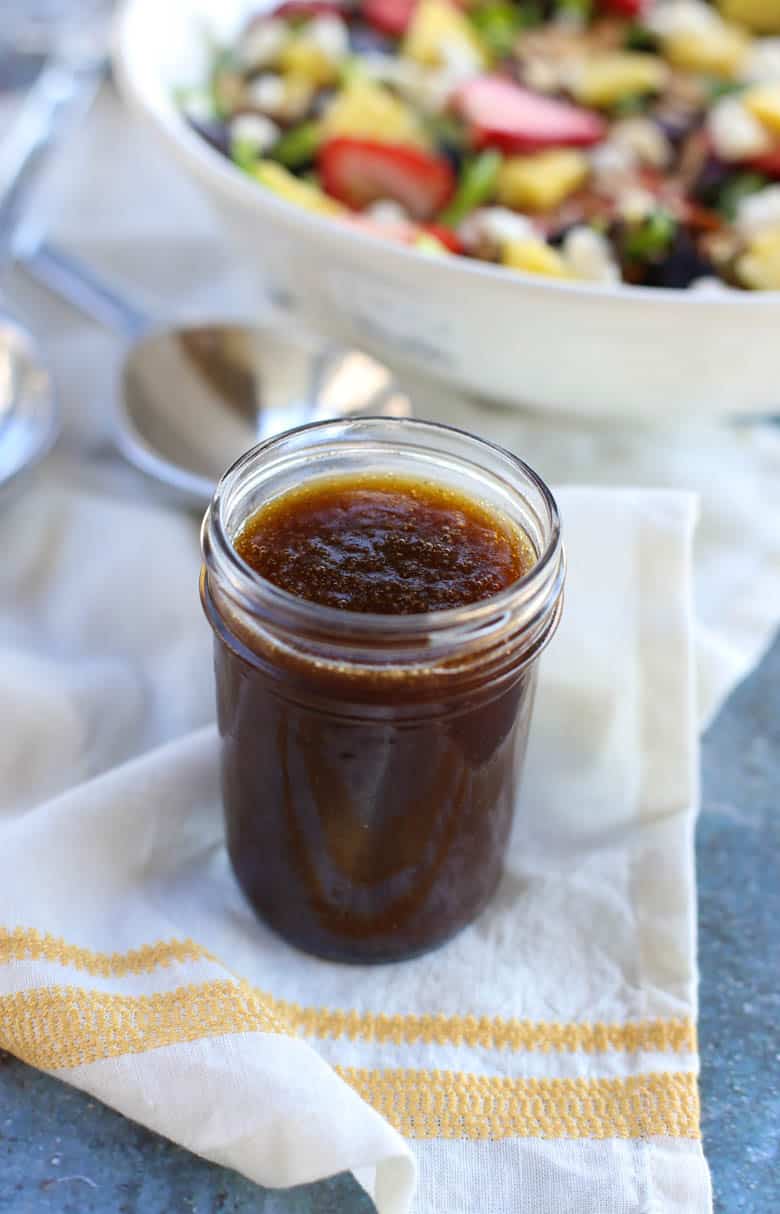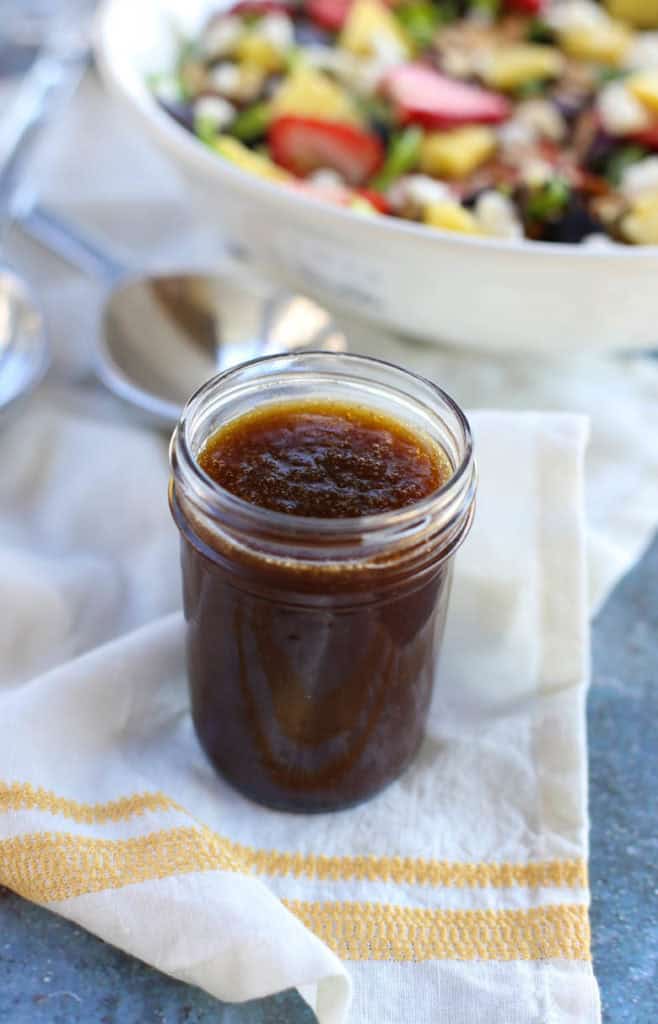 More Homemade Salad Dressings You'll Love
Got 2 minutes? Go ahead and throw together this quick vinaigrette now for salads all week, like our Strawberry Avocado Salad, or for a divine chicken marinade.
Did you make this? Snap a photo and tag us on Instagram at @thrivinghome so we can see your creations and cheer you on!
Honey Balsamic Dressing
With only 3 main ingredients, this slightly sweet, slightly tangy dressing is incredibly easy to make. Whip up a batch of this classic vinaigrette to have on hand for quick and healthy salads any day of the week. Works great as a marinade for chicken, too. 
Prep:
2 minutes
Cook:
0 minutes
Total:
2 minutes