This post may contain affiliate or sponsored links. Please read our disclosure policy.
We both make some sort of roasted vegetables at least once a week in our homes. When properly prepared, roasted vegetables develop wonderfully complex and intense flavors. We can't wait to show you how!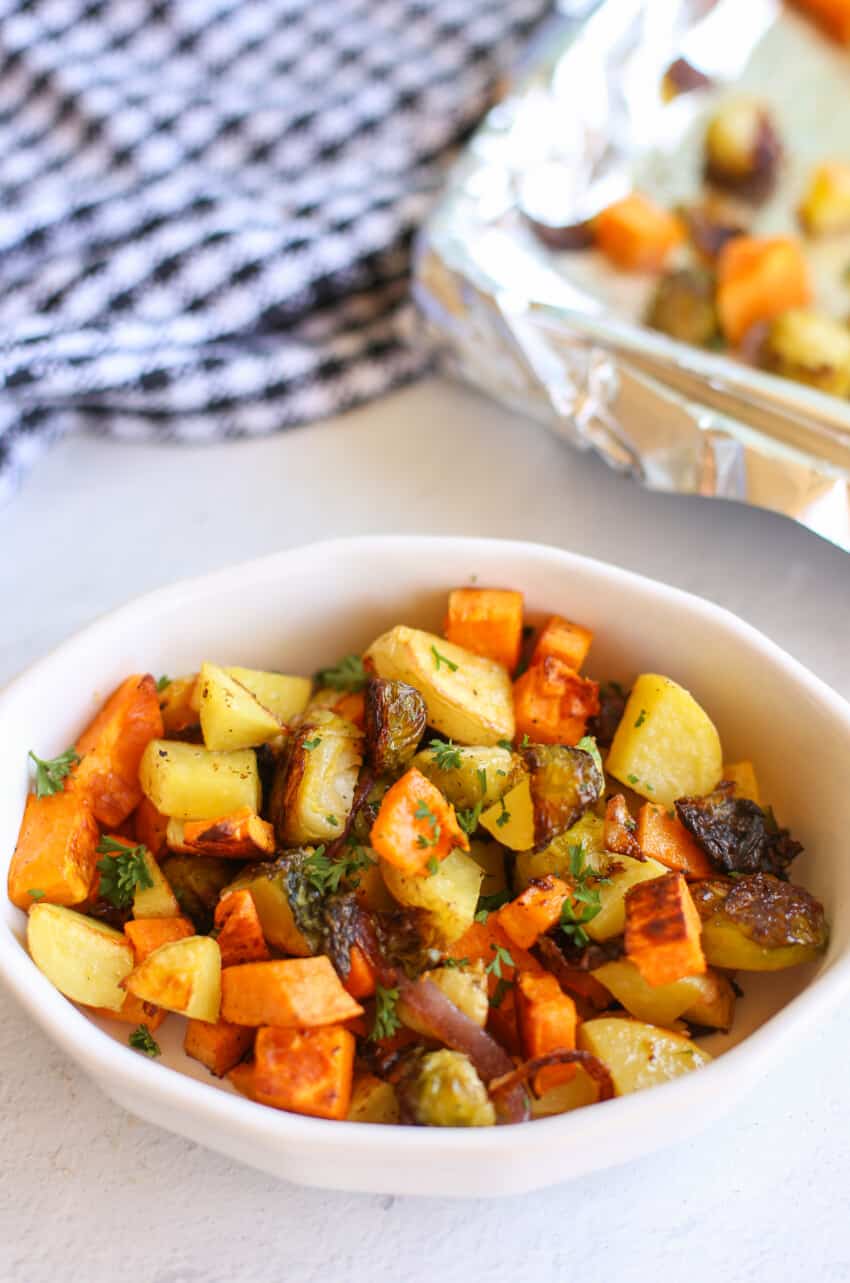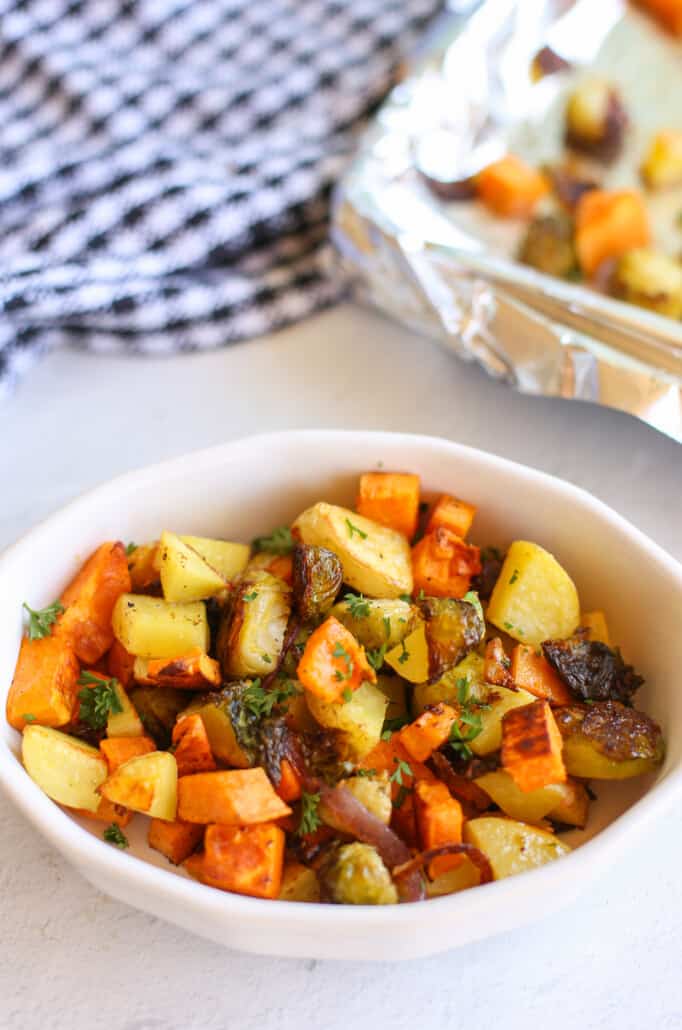 "Roast it, and they will eat it."
I've found this mantra to be so true over the years–from Roasted Brussel Sprouts to Oven Roasted Asparagus to Oven Roasted Broccoli. My young kids will try just about anything roasted!
And, this simple recipe for Roasted Vegetables is the key.
What Vegetables Are Good for Roasting?
The basic recipe is one I adapted from Ina Garten on Food Network, but I use my own vegetable mixture every time. Really, experiment with whatever veggies you have on hand.
My personal favorite veggies to roast are:
Carrots
Brussels sprouts
Sweet potatoes
Broccoli
Yukon Potatoes
Red Onion
Other ideas are beets, butternut squash, bell peppers, parsnips, and radishes.
How to Roast Vegetables
Start by cutting up your vegetables into similar-sized pieces. This helps ensure that they will cook evenly.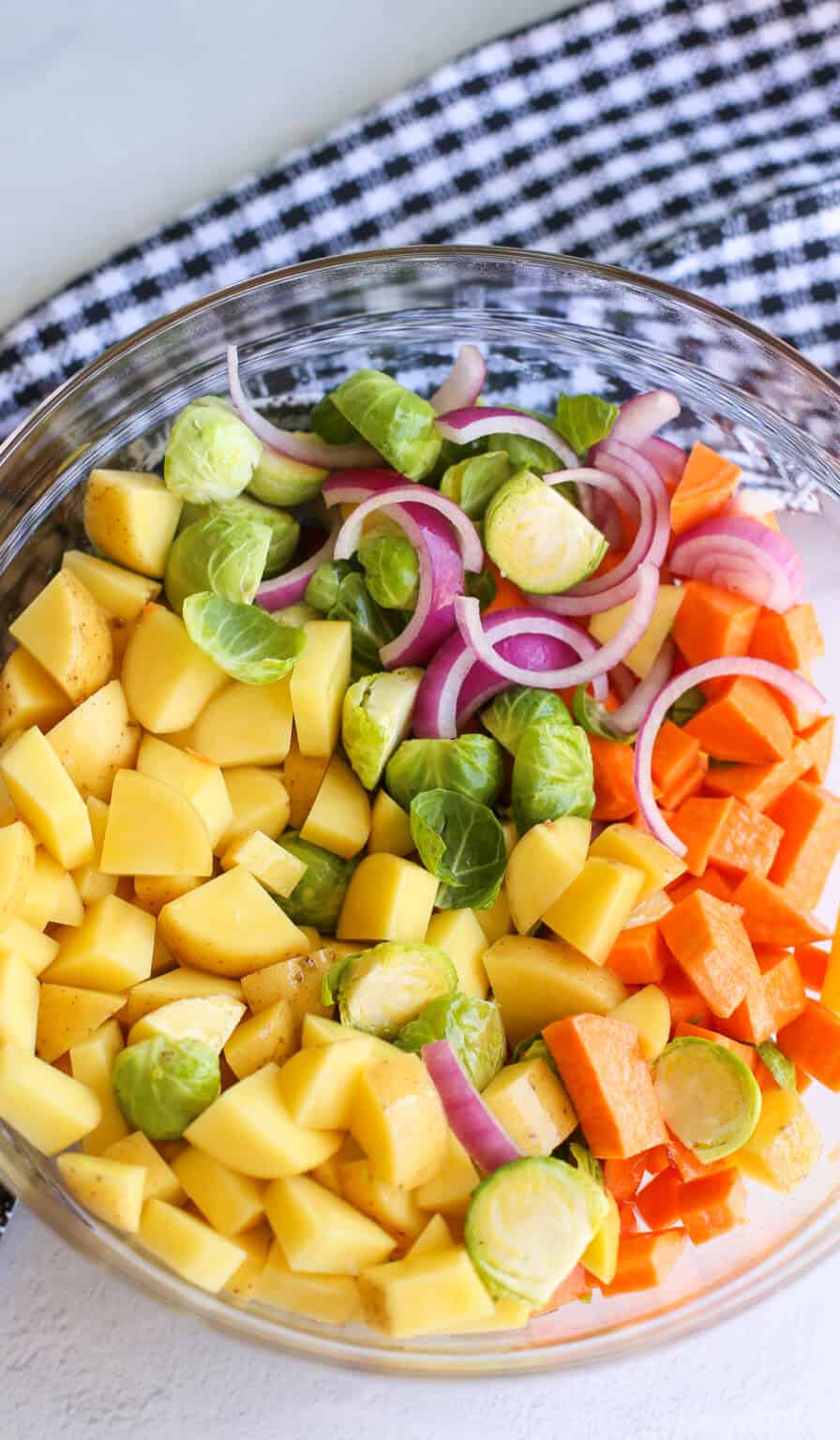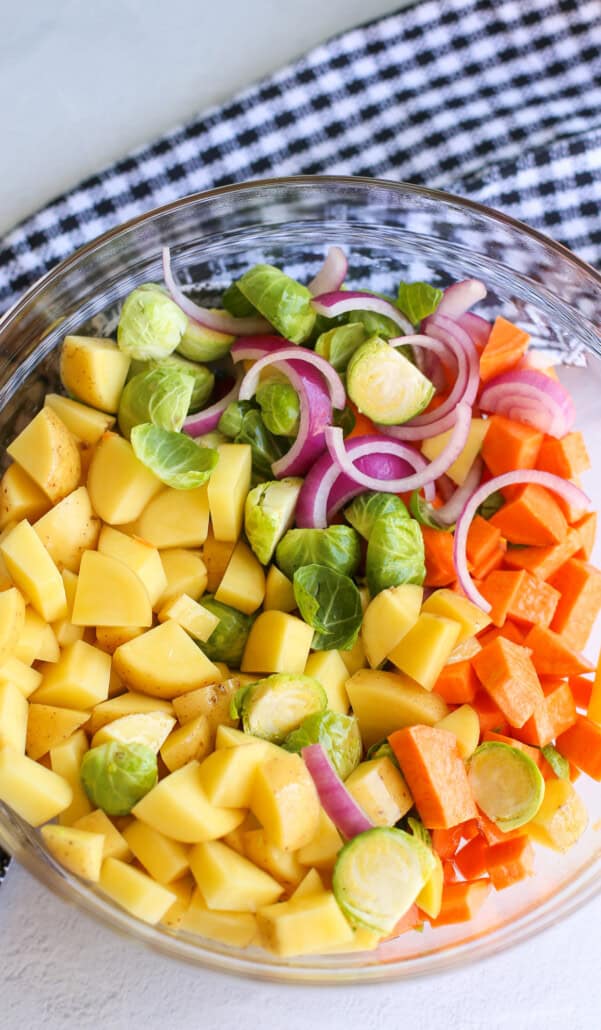 Pro Tip!
If mixing starchy root vegetables (potatoes, carrots, beets, butternut squash, etc.), cut those a bit smaller as they take a bit longer to cook than other veggies like broccoli, Brussels sprouts, or bell peppers.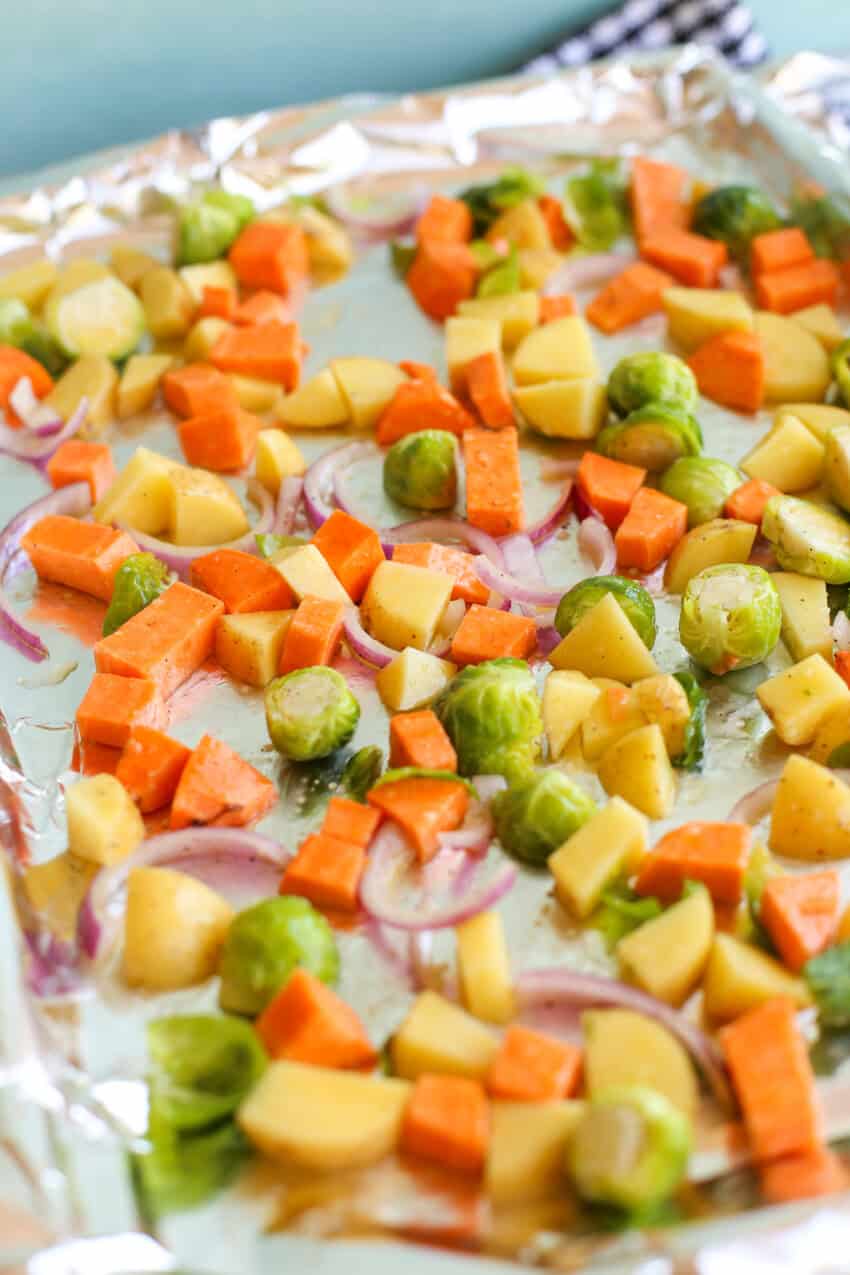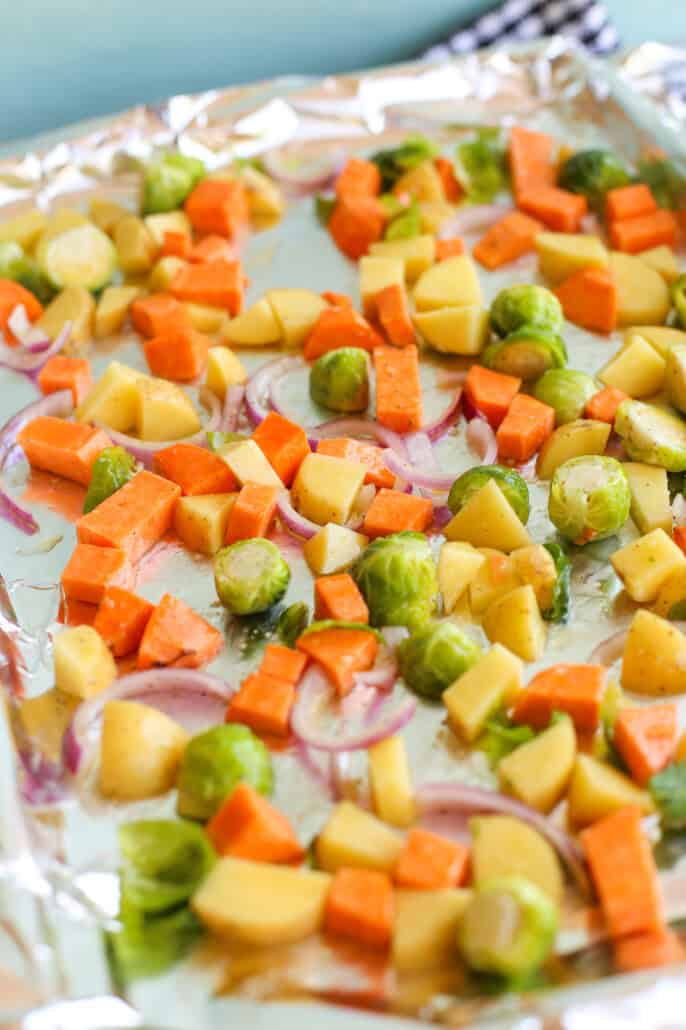 In a large bowl, toss the vegetables in olive oil or avocado oil. Then add seasonings.
Roasting will bring out incredible flavor, so you really don't need a ton of seasonings! We keep it simple with salt, pepper, and garlic powder. You can always add more at the end.
If you are itching to spice them up or add more flavor, here are some ideas:
Add fresh or dried herbs: I love to toss in some fresh rosemary or thyme stems with the raw vegetable mixture. Or sprinkle on chopped chives, dill, or sage and toss before roasting. I prefer to add fresh basil or parsley at the end rather than roasting those tender herbs. Tip: If you are using dried, use less than fresh because the flavor is stronger.
Experiment with spices: Paprika, Old Bay seasoning, Italian seasoning, cumin, chili powder, onion powder, celery salt, crushed red pepper flakes, etc. are all good options to try.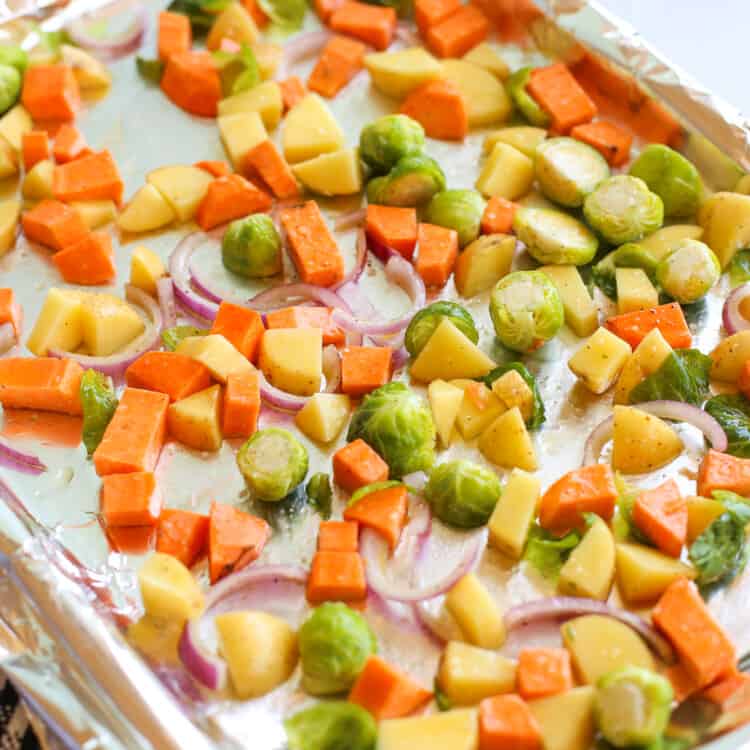 Time-Saving Tip
Skip the bowl and just toss the vegetables in the oil and seasoning on the baking sheet. This will save you from washing an extra dish.
After making this recipe over and over again, we can personally vouch for roasting vegetables at 425°F for 25-35 minutes.
We provide a wide time range because it may vary depending on which vegetables you use, how big your baking sheet is, etc.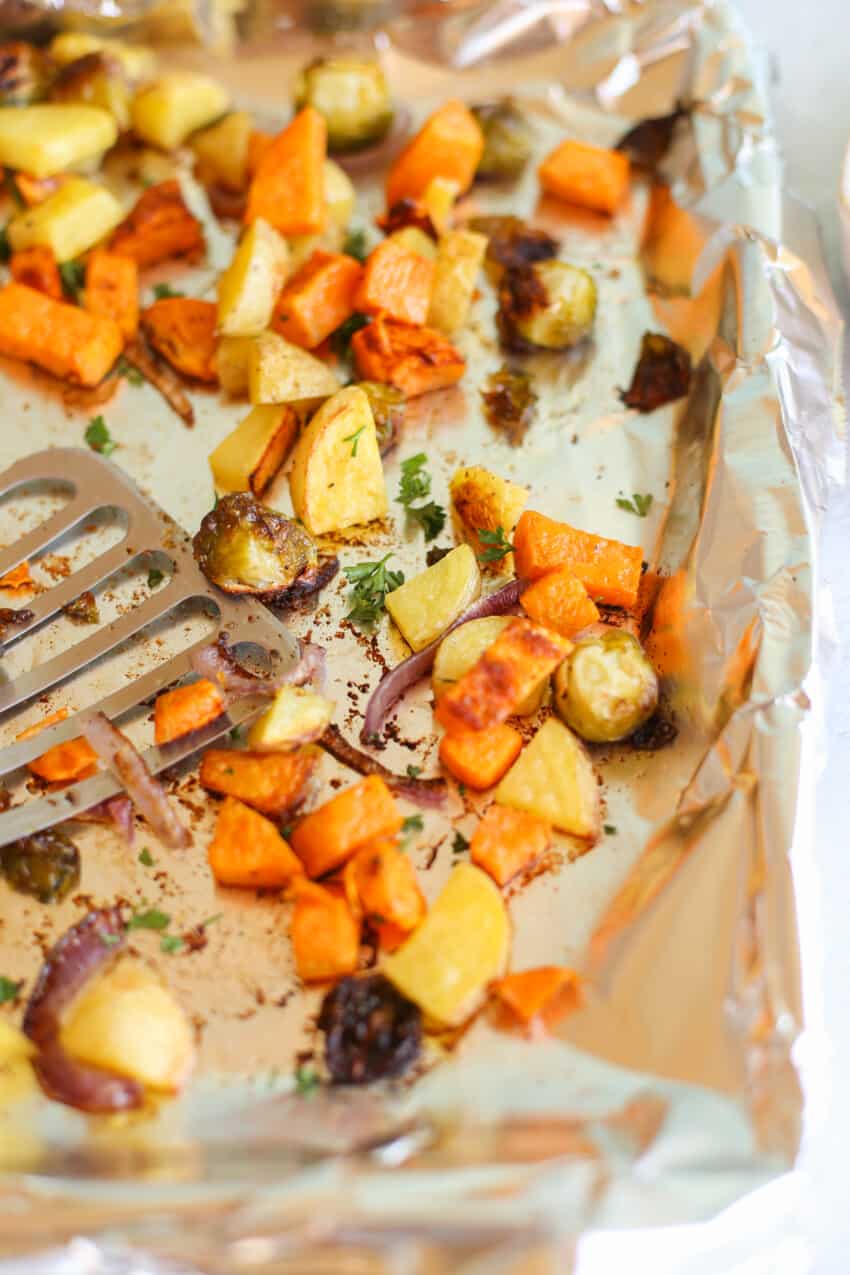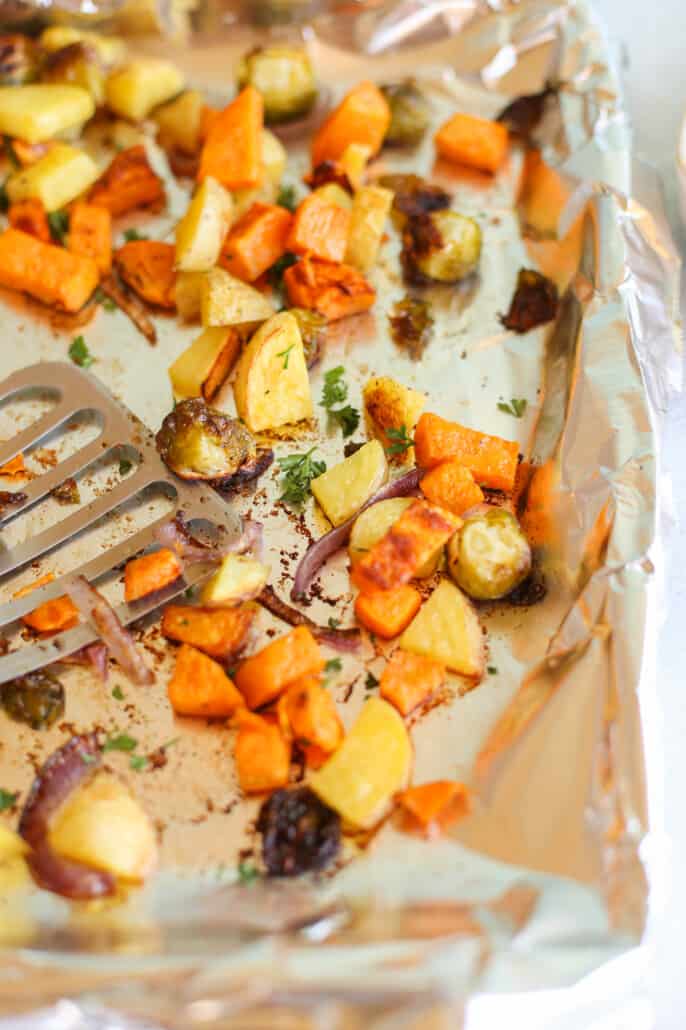 Can You Roast Frozen Vegetables?
We love helping our readers utilize their freezers in any way possible. While roasting vegetables from frozen is not preferable (it adds a lot of moisture and makes it hard to get that delicious caramelization), it's for sure an option!
How to Roast Frozen Vegetables
Do not thaw! This may go against all intuition but trust us. Roast them straight from frozen.
Follow our seasoning instructions below.
Roast the vegetables for 30-40 minutes, until they being to brown.
How to Store & Reheat Roasted Vegetables
I love making a huge batch and munching on the veggies throughout the week.
To Store: Place the cooked veggies in an airtight container and refrigerate for 3-5 days. We do not recommend freezing the cooked vegetables.
To Reheat: While you can microwave cooked vegetables, the texture will be a bit soggy. I recommend using a toaster oven or oven to reheat the cooked vegetables.
More Roasted Vegetable Recipes
Did you make this? Snap a photo and tag us on Instagram at @thrivinghome so we can see your creations and cheer you on!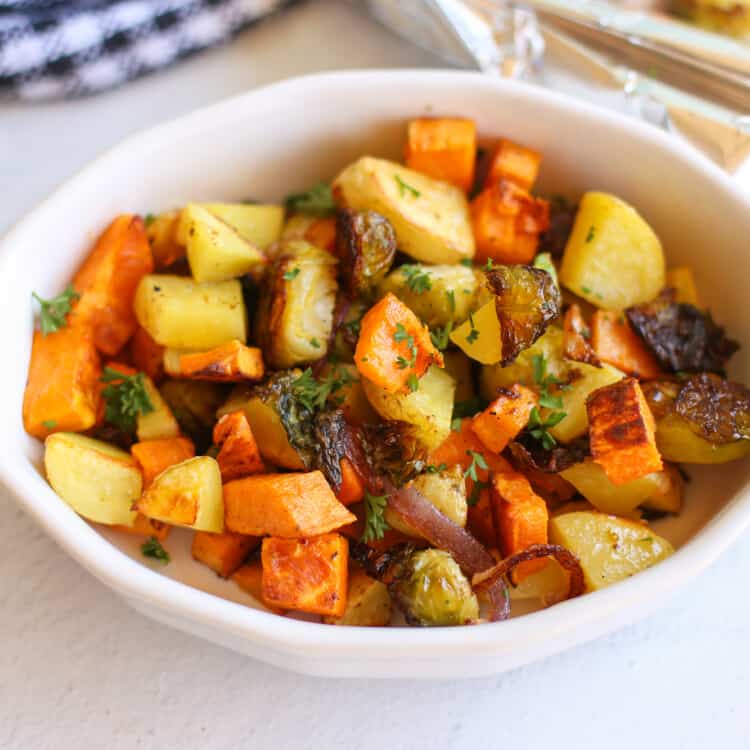 Basic Roasted Vegetables
This no-fail roasted vegetable recipe is a hit with all ages. You can use up whatever veggies you have in the fridge to make up this crisp, yummy side dish.
Prep:
15 minutes
Cook:
30 minutes
Total:
45 minutes
Ingredients
1

pound

carrots, peeled and sliced or diced (or use baby carrots)

1

pound

Yukon gold or red baby potatoes, cut in half or quartered

1

large sweet potato, peeled and diced

3 tablespoons

olive or avocado oil (enough to make sure all veggies are coated)

1 1/2 teaspoons

Kosher salt, plus more to taste

1/2 teaspoon

freshly ground black pepper, plus more to taste

1/2 teaspoon

garlic powder

2 tablespoons

chopped flat-leaf parsley (optional)
Before You Begin! If you make this, please leave a review and rating letting us know how you liked this recipe! This helps our business thrive & continue providing free recipes.
Instructions
Preheat the oven to 425°F. Line two rimmed baking sheets with foil or parchment paper for easy clean up. 
Place all the cut vegetables in a single layer on 2 baking sheets. Drizzle them with olive oil, salt, pepper, and garlic powder. Toss well and spread out on the pan.
Bake for about 25 to 35 minutes, until all the vegetables are tender and starting to brown, turning once with a metal spatula halfway through. Keep an eye on them so they don't burn.
Sprinkle with fresh parsley, taste and season to taste, and serve warm or room temp.
---
Notes/Tips
Try to cut the veggies about the same size so they cook at an even rate.
Do your best to spread out the veggies, so they aren't touching. This enables them to roast on all sides, instead of steaming.