7 BEST Chicken Marinades
Updated: 1/31/23
This post may contain affiliate or sponsored links. Please read our disclosure policy.
These 7 easy marinades for chicken breasts will transform this boring cut into several tasty and healthy meals! Learn how to prep and freeze for later OR how to make them for dinner tonight. Plus, snag our FREE one-page cheat sheet of all the recipes.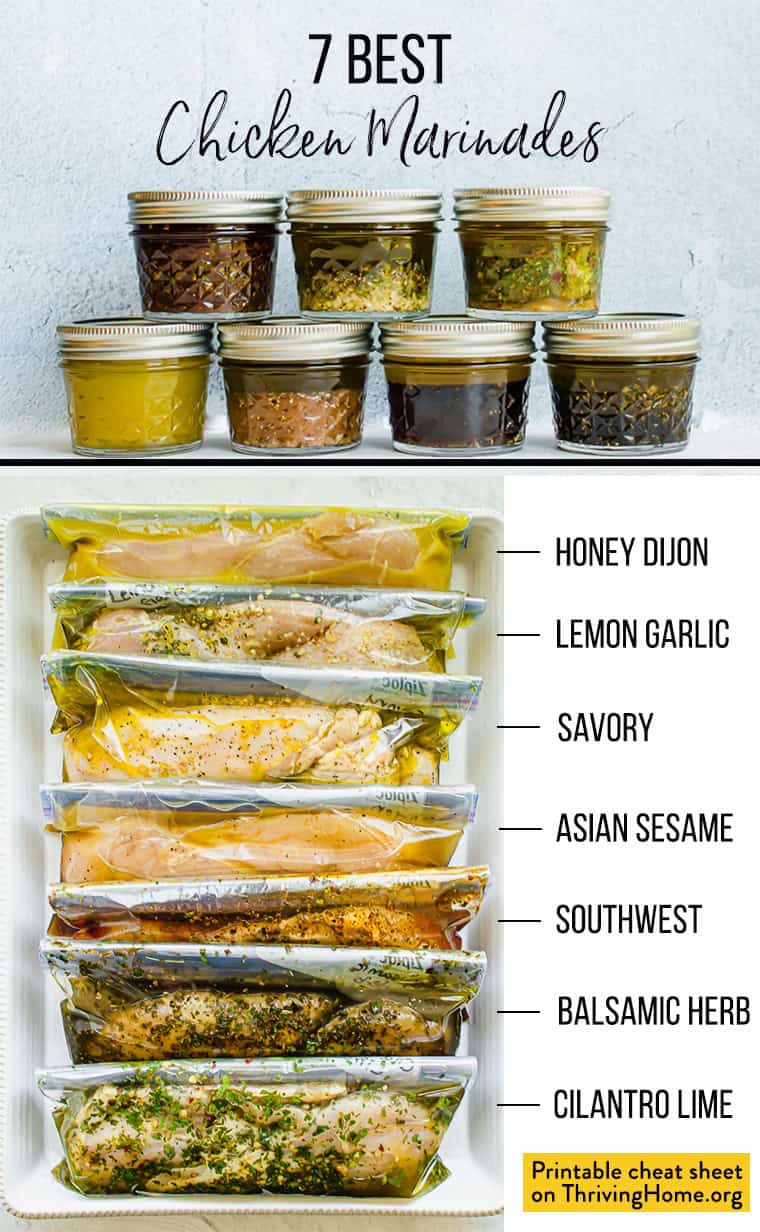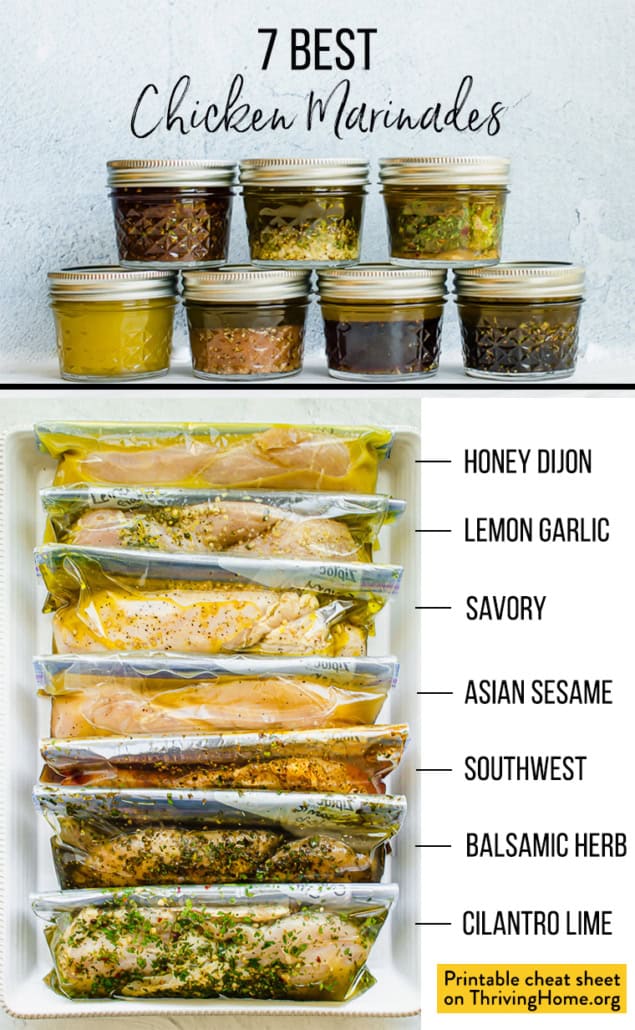 A sponsored link from Fresh Menu Kitchen included.
Note: If the pop up box above isn't working for you, sign up to receive the cheat sheet here instead. Be sure to check your junk or promotions folder for it!
Why We Love Marinating Chicken Breasts
Chicken breasts are the go-to cut of poultry in our houses. They are lean, easy to find, and versatile. But, without some serious culinary help, this cut can be flat-out boring and lackluster.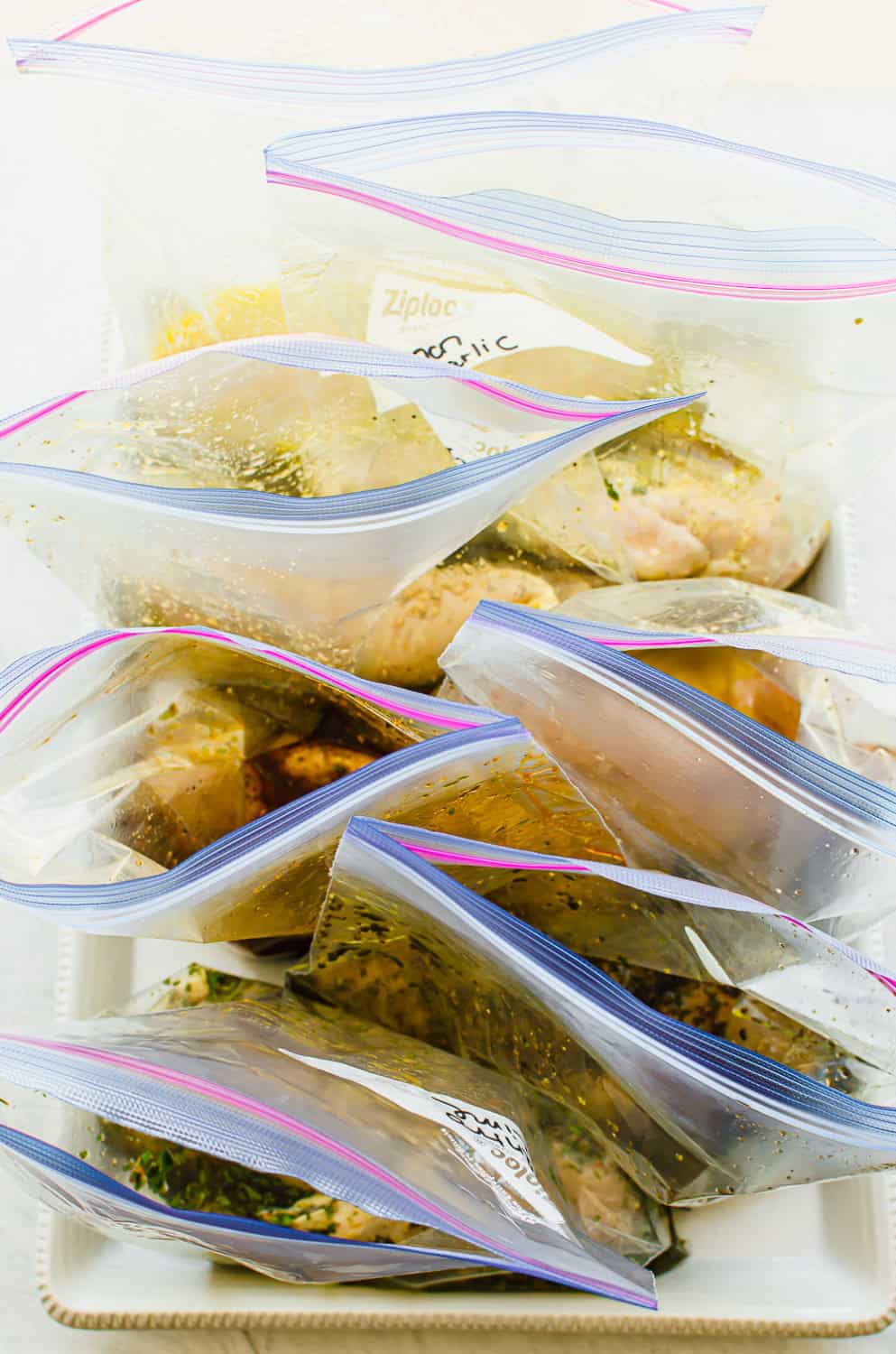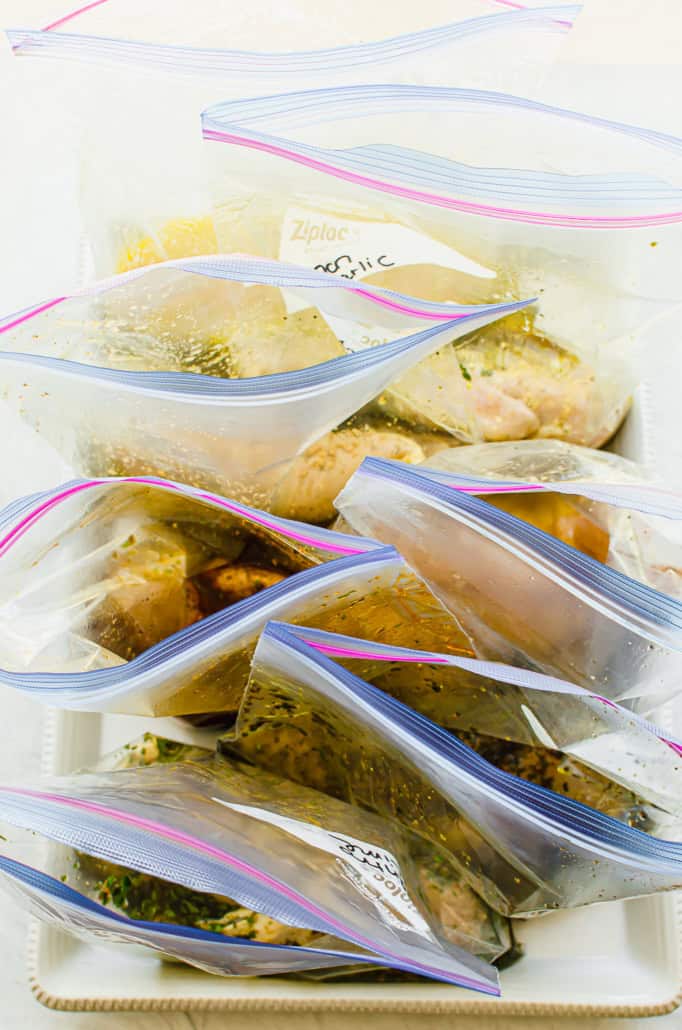 That's where our 7 marinades for chicken breasts come in! Marinating chicken helps to infuse flavor throughout and adds moisture to a cut of chicken that can be notoriously dry. We've developed 7 delicious combos of marinade ingredients so you never get bored again!
1 Minute Video: How to Make All 7 Marinades for Chicken Breasts
Check out just how quickly these marinades come together using mostly pantry staples…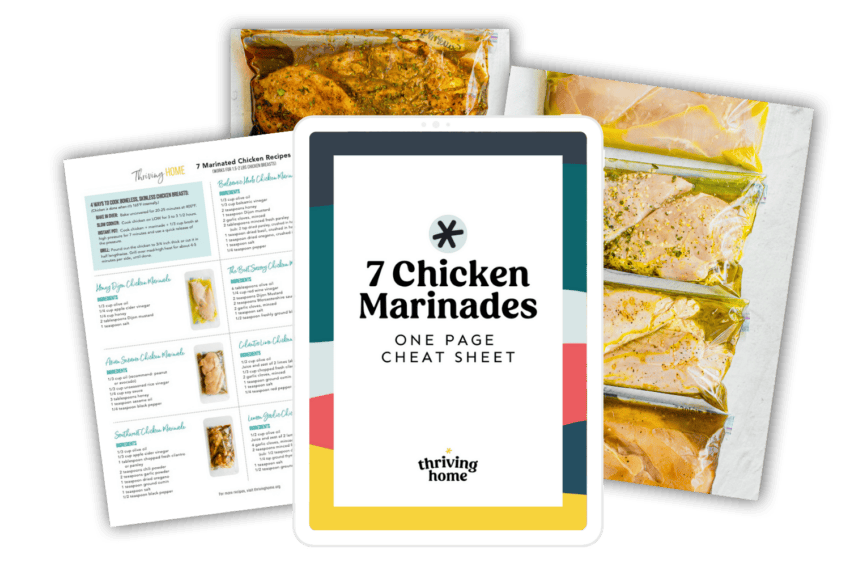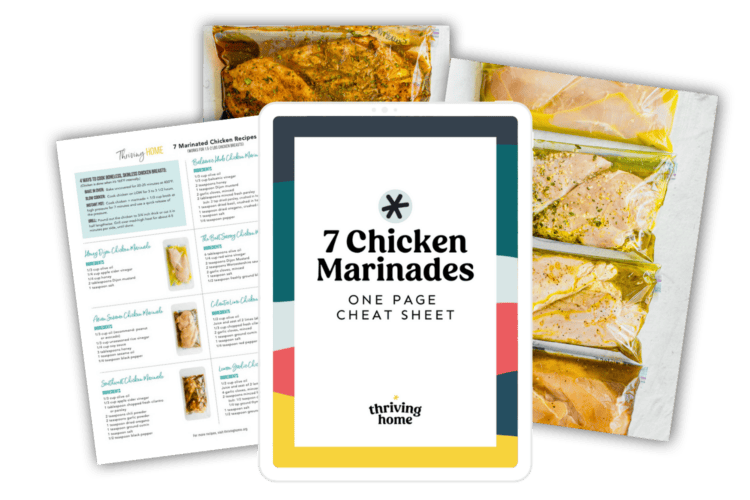 Get 7 of Our BEST Chicken Marinades Sent to Your Inbox!
Note: If the sign up box above isn't working for you, sign up to receive the cheat sheet here instead. Be sure to check your junk or promotions folder for it!
7 Chicken Marinade Recipes
There is a marinade for everyone in our collection! Each recipe works for 1 1/2 – 2 pounds of chicken breasts. Which flavor profile looks tastiest to you?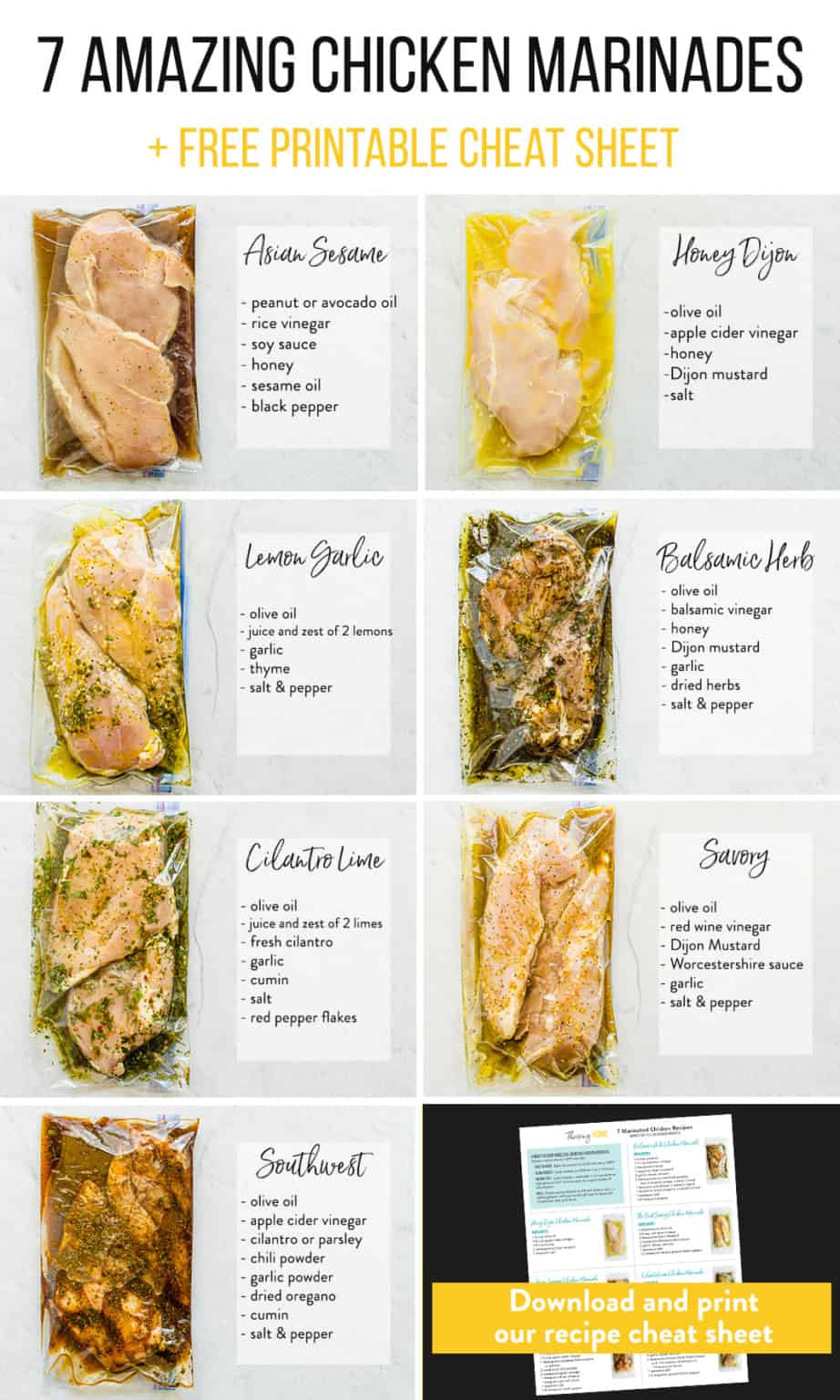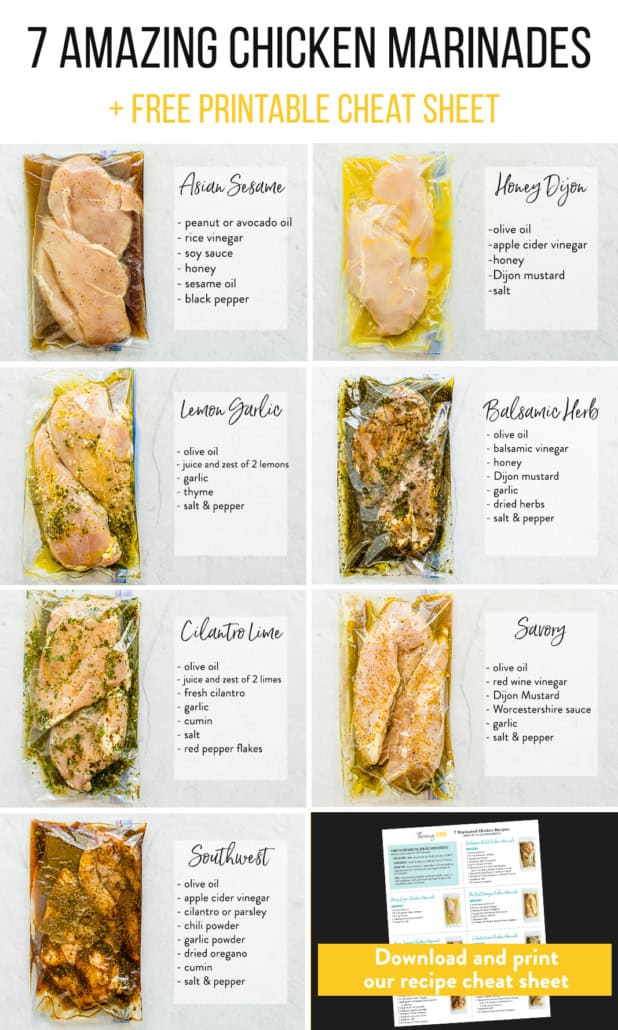 With just a few key Asian-inspired ingredients, you can create some seriously tasty marinated chicken. Serve it in wraps, on salads, or over rice. A perfect side dish is our Asian Slaw…yum!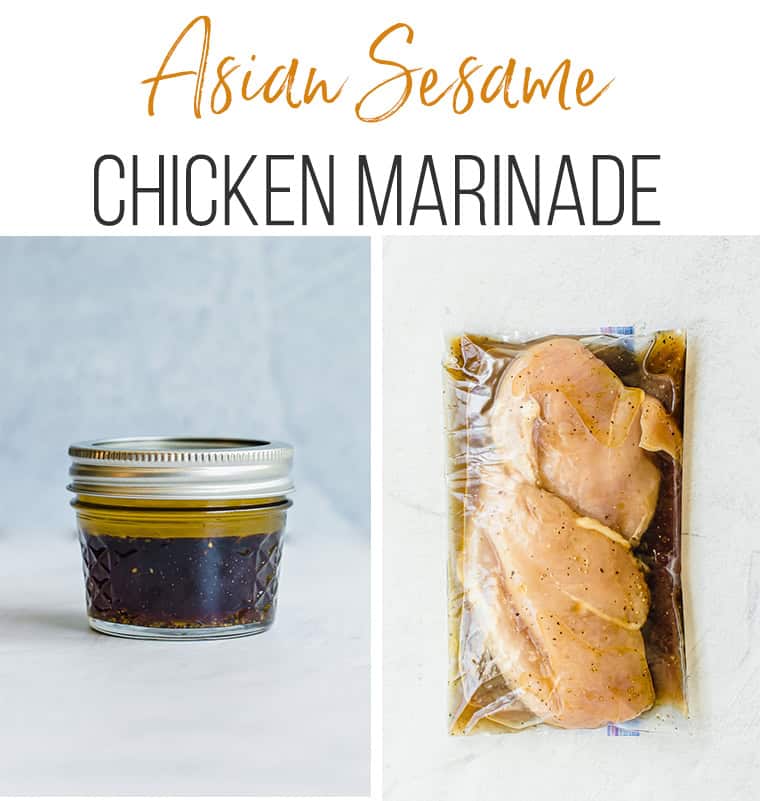 You had me at 5 ingredients! That's right. This recipe only requires 5 pantry staple ingredients for a perfect sweet and tangy result. Delicious on top of salad with our Honey Dijon Dressing or serve on a bun with your favorite chicken sandwich toppings.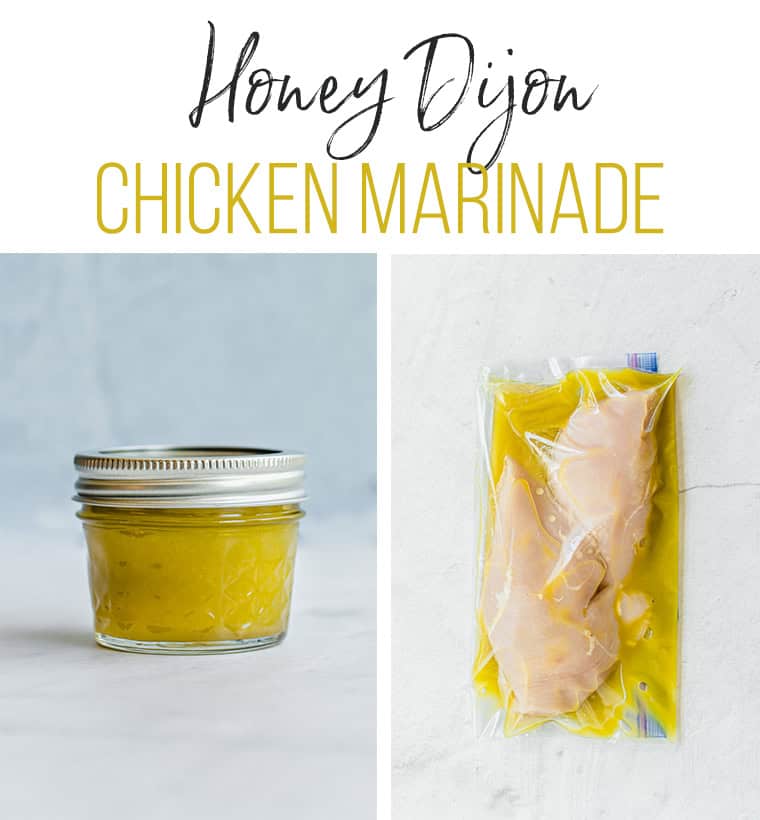 Thanks to fresh lemon, garlic, thyme, and more, this bright and flavorful marinade completely transforms any cut of chicken. Pairs perfectly with our Crispy Smashed Potatoes and Strawberry Fields Salad with Lemon Vinaigrette.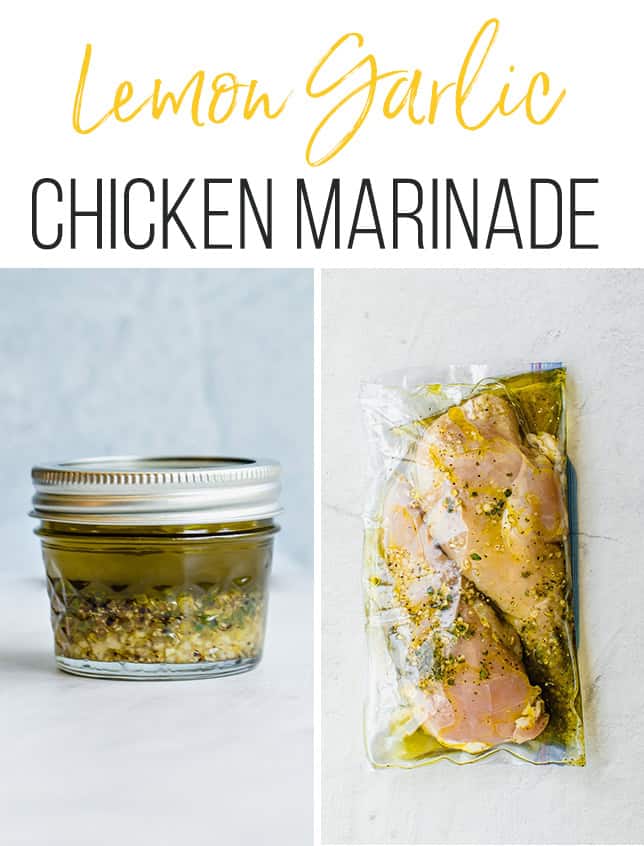 Fresh herbs and pantry staples combine to create this complex marinade. Grill or bake the chicken, then enjoy on its own or atop a salad. Side dish ideas include our Simple Boiled Baby Potatoes or No Boil Corn on the Cob.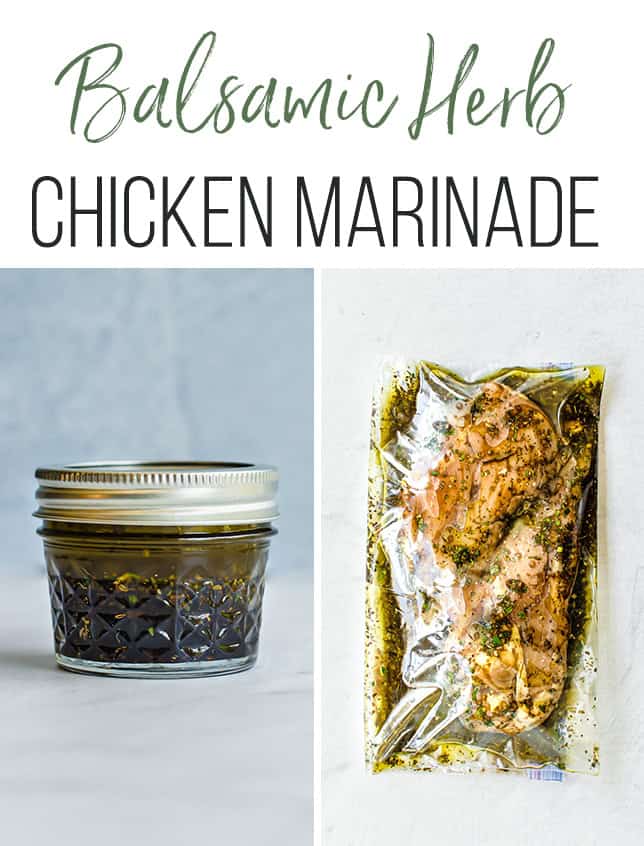 Cilantro, lime, garlic and more marry together to create this fresh, citrusy marinade. Serve on tacos, in quesadillas, or shredded on top of nachos, like these Instant Pot Chicken Nachos.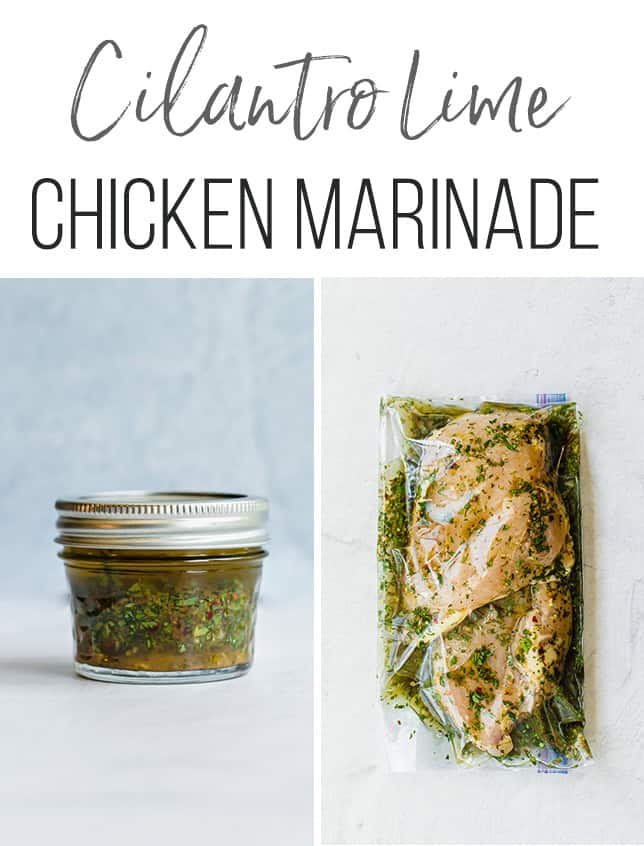 This marinade packs a flavor punch! In fact, I think it's the BEST savory one you'll find. With just a few pantry staple ingredients, boring chicken is taken to a whole new flavor level! Enjoy a la carte, on top of our Favorite Cobb Salad, on a sandwich, or in a wrap.
Of all the marinades in the world, THIS Southwest Chicken Marinade is the one I make the most. Hands down. My kids love it. All adults love it. And it can be served any way you dream up–a la carte, in tacos or quesadillas, in Southwest Chicken Burrito Bowls, or in our Southwest Chicken and Bacon Wraps.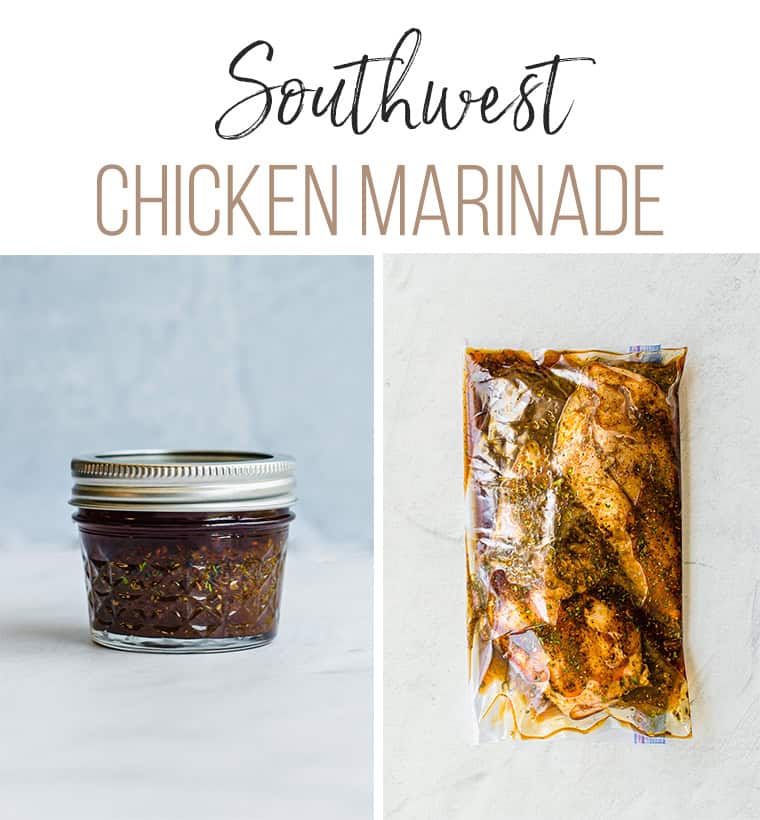 FAQ: Can you freeze these chicken marinades?
Absolutely! As freezer cookbook authors, we especially love how easy it is to prep these chicken breast marinades ahead of time and freeze them to have on hand for another night. Every recipe includes freezing instructions, so you can double and freeze a batch anytime.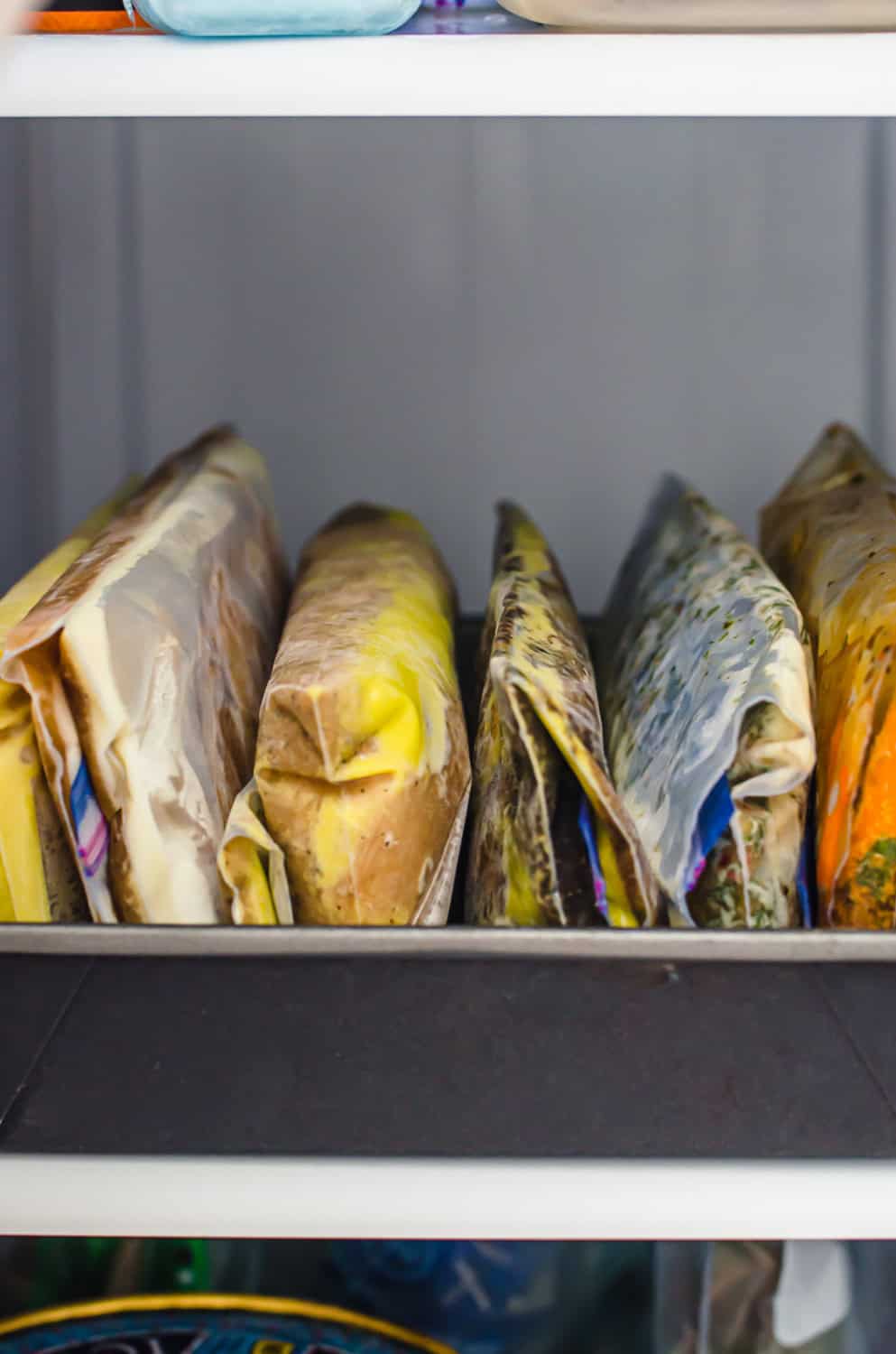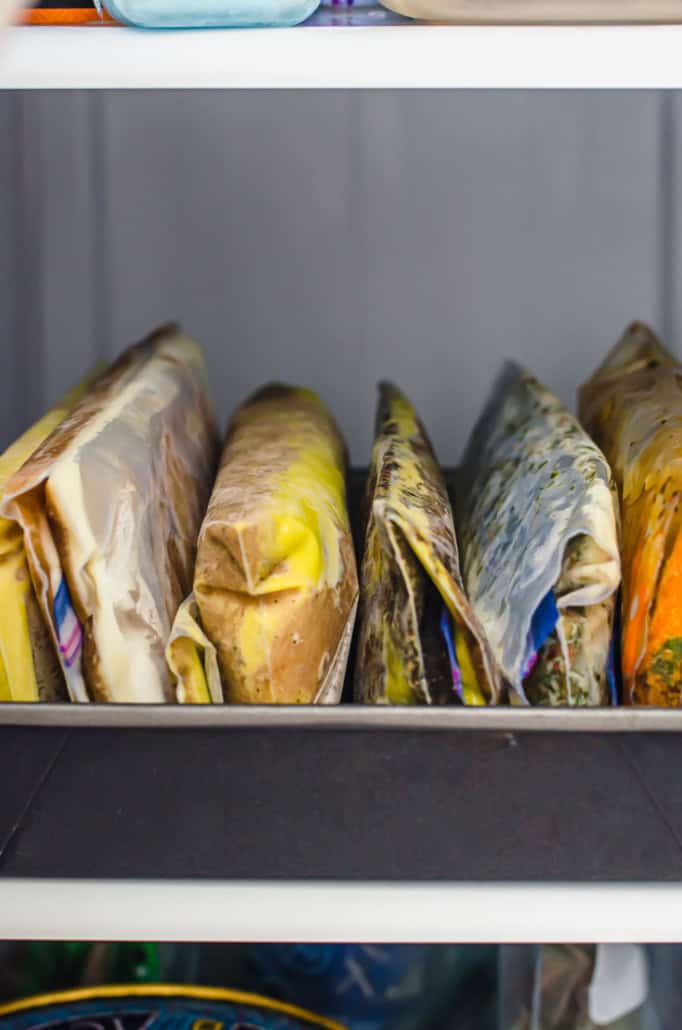 To Freeze: Simply add all the marinade ingredients to a BPA-free gallon-sized freezer bag or one of our favorite freezer meal dishes, toss or whisk to combine, and add in 1 1/2 – 2 pounds of chicken breasts per marinade batch. Then, squeeze out as much air as possible, seal, and freeze for up to 3 months for best results.
To Thaw: Thaw, using one of these safe thawing methods and then cook the chicken according to our recipe instructions. No additional marinating time needed once it is thawed!
We encourage you to stock up on all the ingredients for these marinades and prep them in bulk for an hour or so over the weekend. You'll love having them on hand in the freezer!
FAQ: How long should I marinate chicken breasts?
In our tests, we found that it's best to marinate your chicken in the refrigerator for at least 1 hour and up to 24 hours. Less than 1 hour didn't seem to infuse enough flavor into the chicken breasts and more than 24 hours can cause them to become a bit mealy and mushy, especially if the marinade has a high acid content.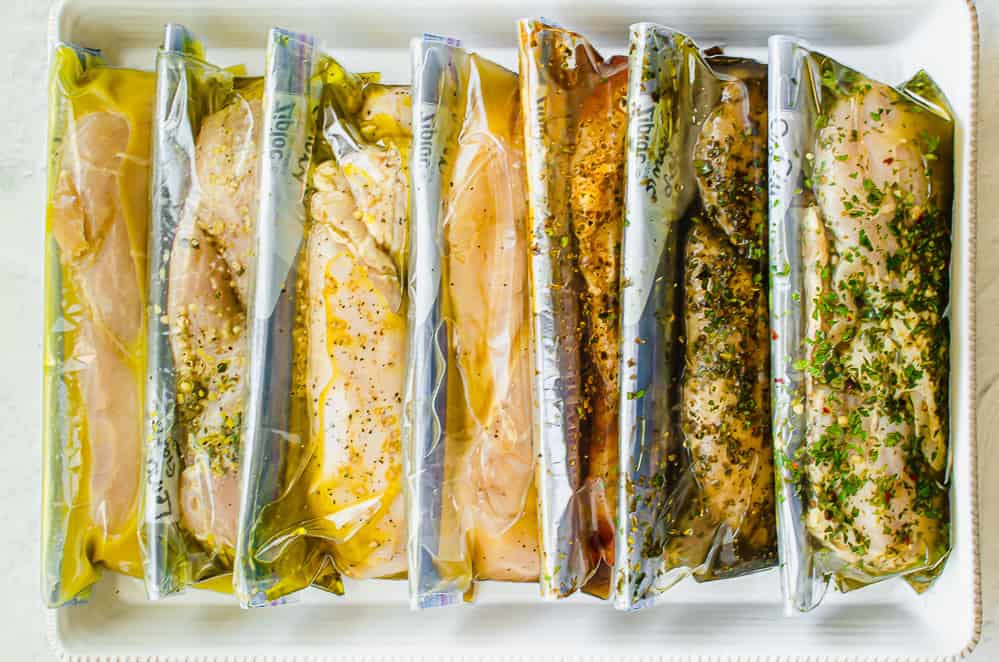 If you're freezing your chicken in the marinade, skip the time in the refrigerator and throw it immediately into the freezer. It will not over marinate in the freezer, but the chicken will begin to absorb some of the flavor during its stay. Then, while it thaws using one of these safe methods, it will marinate even more.
FAQ: Can you use these marinades for other cuts of chicken?
Absolutely! All cuts of chicken can benefit from a dip in a marinade. So, these marinades work just as well for chicken thighs and bone-in chicken. Cooking time will vary from our recipes, however, since we direct you how to cook chicken breasts.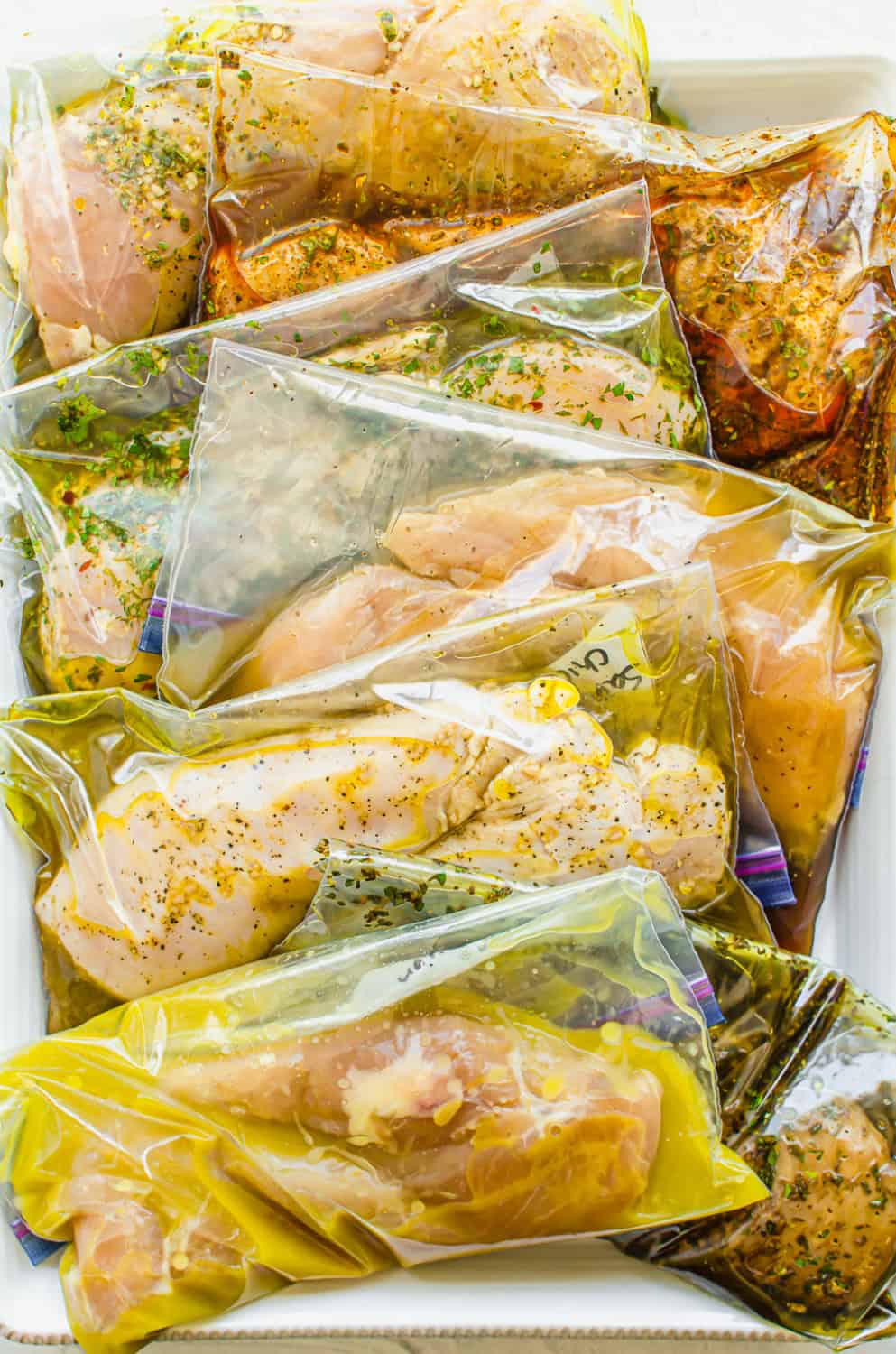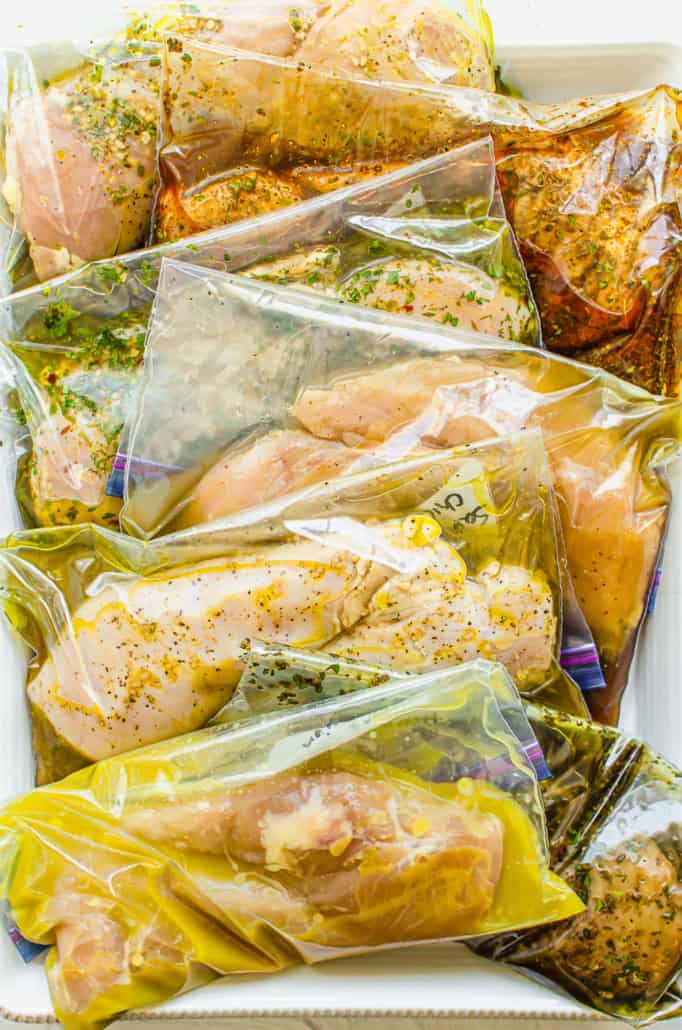 FAQ: What reusable freezer bags do you use?
To cut down on one-time use plastic bags, we've switched over to using Fresh Menu Kitchen Reusable Freezer Bags for our marinades. That's because they are:
Affordable
Eco-friendly–both recyclable and biodegradable!
Easy to stack in the freezer (take up very little room)
Easy to wash and dry
Safer than most plastic bags (BPA-free, phthalate-free, lead-free)
Read our review of these reusable freezer bags to learn more.
FAQ: Where do you get your chicken breasts from?
We are HUGE fans of Butcherbox and have been getting our chicken (and beef, seafood, and pork) from them for years now. We love that their chicken is 100% organic and all their meat is healthy and sourced responsibly. It's so convenient to have it delivered to our doorsteps whenever we choose!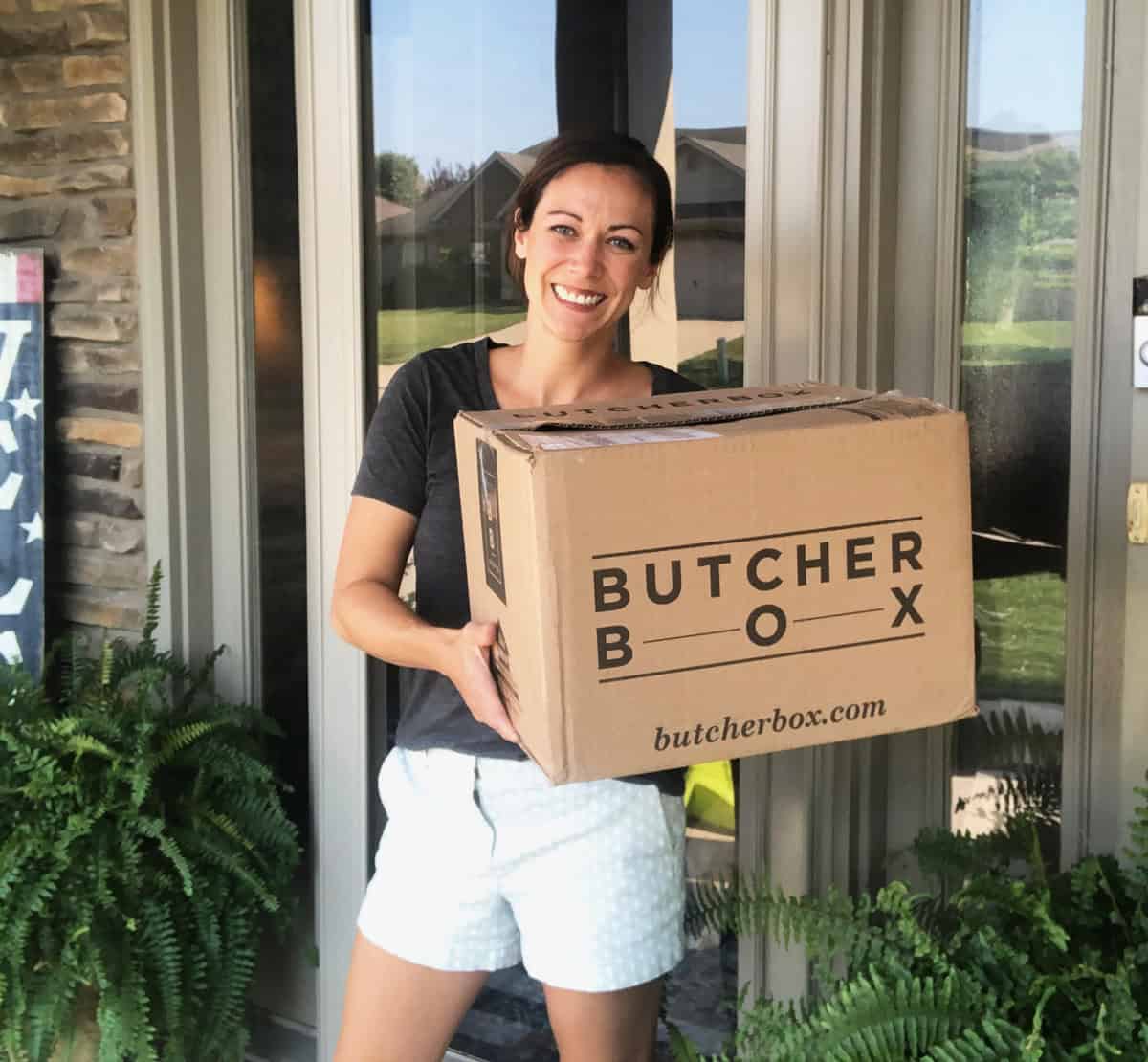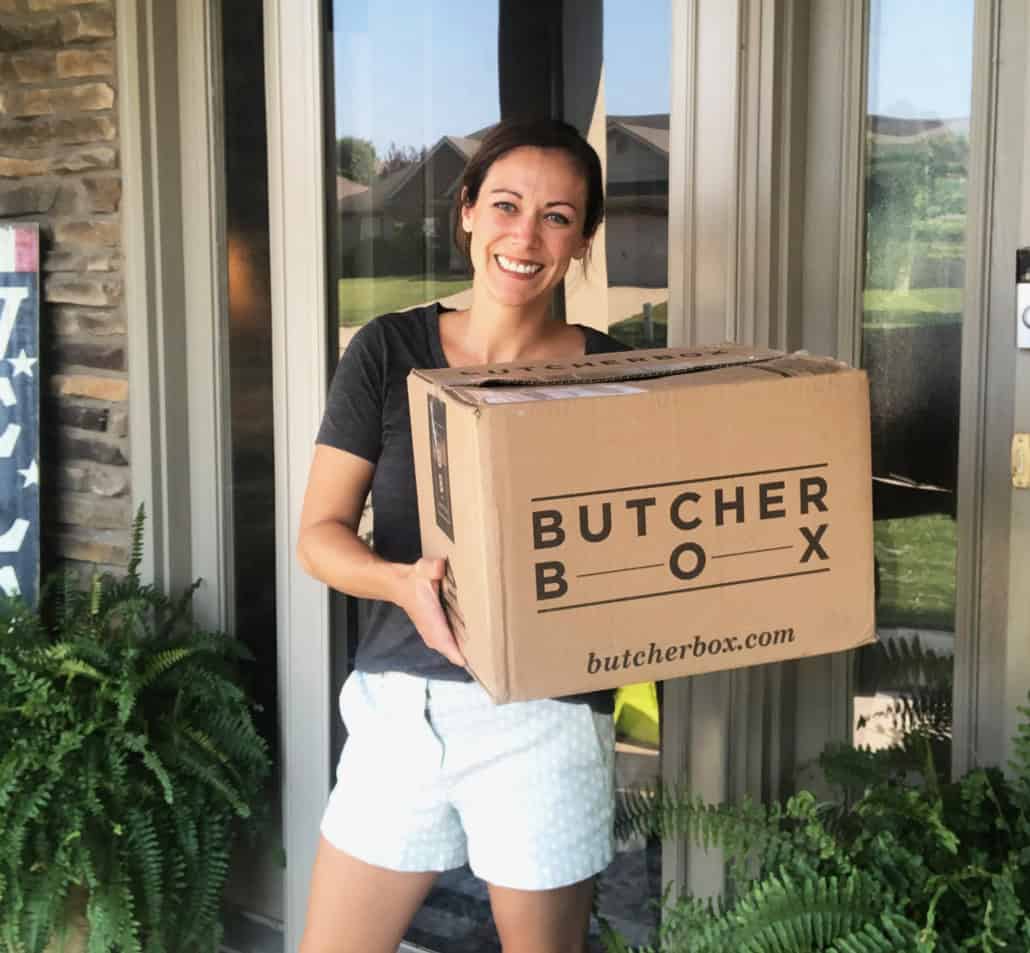 You should definitely check it out and see if Butcherbox would be a good fit for your family. Our readers and we just love it!