This post may contain affiliate or sponsored links. Please read our disclosure policy.
Chicken Burrito Bowls are a healthy and filling dinner idea for everyone! Delicious marinated grilled chicken is served over brown rice and with your favorite southwest toppings. They can easily be meal prepped for the week or turned into an easy freezer meal.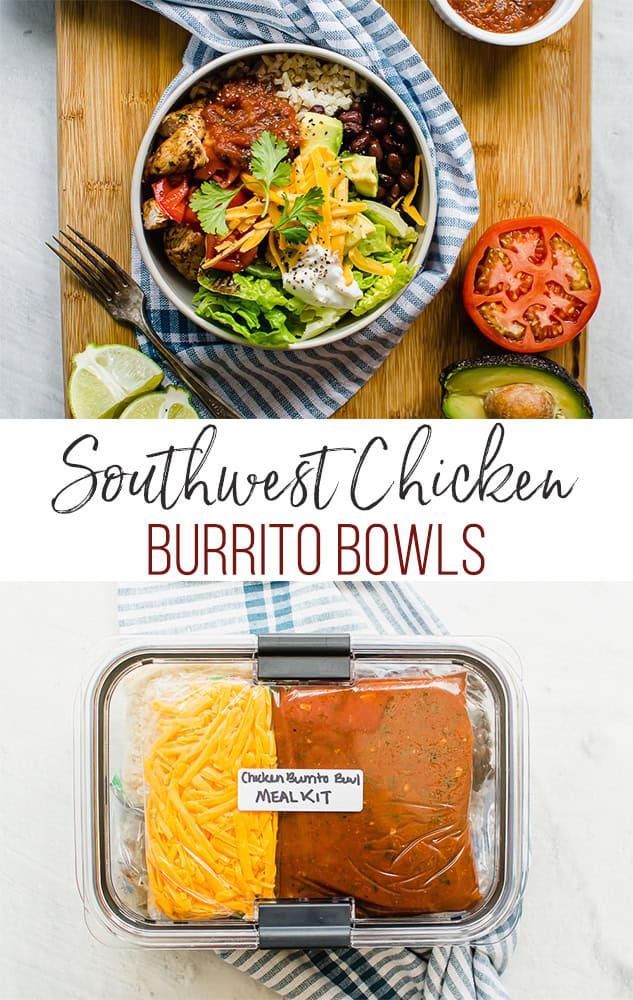 Why We Love These Burrito Bowls
These Southwest Chicken Burrito Bowls proved to be an entire family pleaser, especially because it's a versatile, pick-and-choose what goes in your bowl recipe. Not only did they taste delicious, but this meal is so simple to pull together and double to freeze for later. Seriously, just look how easy they come together:
Ingredients Needed for Chicken Burrito Bowls
This easy dinner packs a high-protein punch. Veggies like shredded lettuce, tomatoes, and avocados make it a one-bowl wonder.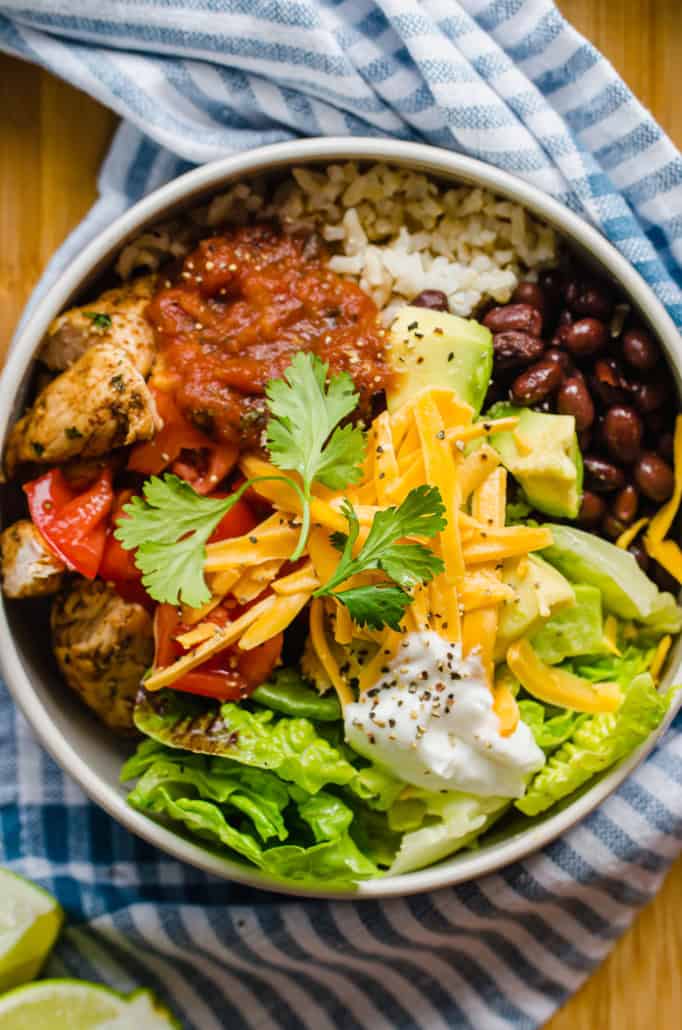 Brown Rice – Adds lots of nutrition. You can sub white rice or quinoa. Try using our Instant Pot Brown Rice recipe or Instant Pot Cilantro Lime Rice!
Southwest-flavored chicken – Use this marinade.
Black Beans – Fiber and protein!
Cheese – Shredded sharp cheddar is our pick but use your favorite cheese or leave it out altogether. (Here's how to shred your own cheese.)
Veggies – Shredded lettuce, diced tomatoes, diced avocados, or minced red onion are delicious toppings.
Condiments – Sour cream or plain Greek yogurt, salsa, and a squeeze of lime for a Tex-Mex taste experience.
How to Meal Prep & Freeze Burrito Bowls
One of the beauties of this recipe is that it can be made in advance and eaten for lunches all week. In addition to that, like so many of our freezer-friendly recipes, this one can be turned into a delicious freezer meal.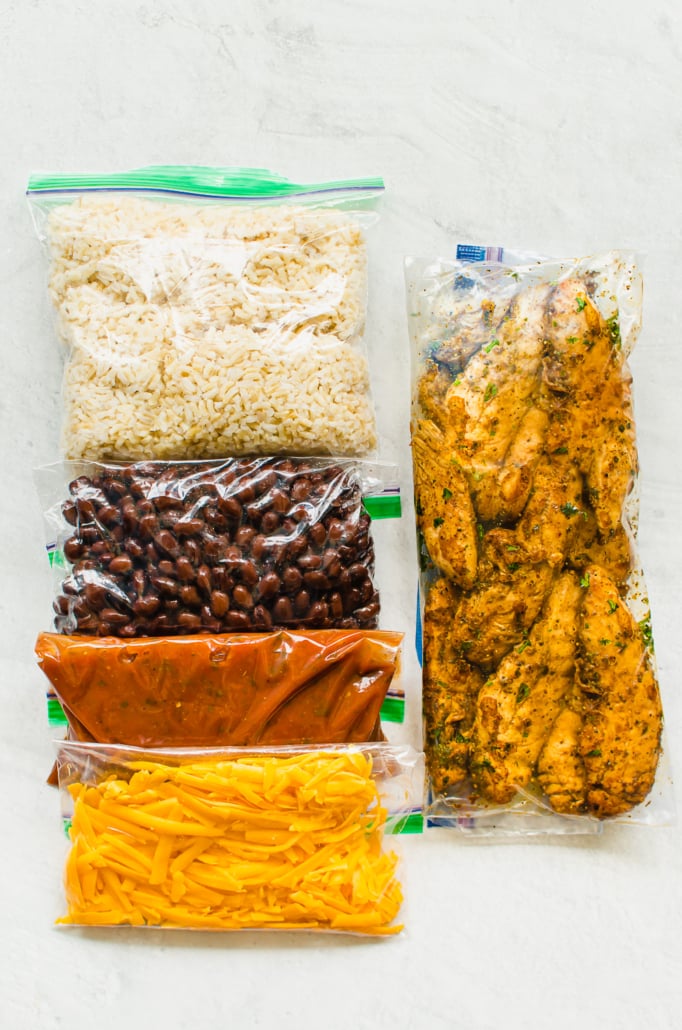 To Freeze For Later
To create a meal kit, place each of the following ingredients in separate quart-sized freezer bags and seal tightly:
2-3 cups cooked brown rice
Grilled Southwest Chicken Tenders (1.5 pounds chicken)
1 (15-ounce) can black beans, drained and rinsed
1-2 cups shredded cheddar or Mexican blend cheese
1 cup salsa
Put all the smaller bags into a plastic grocery sack or a large freezer container. Seal, label, and place in the refrigerator or freezer together as a meal kit.
To Prepare From Frozen
If necessary, thaw the meal pack in the refrigerator for at least 24 hours. Warm the chicken, beans, and rice in the microwave, if you want. Set out all the ingredients, including the fresh optional toppings, like lettuce, tomatoes, avocados, sour cream, and lime wedges. Build your bowl and enjoy!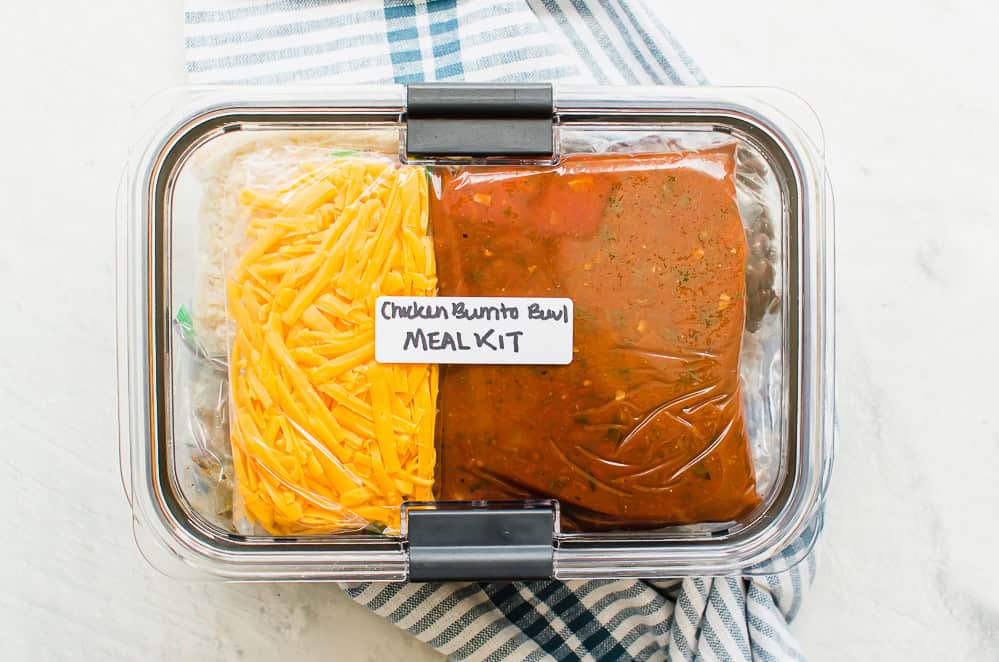 25+ Amazing Mexican Recipes
Looking for more easy, mouthwatering Mexican recipes? Be sure to browse through our round-up of 25+ Amazing Mexican Recipes!
Some of our reader favorites include: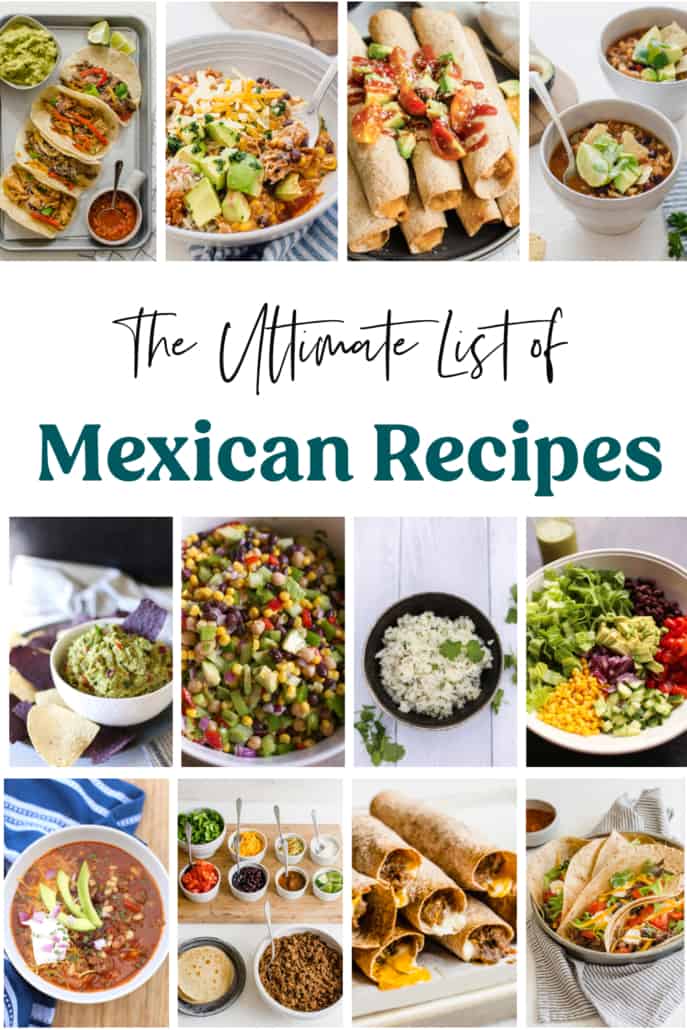 Did you make this? Snap a photo and tag us on Instagram at @thrivinghome so we can see your creations and cheer you on!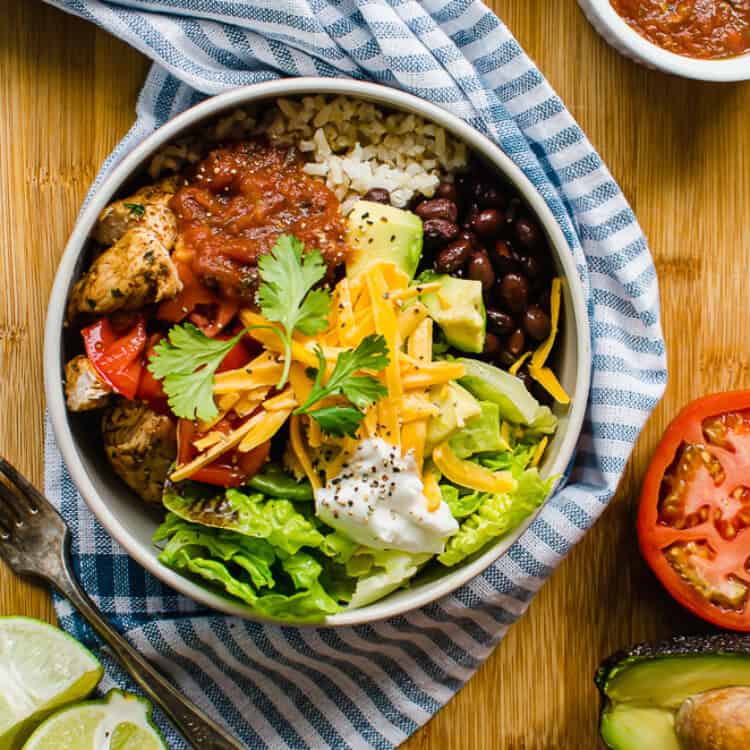 Southwest Chicken Burrito Bowls
A healthy and filling dinner idea for everyone! It's packed with flavorful grilled chicken, black beans, brown rice, and all your favorite taco toppings.
Prep:
5 minutes
Total:
5 minutes