Easy Pickled Red Onions
Updated: 9/26/22
This post may contain affiliate or sponsored links. Please read our disclosure policy.
These Easy Pickled Red Onions are one of my favorite new homemade condiments and only take minutes to put together.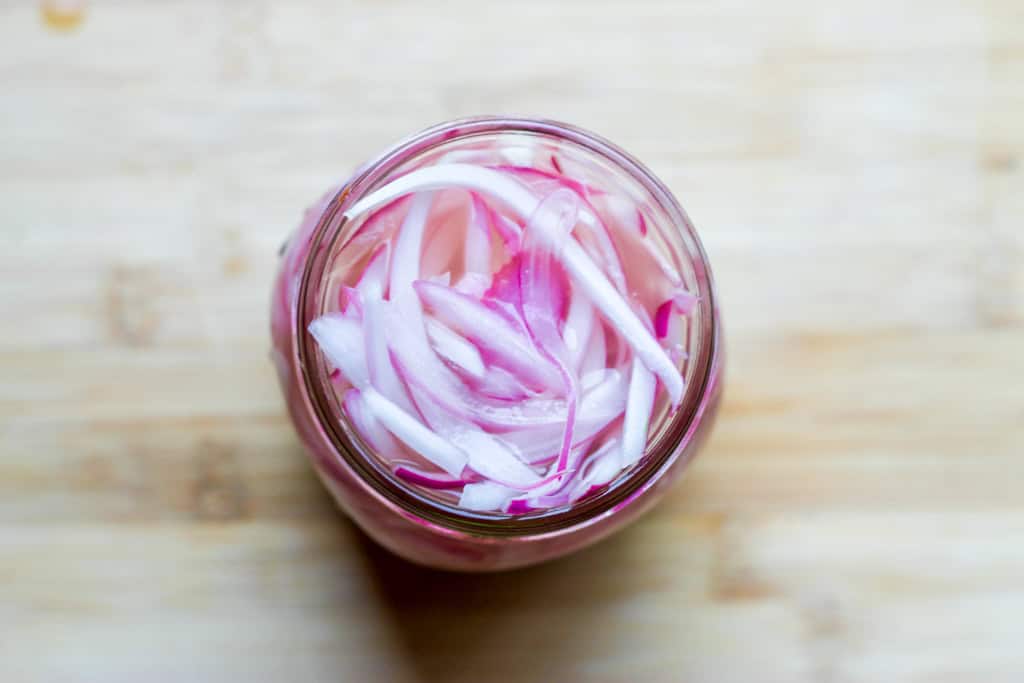 Disclaimer: Some of the links in this post are affiliate links. We are a participant in the Amazon Services LLC Associates Program, a means for us to earn fees by linking to Amazon.com and affiliated sites. Here's our full disclosure.
The older I've gotten, the more I crave complexity in the dishes I make–more color, texture, and flavors coming through. I've found that the secret to achieving that goal is often in the toppings!
For instance, as we were testing our Carnitas recipe for one of our 1 Hour Freezer Prep Sessions, I knew they needed more. More crunch, more wow factor, more party-in-my-mouth. These pickled red onions, along with our Cilantro Lime Aioli, did the trick!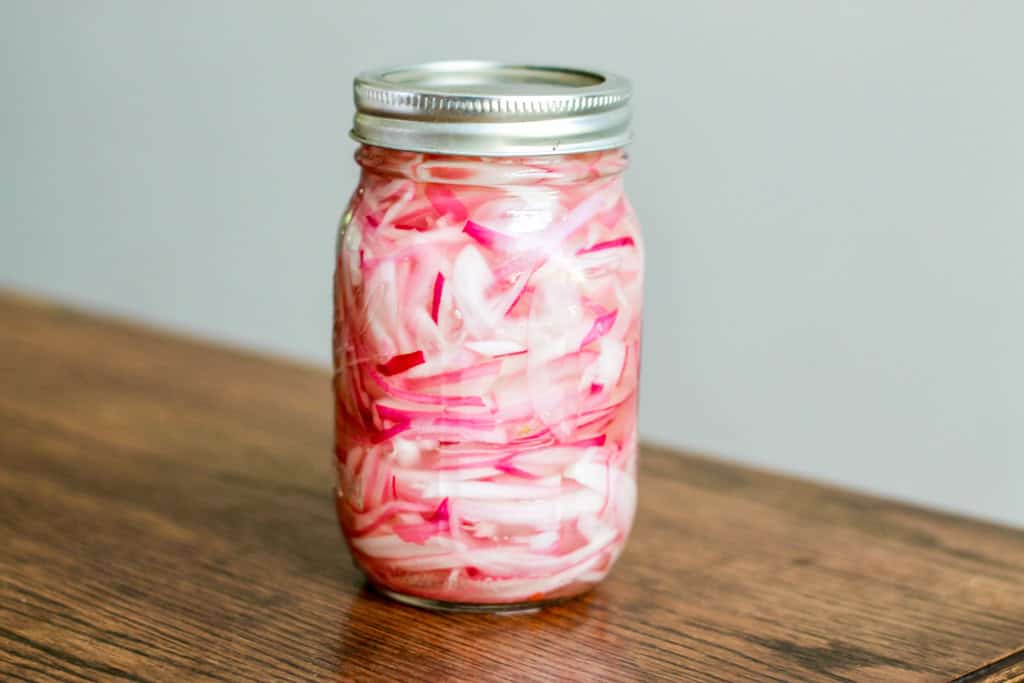 To quick pickle red onions, all you do is very thinly slice them vertically. A sharp knife and steady hand will work, or a mandolin could come in handy here. Then, shove them in a mason jar and add water, vinegar, sugar, and salt. They will need about two hours in the fridge at least before eating.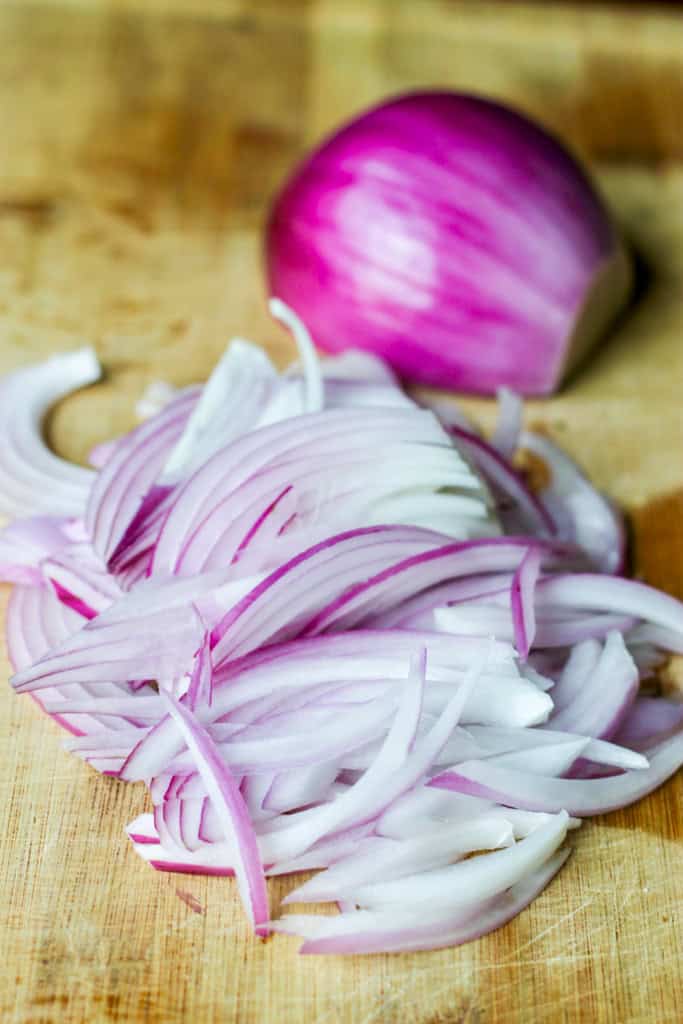 These Easy Pickled Red Onions only take a few minutes to put together and last for days in the fridge. Thinly sliced red onions go from an eye-watering spicy experience to a slightly sweet, mellow topping. My kids will actually eat these plain!
Did you make this? Snap a photo and tag us on Instagram at @thrivinghome so we can see your creations and cheer you on!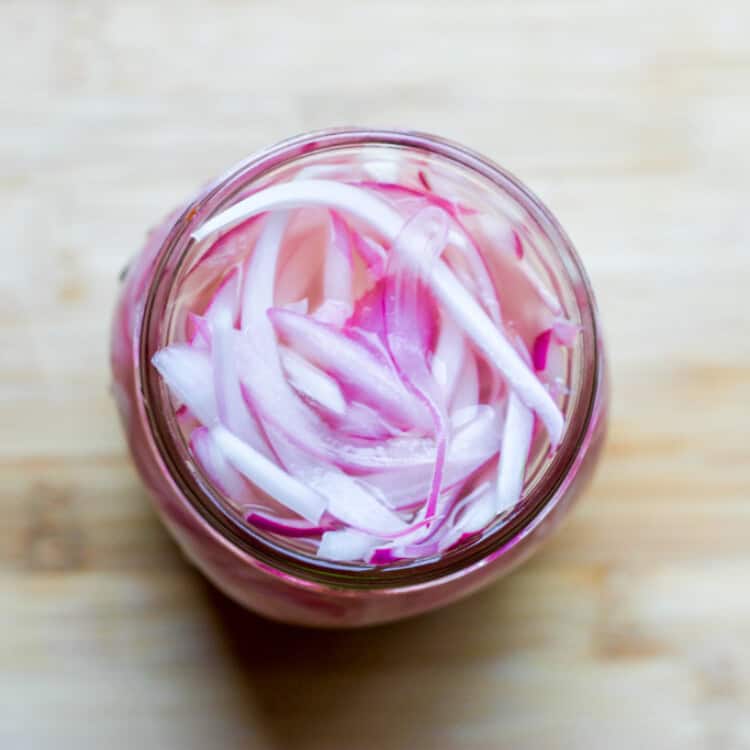 Easy Pickled Red Onions
Pickled red onions take minutes to throw together and add a briny-sweet-spicy crunch that kicks up the flavor and texture in all kinds of dishes, like tacos, salads, wraps, and more.
Prep:
10 minutes
Cook:
2 hours
Total:
2 hours 10 minutes