Shaved Brussels Sprout Salad
This post may contain affiliate or sponsored links. Please read our disclosure policy.
This Shaved Brussels Sprout Salad has the perfect combination of Brussels sprouts, savory bacon, crunchy almonds, and shredded Parmesan. These simple ingredients are tossed in a zesty homemade dressing that will have you craving for more. A crowd-pleaser!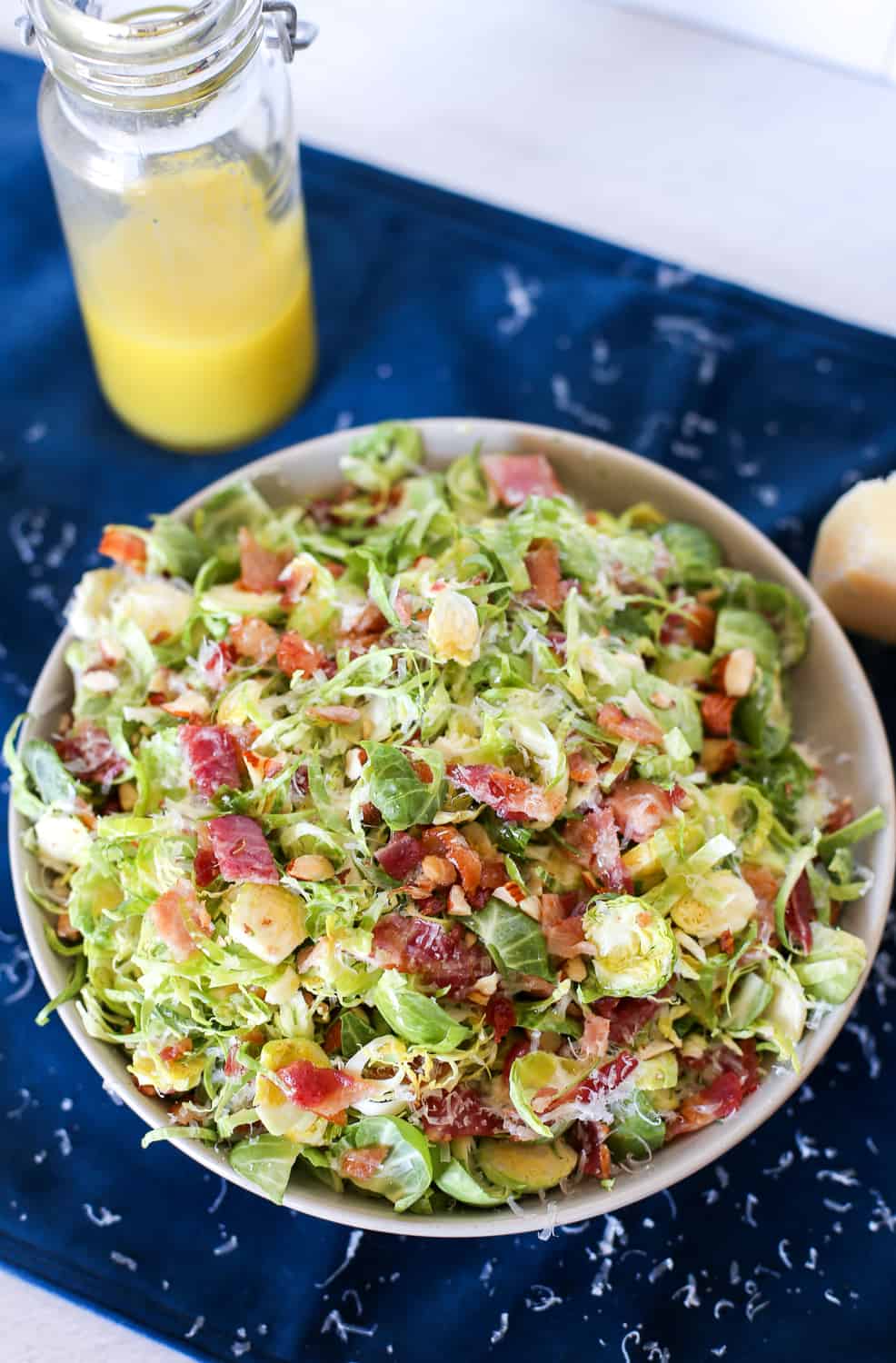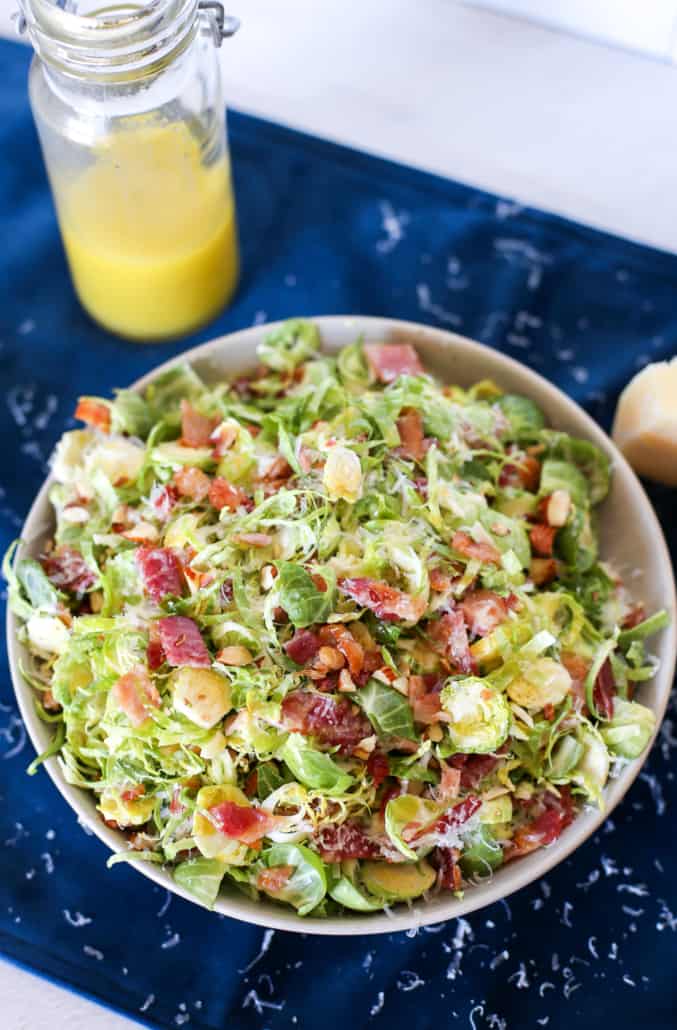 About This Recipe
This Brussels Sprouts Salad has jokingly become my "Friday Night Salad." The reason is, I pretty much make it every Friday to go along with our Pizza & Movie night. I love the combination of simple, fresh ingredients, and the homemade dressing comes together super fast.
I truly have made this salad more than any other one on our site. (Second place would be our Autumn Chopped Salad if you're wondering.)
The Ingredients
Prepared to be amazed by the simplicity!
Fresh Brussels sprouts – Typically in season during the winter but I think they are tasty year-round.
Bacon – Cooked and crumbled. (Try baking it like this.)
Parmesan Cheese – I like to shred my own for this salad.
Toasted Almonds – Chopped or buy the pre-sliced as a shortcut.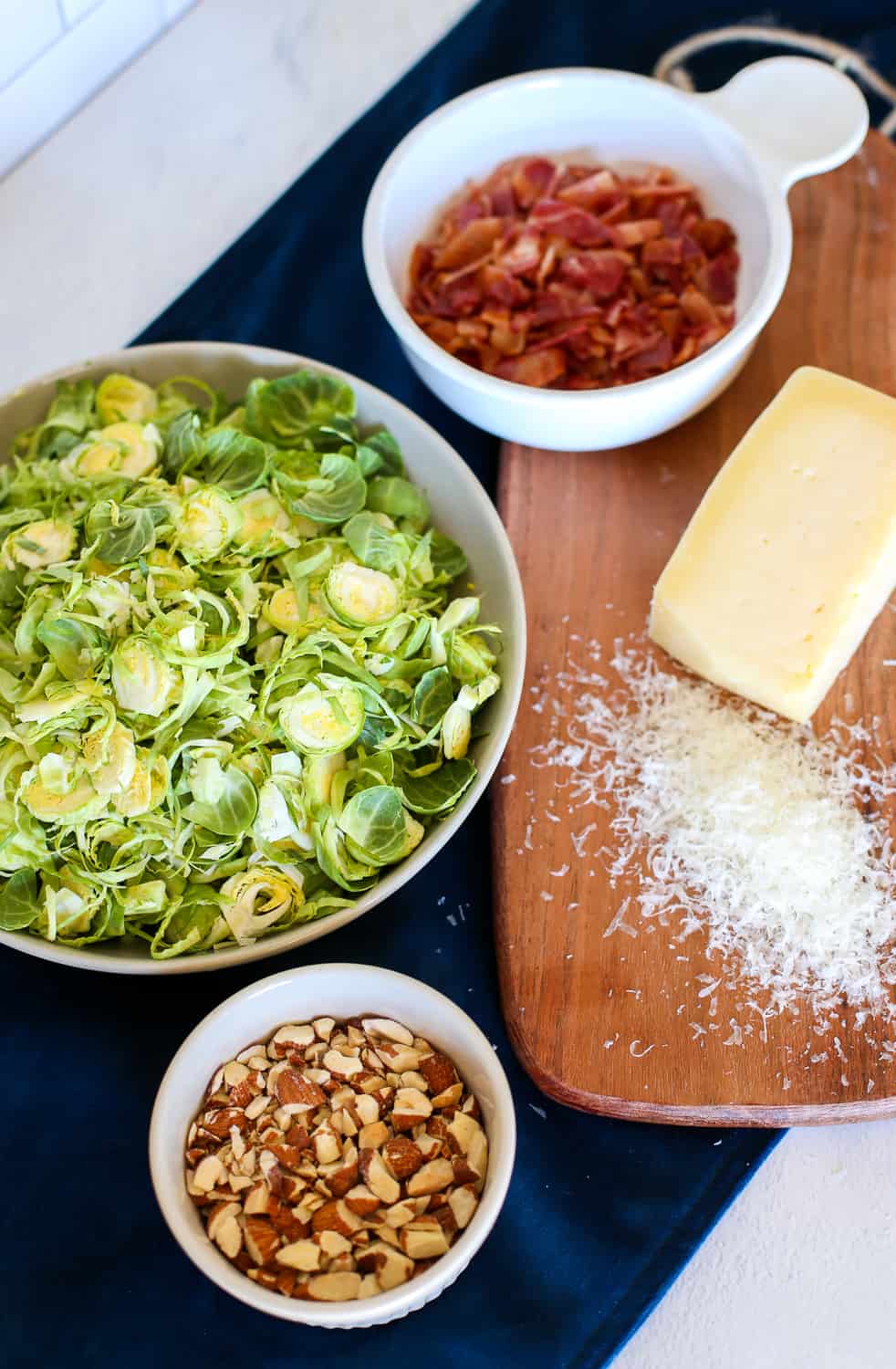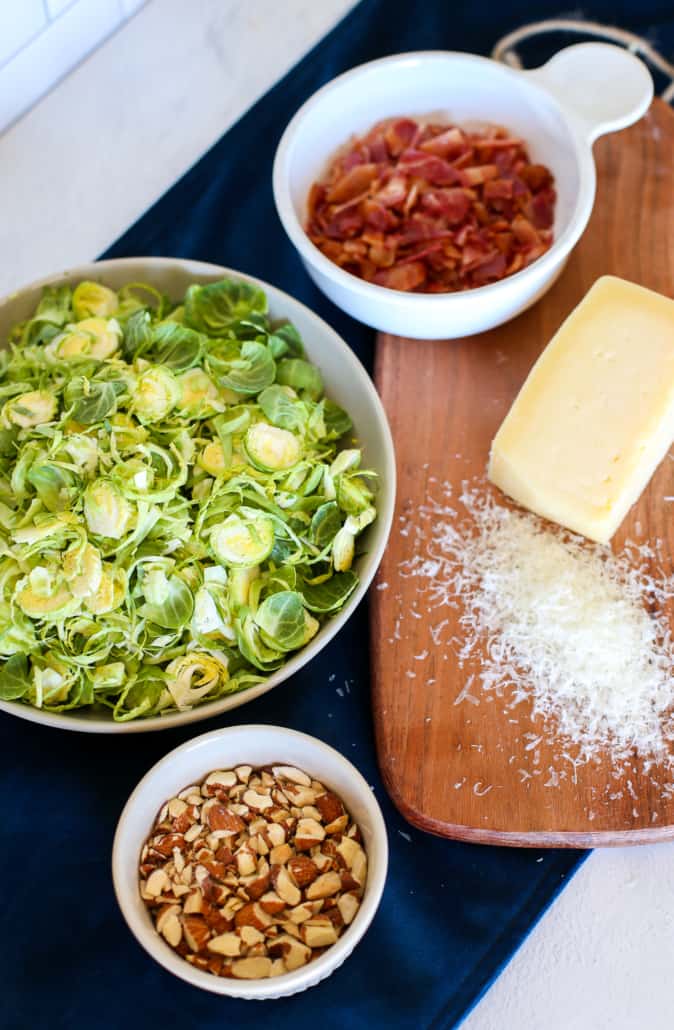 The Best Dressing for Shaved Brussels Sprout Salad
I crave a zesty, citrusy dressing with this salad. It really brings all the ingredients together and is a great balance to the saltiness of the bacon, almonds, and cheese. Like most of our homemade salad dressings, I usually add all of the ingredients to a mason car and give it a good shake.
Here is what you need for the dressing:
Lemon juice – Fresh is always best!
Lime juice – Again, fresh!
Olive oil or avocado oil
Green onion – I've left this out when I don't have it on hand and it totally works without it.
Salt & pepper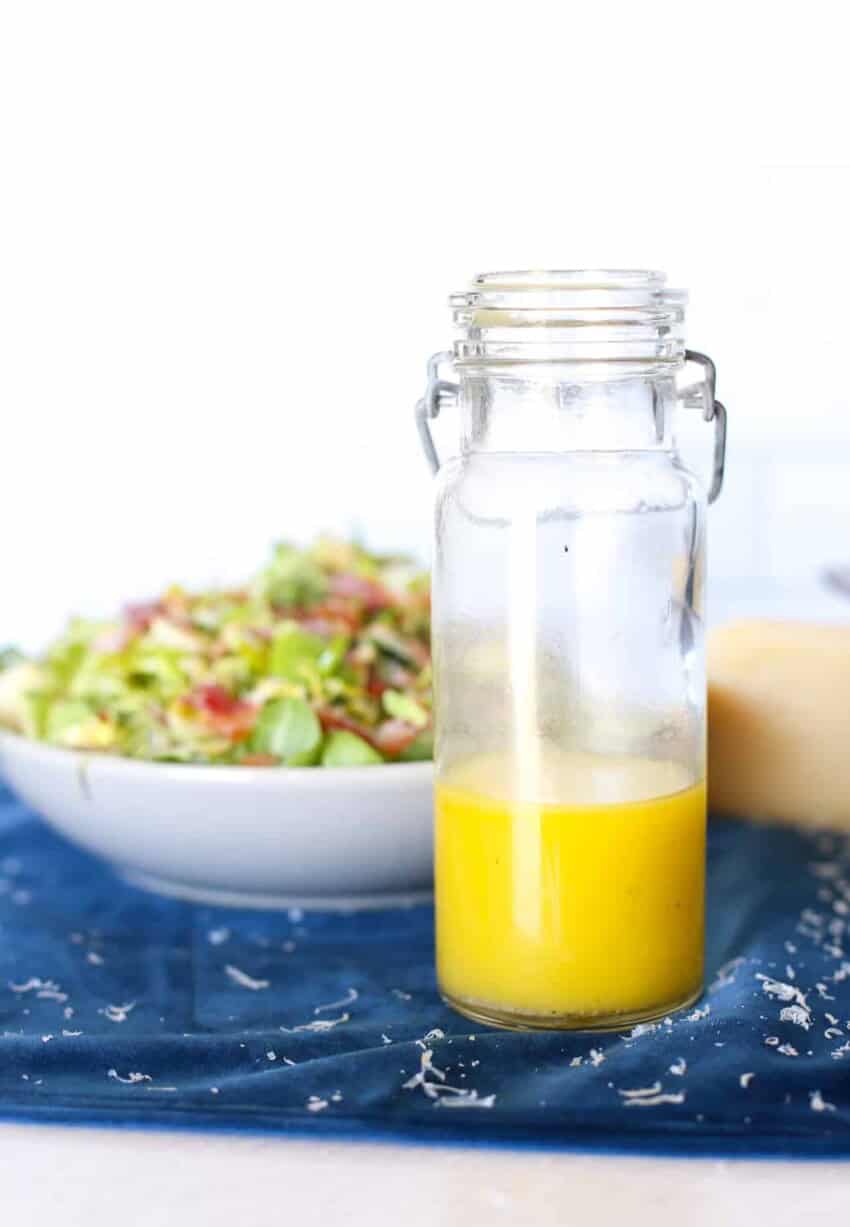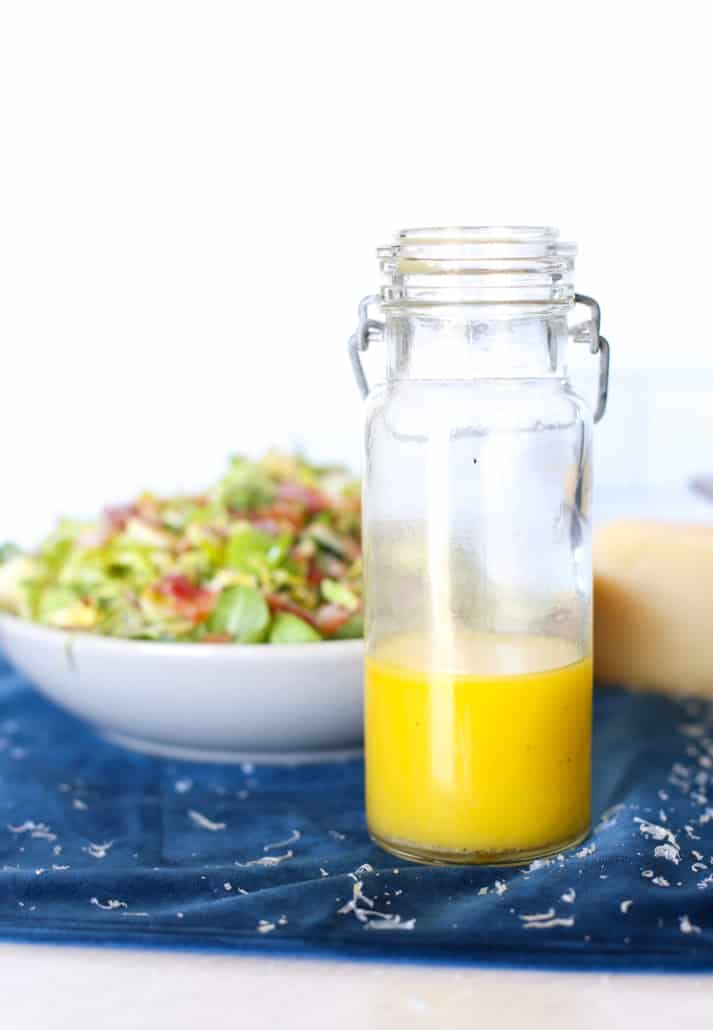 How to "Shave" Brussels Sprouts
There are a few ways to get your Brussels shaved down.
1. Use a Food Processor
My preferred way is using the slicer attachment that comes with a food processor. It saves SO much time. I cut off the stem of the Brussels Sprout and then toss it in the food processor. This handy tool slices it into thin shavings. If you have one of these, use it!
Ever since I did an Instagram story (follow us on Instagram here!) about using my food processor to chop up veggies, I've had quite a few people ask which one I use. I've been very happy with my Cuisinart 11 Cup. I use my food processor for shredding my own cheese and making my own breadcrumbs as well.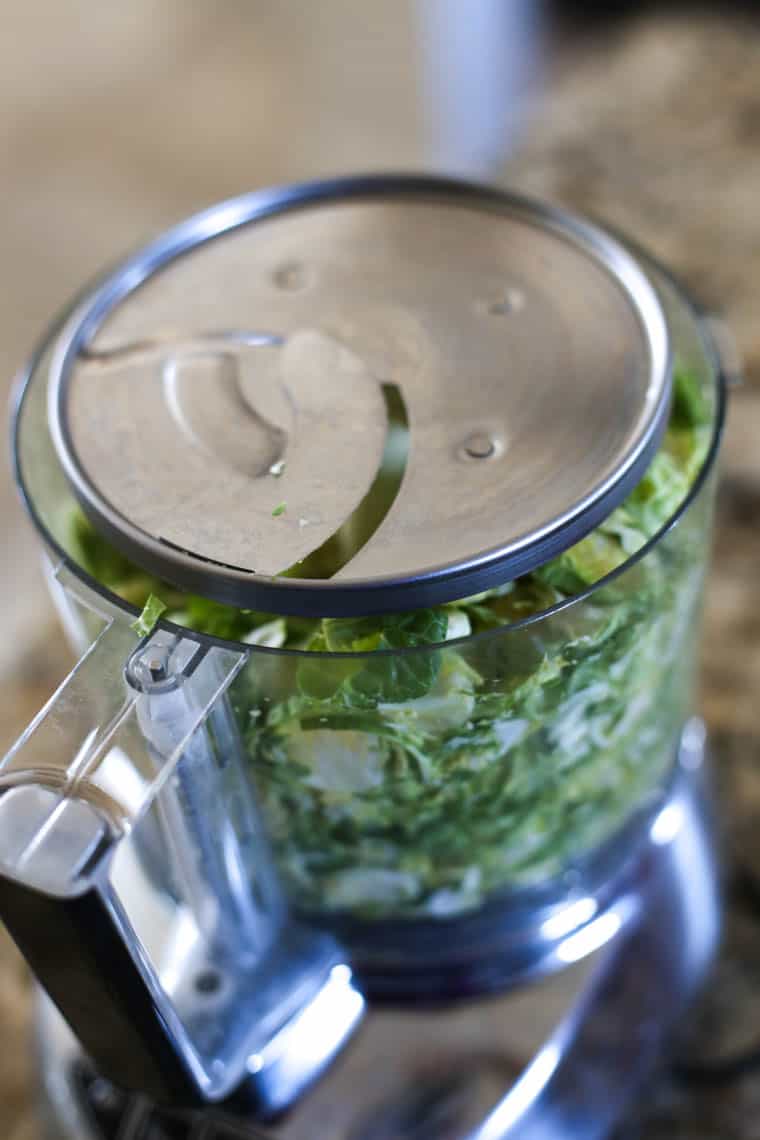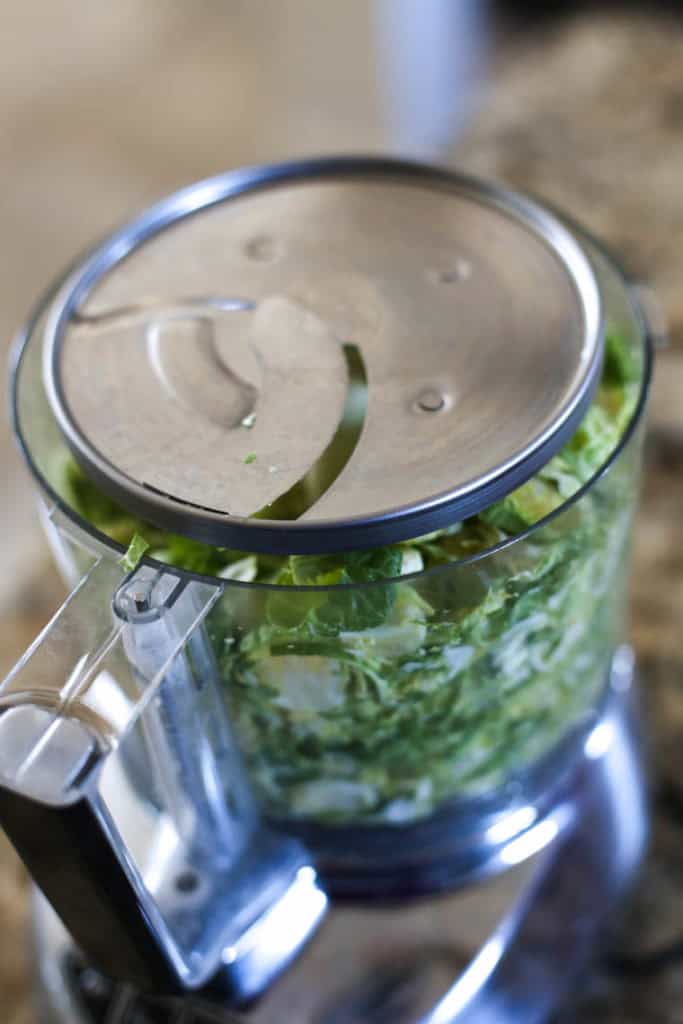 2. Mandolin Slicer
I know some people who LOVE their mandolin slicers for jobs such as these. I, however, have not taken to the tool quite yet. If you have one and you're comfortable using it, now is a good time to bust that puppy out and shave some Brussels. If you are a little mandolin hesitant like myself, move on to option 3.
3. Chop the Brussels by Hand
You can use a sharp Chef's knife and easily slice the Brussels into fine slivers. Again, I remove the stem first, put on some good music or an audiobook, and get chopping. It goes faster than you think!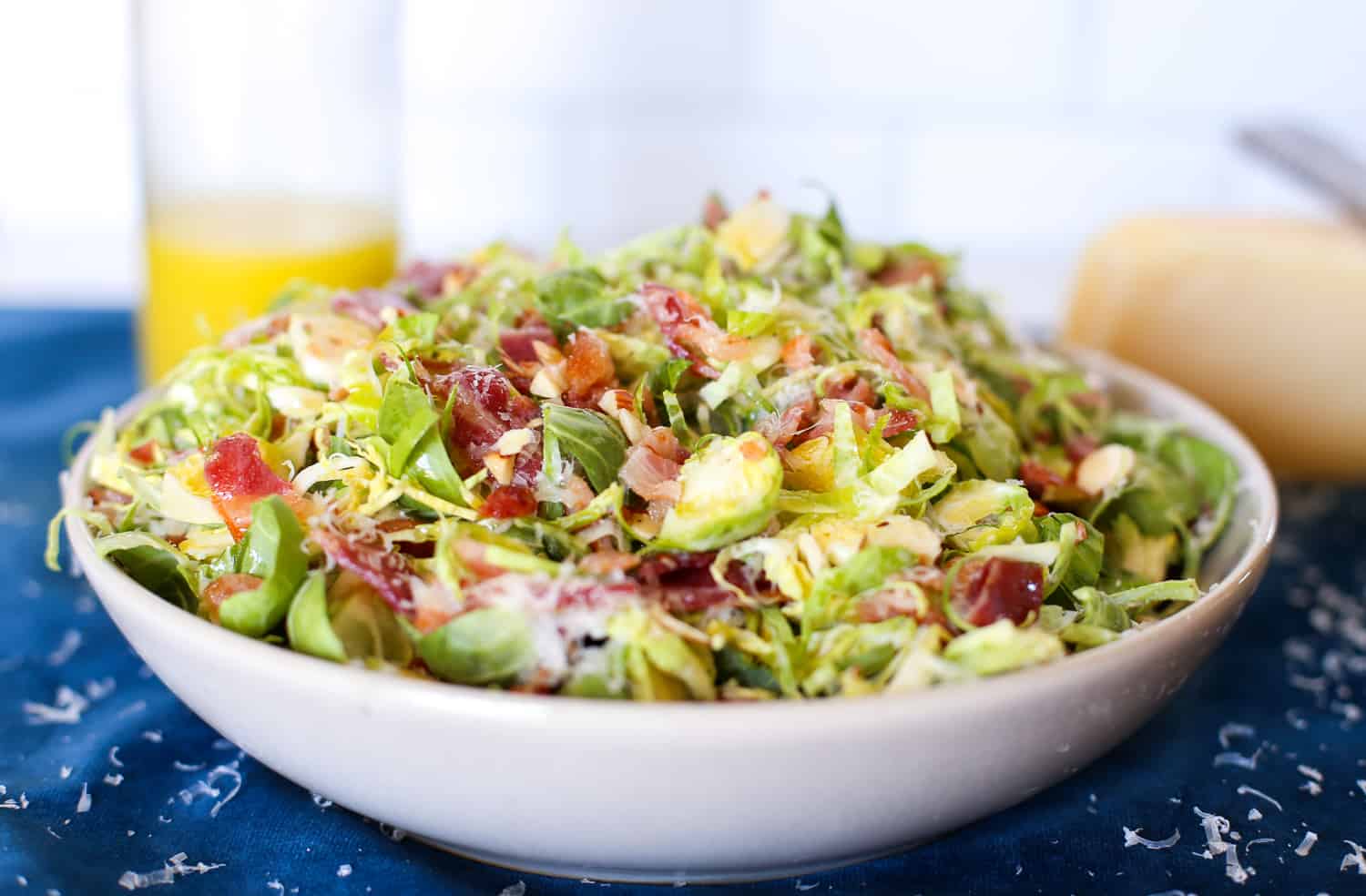 Can You Make Shaved Brussels Sprout Salad in Advance?
You bet! You can make both the salad and dressing and store it in the fridge until you want to eat it.
Be warned – do not dress the salad until you're ready to eat it though. It won't hold well once you've added the dressing.
What Recipes Go Well with Shaved Brussels Sprout Salad?
So glad you asked! Here are some ideas that it would go well with:
Did you make this? Snap a photo and tag us on Instagram at @thrivinghome so we can see your creations and cheer you on!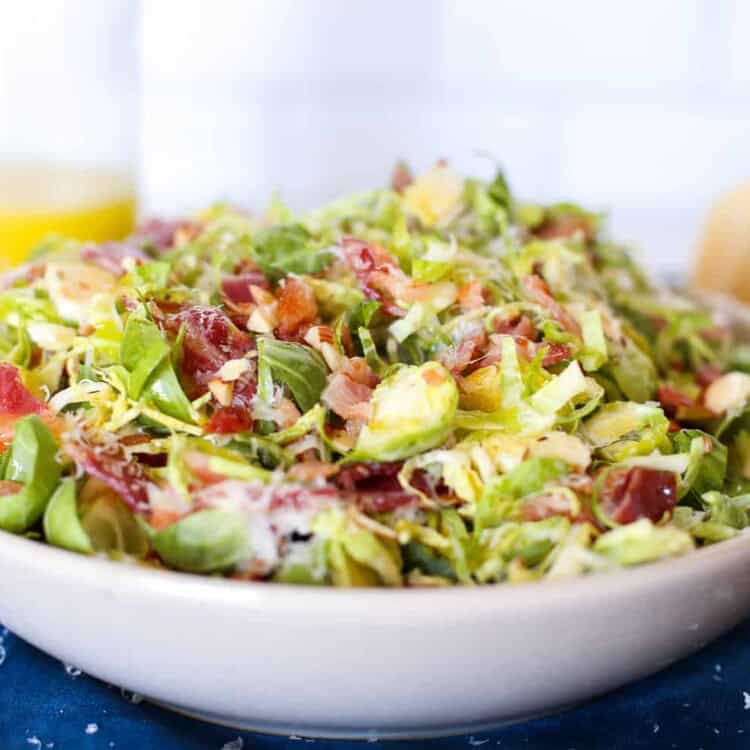 Shaved Brussels Sprout Salad
This light and tasty Brussel Sprouts salad is sure to please. The bacon bits, toasted almonds, and Parmesan cheese compliment the zesty homemade dressing perfectly.
Prep:
20 minutes
Cook:
0 minutes
Total:
20 minutes
Ingredients
Salad Dressing Ingredients:
Juice of

2

lemons (about

5

–

6

tablespoons)
Juice of

1

lime (about

2 tablespoons

)

1/2

cup

olive oil or avocado oil

1 tablespoon

minced green onions

1/2 teaspoon

salt

1/4 teaspoon

pepper
Salad Ingredients:
5

–

6

slices of bacon, cooked and crumbled (try this easy method)

1 1/2

pounds

Brussels sprouts, thinly sliced (about 6 cups)

1

cup

shredded or grated Parmesan cheese (preferably freshly shredded)

1/2

cup

chopped almonds, toasted*
Before You Begin! If you make this, please leave a review and rating letting us know how you liked this recipe! This helps our business thrive & continue providing free recipes.
Instructions
In a mason jar, combine salad dressing ingredients and give them a good shake until well combined.
In a large salad bowl, combine salad ingredients and toss.
Drizzle the salad dressing over the salad and serve immediately.
---
Notes/Tips
*To Toast the Almonds: Preheat the oven to 350°F. Place the chopped almonds on a rimmed baking sheet. Bake for about 5-10 minutes, shaking the pan once or twice, or until you start to smell them. Keep a close eye on them and take them out just when they are starting to turn golden and smell toasted. 
I often make a full batch of this salad and munch on it all week long. Just don't add the salad dressing until you are ready to eat!