This post may contain affiliate or sponsored links. Please read our disclosure policy.
Once you've made these Easy Homemade Croutons, you'll never go back to buying them at the store. Not only do they taste better, but they're healthier too! Make a large batch and freeze them for later.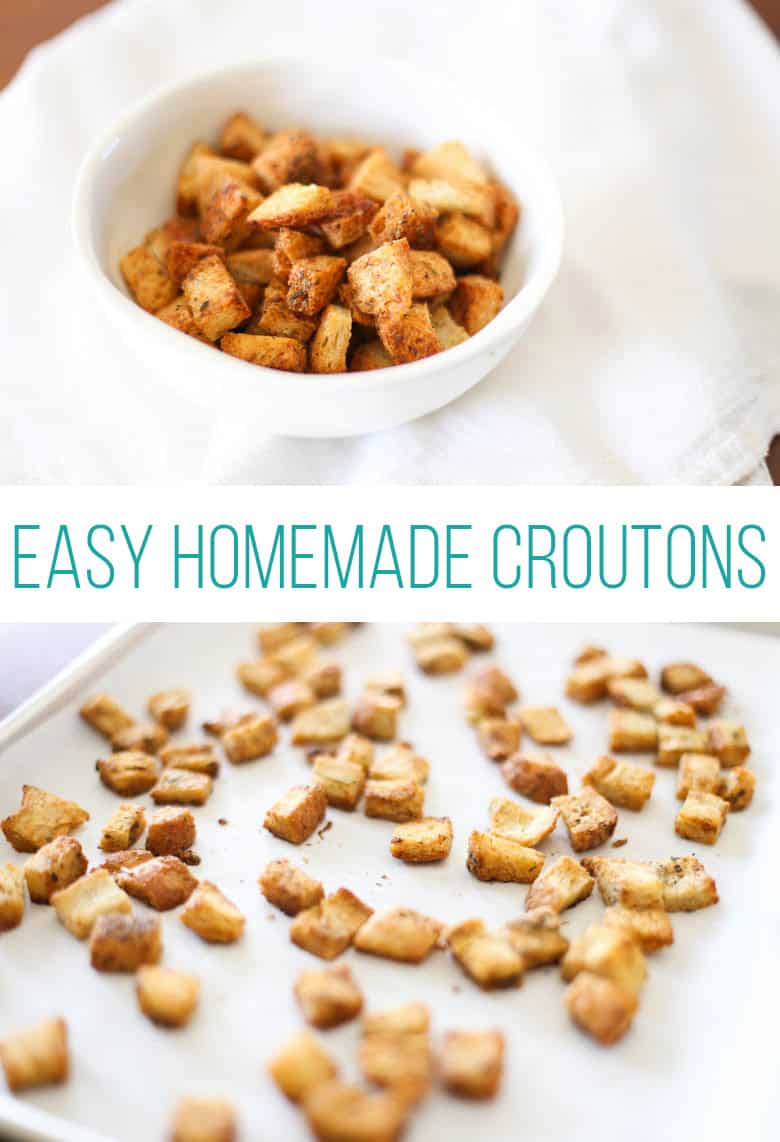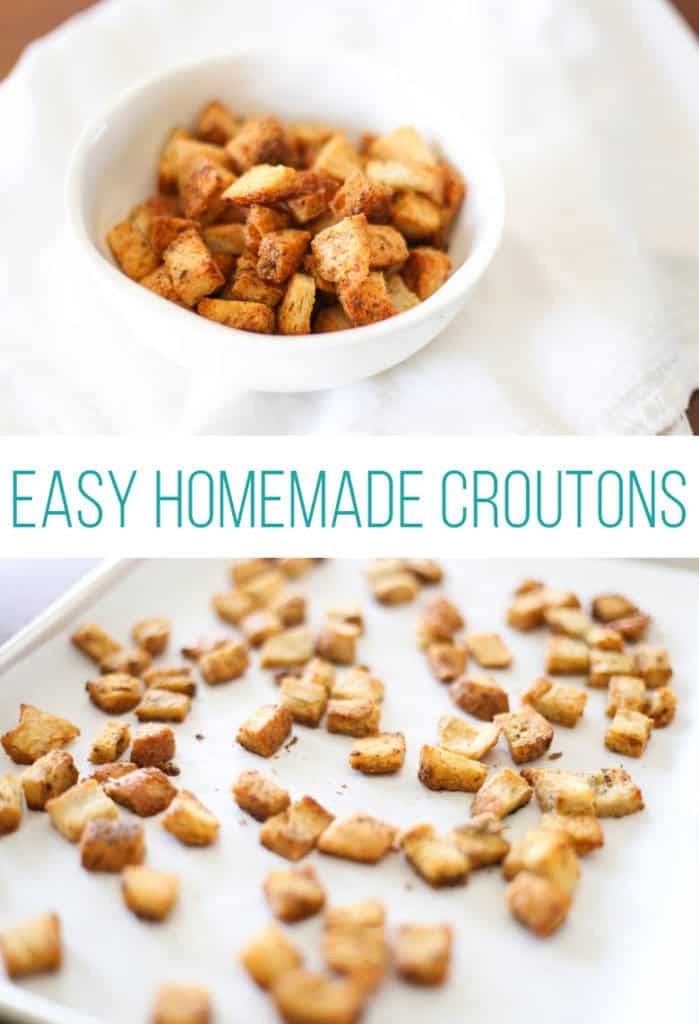 I wish I would have known how easy it is to make your own croutons much earlier in life. Turns out, it's incredibly simple, and they taste SO much better than the store-bought version. Not to mention, they contain a lot less additives and preservatives too.
How to Make Homemade Croutons
With just a few simple ingredients, you can top your soups and salads with flavorful homemade croutons that have a lot less additives and preservatives than the store-bought version.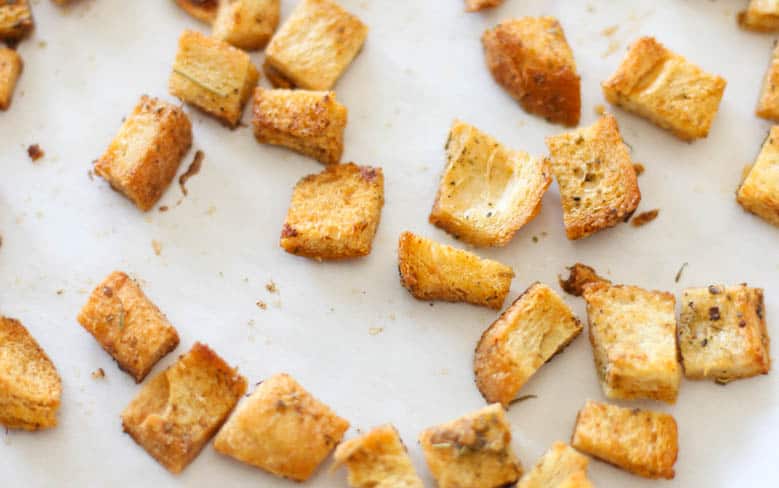 To make our homemade croutons, you'll want some sourdough bread or a french loaf, preferably a little stale. You could also use a whole grain baguette for more nutrients and fiber. I have always made it a habit to toss any stale bread or heels of loaves that don't get eaten into a storage bag in our freezer. I use them to make homemade breadcrumbs, baked french toasts, Easy Breakfast Egg Muffins, and now, homemade croutons!
To get started, simply cut the bread into small pieces. They don't need to be symmetrical or anything. Just roughly the same size.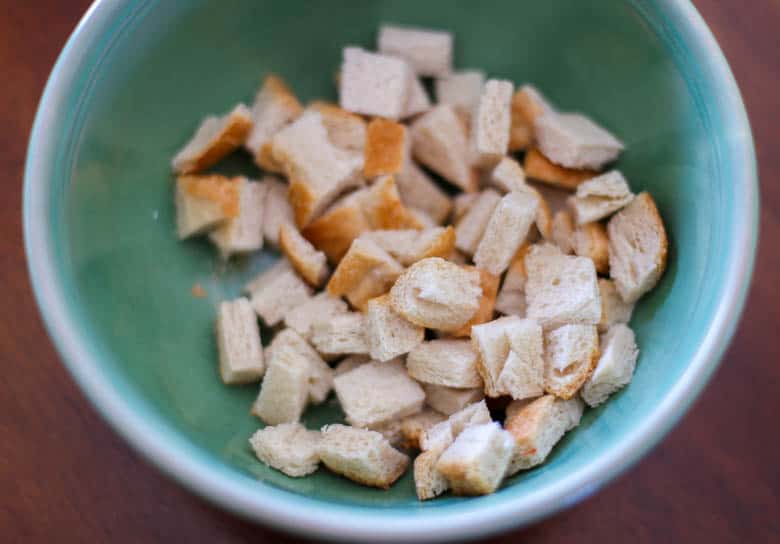 Season Your Homemade Croutons
Next step to making your own croutons is to toss them in some olive oil and seasonings. I like to use Italian seasoning, garlic powder, and onion powder. You can totally play around with these though. Some ideas that would be good are thyme, basil, salt, and pepper. Maybe even paprika, if you're feeling spicy.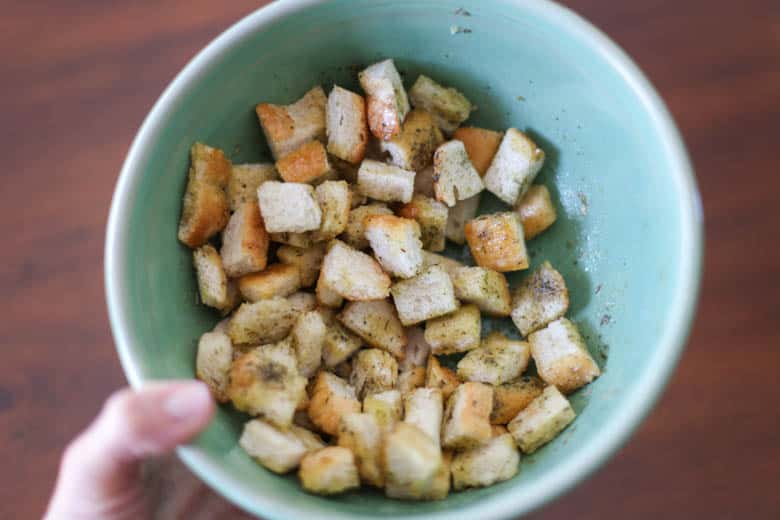 Bake Your Homemade Croutons
Time to get baking. AKA: time to make your house smell AMAZING. Spread some parchment paper out on a baking sheet for easier cleanup. Spread your seasoned croutons out and bake them at 375°F for about 15 minutes. Give them a stir about halfway through.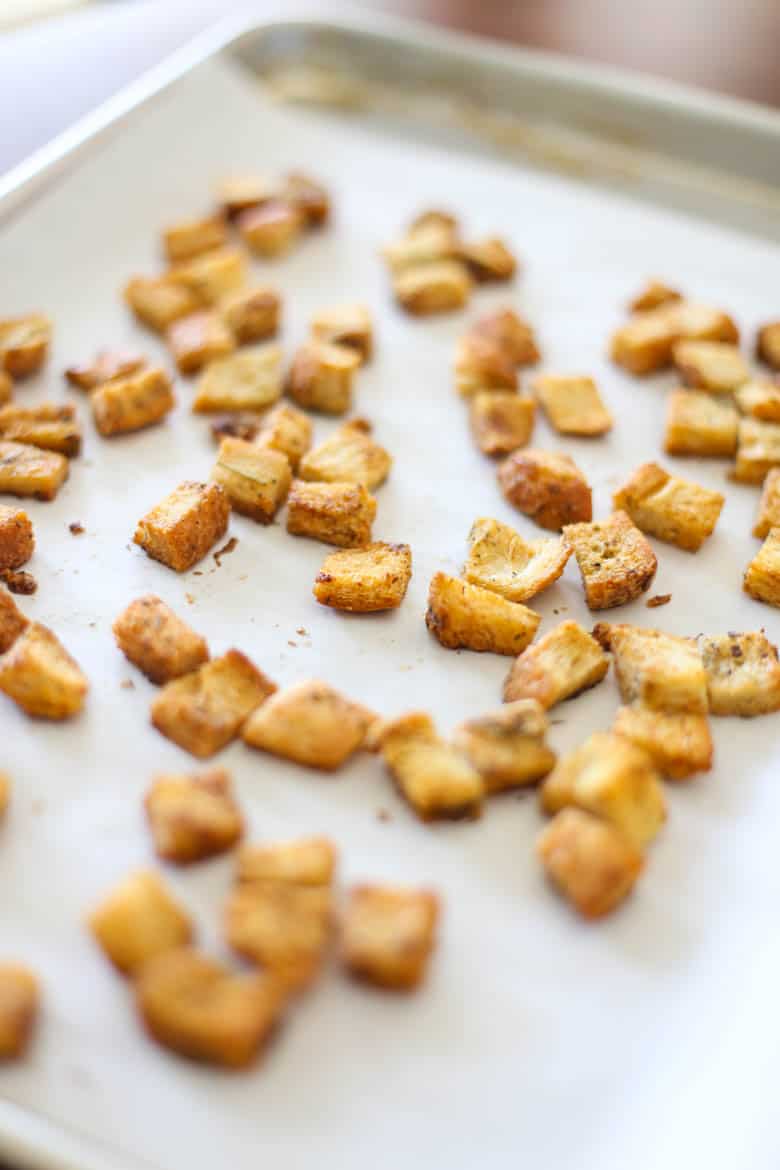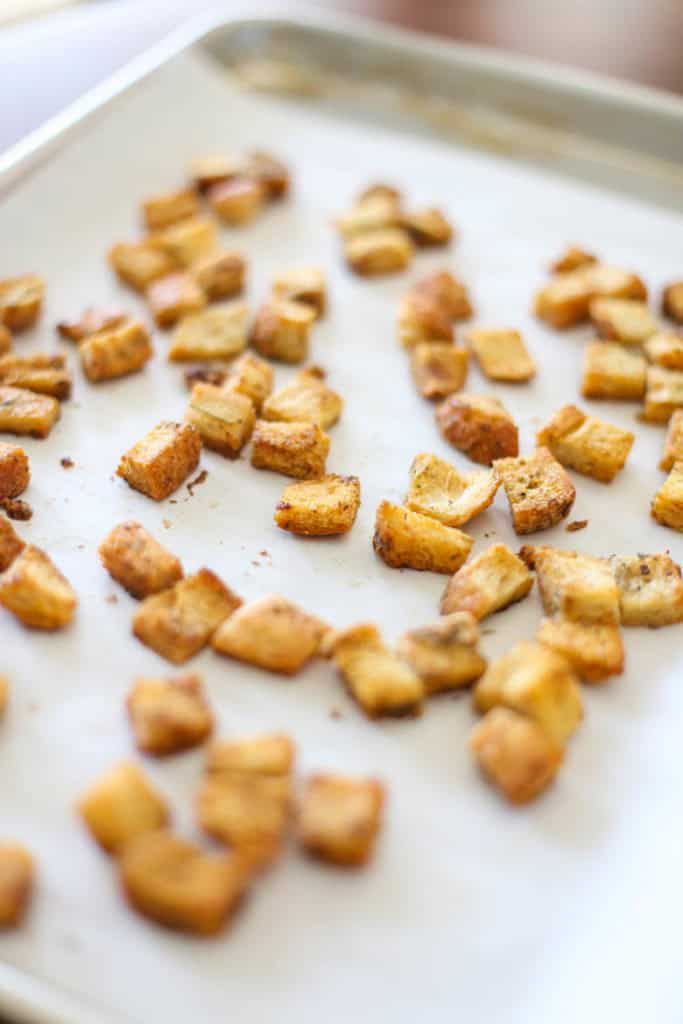 How to Freeze Homemade Croutons
If you're going to the work of making homemade croutons, I'd advise you to double the batch and freeze them in a freezer storage bag or container. This makes them last MUCH longer. When you want to use them, simply take out how many you want and let them thaw on the counter for 10-15 minutes. Then, toast them briefly under the broiler, if you want to really crisp them back up. But, they are fine "as is" too.
You also have the option of storing them at room temp or in the fridge for a few days. It'd be so sad for your baby croutons to go bad though, so just toss them in the freezer!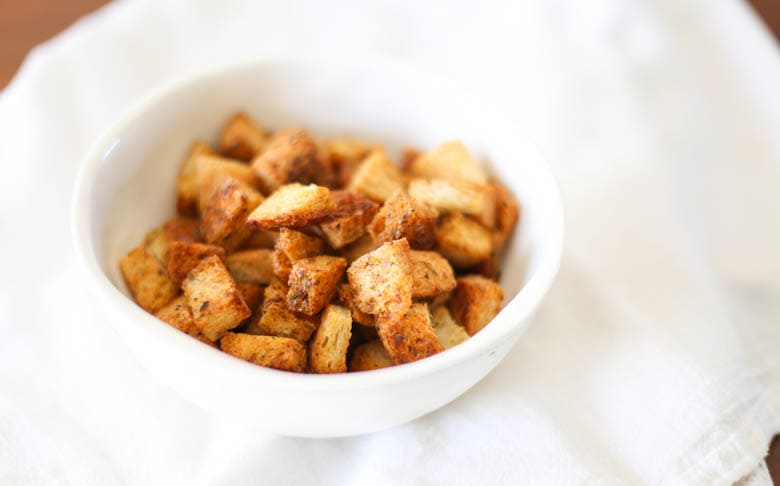 Be warned: Once you make these, you'll never go back! They work perfectly to top our delicious Tomato Bisque or Instant Pot Tomato Soup.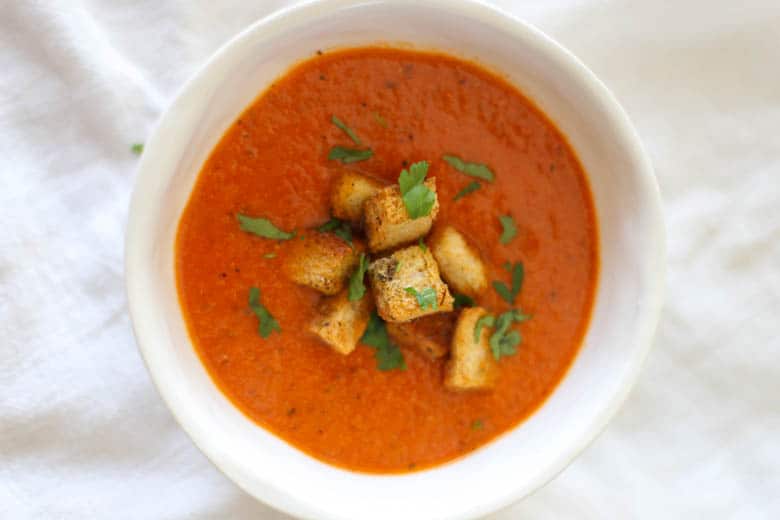 Did you make this? Snap a photo and tag us on Instagram at @thrivinghome so we can see your creations and cheer you on!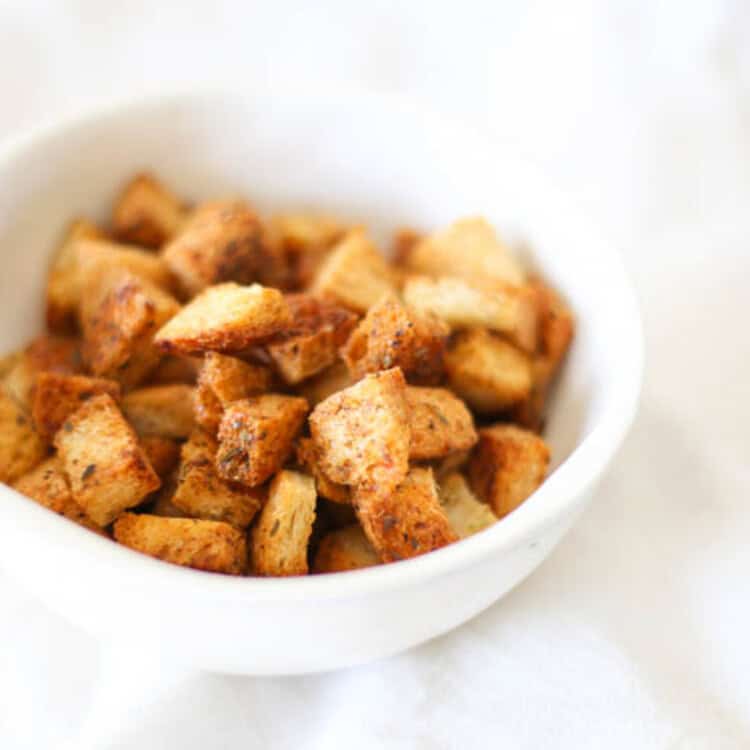 Easy Homemade Croutons (Freezer Friendly)
Once you've made these Easy Homemade Croutons, you'll never go back. The fresh bread is packed with flavor and toasted to perfection. Make lots and freeze them!
Prep:
15 minutes
Cook:
15 minutes
Total:
30 minutes
Ingredients
2 cups

of diced sourdough bread (or french bread)

1/4 cup

olive oil

1 teaspoon

Italian seasoning

1/2 teaspoon

garlic powder

1/2 teaspoon

onion powder
Before You Begin! If you make this, please leave a review and rating letting us know how you liked this recipe! This helps our business thrive & continue providing free recipes.
Instructions
Line a baking sheet with parchment paper (it helps to have a sheet pan that is rimmed, so you don't lose any croutons in the oven). Preheat oven to 350°F.
Place diced bread in a large mixing bowl and drizzle oil over the bread pieces. Toss to coat.
Add seasonings and toss until even distributed.
Spread croutons evenly over the baking sheet.
Bake for 10-15 minutes, stirring once halfway through, until croutons are browned and crisp.
To Freeze For Later: Let croutons cool and then store in an airtight container or freezer bag.
To Prepare From Frozen: Let croutons thaw. Lightly toast under the broiler, if desired.
Once you've made them, be warned. Small hands will find them and they will disappear quickly!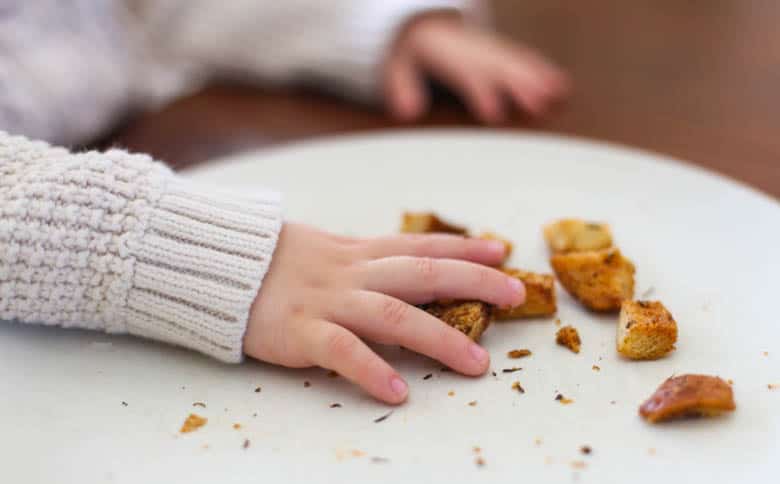 Make sure to check out our other Homemade Pantry and Freezer Staples!