20+ Inexpensive, Easy Meals for Large Groups
This post may contain affiliate or sponsored links. Please read our disclosure policy.
I've been feeding groups of people in my home for decades. Here are 20+ of my best easy and inexpensive meal ideas for large groups.
These group dinner ideas have fed many mouths and I hope they can make hosting groups of people in your home as easy as possible.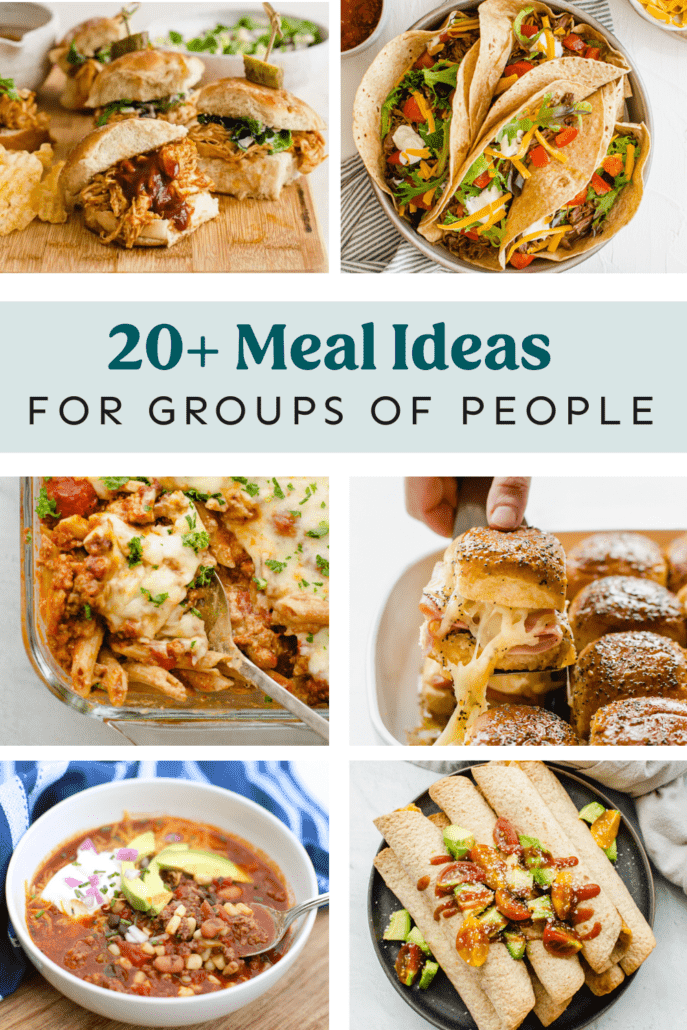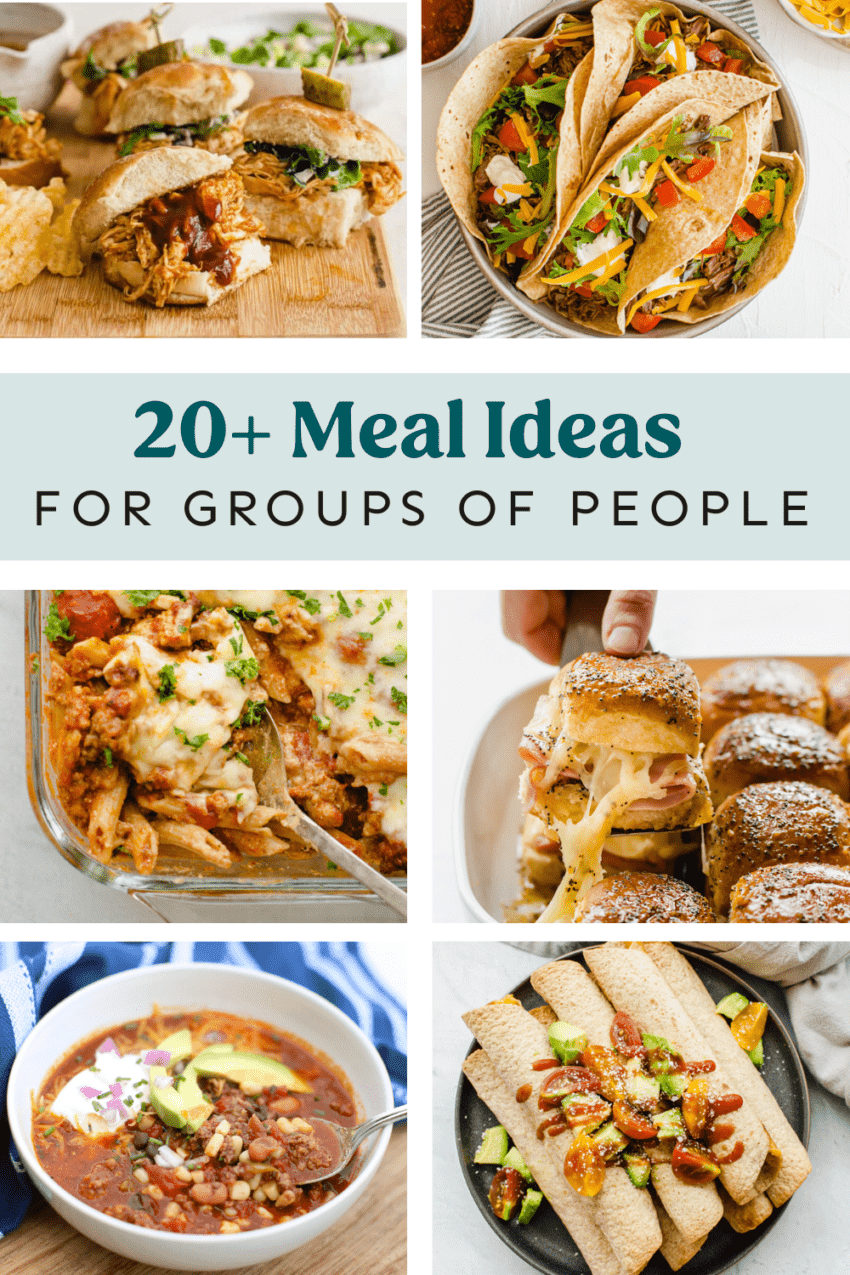 Tips for Feeding Large Groups
Coming from a gregarious family that frequently hosted and now being a home that is regularly hosting groups, I've learned a few tricks of the trade over the years! Here are a few tips to keep in mind when hosting groups in your home.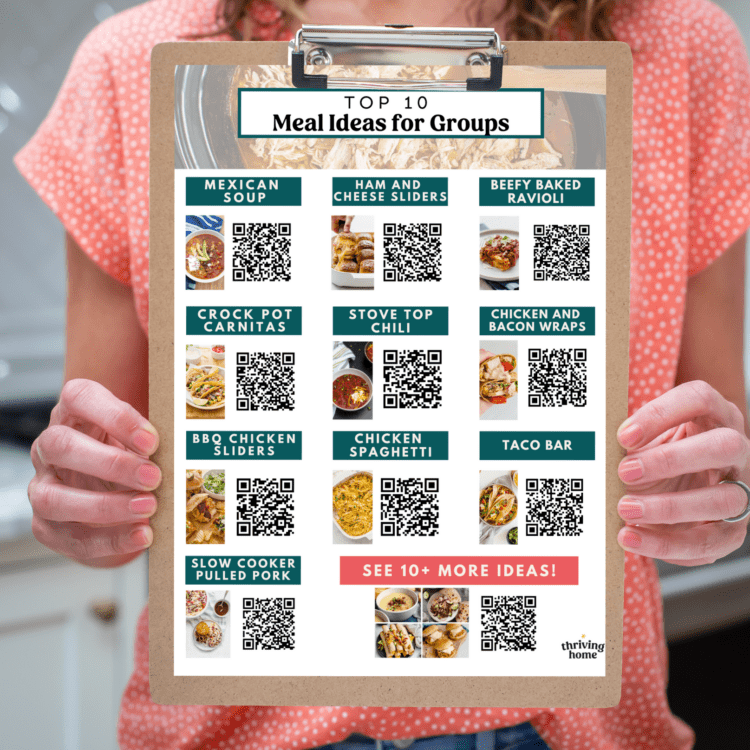 Meal Ideas for Groups Cheat Sheet
We've handpicked the top 10 meal ideas for groups and put them on one handy cheat sheet for you. Don't leave without it!
Send it My Way!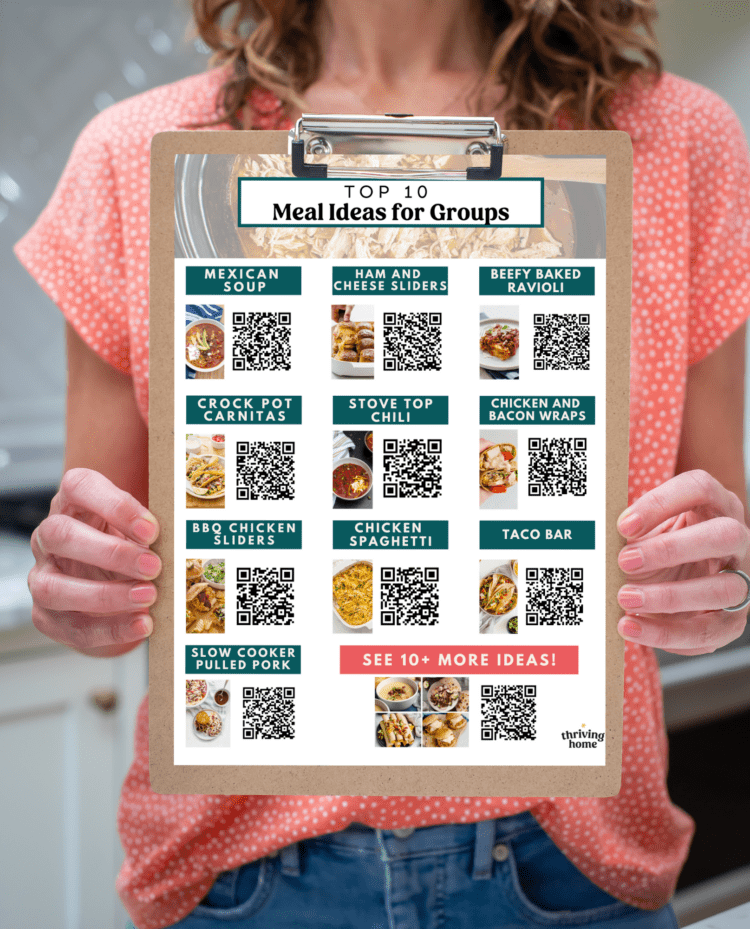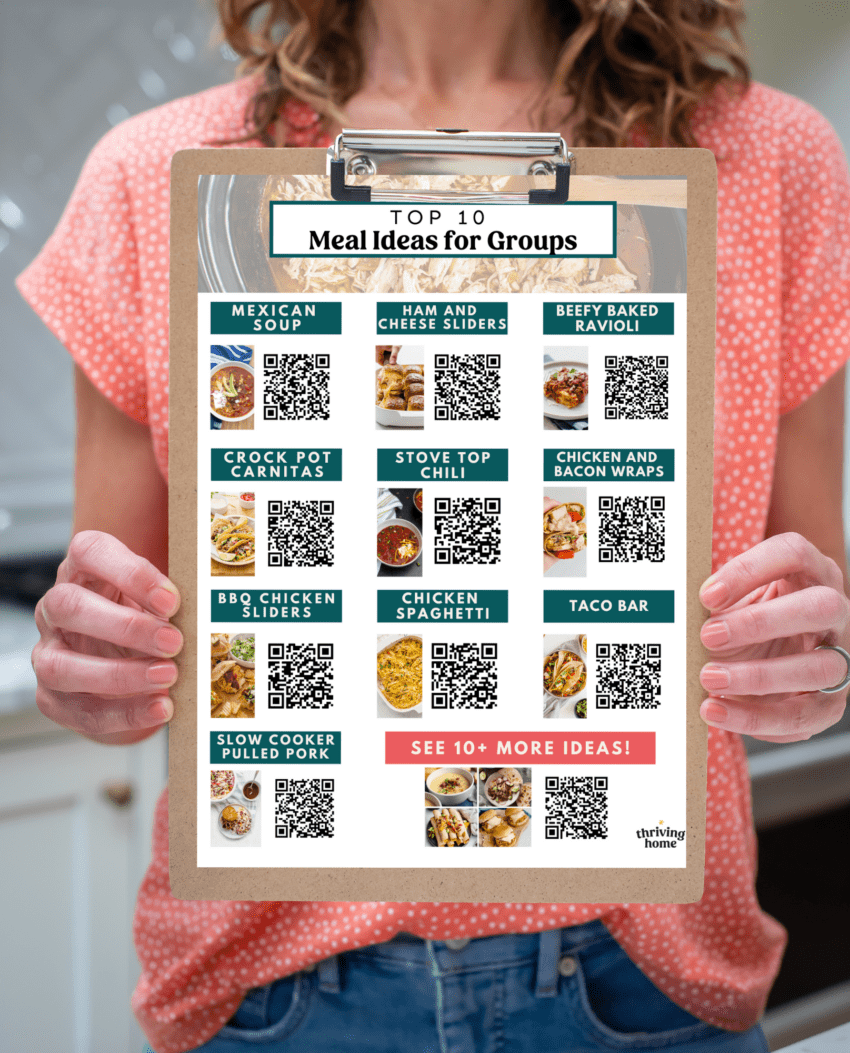 Create an inviting scent. A warm, inviting scent is so important! The smell of a house is something that's easily overlooked but makes a big difference. Light a candle, spray air freshener, bake cookies, or put some apple cider in a pot on the stove before the company arrives.
Have munchies available. Having some type of easy to grab appetizer available gives people something to do and something to gather around. It tells people where to hang out and gives them something in common.
Play music. Music eases the atmosphere and makes people feel more comfortable. It provides a topic for conversation as well as fills the silence if needed. You can also personalize this for the people coming to your house.
Do as many dishes beforehand as you can. Nothing is worse than wrapping up a meal to find the dishwasher full of dirty dishes. By running and emptying a load before people arrive, you can ensure a fast clean up in which others can easily jump in and help with!
Don't overthink it! True hospitality leaves your guests feeling welcome, loved, and nourished in your home. It's ok for people see imperfection in your home, food, or family (hello, sibling-squabbles!).
Pick the right recipes. I prefer recipes that require little cooking at the time of the guests' arrival. That way I can be freed up to chat or do last minute things. All of the meals below were chosen with this in mind.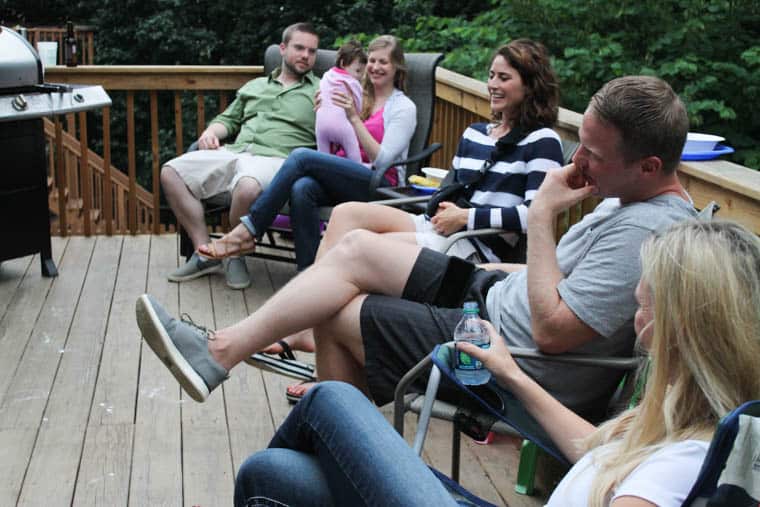 If you find yourself frequently in need of meal ideas for groups of people, we have the perfect resource for you.
We have narrowed down the top 10 meal ideas for groups that we use over and over again and put them in one easy cheat sheet.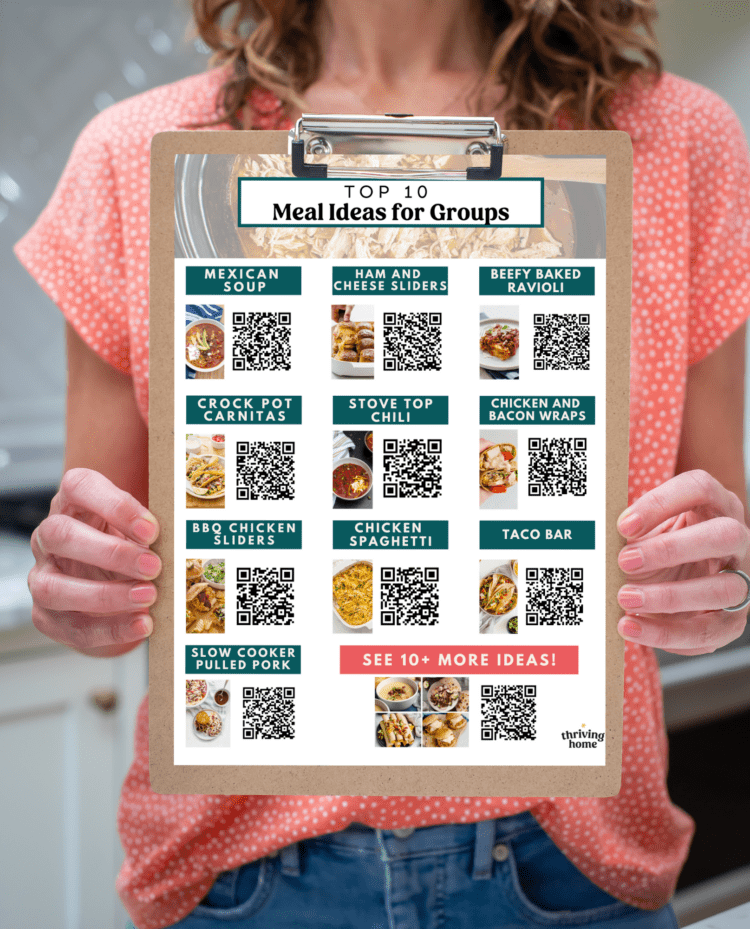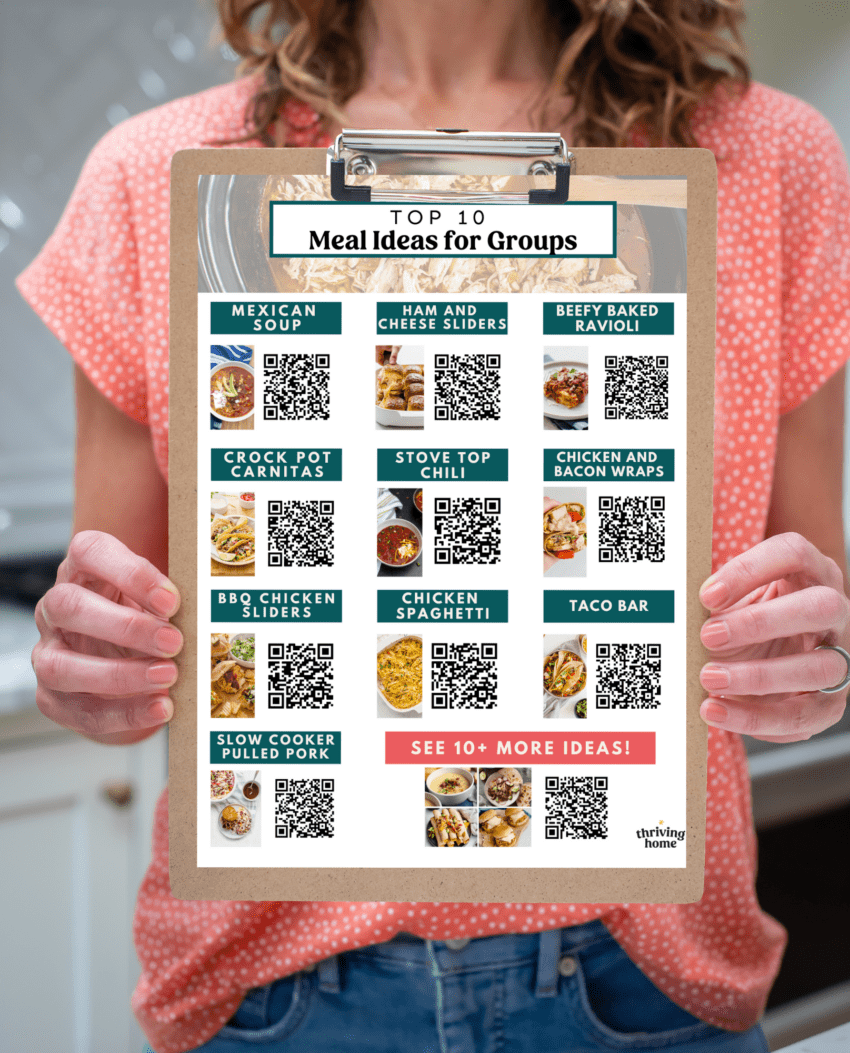 Grab the Cheat Sheet!
Top 10 Meal Ideas for Groups
A free, one page resource with our top 10 recipes for groups of people.
20+ Inexpensive, Easy Meals for Large Groups
The key to this recipe for large groups is in the homemade BBQ sauce. Once it's in the slow cooker, it's pretty much hands off which is something I need when I have people coming over. And guys, this recipe is GOOD. So good that it made it into our second cookbook.
Side Dish Ideas: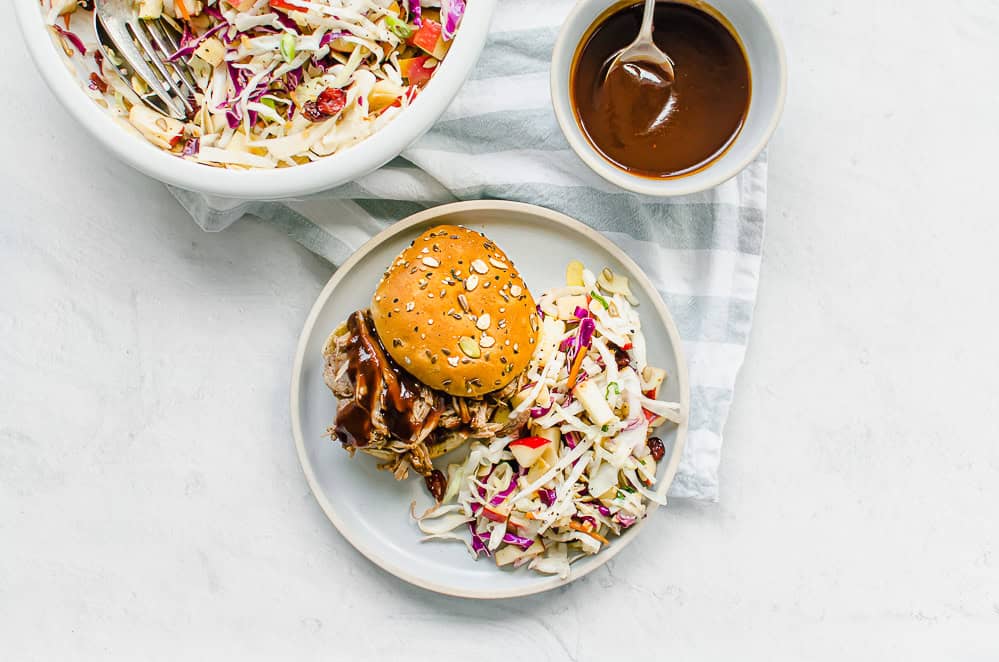 This recipe feeds an army. Almost everybody loves the hearty, beefy, cheesy pasta. When I'm not hosting groups, I assemble this pasta, divide it in two, bake one, and freeze the other. It makes a GREAT freezer meal. Just be sure to undercook the noodles a tad if you're going to freeze it. Here are 70+ other great freezer meals!
Side Dish Ideas: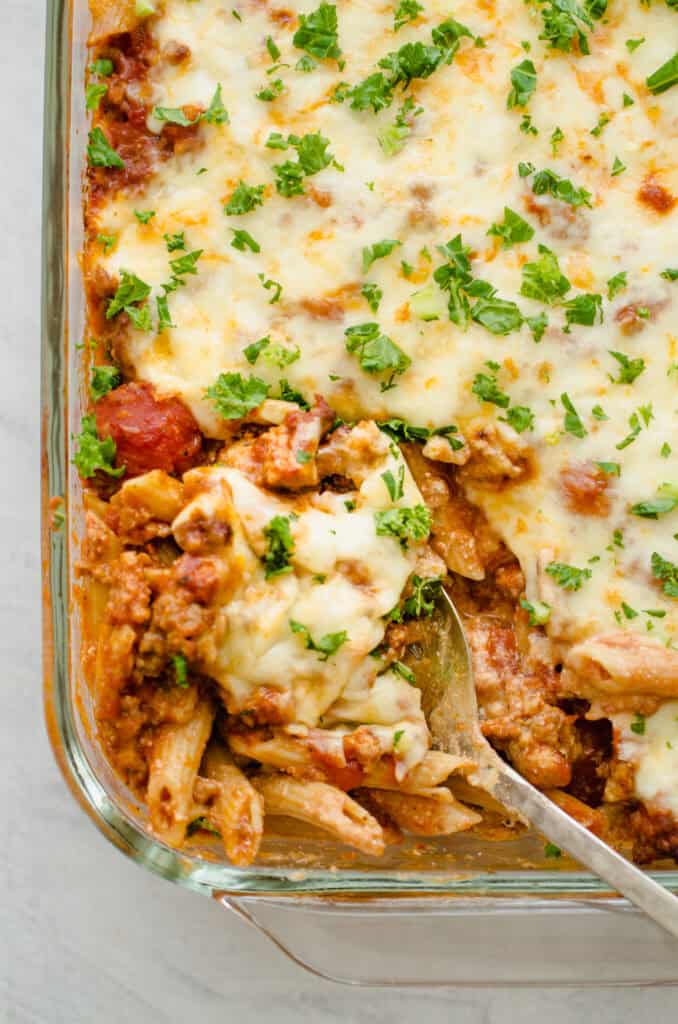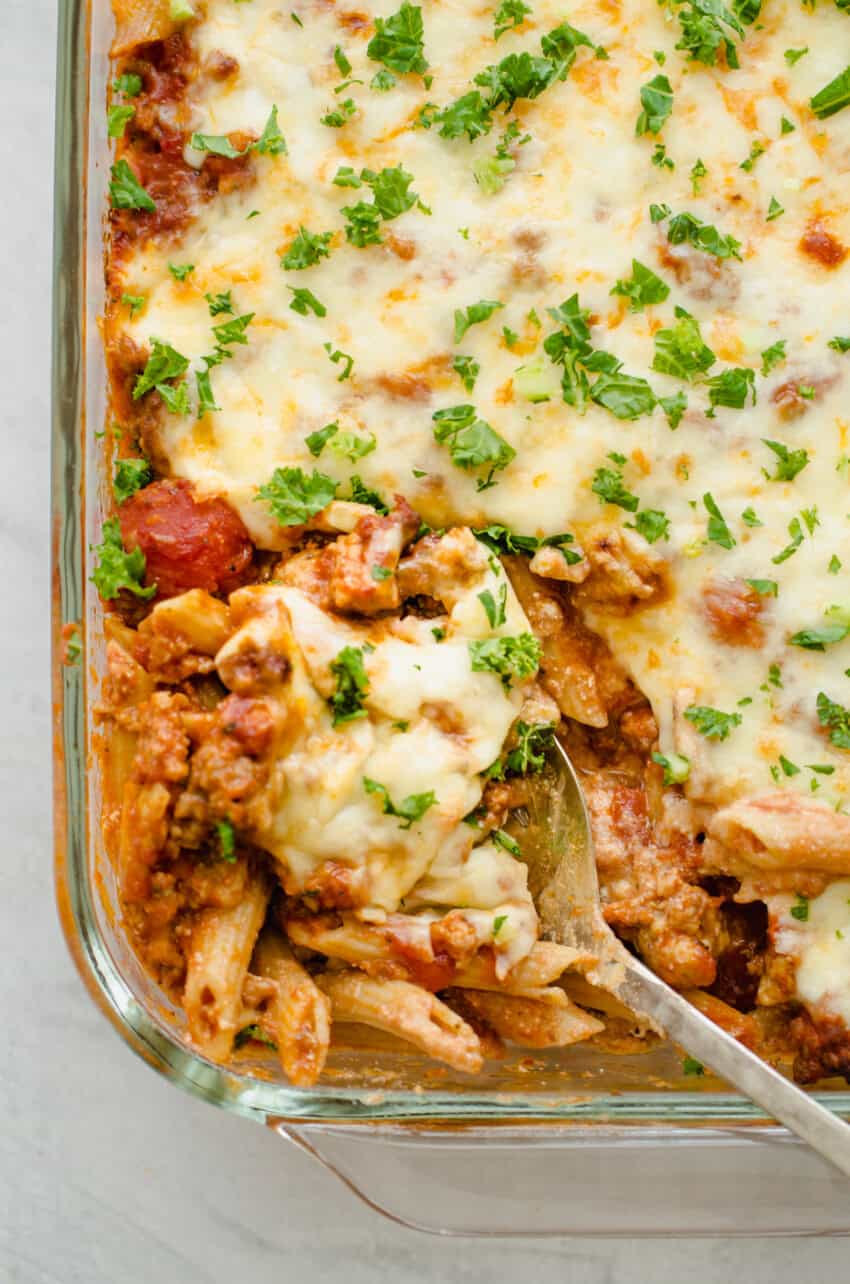 Everything you need to make your own Taco Bar at home. Delicious ingredients, perfectly seasoned Taco Meat, and practical tips on how to serve this easy dinner to a group of people. A great recipe if you need to make it ahead of time!
Side Dish Ideas: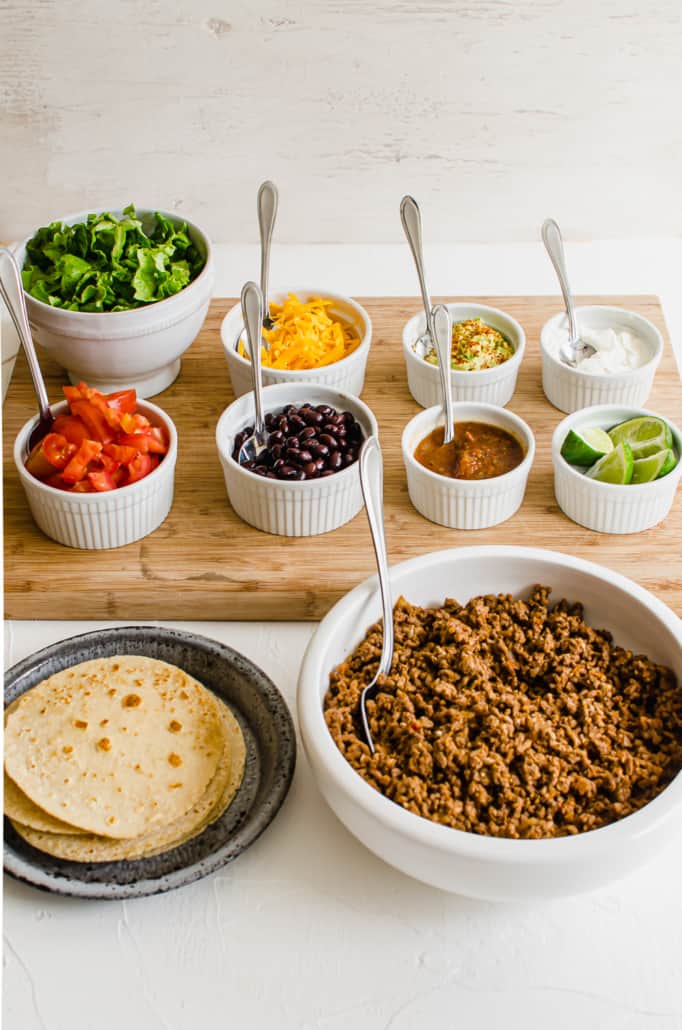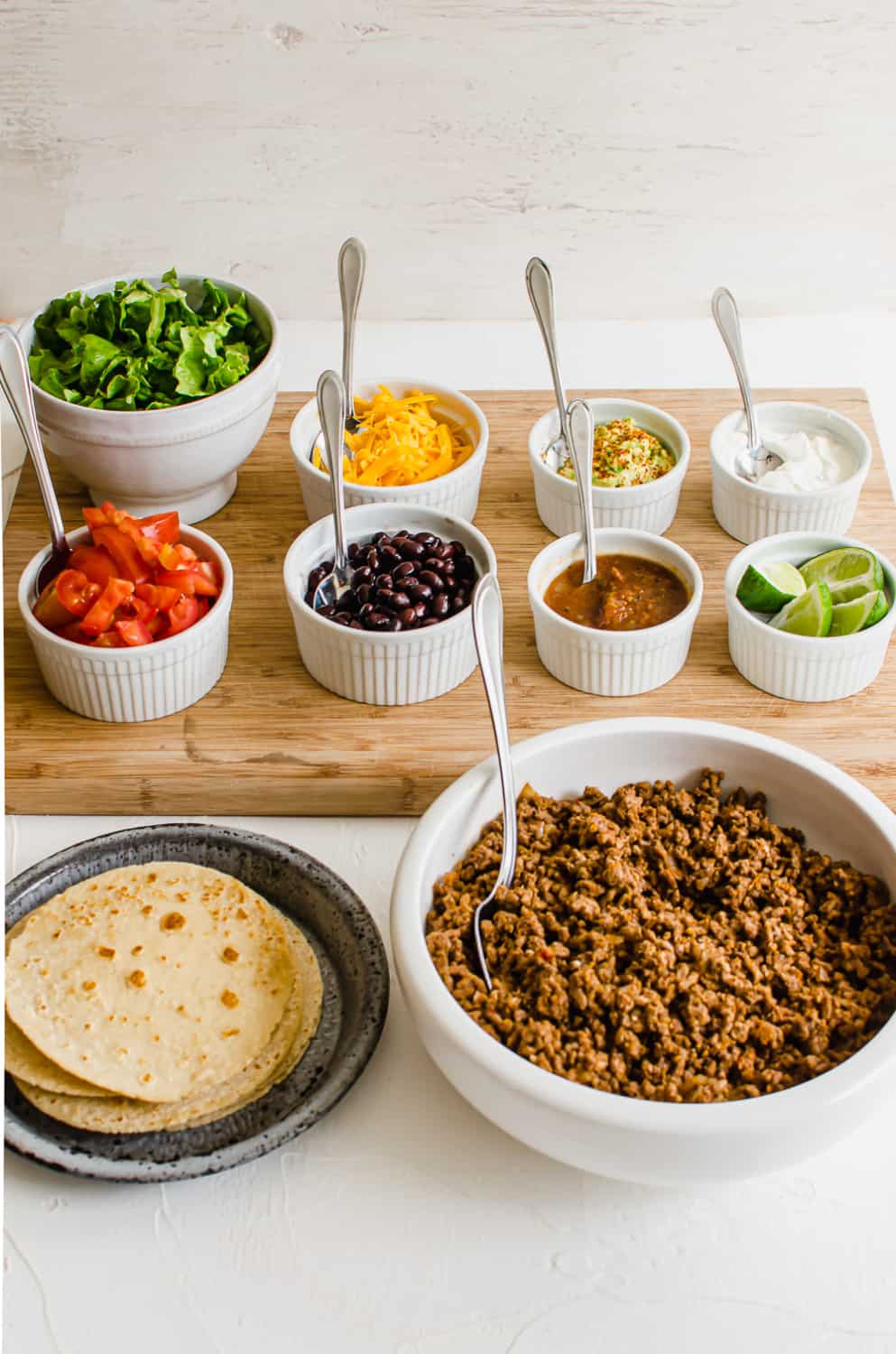 This pot roast yields a tender, shredded chuck roast with baby Yukon gold potatoes and carrots smothered in a velvety, complex-tasting brown gravy. No cream soups or gravy packets here! Just real food goodness that'll have you asking for seconds.
Side Dish Ideas: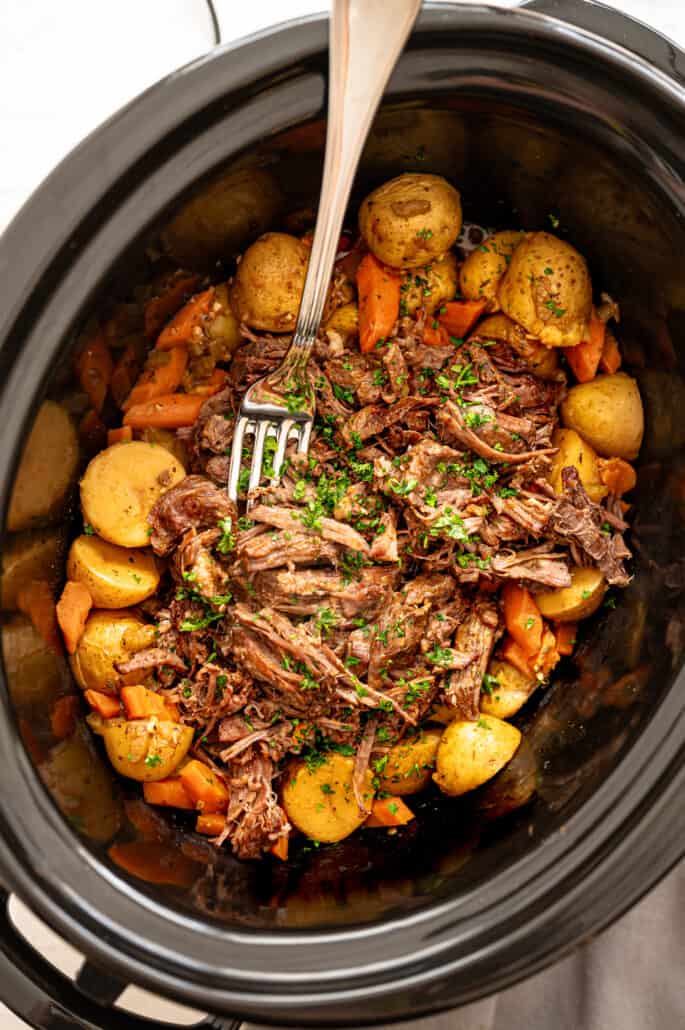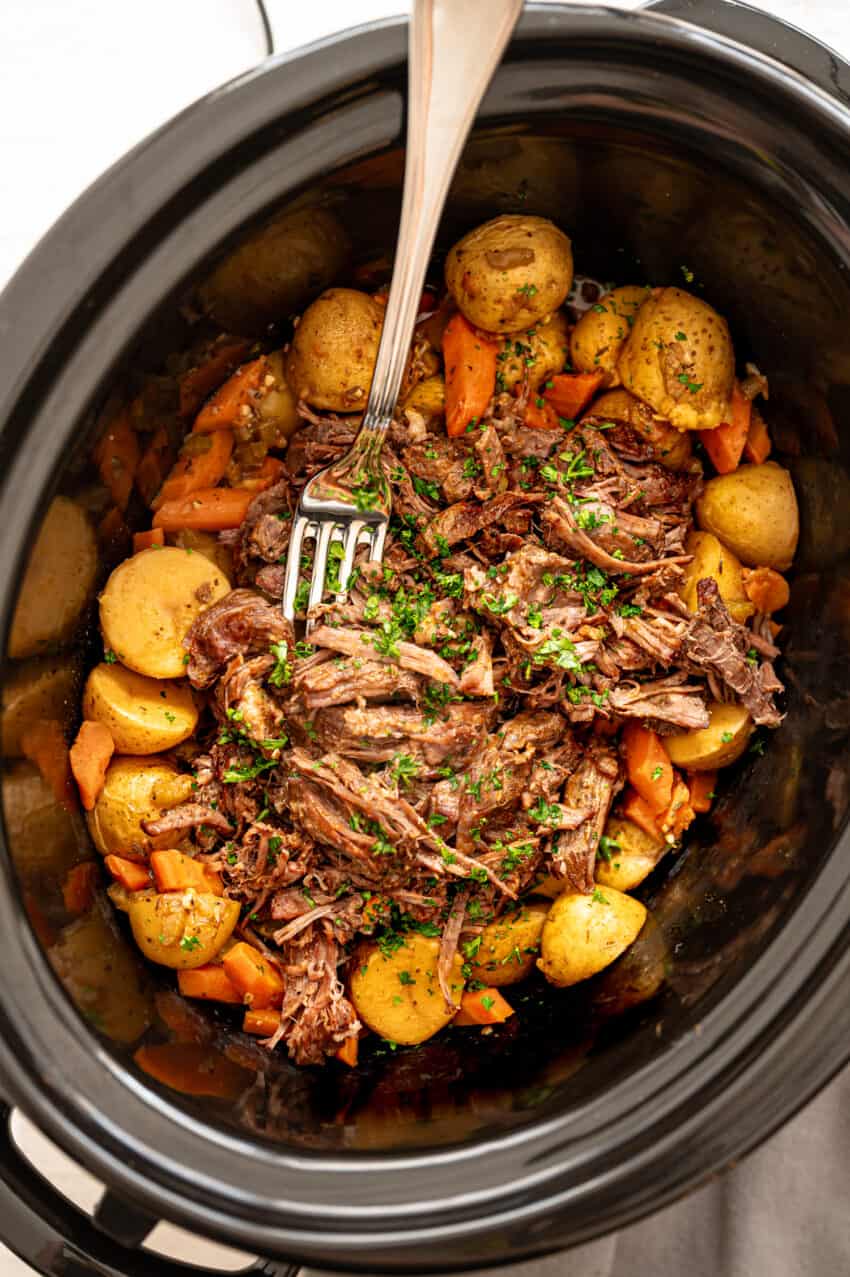 This 6-ingredient recipe only takes about 3 hours in the slow cooker. The 5-minute Pineapple Sauce is complex-tasting, sweet-but-not-too sweet and a beautiful golden color. Each person can drizzle it over the top of their ham slices.
Side Dish Ideas: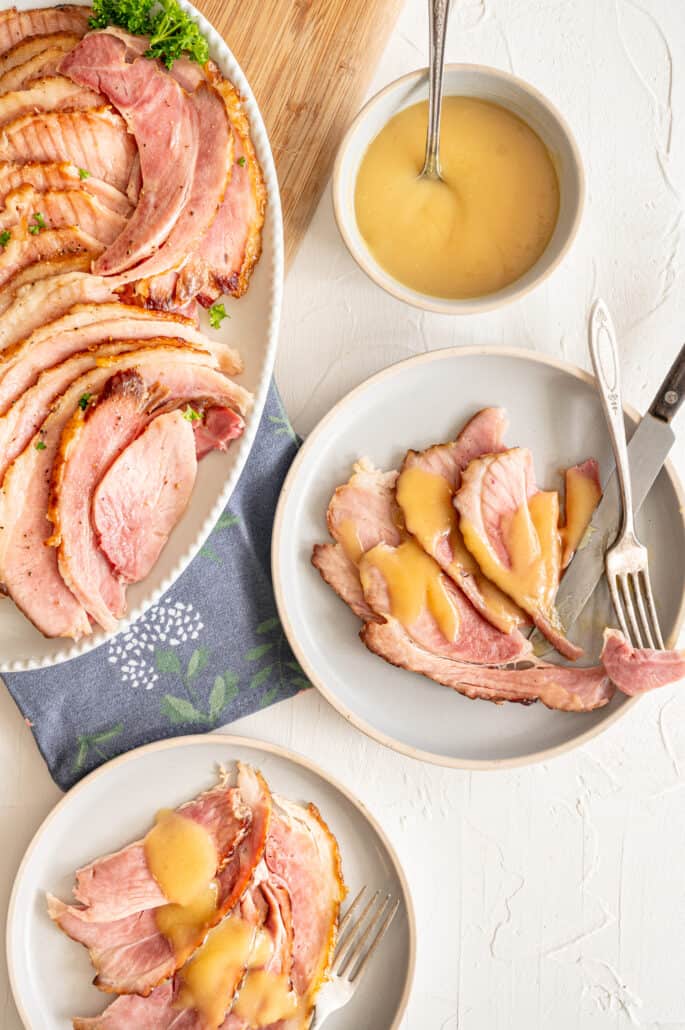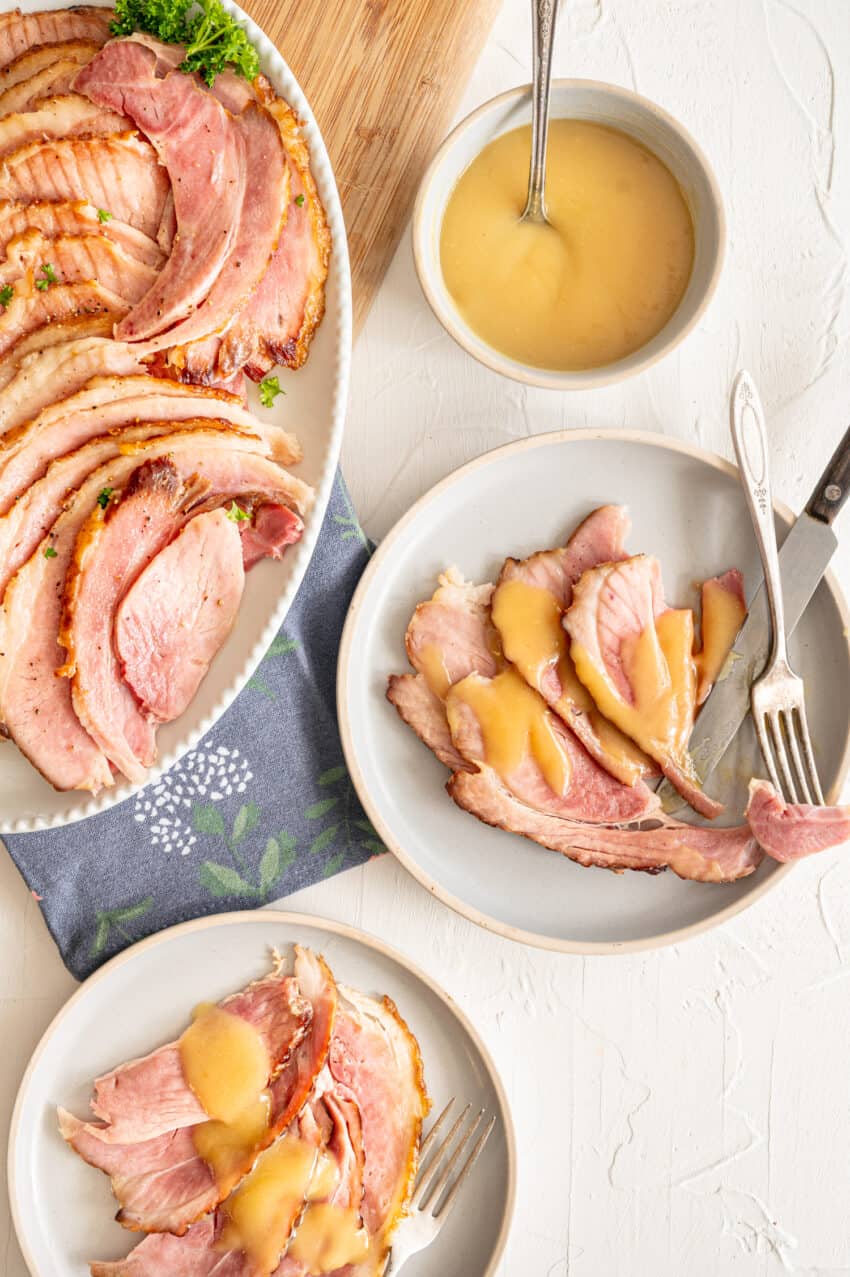 These slow cooker carnitas are one of my all-time favorite, inexpensive dinners for large groups . They are easy, affordable, delicious, and can be customized for each person's preference. Use these on a Taco Bar like this.
Side Dish Ideas: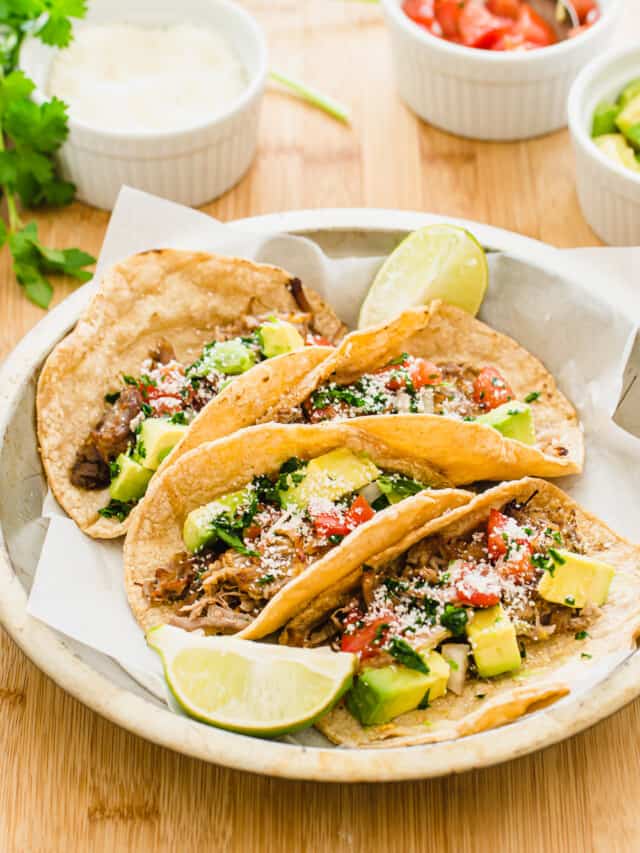 When I made this Chicken Spaghetti recipe for the first time, my husband ate it for about 5 meals in a row and proceeded to ask me to make it again the next week. It's creamy, flavorful, and filling. This recipe easily makes TWO 8×8 dishes or one very full 9×13 dish. It's a great dinner idea that will feed a group of people!
Tip: Here is where you can find grass-fed beef and organic chicken you can trust!
Side Dish Ideas: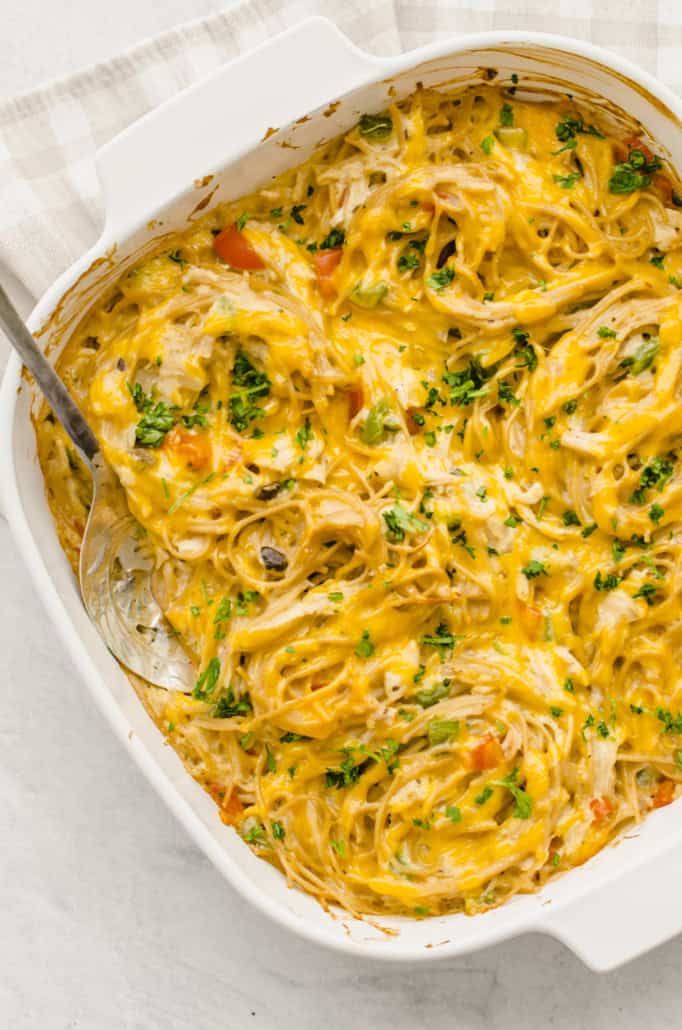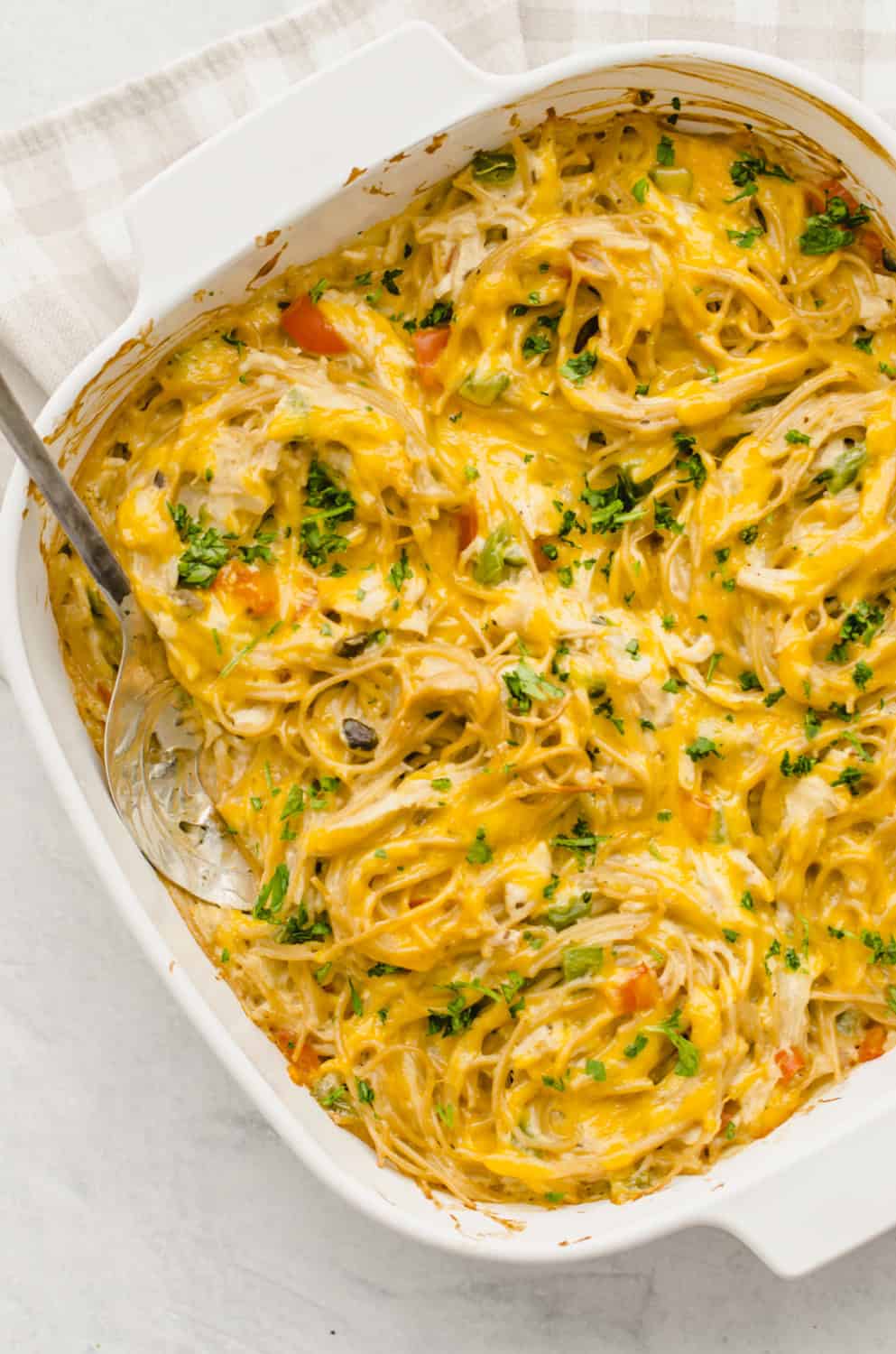 These truly are one of my go-to group recipes. They are cheap and easy to make in mass quantity. AND, adults love them. Kids love them. Everyone loves them. I can't tell you how many times I have been asked for this recipe after making it for people in my home.
Side Dish Ideas: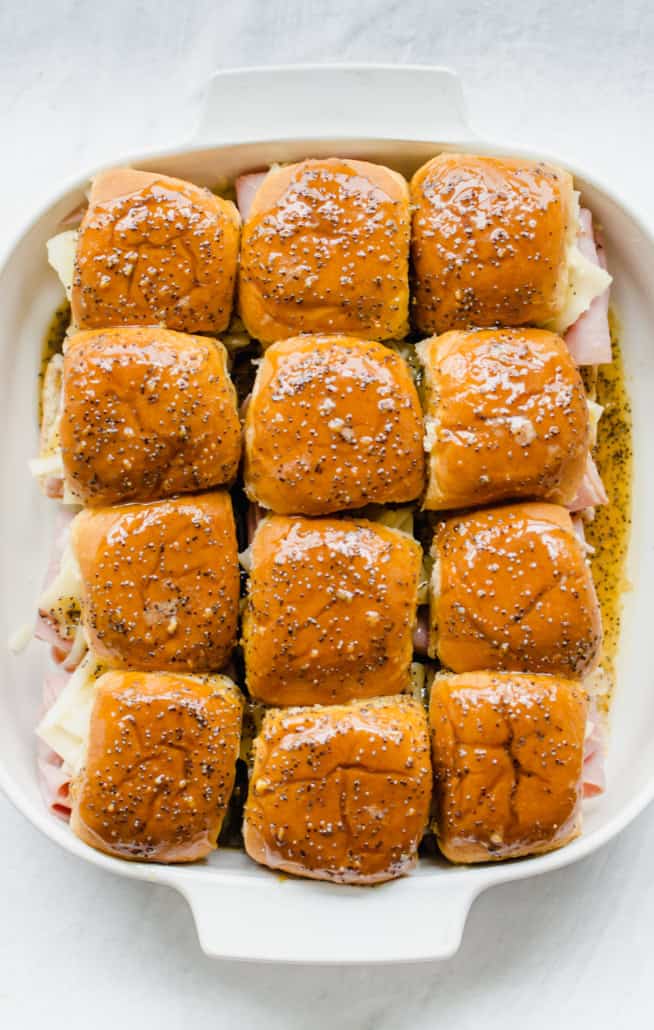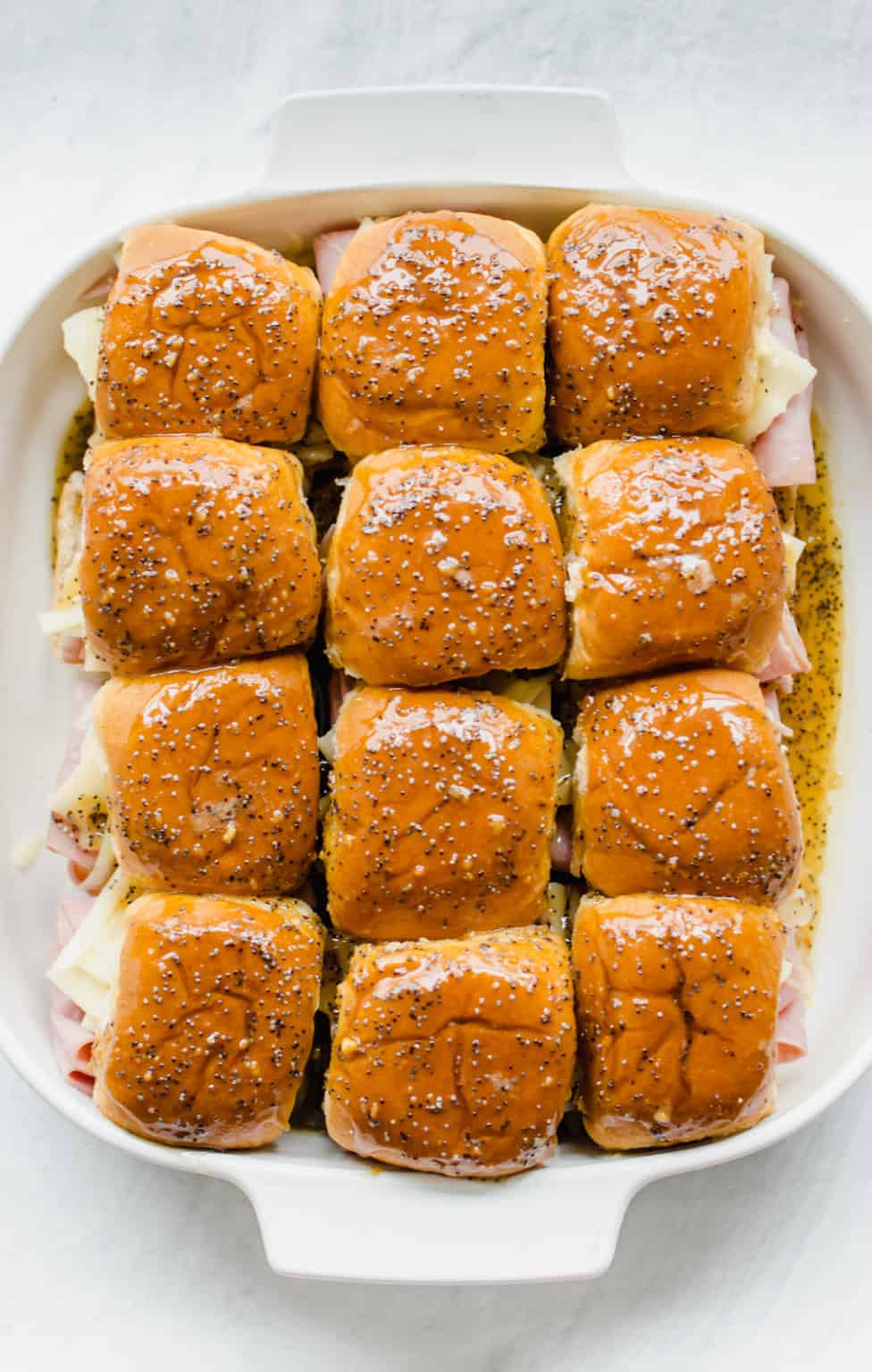 To make this a meal for large groups, simply double the portion in the slow cooker. It'll cook for the same amount of time, and you'll have twice as much to feed people! You can also make them in the Instant Pot using this method. I always always, always double this recipe when I make them and freeze one for later.
Side Dish Ideas: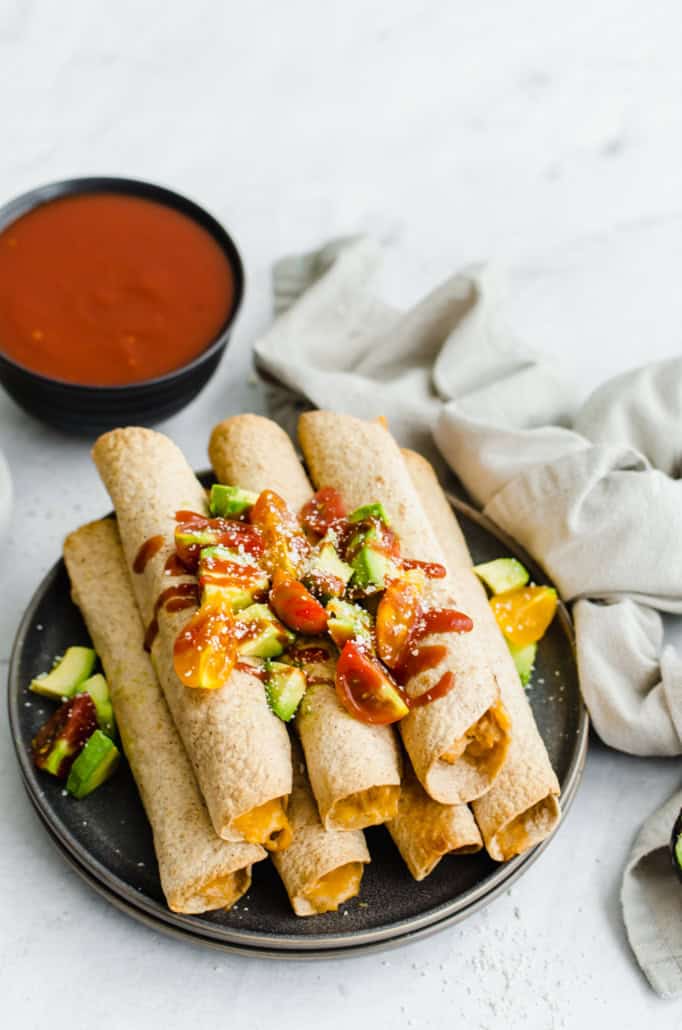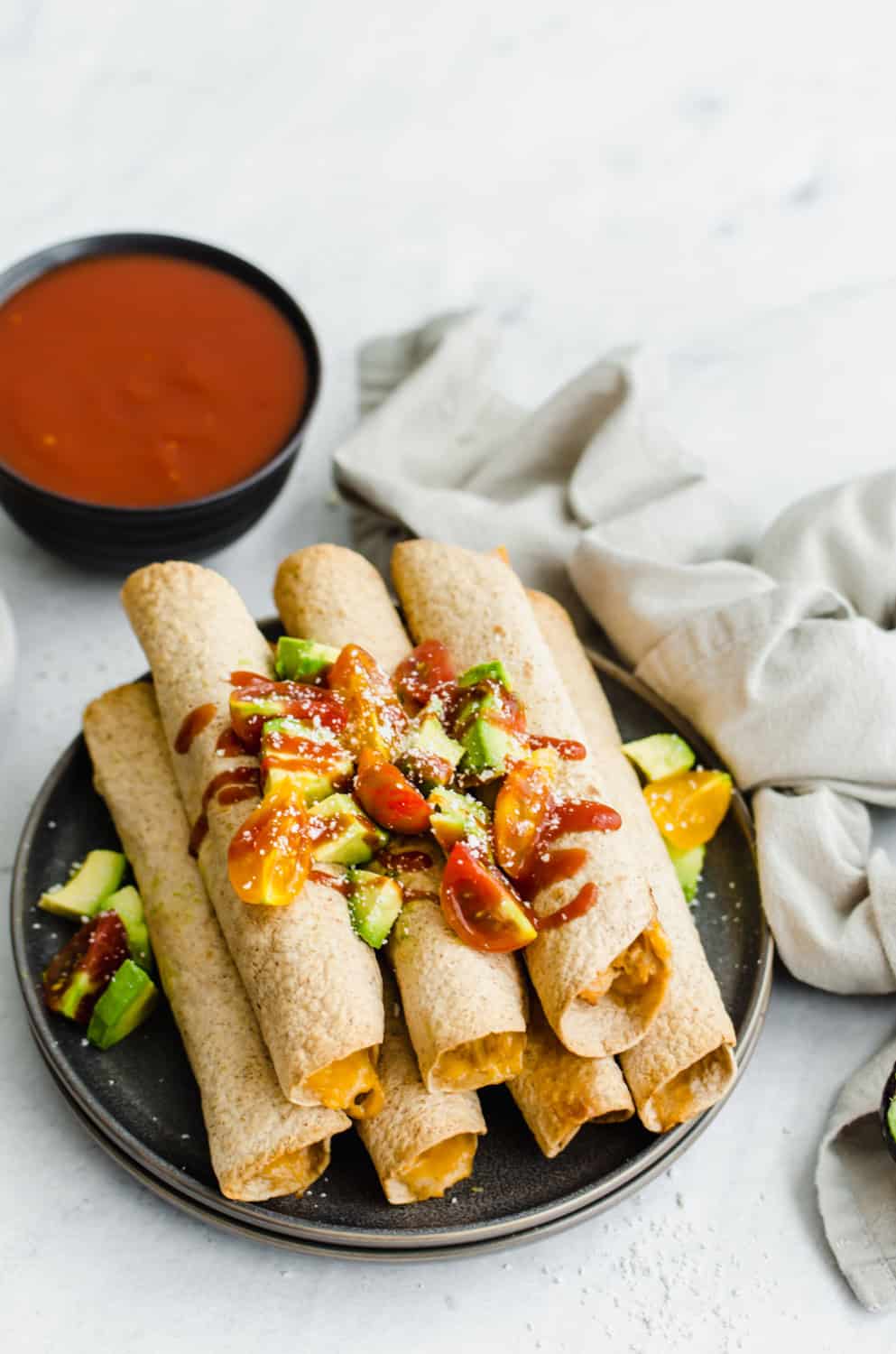 Pasta Bar
Laying out a pasta bar is a great meal for large groups. Here are some ideas to have at your pasta bar: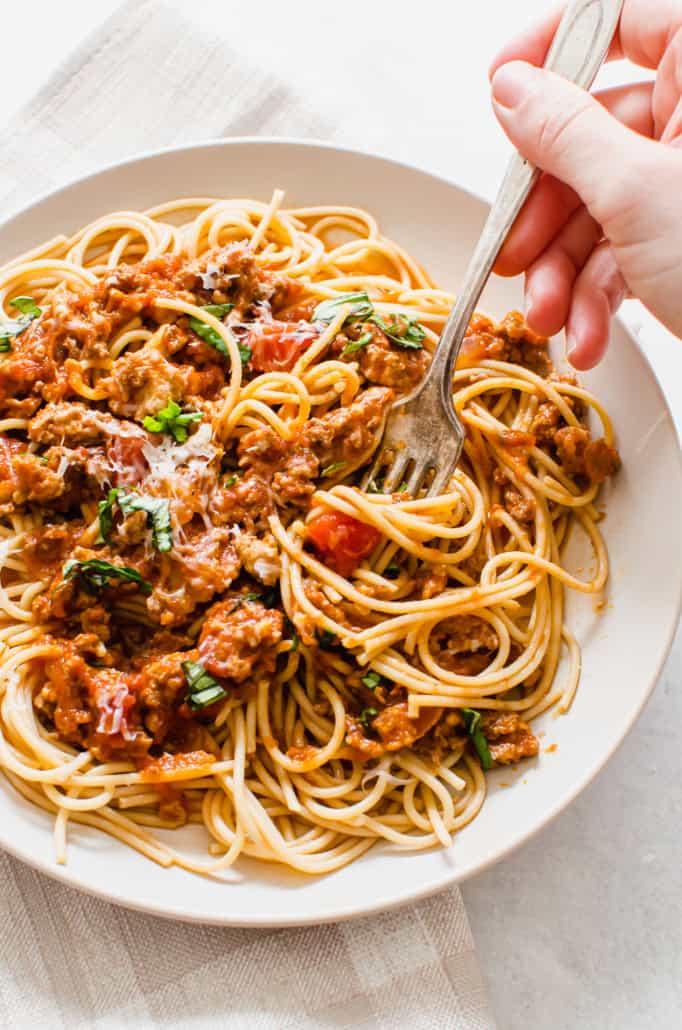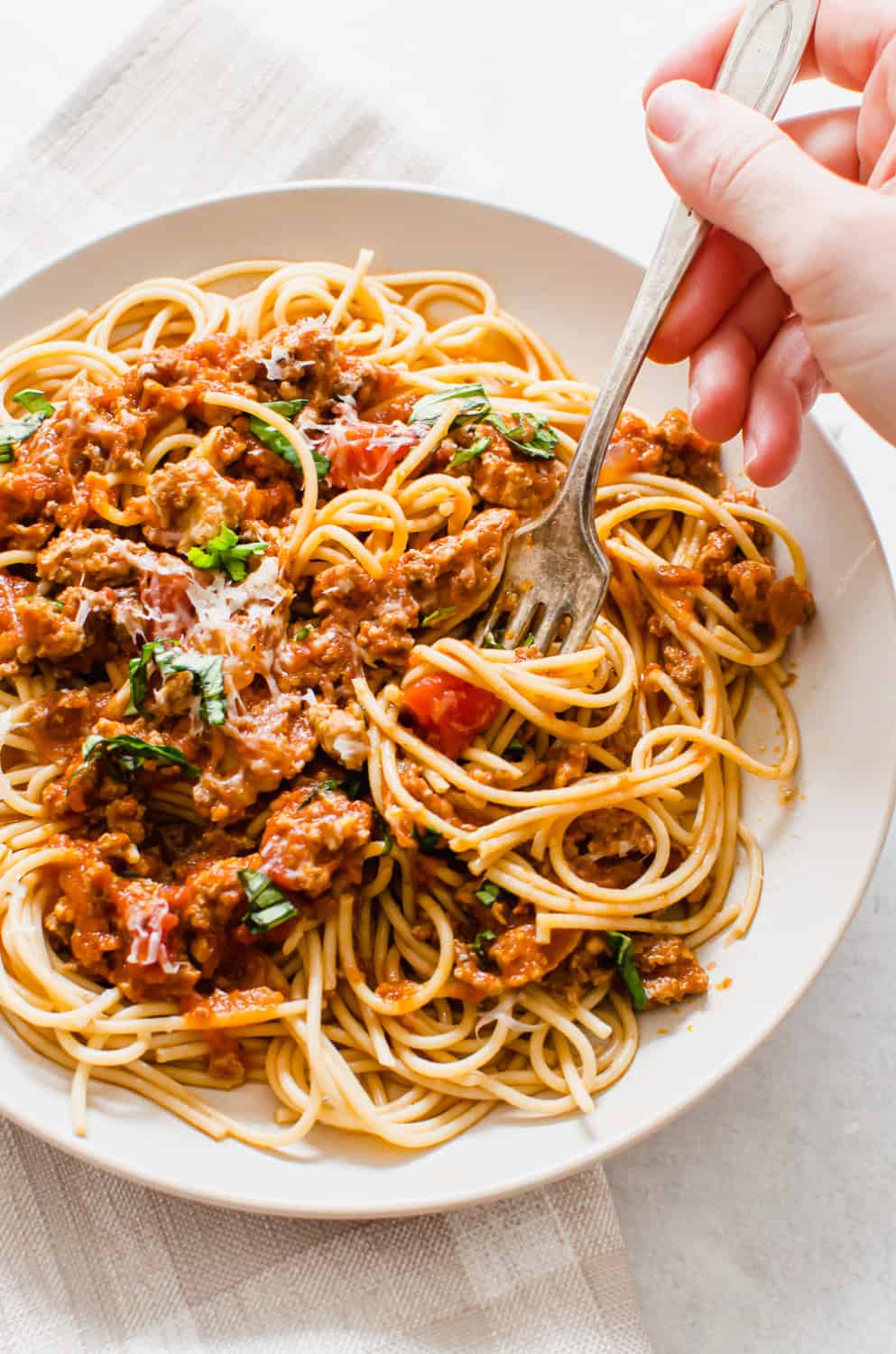 With basically 4 simple ingredients, you can have a batch of Shredded Beef Tacos slow cooking in your crockpot (or Instant Pot) in minutes. This Mexican shredded beef packs so much flavor and will fall apart after a full day of cooking. Turn the leftovers into Shredded Beef Nachos.
Side Dish Ideas: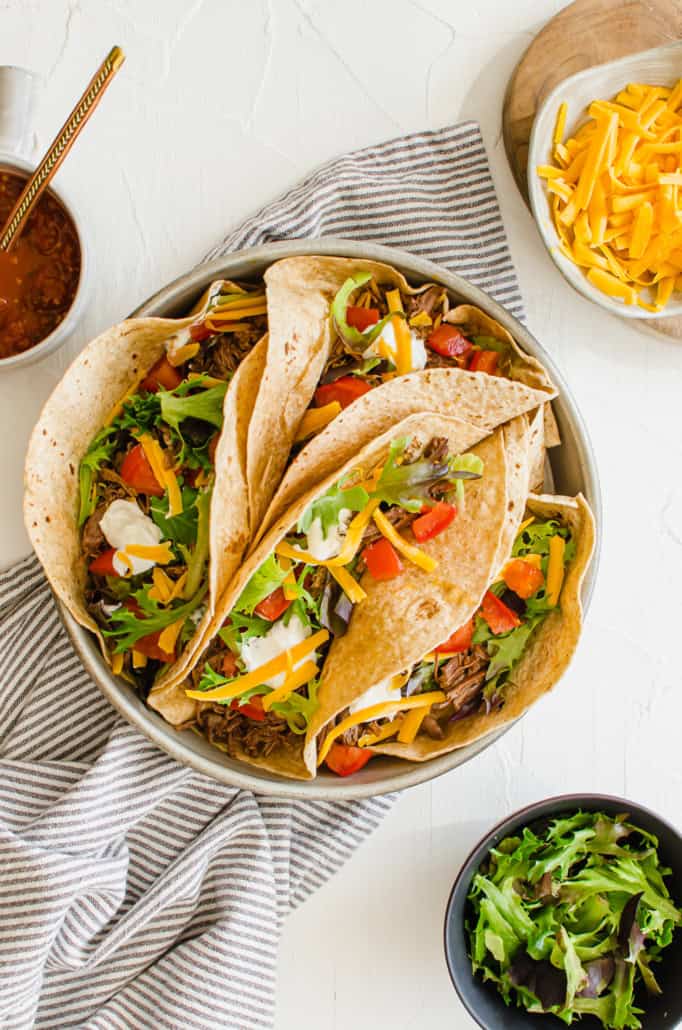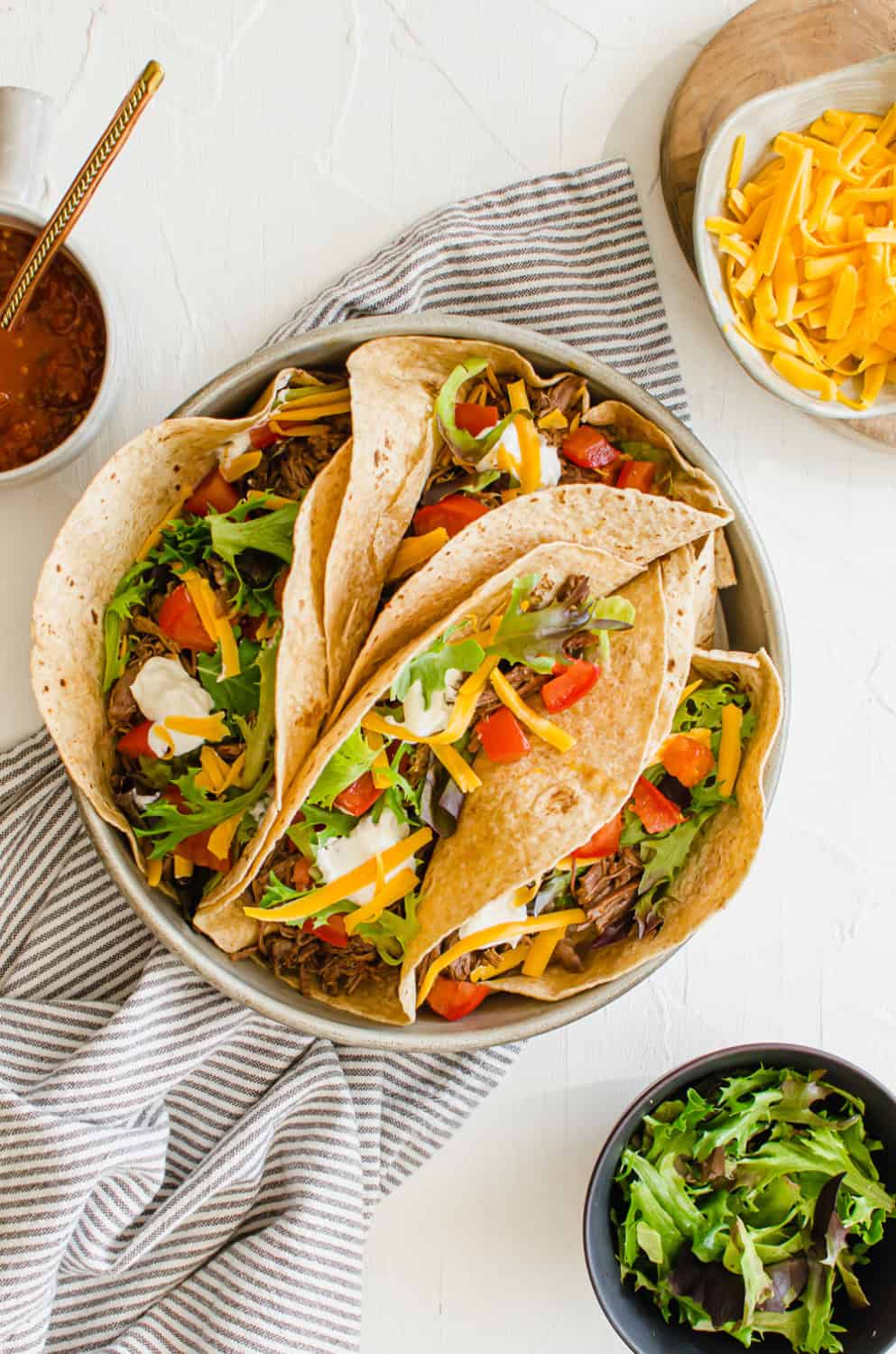 This recipe goes a looong way and is sooo good. While you can make the meat ahead of time, the sandwiches will need to be eaten soon after they are assembled. Keep that in mind as you plan!
Tip: If you want to use it as a lunch for groups, just make the meat the day before and rewarm it before assembling the sandwiches the next day.
Side Dish Ideas: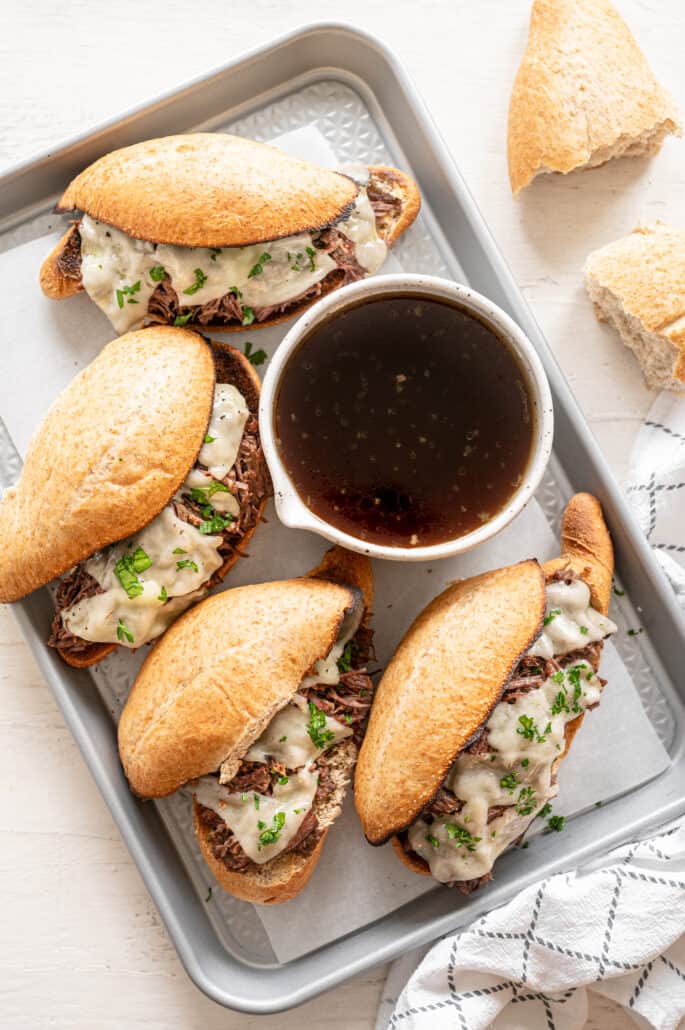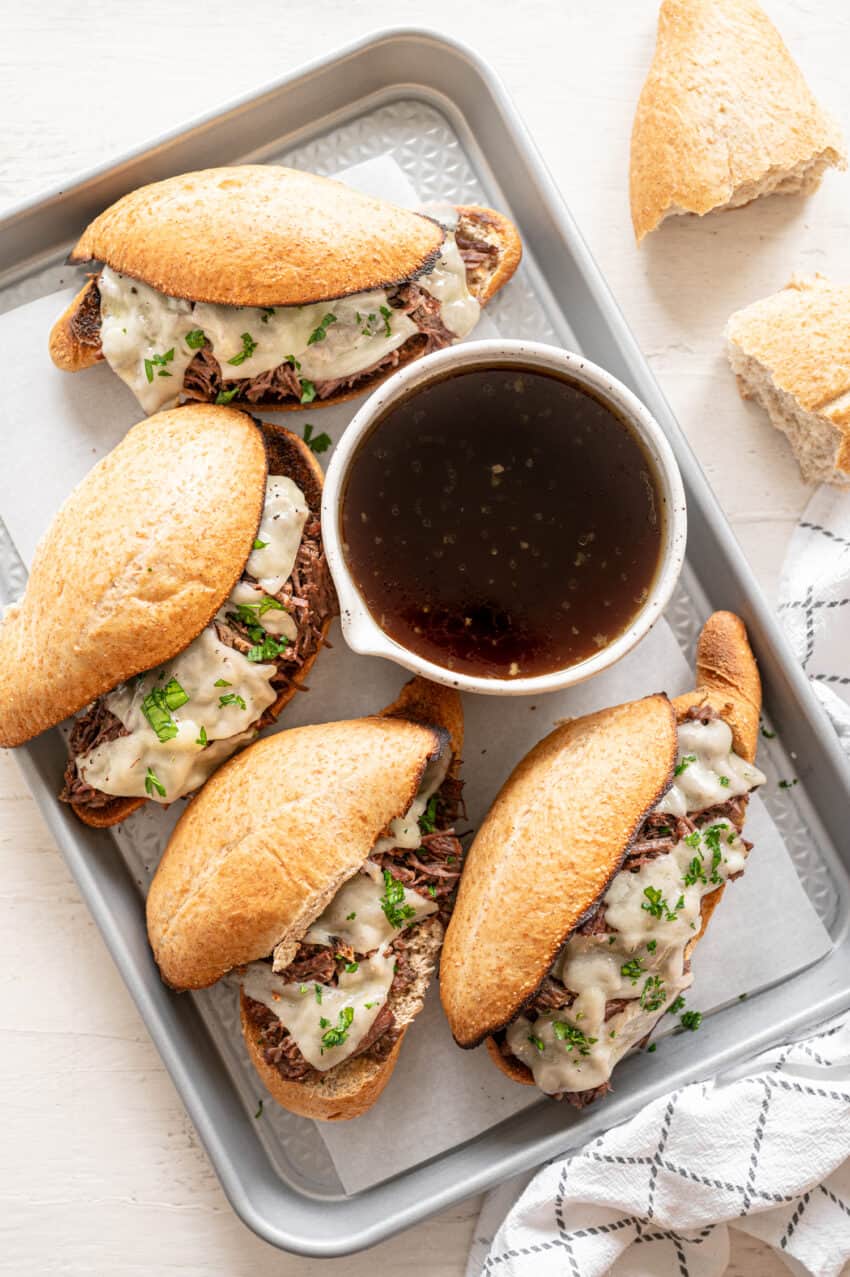 If I had to guess, this is in the top 5 recipes I have made most frequently for groups of people in my home. My husband wants it ALL. THE. TIME. It also makes a big ol' batch. AND it's really filling. A similar vegetarian option would be our Vegetarian Tortilla Soup.
Want more Mexican recipes? Here are 25+ Mexican Recipes you'll love!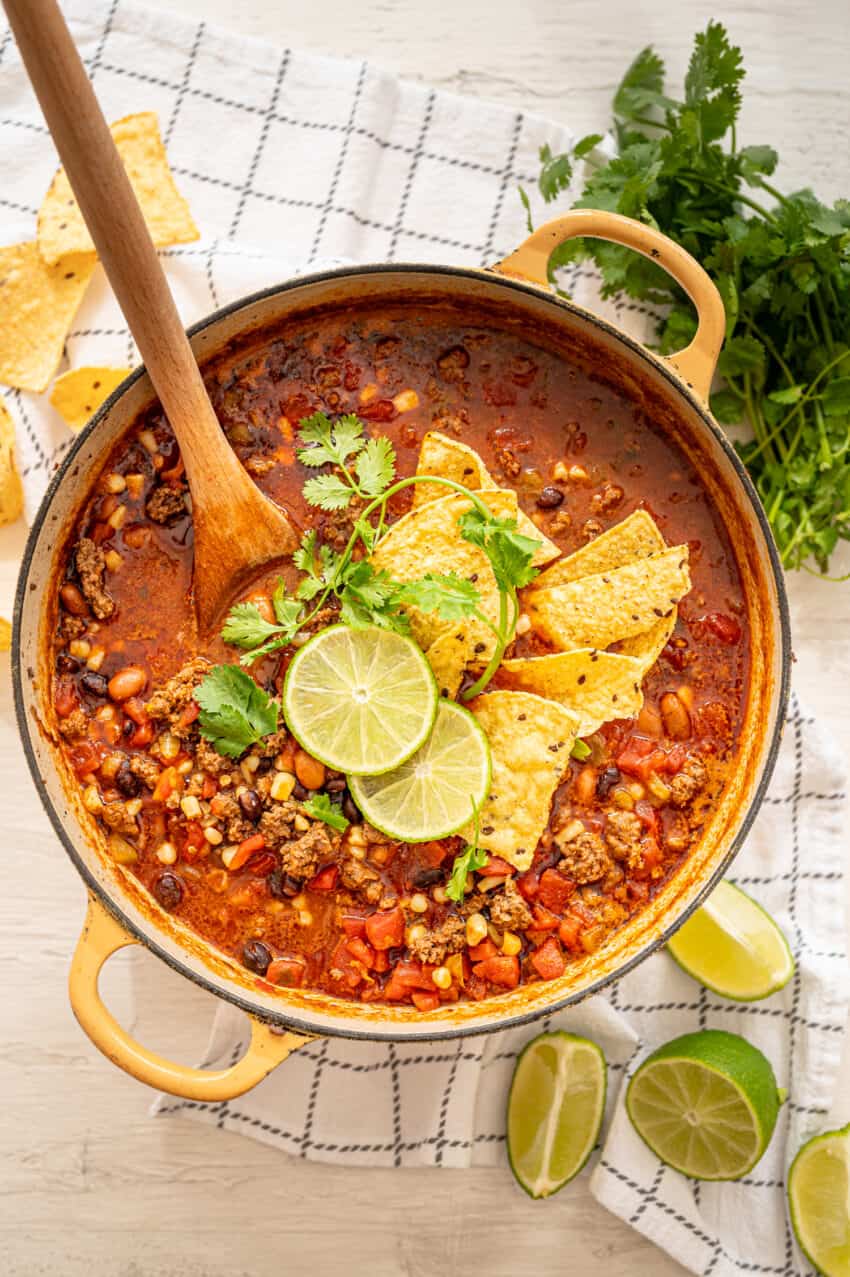 Want a cheap, tasty dinner that the whole family will love? This classic Baked Potato Bar is it! With lots of hearty toppings, the humble potato gets elevated from side dish to main dish.
Ideas for Baked Potato Bar Toppings: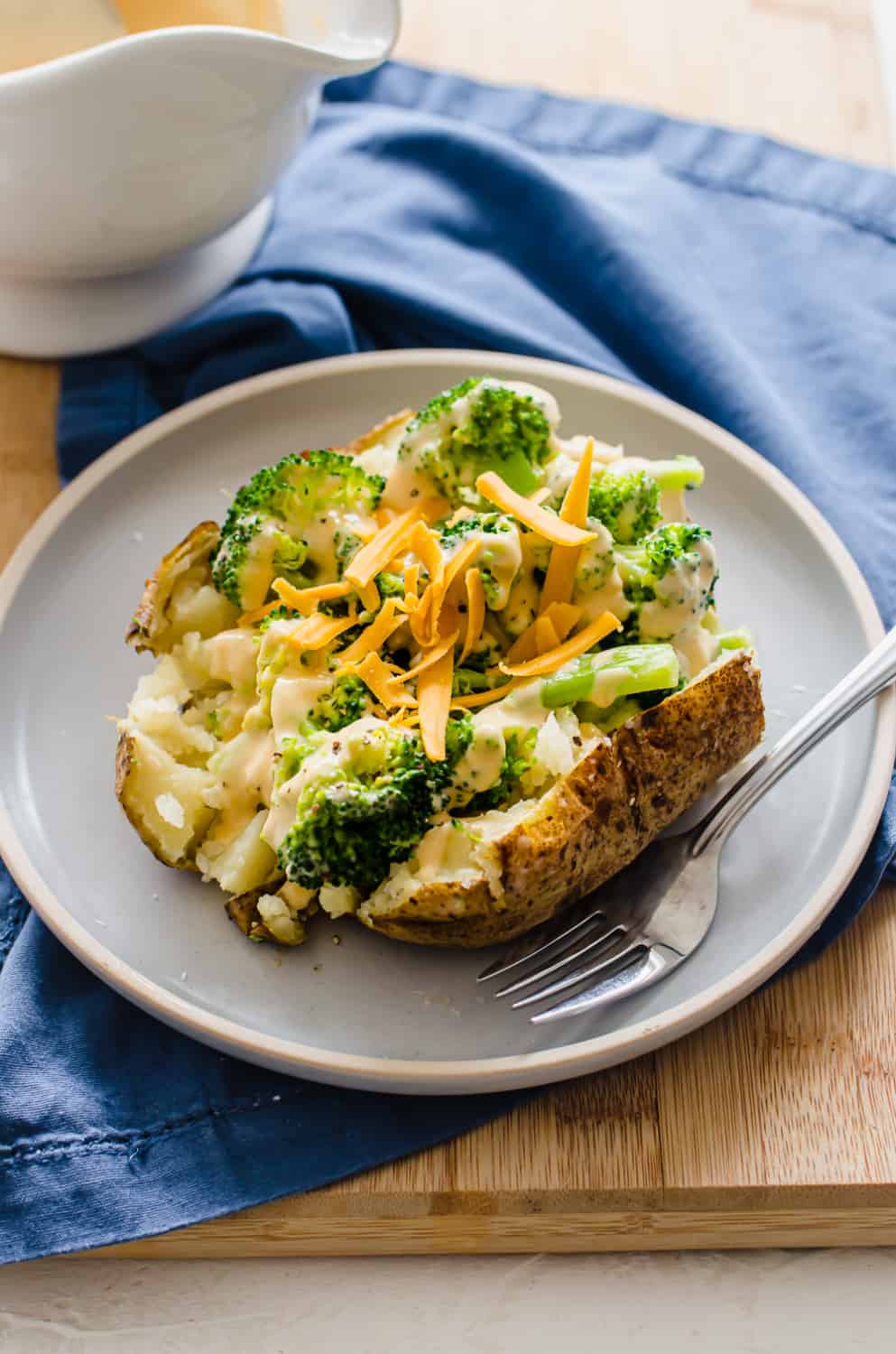 This recipe has been one of our most popular chicken recipes for a long time. Probably because it's so easy to make and everyone likes it. After baking the casserole, serve it over some pasta. For a group, I'd recommend doubling it to make enough for a 9×13 dish.
More Casserole Dishes That Would Work Well for Groups: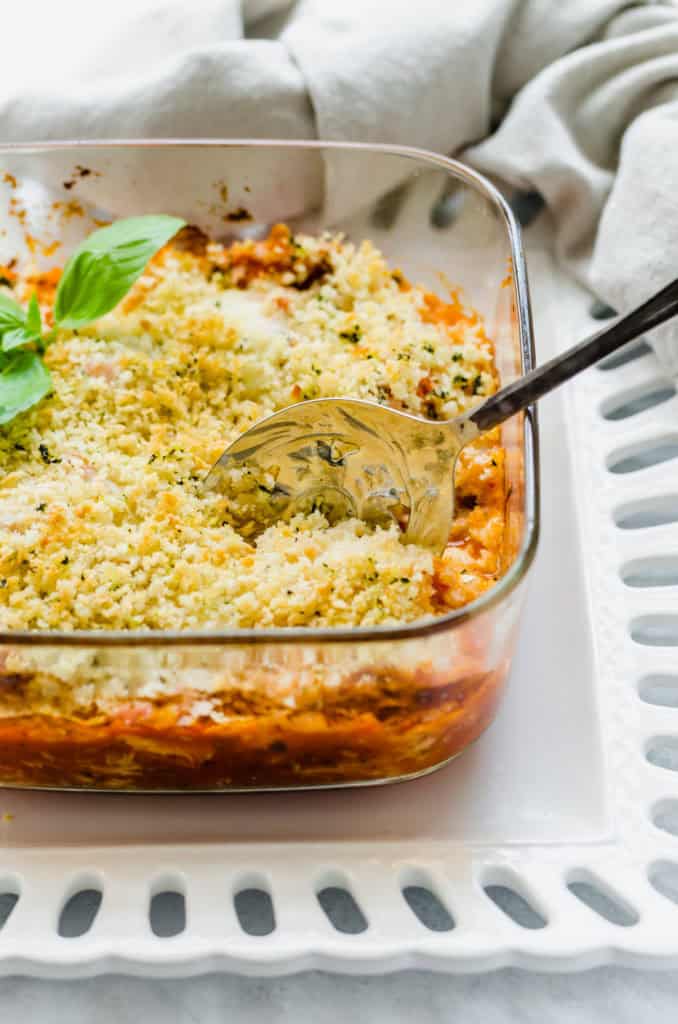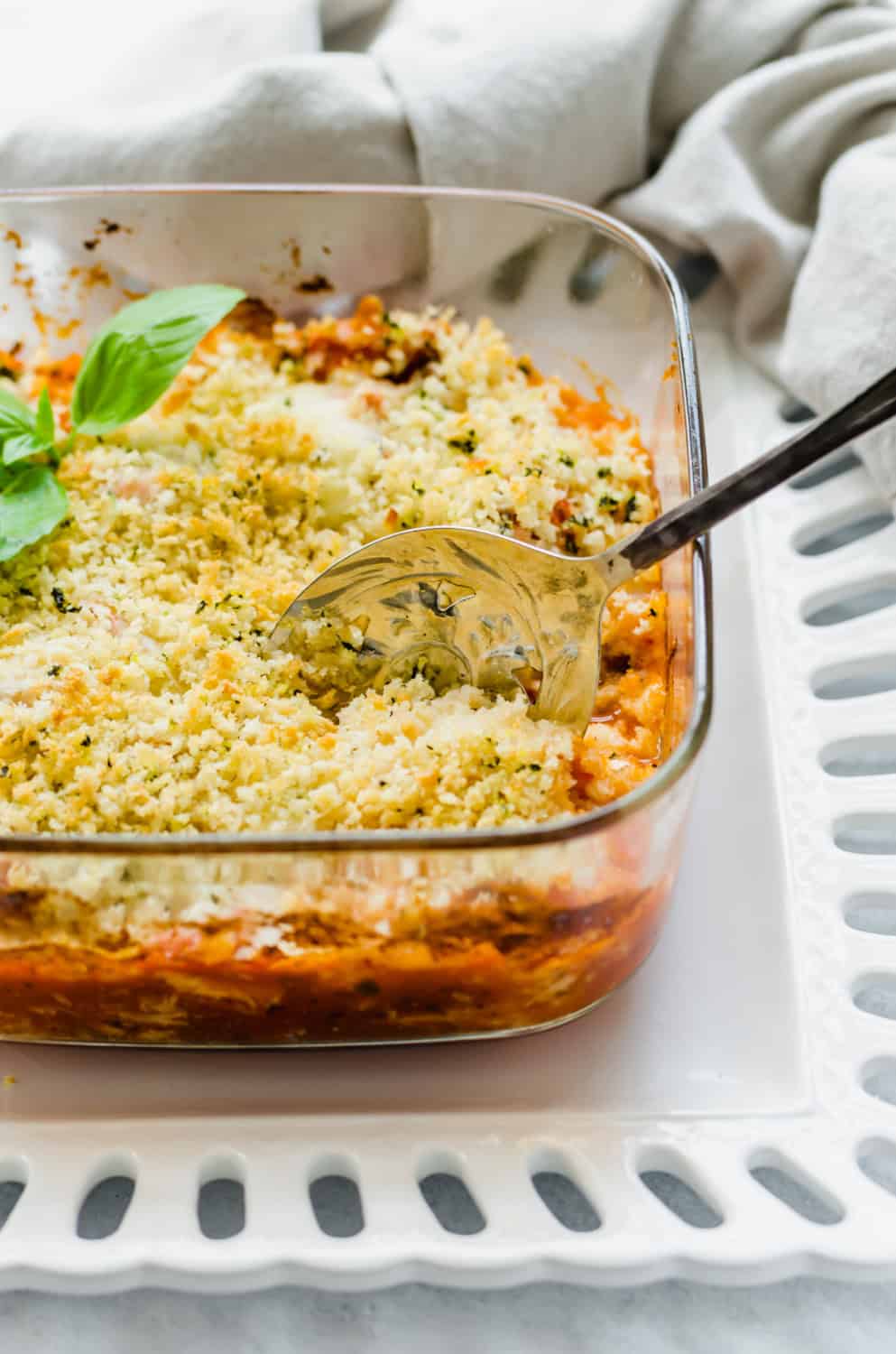 Bacon, southwest marinated grilled chicken, two kinds of cheese, lettuce, and tomatoes wrapped in a tortilla with Southwest Ranch Sauce. What's not to love about the Southwest Bacon and Chicken Wrap?
It's easy to double the chicken and other ingredients and just lay out an assembly line.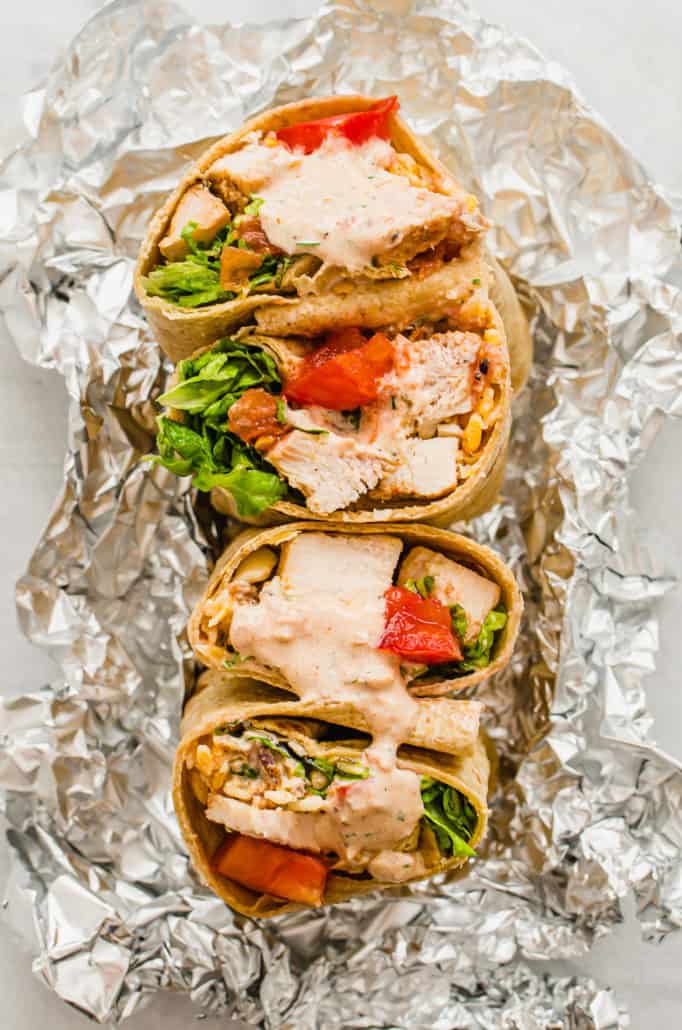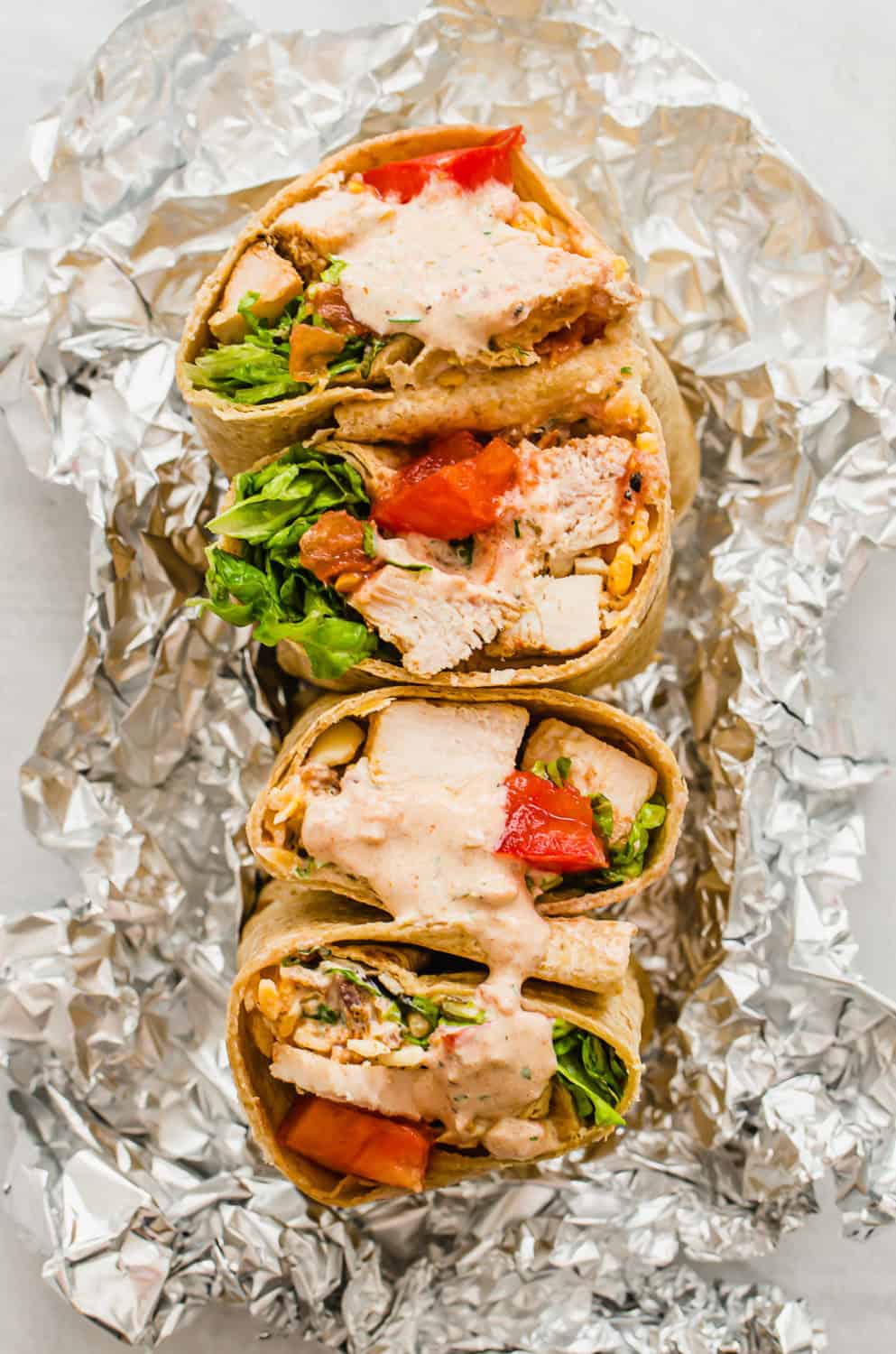 This fake-out lasagna is inexpensive, can be made in advance, and feeds an army! It's a dinnertime favorite in my home. It's very easy to make, super filling, and is freezer friendly. Kids love this meal. Who we kidding, all ages love this meal!
Side Dish Ideas: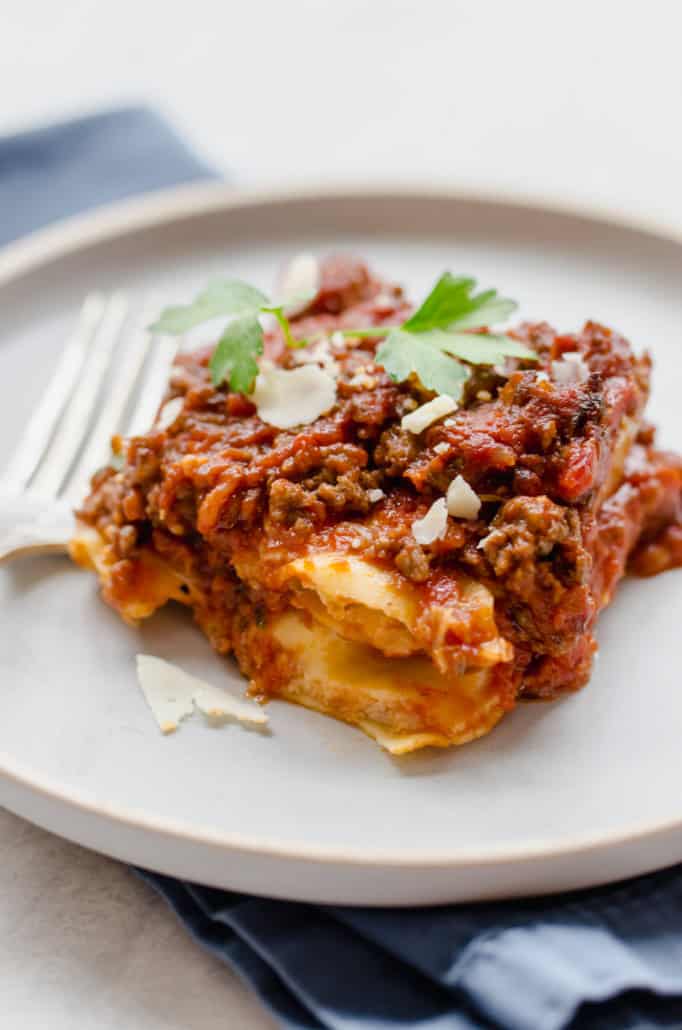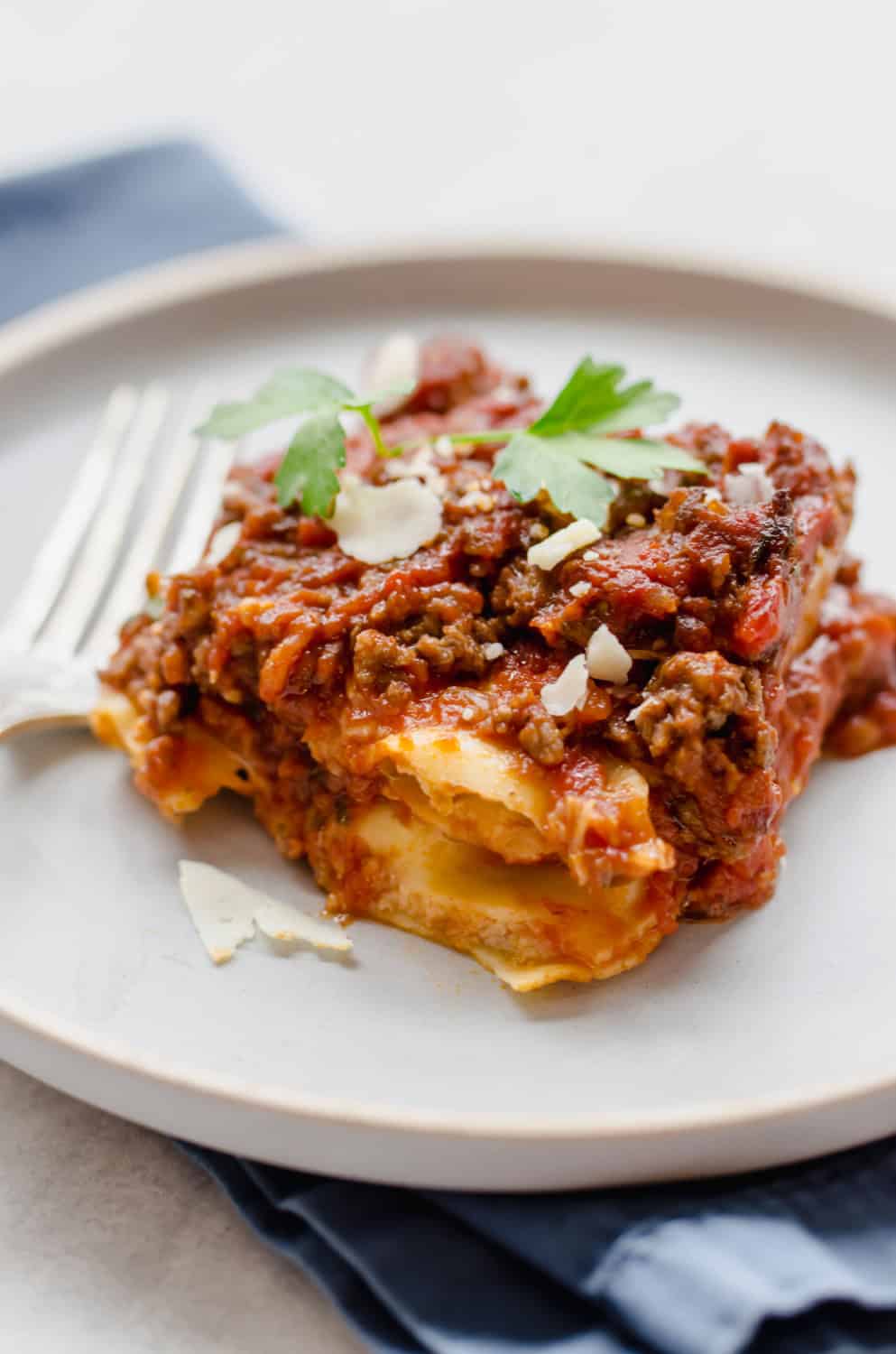 Here is another SUPER easy meal idea for groups of people: Chicken Parmesan Sliders. Just put a few ingredients into the crockpot and you'll have one of your favorite meals for a busy night. Making them into sandwiches is a great way to stretch the chicken mix and feed more people. Double the recipe for groups.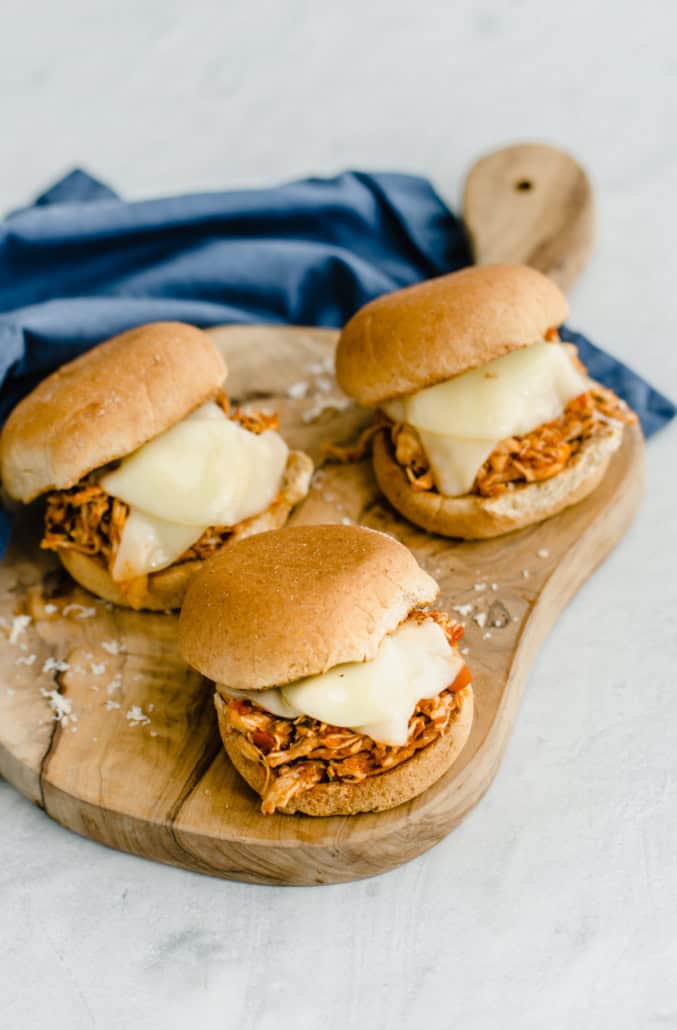 Grilling recipes are great for groups! Especially these Grilled Chicken Sandwiches. Grill up the chicken, lay out a bunch of toppings, and serve it assembly-line style.
Grilled Side Dish Ideas: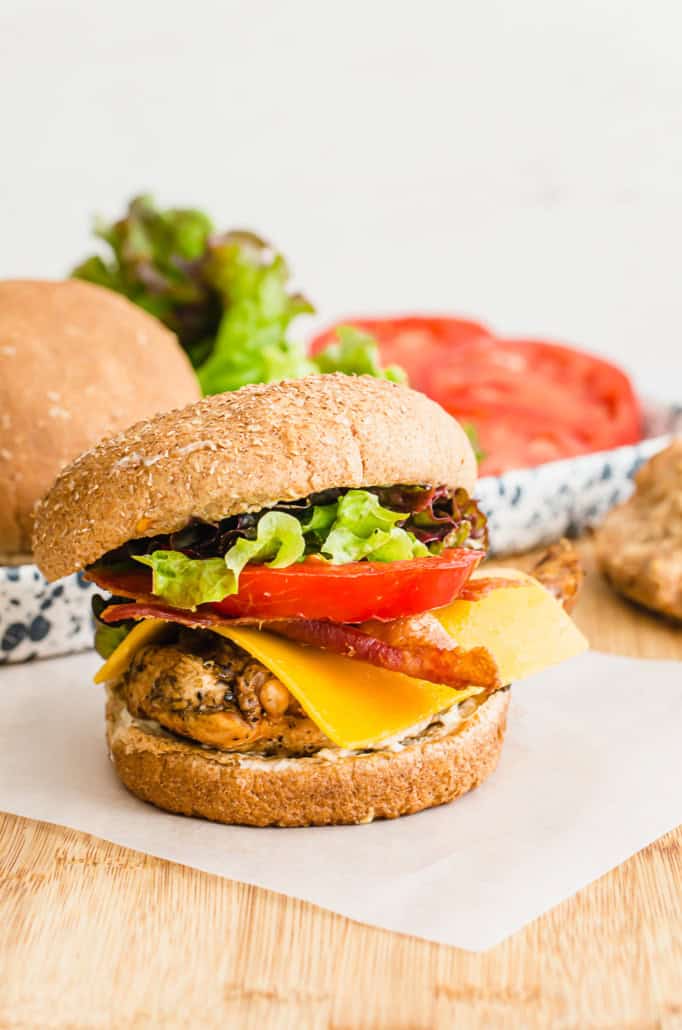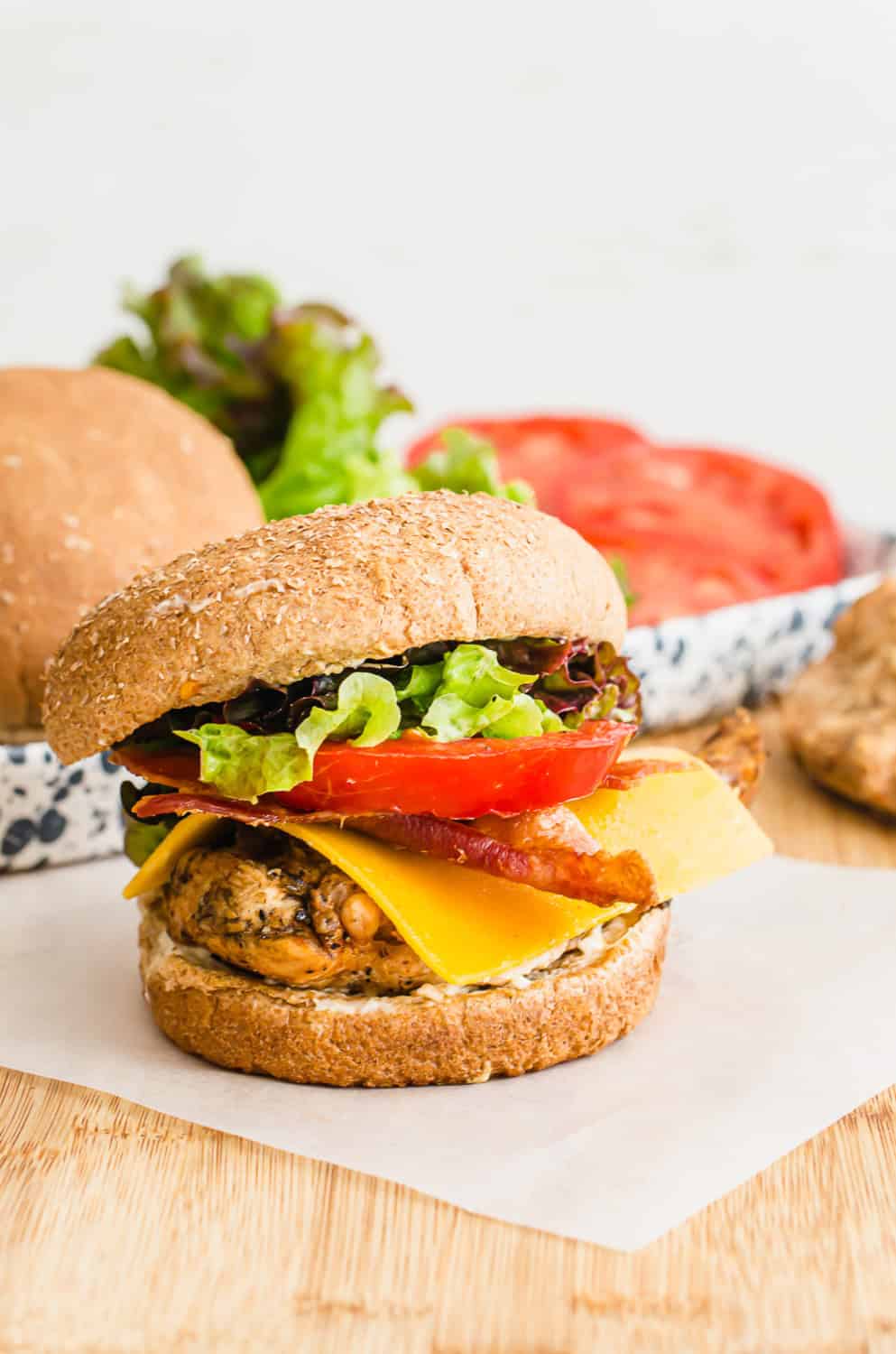 With 3 simple steps, you'll have finger-licking good BBQ Chicken Sliders. The perfectly seasoned, shredded chicken breasts are served on mini buns and topped with BBQ Sauce.
Side Dish Ideas: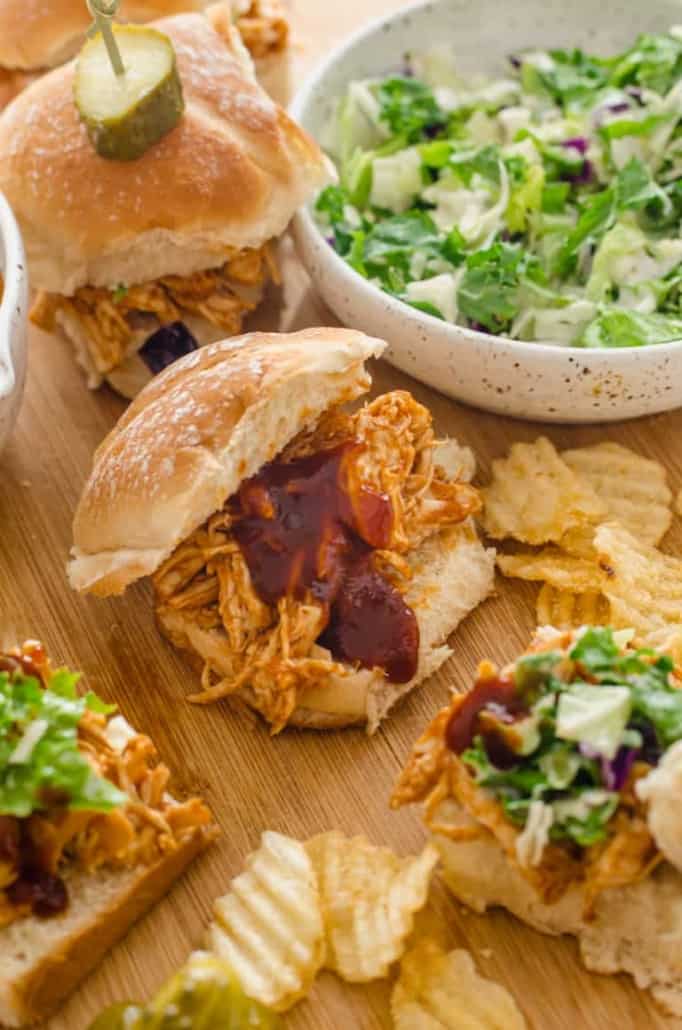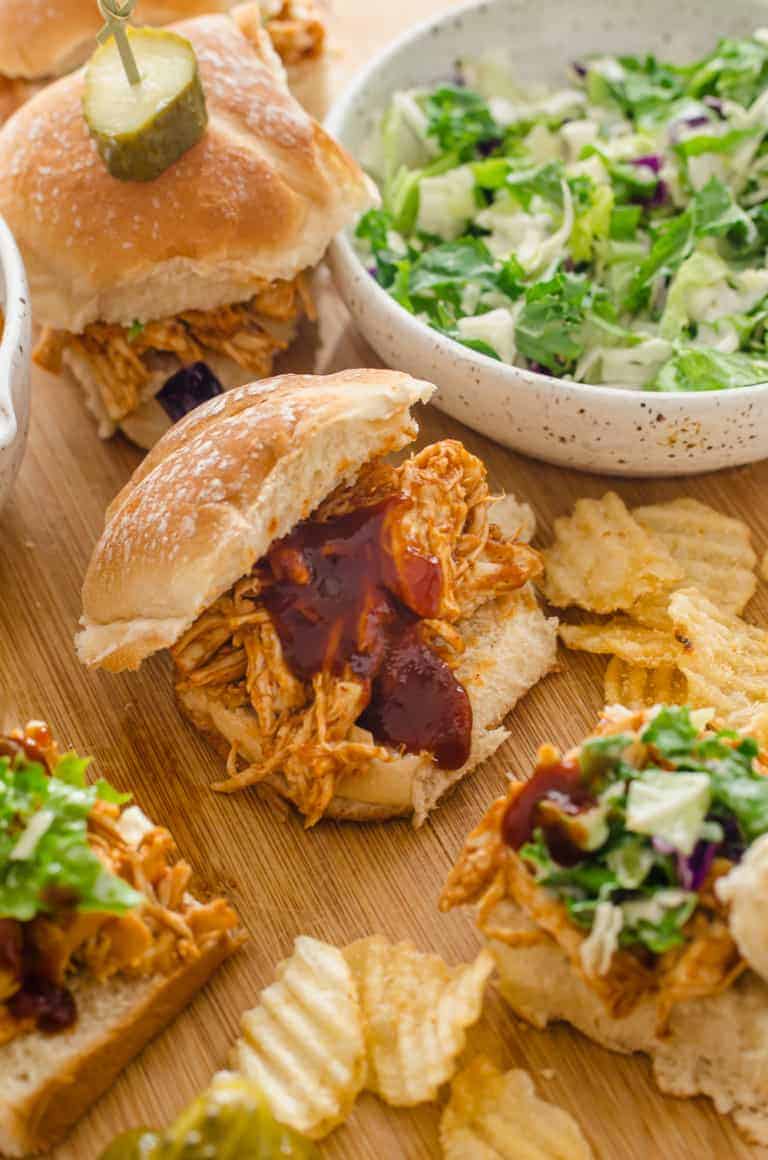 Burgers
You can't go wrong with serving a group of people burgers! Here are some burger recipe ideas: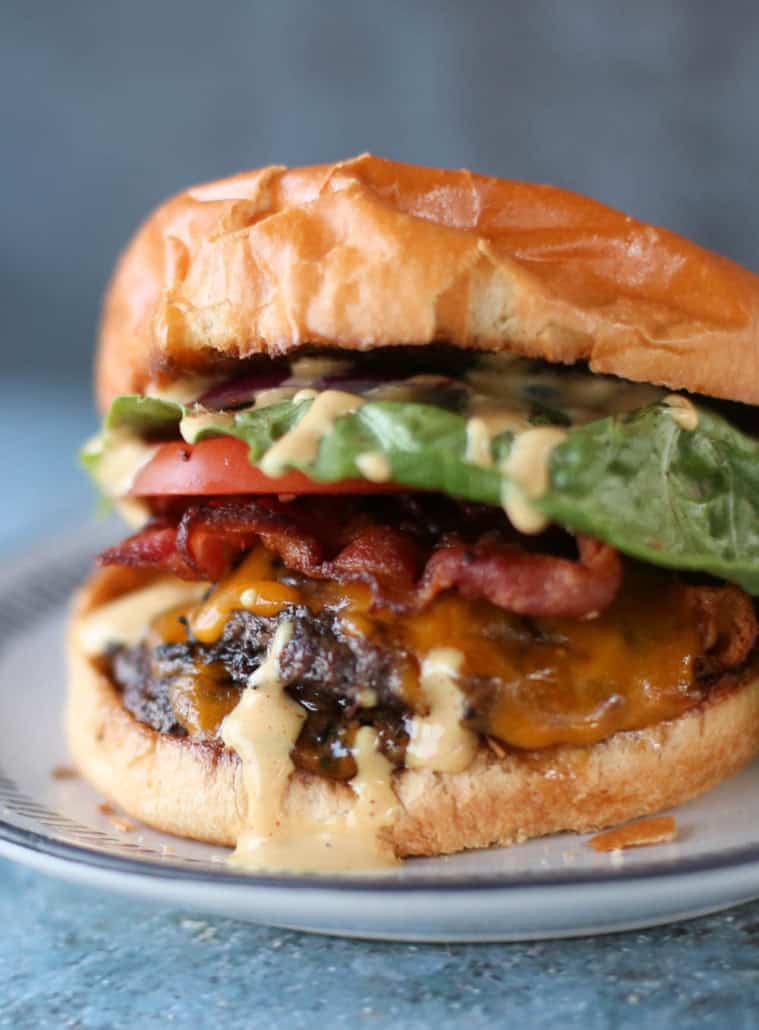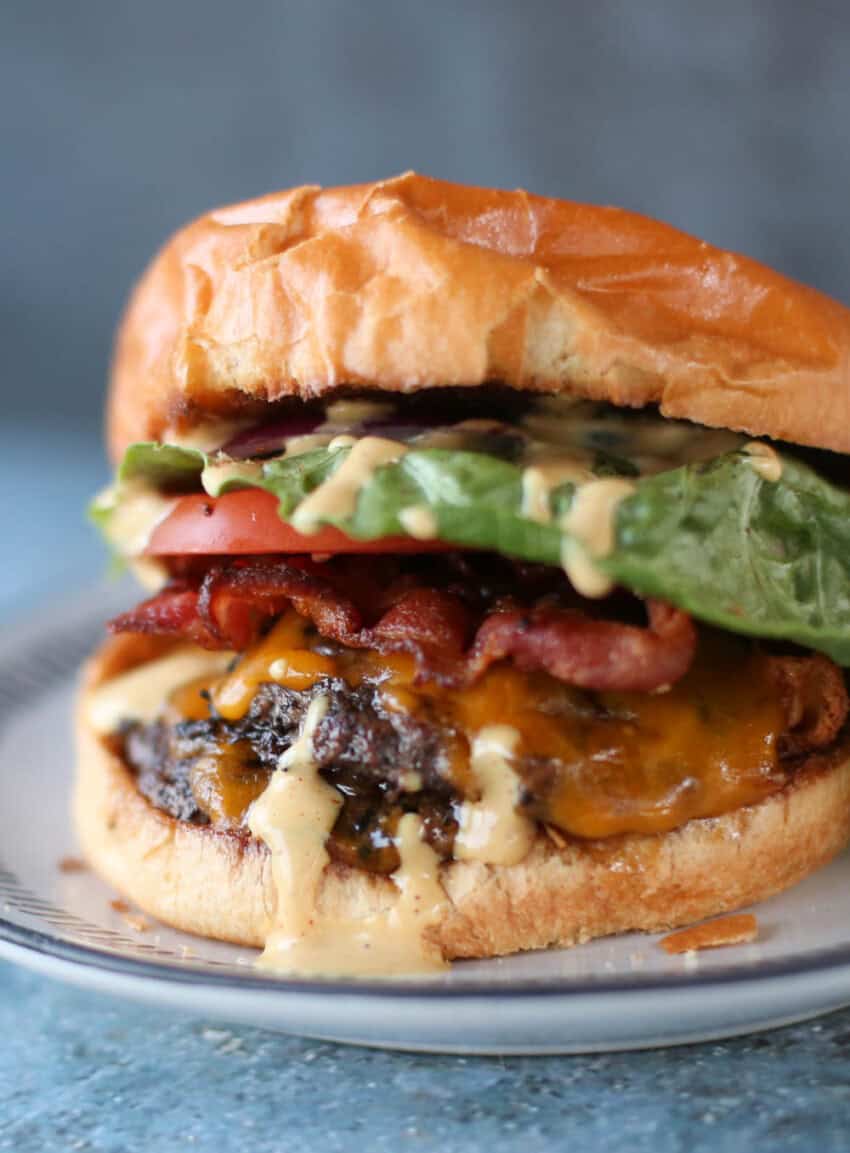 Everyone, from ages 4 to 42, devoured this tender, flavorful meat dish. I have served it with mashed potatoes (and of course veggies and fruit), which is perfect for all that extra sauce in the crock.
Then, the next night we had this same Slow Cooker Shredded Balsamic Beef on mini wheat rolls as "french dip" sandwiches. A great idea on making this stretch for a large group.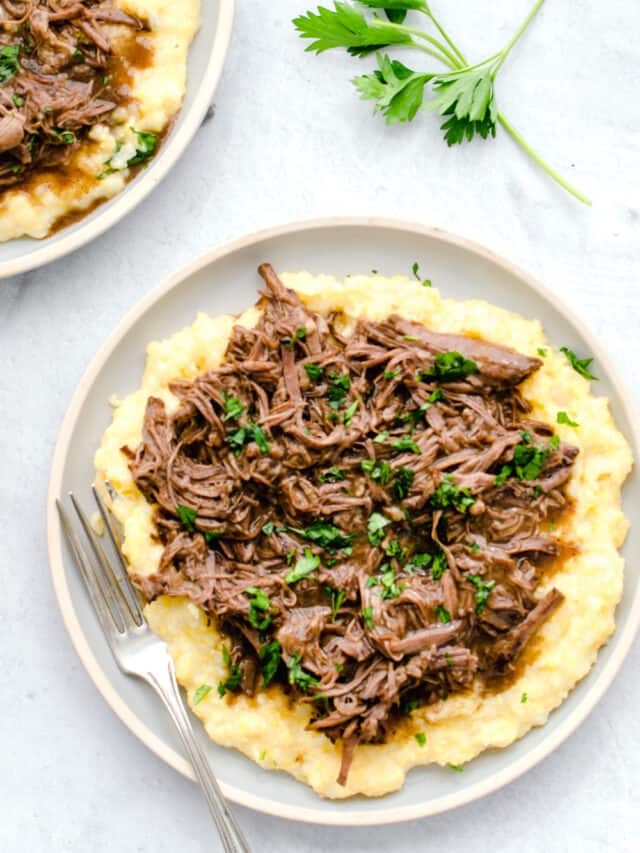 Want a filling, vegetarian meal for a group? This is my go-to! You can make it before the group arrives, keep it warm in a slow cooker, and everyone loves it. (Or try our Easy Chicken Fried Rice.)
While this is a meal in-and-of itself, you might try serving it with these other dishes:
Breakfast for dinner is always fun for a group! This Cinnamon Roll recipe has been a long-time favorite in my home.
Pair these amazing cinnamon rolls with some of these easy breakfast group recipes: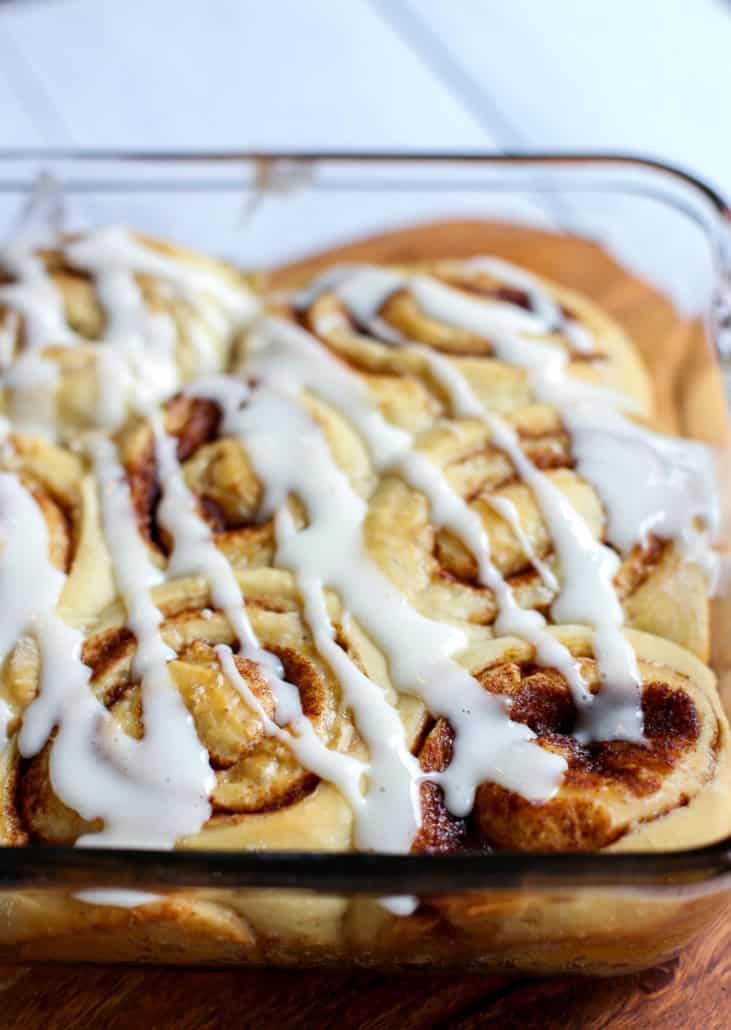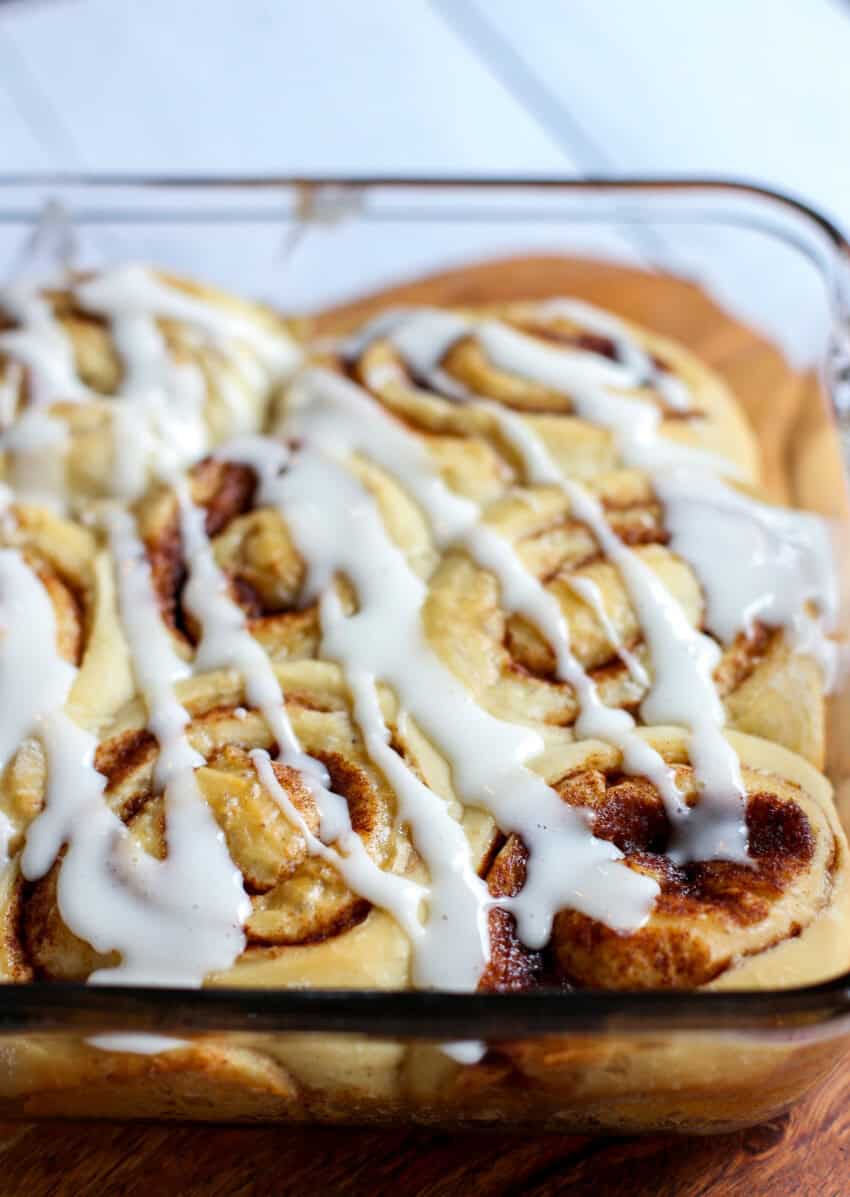 I had to include one dessert idea. Mini Fruit Pizzas are one of my favorites to serve to a crowd. They are really easy to put together and all ages enjoy them. Each person makes their own so they can pick and choose what goes on their fruit pizza. It's a fun way to wrap up a group gathering!
Other cookie ideas for large groups include: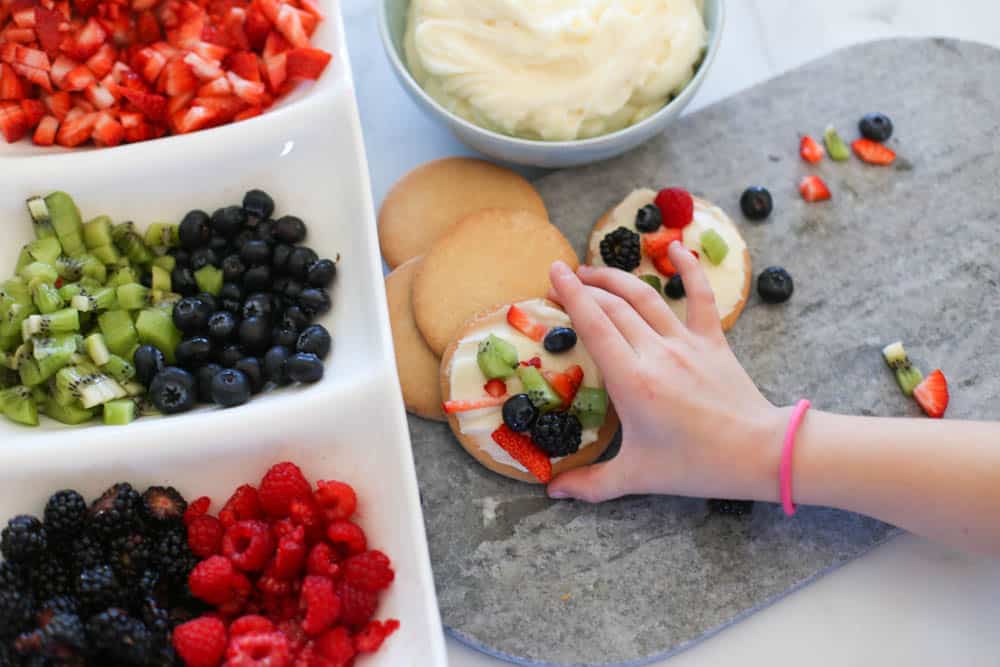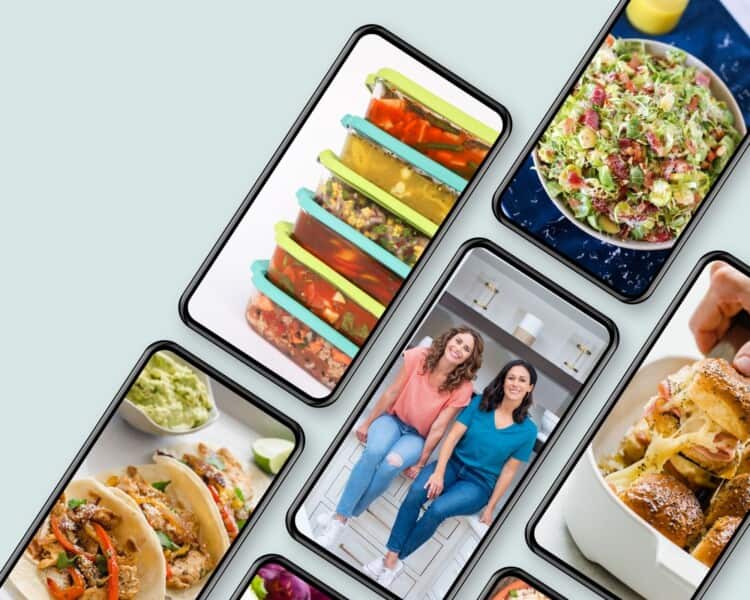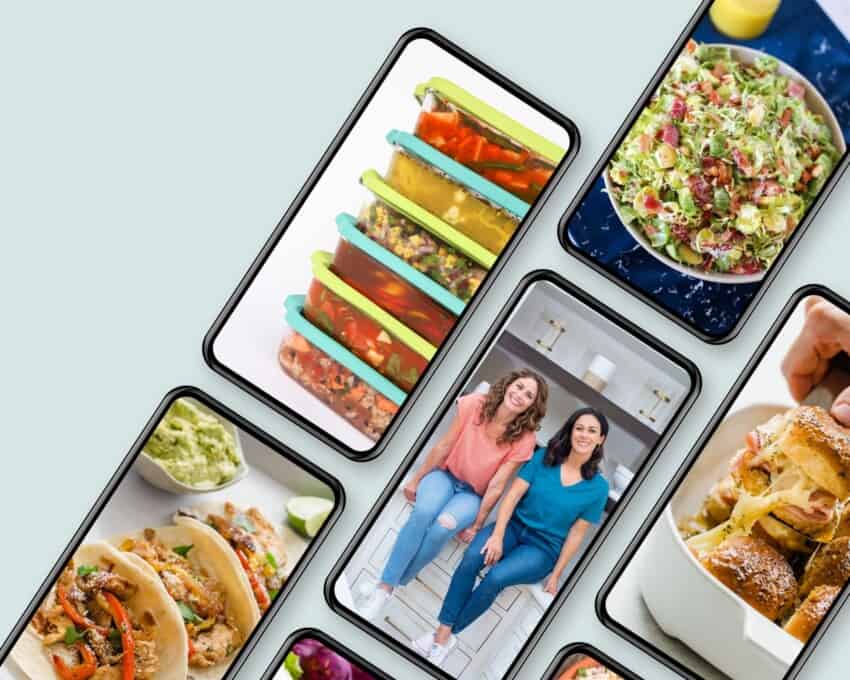 Fill Your Feed with Recipes You'll Actually Use!
You're just one click away from becoming an Instagram friend of ours. We'd love to have you!
Follow Thriving Home on Instagram
---
Want to Stock Your Freezer With 6 Meals in Just 1 Hour!?
We can help! Our 1 Hour Freezer Prep Sessions help you make 6 delicious freezer meals in just 1 hour.