This post may contain affiliate or sponsored links. Please read our disclosure policy.
These Air Fryer Meatballs made with ground beef are moist, full of flavor, and super fast to make. Even the pickiest of eaters will love these beef meatballs! Dinner will be done in 30 minutes with the help of the air fryer.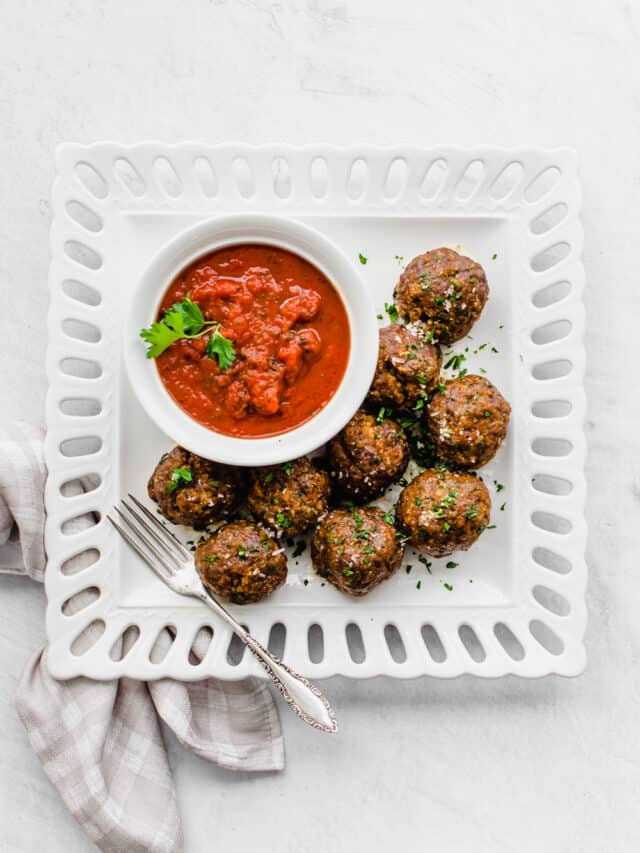 4 Reasons to Make This Recipe
30-Minute Meal: Perfect for busy weeknights. If you prep them ahead of time, dinner is even faster! The air fryer preheats in 1 minute and a batch of 12 meatballs only cooks for 7-9 minutes.
Moist and Delicious: My kids go gah-gah over these and many of them get eaten before they ever make it atop whole wheat spaghetti with homemade marinara sauce or on a Meatball Sub.
Freezer-Friendly: This is one of the best meals to double and freeze a batch for later. Use our freezing instructions in the recipe. (Or freeze half a batch if you are only cooking for 1, 2, or 3 people.)
Less Mess: We skip the messy, greasy method of searing on the stovetop. Just pop these directly in the air fryer for crispy, perfectly cooked meatballs every time.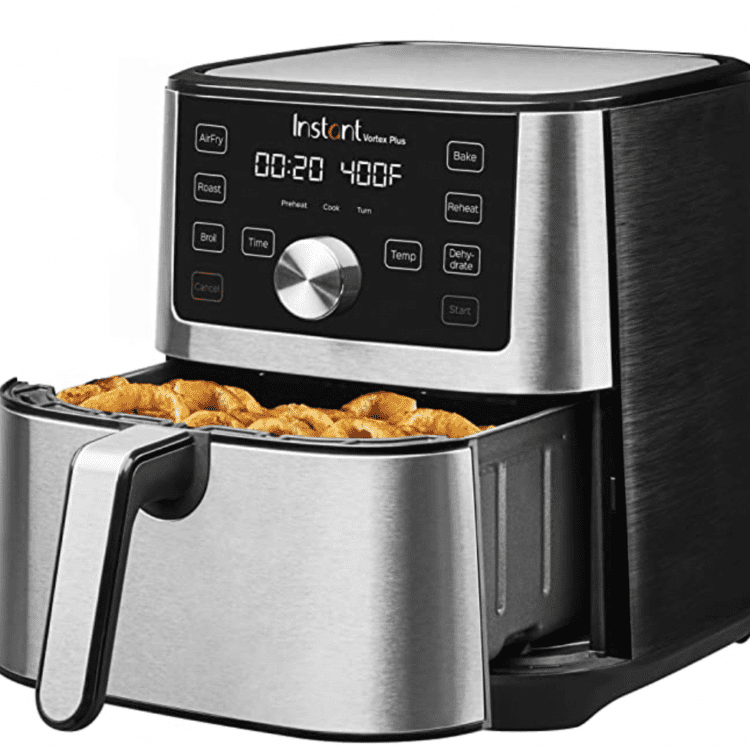 What kind of air fryer do you use?
We both use the 6 quart Instant Pot Vortex Plus Air Fryer and highly recommend it.
Here's what we love about it:
America's Test Kitchen said it's #1 in their tests.
Extra-large capacity. (I fit 12+ meatballs in it.)
Wide drawer-style basket that is easy to remove and insert.
The drawer and cooking rack are dish washer safe.
Super easy to use digital controls.
It cooks food to perfection!
BUY NOW
You likely already have most of the ingredients for these easy, baked meatballs. I'd suggest doubling this recipe, so you can make an extra batch for the freezer.
Lean ground beef – I use grass-feed, grass-finish ground beef from ButcherBox for these but you could also use ground turkey.
Panko bread crumbs – These Japanese-style bread crumbs are crispy and work well as a binder. You can use store-bought whole wheat or regular Panko breadcrumbs. If you are gluten-free, sub gluten-free breadcrumbs.
Grated Parmesan cheese – This adds saltiness, and savoriness, and acts as a binder in addition to the bread crumbs.
Egg – Be sure to beat this large egg before adding to the meat mixture.
Milk – Helps to add moisture. Plain, dairy-free milk works fine.
Tomato paste – Adds some extra umami flavor to the meat mixture.
Garlic powder – I use the powder form so you don't bite into a chunk of garlic in the meatballs.
Fresh parsley – This adds a little color and flavor. You can sub this out for finely chopped fresh basil or even some spinach (for extra nutrition).
Italian Seasoning – This dried herb blend often includes oregano, rosemary, basil, savory, thyme, marjoram, and sage…and it just smells like Italian food. 🙂
Salt and pepper – Key to adding the right balance of flavors.
How to Cook Meatballs in the Air Fryer
I promise, this really couldn't be easier. Just follow these simple steps.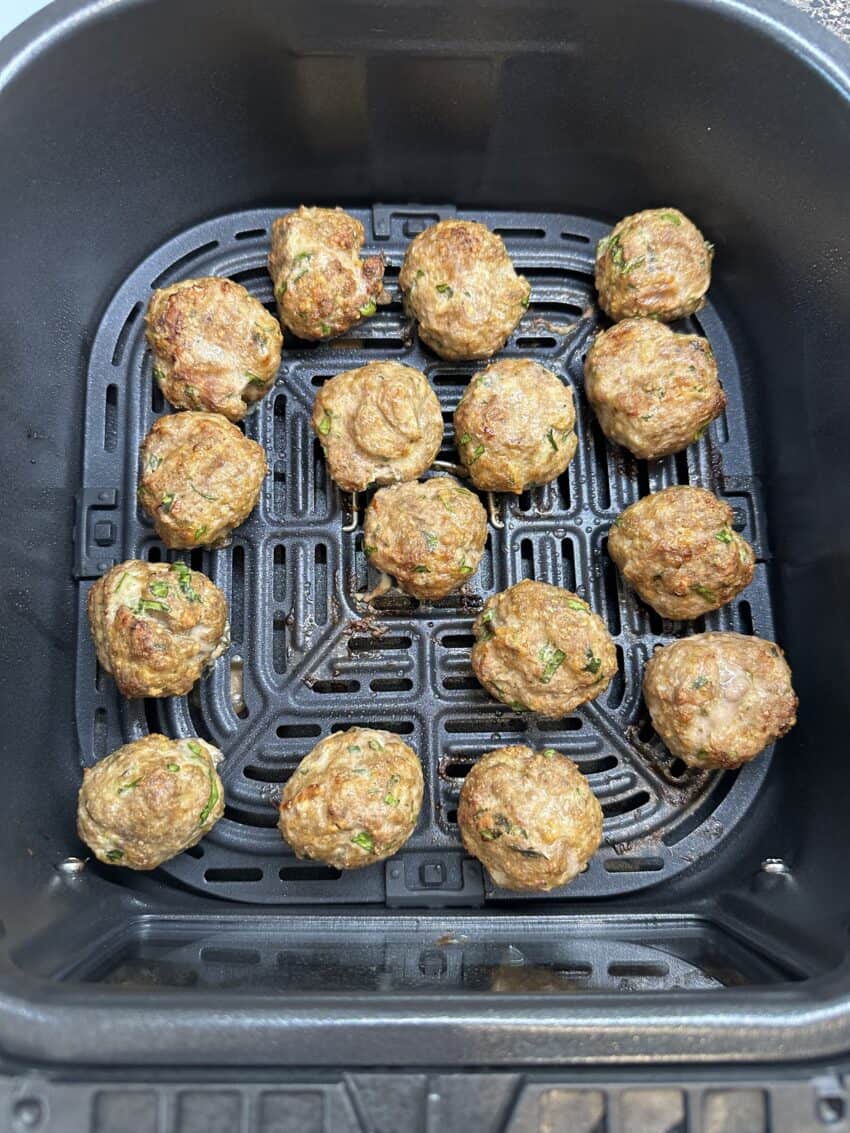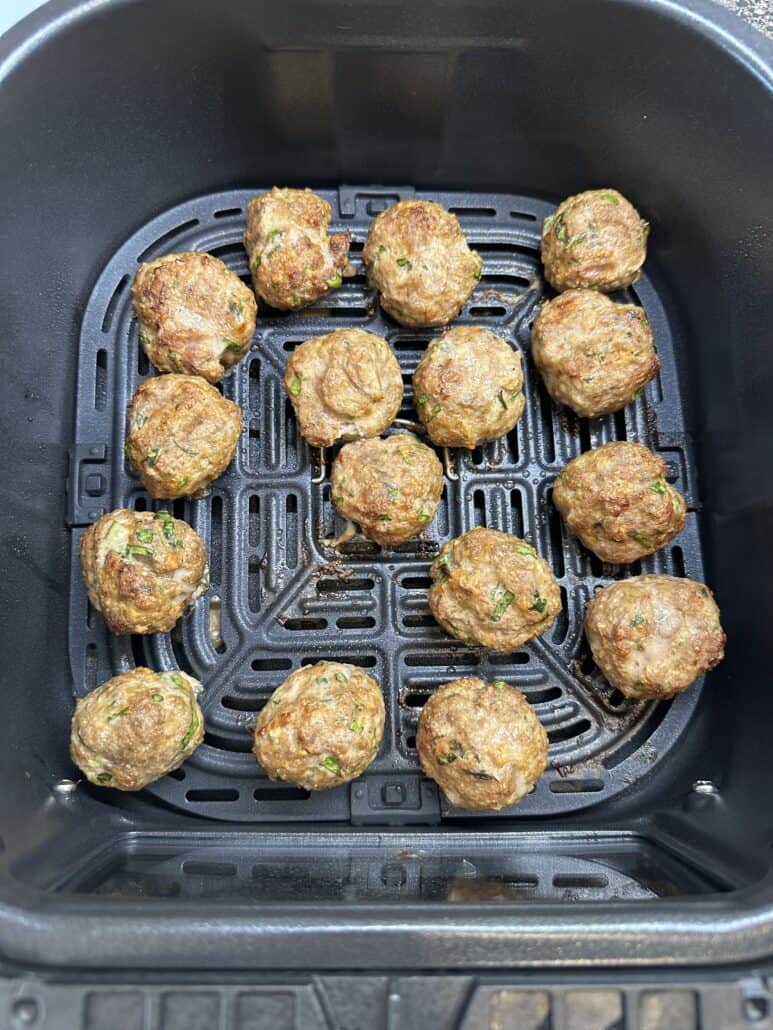 Make the meatball mixture and gently combine using your hands.

Roll the meatballs into 1 1/2 inch balls.
Spray the cooking rack inside the air fryer with cooking spray. Preheat the air fryer to 400°F. This only takes 1 minutes on my air fryer!
Place the meatballs in the air fryer basket, making sure they are spaced out evenly.
Cook the meatballs for 7 to 9 minutes, flipping them halfway through the cooking process (or when your air fryer beeps at you). You'll probably have to cook these in at least two batches, depending on the size of your air fryer. Or, freeze any extra uncooked meatballs for another meal.
See serving options below.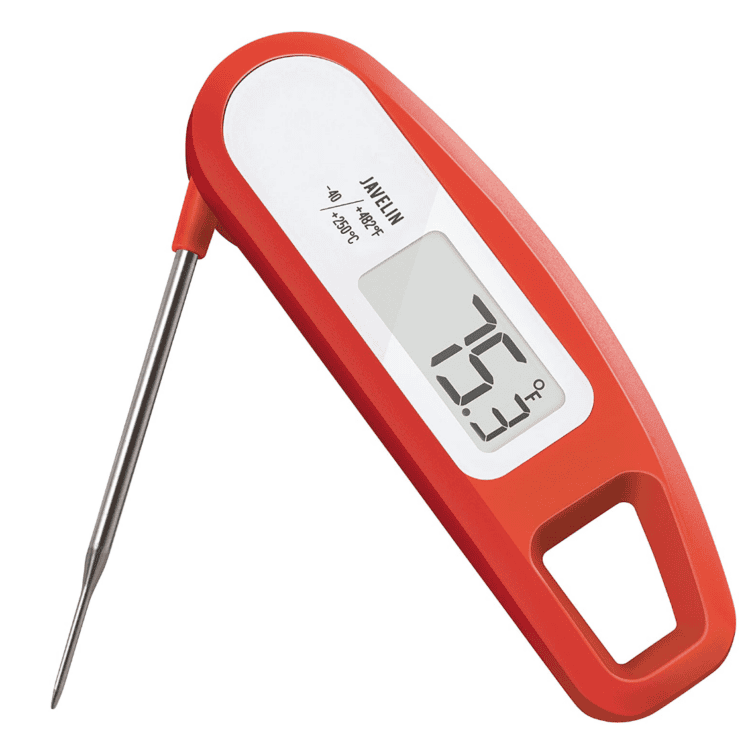 Tip: How to Know When They Are Done
Use a meat thermometer to check the internal temperature of the meatballs, which should reach 160-165°F (74°C) to ensure they are fully cooked and safe to eat.
Air Fryer Tips
Try these tips to get the best results when using an air fryer:
Preheat your air fryer: Preheating your air fryer can help ensure that your food cooks evenly and becomes crispy.
Use the right amount of oil: While air fryers require less oil than traditional frying methods, it is still important to use some oil to achieve a crispy texture. Use a small amount of oil (1-2 teaspoons) or cooking spray to coat your food before cooking.
Don't overcrowd the basket: It is important to leave some space between the food in the air fryer basket to ensure that the hot air can circulate around the food and cook it evenly.
Shake the basket: Shaking the basket halfway through the cooking time can help ensure that your food cooks evenly on all sides.
Use a meat thermometer: Use a meat thermometer to check the internal temperature of your food to ensure that it is cooked through and safe to eat.
Experiment with cooking times and temperatures: Every air fryer is different, so it may take some trial and error to find the best cooking time and temperature for your favorite foods.
Clean your air fryer regularly: Regular cleaning can help ensure that your air fryer operates at its best and that your food doesn't pick up any off flavors or odors from previous cooking sessions.
How to Serve Air Fryer Beef Meatballs
Serve with Pesto Sauce for dipping, with Marinara Sauce over pasta, or on Meatball Subs. You could also serve them alongside our Easy Cheesy Baked Pasta.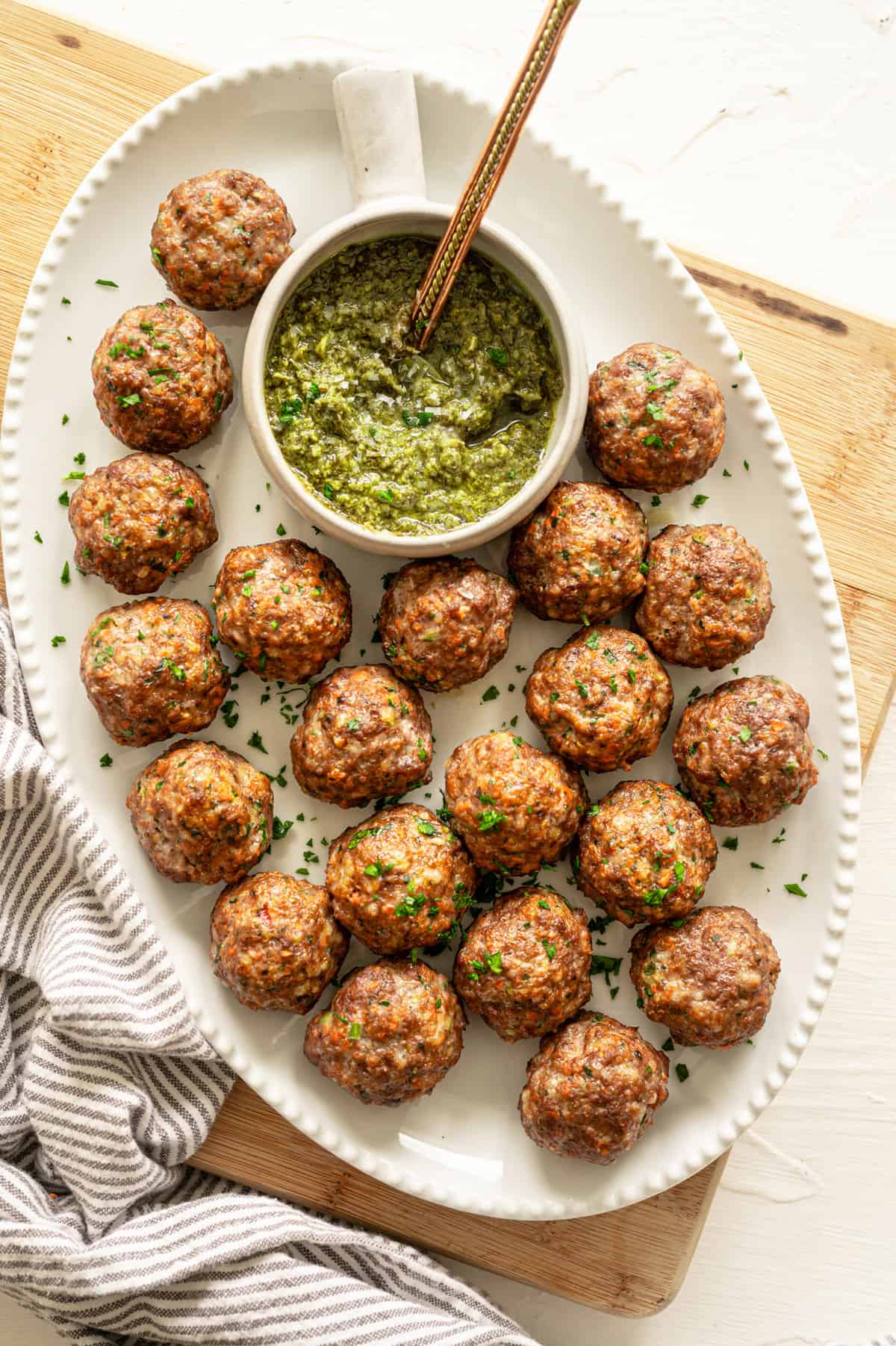 Side Dish Ideas
Try a few of these healthy side dishes to round out your meal.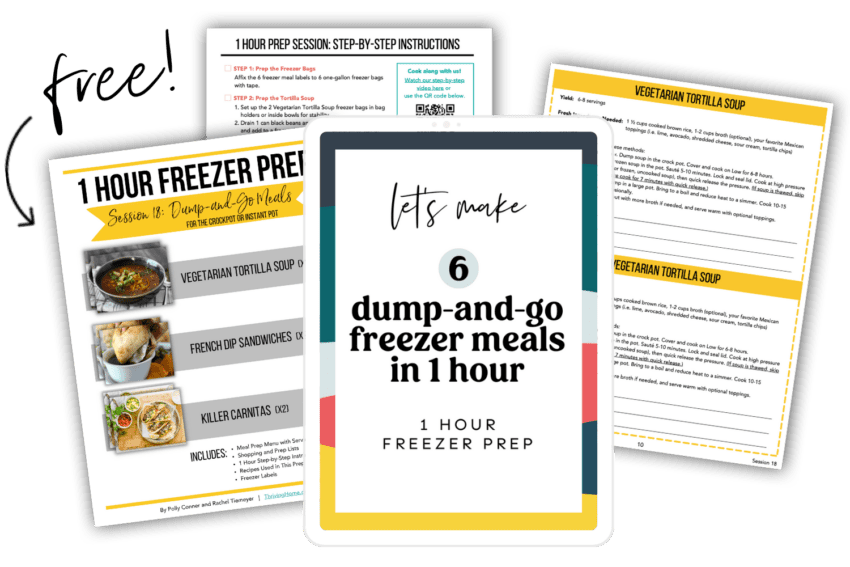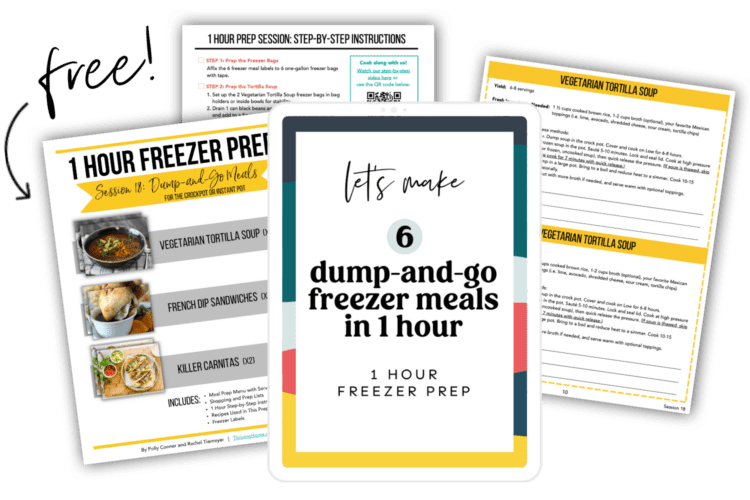 Make 6 Dump-and-Go Freezer Meals in 1 Hour!
Try a 1 Hour Freezer Prep Session ($6.99 value) for FREE!
Includes:
Shopping & equipment lists
Step-by-Step instructions & video tutorial
Serving suggestions & dietary substitutions & more
Did you make this? Snap a photo and tag us on Instagram at @thrivinghome so we can see your creations and cheer you on!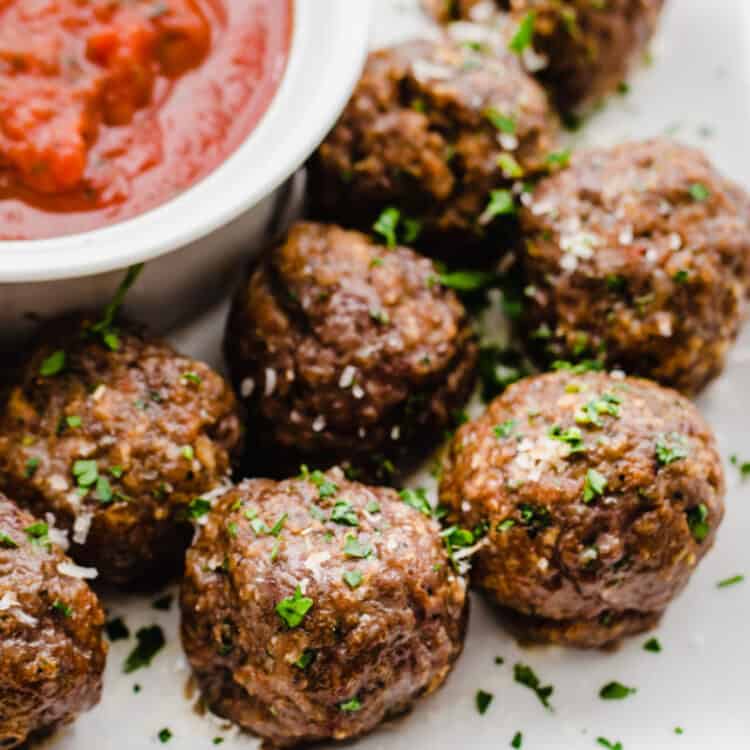 Air Fryer Meatballs
These Air Fryer Meatballs made with ground beef are moist on the inside, a little crispy on the outside, full of flavor, and super fast to make. 
Yield:
4

–

6

servings (about 24

1

–

1/2

inch meatballs)

1

x
Prep:
15 minutes
Cook:
15 minutes
Total:
30 minutes
More Meatball Recipes
We love meatballs because people of all ages love them, they are easy to make, and super easy to freeze for later. Try some of our other favorites.