This post may contain affiliate or sponsored links. Please read our disclosure policy.
Making homemade pesto is easier than you think. The flavor of our Homemade Pesto Recipe far outmatches the store bought version. Use our tips to double batch this recipe and freeze pesto for later too!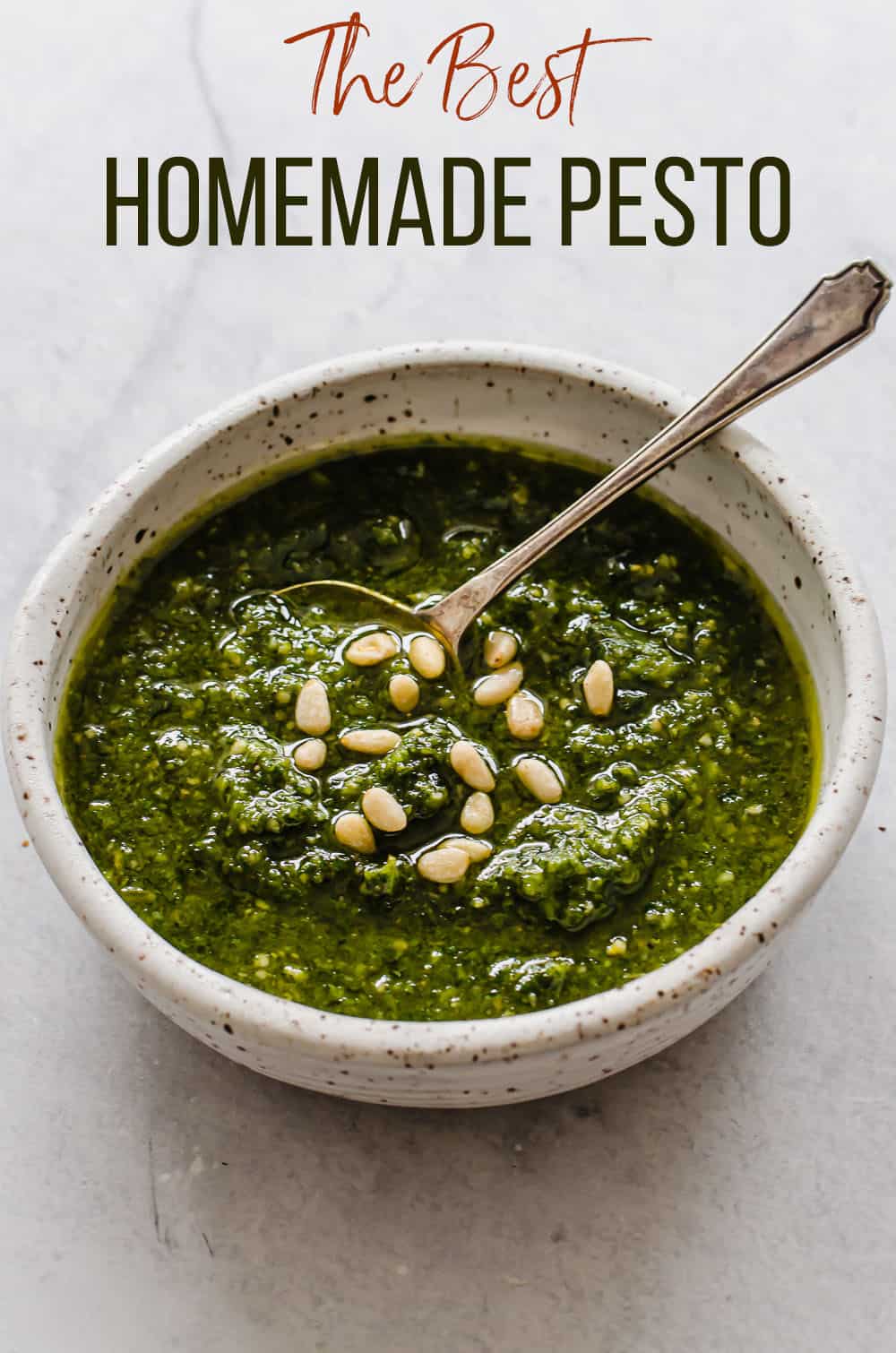 Every summer I make it a priority to grow my own basil. Not only is it an easy herb to grow in a pot but I get enough out of it to make a few batches of homemade pesto!
What Is Pesto?
It wasn't well into my 20s that I had my first taste of pesto. It just wasn't a common ingredient in rural Missouri so growing up, I had no clue what it was. Sheesh, I was missing out!
So what actually IS pesto? In short, it's a sauce made up of these ingredients all blended together:
Fresh basil leaves
Garlic cloves
Pine nuts (walnuts will work too)
Parmesan cheese
Olive oil
Salt & Pepper
Store Bought vs. Homemade Pesto
Friends, there just isn't even a comparison. Homemade Pesto is just SO much tastier than store-bought pesto. The canned pesto from the store is more oily and lacks the fresh taste of basil that just can't be replicated.
If you must buy it from the store, we recommending getting refrigerated pesto if possible.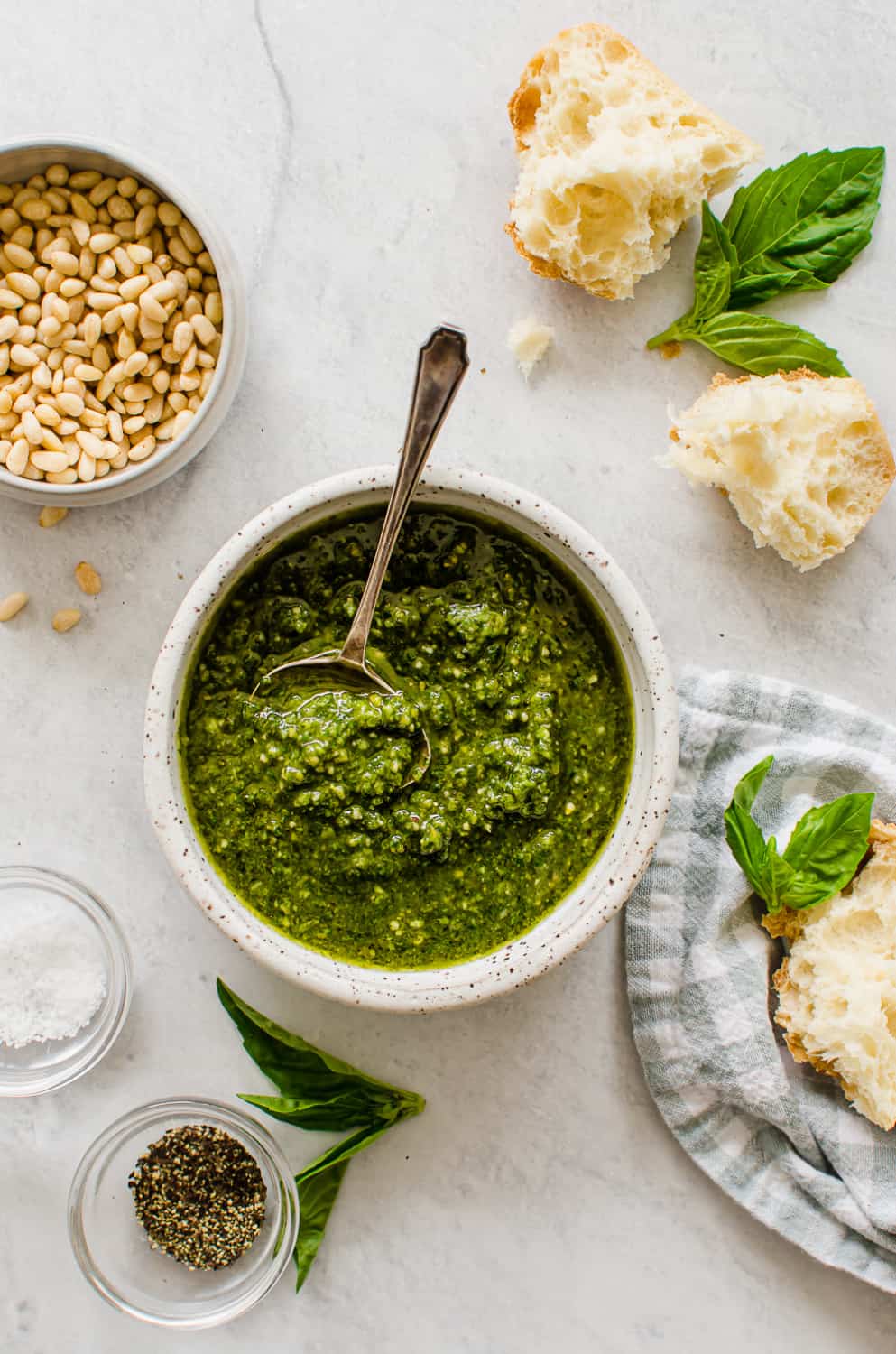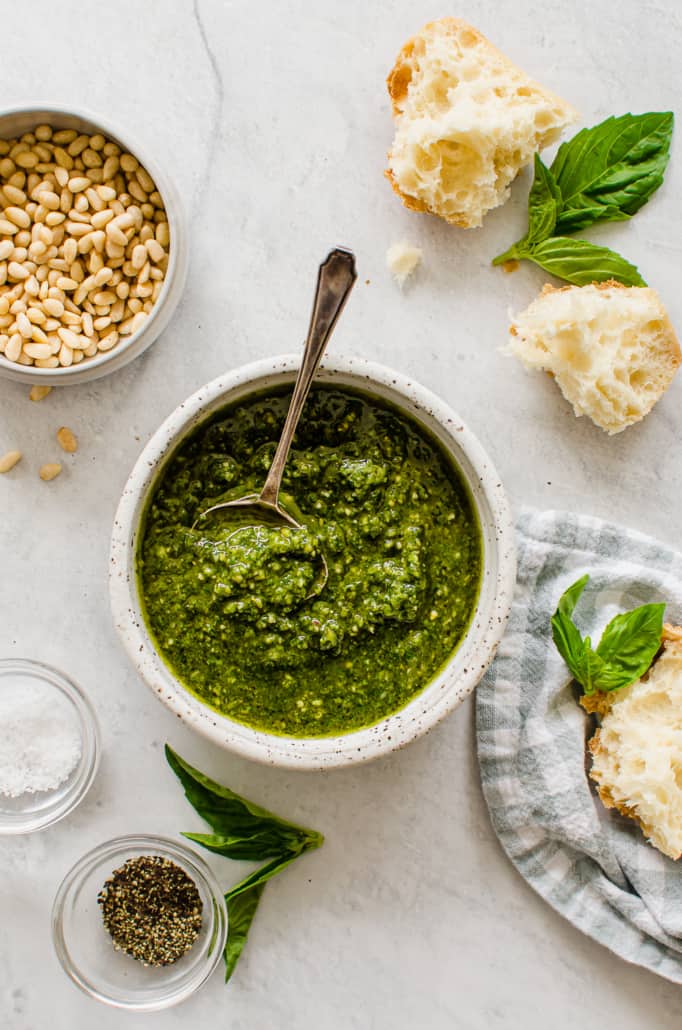 Want to make your own?
Pro Tips for Making Fresh Pesto
The pesto will be as good as your ingredients. Quality fresh basil, and freshly grated cheese will do wonders for the flavor.
A food processor is a must. I have never tried it in a blender but I don't think it has enough liquid to work in one of those. A food processor is necessary to get the texture you'll want.
You can double the recipe in the food processor. If you have enough ingredients, save yourself some time and double the recipe. Freeze the pesto that you don't use!
Silicone muffin cups work great to freeze the pesto in. Just pop it out after it's frozen and store in a freezer bag.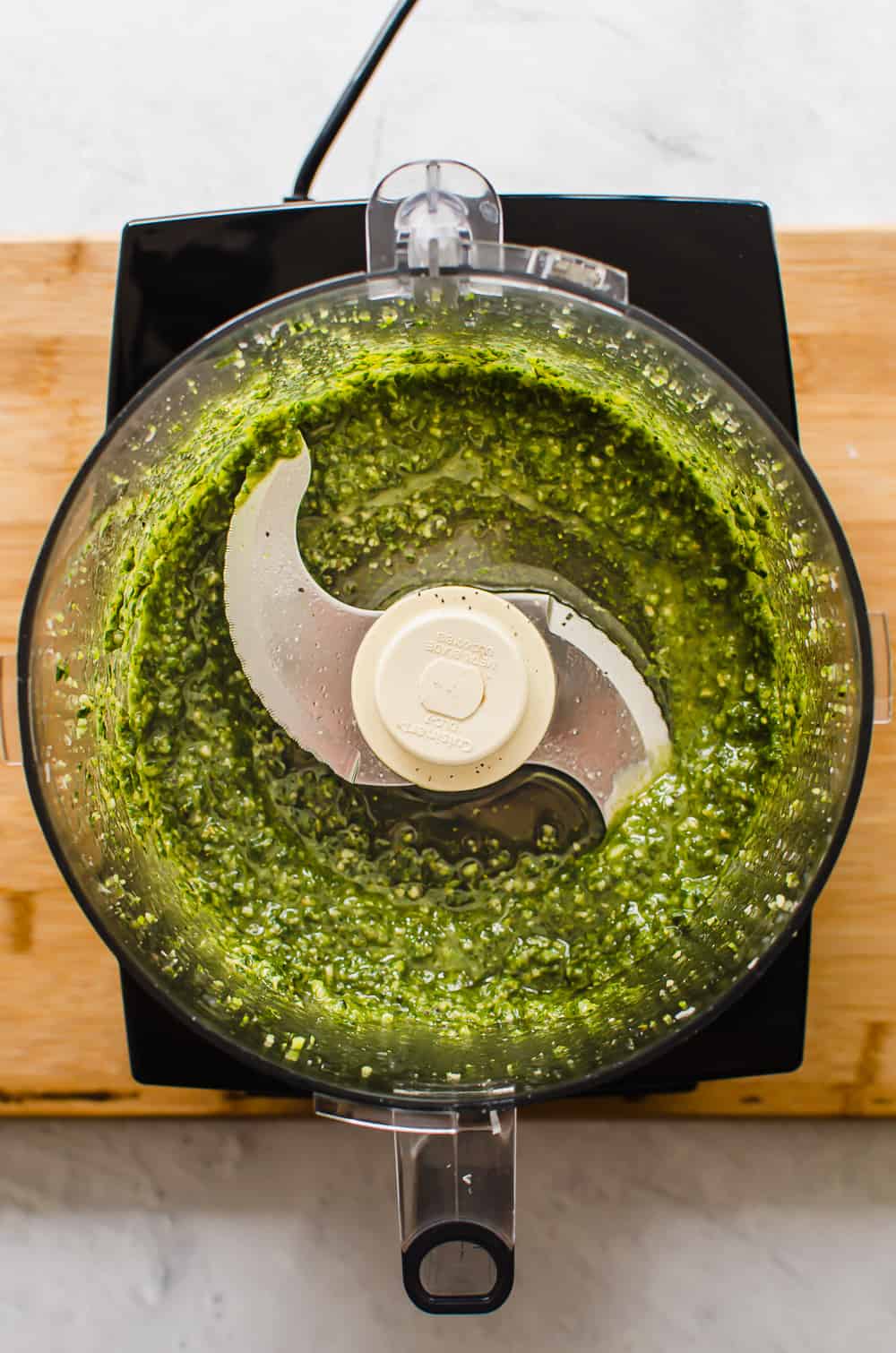 How to Freeze Pesto
Because of the superiority of fresh pesto, I am a HUGE HUGE HUGE advocate of making tons of fresh pesto when basil is in season and freezing it to use all year long. We have an entire post and video on How to Freeze Pesto but I will give you a quick rundown here as well.
Make your fresh pesto.
Divide your fresh pesto into small portions.
Drizzle a little olive oil over the pesto to prevent discoloration.
Flash freeze the pesto until it is solid enough to put in a storage container. Use it all year long!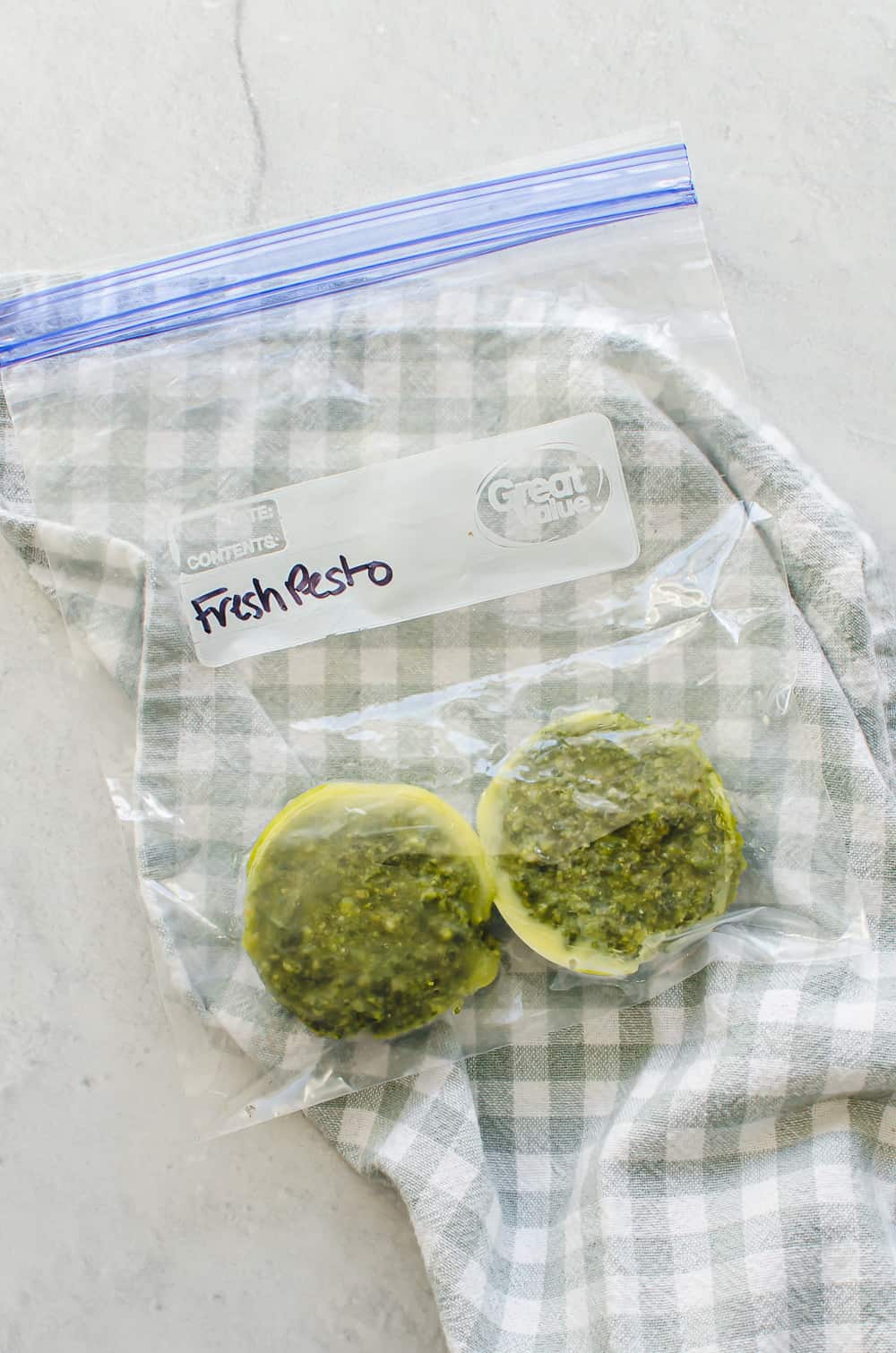 More Homemade Sauces You'll Love
Did you make this? Snap a photo and tag us on Instagram at @thrivinghome so we can see your creations and cheer you on!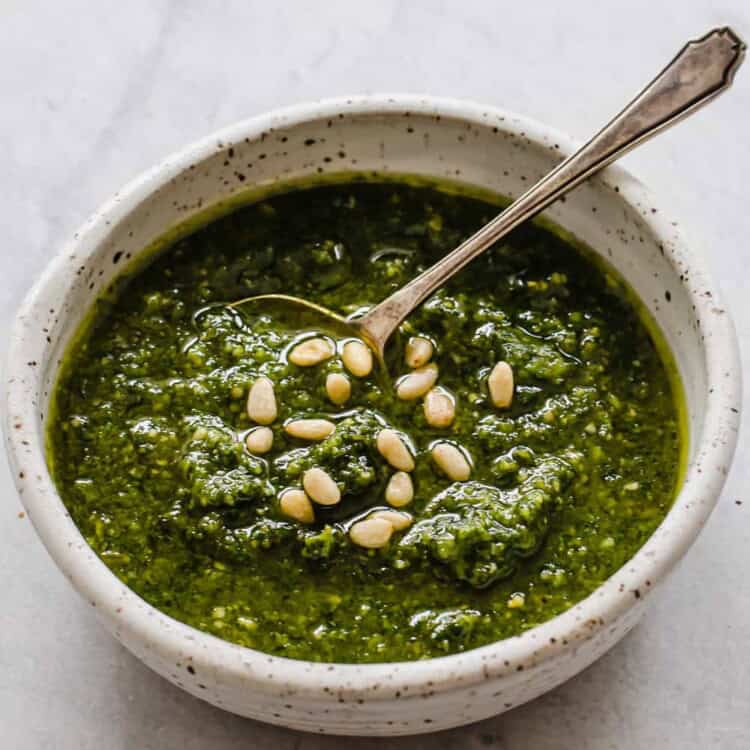 5 Ingredient Homemade Pesto
Try your hand at homemade pesto with just a few ingredients. The robust flavor will wow your most-favorite dishes!
Prep:
5 minutes
Total:
5 minutes
Ingredients
2

cups

packed fresh basil leaves

2

cloves garlic, peeled

1/4

cup

pine nuts (sub: walnuts)

1/2

cup

freshly grated Parmesan cheese

1/2

cup

extra-virgin olive oil
Kosher salt and freshly ground black pepper, to taste
Before You Begin! If you make this, please leave a review and rating letting us know how you liked this recipe! This helps our business thrive & continue providing free recipes.
Instructions
In a food processor, combine the basil, garlic, pine nuts, and cheese and pulse until coarsely chopped.
Add 1/2 cup of olive oil and process until fully incorporated and smooth. Season with salt and pepper, to taste.
Freezer Meal Instructions:
To Freeze:
Blend the pesto sauce as directed. Once fully incorporated, you can add small amounts of pesto to ice cube trays. Put in freezer until solid. Then dump ice cubes out into freezer-safe ziplock bags. Store in freezer for up to 6 months. You can also store larger quantities of pesto in glass jars.
To Prepare:
Remove desired amount of pesto from freezer. Let thaw in refrigerator overnight or on the countertop. Use as needed.
---
Notes/Tips
Prep Time Note: The prep time in this recipe doesn't include the time it takes to harvest, rinse, and dry the basil, if you're harvesting your own. When you buy it from the store, this is already done for you. 
Harvesting Basil: Be sure to harvest basil leaves before the plant begins to flower. Once they get to this stage, the basil gets bitter. It's best to cut back your plant regularly (and make pesto regularly!).
Reader Tip: One reader mentioned that she toasts her pine nuts and roasts the garlic to add more flavor.
Recipes that Use Pesto
Now that you have a delicious batch of pesto, here are some great ideas on how to use it. Yum!