Chicken Pesto Pasta
Updated: 4/20/22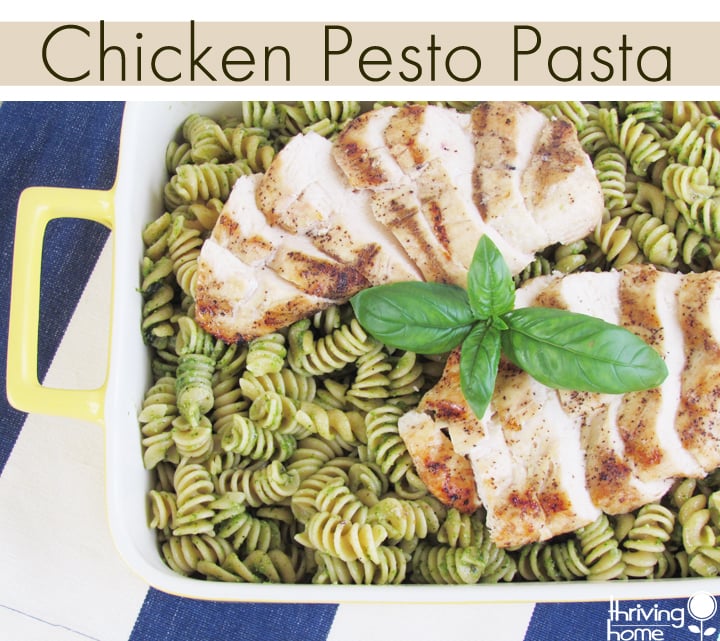 Basil. If there's one thing I think is worth planting in your garden, a mulch bed or a pot, basil is it. I use it on pizzas, pasta dishes, in marinades, but most importantly in PESTO. In fact, my husband calls pesto my other lover. For those who have the pesto-loving gene, you know the robust and addicting flavor. Maybe, like me, you salivate just at the name of
your lover
pesto. Now, parents, let's discuss kids and pesto for a minute. Reality is that pesto is green. And green foods are automatically suspect to little people. Last week was one of the first times I've made it with my 3, 5, and 7-year-olds. Then I daringly offered green pasta to them for dinner. Oh, I'm crazy like that. Low and behold, though,
Chicken Pesto Pasta
was a great success with all but my pesto-repulsed (maybe just jealous?) husband. I shall not speak his name here. If you want to get your kids to delve into the world of pesto, here's how it worked in our house: a) The kids helped me plant our garden. They've been an active part of watering our basil and other plants for a few months already this season. By gardening with me and
my mom
over the years, the children have felt ownership over our produce. And they have tried so many new foods as a result. It really does work. b) I had my kiddos pick the basil and help me measure out all the ingredients. We also all taste-tested the pine nuts, which they actually liked. This is one of those other tricks you've probably heard a million times, but getting the kids to cook with you often results in an expanded palette. c) We nicknamed the
Chicken Pesto Pasta
"Green Alien Pasta" and my kids thought it was hilarious. I'm not suggesting you trick your kids, but this just made the dinner fun. Honestly, though, this simple
Chicken Pesto Pasta recipe
is delicious without all the fanfare. If your kids will give it one try, I think they'll be hooked. And so will you. One last point that you know I have to slip in is that pesto is one of the most nutrient-dense foods you can eat this summer. Healthy fats from the olive oil and pine nuts and antioxidants from the basil and garlic make pesto a winner. So eat up…in moderation!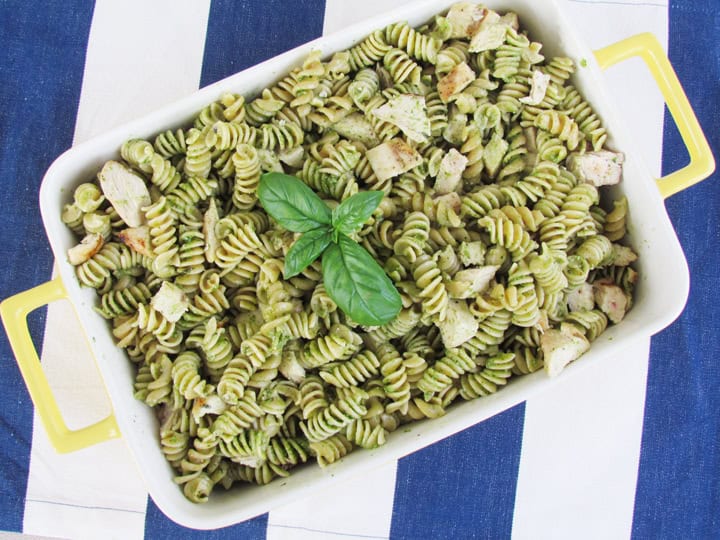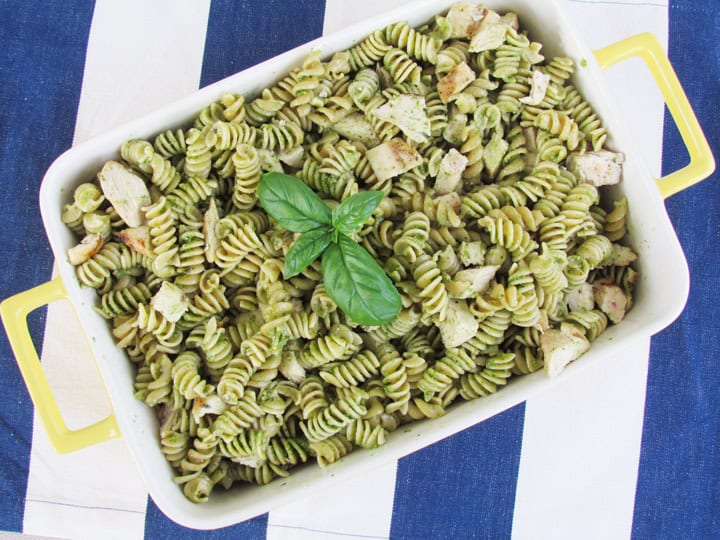 Did you make this? Snap a photo and tag us on Instagram at @thrivinghome so we can see your creations and cheer you on!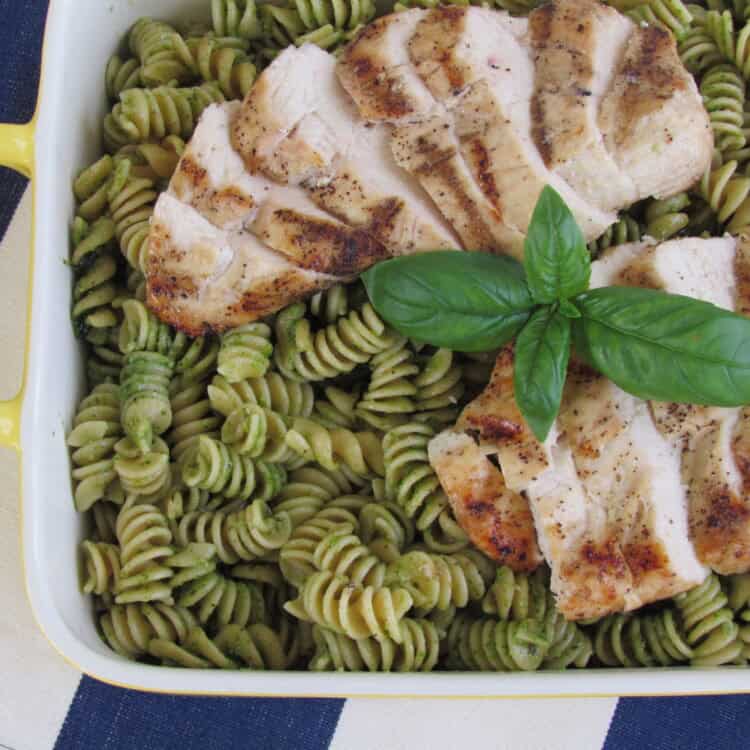 Chicken Pesto Pasta
Pesto is one of the most nutrient-dense foods you can eat. Healthy fats from the olive oil and pine nuts and antioxidants from the basil and garlic make this meal a winner!
Prep:
15 minutes
Cook:
15 minutes
Total:
30 minutes
Ingredients
2 cups

packed fresh basil leaves

2

cloves garlic

1/4 cup

pine nuts

1/2 cup

freshly grated Parmesan cheese

2/3 cup

extra-virgin olive oil, divided
Kosher salt and freshly ground black pepper, to taste

1

pound whole wheat rotini pasta, cooked according to package directions

2

, seasoned and grilled chicken breasts, diced
Before You Begin! If you make this, please leave a review and rating letting us know how you liked this recipe! This helps our business thrive & continue providing free recipes.
Combine the basil, garlic, pine nuts and cheese in a food processor or high-speed blender and pulse until coarsely chopped. Add the oil and process until fully incorporated and smooth. Season with salt and pepper, to taste.
Toss the pesto with the cooked pasta and grilled, diced chicken. Top with more Parmesan cheese, if desired. Serve warm or at room temperature.