This post may contain affiliate or sponsored links. Please read our disclosure policy.
Chicken Pesto Pasta is a 30-minute, delicious, nutrient-dense meal that the whole family will love.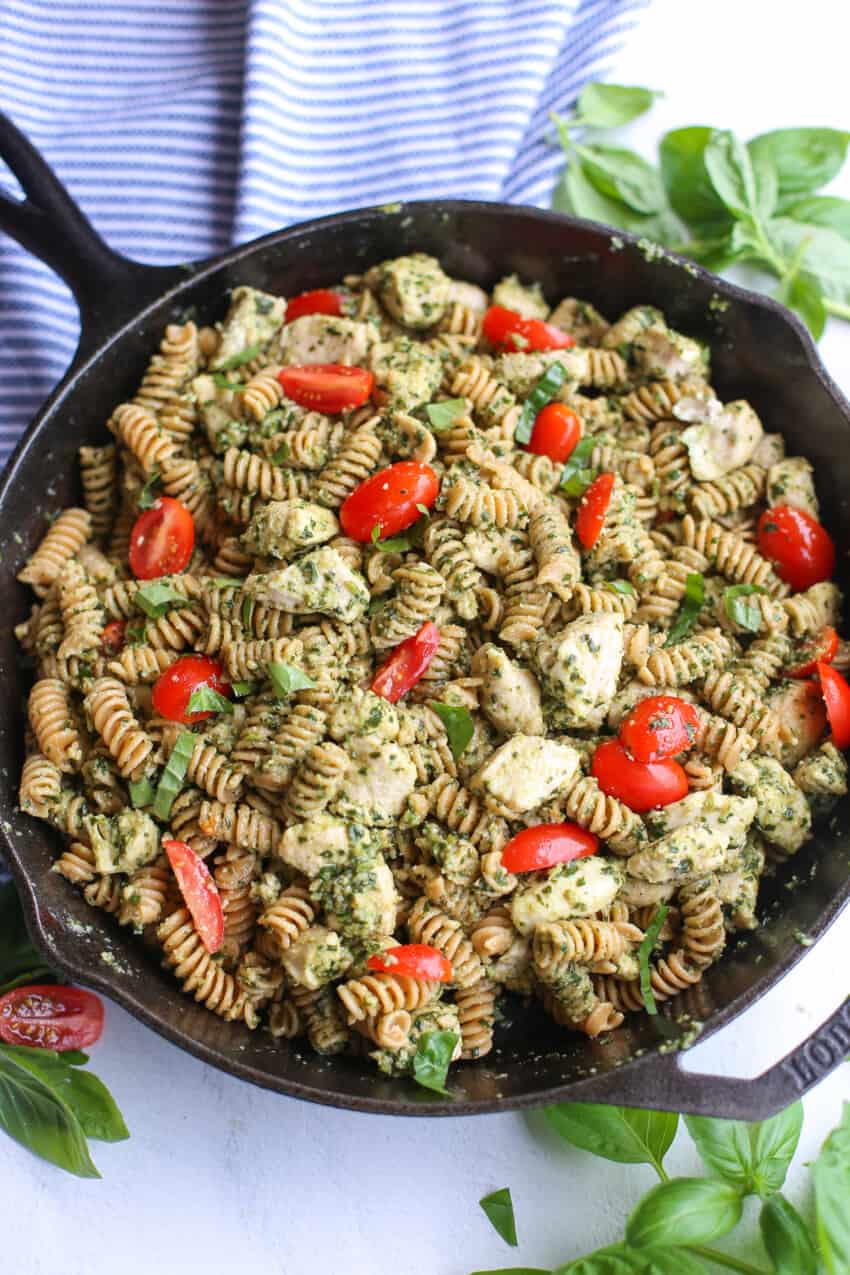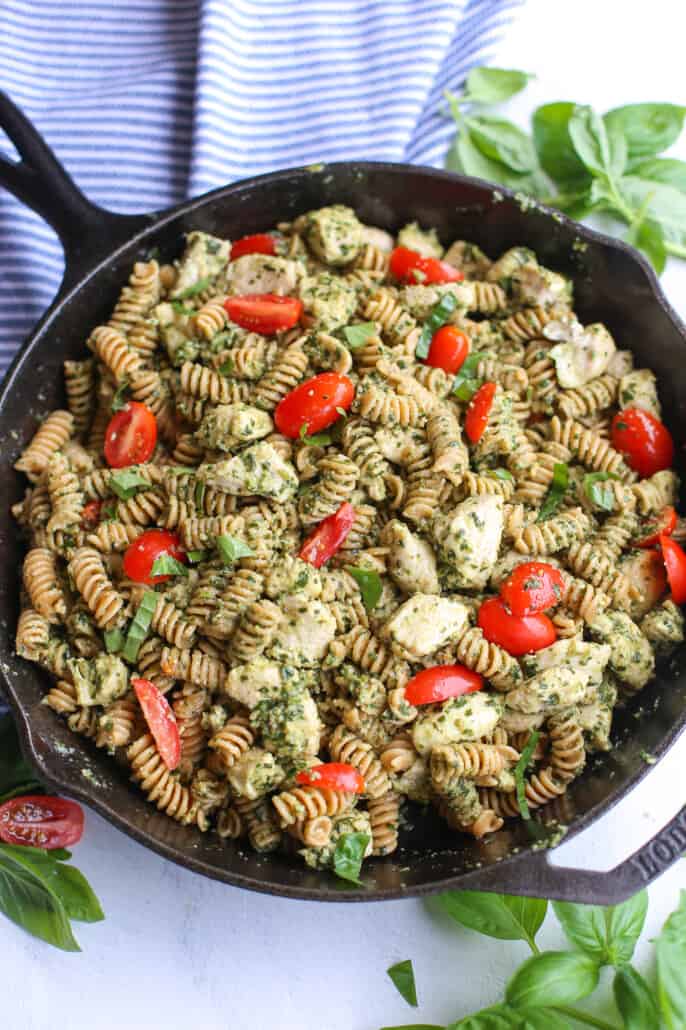 What is Chicken Pesto Pasta?
The perfect mid-to-late summer dinner if you ask me! This pasta dish is made with all real food ingredients, some of which you may have in your garden (i.e. basil and cherry tomatoes).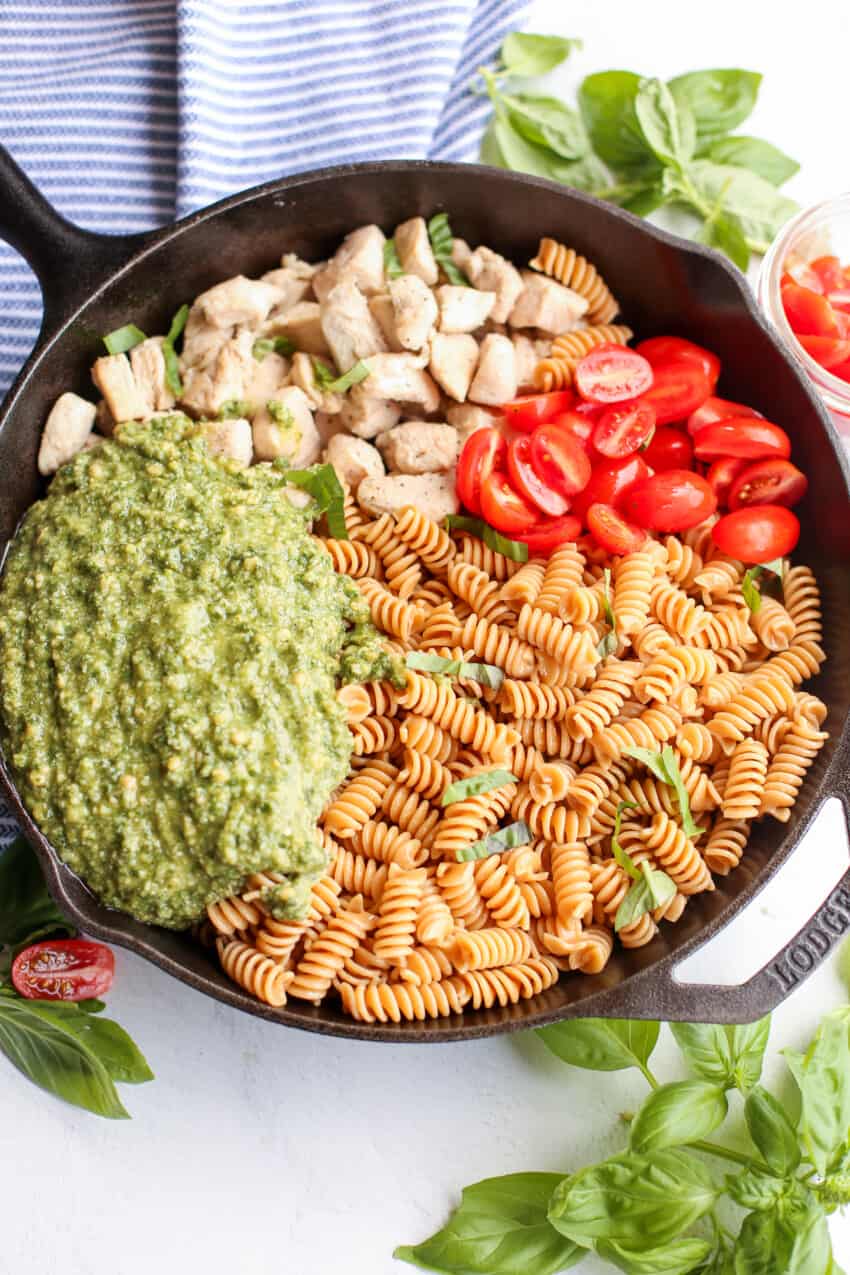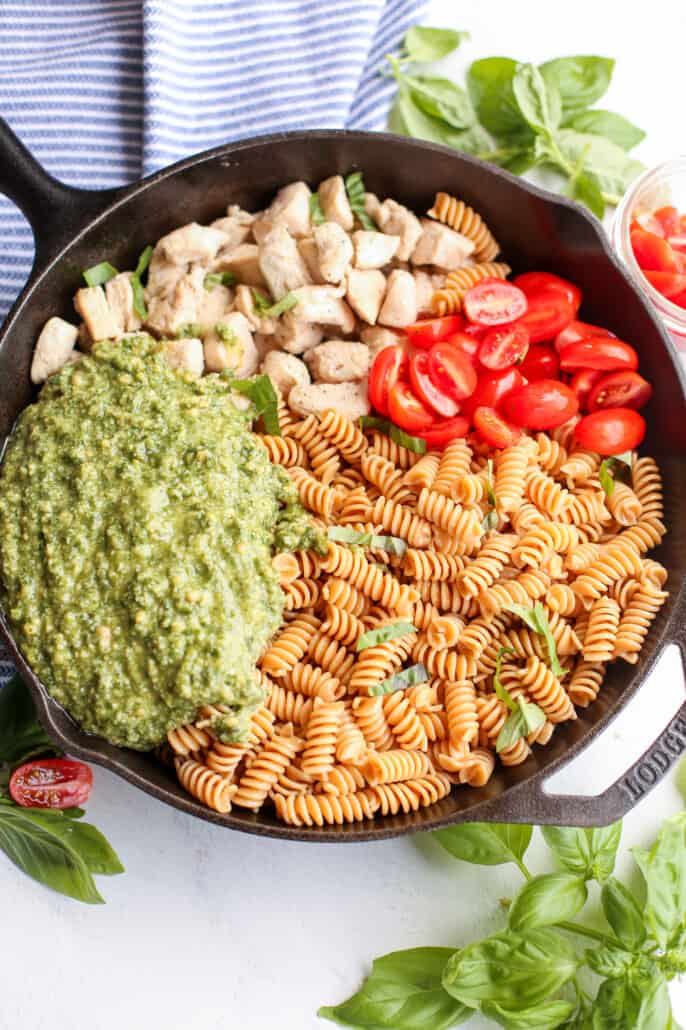 For this one-dish-wonder, you'll boil pasta, saute chicken, make a quick homemade pesto, and then toss everything together for a HUGE party in your mouth. Each ingredient is nutrient-dense, satiating, and absolutely mouth-watering when combined!
Check out this all-star line-up of fresh ingredients…
Olive oil
Chicken breasts
Whole grain pasta (we like rotini)
Fresh basil – Check out all the health benefits of basil.
Garlic cloves
Pine nuts (sub: walnuts)
Salt and pepper
Freshly grated Parmesan cheese
Optional: cherry tomatoes
Hello, healthy-fresh-tasty ingredients, amiright?!
How to Make Chicken Pesto Pasta
In just five simple steps and only 30 minutes, you'll create a one-dish-wonder that feeds a large group. Leftovers are delicious the next day!
Start boiling a large pot of water and then cook your pasta according to package directions. Be sure to salt the water. Move on to the next steps while it boils. When done, drain and set aside.
Dice and saute chicken breasts in a little oil in a large skillet. No need to season the chicken because the pesto adds so much flavor later. Remove from the heat and set aside.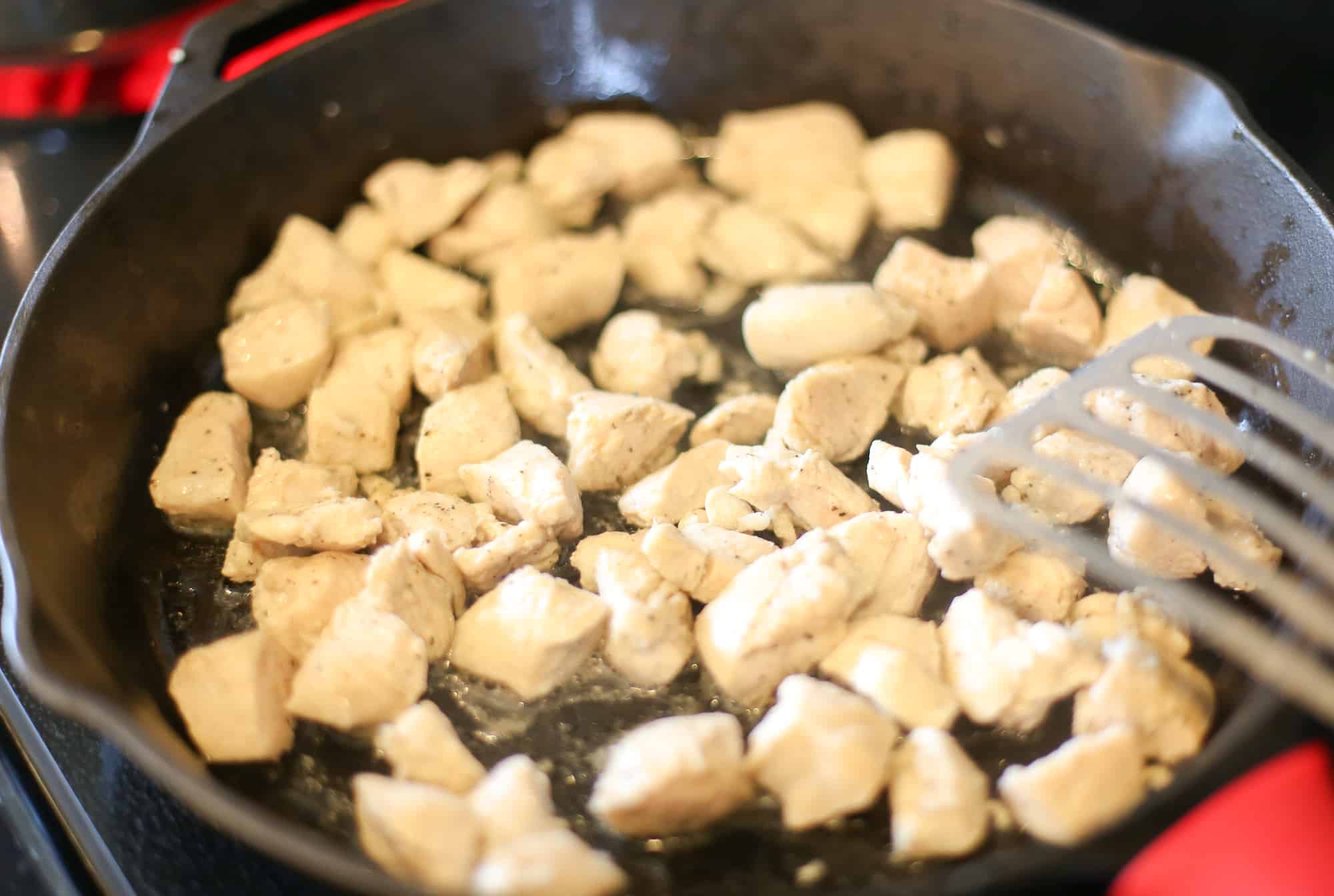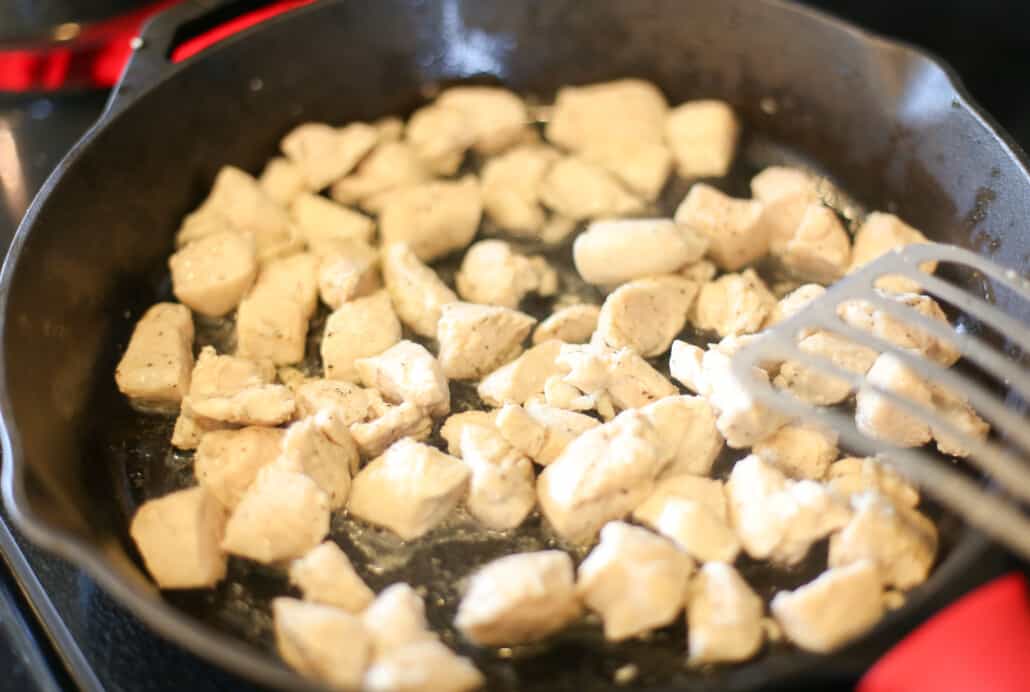 Grab your food processor (or even a high-powered blender will work) to process fresh basil, grated Parmesan, and garlic. Then stream in the olive oil. Taste and season with salt and pepper to your liking. That's it!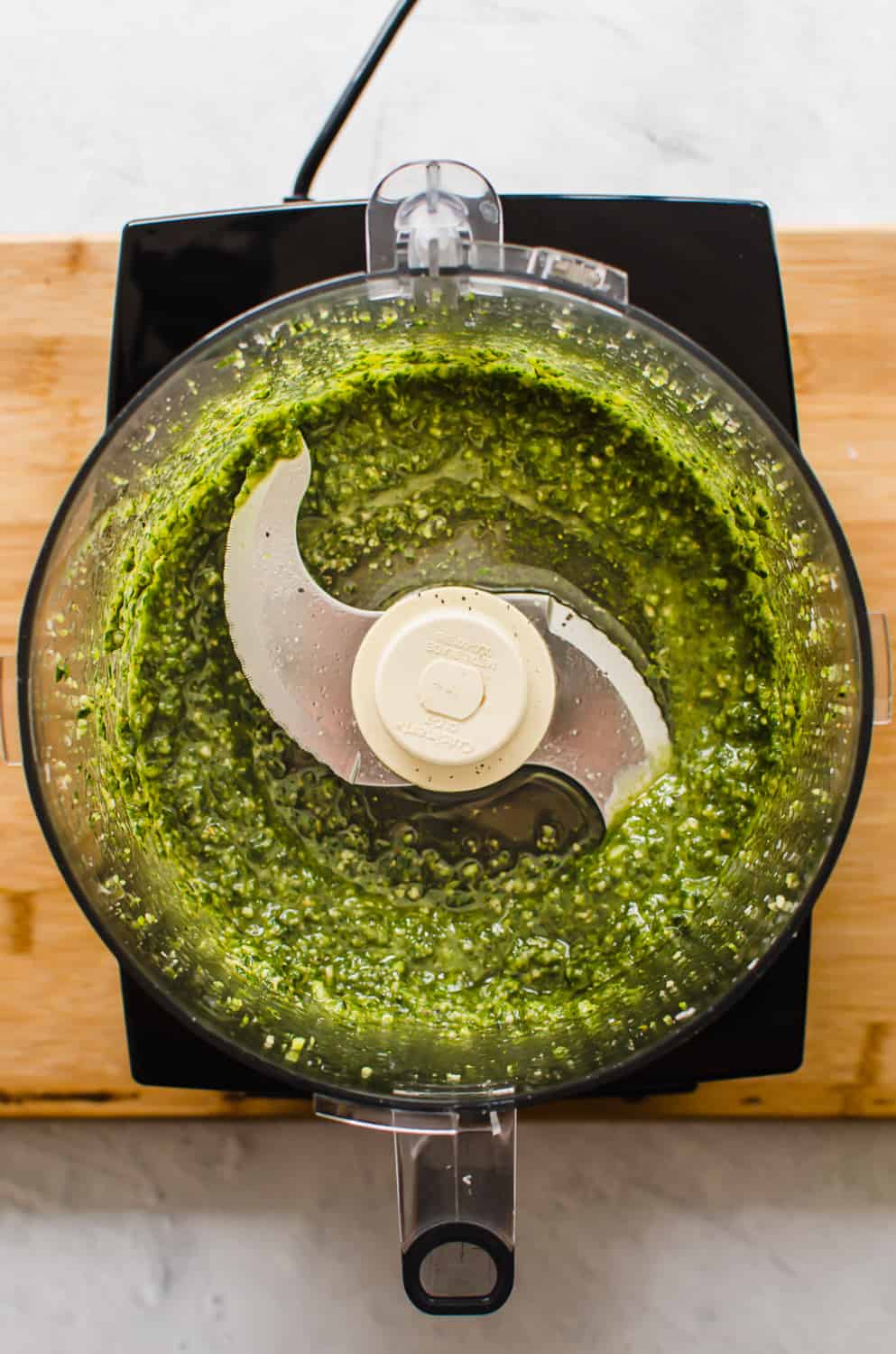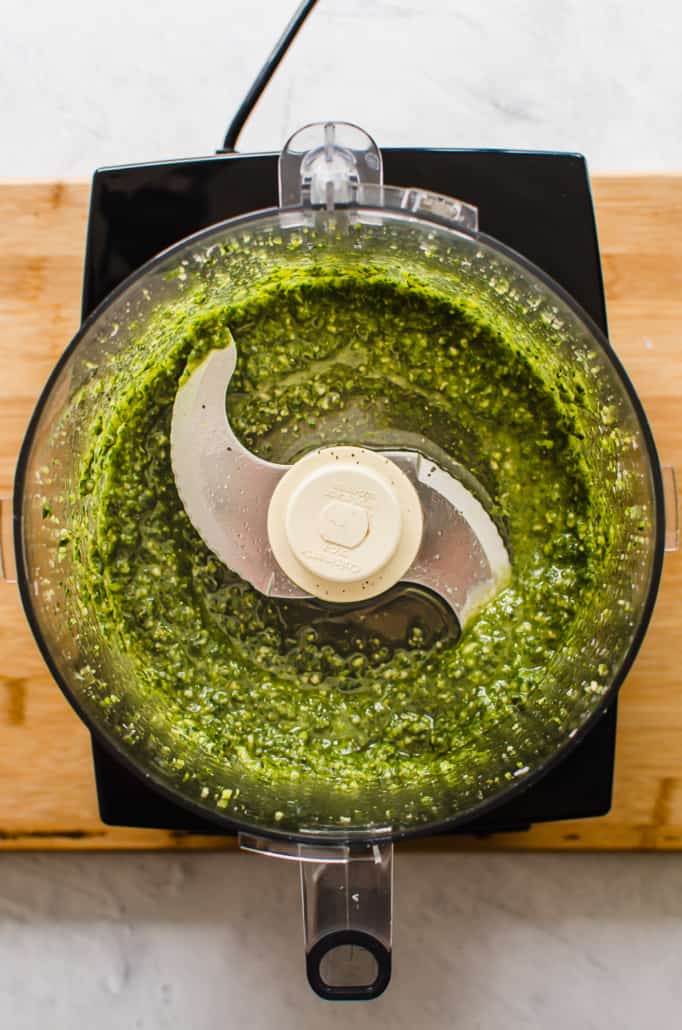 Here's the moment of beauty as it all comes together. Toss the pasta, pesto, and some sliced cherry tomatoes (if you want) all together in the large skillet.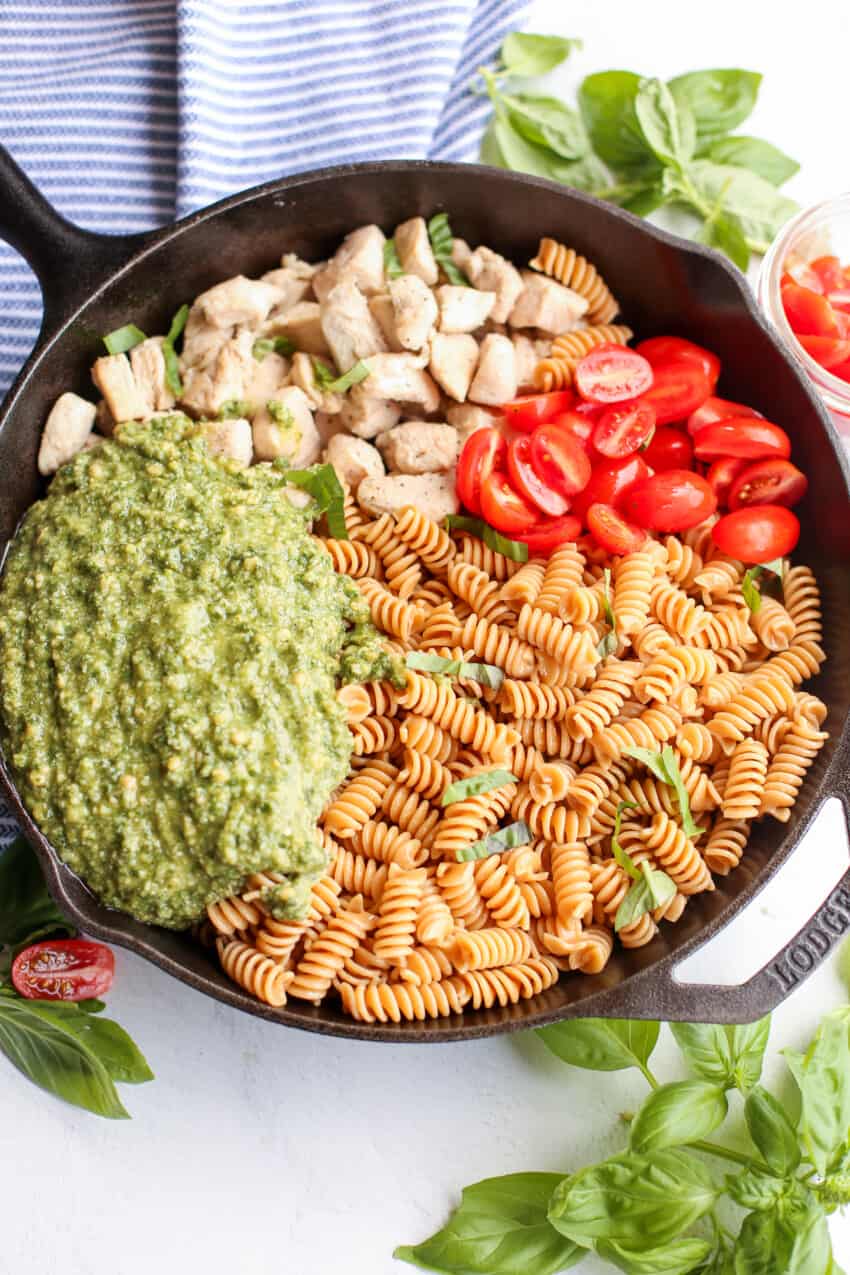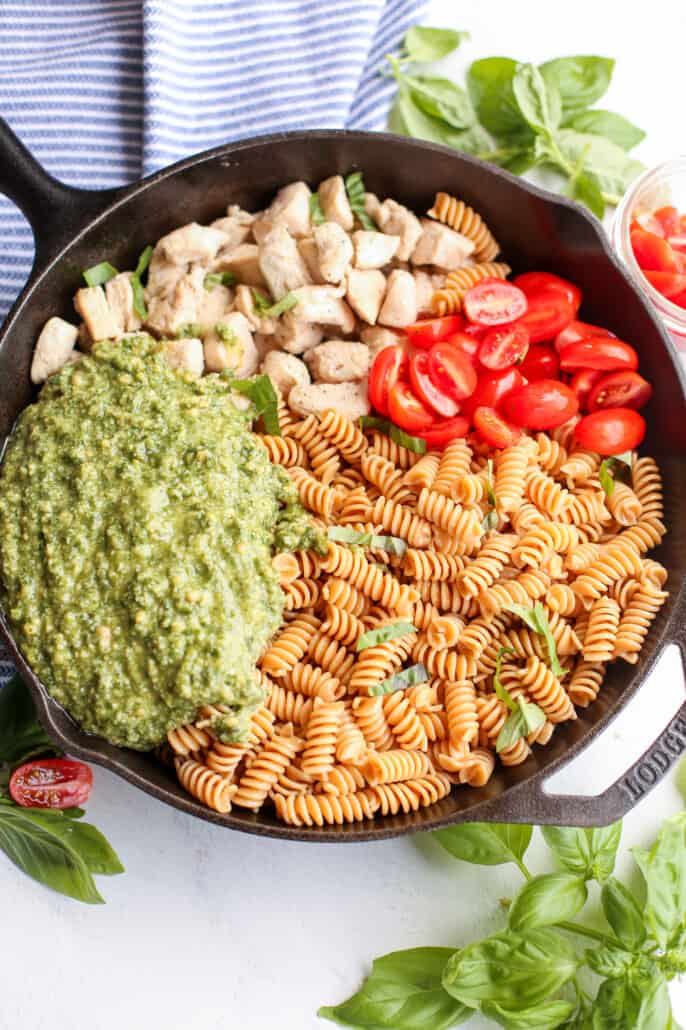 Serve warm, room temp, or cold honestly.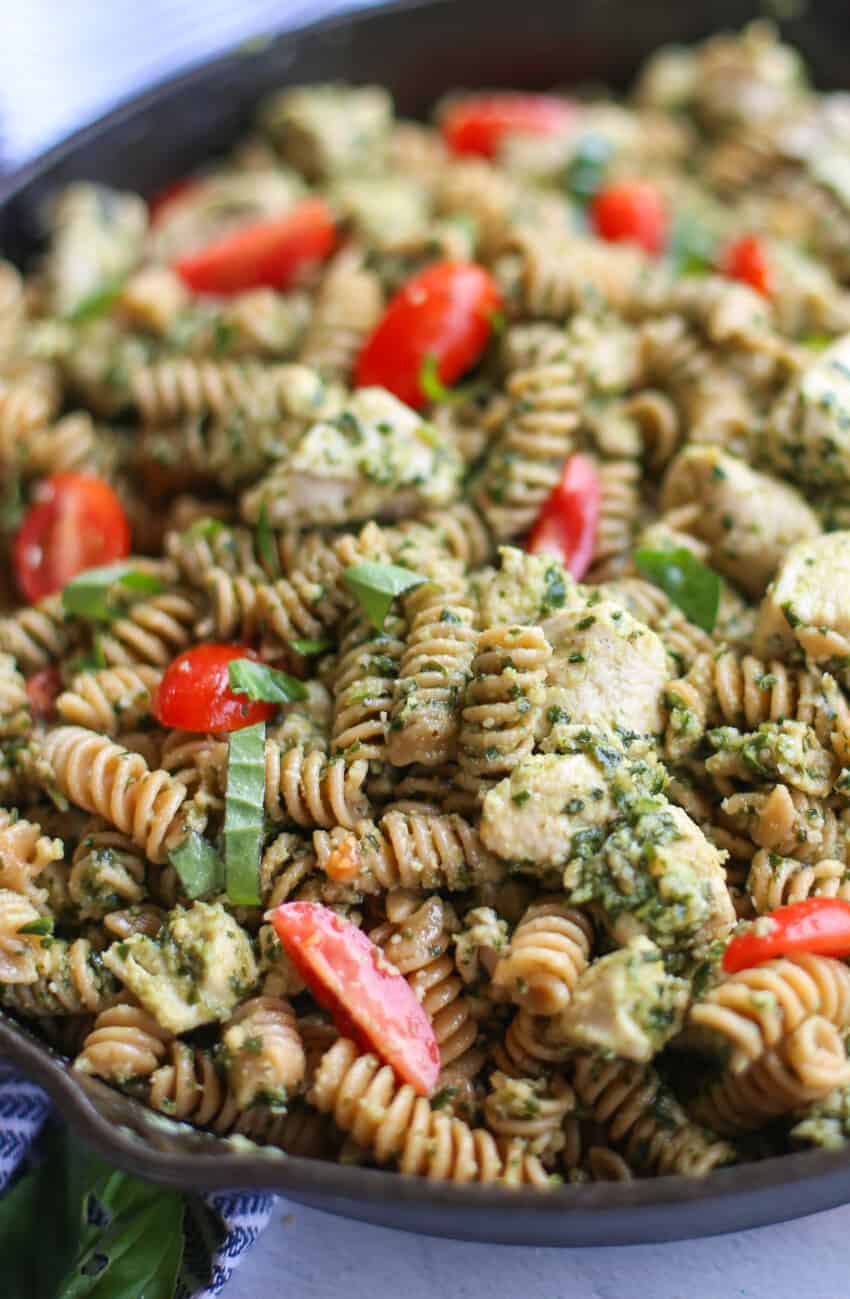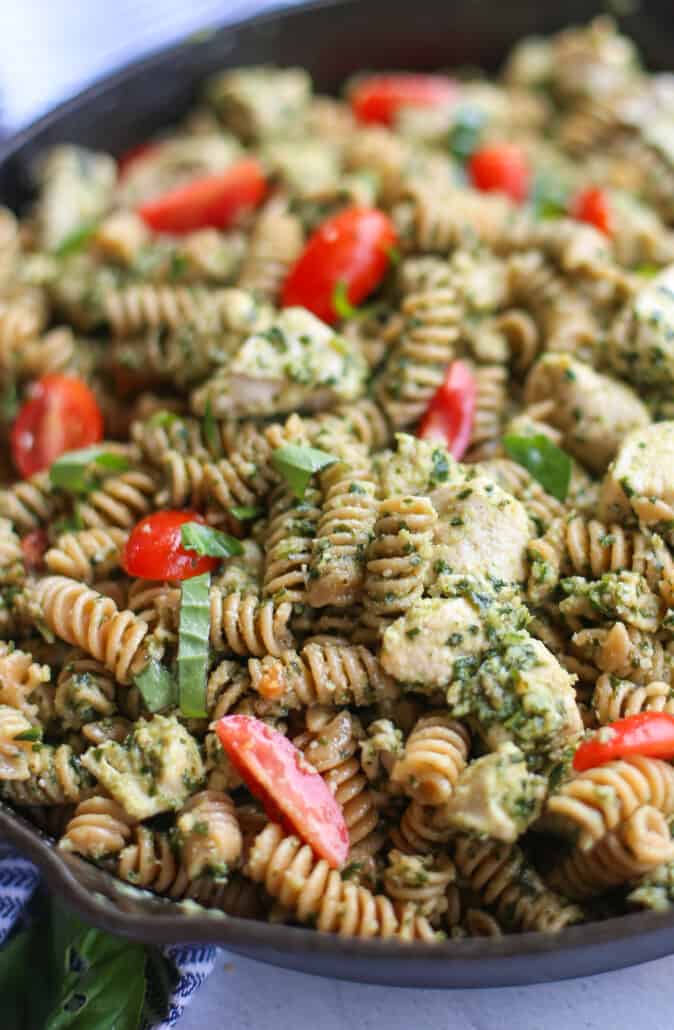 Top with fresh basil that's been julienned and some more grated Parmesan to your liking!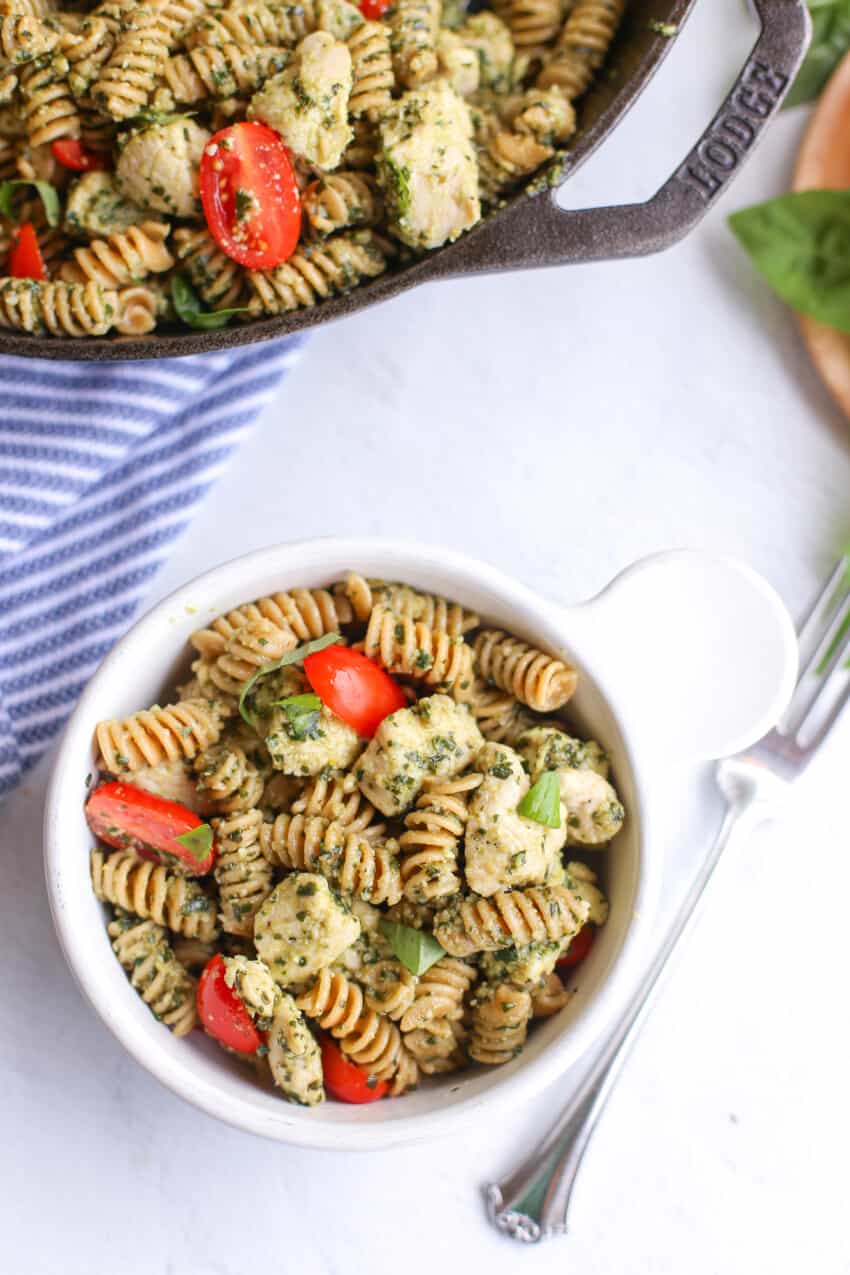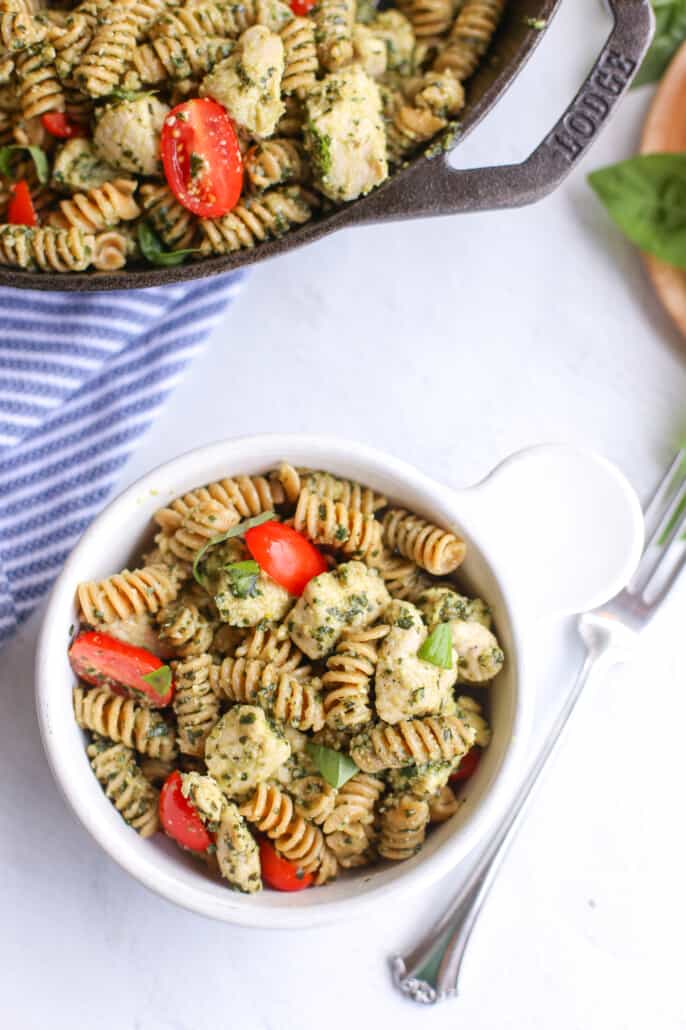 What to Serve with Chicken Pesto Pasta
Can You Freeze Chicken Pesto Pasta?
Using our 10+ years of experience, we think this is one meal that would not taste very fresh if frozen. You can certainly do it if you have leftovers that you'll throw away, but just know that it will likely be somewhat dried out and more mushy when rewarmed.
BUT…you can totally make the pesto ahead of time and freeze it! In fact, it's a great use of your time to make pesto in a big batch to freeze. Read about How to Freeze Pesto.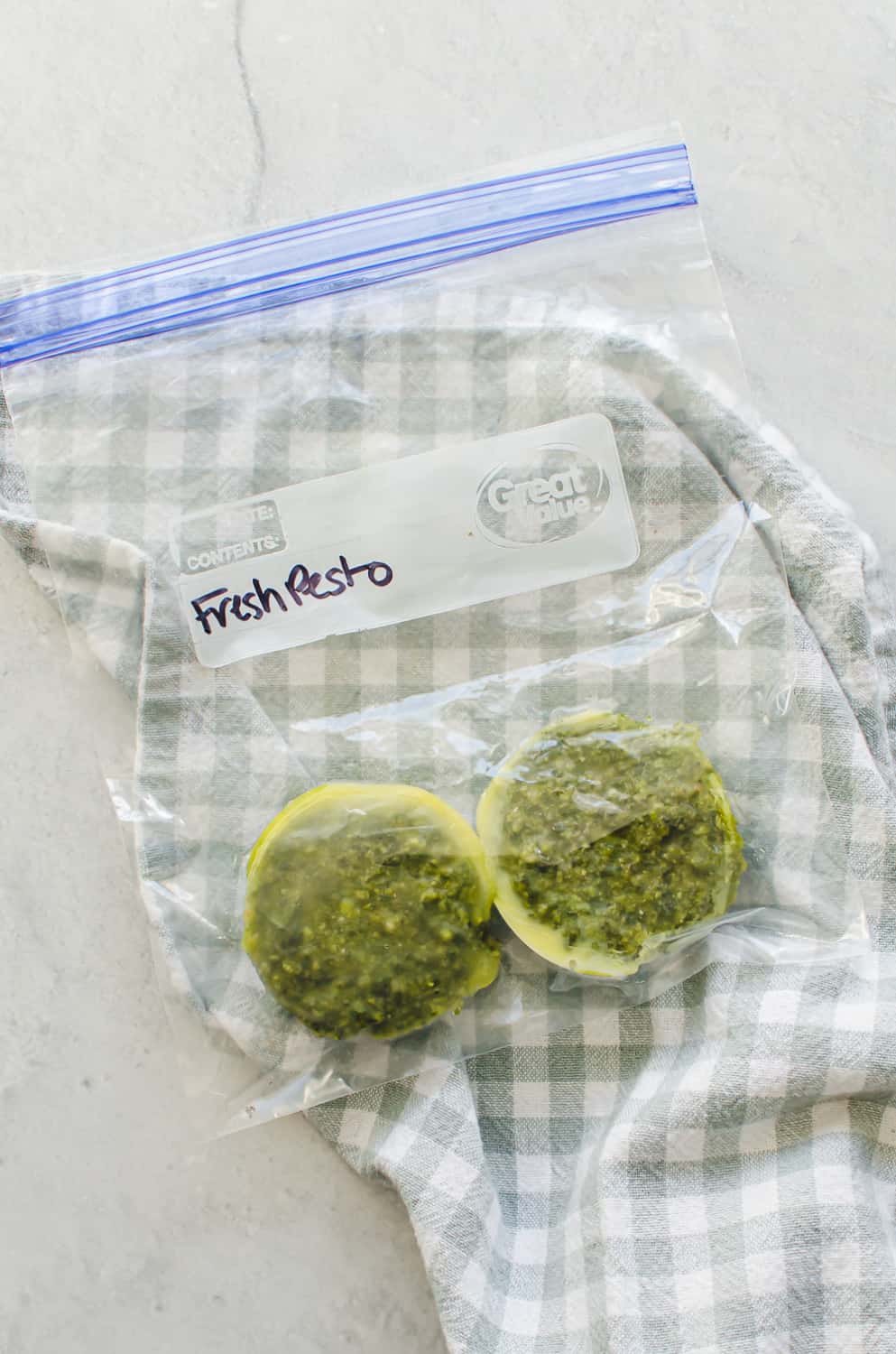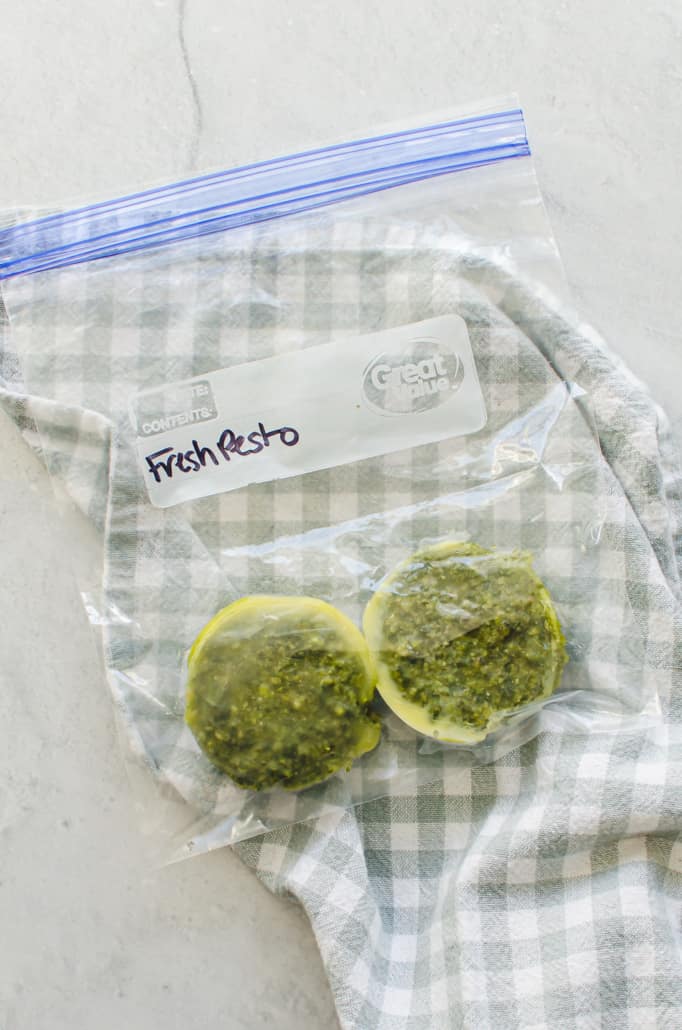 More Easy Chicken Meals
If you are looking for more 30-minute chicken meals, try some of these Thriving Home faves.
Browse All
How to Get Picky Kids to Eat Pesto
Now, some of you may be saying, "But my kids are so picky. They won't eat green pasta like this!" I get it. I've been there, and I'm proud to say all three kids will eat pesto now.
If you want to get your kids to delve into the world of pesto, here's how I was able to get mine to take a liking to it.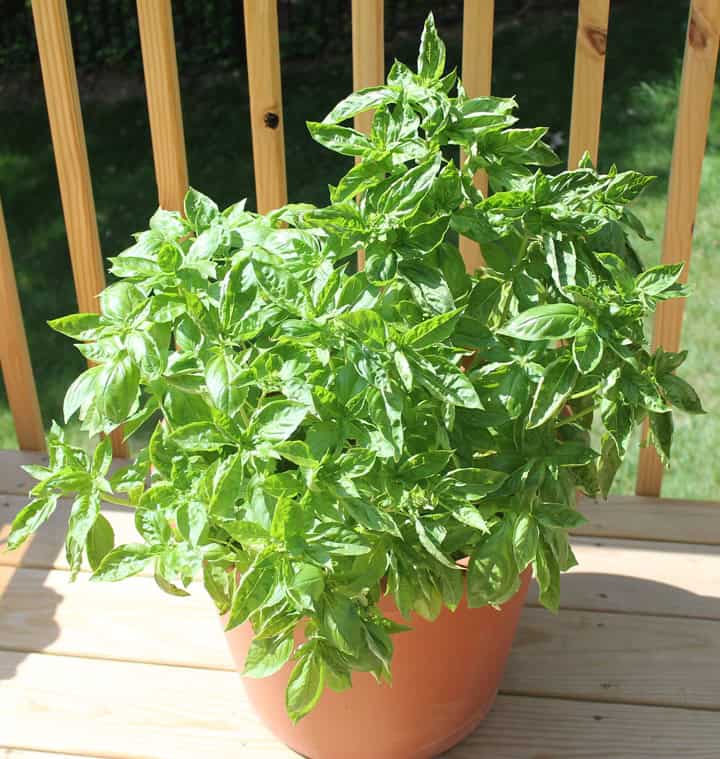 The kids helped me plant our garden. They've been an active part of watering our basil and other plants for a few months already this season. By gardening with me and my mom over the years, the children have felt ownership over our produce. And they have tried so many new foods as a result. It really does work.
I had my kiddos pick the basil and help me measure out all the ingredients. We also all taste-tested the pine nuts, which they actually liked. This is one of those other tricks you've probably heard a million times, but getting the kids to cook with you often results in an expanded palette.
We nicknamed the Pesto Chicken Pasta "Green Alien Pasta" and my kids thought it was hilarious. I'm not suggesting you trick your kids, but this just made the dinner fun.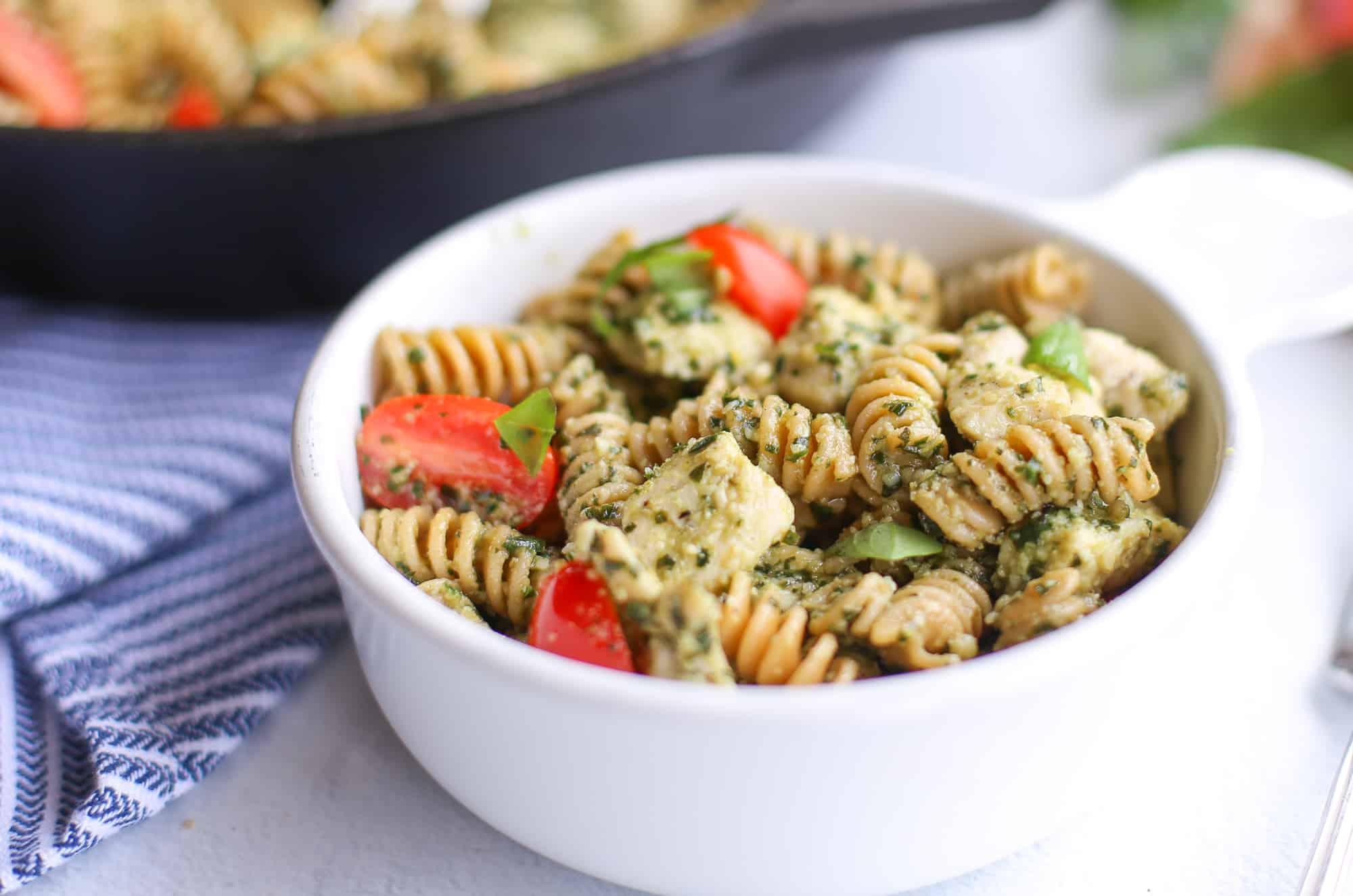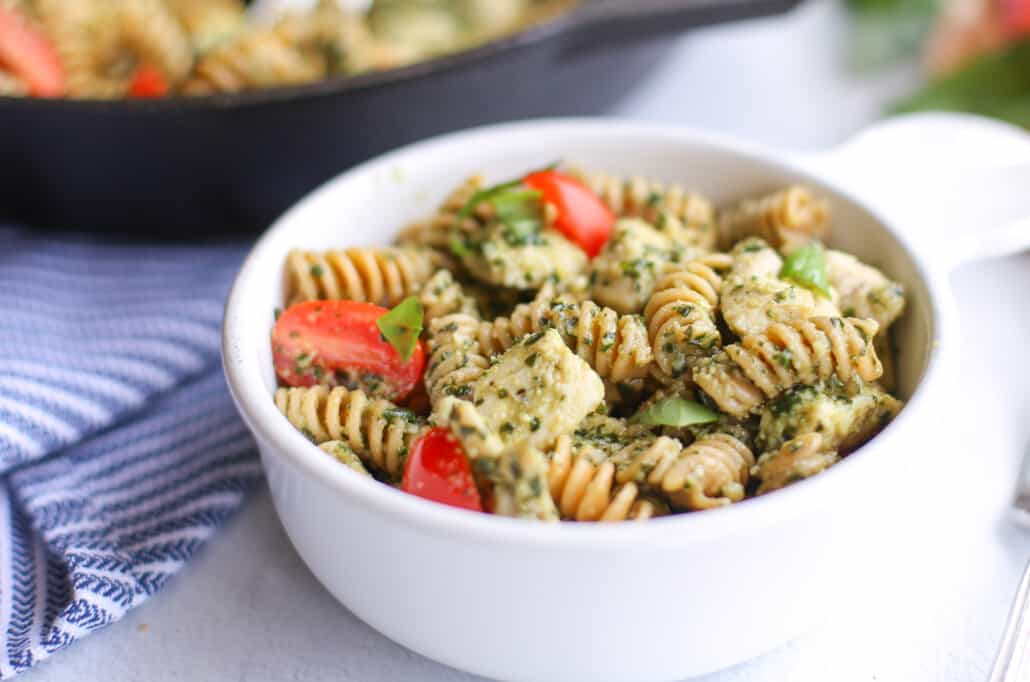 I hope you enjoy this Pesto Chicken Pasta as much as we do!
Did you make this? Snap a photo and tag us on Instagram at @thrivinghome so we can see your creations and cheer you on!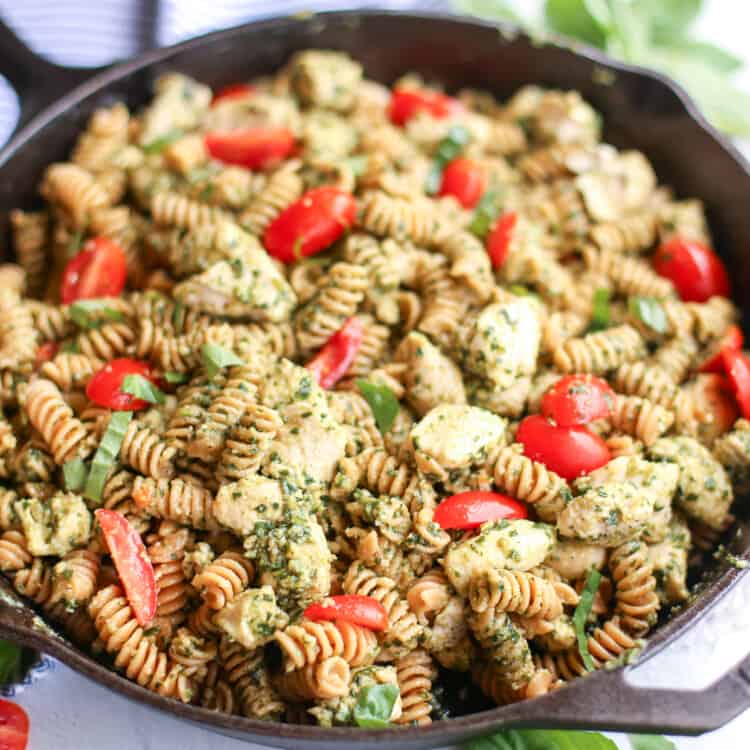 Chicken Pesto Pasta
Chicken Pesto Pasta is a fairly easy, delicious, nutrient-dense meal that the whole family will love.
Ingredients
1 1/2

pounds

boneless, skinless chicken breasts, diced into bite-sized pieces

16

ounces

whole wheat pasta (suggested: rotini or penne)

4

cups

packed fresh basil leaves, plus extra for serving

4

cloves garlic, peeled

1/2

cup

pine nuts

1

cup

freshly grated Parmesan cheese, plus extra for serving

1

cup

extra-virgin olive oil, plus 1

tablespoon

Salt and pepper
Optional for serving: 1 cup slice cherry tomatoes (or more if you'd like)
Before You Begin! If you make this, please leave a review and rating letting us know how you liked this recipe! This helps our business thrive & continue providing free recipes.
Instructions
Cook the Pasta: Bring a large pot of water to a boil and salt the water generously. (Tip: While water comes to a boil, move on to the next step.) Cook the pasta according to package instructions. Important: Before draining, save 1-2 cups of pasta water in case you need to thin out the pesto sauce. Drain pasta and set aside. 
Saute the Chicken: In a large skillet, heat 1 tablespoon of olive oil over medium heat. Once the oil is shimmery, add the chicken and sauté until cooked through (no longer pink), about 4 minutes. Remove from heat and set aside.
Make the Pesto Sauce: In a food processor or high-speed blender, combine the basil, garlic, pine nuts, and Parmesan cheese. Pulse until coarsely chopped. Turn on the food processor and stream in 1 cup olive oil and process until fully incorporated and smooth. Season generously with salt and pepper, to taste.
Serve: Gently stir in the pesto, chicken, and optional cherry tomatoes into the pasta. If the pesto sauce is too thick, thin it out with a little of the reserved pasta water. Top with freshly grated Parmesan cheese and fresh chopped basil, if desired. 
---
Notes/Tips
How to Substitute Store-Bought Pesto: While Homemade Pesto will always taste better, it's often not feasible year-round. Instead, use about 2 cups store-bought pesto in place of the basil, garlic, pine nuts, Parmesan cheese, and olive oil in this recipe. We suggest buying the refrigerated pesto rather than the jarred kind.
Gluten-Free Version: Simply substitute your favorite gluten-free pasta in this recipe. I really like Banza brand rotini.