How to Freeze Pesto Sauce
This post may contain affiliate or sponsored links. Please read our disclosure policy.
Can you freeze pesto? Absolutely! Using our 10+ years of freezer cooking experience, we are sharing anything and everything you need to know about freezing pesto.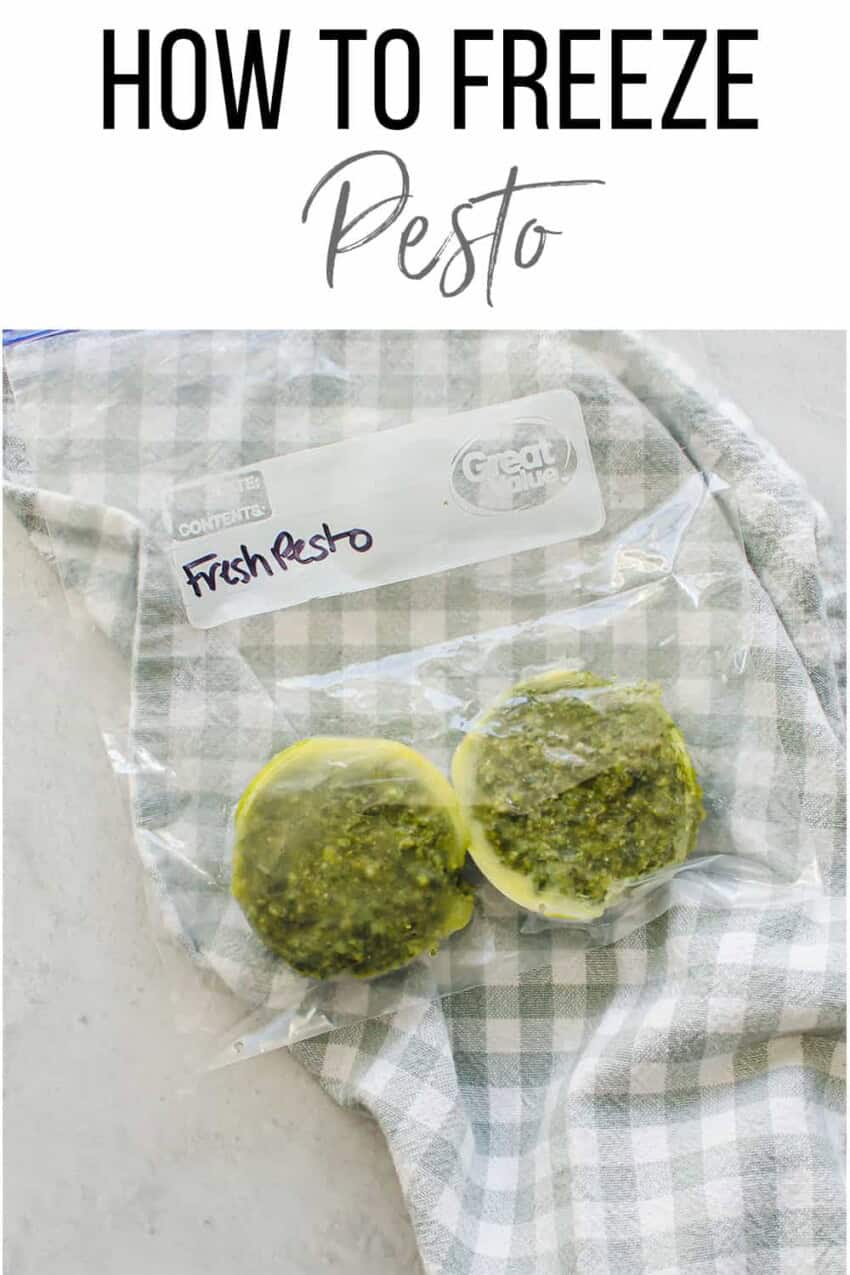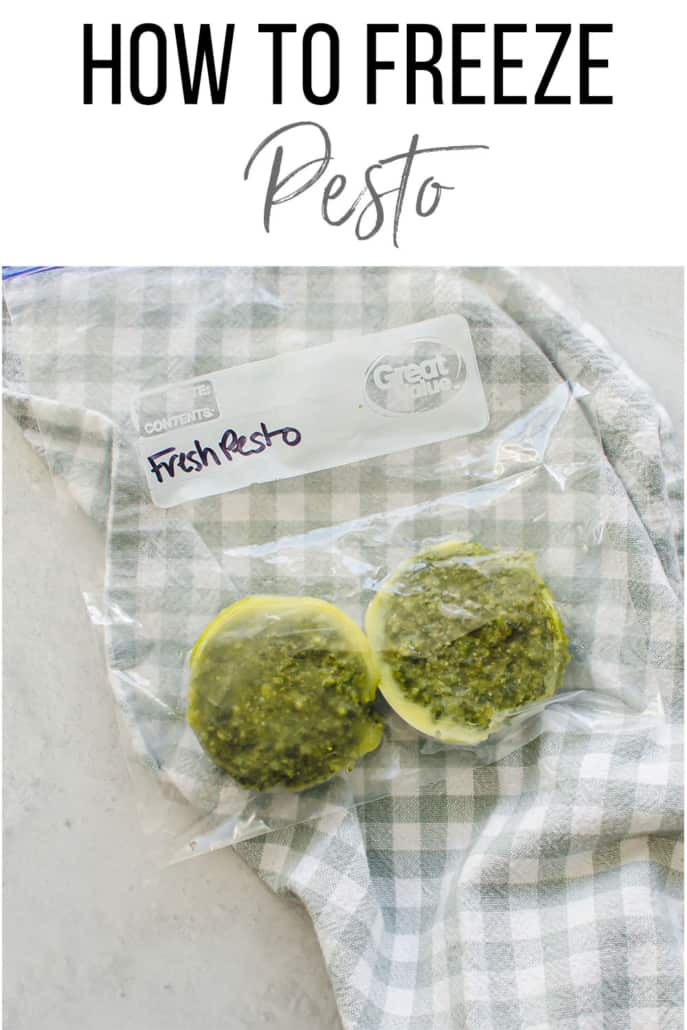 Thriving Home loves pesto.
Rachel and I laugh because as we were developing healthy, freezable recipes for our cookbook called From Freezer to Table, we constantly gravitated towards anything with pesto in it. Probably because of its big, fresh flavor that freezes well. The fresher the better too! I'm convinced that in a taste test, 10 times out of 10 I could identify homemade, fresh pesto from store-bought pesto.
Since I can kind of be a pesto snob, I am doing my best to make my own pesto, stock up and freeze portions for months to come.
Pssst…. If you already have your pesto on hand and just want to know how to freeze it, scroll on down a bit.
What is Pesto?
It wasn't well into my 20s that I had my first taste of pesto. It just wasn't a common ingredient in rural Missouri so growing up, I had no clue what it was. Sheesh, I was missing out!
So what actually IS Pesto?
Since you likely don't have the ability to make it like the original Italians did, you will be happy to know that fresh pesto can be made in your food processor. Just follow our homemade pesto recipe and you will be so happy with yourself.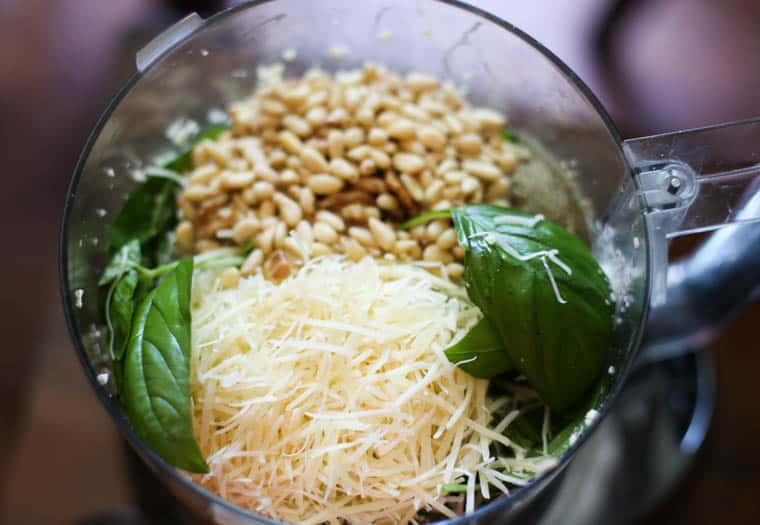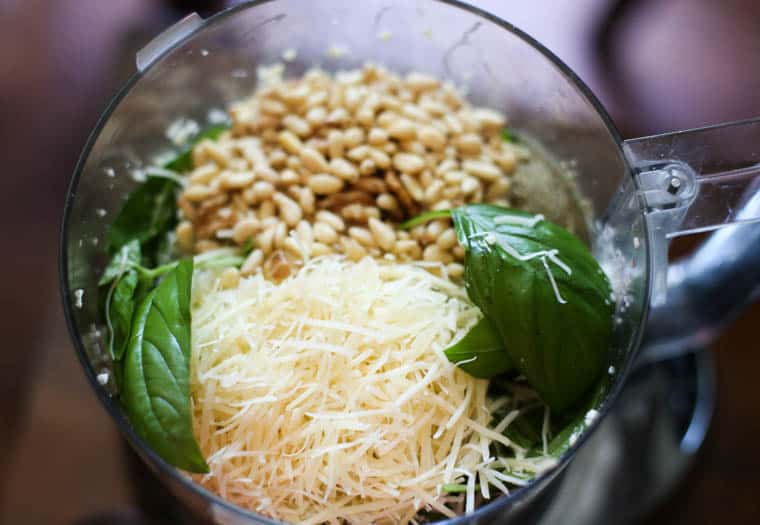 Store Bought vs. Pesto
Friends, there just isn't even a comparison. Homemade Pesto is just SO much tastier than store-bought pesto. The canned pesto from the store is more oily and lacks the fresh taste of basil that just can't be replicated.
If you must buy it from the store, we recommend getting refrigerated pesto if possible.
Because of the superiority of fresh pesto, I am a HUGE HUGE HUGE advocate of making tons of fresh pesto when basil is in season and freezing it to use all year long. We have an entire post and video on How to Make Fresh Pesto so be sure to hop over to that post and read up on how to make it.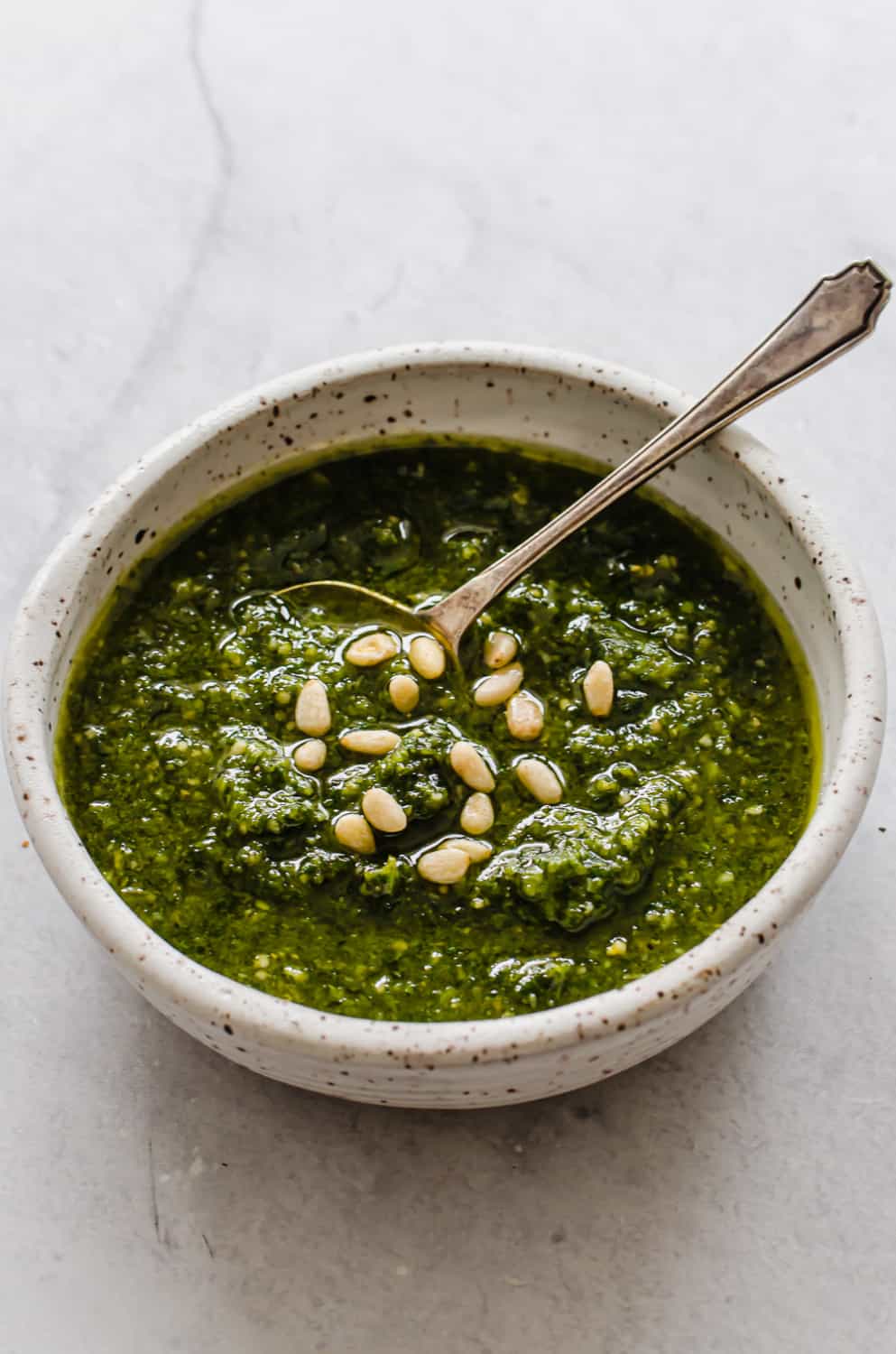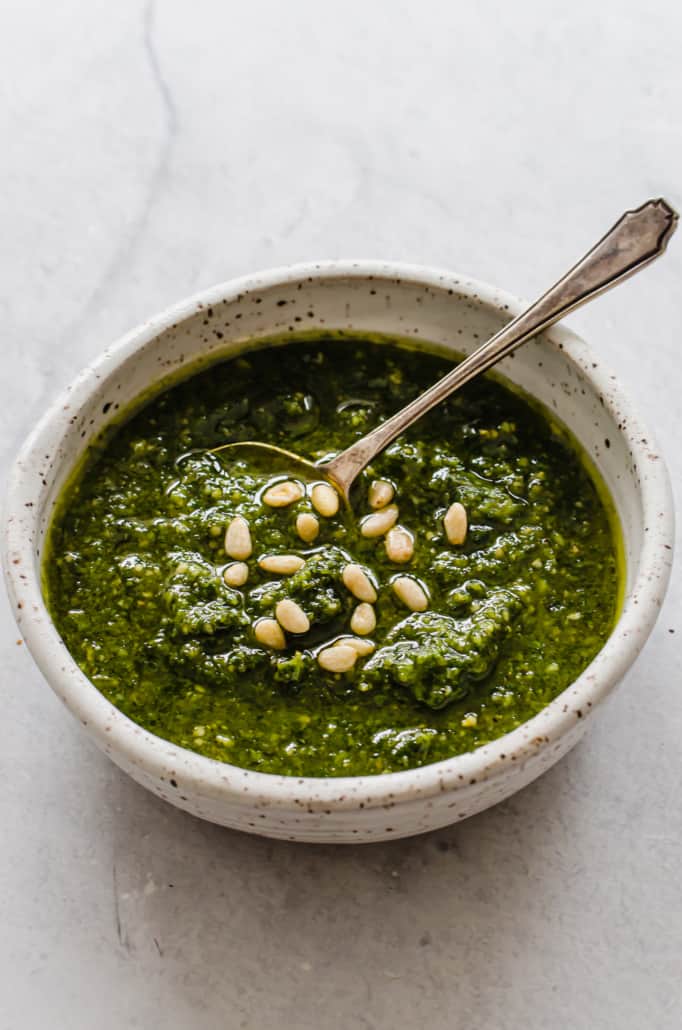 How to Freeze Pesto
I've been making and freezing my own pesto for years. I've tried all sorts of different ways to freeze it and have narrowed down what works (and what doesn't!)
These containers will work great for freezing pesto:
Ice cube trays
Small Mason Jars
Muffin tin
I prefer to freeze my pesto in smaller amounts so I don't thaw out any that I won't use.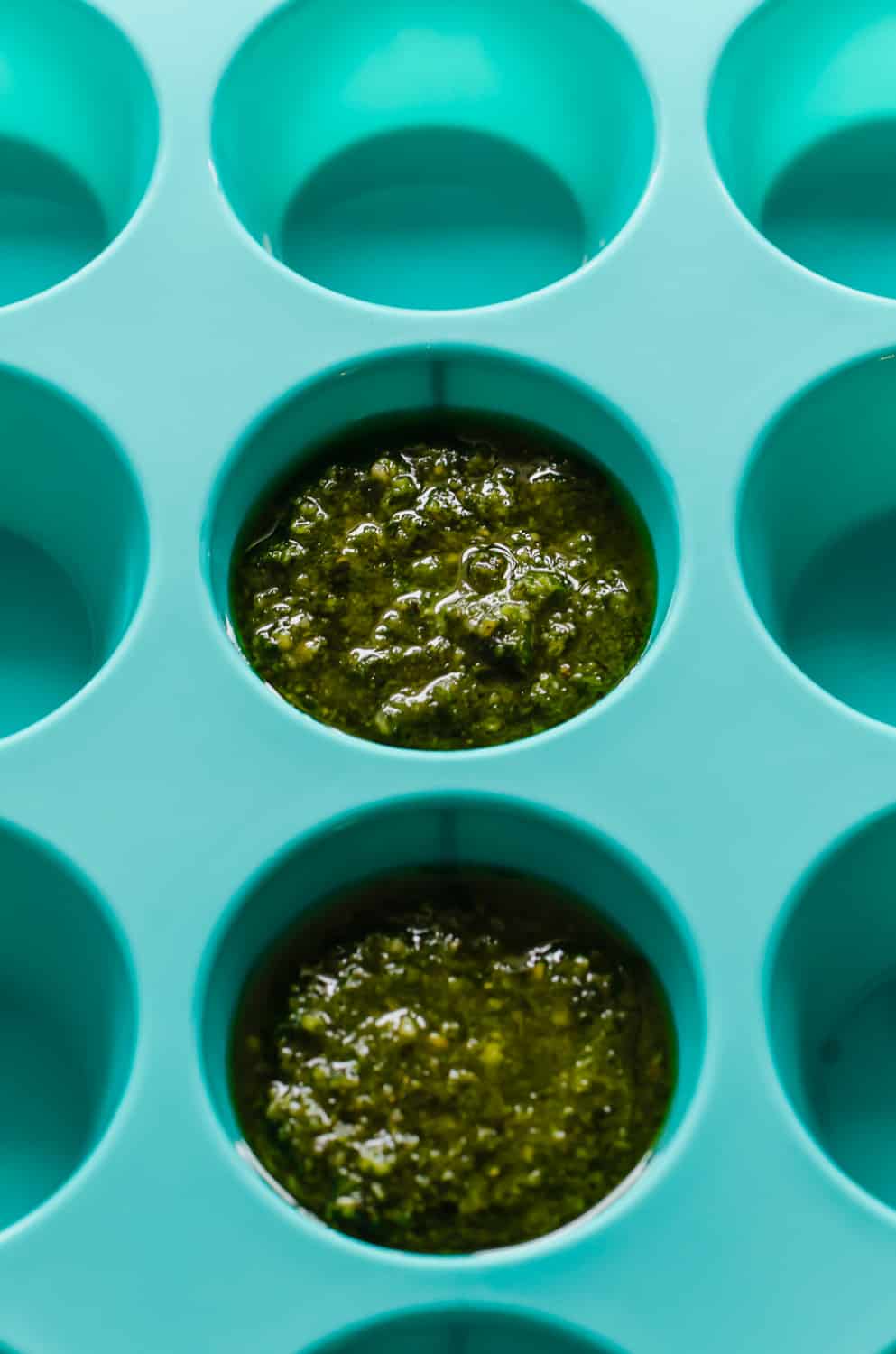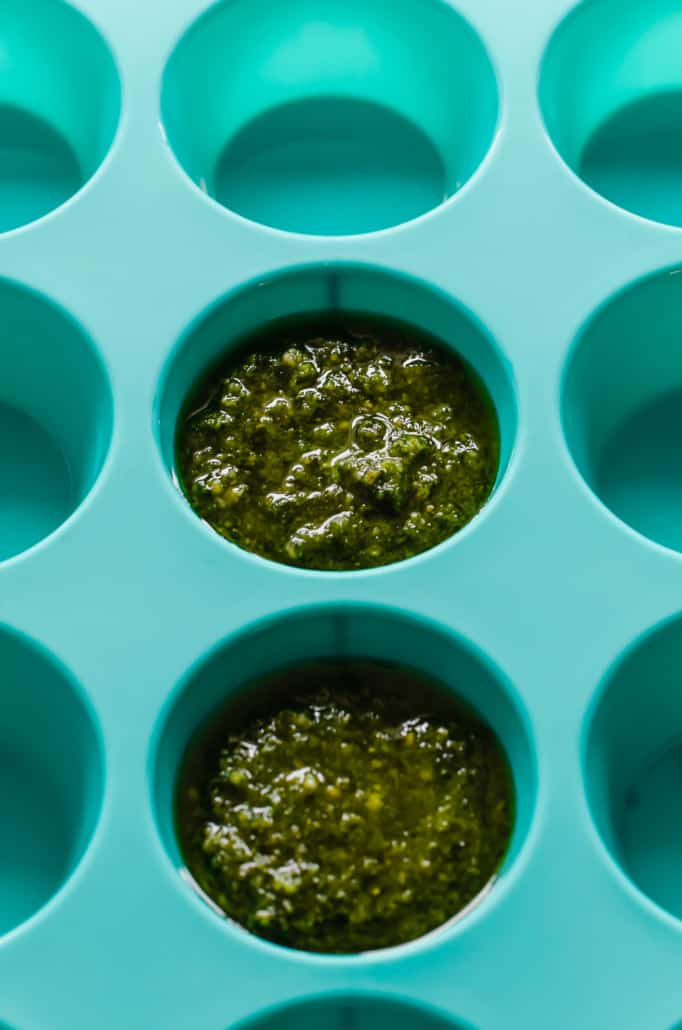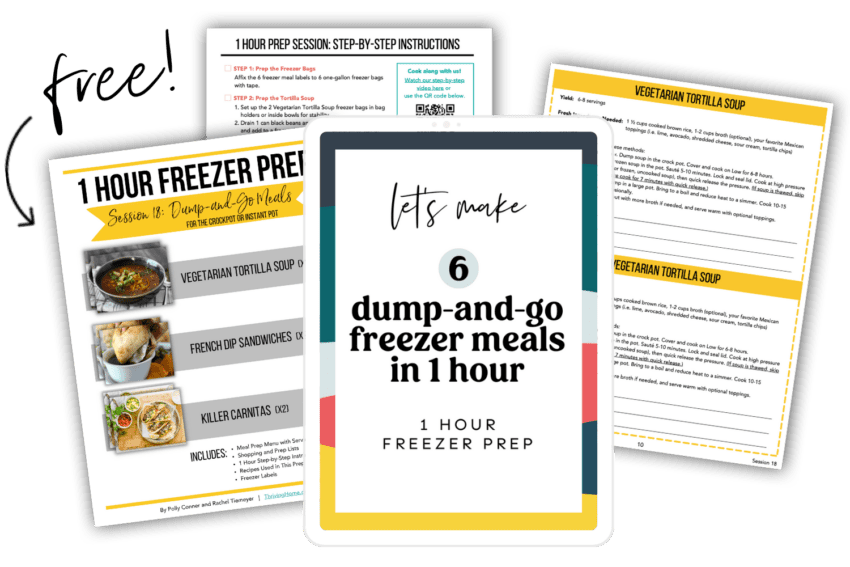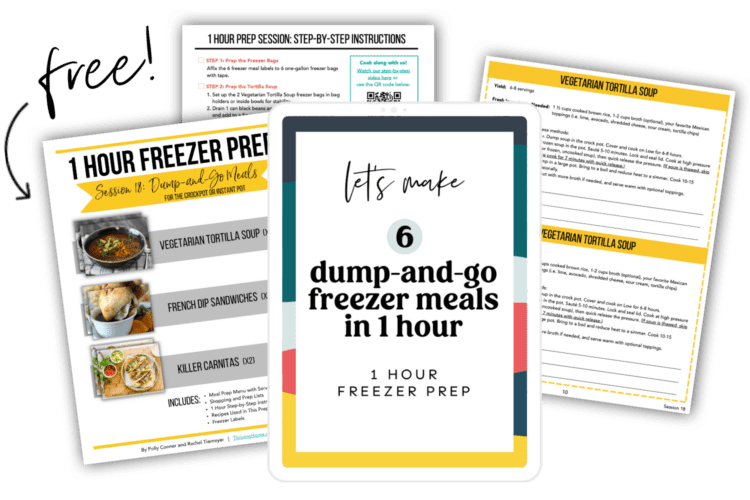 Try 1 Hour Freezer Prep Today!
Make 6 Dump-and-Go Freezer Meals in 1 Hour
Shopping & equipment lists
Step-by-Step instructions & video tutorial
Serving suggestions & dietary substitutions & more
Try Session 18 (a $6.99 value) for free!
Will pesto change color after freezing?
To prevent that fresh green color from turning darker, top your pesto with a bit of oil to prevent it from air exposure. It's worth noting that this isn't necessary. The flavor will be the same despite the color but if you want to preserve that fresh pesto look, adding a bit of oil to protect it will be a step you'll want to do.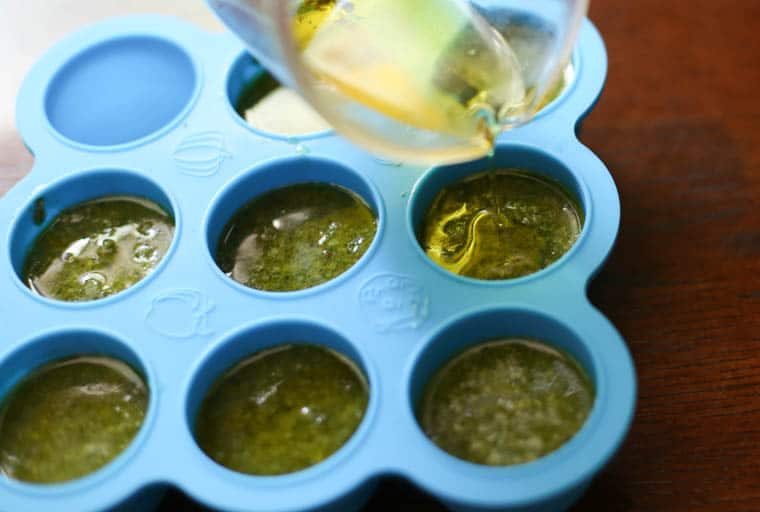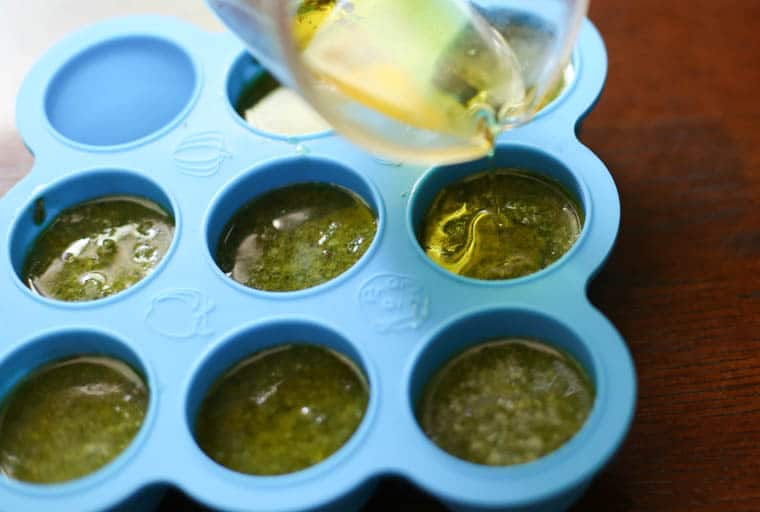 Freeze it uncovered for about an hour or so, until solid, pop out of the container, and place the portions in an air-tight freezer bag or container. (Here are our favorite freezer containers.) You're done!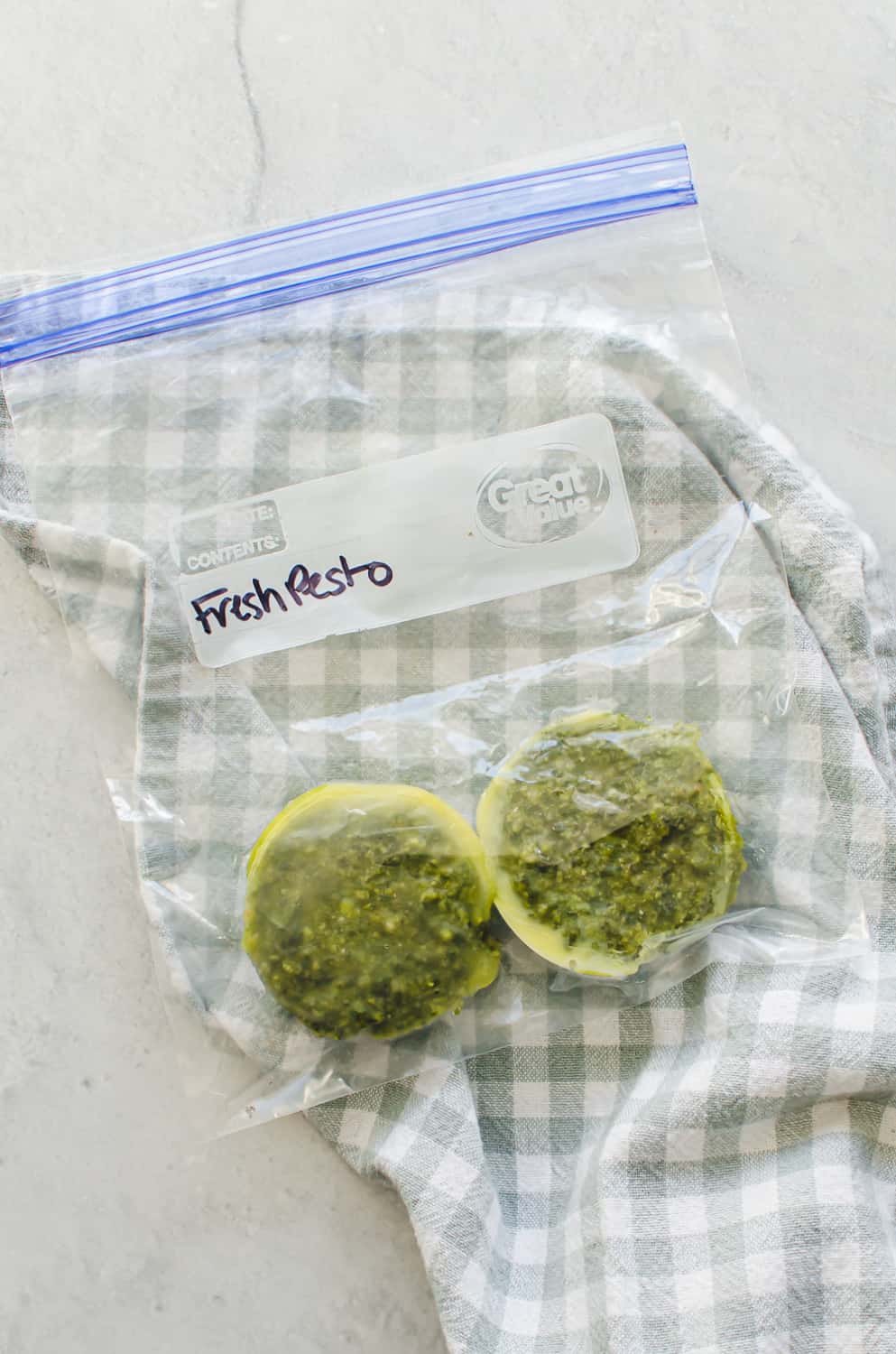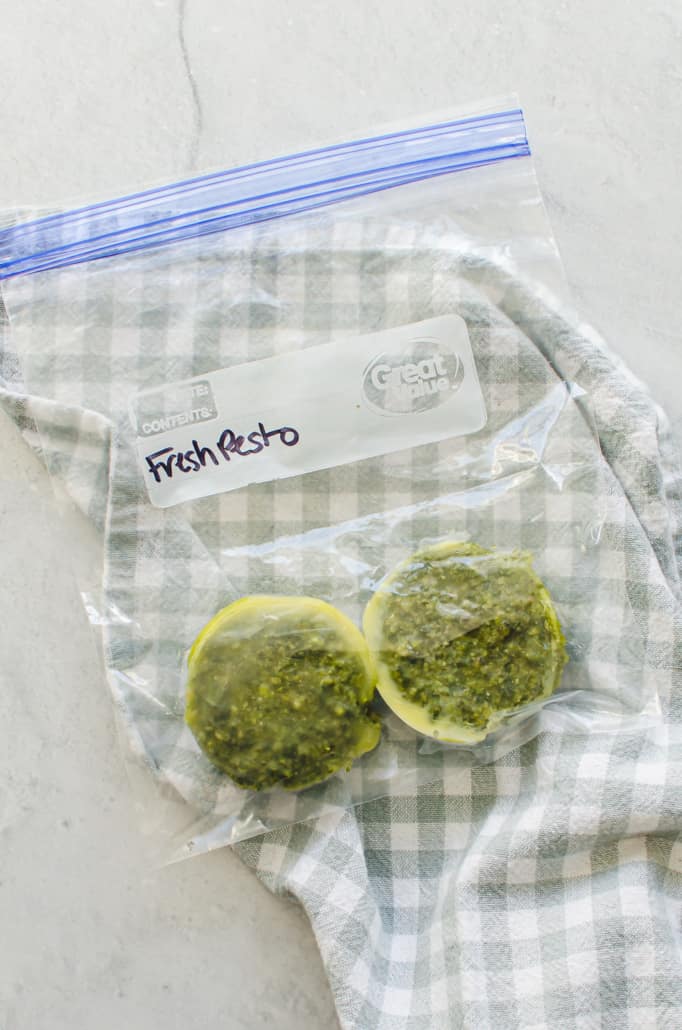 Did you make this? Snap a photo and tag us on Instagram at @thrivinghome so we can see your creations and cheer you on!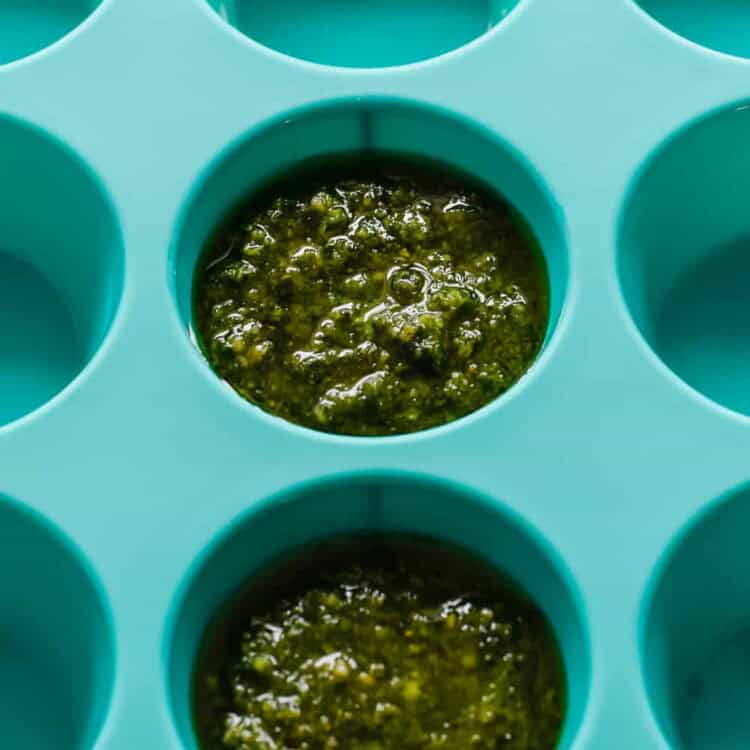 How To Freeze Fresh Pesto
Is there anything better than fresh pesto? Now you can freeze it and savor the flavor.
Prep:
5 minutes
Cook:
0 minutes
Total:
5 minutes
Ingredients
2

cups

packed fresh basil leaves

2

cloves garlic, peeled

1/4

cup

pine nuts (sub: walnuts)

1/2

cup

freshly grated Parmesan cheese

1/2

cup

extra-virgin olive oil (plus a bit more for freezing)
Kosher salt and freshly ground black pepper, to taste
Before You Begin! If you make this, please leave a review and rating letting us know how you liked this recipe! This helps our business thrive & continue providing free recipes.
In a food processor, combine the basil, garlic, pine nuts, and cheese and pulse until coarsely chopped.
Add 1/2 cup of olive oil and process until fully incorporated and smooth. Season with salt and pepper, to taste.
Now use your yummy fresh pesto to make some of these recipes: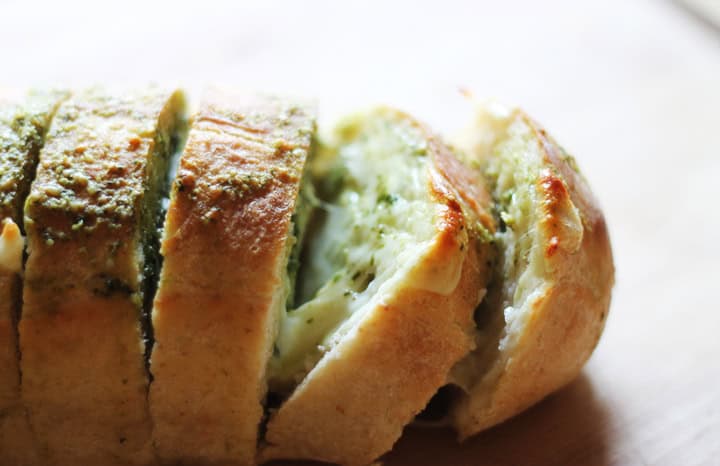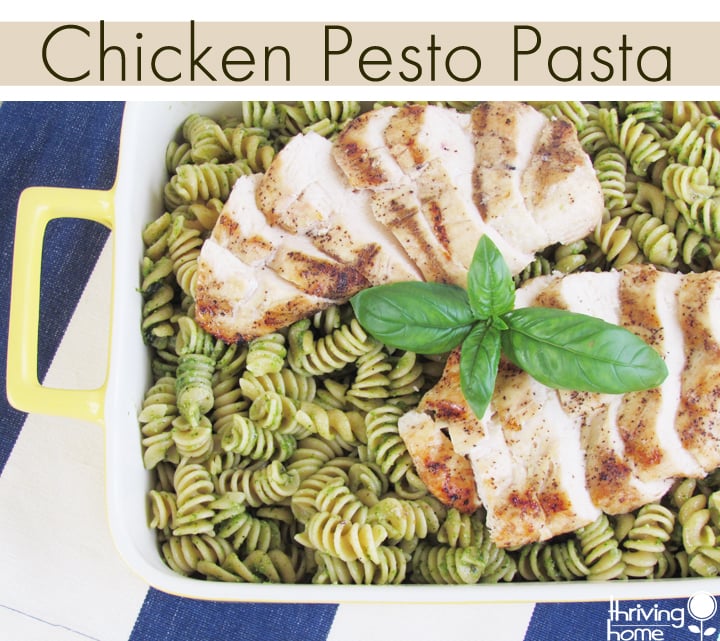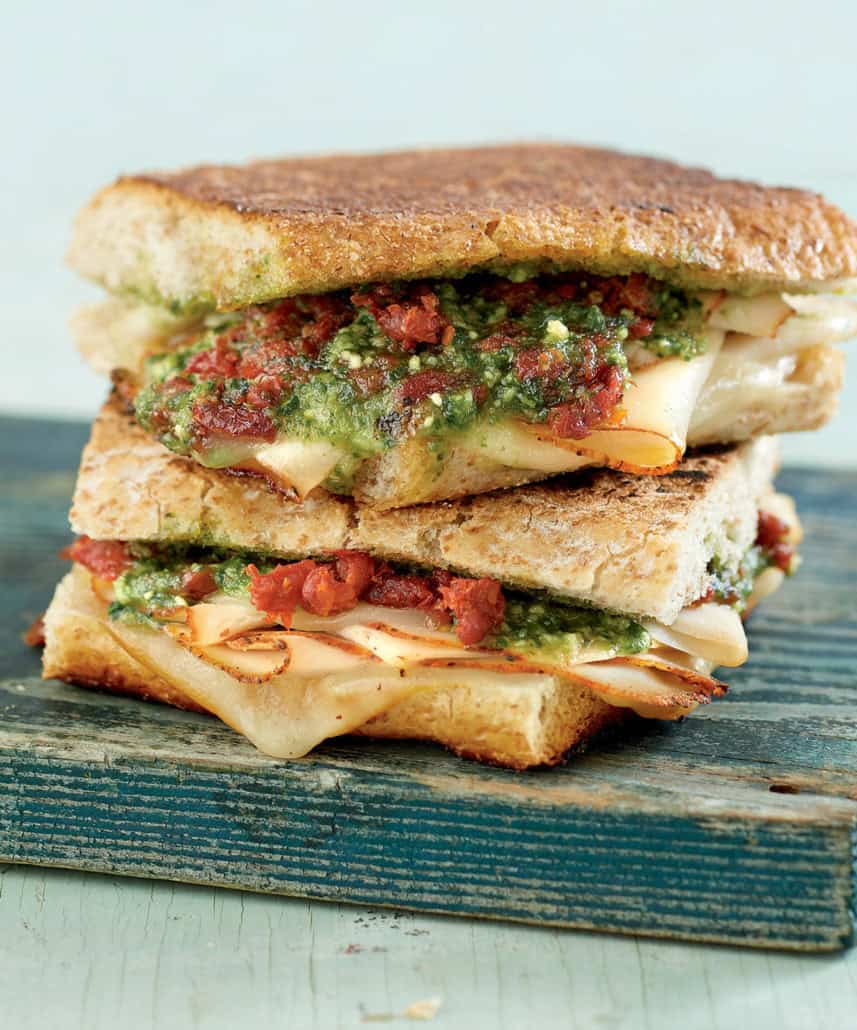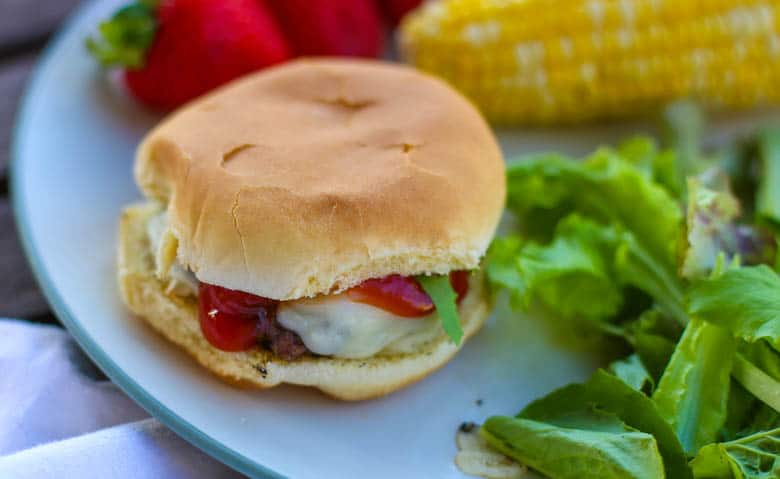 What Else Can You Freeze?
Wondering what else you can stock up on and freeze? Here are more well-researched and well-tested articles we wrote from our experience.