This post may contain affiliate or sponsored links. Please read our disclosure policy.
The ingredients in our Turkey Pesto Panini recipe are simple, but the flavor is BIG. You'll love how quickly this turkey pesto sandwich comes together and how easily you can turn them into a freezer meal too!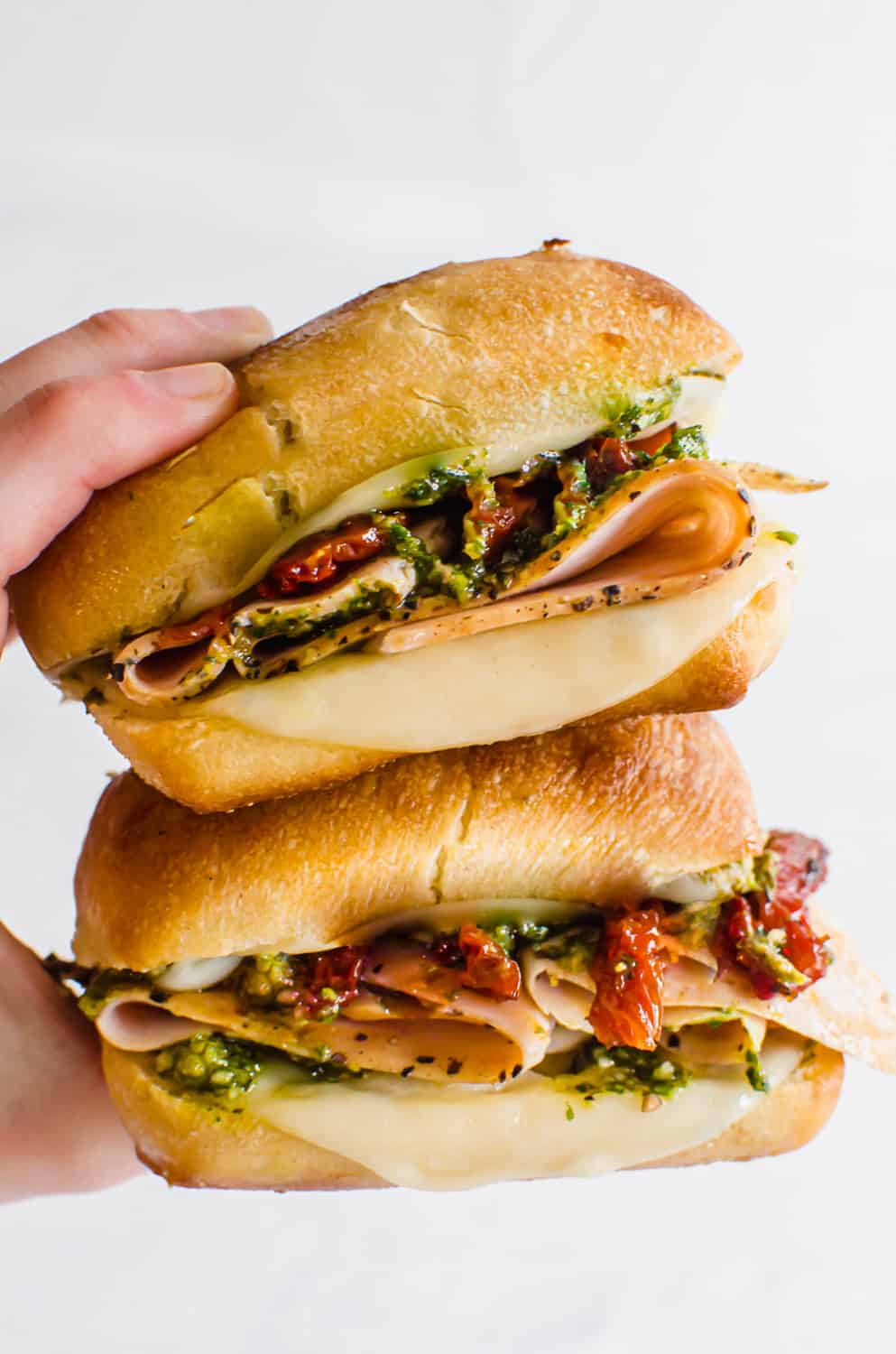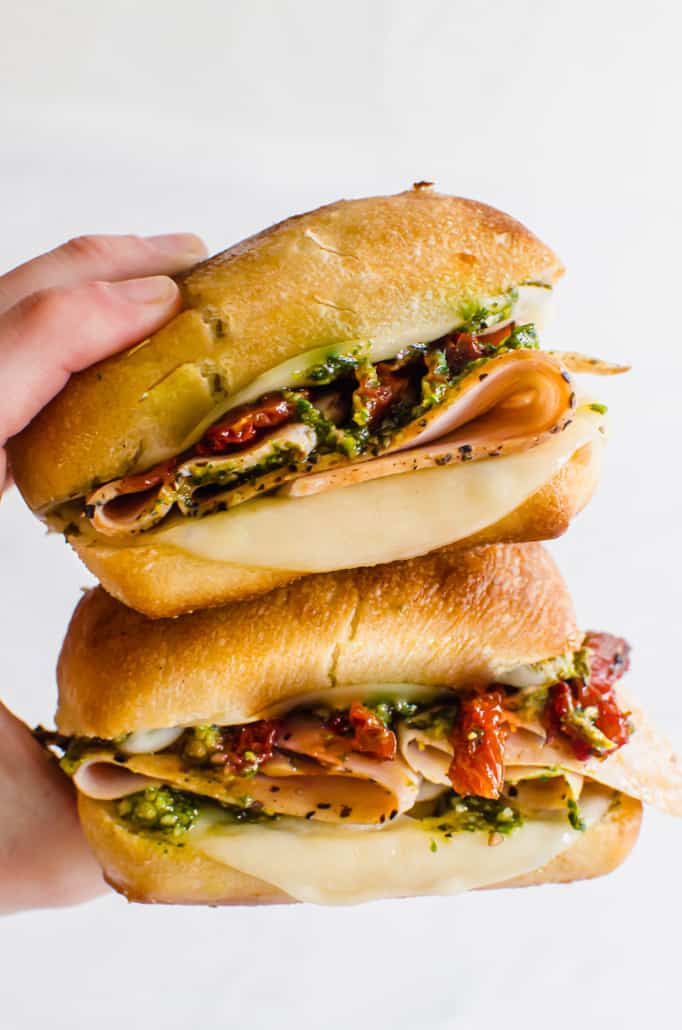 "I made these last weekend, and the sandwich is a keeper! I did use Sun Dried Tomato Turkey, which added just a little more flavor, but not necessary!
Just finished making more for the freezer to have for this weekend at the races! Thank you!" ⭐️⭐️⭐️⭐️⭐️ – Natalie
These Turkey Pesto Sandwiches have been a fan-favorite for YEARS. They come together quickly, and make a great lunch, dinner, or last-minute weeknight meal.
You can even make them in bulk and freeze them! The homemade pesto brings a great taste and the sun-dried tomatoes add a punch of flavor that puts them over the top.
Considering the simplicity of this recipe, I cannot believe how fabulous they are. They are one of the few recipes from this site that we chose to go into our cookbook, From Freezer to Table. They have proven to be a favorite among website visitors AND cookbook users.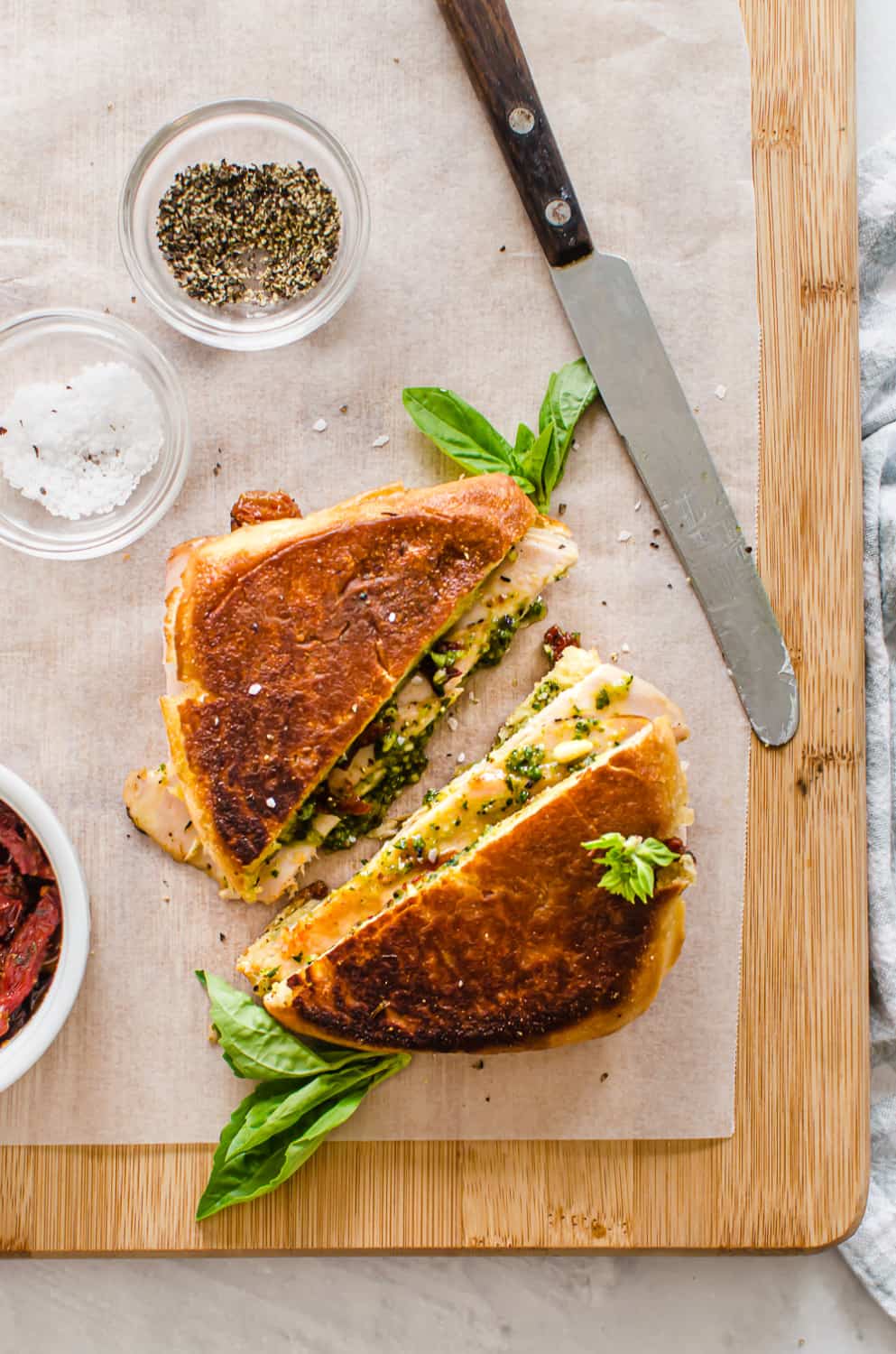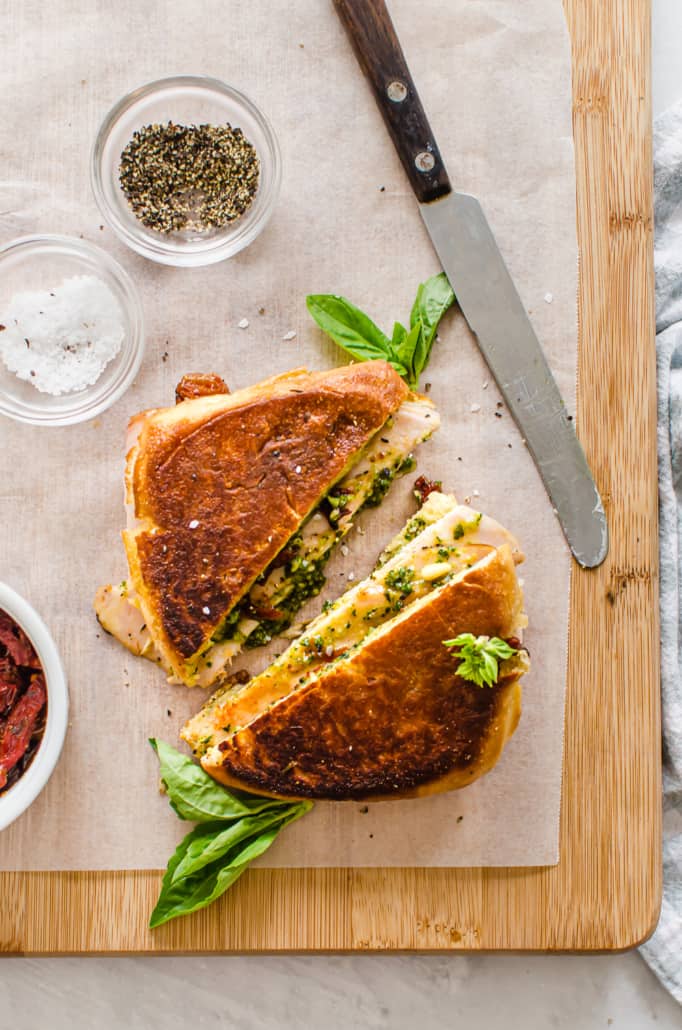 What Makes a Great Turkey Pesto Sandwich?
Let's talk about the ingredients, shall we?
1. TURKEY – I prefer to use deli-sliced turkey. It's fresher, healthier (fewer preservatives), and just tastes better. Shredded turkey would be a delicious alternative, too. This can be a great recipe to use up some from a smoked or fried turkey from Thanksgiving. Another great sub for this panini is shredded chicken. Totally yum!
2. PESTO – The fresher the better! My first choice would be to use our homemade Pesto recipe. And when I say "first choice", I mean this choice is FAR ahead of my other choices. This is why I make lots of pesto and freeze it. My second choice would be refrigerated pesto. I found that I like this kind a bit more than the jarred kind.
3. SUN-DRIED TOMATOES – We prefer sun-dried tomatoes that are packed in oil in a jar. They are much more tender than the dry-packed ones.
4. BREAD – This can be played with a bit. I do love a good ciabatta roll–especially a whole grain one if you can find it–for this type of panini, but I've also been known to use sourdough bread.
5. CHEESE – I use Provolone usually but Mozzarella will work. In a pinch, you can also use shredded cheese.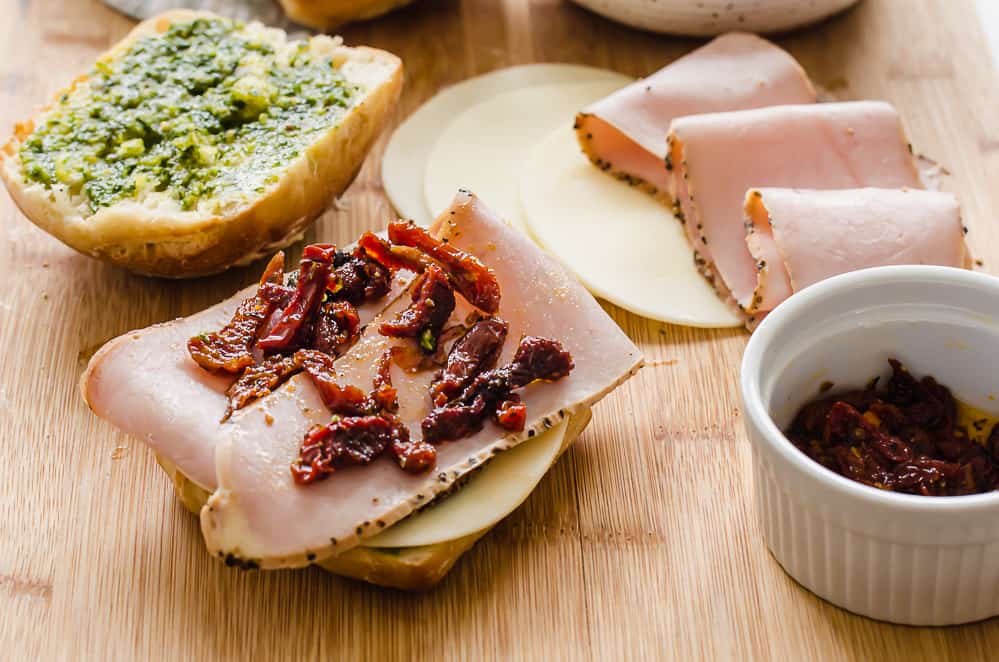 Step-by-Step Tutorial
Here are the steps to assemble these amazing Turkey Paninis:
Butter the outside of the panini bread.
Add some softened butter to the outside of both pieces. This will help achieve that crispness that you want.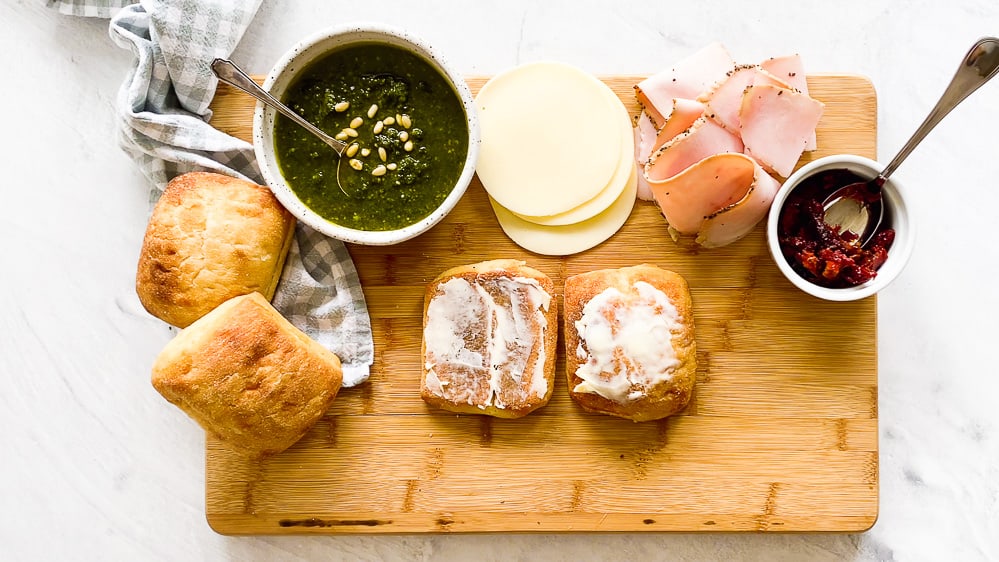 Fresh pesto is 100% better than the jarred kind. Be sure to make fresh pesto when you can!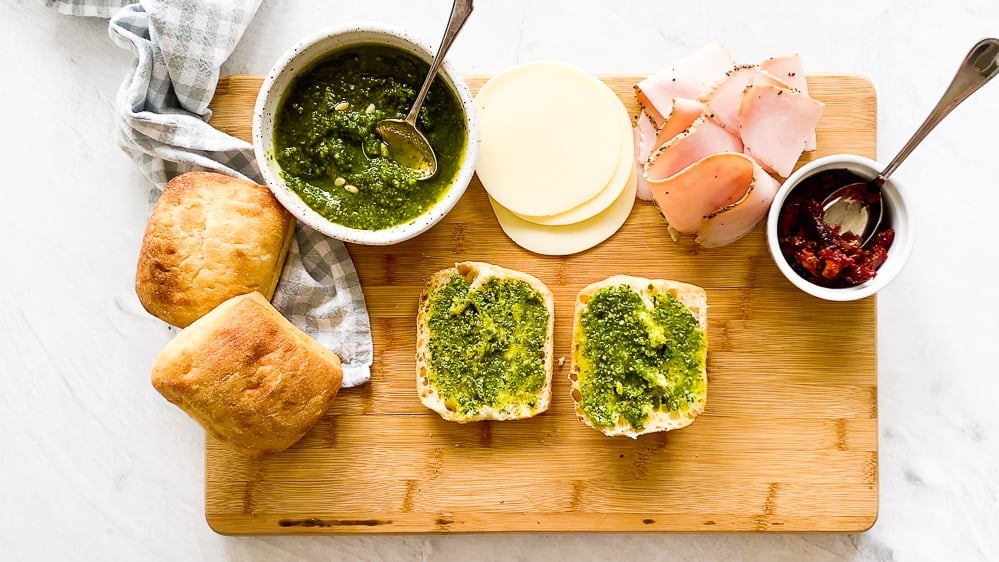 Add a slice of provolone to each piece of bread.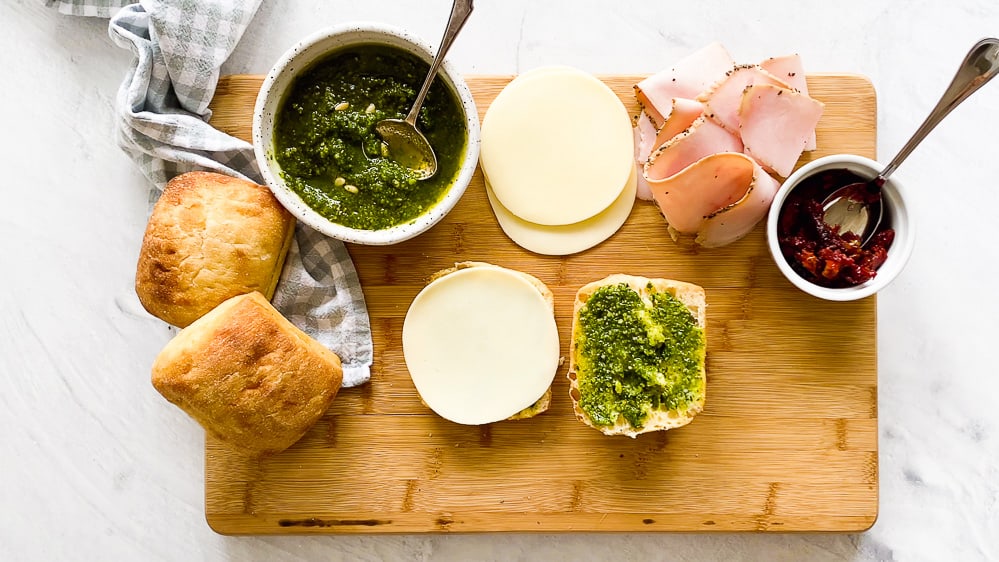 I prefer getting the turkey from the deli. It's healthier and fresher. You can also use leftover turkey here.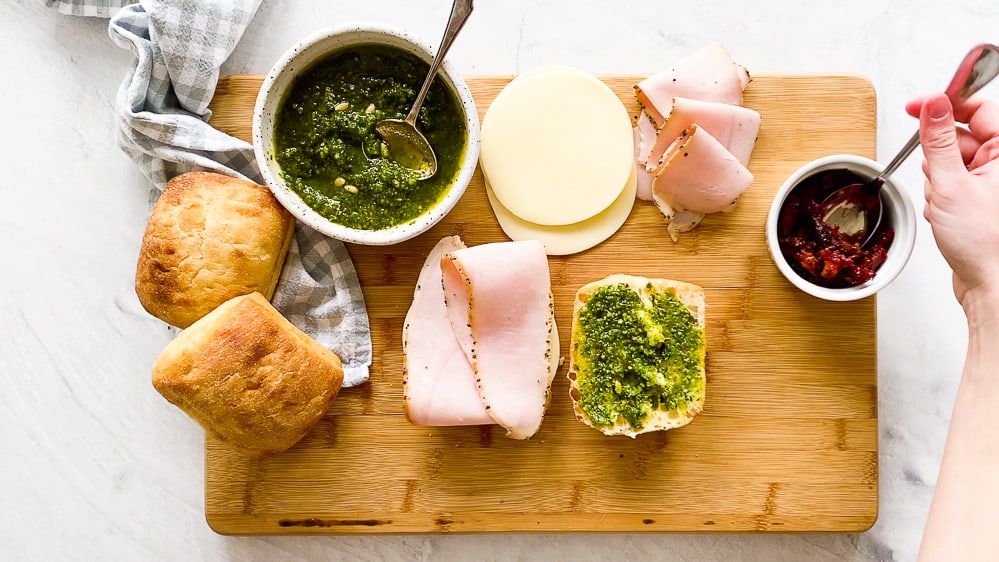 Because these pack some serious flavor, I recommend dicing them up so they spread out a bit better over the sandwich.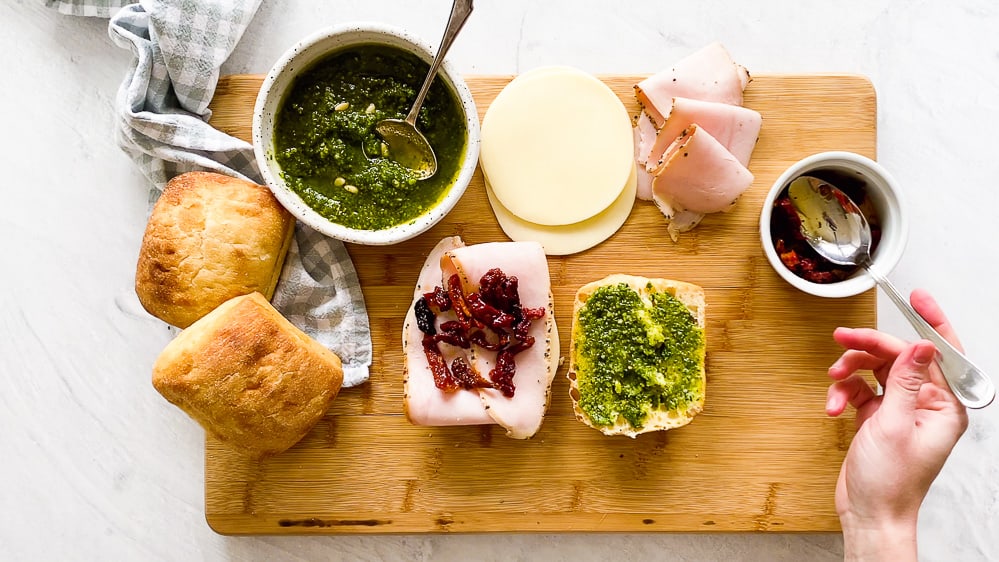 Grill them in a pan on the stovetop or in a panini press.
Be sure to push down on them to form a crispy exterior.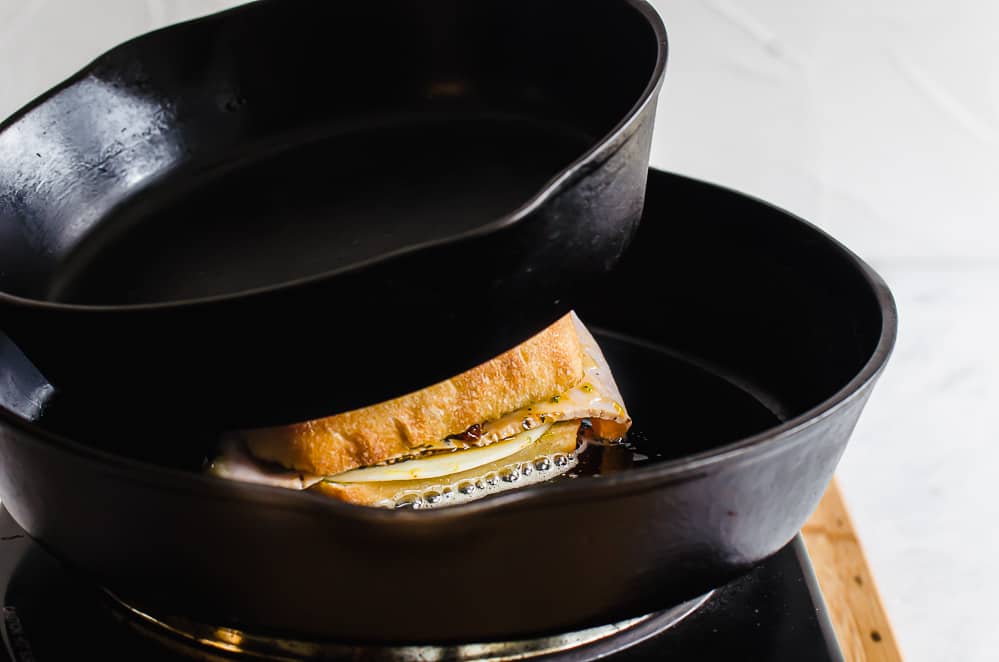 Can You Freeze Paninis?
Many don't think of a panini as a freezer meal. The great news is, they work well to make ahead and freeze. I especially love them because like many of our Freezer Meals for 1-2 People, they can be individually wrapped before freezing. That way you can pull one out at a time!
TO FREEZE: Wrap the (uncooked) sandwiches individually in foil, place in a large freezer bag, seal, and freeze.
TO PREPARE FROM FROZEN: Unwrap and thaw using the microwave defrost setting or in the refrigerator for 24 hours. Cook as directed.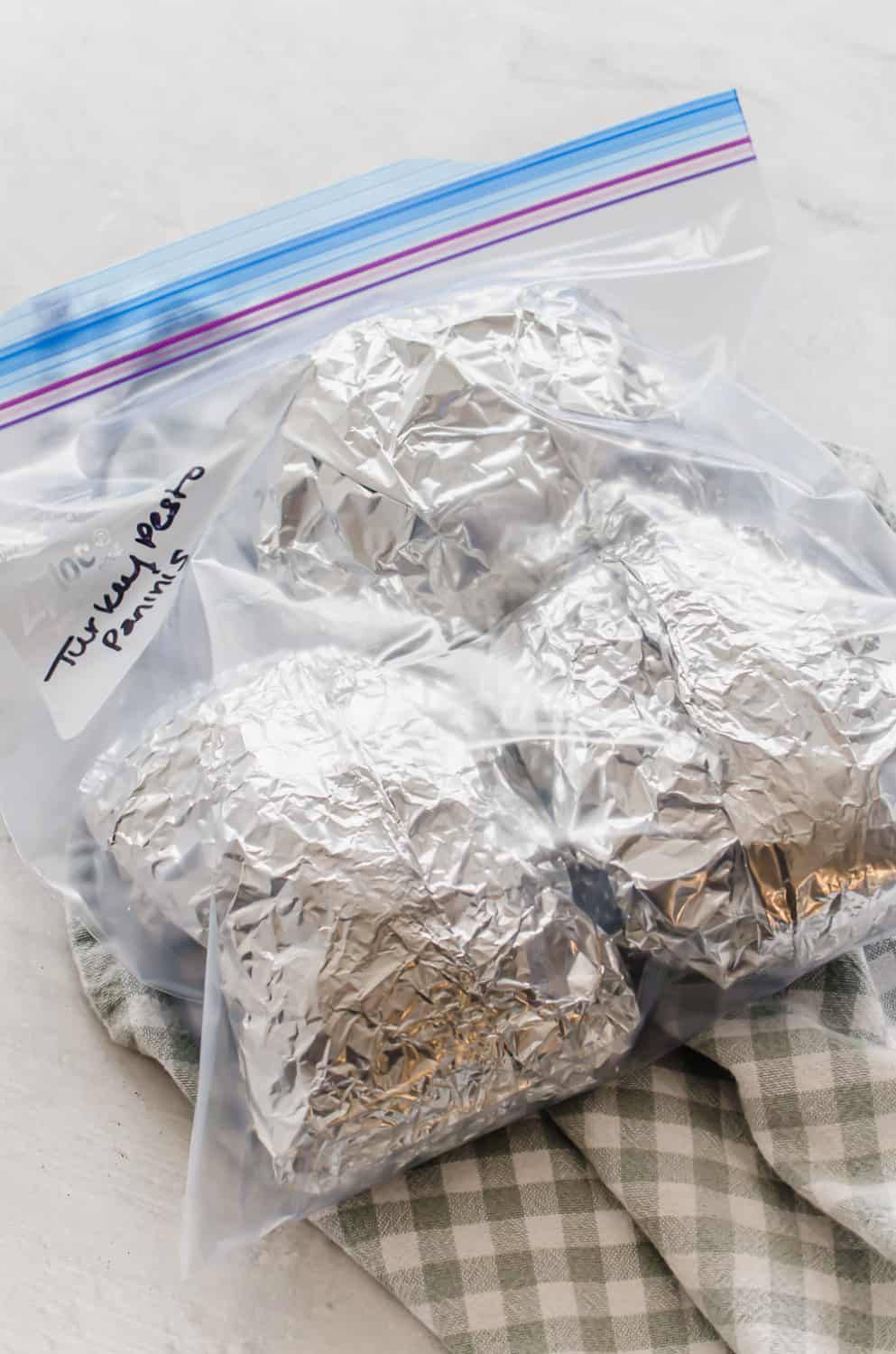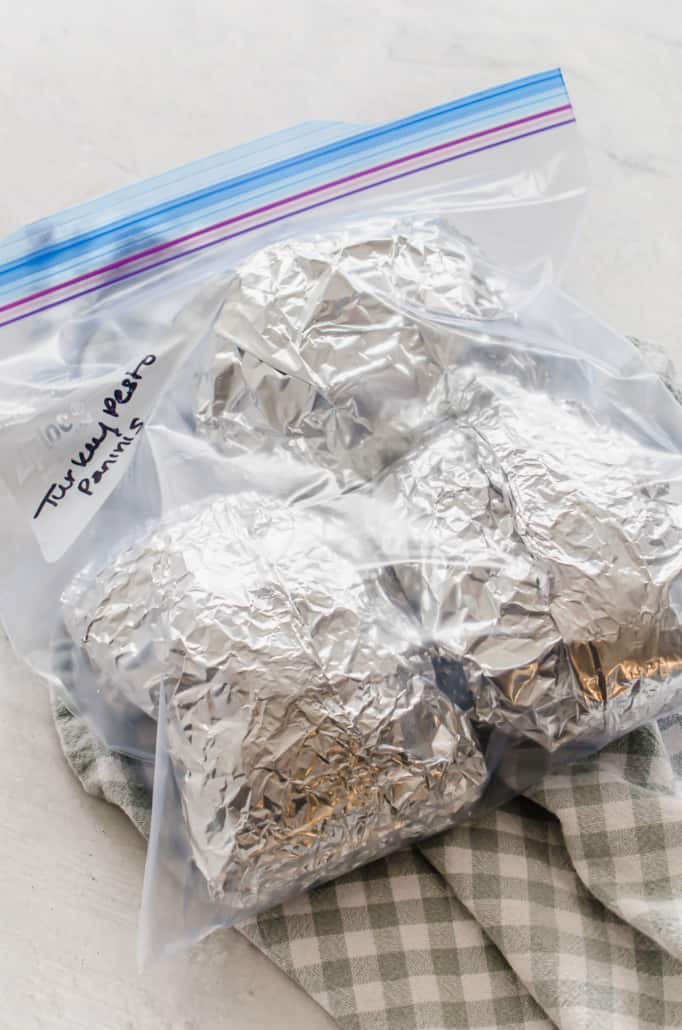 FAQ
Do I need a panini press?
Nope! I don't even own one. I simply use a cast iron skillet (or another heavy-bottomed pan) to push on top of them while they are cooking to give that panini-squished-sandwich feel.
Yes! This recipe would also taste great with shredded chicken.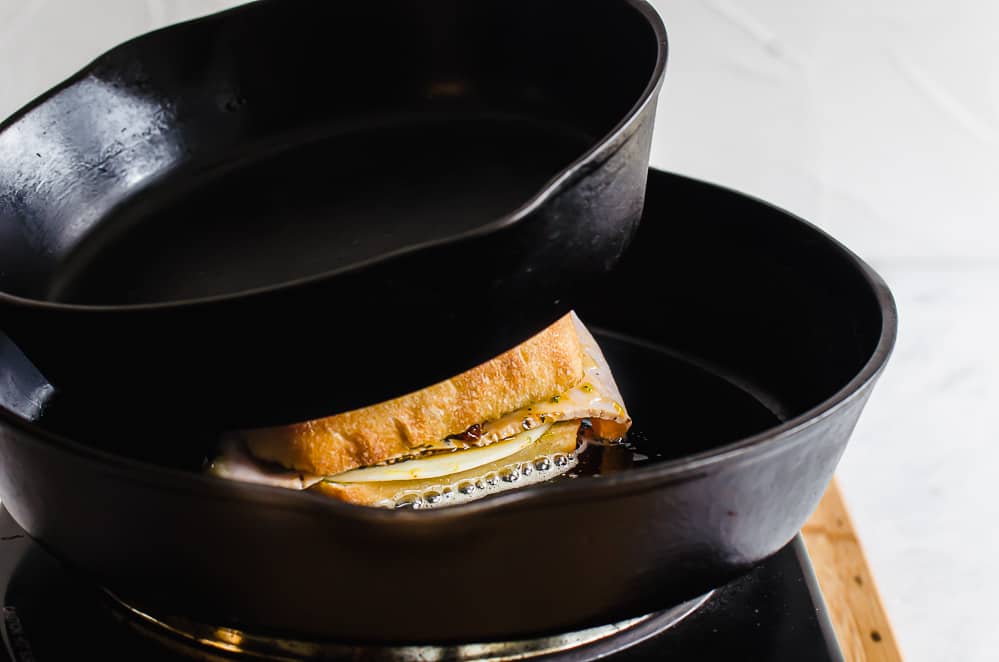 Did you make this? Snap a photo and tag us on Instagram at @thrivinghome so we can see your creations and cheer you on!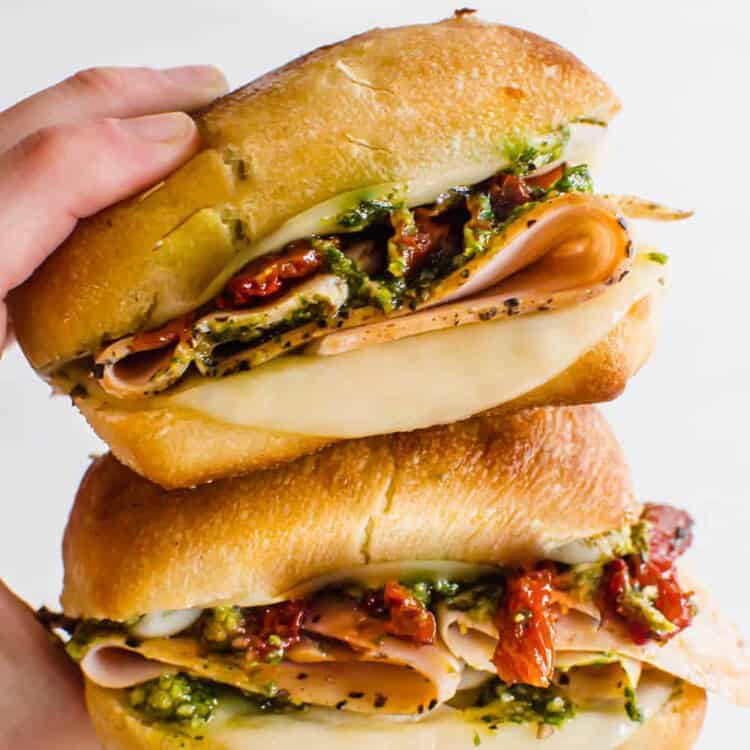 Turkey Pesto Sandwich
The ingredients in our Turkey Pesto Paninis are simple, but the flavor is BIG. You'll love how quickly they come together and how easily you can turn them into a freezer meal too!
Prep:
10 minutes
Cook:
10 minutes
Total:
20 minutes
Ingredients
6

ciabatta rolls (or

12

slices of sourdough bread)

6

slices Provolone cheese (or

12

slices, if you want to add

2

per panini)

1/2

cup

Pesto

1/4

cup

sun-dried tomatoes, finely chopped

1

pound

all-natural deli turkey slices

2

–

3

tablespoons softened butter
Before You Begin! If you make this, please leave a review and rating letting us know how you liked this recipe! This helps our business thrive & continue providing free recipes.
Instructions
Make It Now
Build the Paninis: Butter the outside of both pieces of bread. Spread pesto on the inside of both pieces. To the bottom bun, add 1 slice of Provolone cheese, about 2-3 slices of turkey, and 2 teaspoons of chopped sun-dried tomatoes. Place other bun on top. (Freezing instructions begin here.)
Cook the Paninis: Heat a skillet over medium-high heat. Place the sandwich(es) in the hot pan and press down with a spatula or another heavy-bottomed pan. Once the bread gets toasted on the first side and the cheese starts to melt, flip to the other side. Press the sandwich down again. Remove the sandwich from the pan once it's golden brown on the second side, after a minute or two.
Freeze For Later:
Follow Step 1. Wrap each sandwich in foil and place in a large freezer bag. Seal and freeze.
Prepare From Frozen:
Thaw. Follow Step 2 to cook the paninis.
Equipment
---
Notes/Tips
You can use a panini press instead of a skillet, if you have one.
A fun idea is to try cooking these in a waffle iron!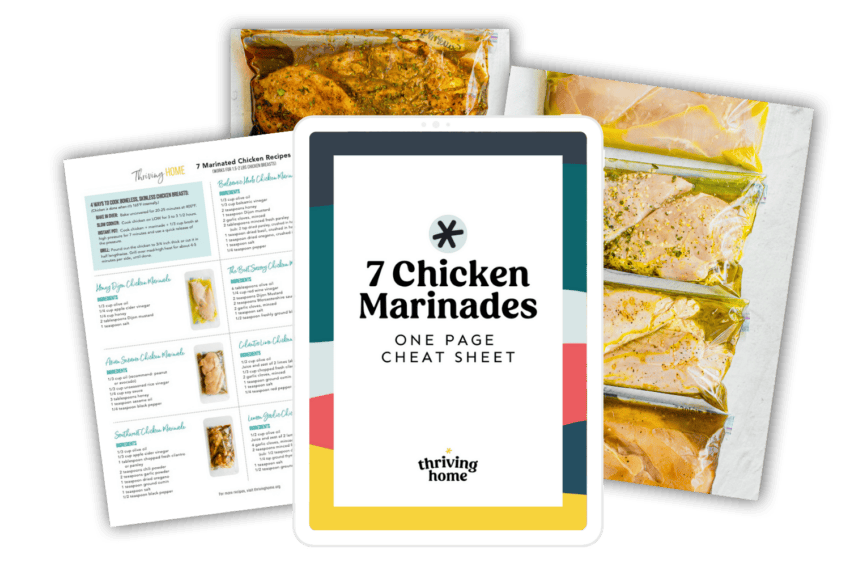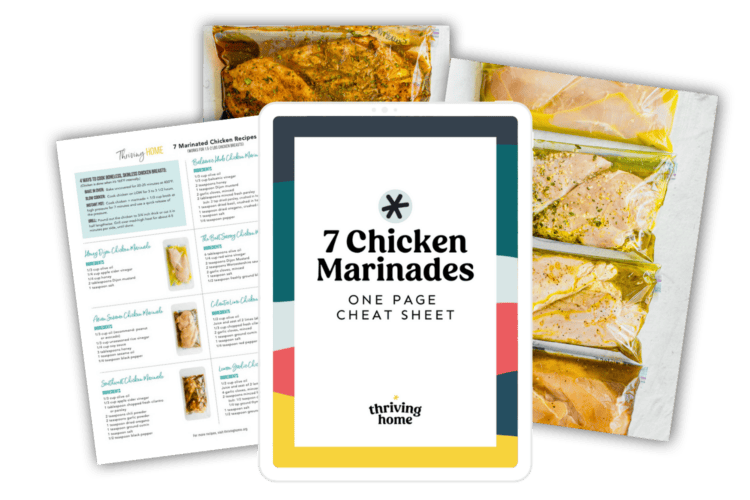 Get 7 of Our BEST Chicken Marinades Sent to Your Inbox!