This post may contain affiliate or sponsored links. Please read our disclosure policy.
You won't find an easier stovetop vegetable soup that tastes this good. This recipe makes a big batch. This makes it perfect to repurpose for weekday lunches or to freeze for later. It's not only packed to the brim with nutrition, but also a total crowd-pleaser.
Or try our Instant Pot Vegetable Soup instead.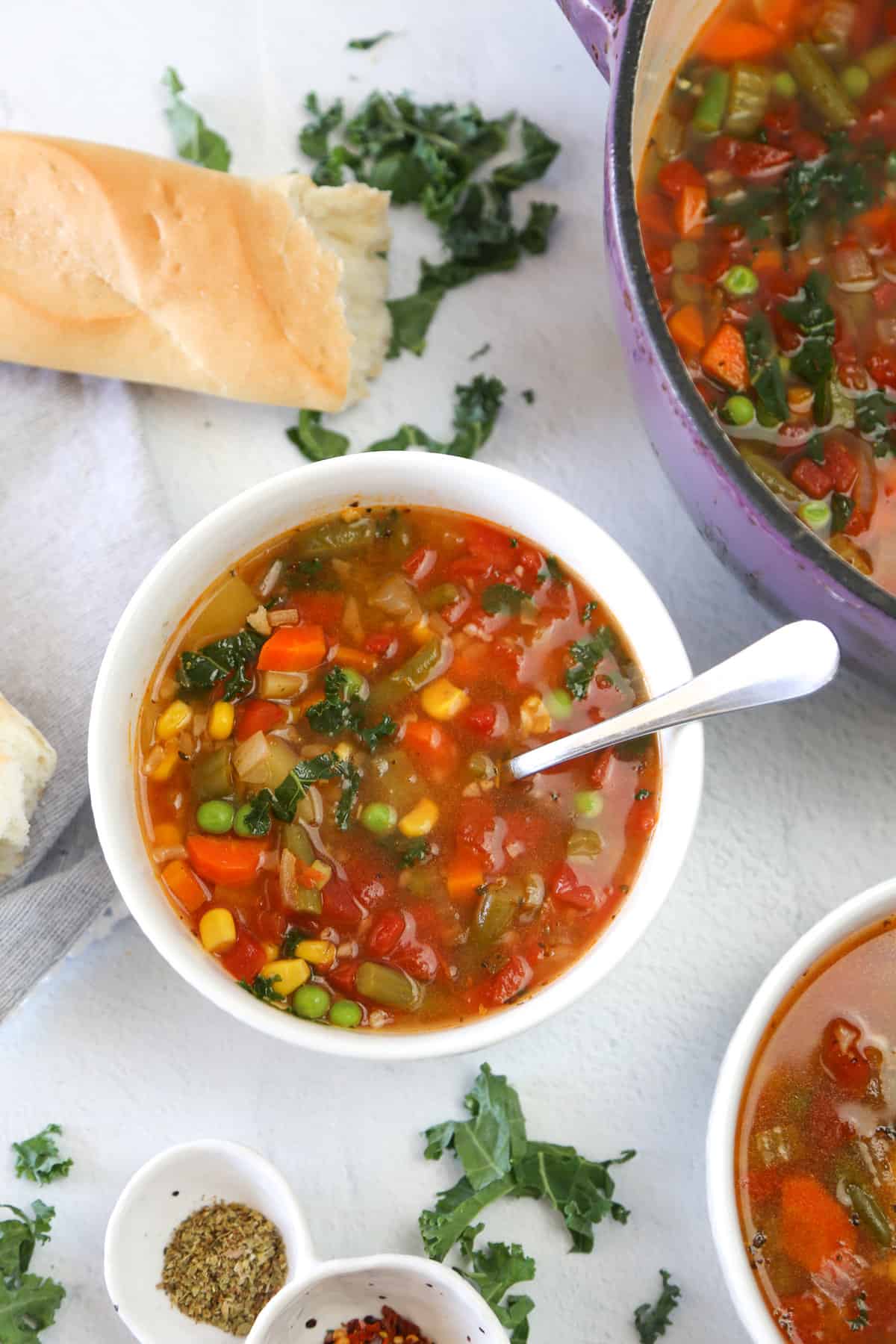 ⭐️⭐️⭐️⭐️⭐️
"So quick and nourishing. Made for a sick day in our home." – Charity
Reasons You'll Love This Soup
It makes a TON! This recipe makes a big batch, which is great if you want to freeze the soup or make it into individual lunches.
It's versatile. Use up what you have on hand.
It's freezer-friendly. Freezer-friendly soups are the bomb. They make for great lunches or meals to eat on busy weeknights.
It's easy! After just a little peeling and chopping, this soup comes together fast.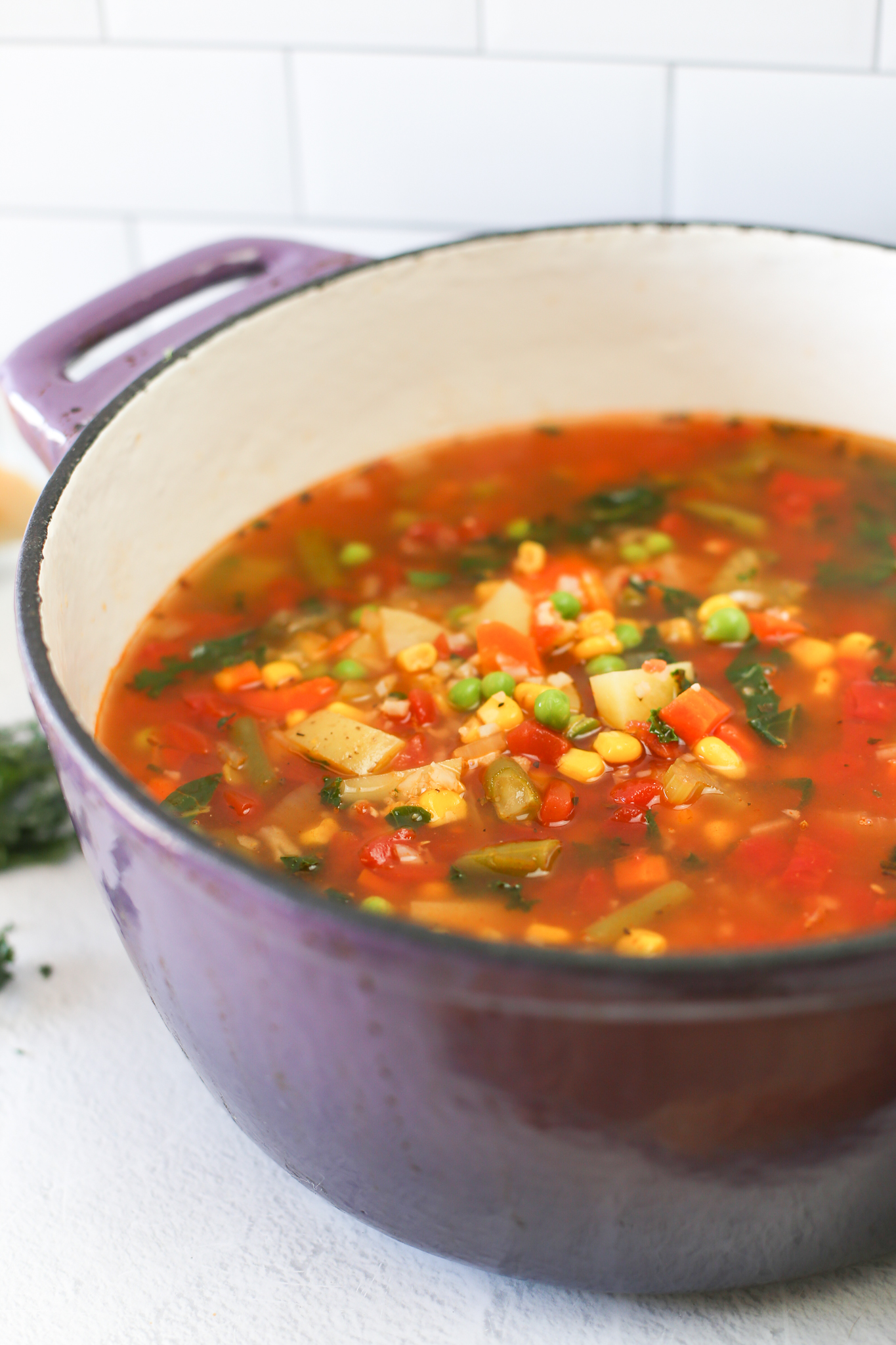 Ingredients Needed
Here's what we used in this veggie-loaded soup…
Olive oil or avocado oil
Onion – White or yellow onion works best with this recipe.
Carrots – Fresh is best.
Celery – Be sure to get organic, since celery is on the dirty dozen list.
Salt, pepper, red pepper, Italian seasonings, garlic cloves
Tomato paste – This brings in a lot of flavor!
Chicken broth – Use vegetable broth to keep this vegetarian or feel free to use a good chicken broth instead. You can make your own easily!
Petite diced tomatoes – I prefer petite diced vs regular but either will work.
Yukon gold potatoes – Yukon Gold potatoes don't need to be peeled. If you don't get Yukon Gold, make sure to peel the potatoes.
Frozen green beans – Fresh will also work.
Corn – Frozen or fresh work.
Frozen peas – Frozen works best.
Kale or spinach – This is optional but adds in a lot of tasteless nutrition and color at the end.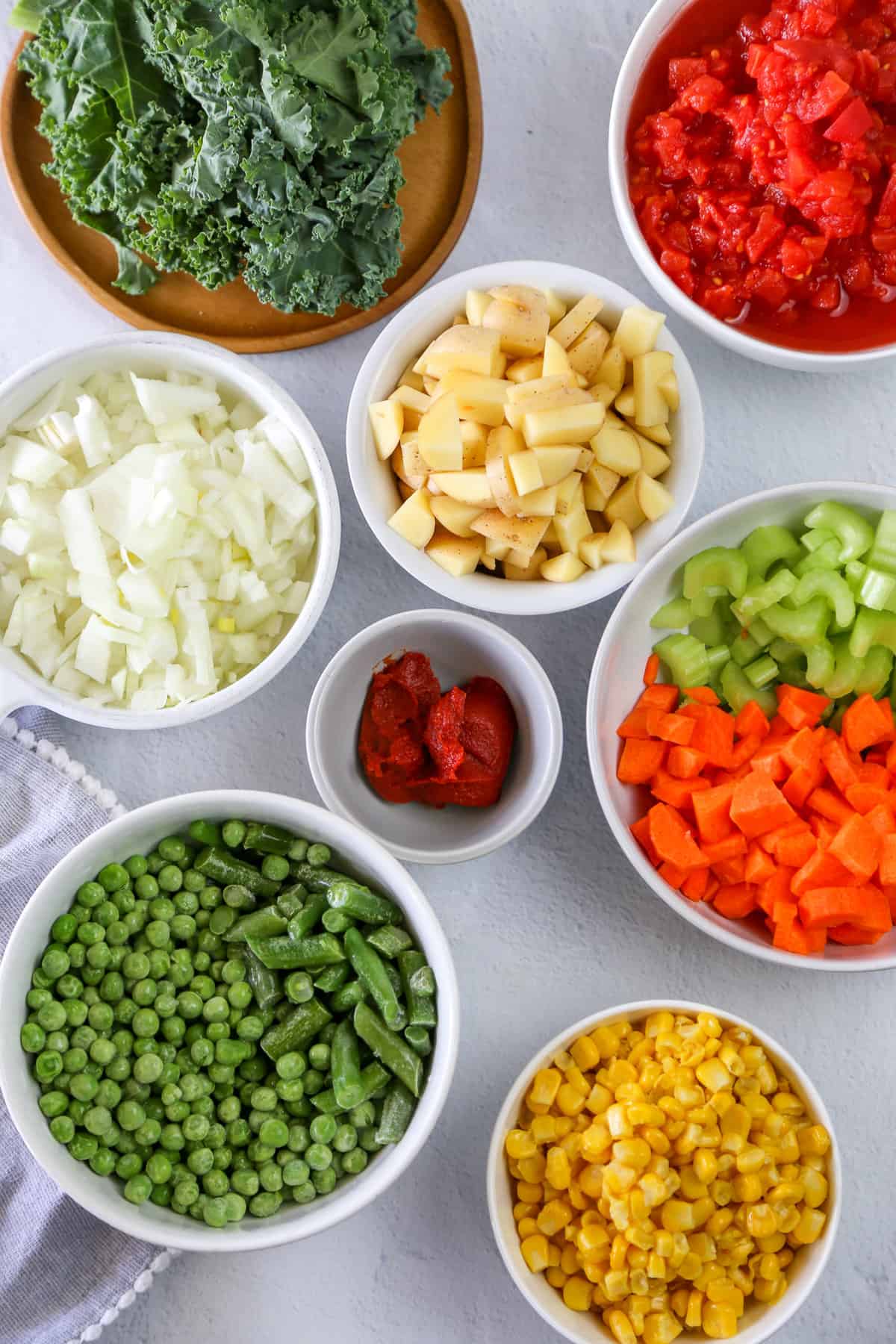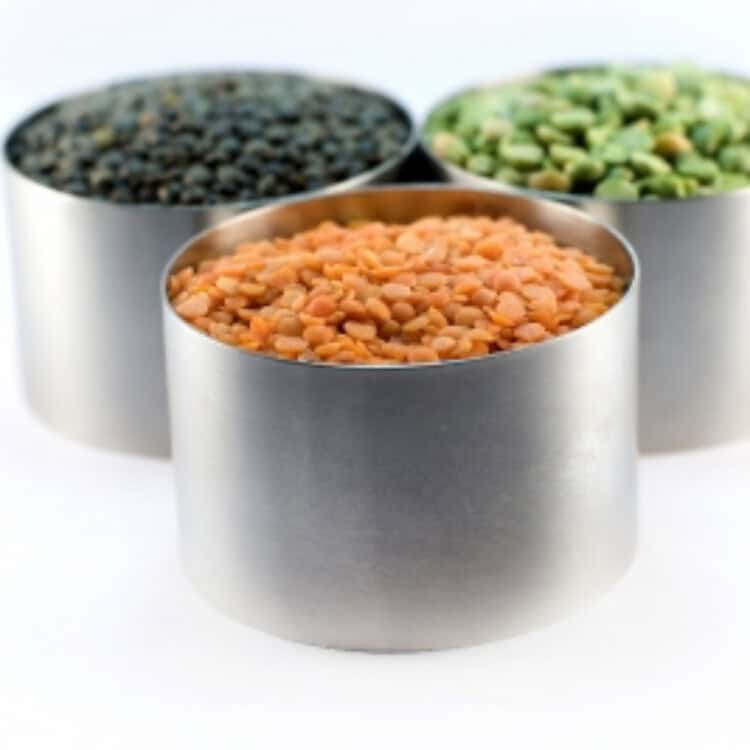 More Add-In Ideas
Diced sweet potato
Cauliflower
Edamame
Lentils
Black Beans
Zucchini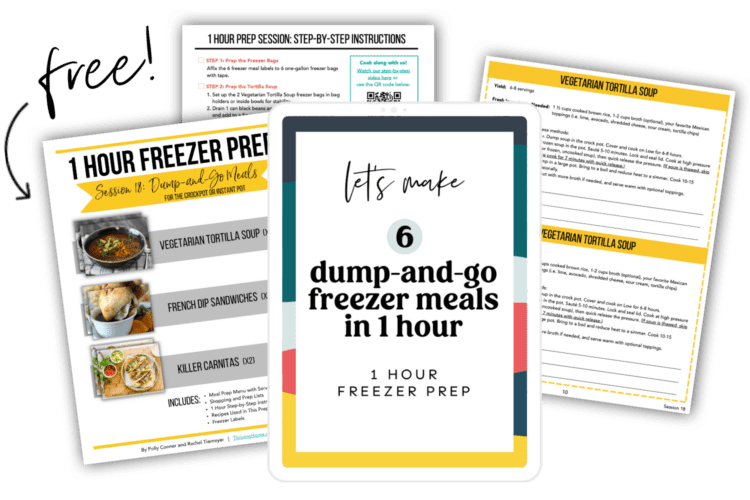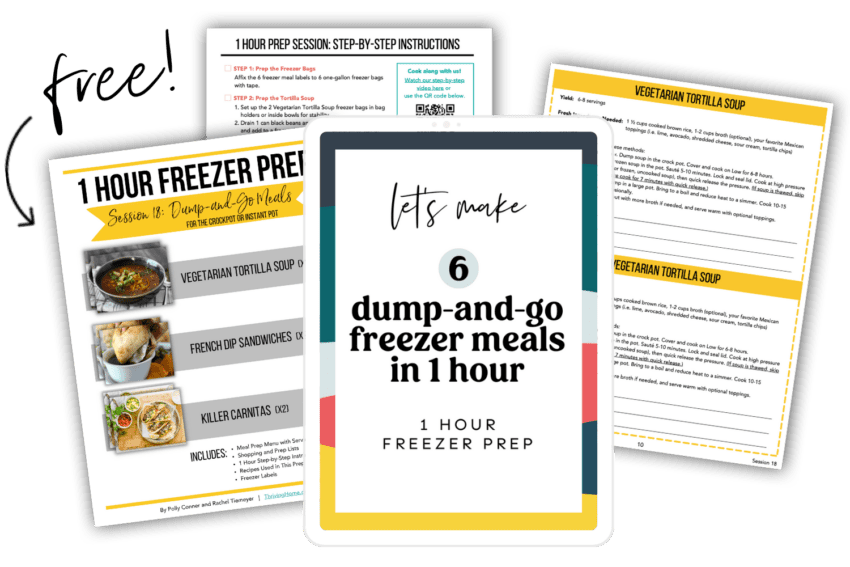 Make 6 Dump-and-Go Freezer Meals in 1 Hour!
Try a 1 Hour Freezer Prep Session ($6.99 value) for FREE!
Includes:
Shopping & equipment lists
Step-by-Step instructions & video tutorial
Serving suggestions & dietary substitutions & more
How to Make Vegetable Soup
Vegetable soup is easy but comes together in stages in order to bring out the best flavor. The basic steps are:
Sauté aromatics. These ingredients impart deep flavors into the dish that's being cooked.
Simmer soup ingredients. The veggies need time to soften and the flavors to come together.
Add in the more delicate ingredients. A few of the veggies that can get overcooked will be added in towards the end.
Let's walk through the steps in detail!
Dice and Sauté the Veggies
The bulk of the work in this recipe comes from dicing the veggies.
Sharpen your knife, put on a good podcast, and get to work on the onion, carrots, celery, and potatoes.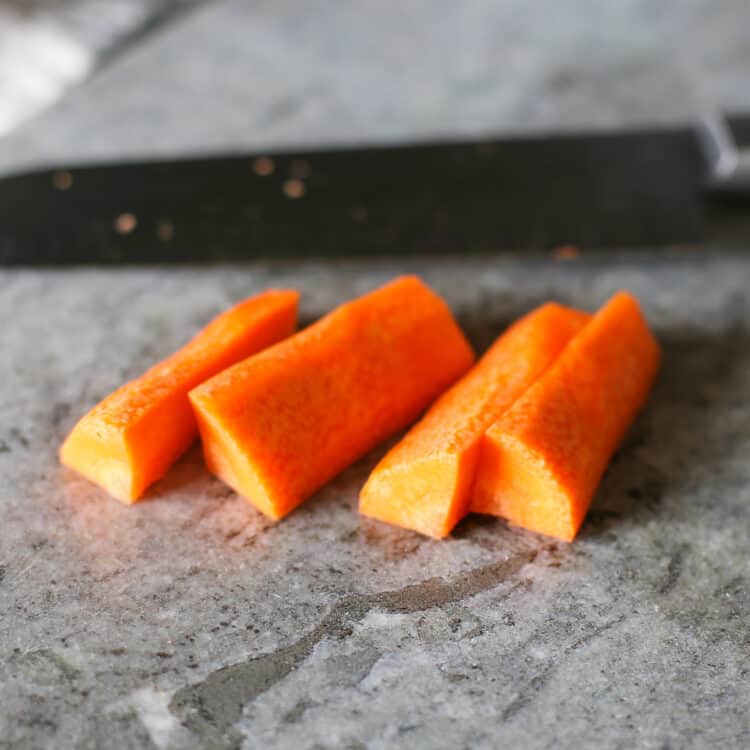 Safety Tip: Slicing Carrots That Want to Roll Around
Since carrots are round, they can be tricky to slice as they want to roll out from under your knife. Here are a few tips to safely cutting carrots:
Keep the tip of your knife touching the cutting board at all times.
Once you've cut the carrot in half, flip it face side down for the next cut. This way it won't roll.
Heat oil in a large pot over medium-high heat until it's shimmery.
Add onions, carrots, and celery and sauté until softened, about 4-5 minutes.
Season lightly with salt, pepper, and red pepper flakes. Add garlic and tomato paste and sauté for another minute.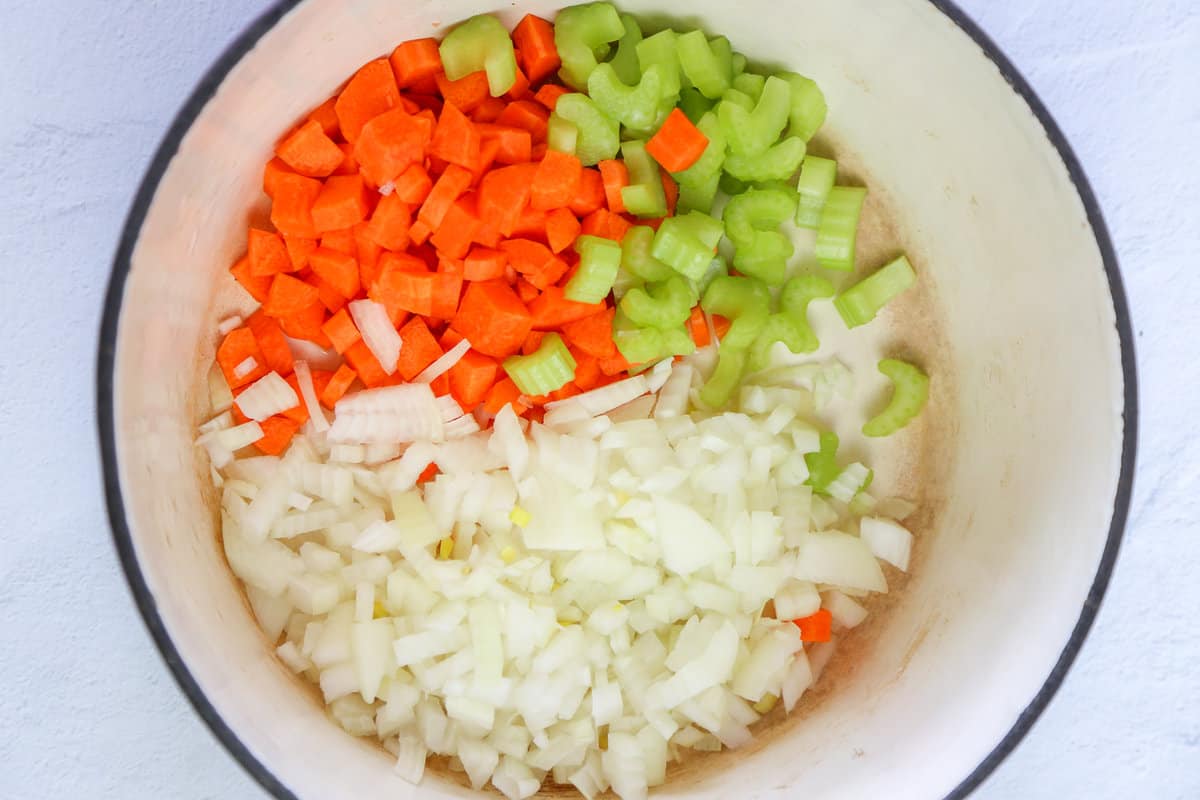 Add in Veggies and Simmer
Add broth, tomatoes, and Italian seasoning and bring to a boil.
Stir in the potatoes, green beans, and corn. (Don't add the peas or kale yet.)
Reduce to a simmer for about 15-20 minutes.
Finish off with Peas and Kale
Stir in the frozen peas and stir in the kale or spinach until they are warmed through.
Taste and adjust the seasoning as needed.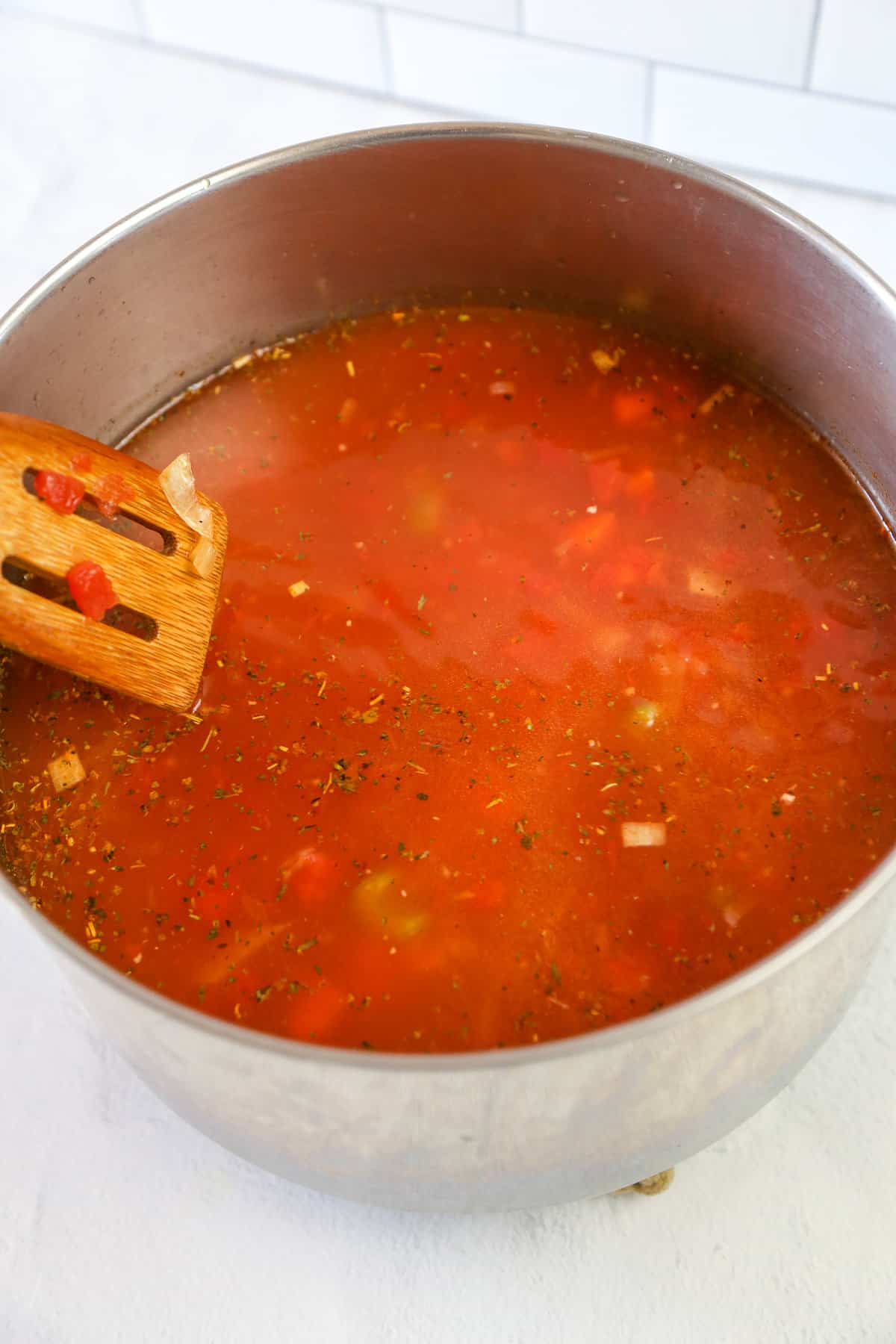 Serve it up with some crusty bread, crackers, or along with a yummy sandwich like our Turkey Pesto Paninis or Ham & Cheese Sliders.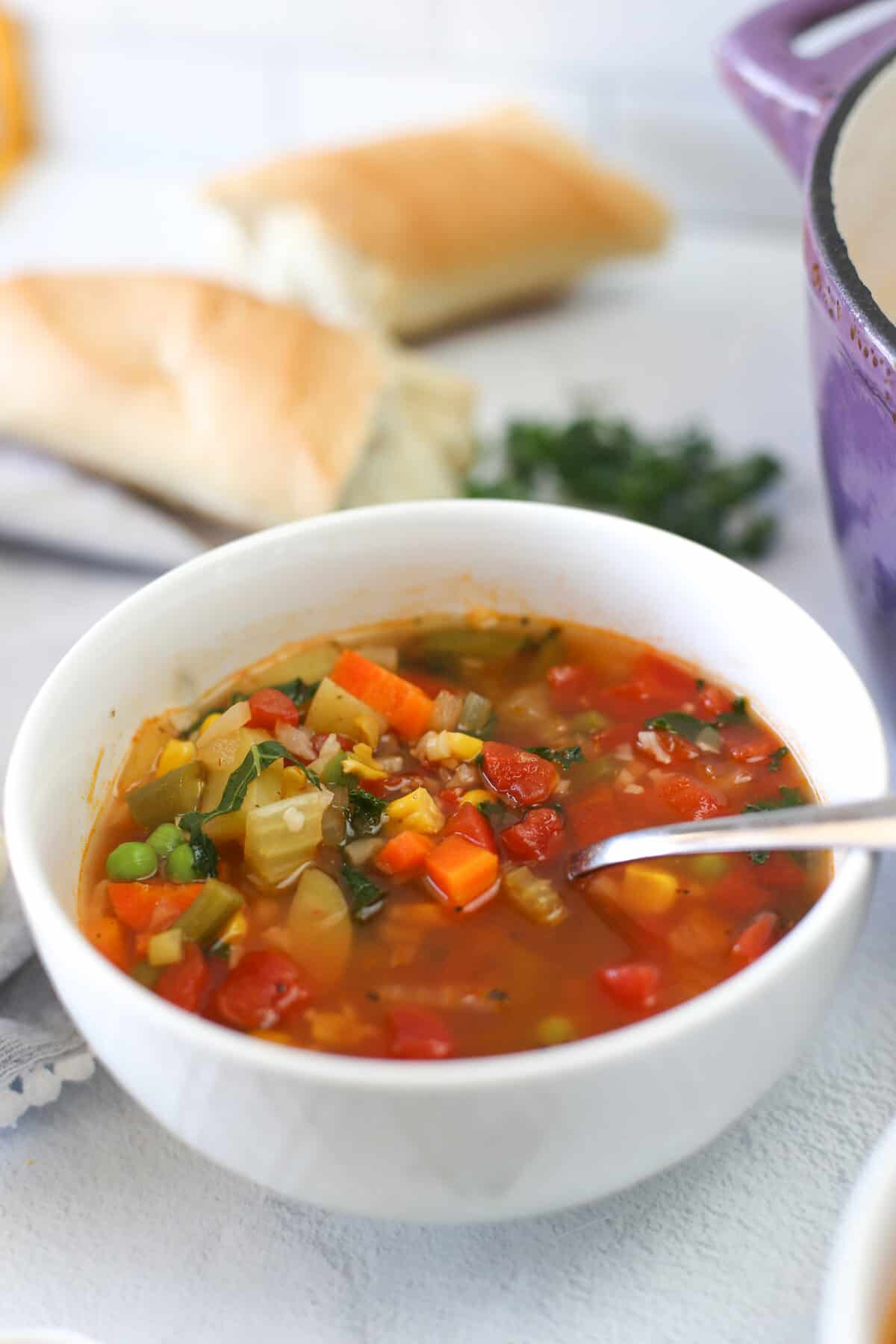 Can You Freeze Vegetable Soup?
As authors of two cookbooks and self-proclaimed "freezer cooking evangelists", we always try to share how to prep and freeze recipes like this soup, when possible. I personally love to freeze this one in small portions for lunches.
Freeze for Later: Cook and cool the soup completely. Freeze in a freezer bag or container, squeezing out all excess air and sealing tightly.
To Prepare from Frozen: Thaw in the refrigerator. Warm over medium-low heat, stirring occasionally. Add 1-2 more cups of chicken broth if too thick.
Tip: You can also freeze soup in individual servings in 2-cup Souper Cubes, 2-cup Pyrex containers, or 16 ounce mason jars. Be sure to leave 1 inch of head room for expansion at the top of the jars or the glass may break in the freezer. 
Check out our 70+ Best Freezer Meals for more ideas.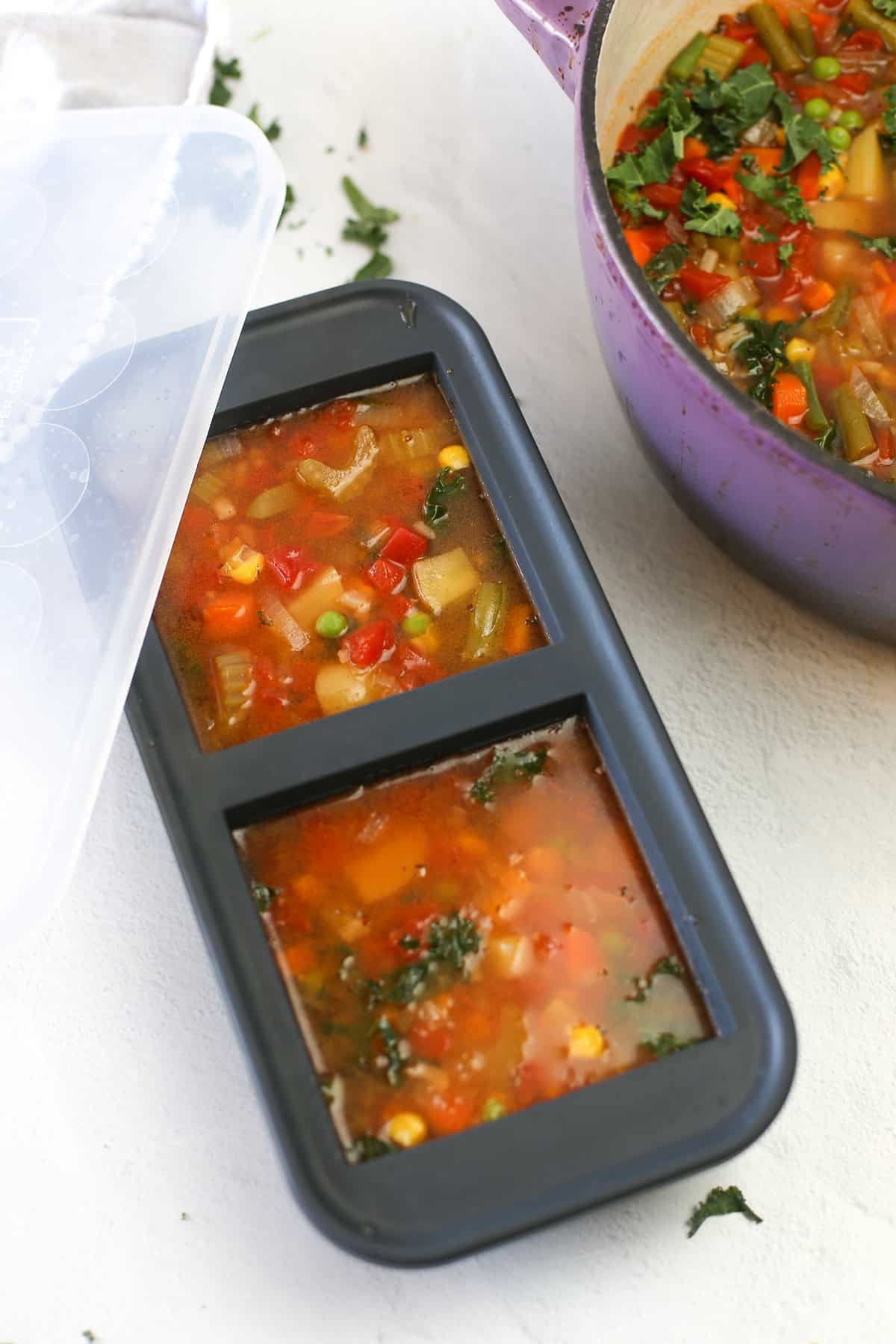 What variations can I make?
We love that this soup will play nice with so many different vegetables. Here are some ideas:
Use sweet potato or butternut squash instead of carrots.
Add in some sliced mushrooms.
Swap the green beans with bell peppers or zucchini.
Use another leafy green, like spinach or chard, in place of the kale.
Garnish bowls with grated Parmesan or a scoop of pesto.
Can I make vegetable soup in the crockpot or Instant Pot?
Yes, you can easily make vegetable soup in the Crockpot or Instant Pot.
Crockpot Directions:
Follow steps 1-2 but instead of cooking it on the stove, cook on Low in the crockpot for 6 to 8 hours, until the carrots & potatoes are tender.
Instant Pot Directions:
We actually already have an Instant Pot Vegetable Soup recipe on our site. Hop over and use the cooking instructions from this recipe!
Side Dish Ideas
Here are some side dish ideas that would go well with Vegetable Soup.
Did you make this? Snap a photo and tag us on Instagram at @thrivinghome so we can see your creations and cheer you on!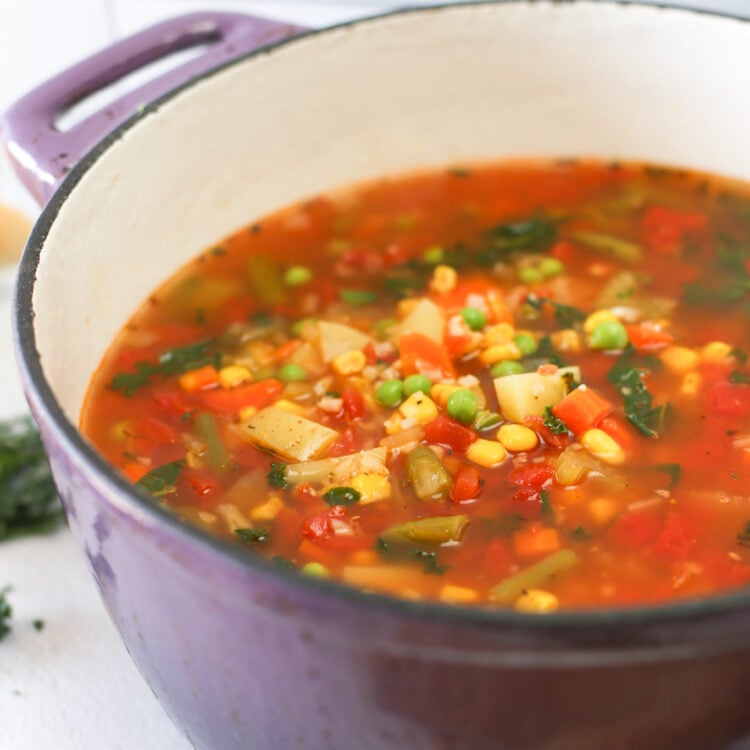 "Eat More Veggies" Soup
Use any combination of vegetables in your fridge and pantry to make this hearty, delicious vegetable soup. Whip up a big batch and your family will eat on this all week long.
Yield:
About

12

servings

1

x
Prep:
15 minutes
Cook:
25 minutes
Total:
40 minutes