How to Thaw Chicken (or Really ANY Freezer Meal!)
This post may contain affiliate or sponsored links. Please read our disclosure policy.
As freezer cooking experts, cookbook authors, and self-proclaimed freezer meal evangelists, we've learned all the tricks when it comes to safely thawing your frozen food. In this post, we are sharing the 4 best ways to defrost food safely.
We will zero in on how to thaw chicken, since this seems to be the most common question we get. But, please keep in mind that these methods work for all types of freezer meals!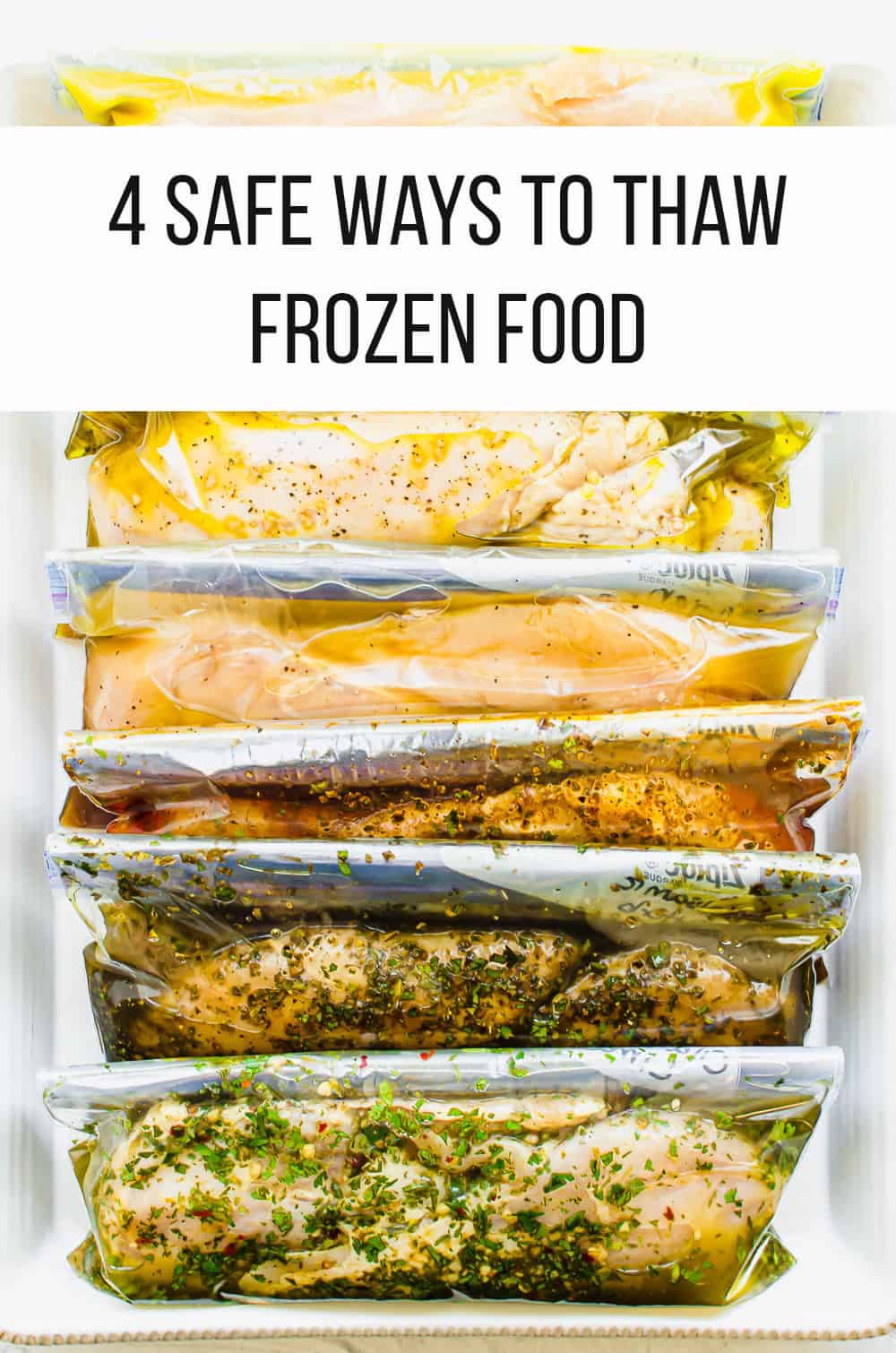 It's 5 o'clock, the kids getting hangry, and you realize the frozen chicken you meant to thaw is still rock solid and sitting comfortably in the back of your freezer.
Is there a way to thaw chicken fast?
You bet! In fact, we have a few different methods for the BEST ways to thaw your food.
4 Ways to Safely Thaw Frozen Chicken & Freezer Meals
1. Thaw in the Refrigerator
The best and safest way to thaw chicken and/or freezer meals is to put it in the refrigerator for 24-48 hours. Thawing time will depend on the size of the meal, but plan on roughly 5 hours per pound.
Make sure to place the freezer meal on a plate to catch the condensation or leaks as it thaws. Yes, thawing using this method does take some planning. This is why we encourage menu planning as much as possible. In fact, we provide a FREE Printable Menu Plan in our store, as well as FREE menu plans every week on the blog.
But, we know that sometimes life is crazy. And menu planning doesn't happen. And sometimes that delicious freezer meal needs to be thawed quicker.
Rest assured, there are other ways.
2. Thaw in Cold Water
Another safe thawing option is to place the food in a leak-proof plastic bag and immerse it in cold water, changing the water out every 30 minutes. This still takes a bit of time–anywhere from 3-5 hours depending on how big your meal is, but it's quicker than the refrigerator option. I've found that this option works best when the meal is frozen in a plastic bag like we recommend you do in our 7 Best Chicken Marinades.
After using this method of thawing, cook your food immediately.
Need food even quicker than this? We have another idea for you…
3. Thaw in the Microwave
A third option is to microwave-defrost food in a microwave-safe dish. Defrost your food using your microwave's instructions. The reason this is the third option (our least favorite) is because this method (especially chicken) can tend to dry out food a bit.
Regardless, sometimes you just need to quickly thaw something, so the microwave it is!
Make sure to cook your food immediately after this method, as well.
4. Cook It Straight from Frozen in the Instant Pot
A fourth, and often forgotten, option for cooking frozen food is cooking it straight from frozen in the Instant Pot. Yes, it's safe! And yes, it's as amazing as it sounds. If you prep an Instant Pot Freezer Meal, all you have to do is plop it in the Instant Pot, push a button, and you're done.
We have tested the cooking times for all types of Instant Pot Freezer Meals, including frozen chicken, and have made a 1 page Instant Pot Cooking Times Cheat Sheet for you. If you plan to cook frozen food in the Instant Pot, this cheat sheet is a MUST.
If you want to see all of the nitty gritty about cooking frozen chicken in the Instant Pot, we have a whole post about cooking chicken breasts in the Instant Pot.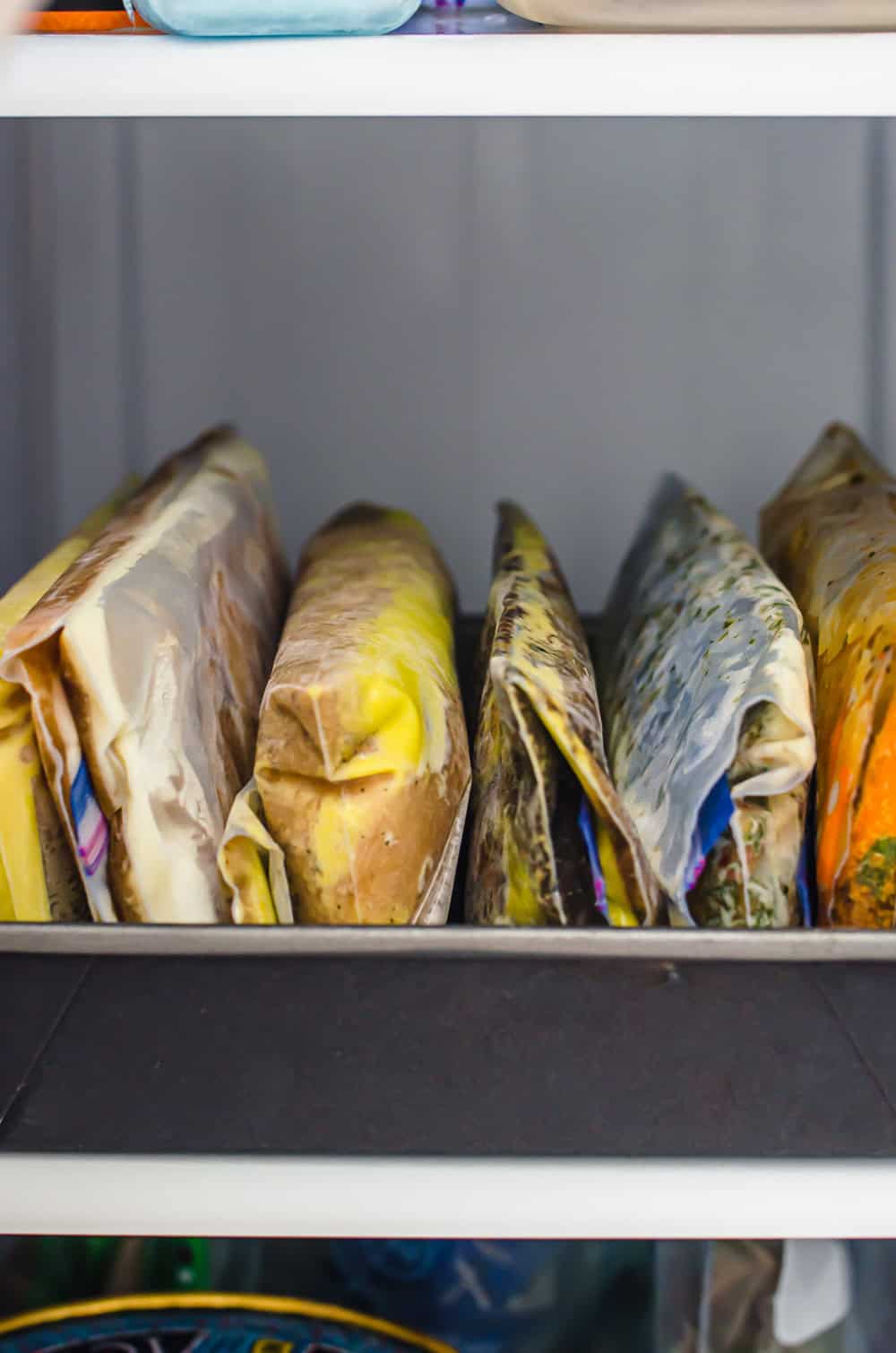 FAQ About Thawing Food
Can you thaw chicken in a crockpot?
I hate to be the one to break this to you, but thawing food in the slow cooker or thawing food on the counter is not safe. Here is what the USDA says about frozen food in the crockpot:
Always defrost meat or poultry before putting it in the slow cooker. If you place frozen meat or poultry in a slow cooker it can spend too much time thawing, allow bacteria to multiply, and make you sick. Using defrosted foods will also ensure your meal cooks evenly and all the way through.

-USDA
Thawing your chicken before putting it in the slow cooker is the way to go. Here is how long to cook chicken in the crock pot by the way.
What is the FASTEST way to thaw chicken? (Or any freezer meal)
The fastest way would be to defrost it in the microwave. Just be sure to use the defrost setting and watch it closely.
Where can I find the BEST Chicken Freezer Meals?
We're so glad you asked! 🙂 This collection of freezer meals is a great place to start. You can find our top chicken recipes toward the middle of the post.