Crockpot Cinnamon Applesauce
This post may contain affiliate or sponsored links. Please read our disclosure policy.
Homemade applesauce has never been easier. With a few simple ingredients and your crockpot, you can easily make cinnamon applesauce in your home. Follow our easy instructions below!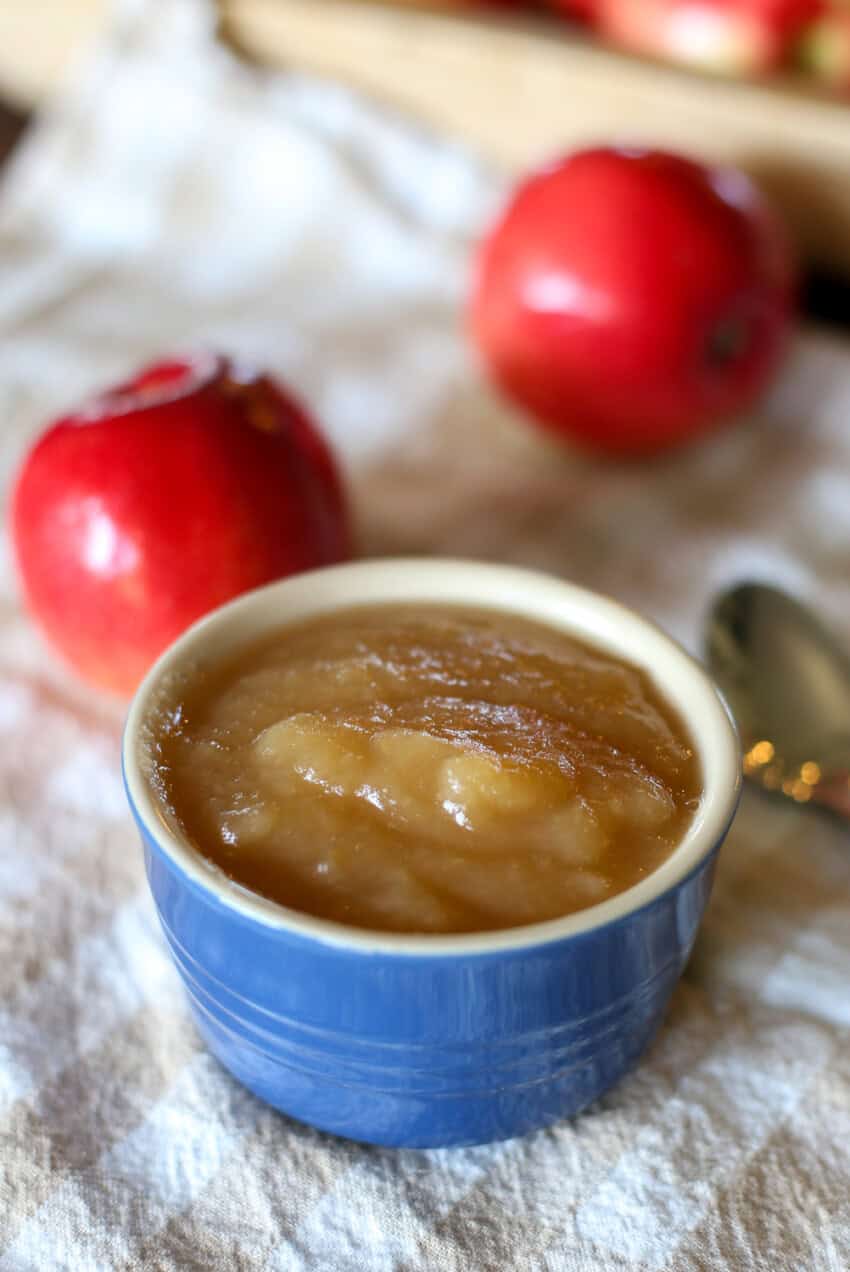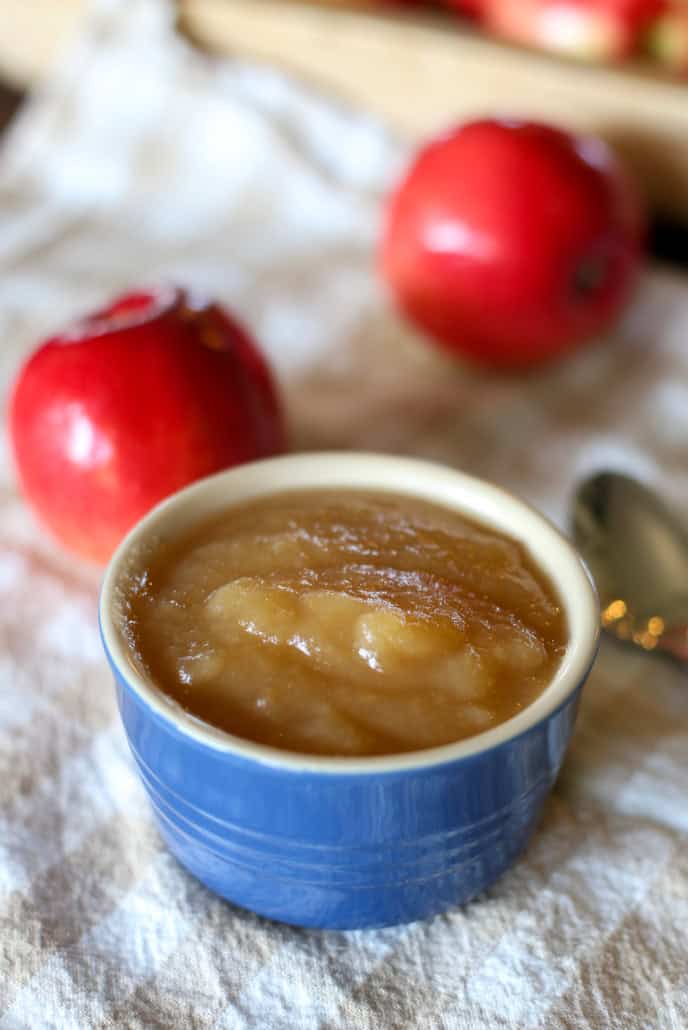 Apple Butter Weekend has been a tradition in our family for decades. It's one of my favorite fall activities. On the rare years that I can't make the event, I make my own apple butter in the crockpot.
Oftentimes, there are leftover apples that didn't get used in the apple butter recipe. Since the apples are already peeled and cut (thanks to this handy apple peeler) it would be a shame to not use them up in some way!
When my mom suggested I cook them in the slow cooker to make applesauce, I had a lightbulb moment: making homemade applesauce is SO easy!
What You Need to Make Cinnamon Applesauce
As mentioned above, the ingredients are SO simple. Here is what you need:
Apples (McIntosh, Golden Delicious, Gala, Jonathans are recommended)
Brown Sugar
Cinnamon (This can be adjusted depending on how much cinnamon flavor you want!)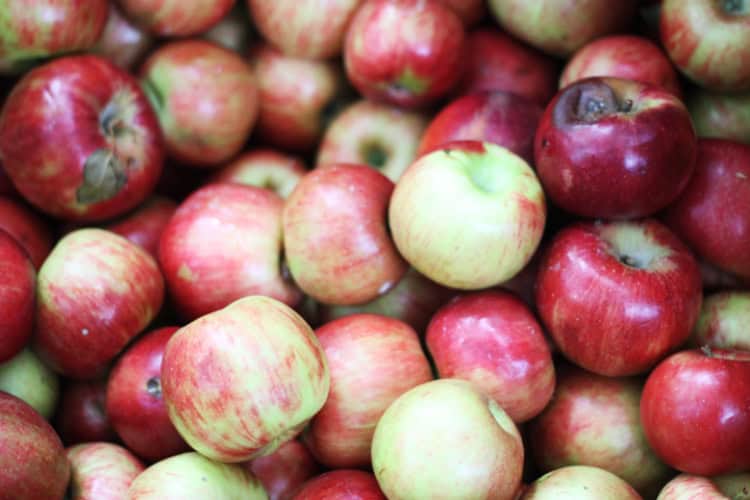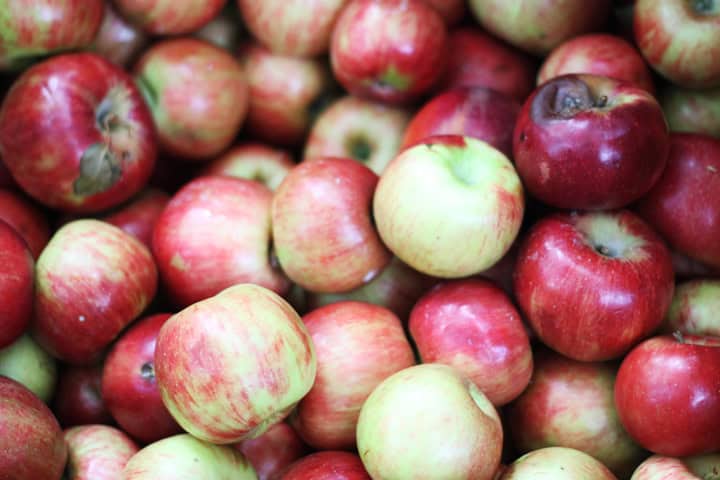 How to Make Cinnamon Applesauce
Step 1: Peel and Cut the Apples
To get that smooth applesauce consistency, you'll want to peel them. I know, it's a pain. And honestly, if you plan to puree the apples when you're done, you could probably cheat and leave some peel on. If you do plan to make recipes like this or apple butter frequently, I'd for sure buy an apple peeler.
In my picture below, the apples are cut up into small pieces. While this will help them cook faster, this isn't really necessary. You can toss them in as normal slices and come out with the same result.
Step 2: Season the apples
Sprinkle the brown sugar and cinnamon over the apples and toss until coated. Go ahead, sneak a few bites of them before they are cooked. They are yummy! I usually add 1/2 cup of water or apple cider just to have a little moisture in there. The apples will release a lot of moisture while cooking so you shouldn't need more than that!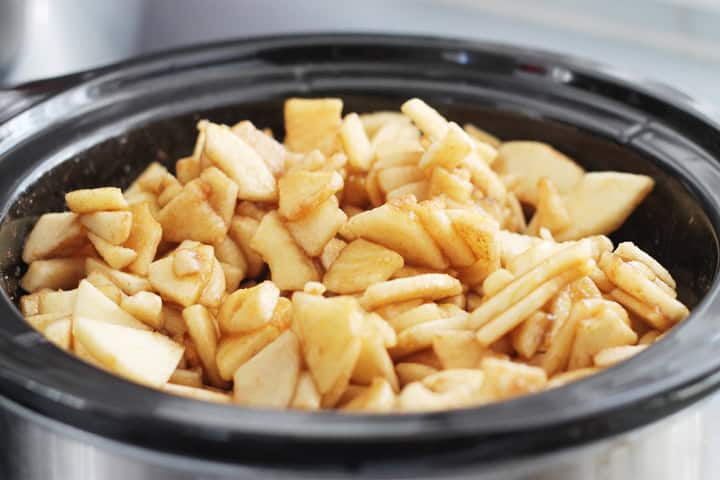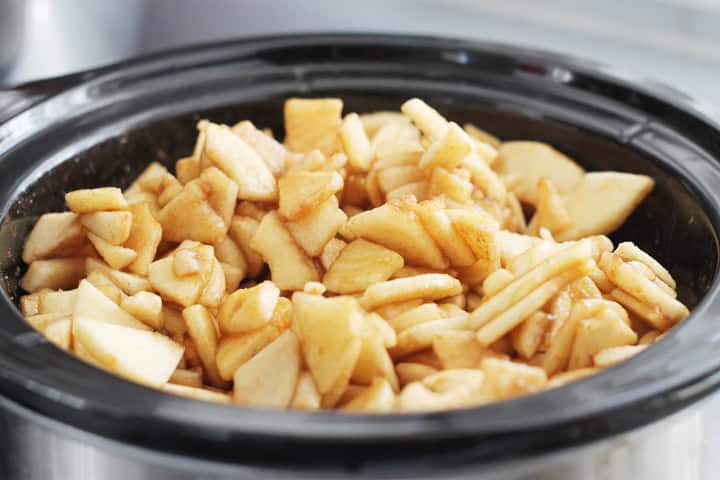 Step 3: Cook Your Applesauce
This is the easy part. Cook the apples on low for about 6 hours and enjoy the delicious scent coming from your kitchen. When the apples are done, you can mash them into the consistency that you prefer. Sometimes I like to make them kind of chunky and serve them as an apple side dish.
But if making a smooth applesauce, you'll want to use a blender to purée the apple or an immersion blender.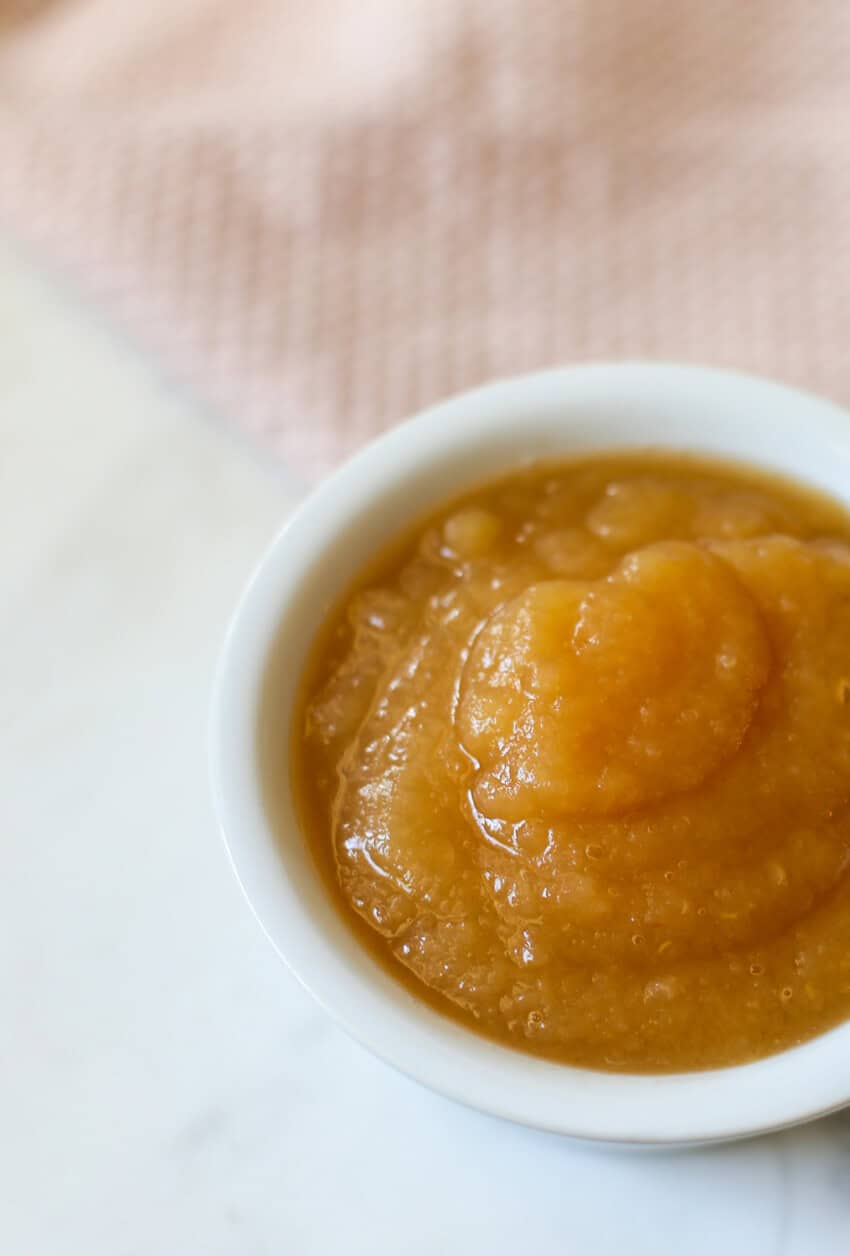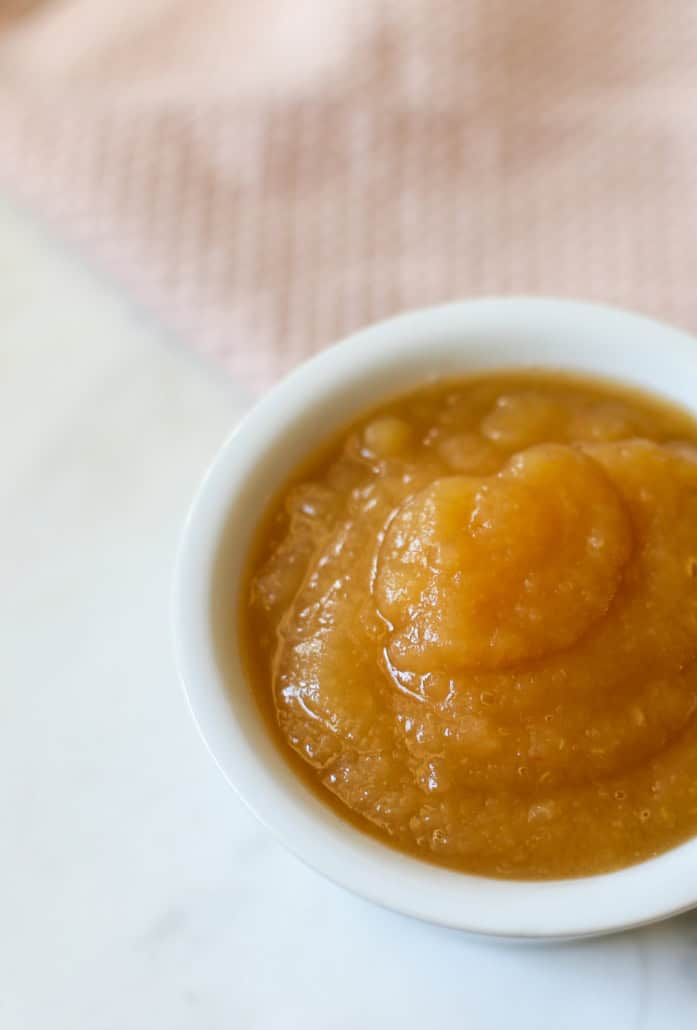 Can I Freeze Applesauce?
As you might know by now, we are big fans of freezer cooking around here. With two cookbooks, 1 Hour Freezer Prep Sessions, and a huge freezer meal recipe index, you can probably guess that we really love the time-saving, energy-saving, and money-saving benefits of freezer meals.
So, it shouldn't come as a surprise that we are here to say, YES! You can freeze applesauce!
In fact, applesauce freezes really well. It might become a touch more liquidy after freezing and thawing but the taste of it won't be affected. Simple place in an airtight freezer container (here are some of our favorite freezer containers by the way.)
For this batch, I am just using a good ol' freezer bag.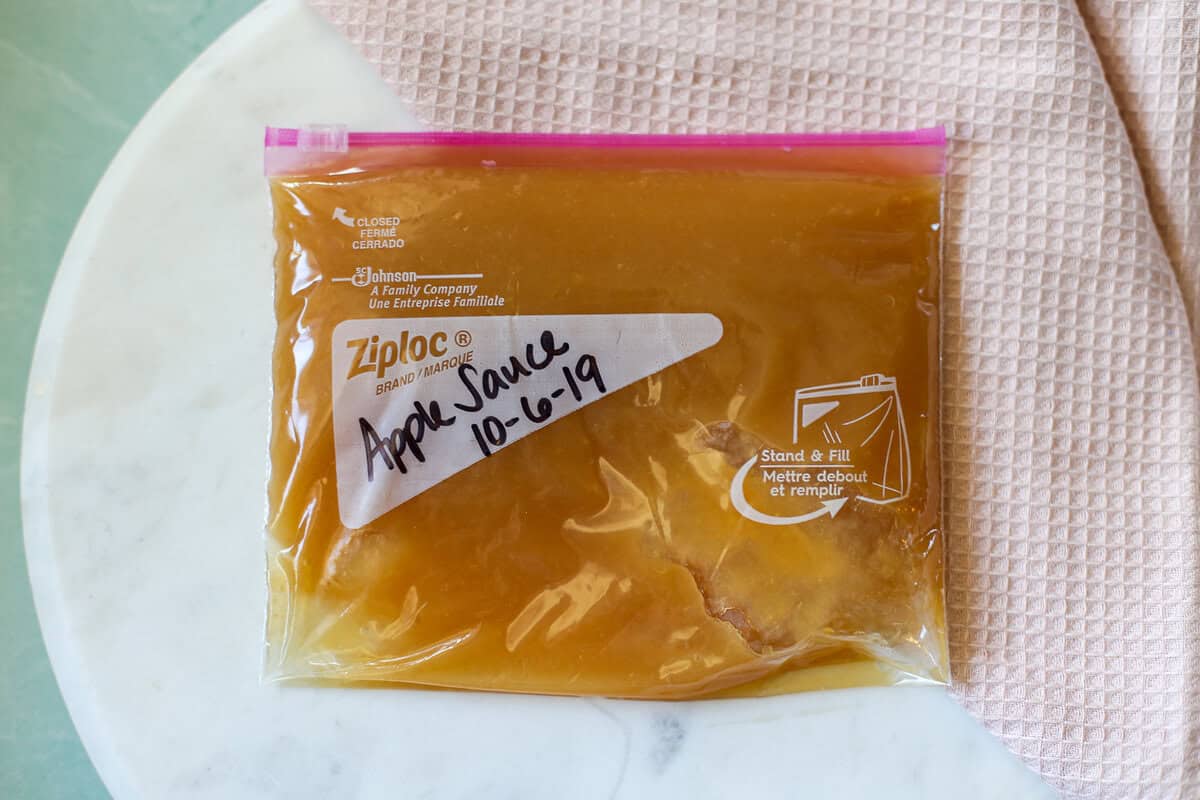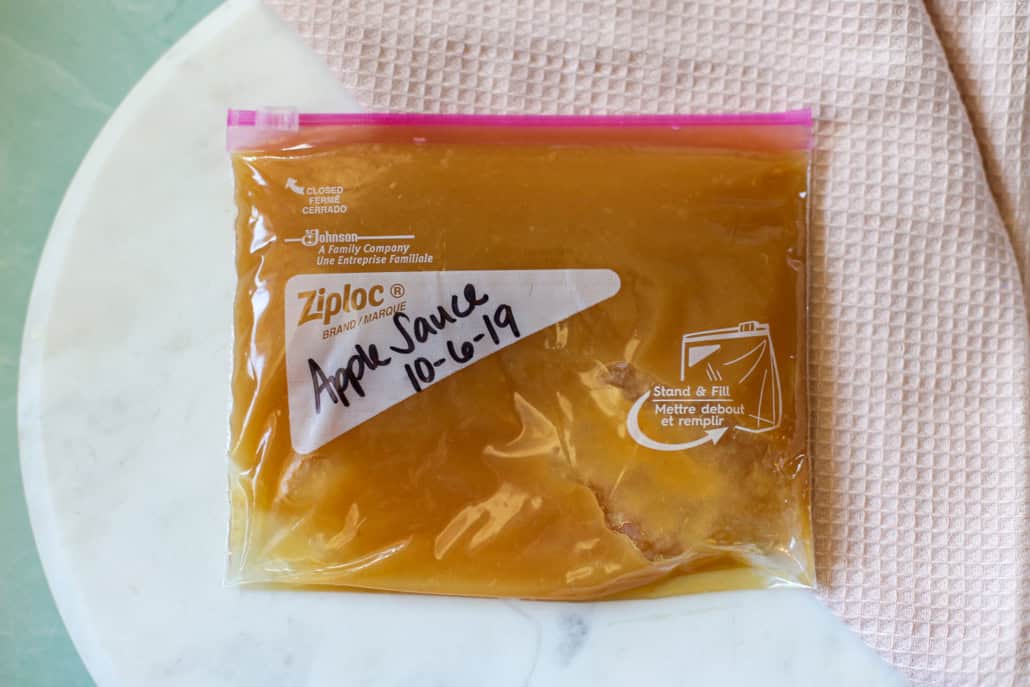 What Goes Well with Cinnamon Applesauce?
Cinnamon applesauce is a kid-friendly side dish that will play nice with all sorts of recipes. Here are some ideas to get you started!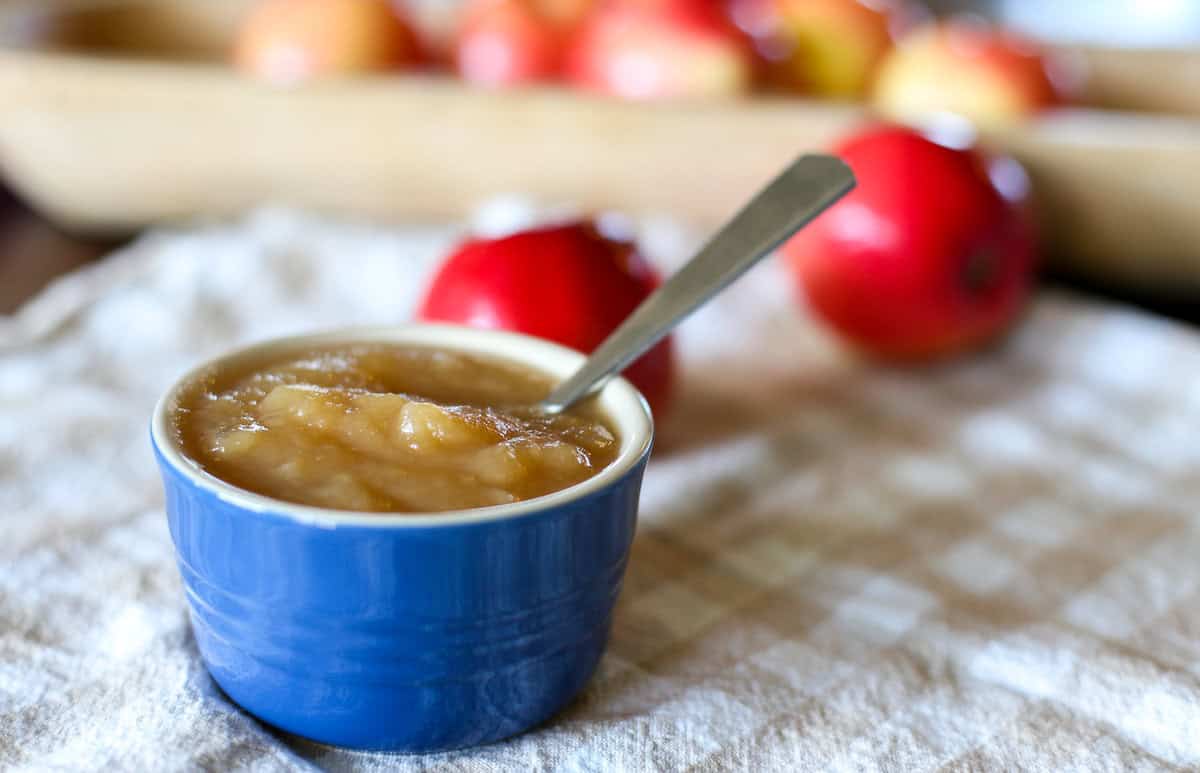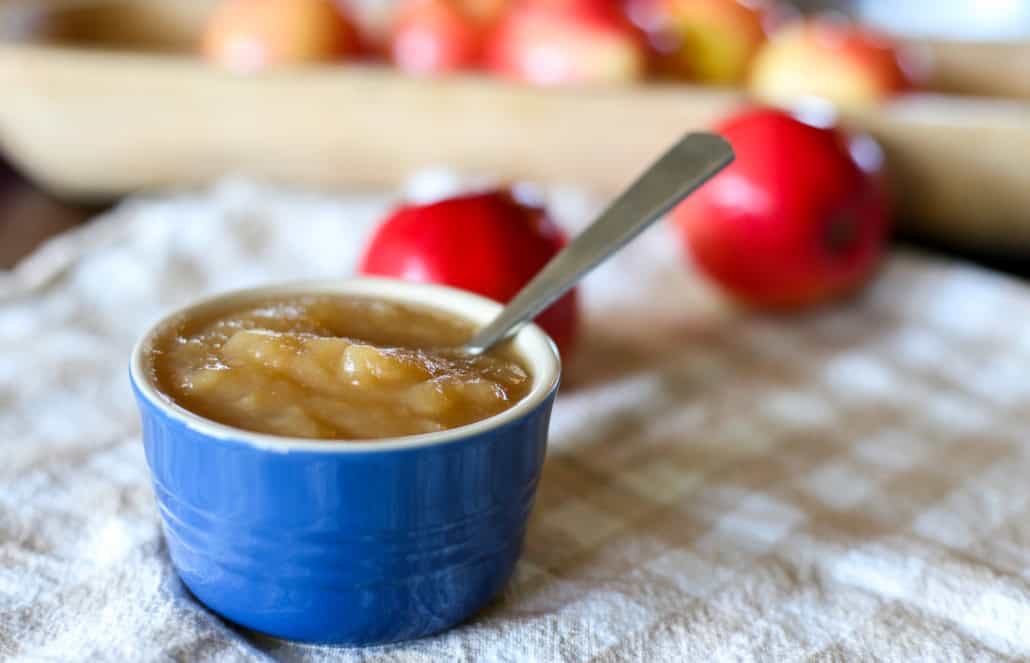 Did you make this? Snap a photo and tag us on Instagram at @thrivinghome so we can see your creations and cheer you on!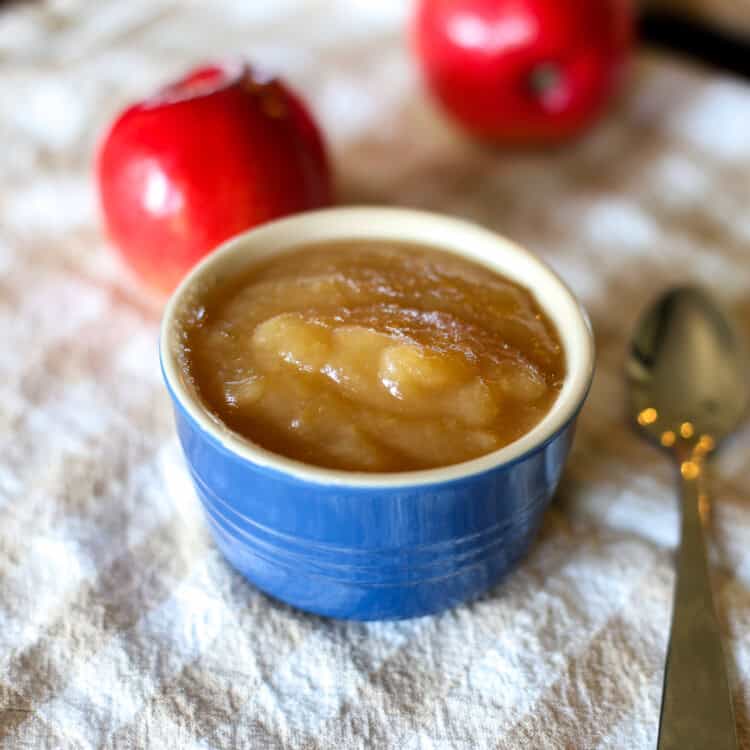 Cinnamon Applesauce
This simple crockpot cinnamon applesauce will make your entire home smell delicious! 
Yield:
3 cups

applesauce

1

x
Prep:
15 minutes
Cook:
6 hours
Total:
6 hours 15 minutes
Ingredients
8

–

10

apples (any variety), peeled* and cut into 1/2 – 1 inch pieces

1/4

cup

brown sugar (optional)

1 teaspoon

ground cinnamon

1/2

cup

water (or apple cider)
*Alternately, leave the peel on and then use an immersion blender at the end. 
Before You Begin! If you make this, please leave a review and rating letting us know how you liked this recipe! This helps our business thrive & continue providing free recipes.
Make It Now:
Stir together the apples, brown sugar, cinnamon, and water together in a crock pot.
Cook on low for 6 hours or high for 3 hours.
Freeze For Later: Let the apple sauce cool completely. Place applesauce into freezer-safe containers and freeze for up to 3 months.
Prepare From Frozen: Thaw the apples overnight in the fridge. You can also thaw them in a bowl of water if you're in a hurry.